Winged Wheel Watch: Athanasiou & Other Notes
All is quiet on the western front, so to speak, as the NHL off-season trudges onward in Detroit.
Besides a few minor signings and the long-term contract given to Tomas Tatar, there are still a few loose ends and happenings in the Red Wings camp.
What to do about Athanasiou
You knew this was coming.
With the "Tatarbitration" saga in the rear view mirror, Andreas Athanasiou is now priority number one as the preseason approaches.
The speedy 23-year old center netted 18 goals in 64 games despite not starting the season on the NHL roster. Like the rest of the team he also fell victim to coach Jeff Blashill's nightly line-juggling act. But still he managed to produce, and well at that. His speed paired with his scoring ability (think Darren Helm but slightly faster, with better scoring ability, and more durability) makes him a viable 20-25 goal scoring threat. But whether that talent will come into fruition with the Red Wings is yet to be seen, as Athanasiou still sits as a restricted free agent.
And the Red Wings face the now-daunting task of retaining him.
Out of cap space following the Tatar deal, the Red Wings turned to the potential of using their buyout to free up the space for a new deal for one of their young centers. Ultimately GM Ken Holland and company have so far opted to forego buyouts and keep all player personnel aboard, leaving the club at a little over $3 million above the salary cap. The Red Wings are likely to place Johan Franzen on long-term injured reserve, which negates the cap overage but still leaves them at the salary cap, keeping them from making any further additions.
The Red Wings must retain Athanasiou, who will serve as an integral part of the team's young nucleus as they look to their rebuild and beyond. All eyes are on the Red Wings front office and how they handle this matter.
Prospect Watch
Various Red Wings prospects have been in action at the World Junior Summer Showcase. Most notable of this group was Michael Rasmussen, the team's first round pick in this year's entry draft. Per Wingin' It In Motown's take on him, his size allows him to cover many gaps on the ice, but also limits his lateral movement and makes for difficulty controlling his momentum as he goes from end-to-end. His ability to make quick passes and keep the puck on the move was praised. There is work to be done but there is reason to be optimistic about him despite a rougher performance.
However, per Wingin' It In Motown, Dennis Cholowski, the 19-year old defenseman, was more impressive. His skating, advertised as one of his brighter points, was as fluid and sharp as ever. He was also able to keep up well with a reportedly much faster USA team. For his age, he brought a calm swagger and confidence. He played well in the neutral zone, breaking up plays that could have quickly turned against team Canada. His prowess on the power play was also impressive. At 19, he still has some development to be done before he cracks the rotation at the NHL level, but things are all moving in the right direction for him. And given Detroit's struggles on the blue line in recent years, this is the best news that fans can hear at this point in time.
A New Home
Construction on the new Little Caesars Arena is nearing completion, with much of the interior and exterior taking shape, complete with a giant Little Caesar Man, enjoying a slice of pizza, emblazoned on the roof. Tom Wilson, president and CEO of Olympia Entertainment, the company who oversees all events and happenings at Little Caesars Arena, said in an interview that all of the details would run up until the last day before opening, but everything was still moving along as expected.
The arena's first event will occur on September 12th, as Detroit native Kid Rock takes the stage for the first of six shows to open the new arena.
The first hockey will come later in the month. The Red Wings' preseason is set to open at the new arena on September 23rd with an Original Six match-up against the Boston Bruins. The first official game is set for October 5th against the Minnesota Wild and will be aired nationally on NBC Sports Network.
Winged Wheel Watch: Wings, Tatar, Agree To Multi-Year Deal
Four more years.
The Red Wings have gained long-term control of their leading scorer in a move that once looked daunting.
Just yesterday the Red Wings were set to wait on an arbiter's decision regarding Tomas Tatar. Today, less than 24 hours before the decision was due, a new, multi-year deal is done.
Tatar, the team's leading scorer last season, will make $5.3 million annually on the four-year deal. The deal is similar in value to that of Tampa Bay Lightning winger Tyler Johnson's new contract, which runs three years longer with $300,000 less annual value.
Though welcomed, the move comes as a bit of a surprise, given the state of affairs between the two parties going into the arbitration hearing.
After initially failing to reach a deal with Tatar before the arbitration deadline, the Red Wings seemed to reach some kind of breaking point with the 26-year old Slovak, with Tatar threatening that a one-year deal would likely spell the end of his time in Detroit. Arbitration was inevitable and, going in, the two parties faced sizable chasm in salary, with the Red Wings camp only willing to offer $4.1 million per season as Tatar's camp asked for the eventual $5.3 million he would receive.
Coming down to it, re-signing Tatar was a necessity.
First and foremost, he is able to score goals for a team that is largely starved for scoring. In four full seasons he has failed to score 20 goals only once, missing the mark by one in 2013-14. Since, he has been the Wings' leading goal scorer, netting 29, 21, and 25, respectively, over the last three seasons. Pair him with a capable setup man and that production will only increase. Tatar also possesses the ability to set up goals himself, recording 20 or more assists in each of his four full seasons.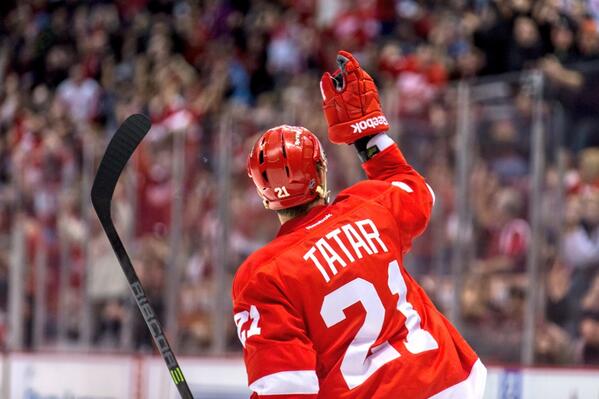 His age also serves to benefit him in this deal. Still young at 26, Tatar will be in his prime as the Red Wings ideally return to contention towards the end of his contract. If under the visage of a new GM, he may be brought back on a shorter deal following the current deal's expiration as the team contends.
With this deal it also may come to pass that he is looked at for leadership, possibly to the point of taking one of the "A"s for himself. He possesses the skill set of somebody who can help lead a team. The organization must continue to craft him for this role if, indeed, they want him to step into it.
However, this is the best case scenario. And the NHL world is far from ideal.
The biggest red flag is that, while consistent in the results he produces from year to year, Tatar is streaky. The Wings can bank on the same production numbers but run the risk of his streakiness continuing. For over $5 million annually, Tatar will only be fully worth the money if he can consistently help the Wings. While that lies on him, the other downside is completely out of his hands.
Depending on how/if the Red Wings approach their rebuilding process will determine how long they hold onto Tatar. His staying in Detroit for the duration of this deal is contingent upon the front office's approach in navigating the crossroads at which the organization now finds itself.
With Tatar now on the books for the foreseeable future, the task now turns to the final major loose end facing the Red Wings this off-season: clearing the cap space to retain the young, speedy Andreas Athanasiou.
Do you like Tatar's new deal? Should the Wings have let him go? Let me know in the comments below!
Duelly Noted: How Are The Blues Preparing for 2018?
The St. Louis Blues did very well for themselves in 2017 despite not having the best of starts. Things really picked up in the later half when the Blues fired their former coach, Ken Hitchcock and replaced him with Mike Yeo. At the same time, Martin Brodeur and Ty Conklin took over the duties of goalie coach. All of this helped Jake Allen and the Blues recover from a sloppy start and make it to the 2nd round of the Stanley Cup playoffs before losing to one of the eventual Stanley Cup Finalists, the Nashville Predators. With the 2018 season a few months away, the Blues have already made some big moves to stay competitive.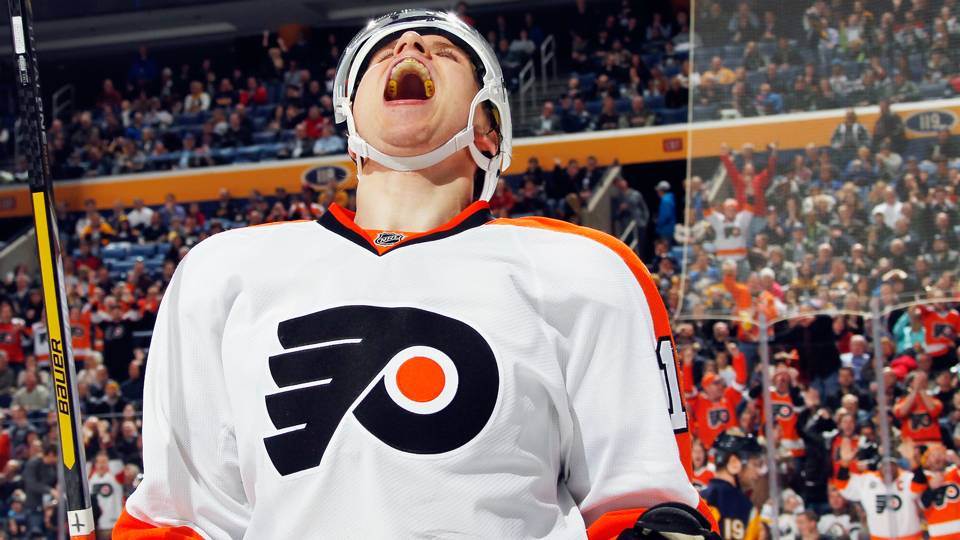 The Blues have picked up several new players in the off-season so far. They have acquired Brayden Schenn from the Philadelphia Flyers in a trade for Jori Lehtera and a first round pick in the next year's draft. Schenn had 25 goals and 30 assists in 2017. Lehtera only managed 7 goals and 15 assists. Schenn should serve as a major upgrade for the Blues in terms of productivity. The other notable additions are Beau Bennett, Chris Thorburn and Oskar Sundqvist. As a New Jersey Devil, Bennett had 8 goals and 11 assists. The big key for him is staying out of the penalty box as he had 20 penalty minutes last year. Former Jet, Chris Thorburn joined the team to fill the enforcer void left by Ryan Reaves. Reaves left the team as part of the trade for Sundqvist. The loss of Reaves could be a big blow for the Blues unless Thorburn can help protect the Blues' big shooters, especially Vladimir Tarasenko. The Blues also acquired one of the best skaters available in the draft in Klim Kostin. If the Blues can get him on his game quick enough he will be a star in the future.
The Blues have made their off-season better if they by managing to re-sign Colton Parayko. He had 13 goals and 55 assists in 2017 and he has amazing power when he shoots on net. He is now signed to a 5 year deal worth $27.5 million. He is a vital part of the offense when he gets going and it is a big relief to fans that he is coming back. The signing of Parayko is huge for the Blues as it allows them to build on a very productive off-season. Now they can focus on the season ahead. Hopefully for the Blues, Parayko will be worth the huge investment.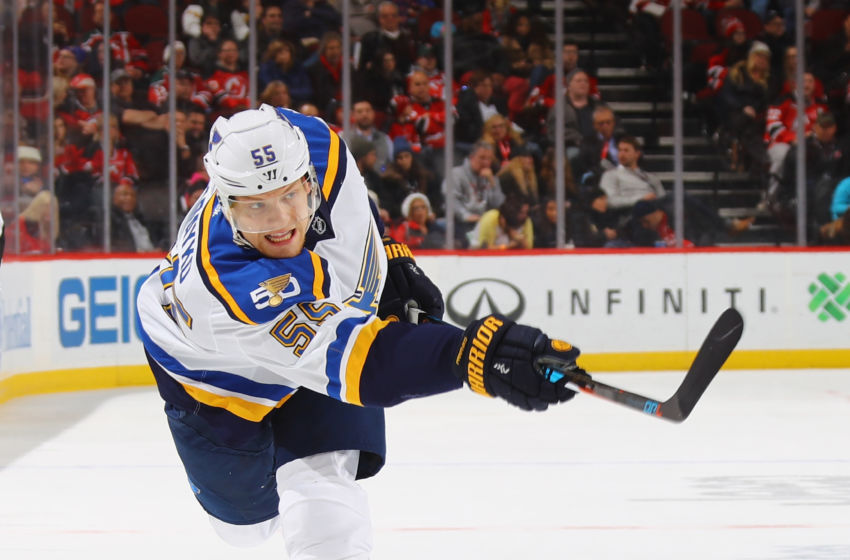 Overall, the Blues are a team in the midst of a slight rebuild. They can expect some bumps in the road as a result of a few core pieces of the team leaving. The biggest hurdle will be recovering from the loss of Ryan Reaves as he played an important part in the Blues defense. The new team will have growing pains  but if everyone can get on their game and pick up some big wins once the season starts, fans can expect a lot from the Blues in 2018.
Winged Wheel Watch: Large Contracts Hindering Rebuild, Decreasing Trade Market
With the entry draft and busiest free agency period now past, the Detroit Red Wings sit with plenty of young pieces from the draft while being capped out after adding veteran defenseman Trevor Daley, along with a few other pieces, off of the open market.
The splash in free agency was small but that's to be expected for a team looking to shift their focus towards their stores of youth in Grand Rapids and rebuilding for future contention. The rebuild, once it begins, will be a relatively lengthy ordeal, as things sit right now, the reason being this: the Red Wings cannot begin a full rebuild due to their contractual and salary cap commitments.
Ken Holland, in what seems to have become his calling card as general manager, has never shied away from handing out lucrative, long-term deals to veteran players. As a result, the Red Wings have become the holders of the second most expensive payroll in the NHL, with an estimated $72,275,045 due to players in 2017-18.
Some Notable Contracts:
C Henrik Zetterberg ($6,083,333 cap hit from 2017-2021, with decreasing base salary as time progresses)
D Mike Green ($6 million cap hit in 2017-18, UFA in 2018)
G Jimmy Howard ($5,291,667 hit from 2017-2019)
C Frans Nielsen ($5.25 million cap hit from 2017-2022)
There are other sizeable contracts, with 10 total contracts registering cap hits of $4 million or more. As well, Johan Franzen registers a cap hit of just below $4 million, even as he sits unable to play with lingering concussion issues.
So the obvious solution is to trade these contracts, right?
On the surface, yes. But it's far more difficult than just sending them away to the highest bidder.
First, there has to be a market for the players they want to trade.
Any of the aforementioned names, as well as bigger contracts owed to the likes of Darren Helm and Justin Abdelkader, would be prime contracts to dump. But there are problems as to how they would go about this.
First, there is the issue of no-trade clauses. Kronwall, Abdelkader, Jonathan Ericsson, and Helm all have some form of a NTC attached to their deals, which would require them to approve any deal that may arise.
Second, there is the size of these contracts. The Red Wings aren't looking to move the likes of Zetterberg or Neilsen (not that they can, with Nielsen's NTC), two of the club's most lucrative deals, but there will be abundant issues in moving the others.
On defense, Kronwall and Ericsson are liabilities. Kronwall has become injury-prone with age and is past his peak effectiveness and physicality. Ericsson, despite his size advantage, has never played up to his build and has not been effective because of it. Both take up large cap hits and have little trade value due to the money they are owed, along with their on-ice performances (or lack thereof).
Helm and Abdelkader each carry issues of their own. Both are overpaid (Abdelkader $4.25 million annual hit, Helm $3.85 million) and are locked up for the long haul (2023 and 2021, respectively). Their skill sets have not proven to be worth the money they are receiving. Abdelkader, touted as one who could be the next captain of the storied Red Wings franchise, has never lived up to the production of someone with a deal of his size; he has scored 20 or more goals once (23 in 2014-15, which likely played a part in the larger deal he received) and has scored a career-high of 44 points. To top it off, he has battled injury issues over much of the last few seasons, which may have served to limit his numbers. Nonetheless, the Red Wings do not seem to want to depart with Abdelkader, as their loyalty for the future seems to lie with him.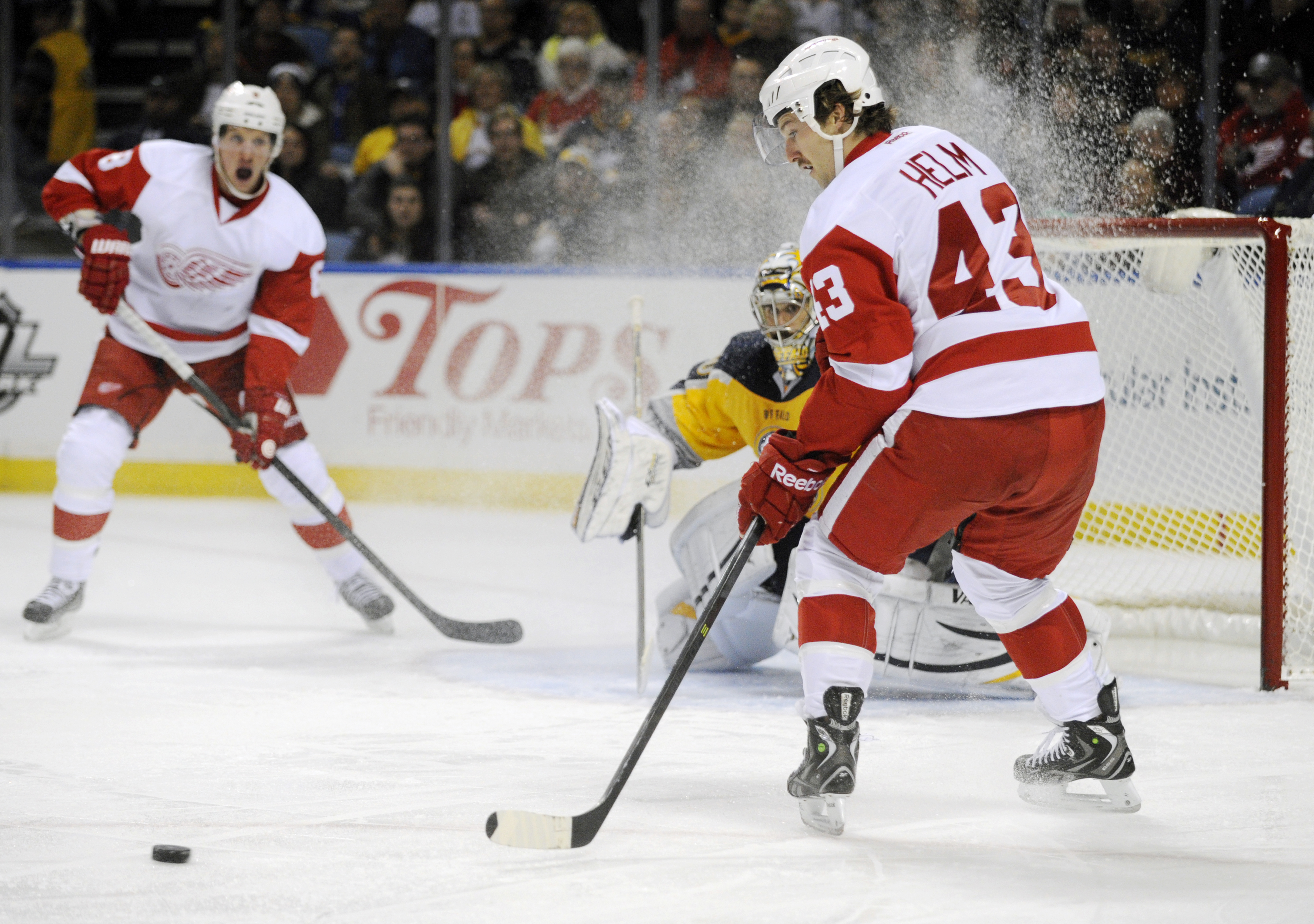 Helm, while possessing very good speed, has battled injury problems and issues with his ability to finish on scoring opportunities. He appeared to have kicked this early in the 2016-17 campaign, as he performed well before injury derailed him and limited him to only 50 games. He has some upside, though not much of it may be left at age 30. It's unlikely teams will want to roll the dice on him, especially with the money that he is owed.
For all of their inflated veteran deals, some real trade potential lies in some pieces.
Defenseman Mike Green is one of the better offensive blue line presences in the league, tallying 36 points in 72 games. His defensive effectiveness is debatable (a +/- rating of -20 last season) but it's likely that any buyer willing to take on his $6 million cap hit will be looking to shore up their offense out of the back end.
The decision to expose netminder Petr Mrazek has sparked debate: is the man who the Red Wings once saw as their goalie of the future now expendable? Among reports of attitude issues and lack of effort on Mrazek's part, the possibility of him leaving Detroit has become very real. At 25, he would serve as a solid building piece for a team looking to build their defense in search of contention. Conversely, he would also serve as an upgrade on many fronts for a contending team, serving in either a backup or starting role. His $4 million cap hit could prove to be club friendly to the right team, though it would likely have to have him as a starter for that kind of money.
Despite a down year last year, Riley Sheahan would serve any team, including the Red Wings, well. At 25, Sheahan is a big-bodied center with a right-handed shot that can produce goals. Though it took him 80 games to manage his only two goals of 2016-17, Sheahan, in 79 and 81 games in 2014-15 and 2015-16, respectively, netted 13 and 14 goals. He has the ability to score, especially with the right pairing and coaching. If his production level can return to what it was his $2.075 million cap hit will look pretty reasonable. The Toronto Maple Leafs were linked to him at the 2017 trade deadline and would serve as an interesting candidate to take him on, as he would reunite with former coach Mike Babcock.
However, as these cap issues persist, the Red Wings will turn their sights on an important task that has now become their most daunting: finding a way to retain restricted free agents Andreas Athanasiou and Tomas Tatar.
What pieces would you like to see the Red Wings deal away? Out of those with whom the club is willing to part ways, who do you think has the most trade value? Let me know in the comments below!
Find me on Twitter @milz_chris and follow @cleatgeeks for more hockey and sports news.
The Arizona Coyotes Cleaned Out Their Den
It's been a busy and eventful last week for the Arizona Coyotes to say the least. First, the team traded starting goalie and six-year Coyote Mike Smith to the Calgary Flames. After that they announced that Shane Doan, the team captain and a 21-year member of the franchise, would not be extended a contract offer as a free agent. A few days later it was announced that Dave Tippett, the team's coach since 2009 and also their executive vice president of hockey operations, mutually agreed to part ways with the team, after negotiating a $3 million dollar buyout. This move signaled that the  relationship between Tippett and owner Andrew Barroway, who bought out the team's minority owners on June 12, had reached its breaking point.
The Tippett news wasn't a total surprise, John Chayka said, but he still hoped the veteran coach could return.
"I was certainly hoping he was coming back for another season. Having said that, it wasn't out of the blue necessarily. But you think that things can kinda work moving forward, but that's life," he said. "Sometimes they don't work. It doesn't mean I don't love Tip and everything he brought to the organization. All his blood, sweat and tears he put into it. It was appreciated. And we're trying to build off of that."
From the outside, it would appear that Barroway wielded an incredible amount of influence on these decisions.
"He's 100 percent owner. Usually those guys have some influence," said Chayka.
"I work well with him. I respect him. I think he's trying to do what's right with the organization in his mind, moving forward. He's all-in, right? He wants what's best. Wants to help find us an arena and keep us there long-term. He wants to help us build a team. He's invested emotionally, financially, everything. I respect that about him. "
Was he disappointed that Tippett and Barroway couldn't find a way to work together?
"It's not my relationship to really comment on. I think when you've endured what we have in Arizona, which has been difficult, it wears on you. It's tough. It's difficult. It isn't easy on anybody. I think over the years, it's difficult. Sometimes it works, sometimes it doesn't," he said.
So now, as John Chayka attempts to build a winning roster in Arizona, he needs to find someone new to coach them. All in due time.
"The next coach? I'm 24 hours past Dave Tippett," said Chayka. "He's a tough guy to get over."
 One day later on Friday, the Coyotes made two significant deals. The first was with the Chicago Blackhawks and the second was with the New York Rangers.
The Blackhawks Trade- This move took advantage of the financial condition of two teams who are on the complete opposite ends of the NHL salary cap spectrum. The Coyotes have not yet reached the salary cap floor, while the Blackhawks are strapped for salary cap room. Therefore, the Coyotes added salary and talent while the Blackhawks essentially got weaker yet gained some cap room in the trade that sent Niklas Hjalmarsson from the Blackhawks to the Coyotes for defenseman Connor Murphy and center Laurent Dauphin. In Hjalmarsson the Coyotes are getting a 30-year-old defenseman who played on all three of the Blackhawks' recent Stanley Cup teams. He once again led the team in blocked shots (181). Plenty of bumps, bruises and pain come with that job description but despite that, Hjalmarsson hasn't missed much time. Since the 2012-13 season Hjalmarsson has missed just 12 games, and just four of those have been due to injury (suspected back injury last season).
"Niklas' contributions to the three Stanley Cup championship teams are well known but his dependability as a teammate, selfless attitude and the way he represented the Chicago Blackhawks on and off the ice are what made him such a beloved member of the organization," said Chicago Blackhawks Senior Vice President and General Manager Stan Bowman. "He made his debut in Chicago in 2008 and quietly established himself as one of the toughest competitors in franchise history. We wish he and his family continued success."
Murphy is a four-year NHL veteran who had two goals and 15 assists in 77 games last season with the Coyotes, playing 19:11 per night. Dauphin, 22, has played 32 career games in the NHL over the last two seasons with Arizona, scoring three goals and one assist. Last year, he split time between Arizona and the Tucson Roadrunners of the AHL. He has one year left at $745,000 before going restricted next summer.
The centerpiece of this trade, obviously, is Hjalmarsson vs. Murphy. The Blackhawks are acquiring a player that's six years younger and cheaper in the long term: Murphy makes $3.8 million against the cap through 2022, while Hjalmarsson makes $4.1 million over the next two seasons before becoming a UFA.
The Rangers Trade- Less than an hour after completing the trade above the Coyotes scratched and clawed there way into another deal which most people in the NHL world look at as being bigger than the first deal. The deal gives the Coyotes center Derek Stepan and goalie Antti Raanta from the New York Rangers in exchange for defenseman Anthony DeAngelo and the seventh-overall pick in Friday's draft.
This second bold move fills two big holes for the Coyotes, giving  the team a reliable top-two center and replacing Smith's void in the crease.
Stepan has been a model of consistency since breaking into the NHL, putting up 50-plus points in each of the last four seasons, including 55 (17-38) in 81 games last season. The 27-year-old was a fixture on the power play and penalty kill and finished second among Rangers forwards in ice time (18:49) last season.
Raanta has been one of the best backups in the league the last two years. Like Cam Talbot before him, the 28-year-old seems ready to take the reins as a starter. He posted a crisp 2.27 goals-against average and .922 save percentage in 29 games last season after posting similar numbers the year before. Raanta is slated to become a unrestricted free agent next summer.
Friday's blockbuster didn't come cheap for the Coyotes, however.
Anthony DeAngelo, taken 19th overall by the Lightning in 2014, is a highly-skilled defenseman who put up five goals and 14 points in 39 games with the Coyotes last season, his first in the NHL. The 21-year-old was traded at the same time last year when the Lightning shipped him to Arizona for the 37th pick in the 2016 draft. He has two years remaining on his entry-level contract.
Winged Wheel Watch: Expansion Draft Possibilities
With the Stanley Cup playoffs and the 2016-17 season officially in the rear view mirror we now sit less than a week away from the NHL expansion draft, where the Vegas Golden Knights will officially take shape. The season was riddled with speculation of which players from each team would head west for the 2017-18 season.
The case was no different in Hockeytown. GM Ken Holland confirmed on Wednesday that the Red Wings will take the approach of protecting seven forwards, three defensemen, and one goalie, leaving the rest of his eligible players vulnerable.
So who will stay and who will be offered up for the taking? Let's dive right in.
Exemptions
Not every player on the Red Wings roster is eligible for Vegas' taking. Rules of the expansion draft state that any player with two or fewer years of experience at the professional level (AHL or NHL) are exempt. Meaning Dylan Larkin is not eligible and will be able to remain on the roster without taking up a protected spot. Also protected are key pieces from the Calder Cup champion Grand Rapids Griffins, including Tyler Bertuzzi, Evgeny Svechnikov, and Joe Hicketts, among others.
Additionally, all players with no-move clauses are required to be protected, no that it technically falls under "exemptions." This means that Frans Nielsen will be required to take one of the seven forward spots that the team can protect.
Forwards
Protect: C Henrik Zetterberg, RW Anthony Mantha, C Andreas Athanasiou, LW Tomas Tatar, RW Gustav Nyquist, C Frans Nielsen, LW Tomas Nosek
Zetterberg is coming off of one of the greatest seasons of his career. Couple his eye for setting up goals with his leadership and he's essential to the start of the rebuilding process. Nielsen has to be protected, so there's no way around that. Mantha is a future cornerstone of this franchise with the potential to be a 40-goal scorer, something the Wings haven't seen in a while. Exposing him to the expansion draft is senseless and would be cause for dismissal of the entire front office. Same with Athanasiou, who has the potential to be a perennial 20-goal scorer. Tatar is the only proven scorer the Wings have right now. At 26, he's still young but has enough experience to serve in a leadership role with the rise of Larkin, AA, and Mantha. Nyquist, while he hasn't scored goals like many expected, has proven to be a fantastic setup man akin to Henrik Zetterberg, which can serve well down the line as Z continues to wage war with Father Time. And let's not forget that he has goal-scoring ability, regardless of whether or not it has shown over the last two years. The 24-year old Nosek, though he's seen extremely limited time at the NHL level, has potential. Though his scoring ability is yet to flourish he plays at both ends of the ice, as evidenced by his +/- numbers over his time in Grand Rapids.
This would mean exposing Justin Abdelkader, Darren Helm, Riley Sheahan, and Luke Glendening, among others. Helm is a no-brainer, with injury issues hampering him and limiting his playing time over the last few seasons. Whether or not Vegas will gamble on him because of that, coupled with his age, is yet to be seen. Glendening is reliable but also expendable. With a contract extension kicking in next season he would be a good candidate to get some salary off of the books.
As much as I like Sheahan, it's sensible to expose him. But it's a win-win, whether he stays or goes. If Vegas takes him they acquire a young forward with the potential to be a solid second or third-line scorer and the Wings dump salary. If they don't the Wings have the potential of dealing with a bounce-back from their 25-year old center. Abdelkader may be the most surprising name here, but he makes sense to be exposed. Granted, a six-year albatross of a contract presents an immediate challenge, as do injury problems that have nagged the Wings' alternate captain. But he's a capable player with scoring ability and grit that would serve Vegas well, albeit at a price. The Wings would do well to get his salary off of the books if they can, as they have little cap space as it stands right now.
Defense
Protect: Nick Jensen, Danny DeKeyser, Xavier Ouellet
Ouellet was one of the more reliable defensemen for the Red Wings last season. At only 23 he will be an important presence on the blue line looking ahead. DeKeyser, though pricey, is entering into the prime of his career and has quietly been reliable. Jensen is another solid blue line defensive presence that has offensive capability.
This leaves Mike Green, Niklas Kronwall, Jonathan Ericsson, and Ryan Sproul exposed. Green is going into the last year of his $6 million a year contract. While he's the best offensive blue liner the Wings have there's no reason they keep him beyond his current contract. They could trade him at the deadline in 2018, but what if his production dips and they are unable to fetch any favorable return? Getting the money off of the books would be a huge step forward and would allow for more regular playing time for someone like Robbie Russo of even Joe Hicketts if he develops quickly. Kronwall is a shell of his former self. Once the notorious heavy-hitter on the back end, Kronner is now injury-prone and cannot play as physically as he once did. At 35, his age and injury history will make him a tough, if not impossible, sell, but it's huge if the Wings get rid of his $4.75 million salary.
Ericsson is a huge body but he never plays up to his size, which has severely limited him. He's a bigger cap hit and is tied up until the 2019-2020 season. Throw in injury problems that have arisen and you have another tough sell for Vegas, but they have nothing to gain or lose from exposing him. Sproul is a young gun with a cannon slapshot but he's not the best presence on the blue line among the Wings' crop of defensive prospects. He's the odd man out of the bunch. He's a promising piece for Vegas. The Wings will benefit should Vegas pass on him, but they shouldn't lose sleep over the potential of losing him, either.
Goaltenders
Protect: Petr Mrazek
Mrazek had an off year in 2016-17, but there's no reason to panic about it. We've seen what he's capable of doing and it's incredible. The Wings will bank on the old Mrazek returning, but it's not a bad situation to be in.
This leaves Jimmy Howard and Jared Coreau on the outside. Howard is unlikely to be selected, given his age, salary, and injury history. Howard looked much like his old self during many of his appearance in 2016-17, which could hold value for Vegas if they want to add a veteran netminder to work with a potential younger player. Coreau is tough to leave out. He's a huge presence in the net at 6'6″ and he's agile given his size. He looked very good during his time at the NHL level last season and was a key piece to the Griffins' Calder Cup run. I'd love for the Wings to keep him but there can be only one. And I put my personal trust in Mrazek at this Point. Vegas would do well to take him but it's still unlikely they take him, given the crop of goaltenders that is expected to be available.
As it was announced earlier today, here is what the Detroit Red Wings did with their players before the NHL Expansion Draft.
DETROIT RED WINGS
Available

Louis-Marc Aubry (F)
Mitch Callahan (F)
Colin Campbell (F)
Martin Frk (F)
Luke Glendening (F)
Darren Helm (F)
Drew Miller (F)
Tomas Nosek (F)
Riley Sheahan (F)
Ben Street (F)
Eric Tangradi (F)
Adam Almquist (D)
Jonathan Ericsson (D)
Niklas Kronwall (D)
Brian Lashoff (D)
Dylan McIlrath (D)
Xavier Ouellet (D)
Ryan Sproul (D)
Jared Coreau (G)
Petr Mrazek (G)
Edward Pasquale (G)
Jake Paterson (G)
Protected

Justin Abdelkader (F)
Andreas Athanasiou (F)
Anthony Mantha (F)
Frans Nielsen (F)
Gustav Nyquist (F)
Tomas Tatar (F)
Henrik Zetterberg (F)
Danny DeKeyser (D)
Mike Green (D)
Nick Jensen (D)
Jimmy Howard (G)
Do you agree or disagree with my picks? Who do you think will be protected from or exposed to the expansion draft? Let me know in the comments below!
Follow me on Twitter @milz_chris and follow @cleatgeeks for more hockey and sports news.
Winged Wheel Watch: Next Names in the Rafters
The Detroit Red Wings hold claim to one of the most storied traditions in professional hockey: an Original Six team with the most Stanley Cup wins of any team based in the United States, not to mention 25 years of the trademarked Mr. Hockey, Gordie Howe, arguably the greatest to ever lace up the skates, sporting the iconic Winged Wheel for 25 years. And I'd be remiss to not mention the recently snapped 25 consecutive playoff appearances that produced four of those 11 Stanley Cups.
Other legends have proudly sported the Detroit red and white on their way to the Hockey Hall of Fame. Among those names are Howe, Ted Lindsay, Sid Abel, Terry Sawchuk, Alex Delvecchio, and other more recent names like Steve Yzerman and Nicklas Lidstrom. These gentlemen, though products of different eras in Red Wings hockey, share a common bond: their numbers hang from the rafters, never to be worn again. Some hung from the Olympia, all of them at the Joe, and going forward to the new Little Caesars Arena.
But who's next? Who from these recent eras of Red Wings hockey will be the first new additions as the team enters a new arena in the fall?
Let's take a look at the top candidates.
Pavel Datsyuk
While some fans are less than pleased with the Datsyuk's departure from Hockeytown in the midst of injury-plagued seasons on a lucrative contract it cannot be argued that the Magic Man is one of the greatest to ever wear the Winged Wheel.
Named to the NHL's centennial list of the 100 greatest players in league history, it's hard to argue Datsyuk's place in the rafters. His nickname, the Magic Man, came from his absolutely dazzling play handling the puck and his scoring ability. From handing the puck end-to-end through an entire team's defenses to seeming impossible scoring setups and shots, it's not surprising that the only term to describe his abilities was "Datsyukian" (a term coined by Red Wings's TV play-by-play man Ken Daniels). His slick moves with the puck earned him 918 career points (314 goals, 614 assists).
In addition to his silky offensive play he was no slouch on the other end of the ice. He was a two-way forward, akin to fellow Russian and former Red Wing Sergei Fedorov. Datsyuk became known as one of the peskiest defenders in the NHL, with effective stick lifting ability and physical play coming out when it was needed. Notable instances of Datsyuk's physicality include an instance with then-Predators defenseman Shea Weber. After a couple of possessions that saw Weber muscling Datsyuk off of the puck, Pavel went at him a third time, but he was ready and gave Weber's muscle right back to him, knocking him to the ice.
Pavel Datsyuk is arguably the greatest Russian player to see time in the NHL, among names like Sergei Fedorov and Alexander Ovechkin. If he holds this high of a place around the league as a whole then it should be a no-brainer that we'll one day see #13 hanging from the Little Caesars Arena rafters.
Henrik Zetterberg
To be fair, I may be jumping the gun on this one.
Right now Z is the only current member of this Red Wings squad that clearly deserves his place of honor among Hockeytown's greatest. Selected as the man to lead the team, following in the footsteps of Steve Yzerman and Nicklas Lidstrom, it's obvious how much Zetterberg is respected among the Ilitch family and the Detroit Red Wings organization. His leadership has proven essential since his first earning of even the alternate captain's "A" in the 2000s. His part as a 40 goal scorer for the 2008 Stanley Cup team and solid play during the 2009 finals run cannot be overlooked. It can be argued that without him those don't even happen. Zetterberg is older now but is still producing as one of the best setup men in the NHL. At age 36 he's coming off of one his best seasons of this decade, notching 68 points and appearing in all 82 games to a 15 +/- rating.
Even with injuries that took away much of his 2013-14 season, a cancelled 2004-05 campaign, and a shortened 2012-13 season, Z sits at 904 career points in 14 seasons, all of which have been spent with the Red Wings. He's reliably been a top contributor at the top of the lineup in Detroit. Given his age and contract it's unlikely that we ever see him in anything but a Red Wings sweater. And that's just fine.
Zetterberg deserves to be remembered as part of Detroit hockey lore, both as the fantastic player he is and as the next in an illustrious line to captain this historic franchise. #40 will see it's day to fly among those who preceded him in the captaincy and it will happen very quickly after he skates his final game.
Sergei Fedorov
I had some influence from Detroit sports radio's Mike Valenti in creating this article, due largely to his addressing of the fact that Fedorov, seemingly a no-brainer to have his #91 retired by the Red Wings, is yet to receive the honor from the franchise to whom he gave so much during his career. There was talk that Fedorov would see his day before the Joe Louis Arena closed its doors to hockey in April. But here we sit, months away from the opening of Little Caesars Arena and Fedorov's #91 remains available, though it has not been worn since he left the team following the 2002-03 season.
Fedorov is undoubtedly among the top echelons of players to ever play for the Red Wings. The leader of the famous Russian Five of the 1990s, Fedorov was a key component to the rise of the Red Wings as perennial Stanley Cup contenders during his 13 years in Hockeytown. He scored over 100 points twice, including a 56-goal, 120 point performance in 1993-94, on his way to 400 career goals and 954 career points during his Red Wings career. In Red Wings history Fedorov ranks fourth in goals, fifth in total points and goals created, seventh in assists, and second in career plus/minus. Additionally, Fedorov is the all-time NHL-leader in overtime points.
While Fedorov's numbers and contributions to the three Stanley Cups won under Scotty Bowman are hard to overlook, there is the possibility of underlying bitterness from the Ilitch family stemming from Fedorov's restricted free agency in 1998, a subject of controversy. Other bitterness may stem from his leaving Detroit to sign with the then-Mighty Ducks of Anaheim, though there is no reason for bitterness, as the NHL is a business above all else.
To me, Sergei Fedorov's #91 should be the first new number to the rafters at Little Caesars Arena. If I had my way I'd make sure that it would happen. I think it will. Out of anyone in Detroit hockey with a comparable resume Fedorov is the only one not immortalized in the rafters. And that needs to change.
Who do you think should be the next number to fly with the likes of Mr. Hockey and Stevie Y? Let me know in the comments below!
Find me on Twitter @milz_chris and follow @cleatgeeks for more hockey and sports writing.
Dually Noted: How Can the Blues Beat the Predators in Round 2?
The St. Louis Blues advanced to the 2nd round of the Stanley Cup Playoffs by defeating the Minnesota Wild in a 4-3 overtime victory on Saturday. However, it didn't come without some bumps in the road. The Blues' offense had trouble getting started and their goaltender, Jake Allen had to stop several scoring chances from an aggressive Minnesota Wild team. As a result, he became the star player of the 1st round .While Allen stopped a lot of shots and the Blues managed to garner enough offense to advance to the next round, every player must bring their best games to beat the Predators.
A big concern for the Blues is how both teams advanced out of the first round. The Predators pulled off a huge upset by beating the Chicago Blackhawks in four straight games to give them an early exit. The Blues beat the Wild three games to one. The Blues relied mainly on Jake Allen to get them through while the Predators were dominant in every aspect against the Blackhawks. Allen was solid in the first round but he must have help from the rest of his team if they are to have any success in this series and advance to the Conference Finals for the second straight year. They can't rely on what got them past Minnesota.
The Blues could use more help from one of their big shooters. Vladimir Tarasenko needs to find his shot again. So far, he has only managed one goal and two assists in all five games. He is too important to the Blues' offense at this point. The Blues have received goals from Joel Edmundson, Magnus Paajarvi and Vladimir Sobotka.  The Blues already beat Pekka Rinne a little quicker than the Hawks did but for the Blues offense to get going, Tarasenko needs to start scoring.
The thing that has hurt the Blues the most in the playoffs is their time spent in the penalty box. It hurt them against the Wild and it has already begun to hurt them against Nashville. A couple of Nashville's goals in Wednesday's Game 1 came on the power play and once again the Blues have relied a little too much on Jake Allen to get them out of tough situations. The penalty kill is ineffective thus far in clearing the puck and Jake Allen can only do so much. The key is for the Blues to play clean 5 on 5 hockey while also keeping up the promising pressure they showed on Wednesday.
It is never easy in St. Louis, especially when it comes time for playoffs but the important thing to keep in mind is that the Blues have only dropped one game against Nashville as of Wednesday. There's plenty of time for the Blues to get some momentum back. They've already accomplished more than the Blackhawks did. All they have to do is play smart, help Allen and stay out of the penalty box. This series is tough but for the Blues, it's winnable.
The Blackhawks Backhand
Change is coming to the Blackhawks. During Saturday's end-of-season news conference at the United Center, general manager Stan Bowman said he was "frustrated and angry" at the team's first-round playoff sweep at the hand of the Predators and vowed to make the necessary changes in an attempt to avoid such a "complete failure" next season. Bowman would only guarantee that coach Joel Quenneville would be back. Beyond that, Bowman said he would not rule making sweeping changes to the roster if that is what an internal review of the season concludes.
"This was a tough, tough loss for us all to take," Bowman said. "Standing here April 22 is not the way we expected our season to end. And it's a complete failure when you measure it against the expectations that we have of ourselves. We did not come even close to reaching the standard we have set over the years here. And that's unacceptable."
"Any successes that we did experience this year are completely overshadowed by the abrupt ending to our season. It's not close to good enough for anybody."
Bowman wouldn't go into specifics on what changes he would make. Beyond Quenneville's return, it sounded as if everything is on the table.
The Blackhawks have approximately $59.34 million in salary-cap room tied to nine players next season: Patrick Kane, Jonathan Toews, Niklas Hjalmarsson, Duncan Keith, Brent Seabrook, Artem Anisimov, Marian Hossa, Corey Crawford and Artemi Panarin. The cap was $73 million this season, and if it goes up for 2017-18, it likely won't be by much. All but one of those contracts — Panarin's — includes a no-movement clause. That means those players would have to agree to a trade before Bowman could make the move.
"Top to bottom, we need more. This is unacceptable to be where we are (Saturday)," Bowman said. "There will be change. Change comes in many different ways. So the specifics of how we're going to change things into next year are not really meant for this forum.
"But I can promise you we need to be better. Joel is our head coach. He will continue to be our head coach. And Joel and I are going to work together to make sure that this never happens again."
Bowman did not rule out potential changes to Quenneville's staff, though Quenneville said Saturday that he didn't envision making any. Bowman also said the salary cap would not be an excuse — or stand in his way — of making moves.
"We have to find a way. We need to get better," Bowman said. "Our expectation is to win, and we didn't win. I don't buy into that. We have to find a way."
Winged Wheel Watch: Who Stays and Who Goes
One thing is obvious in Detroit for the Red Wings: changes are coming.
Following the end of their 25 year playoff streak the Red Wings look ahead to the future, a future that may not hold playoff appearances for a few seasons. And that's OK. In fact, it's probably how it should be so a proper rebuild can take place.
But with a rebuild, along with the expansion draft looming on the horizon, Ken Holland has decisions to make on who stays and who goes. There are some obvious pieces that will remain and some others that, I think, may be surprising to some.
Let's dive right in.
Staying
Dylan Larkin: This is obvious. After a bit of a dropoff in 2016-17 there's still no doubt that Larkin is going to be an integral part of this team for the future. Going forward Larkin will play a more natural center position, a move that already benefited him towards the end of the season, where he looked and reportedly felt very comfortable. This also presents the opportunity for Larkin to play on the same line as Anthony Mantha. Throw in Tomas Tatar on the left wing and you've got a very deadly first line.
Anthony Mantha: and Andreas Athanasiou: Like Larkin, these two are obvious centerpieces going forward for the Red Wings. Both have the potential to be 20-goal scorers, something the Wings need. Mantha's scoring ability and Athanasiou's scoring ability and speed make each invaluable in their own ways.
Frans Nielsen: No-move clause. Simple as that. At least for this next year, when a modified clause sets in. But he had moments and is valuable as a set-up man working with younger players. He could prove to be valuable as a veteran presence among the aforementioned onslaught of youth.
Henrik Zetterberg: Z is coming off of one of his best seasons. His eye for setting up his teammates was as sharp as ever, with some solid goal scoring coming in to boot. His leadership, as well, is potentially his biggest attribute as he shepherds the likes of Larkin, Mantha, and Tatar into future slots of the legendary franchise.
Tomas Tatar: A scorer. One of the best the Wings have. Incredible potential and still relatively young. Unless an absolutely irrefusable deal comes along for him there is no logical reason for Ken Holland to part ways with Tatar.
Nick Jensen: A young defenseman with upside. Something the Wings direly need. Jensen did not look bad during his time in Detroit this season and, even though a future on the second line is likely in store for him, he will be valuable and adds in decent offensive prowess in addition to solid play on the blue line.
Jimmy Howard and Petr Mrazek: Howard looked better than he has in recent years. And his contract and injury history factored in with his age will likely keep him off of Vegas's radar as the expansion draft approaches. Mrazek, despite his struggles, is still the goalie in Detroit as they look to the future.
Niklas Kronwall: A no-trade clause keeps Kronner around. Though exploring the idea of long-term IR-ing him is a possibility the Wings would do well to explore, due to his ever-increasing vulnerability to injury and ineffectiveness.
Others staying: Justin Abdelkader, Jonathan Ericsson, Danny DeKeyser
On The Fence
Mike Green: The Wings would do well to explore the potential of moving Green and his contract, which expires after next season. Once an elite offensive D-man, he has lost some of his touch and has not added a lot on the blue line. Shedding his salary would give the Wings more room to rebuild through free agency along with the draft. But his no-trade clause makes that difficult, unless they can find the right deal that would make him want to waive it.
Gustav Nyquist: I do like Nyquist. His set-up ability shined this season, though many wanted him to be a goal scorer. I still think he can do that. But if the right offer comes along for Nyquist then Ken Holland would do well to take advantage of it for the sake of his franchise's future.
Robbie Russo, Ryan Sproul, and Xavier Ouellet: I really like Russo and Sproul. Russo is a top young defensive prospect with plenty of talent on the blue line. Sproul has potential on the blue line but shows more promise as an offensive d-man with an incredible slapshot. Ouellet has been reliable when called upon and would serve the Wings well going forward. But with the likes of Joe Hicketts and Vili Saarjarvi moving up through the Wings' system, as well as no-trade commitments to Niklas Kronwall, Jonathan Ericsson, and Mike Green the young trio all face potential of being the odd men out. Not because they aren't talented, but because they have to be. All three would be enticing pieces to any team looking to bolster their defensive depth via trade of for Vegas in the expansion draft. And the Golden Knights would be wise to act on any of these three, should they be available. But it's ideal that the Red Wings hold onto as many of these three as possible.
Darren Helm: Helm has great speed and showed some scoring touch before injury sidelined him. His contract, however, puzzled many due to its value and length. His talent would serve a team like Vegas well but his injury history and age will make them take a second look before acting on him. The Wings would love to have his salary off the books, that's for certain.
Riley Sheahan: It took him until game 82 to score his first goals of the season, but they loom large in Red Wings folklore as his second was also the final scored at Joe Louis Arena. His name has often been mentioned as an offering in the expansion draft, as well as in trade talks at the deadline. Sheahan has potential and I would love to see him flourish in Detroit. But perhaps a change of scenery will do him well if it comes down to it.
Others on the fence: Luke Glendening, Ryan Sproul
Going
Joe Vitale: Acquired as dead weight in the Pavel Datsyuk trade with Arizona, Vitale walks as an unrestricted free agent.
Drew Miller: Re-upped before the 2016-17 season on a one-year deal. Served primarily as a fourth-liner and on the penalty kill for the Wings last season. Walks as an unrestricted free agent and unlikely to be re-signed.
It's highly possible that the Red Wings return much of the same team as last season, barring any veterans waiving their no-trade clauses, thus allowing for the shedding of salary and infusion of youth into the regular rotation.
What moves do you think the Wings make this off-season? Who will be Vegas-bound? Let me know in the comments below!
Find me on Twitter @milz_chris and follow @cleatgeeks for more sports writing!