The 411 on 205 Live
205 Live is preparing itself to get ready for the Biggest Event of the Summer and actually having a match on a pay-per-view since the Greatest Royal Rumble back in April. The show opened with General Manager Drake Maverick hyping up Lio Rush vs Akira Tozawa and Cedric Alexander vs Jack Gallagher with both Drew Gulak and The Brian Kendrick banned from ringside for the show. WWE had running text talking about the death of Jim "The Anvil" Neidhart, which was a very nice touch from the company to do over 24 hours after his passing.
The show opened with Nigel McGuiness, Vic Joseph, and Percy Watson hyping up the Cruiserweight Championship match of Cedric Alexander vs Drew Gulak at Summerslam.
Lio Rush vs Akira Tozawa
Lio Rush comes out and runs down the crowd and says they have the honor and privilege of "watching this 23-year piece of gold." He says Tozawa will feel the rush tonight. Akira Tozawa comes out next. Tozawa gets a lot of early offense, but Rush takes control of the match towards the end as he is sitting on the top rope and Tozawa tries to climb up for a superplex and Rush just pushes him off and hits the Final Hour for the victory to remain undefeated at 5-0. I love the charisma and raw talent of a Lio Rush and would not be shocked to see him in the main event picture sooner rather than later.
The commentary team begins to talk about the challenger for the Crusierweight Title, Drew Gulak as we cut to a video of Gulak training at the Performance Center as B-roll footage as he is talking about becoming the next champion.
We see highlights of Hideo Itami vs Mustafa Ali and get an interview with Drake Maverick about Ali's health. Maverick says that Mustafa Ali has been suffering from extreme exhaustion and is expected to make a full recovery, but Maverick takes some of the blame. Maverick says Mustafa Ali will not compete in 205 Live until he believes Ali is 100%. Great way to build more heat on Itami by taking out one of the crowd favorites.
Hideo Itami vs Trent Newman
Itami squashes Newman and hits a couple of basement dropkicks in the corner, which knocks Newman out cold. The referee stops the match and awards the victory to Itami. After the match, Itami drops Newman once again and screams "respect me" before leaving the ring. Feels a little backwards to have Itami knock Mustafa Ali out of competing and then a jobber instead of vice versa, but it seems like Itami is getting set for a nice heel push on 205 Live and that could only lead to good matches.
Next is a similar video as Drew Gulak, but this time it is of Cedric Alexander. We see Cedric training and he mentions that he is undefeated in 2018 and says no man on the roster is more dedicated to 205 Live than him.
Drake Maverick is backstage as Tony Nese and Buddy Murphy walk in. Maverick congratulates them on their victory last week but is upset that Murphy, who was the illegal man, was the reason Nese got the pinfall over Kalisto. He makes Tony Nese and Buddy Murphy vs The Lucha House Party in a tornado tag match next week. It also announced that the rubber match of TJP vs Noam Dar will happen next week.
Cedrick Alexander vs Gentleman Jack Gallagher 
This match was good as both these wrestlers have good chemistry together. I just never really got into the match since they were pushing the whole "Cedric Alexander has not lost in 2018" and you knew the streak wasn't ending at the go-home show to Summerslam. The match was back-and-forth and Gallagher has the advantage with Cedric down in the middle of the ring and Gallagher charges him. Cedric gets up and hits a spanish fly and gets the pin for the victory.
After the match, Cedric Alexander is heading up the ramp as Brian Kendrick attacks him from behind and throws him in the ring as Cedric Alexander fights back. Cedric hits the lumbar check on Kendrick but Gulak comes from behind and locks in the Gu-lock for a few moments before grabbing the title and placing it on Alexander's prone body as the show goes off the air.
All in all, it was a good show as usual with three different matches. The cut-and-paste aspect of the two hype videos for the Cruiserweight Title match was a little bit disheartening, but it was still a good show that built some intrigue on the match at Summerslam. Make sure to keep your eyes out for my predictions for both NXT: Brookyln IV and Summerslam coming to the website later this week.
The Raw Truth (Prelude to SummerSlam2018)
RAW had quite a few surprises for August 13th show, leading up to Sunday's SummerSlam PPV.
At first, it looked as though WWE was going to mishandle the tragic loss of The Anvil, Jim Neidhart. However, they put together a nice video tribute toward the end of the show. Ill timed, but well done nonetheless. You can read more about the life of "The Anvil."
Renee Young made history as the first woman ever to call an entire episode of Monday Night Raw. She is good at her job and offers a refreshing departure from the normal banter. As always, there are many reasons why things are done in WWE. According to HHH, Renee has "earned" it. In addition to that, I am sure other things were factored in.
The segment with Alexa Bliss hiring a security team was humorous, but, the outcome predictable. Rousey wound up laying waste to the group and standing alone in the ring. We get it. Rousey is a bad seed and is to be feared. The psychological versus the physical is a nice gimmick, but we all know Rousey would kill Bliss in the real world.
As I have mentioned many times, Rousey has the look and attitude to turn heel and I think that's where she needs to be.
Strowman and Balor defeated Owens and Mahal. I understand the placement of this match prior to SummerSlam, but, it was awful to watch. Mahal is a train wreck in the ring and among the most boring talents I have seen in a while. While I am glad his "push" has waivered, he does not belong on main card.
Ricky Roberts hit Lashley with a guitar. Unfortunately, not hard enough to send him back to Impact Wrestling!
The B-Team are still RAW Tag Team Champions. Don't know what to say here. It's sports entertainment at it's low point. I will say both Axel and Dallas have "paid their dues" but it's sad that their legacies (Hennig, Rotunda, Mulligan) are tarnished by a sideshow creative approach.
Heyman and Lesnar got one over on Reigns. After a faux plea in the ring from Heyman to join forces with Reigns, Heyman sprayed "mace" in the eyes of Reigns, blinding him and leaving him defenseless. Lesnar's music hits and the beatdown ensues. Candidly, these feud lost it's shine after their first match. Now, it's either in need of a dramtic twist (Heyman turning on Lesnar) or it needs to end at SummerSlam. I choose the latter.
It was nice to see Ruby Riott back! She won a nice one over Sasha Banks. I like The Riott Squad. Nice, comic book creative and some decent talent too.
The leaked return of Dean Ambrose still was a nice surprise. Dean has a new haircut and looks jacked! He will be in Rollins corner to "watch" McIntyre, who will be in Ziggler's corner. Not sure about this one? This has all the makings of a heel turn for Dean. We shall see.
The final card seems to be set, pending SmackDown.
AJ Styles vs. Samoa Joe
Brock Lenar vs. Roman Reigns
Alexa Bliss vs. Ronda Rousey
Carmella vs. Becky Lynch vs. Charlotte
Daniel Bryan vs. The Miz
Dolph Ziggler vs. Seth Rollins
Nakamura vs. Jeff Hardy
Braun Strowman vs. Kevin Owens
Bludgeon Brothers vs. New Day
B Team vs. Revival
Finn Balor vs. Baron Corbin
Cedric Alexander vs. Drew Gulak (Kickoff Show)
Andrade Cien Almas/Zelina Vega vs. Rusev/Lana (Kickoff Show)
Bobby Lashley vs. Elias
Banks/Bayley vs. Riott Squad
Big card! But, some big names missing.
Asuka, Bobby Roode, Nia Jax, Seamus, Cesaro and The Usos…..
Enjoy SummerSlam 2018~
TK
36 Things You May Not Know About Jim Neidhart
As most of you know, we here at cleatgeeks do morn the passing of our sports heroes, but we choose to do it in a celebratory way. We like to look back and see all the memories that our heroes have provided for us. Hopefully, these memories will bring a smile to the faces of the fans and will even shine a light on some things that even a lifelong fan may not know about Jim "The Anvil" Neidhart. Therefore, here are 36 things you may not know about one half of the Hart Foundation.
Neidhart held the California high school record in shot put from 1973 until 1985.
2) After graduating from high school, Neidhart pursued a career in the National Football League, where he played for the Oakland Raiders and Dallas Cowboys in practices and preseason games, but never made it on a 53 man NFL roster.
3) Following his release from the Dallas Cowboys, Neidhart traveled to Calgary to train with Stu Hart and pursue a career in professional wrestling. He worked for Hart's Stampede Wrestling from 1978 to 1983, and again in 1985, during which time he married Ellie Hart, one of Stu's daughters.
4) Stu Hart, seeking publicity for Neidhart, promised him $500 if he would not just enter, but also win an anvil toss at the Calgary Stampede. He did, throwing it 11 feet, 2 inches. This earned him the nickname "The Anvil", replacing his prior nickname of "The Animal"
5) Neidhart actually teamed twice with King Kong Bundy for Georgia Championship Wrestling in 1983.
6) When Stu Hart sold Stampede Wrestling to Vince McMahon, owner of the World Wrestling Federation, Neidhart and Bret Hart were included in the deal.
7) Initially a singles wrestler, managed by Mr. Fuji, Neidhart debuted on January 21, 1985, in Madison Square Garden, defeating Tony Garea.
8) Initially a heel team managed by Jimmy Hart, The Hart Foundation made their pay-per-view debut at WrestleMania 2, where they were the last two eliminated from a 20-man battle royal, featuring wrestlers and NFL players, the two were eliminated by André the Giant.
9) The Hart Foundation won their first WWF World Tag Team Championship on the February 7, 1987 episode of WWF Superstars (taped January 26), from fellow Stampede alumni, The British Bulldogs (Davey Boy Smith and The Dynamite Kid), with the help of heel referee Danny Davis, who was continually "distracted" by checking on Dynamite (laid out of the match early by a megaphone shot from Jimmy), allowing the challengers to double-team Smith (in reality, Smith was forced to wrestle alone due to Dynamite being so debilitated with a back injury that he was virtually carried to the ring by his partner). Davis was subsequently fired as referee, and began wrestling, aligned with The Hart Foundation.
10) They lost the belts on the November 7 episode of Prime Time Wrestling (taped October 27), to Strike Force (Rick Martel and Tito Santana) when Neidhart submitted to Martel's Boston crab.
11) The Hart Foundation unsuccessfully challenged Demolition (Ax and Smash) for the tag title at the 1988 SummerSlam, where Ax hit Hart with Jimmy Hart's megaphone for the pin.
12) The Hart Foundation continued feuding with Jimmy Hart's wrestlers for the next year, teaming with Jim Duggan to defeat Dino Bravo and The Rougeaus in a 2/3 falls match at the 1989 Royal Rumble, then defeating The Honky Tonk Man and Greg Valentine at WrestleMania V.
13) After Neidhart had a long singles series against Valentine, Honky Tonk Man and The Genius to start 1990. The Hart Foundation reformed full-time on March 24 in Las Vegas.
14) At WrestleMania VI in Toronto, they defeated The Bolsheviks (Nikolai Volkoff and Boris Zhukov) in 19 seconds.
15) They started a second feud with champions Demolition, who at this point added Crush, to reduce the load on Bill Eadie (Ax) after a health scare. From April 21, the teams wrestled each other exclusively at house shows, to either double count-outs or disqualifications. This culminated at SummerSlam 90 on August 27, where The Hart Foundation won the title for a second time in a 2/3 falls match.
16) On October 30, 1990, The Rockers (Shawn Michaels and Marty Jannetty) did actually defeat The Hart Foundation in a two out of three falls match in Fort Wayne, Indiana, to seemingly win the title, though the WWF has never officially recognized The Rockers' champion status. During the match the top rope broke by accident making the match a disjointed affair that would require serious clean up before it could be shown on TV. The Rockers defended the WWF Tag Team title against Power and Glory (Paul Roma and Hercules) on November 3, 1990. Shortly after November 3 it was decided to not air the title change and that the title would revert to the Hart Foundation. In his book, Shawn Michaels claims that the Hart Foundation had politicked to keep the title. However Michaels claim is contradicted by other claims that the WWF had actually fired Neidhart forcing the title change, but after the match the two sides came to an agreement and Neidhart was re-signed.
17) Jimmy Hart once again cost The Hart Foundation the belts at WrestleMania VII, in a match with his new team, The Nasty Boys (Brian Knobs and Jerry Sags), when he distracted the referee, allowing Sags to knock out Neidhart with his motorcycle helmet.
18) Jim Neidhart actually commentated for Wrestling Challenge alongside both Gorilla Monsoon and Bobby Heenan from March until August 1991.
19) He returned on the December 1 edition of Wrestling Challenge, teaming with Owen Hart (Bret's younger brother) as The New Foundation, defeating Barry Horowitz and Duane Gill.
20) Jim was fired from WWF on February 16, 1992 after a house show in Augusta, Georgia, for unprofessional conduct.
21) Neidhart debuted for World Championship Wrestling (WCW) on the May 15 episode of WCW Worldwide Neidhart even teamed with The Junkyard Dog as they beat, Paul Orndorff and Dick Slater by disqualification on the June 5th edition of WCW Saturday Night. A short time later on October 7, Neidhart left WCW.
22) Then, on November 13, 1993, Neidhart wrestled The Sandman to a no contest at November to Remember in the ECW Arena. Yes, "The Anvil" dropped the hammer in WWF, WCW and ECW.
23) Neidhart returned to the WWF at King of the Ring in 1994, as Bret Hart's cornerman for his WWF World Heavyweight Championship match defense against Intercontinental Champion Diesel. After Diesel hit Hart with his Jackknife finisher, Neidhart interfered to prevent the pin, and disqualifying Hart but allowing him to retain the title. After the match, Diesel and Shawn Michaels beat down Hart, and Neidhart didn't intervene. Later that night, Neidhart reappeared at ringside again during Owen Hart's King of the Ring tournament final against Razor Ramon. He attacked Razor outside the ring, behind the referee's back, then Neidhart threw Razor back for Hart to elbow drop and pin to become "The King of Harts", turning heel for the first time since 1988.
24) Owen had been feuding with Bret since the Royal Rumble. Neidhart, believing Bret had held Owen back from his potential, sided with Owen. Neidhart claimed he'd only helped Bret keep the WWF World Heavyweight Championship at King of the Ring so Owen could take it from him.
25) This opportunity came in a steel cage match at SummerSlam. Neidhart sat in the third row during the match, behind other Hart family members. After Bret won the match, Neidhart entered the cage, locked it and helped Owen beat him down, while the Hart family members tried to climb over it and save him.
26) In a storyline, Diesel and Michaels were WWF Tag Team Champions when they split, therefore the titles was vacated and a tournament held. Neidhart and Hart lost to The New Headshrinkers (Fatu and Sionne) in the first round on the December 31 edition of Superstars, by disqualification. By the time it aired, Neidhart had left the WWF. Bret Hart wrote in his autobiography that the original plan was for Owen and Neidhart to win the tournament and the WWF Tag Team Championship, but Neidhart was officially fired due to no-showing events. Owen wound up winning the WWF Tag Team Championship at WrestleMania XI with new partner Yokozuna and a year later with fellow brother-in-law The British Bulldog.
27) On the July 6, 1996 edition of Superstars, he returned as the masked heel Who, a gimmick designed for commentators Vince McMahon and Jerry Lawler to make "Who's on First?"-style jokes during his matches (most of which he lost). Who last appeared on TV in the "Bikini Beach Blast-Off" party on the SummerSlam pre-show. His last match was a win over Alex Porteau in Miami on September 12.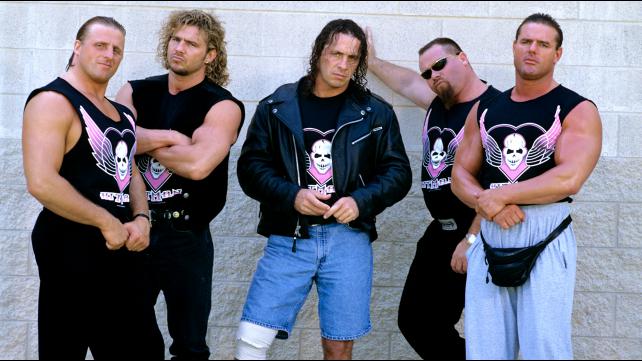 28) Neidhart returned to the WWF on the April 28, 1997 episode of Raw is War, and attacking Stone Cold Steve Austin and reuniting with Bret and Owen Hart as part of the new Hart Foundation, a stable of Canadian sympathizers, also including Davey Boy Smith and Brian Pillman.
29) On July 6 at In Your House 16: Canadian Stampede in Bret's hometown of Calgary, The Hart Foundation defeated the American team of Stone Cold Steve Austin, Ken Shamrock, Goldust and The Legion of Doom.
30) Neidhart was also part of Team Canada at Survivor Series in Montreal, teaming with The British Bulldog, Doug Furnas and Philip Lafon defeated Team USA Vader, Goldust, "Marvelous" Marc Mero and the debut of "The Lethal Weapon" Steve Blackman (Bulldog was the sole survivor, Neidhart was pinned by Vader).
31) After Bret and Davey Boy Smith left the WWF on bad terms because of the Montreal Screwjob at Survivor Series. D-Generation X leader and WWF Champion Shawn Michaels offered Neidhart a spot in the group on the November 24 episode of Raw Is War. Neidhart accepted, only for it to be revealed as a setup as the group assaulted Neidhart at the end of the show, turning face for the first time since 1994. The following week on the December 1 episode of Raw is War, DX member Triple H defeated Neidhart. After the match, DX beat up Neidhart once again and spraypainted "WCW" on his back, signifying him following Bret Hart to World Championship Wrestling.
32) In January 1998, Neidhart returned to WCW, where he formed a short-lived tag team with The British Bulldog. His final match for WCW was on the September 26 episode of WCW Saturday Night, where he and The British Bulldog lost to Stevie Ray and Vincent.
33) Neidhart appeared in TNA on the November 12, 2009, edition of Impact! winning against Jay Lethal in his initial open challenge thrown out to the legends of professional wrestling.
34) Jim has made brief appearances on the reality show Total Divas produced by WWE and E! that his daughter Natalie is featured on as main cast.
35) Neidhart and wife Ellie have three daughters – Jennifer, a gourmet chef and caterer, Natalie, and Kristen ("Muffy"), who was married in early June 2007.
36) Neidhart was arrested on September 6, 2010 and charged with two counts of possession of controlled substances with intent to distribute, two counts of trafficking illegal drugs, one count of burglary of an unoccupied dwelling, and one count of third degree grand theft for property stolen between $300 and $5,000. He was arrested after becoming aggressive with police after ingesting multiple pills outside a gas station. In March 2012, he was sentenced to five months and 29 days in jail. During his sentencing, he was arrested and held in contempt of court. Neidhart then completed two stints in rehabilitation paid for by WWE.
On August 13, 2018, Neidhart died at the age of 63. According to the Pasco County Sheriff's Office, he fell at home and hit his head. All of the staff and writers at cleatgeeks ask that you take a moment and say a prayer for his family in memory of Jim "The Anvil" Neidhart.
Women's Wrestling Wrap-Up
Welcome to the latest edition of the Women's Wrestling Wrap-Up, which recaps everything in women's wrestling in the past week, beginning with Monday's Raw.
Raw featured a rematch between the newly named Boss 'n' Hug Connection of Sasha Banks and Bayley, and the already established Riott Squad. However, things were different this time, as the match saw the return of the Squad's leader, Ruby Riott, who interfered and helped Liv Morgan and Sarah Logan defeat two of the Horsewomen. Raw was main evented by Ronda Rousey, who competed in her first ever Raw match against Alicia Fox. Needless to say, Ronda made easy work out of Alicia, and managed to dispose of Alexa Bliss during her post match interview. On SmackDown, Lana received a rematch against Zelina Vega, but it ended the same way as her last attempt: Zelina winning thanks to an Aiden English miscue. Also, championship co-challengers Charlotte Flair and Becky Lynch defeated The IIconics, but they now know that when it comes to SummerSlam, it's every woman for herself.
On NXT, maniacal marvel Nikki Cross kicked of the show with a victory over the evil Amber Nova, while Lucha Underground saw Ivelisse in action, and ended with Johnny Mundo proposing to Taya! On Impact, Tessa Blanchard defeated Alisha Edwards in what was Alisha first foray into the Knockouts Division in over a year. After her victory, Tessa gave a warning to Allie, stating that if Allie is targeting the Knockouts Championship, she'll be right behind her. Also, Scarlett Bordeaux used her looks to manipulate the higher ups into keeping her out of the ring and giving her a talk show of her very own.
This past weekend, it was announced that Rusev and Lana will team up to face Andrade "Cien" Almas and Zelina Vega during the SummerSlam Kickoff Show, giving the overall event three women's matches total. Many are speculating that with Ruby Riott's return, we could see the entire Riott Squad face off against Sasha Banks, Bayley, and a mystery partner. With Natalya most likely being in the corner of Ronda Rousey for her title opportunity against Alexa Bliss, one has to believe that Ember Moon will be the partner for Sasha and Bayley against the Riott Squad, if such a match is announced for SummerSlam.
We will find out this week, as the final countdown to SummerSlam weekend starts with Raw! Until next week!
First Look: The 2nd Mae Young Classic (Part I)
The wait for the second annual Mae Young Classic tournament is almost over! All 32 women have been announced, and we are just weeks away from the tournament's premiere on the WWE Network! To increase your anticipation, here is the first of an eight-part series that takes a look at the 32 combatants!
Kaitlyn: Clearly among the biggest and most anticipated of the 32 combatants, Kaitlyn was the very first woman announced for the 2nd annual tournament. The MYC marks Kaitlyn's return to WWE after four years, and is the culmination of a wrestling comeback that began earlier this year. Kaitlyn's WWE career began with NXT in 2010, and it was within a year that she was promoted to the main roster and formed a partnership with AJ Lee. Kaitlyn's elevation began in 2012, when she was put into the Divas Championship picture en route to capturing the title on January 14, 2013. She held the title for just over five months before she would be on the wrong end of history; losing the title to AJ Lee and kickstarting AJ's 295-day reign (which has been surpassed by Nikki Bella). Kaitlyn left WWE in 2014, but she would return to wrestling this past February when she defeated now-fellow MYC combatant Rachael Ellering at an indie event. Kaitlyn will definitely show out in the MYC, and I do hope that this leads to a full on WWE return.
Rhea Ripley: Australian sensation Rhea Ripley was the first returning combatant announced, and the first of many to return to the MYC. Rhea participated last year's event; defeating Miranda Salinas in the opening round before being eliminated by Dakota Kai in Round 2, but she remains signed with WWE. She has competed on NXT and during several live events, but in recent months, Rhea has been working as a heel, aligning with Reina Gonzalez and a villainous Aliyah in recent house shows. The "Parade of Champions" special earlier this week saw Rhea debut her new villainous look during her intro; consisting of a new hairstyle, leather apparel, and a very fierce attitude. I am very curious to see how far Rhea will go with this new character. I know this much, she'll give a great performance in the tournament, regardless of how far she reaches.
Io Shirai: The great thing about the Mae Young Classic is that I and other fans of women's wrestling get to see certain women for the first time ever. In my case, Io Shirai is one of those women. Io Shirai is a name I've heard many times, but I have never seen her in action. So when I saw her name among those announced for the MYC, I was elated. Another Japanese phenom, Io made a mark during her time with the STARDOM promotion, having held the World of STARDOM Championship on two occasions. I myself am anxious to see what Io will bring to the MYC. I have a feeling that she will not disappoint.
Nicole Matthews: As a longtime fan of SHIMMER and a collector of their DVDs, I was so, so elated when I learned that Nicole Matthews would be participating in this year's tournament! Nicole is a veteran of the Berwyn, Illinois based promotion, where she is best known as one half of the Canadian NINJAs with Portia Perez. The duo captured the SHIMMER Tag Team Championship twice, and it was in 2014 that Nicole captured the SHIMMER Championship in a four-way elimination match, defeating Athena (WWE's Ember Moon), Madison Eagles, and entering champion Cheerleader Melissa (Lucha Underground's Mariposa). Nicole actually appeared as an enhancement talent on WWE's NXT, and she as actually an alternate for the first Mae Young Classic, but never used. Nicole has acted as a heel for pretty much all of her career, and quite a despicable one; she tossed a fireball at Eagles to win the SHIMMER Championship. With that, I'm hoping that she's a face in the MYC. I have yet to see the heroic side of Nicole Matthews, and I hope to see that because I know she'll pull it off very well.
Those are just a small collection of the combatants who will participate in the 2nd annual Mae Young Classic tournament, which premieres on September 5! And there's more to come!
Premiere Date For 2nd Mae Young Classic Announced
Tapings for the 2nd annual Mae Young Classic will take place this week, but as for an airdate, WWE.com announced that the tournament will premiere on the WWE Network on September 5! In addition, it will air weekly as opposed to last year, which saw episodes uploaded in bunches. The Mae Young Classic will air on Wednesdays right after NXT, beginning on the aforementioned premiere date, and will air every week until only two finalists remain. The finalists will compete at WWE's Evolution PPV on October 28th.
Regarding commentary, Michael Cole will call the action with Renee Young and WWE Hall of Famer Beth Phoenix, marking the first time that two women will be at the announce table. Both women have done commentary before, as Renee called women's matches on NXT for a brief period, and also worked as an announcer on WWE Superstars. Beth's commentary career actually began at last year's Mae Young Classic, when she was on the call with Tom Phillips and Nigel McGuinness during a Mae Young Classic special attraction match that aired on the WWE Network last September. She also worked the 12-week long Mixed Match Challenge, and also provided commentary during the women's battle royal at WrestleMania earlier this year. I do hope that Beth acts as a heel on commentary for the MYC. WWE has never had a regular female heel commentator, and I think Beth would be golden as a heel announcer, with Renee as her babyface counterpart. Last year's MYC saw WWE Hall of Famers Jim Ross and Lita on commentary.
Before she appears on the MYC, Beth will co-host the Bracketology special with Mauro Ranallo on August 29. The broadcast team for this year's tournament will also include Cathy Kelley and Shadia Bseiso as backstage interviewers, with Kayla Braxton as the ring announcer. Shadia made history as the first Middle Eastern woman to be recruited into WWE's developmental center (she is from Jordan).
Once again, the 2nd Mae Young Classic premieres on September 5.
Straight Up Smack Down
Over the past few months, Smack Down Live has morphed from the "land of opportunity" into the place to be. There are a few factors in play that have helped shape Smack Down Live into the better show. One is their writing team. There's no question that the show's writers are night & day in contrast from Raw's writing team. Another factor that has a huge impact is the show length. This has been a constant difference for a long time, but when the show is good, it makes the viewer feel less contained. 2 hours can fly by a lot faster than 3.25 hours. The third factor is the talent. Not only does Smack Down Live possess a roster that top to bottom is better on mic & in ring than Raw, but their outstanding performance has been the real difference. You can have all the talent in the world, but if they can't perform at their highest level, then how good are they? I'd say the talent benefits immensely from a shorter show & great writing, evident in their performances in the last few months. That being said…..
Randy Orton began Tuesday's show from Orlando, Florida. The area is a hot bed for pro wrestling, home to WWE's Performance Center, Full Sail University (whose studios produce NXT), & recent site of Wrestle Mania 33. Orton has been on fire as of late, embracing this sadistic character change. He took to the ring & delivered a passionate diatribe about both deserving & not receiving respect. At one point, he tells the audience "I will become SO violent, that you will want to change the channel"…….
This is the version of the Viper that I dig so much, the version that is fully invested into his character. What a difference from the babyface version that was spoonfed to fans last year & earlier this year. The last time he was REMOTELY close to this good was when he burnt down Bray Wyatt's shanty, with the ghost of Sister Abigail inside. In fewer words, I like the change & let's see what else he can add to this new found identity before Summer Slam.
What else was in store for Tuesday night? Well here is General Manager Paige to lay it all out:
I have always been a big fan of these concise show outlines. It adds a lot of structure to the program & gives the audience a refresher of the show's recent episodes. Also, it brings new viewers or recently absent viewers right up to speed. There is always a risk of repeating this tactic too much & disengaging your regular audience, but with 2 weeks before Summer Slam this was definitely the right time to do it.
So, as the GM just said, Miz finally accepted the challenge to face Daniel Bryan at Summer Slam. Here was Miz's official acceptance announcement:
The Miz wasn't done, he participated in a remote interview with Byron Saxton. Miz exploded in this interview & nearly reached his Talking Smack boiling point from a few years ago:
Here we go! This feud has gotten better every week so far & I expect next week's episode to be best altercation yet. WWE is rebuilding the animosity & hatred between these two very well. Next week should chronicle their history & add the proverbial exclamation mark, prior to their match next Sunday.
Speaking of heated rivalries, the Samoa Joe/A.J. Styles feud has been escalated by Joe over the past few weeks. Last week, Joe launched an intense verbal assault on Styles' choices of his career path over his family life. This week, Styles responded to Joe with his own impassioned in ring speech:
Styles says Joe won't walk out champion at Summer Slam & will be lucky to walk out period. Joe laughs. I'm very eager to watch this match at Summer Slam. If there's ever a time to crown a new champion, I'd say its now.
Before their tag match on Tuesday night, Charlotte & Becky had a candid, friendly talk on camera about last week & how the new stipulation at Summer Slam affected Becky. They also took a nice little jab at their Four Horsewomen counterparts on Raw:
Seems like they're teasing that "tea" toast pretty heavily between the first & second segments. I would not be surprised if that comes up again next week. There should be some altercation between the two, before their triple threat title match against Carmella at Summer Slam. Something to further build the friction beforehand.  I could very well envision both Lynch & Flair initially teaming up against Carmella in the match, before it turns into a one on one against each other, resulting from these previously harvested emotions.
The most unlucky entertainer on Smack Down Live, Aiden English, apologized to Lana & Rusev this week….just as Rusev had finished apologizing to Lana:
Rusev seems like he's got Aiden pretty well pegged at this point by telling him to hang back, away from the match this week. Would Aiden heed the Bulgarian Brute's directive? Of course not…..
Maybe we're just all spoiled by the level to which most WWE women perform at these days, but this was easily the worst match of the night. English's folly covered up the display of bad wrestling by both women here. He looks like the guy who just can't get out of his own way. After the match, English tried to apologize once again but was dismissed by Rusev this time around. It appears that the fumbling English is planning another soon to be snafu:
The evening's main event was the final match of the Smack Down Live tag team tournament featuring The New Day versus The Bar:
Really good match by these veterans & definitely worthy of the night's main event spot. I also like how the Bludgeon Brothers were shown as spectators near the very end. It was a nice touch to end the show.
I can't wait for next week's Smack Down Live & even as a die-hard fan, that seems like a weird thing to write. But like I said at the very beginning, Smack Down Live has morphed into the place to be.
Thanks for reading!
Women's Wrestling Wrap-Up
Welcome to the latest edition of the Women's Wrestling Wrap-Up, which recaps everything in women's wrestling in the past week, beginning with Monday's Raw.
Raw featured Alicia Fox replacing Mickie James as Alexa Bliss' heavy, and she defeated Natalya in singles action. After the match, Alexa and Alicia took down both Natalya and Ronda Rousey, leading to Kurt Angle announcing that Ronda will face Alicia on the next Raw, marking Ronda's first match on Raw. Later in the evening, Sasha Banks and Bayley continued showing their bond by defeating Liv Morgan and Sarah Logan in tag team action. As for SmackDown, Carmella's attempt to attack and embarrass Becky Lynch earned her the wrath of the returning Charlotte Flair, who ran off Carmella in defense of her fellow Horsewoman. Not only that, General Manager Paige put Carmella in a match against Charlotte, under the caveat that Charlotte will be added to the title match if she wins. Sure enough, Charlotte made Carmella submit, making the SummerSlam title contest a Triple Threat, much to the dismay of Carmella and (more notably) Becky. More on this later.
On NXT, Shayna Baszler defeated Candice LeRae, and attacked her afterwards. This brought out her SummerSlam challenger, Kairi Sane, who apparently ran off Shayna, only for the sinister champion to attack Kairi. On Impact, Allie and Kiera Hogan defeated Su Yung and her undead bride, only for Tessa to attack Allie post-match. Clearly that issue is not over, despite Tessa defeating Allie, and later on, Scarlett Bordeaux made an interesting impression on a male interviewer, while continuing her quest to bring sex appeal back to women's wrestling.
The last batch of Mae Young Classic II combatants were announced, and leading the latest group is none other than Allysin Kay, an indie sensation who most recently competed in Impact as Sienna. Among the many championships she held was the Knockouts Championship, and she has competed in promotions such as Shine Wrestling, Queens of Combat, and Women Superstars Uncensored, where she served as one-third of the villainous Midwest Militia with Jessicka Havok and Sassy Stephie. The latest batch included returning combatants Rachel Evers and Xia Li, as well as the already signed MJ Jenkins and Chilean sensation Zatara. MJ also made appearances for Impact Wrestling, and has competed in Queens of Combat.
There have been many reactions to Charlotte being added to the SmackDown Women's Championship match, and most of them are quite negative. Many, myself included, felt that SummerSlam would be Becky's shining moment, something she's had very few of–other than becoming the first SmackDown Women's Champion. Becky lost the title in December 2016, and hasn't really been in the picture since then, and many fans jumped for joy when she got her one-on-one shot. Then Charlotte returned and was added to the match, and now the consensus is that Charlotte will capture the title, especially with Evolution just a couple of months away. Becky appearing to glare over Charlotte being added leads many to believe that she'll be turning heel after SummerSlam, which could lead to a singles rivalry heading into September's Hell in a Cell. WWE may not be done tweaking with the title match, as a recent rumor has Asuka possibly being added and making it a Fatal Four Way.
I have to mention this. I got caught up on the ABC game show, To Tell The Truth this past Friday, and who do I see on the program but Impact Wrestling's very own Katarina! The episode originally aired on June 29, and Katarina was featured in the episode's final challenge, which had the former two-time Knockouts Champion as one of three women claiming to be Gal Gadot's stunt in the film, Wonder Woman. Of course, she wasn't, but Katrina looked the part of a very fierce warrior in her appearance.
A new week begins with the penultimate shows before SummerSlam weekend, which will include Ronda Rousey's Raw in-ring debut! Until next week!
Straight Up Smack Down
Smack Down Live was in Tampa, Florida on Tuesday night for what became an incredible show. The 2 hours of air time flew by as segment after segment, superstar after superstar, delivered home runs for the audience. Tuesday night's episode was one of the most enjoyable shows of Smack Down Live that I can remember……without any exaggeration.
The night began with Renee Young introducing Becky Lynch for an in-ring interview segment. Becky gave a great, passionate, thoughtful interview & further endeared herself to the WWE fan base.  Of course, this face time couldn't be without an interruption from the Smack Down Live women's champion Carmella. However there was another few surprises that followed that interruption:
I completely expected Charlotte to return here & come in for the save, but I didn't expect her to do it those high heel boots! Well done Queen. I also totally bit on the James Ellsworth entrance spot. It happened so quick that I didn't even have a chance to doubt its authenticity. Well played WWE.
Not shown in these clips was an interaction between Paige & Carmella, where Carmella mouths off to the Smack Down Live General Manager & tells her that she will never be able to be a champion again. Paige, in turn, then tells Carmella that she will have to face Charlotte in the night's main event. If Charlotte defeats her, she then enters Carmella's Summer Slam as the third participant.  That will teach you to mind your manners, champ. So without any further ado, let's jump to that main event match:
What a way to end the show! Tons of excitement from Charlotte's victory. Tons of disappointment from Becky, watching on TV. Carmella looks like she can almost feel her title slipping away, since she no longer has to be factored into the decision in her championship match at Summer Slam. In the coming weeks, I could see Carmella trying to further build a split & animosity between Charlotte & Becky. Seems only natural for the story. This story line is already very good & is going to get REALLY good over the next few weeks. Stay tuned.
Speaking of REALLY good, Samoa Joe delivered quite possibly the best in-ring promo of his WWE career on Tuesday night. Joe spoke of A.J. Styles desire & determination to sustain his WWE Championship including the toll it takes on his family. Joe was so well laid out in this verbal assault, I mean just listen to him & tell me which part of his message that you DON'T believe here:
Absolutely incredible. Bravo, Joe. He's right too, you know? That belt needs to change hands now. A.J. has had a fantastic run & should develop a program with Joe where he is chasing after the belt he loses at Summer Slam, going forward. Next week, Styles will respond to Joe's eviscerating promo.
More mic work! Daniel Bryan was in the ring this week, responding to Miz's ambush last week.
This was the perfect segment for these two. They chronicled every important moment of their feud, painted each other in negative ways that made sense, & also touched on outside factors surrounding their upcoming match. Just fantastic. Now WWE can use this outline to build a LONG video montage to promote the contentious history between these two.  Mission accomplished. There's still a few weeks before Summer Slam, so with an eye on over-saturation, maybe next week WWE just airs the video montage to reference this feud & lets the drama breathe just a little bit before we really heat them up before Summer Slam? It just seems like there's going to be a lot happening next week & allowing some other feuds to rev up could be beneficial for Miz & Bryan. Besides, the on screen chemistry between these two is like peanut butter & jelly. You can take a couple bites out of it, walk away for a while, come back & finish the rest off later. Why? Because it's still AWWWWWWWESOME. (Sorry, I couldn't resist.)
If you've been enjoying the "Randy reboot", raise your hand. I just raised both. Jeff Hardy made an appearance to address his desire to regain the United States title & also addressed the vicious attack by the Viper 2 weeks ago. After a few short minutes, Hardy called out Orton. Things did not go very well for Jeff after that:
This attack by Orton was so twisted. He rinsed the makeup off of Jeff's face, seemingly allowed Shinsuke to both attack Jeff then vacate the ring on his command, & then as if he were Aquib Talib, he snatched Jeff's necklace from his neck:
Is that Randy Orton or Dee Bo from Friday? Either way, I love it. This dude has done a complete 180 from the Randy that was mailing it in for months against Jinder Mahal last year. I hope that these are the times that people can remember of Orton once he retires…..when he was a top tier wrestler & must watch entertainer.
The Usos faced The Bar & The New Day had their very own announce table for this match. While the team of Saxton, Graves, & Phillips were calling the match as usual, the camera would occasionally pan over to The New Day's announce table. The TV audio also panned at the same time, so it gave the illusion that The New Day were having their own commentary of the entire match. I think they just hammed it up on queue from the production truck, but who knows? Maybe they actually just called the whole match?  "A" for originality though:
So there we have it: The Bar defeats The Usos, so now they face The New Day, for a chance to face The Bludgeon Brothers. The amount of "The" for these names in Smack Down Live's tag team division is out of control. Let's switch it up, huh?  How "Thee Bludgeon Brothers"? Or "Dem New Day"?  Or " O' Bar "? C'mon……something guys. Get over yourselves just a little bit, even though you all are already over.
Finally, the battle of letter "R" tongue rollers ensued this week as The Rrrrravishing Rrrrrussian, Lana squared off against the business associate of Andrrrrrade "Cien" Almas, Zelina Vega:
I'm not sure if these two women have worked any house shows together yet, but this match was definitely a reflection of my curiosity. They just seemed to lack a lot of chemistry here & perhaps this isn't really going to become a Mixed Match Challenge match at Summer Slam because here's what happened immediately after the match ended:
If I had to bet money, this felt like Rusev versus Aiden English will happen at Summer Slam. If that's the plan, then I'm going to be real here for a second. I have never liked Aiden English. I thought his gimmick was very late 80's-early 90's WWF when he was a singles act in NXT. That's basically what he's back to now, since Simon Gotch has been released from the company. That Vaudevillians gimmick was exactly that, a gimmick. The mainstream WWE crowd never got it. Let's be frank, the mainstream crowd would likely never catch onto Moustache Mountain either. Smarks will seemingly latch on to the latest & greatest, if it's unique to them.  The mainstream audience that WWE appears to cater to now & will definitely cater to next year on FOX, is a different animal. When you think of it like that, it's less frustrating as a fan. Just remember that the core of this is wrestling, so that always SHOULD prevail in the event of bad writing, character development, and/or booking. So this is the long way of me saying it would be financially prudent for WWE to rid themselves of Aiden English in the near future. He's like a cat with 9 lives. The opera singer gimmick didn't have legs at NXT, so before it seemed like he was going to be gone like C.J. Parker, but then The Vaudevillians got hot with the NXT crowd. That then turned down to a simmer just before they were called up. Once the main roster WWE & their fans their fill of the Vaudevillians, it seemed like both were gone. Aiden hung around (somehow) while Rusev was searching for something. Rusev knew he was talented, but was looking for how he could be recognized:
Now that he's been established for over a year on Smack Down Live & definitely over, what's the use for Aiden? The intro? WWE can just pipe that in recorded, through the speakers, during the entrance. They own that. What else? The wrestling of Aiden English? You're kidding, right?
Holy over selling, no selling, & anticipating moves too early. Show me one portion of this match where Aiden looks good & I'll point out how Kofi MADE him look good. Granted, this was when he was first called up, but there hasn't been much improvement since. Bottom line, just move on WWE. These are the dead weight cuts that you NEED to make moving forward.  Don't release performers or contributors that are more than just a gimmick.
Sorry for the hatchet job on Aiden, but hey everyone…………thanks for reading!
40 Facts You Might Not Know About Nikolai Volkoff
The WWE lost two different superstars on Sunday, one of them was Brian Christopher. For those of you who have been following our site for a while you know that instead of mourning the death of our sports stars we here at cleatgeeks would rather celebrate their accomplishments. We do this by providing our fans and fans of these superstars an article such as this that details their many accomplishments. We have done that for Nikolai Volkoff, so take the ramp down memory lane.
1) Josip Nikolai Peruzović better known by his ring name of Nikolai Volkoff, was billed by WWF as a heel Russian for the majority of his career. But, he was actually from Croatia. His mother is Croatian of Ukrainian descent and his father was Croatian with a mother of Italian descent.
2) He was on the Yugoslavian weightlifting team until 1967, when he emigrated to Canada after a weightlifting tournament in Vienna, Austria. He received training in Calgary from Stu Hart, followed by his arrival in the United States in 1970.
3) While trying his luck as a wrestler in Calgary Alberta in 1967, he met wrestler Newton Tattrie when Tattrie was wrestling for Stu Hart's Stampede Wrestling. During his 1963-1968 tour Tattrie took Peruzovic under his wing as a protégé and trained the non-English speaking, 315 pound man to become a professional wrestler and Tag Team Partner.
4) In 1968 he began wrestling in Vince McMahon Sr.'s World Wide Wrestling Federation (WWWF) (currently known as WWE). Wrestling as Bepo Mongol, managed by "Captain" Lou Albano and partnered with Newton Tattrie (as Geeto Mongol) as The Mongols, he captured the WWWF International Tag Team Titles from Tony Marino and Victor Rivera on June 15, 1970.
5) Peruzovic met his wife Lynn in 1970, and became an American citizen that year.
6) After losing the titles to Luke Graham and Tarzan Tyler in a match over a year later that unified the WWWF International and WWWF World Tag Team Titles, Peruzovic left WWWF
and went on to singles competition under the name Nikolai Volkoff.
7) In 1974, Volkoff returned to the company and appeared in a memorable match at a sold out Madison Square Garden where he wrestled one of the sport's most famous champions, Bruno Sammartino.
8) He enjoyed two very successful feuds one with Bruno Sammartino. The feud started when Volkoff attacked Sammartino during an interview segment. They sold out arenas all throughout the Northeast. He later had a feud with Bob Backlund during Backlund's tenure as champion. Also during this tenure with WWWF, Volkoff began a ring gimmick where he would crush a fresh apple with one hand as a sign of what he would do to his opponents.
9) Late in 1974, Volkoff moved to the AWA (also known as Mid-South Wrestling) where he wrestled under the name of Boris Breznikoff. He was also paired with a manager, his name was Bobby "The Brain" Heenan.
10) In 1984, Volkoff returned to the now WWF and teamed with the Iron Sheik with the pair being managed by the "Hollywood fashion plate" "Classy" Freddie Blassie.[1] It was at this point that Volkoff pushed the envelope and began to sing the national anthem of the Soviet Union before every match after which the Sheik would grab the microphone and proclaim "Iran number one, Russia number one" before exaggerated spitting after saying "USA", in order to gain even more heat for being foreign heels.
11) The new team of Volkoff and the Iron Sheik captured the coveted WWF Tag Team Championship from The U.S. Express (Mike Rotundo and Barry Windham) at the first ever WrestleMania, on March 31, 1985 after the Sheik had knocked out Windham with Fred Blassie's cane.
12) After losing the titles back to Rotundo and Windham three months later, Volkoff began to wrestle more in singles competition, including wrestling Hulk Hogan for the WWF World Heavyweight Championship on several occasions in 1985 and 1986 (including a flag match at the second ever episode of Saturday Night's Main Event at the Meadowlands Arena), but never defeated Hogan for the title.
13) Volkoff also feuded with former 82nd Airborne paratrooper Corporal Kirchner throughout 1985 and 1986, defeating him in a "peace match" on Saturday Night's Main Event. Their feud ended when Kirchner used Blassie's cane to defeat Volkoff at WrestleMania 2 in another flag match during the Chicago portion of the event.
14) In the fall of 1986, Volkoff's manager "Classy" Freddy Blassie sold half interest in his stable of superstars to the "Doctor of Style," Slick (kayfabe).[1] Giving Slick co-managerial rights to Nikolai Volkoff, Classy Freddy Blassie also shared the contracts of the Iron Sheik and Hercules. This was a storyline aimed at reducing the aging Blassie's active role and the "Hollywood fashion plate" eventually retired in the fall of 1986 at the age of 68.
15) Sheik and Volkoff feuded with WWF newcomer Jim Duggan for the majority of 1987, including Hacksaw running to the ring and stopping the Big Russian's singing before their match against The Killer Bees at WrestleMania III (Sheik and Volkoff won by disqualification when Duggan entered the ring while chasing Volkoff and then hit the Sheik with his 2×4 while he had the Camel clutch on "Jumping" Jim Brunzell).
16) In late 1987, Volkoff was teamed with Boris Zukhov, another alleged Russian who was actually an American wrestler whose real name was James Harrell, to form The Bolsheviks.
The Russians feuded with WWF newcomers The Powers of Pain, losing to them at the inaugural SummerSlam PPV in 1988.
17) However Volkoff did not gain the same success with The Bolsheviks as he did in his partnership with The Iron Sheik. As they lost the public eye due to many losses, they eventually lost their manager Slick and were reduced to being used as a comic relief team losing many matches to The Bushwhackers.
18) The Bolsheviks never held any titles together, and are perhaps best remembered for being defeated in 19 seconds by The Hart Foundation at WrestleMania VI.
Eventually, by 1990, The Bolsheviks split up. Volkoff publicly ended the partnership prior to a match where he confronted Zukhov and then started singing "The Star-Spangled Banner", drawing loud cheers from the audience and turning babyface in the process.
19) A short time after The Bolsheviks split, Volkoff became a hero for the first time in his career. His gimmick was now that of a recently liberated Lithuanian, following the fall of the Soviet Union; he became very pro-west which led to a feud with Sgt. Slaughter who was involved in an Iraqi sympathizer role and had teamed with the Iron Sheik, who had recently begun an Iraqi gimmick under the name Colonel Mustafa (as opposed to his actual Iranian heritage).
20) After Volkoff's team defeated Slaughter's team at the 1990 Survivor Series (Tito Santana being the sole survivor), Volkoff left the WWF at the end of 1990. Makeing only a brief return to compete in the 1992 Royal Rumble match.
21) On Feb 1, 1994 Volkoff would begin a full-time return to the WWF, making a ringside appearance at a Superstars taping in White Plains, New York during a match between Diesel and Mike Moraldo. For the next two months Volkoff would be shown in the crowd, until eventually he became a sympathetic heel by playing the whipping-boy of Ted DiBiase's Million Dollar Corporation.[1] Volkoff had kayfabe fallen on hard times and was forced to take a job working for DiBiase and his new Corporation. As low man in the group he was forced to wrestle matches no one else wanted to or sent out to "soften up" opponents for other members of the stable as the sacrificial lamb of the group. The disrespect even extended to renaming him "Nickel & Dime" Volkoff and DiBiase forcing him to place a ¢ on his trunks where the Russian sickle once was along with a sign on his ring attire that read "Property Of The Million Dollar Man."
22) Volkoff's Last WWF match was on December 30, 1994 when he defeated jobber Bob Starr in a house show.
23) Volkoff's final appearance was at the WWF's final show at The Boston Garden on May 13, 1995. During a match between WWF Champion Diesel and Sid, Volkoff made an appearance to chase Sid's manager Ted Dibiase away.
24) Volkoff made a brief cameo on an episode of Shotgun Saturday Night where Todd Pettengill discovered him homeless sleeping in a box on the streets of New York City. He also appeared at WrestleMania X-Seven at the Astrodome in Houston in the Gimmick Battle Royal which was won by The Iron Sheik.
25) On February 3, 2005, Volkoff was announced as one of the WWE Hall of Fame inductees for the Class of 2005. He was inducted on April 2, 2005 by Jim Ross in the Universal Amphitheatre in Los Angeles.
26) Volkoff made his first appearance on WWE television in over 2 years on the August 13, 2007 edition of Raw as a contestant on WWE Idol, a parody of American Idol. Volkoff appeared alongside the Iron Sheik and Howard Finkel, although Volkoff was the only one who sang. Volkoff sang the Soviet Union national anthem, receiving boos from the crowd (despite being a babyface) and was insulted by judge William Regal, although judges Mick Foley and Maria both praised the performance. In response, Sheik, who was also insulted, went on a tirade until both he and Volkoff were escorted out of the building by security.
27) The March 10, 2008 edition of WWE Raw, featured rematches from previous WrestleManias. The Iron Sheik appeared along with Nikolai Volkoff to face off against the U.S. Express (Barry Windham and Mike Rotunda) in a rematch from the first WrestleMania. However, the match never got started as Jillian Hall came out to interrupt Volkoff's singing so she could sing Bruce Springsteen's "Born in the U.S.A.", which the U.S. Express used as their ring entrance music in 1984-85.
28) On the November 15, 2010, edition of Raw, as part of the Old School theme, Volkoff appeared with the Iron Sheik, singing the Soviet national anthem before being interrupted by Santino Marella and Vladimir Kozlov, the latter of whom then sung a duet with Volkoff of the Russian National anthem.
29) In June 2013 he threw out the first pitch at a Bowie Baysox baseball game and sang God Bless America after the pitch.
30) Volkoff lent his name to a forward for a fiction novel called "Only The Beginning" which is set in the 1980s and is about a girl's life during high school. While the book is not wrestling related, the author Jason Strecker is a personal friend of Volkoff's and in the foreword Volkoff responds to his friendship with the author along with the book's message of being of strong character and doing positive actions for others. The book also has a foreword by Jimmy"Boogie Woogie Man" Valiant.
31) On the January 6, 2014 "Old School" episode of RAW, Volkoff encountered Big E. on his way to a match and sung him the Soviet national anthem, to which Langston smiled. Immediately after, Langston walked past fellow Million Dollar Corporation members, Ted DiBiase and Irwin R. Schyster.
32) On the RAW Fallout segment following the September 8, 2014, Volkoff appeared backstage with Rusev and Lana and sang the Soviet National Anthem.
33) On February 28, 2015, Volkoff appeared for the Superstars of Wrestling promotion in Bayville, New Jersey, where he teamed with ECW legend The Sandman to take on independent standouts Kentucky Bred – in a 3 on 2 handicap tag match. Before the match, Volkoff and Sandman sang the Russian National Anthem and proceeded to drink beers together. The duo squashed Kentucky Bred and then poured beer all over them.
34) In Freddie Blassie's autobiography Listen, You Pencil Neck Geeks, Freddie Blassie describes Peruzovic as a "good family man" who helped Blassie reconnect with a daughter from whom he had been estranged for many years.
35) Peruzovic worked with the Baltimore County Police Athletic League kids programs. He previously worked as a code enforcement officer in Baltimore County where he lived on a farm in Glen Arm, Maryland.
36) Volokoff is the elder brother to ex Croatian/Yugoslavian footballer who now works as a football coach, Luka Peruzovic.
37) In 2016, Volkoff released a biographical comic book miniseries through Squared Circle Comics, titled "Nikolai" (2016-2018).
38) Volokoff ran unsuccessfully in the 2006 Maryland Republican Primary for State Delegate in District 7 (representing parts of Baltimore & Harford County) in Maryland, where he supported Donald Trump's 2016 presidential campaign.
39) Nikoli had 13 championships in his long storied career and 6 managers.
40) Volkoff died on July 29, 2018, at the age of 70 just days after being released from a hospital in Maryland where he had been treated for dehydration among other issues. We pause and say a prayer for the family and friends and fans of this great legend and hope you do the same.