Women's Wrestling Wrap-Up
Welcome to the latest edition of the Women's Wrestling Wrap-Up, which recaps everything in women's wrestling in the past week, beginning with Monday's Raw and ending with Hell In A Cell.
Fresh off the verbal confrontation on Raw, Mickie James was looking to get physical with Alexa Bliss, especially after the cracks on Mickie's age continued. Instead, she ended up facing Nia Jax (while WWE makes us forget that Alexa and Nia were actually feuding), and ends up winning via DQ after Bliss gets involved. After Mickie takes out Bliss, she is encountered by Kurt Angle, who gives Mickie a Raw Women's Championship opportunity against Bliss at TLC on October 22. Later on, Bayley and Sasha Banks team up again and win, this time against Emma and Alicia Fox.
SmackDown saw Natalya and Carmella victorious over the Charlotte and Becky Lynch, and on this past Wednesday's NXT, a double dose of women's action, beginning with Ruby Riot and Nikki Cross defeating Billie Kay and Peyton Royce. Kairi Sane, the inaugural Mae Young Classic winner, made her NXT TV debut and defeated Aliyah. Lucha Underground featured Part 2 of Ultima Lucha, which saw Ivelisse defeat Catrina, and Mariposa turn against Marty the Moth during and after his loss to Fenix, resulting in Fenix and Melissa Santos shaving his head. On Thursday's Impact, a Knockouts Championship match was set for Bound For Glory: Sienna will defend against Gail Kim, Taryn Terrell, and Allie at the event on November 5.
The Hell In A Cell event featured Charlotte vying for the SmackDown Women's Championship against Natalya, and as stated in the pre-show, Charlotte has a chance to become the first to have held the NXT Women's Championship, the now-defunct Divas Championship, and both Raw and SD Women's Titles at least once. Natalya, who also made history for breaking Trish Stratus' PPV match record, prevented Charlotte from doing so, as she intentionally got herself disqualified by using a steel chair. Clearly this thing isn't over.
The Bayley/Sasha team-ups have been interesting as of late; it has me wondering if this is the moment that they'll finally go through with the Sasha heel turn that had been rumored and planned for about seven months. If WWE is going though with Horsewomen vs Horsewomen at (most likely) Survivor Series, then we may have to wait on that. Charlotte's face turn after WrestleMania puts all four WWE Horsewomen on the side of good for the first time ever, and while the UFC Horsewomen aren't established heels (though it may seem like they are), WWE wants to keep their own quartet as babyfaces for the time being.
A pair of former Mae Young Classic combatants made the news, as Serena Deeb visited the WWE Performance Center, mainly to mentor the up and comers. Serena participated in the tournament this summer, defeating Vanessa Borne in the first round before she was eliminated by Piper Niven. On the flipside, it was reported that Impact may be interested in indy sensation Tessa Blanchard, who has competed in several indy promotions and even appeared on WWE's NXT a few times. Tessa's MYC participation was brief; she was eliminated in the first round by eventual tournament winner Kairi Sane.
A new week beginst with Raw, and will include a Triple Threat pitting Liv Morgan, Nikki Cross, and Peyton Royce against each other, with the winner joining Kairi Sane in the NXT Women's Championship contest at Takeover. Until next week!
3 Impacts From Impact
The fallout from Victory Road has come and gone, and has featured some shaping up in the Bound For Glory card. What stood out the most in this thrilling aftermath? Here are my 3 Impacts From Impact:
As a Knockouts fan, I had been anxious to know what the KOs will be doing at BFG in Ottawa. Apparently, Knockouts Champion Sienna was even more anxious, as she appeared to be upset over not having a match at BFG, though she later beamed when she figured it meant a Hall of Fame induction. This prompted Hall of Famer Gail Kim to throw her name in the ring, reminding Sienna that Taryn Terrell cost her the title. Speaking of Taryn, she was quick to remind everyone that she was the longest reigning Knockouts Champion in history, and even Allie set her sights on the title she once held. It was at that moment that Karen Jarrett appeared and announced that the four of them will face each other for the title at Bound For Glory. Now, I figured a multi-woman title match would happen, but I was surprised that Taya and Rosemary weren't part of it. Though the reason could most likely be that Taya and Rosemary will probably face each other in singles action at the event. A lot of us are expecting Gail to get the championship send-off in her native country.
Things are getting interesting in the World Title picture. Eli Drake claimed that he was done with Johnny Impact and that Impact wasn't in the arena. Sad to say, he was 0-for-2. First off, Johnny went after Chris Adonis during his match with Garza Jr, and later on, as Johnny and Garza were going at it, Jim Cornette announced that the two of them will face each other, and the winner gets Eli at BFG for the title. So it looks like Eli Drake may have to deal with Johnny Impact in GFW's biggest stage, and if so, it may not end well for The Defiant One.
The X Division Championship picture is getting interesting. First off, GFW did something that I often accuse WWE of doing: believing that we all have bad memories. A six-man tag pitted Sonjay Dutt, Petey Williams, and Matt Sydal against Caleb Konley, Andrew Everett, and X Division Champion Trevor Lee. Lee and Everett? Weren't they feuding? Now they're together again? Anyway, the babyfaces won, but the unity ended when each of them attempted to get a shot at Lee's title. Even Cornette couldn't come up with something that night, but something tells me that we may see Ultimate X make a return at Bound For Glory–with the aforementioned six combatants going at it.
Those are my 3 Impacts From Impact! Until next time!
Women's Wrestling Wrap-Up
Welcome to the latest edition of the Women's Wrestling Wrap-Up, which recaps everything in women's wrestling in the past week, beginning with Monday's Raw.
Raw featured a verbal confrontation between Women's Champion Alexa Bliss and Mickie James; in a continuation from Alexa making disparaging comments referring to Mickie as an "old lady." Of course, as we recall, Alexa and Mickie started 2017 as villainous allies on SmackDown, but my how a few months has changed a person. Mickie dared Alexa to repeat what she said to her face, and when she did, the former six-time champion made her pay for it. Also, we saw Bayley and Sasha Banks paired together in defeating Nia Jax and Emma in tag team action. The following evening's SmackDown featured a battle between #1 Contender Charlotte and Miss Money In The Bank Carmella, with the former winning.
Wednesday's NXT featured Liv Morgan defeating Mae Young Classic competitor Vanessa Borne, while Ruby Riot was informed that she is not done with Billie Kay and Peyton Royce, as they've requested a rematch. Before all of this happened, NXT General Manager William Regal announced that the vacant NXT Women's Championship will be up for grabs in a Fatal Four Way Match at next month's NXT Takeover: Houston. Kairi Sane is one of the combatants, earning the opportunity after winning the Mae Young Classic tournament on September 12. On Thursday's Victory Road edition of Impact, Taya Valkyrie, Taryn Terrell, and Sienna defeated Gail Kim, Allie, and Rosemary.
On last week's blog, it was reported that former WWE Divas Champion Kaitlyn stepped in a ring for the first time in three years on a training regimen. Now reports are out that WWE is interested in bring Kaitlyn back to the fold. After winning the NXT competition in 2010, Kaitlyn spent nearly three more years competing in WWE, which included a five month reign as Divas Champion in 2013. Seeing Kaitlyn return to WWE would be interesting giving their current group of women. If it were up to me, Kaitlyn would return to NXT as a heel, with her villainous persona seeing her state that started the rise of NXT's women. She would be golden in a feud with women such as Liv Morgan, Aliyah, and Ruby Riot, and in this angle, the evil Kaitlyn could align herself with heels such as Vanessa Borne and Sonya Deville.
SmackDown's Hell In A Cell is next week, but the more anticipated PPV is Raw's TLC, which is in three weeks. That PPV will feature the main roster debut of the undefeated former NXT Women's Champion, Asuka. One has to wonder who Asuka will face at the event; if she has a match at all. Or maybe she'll make an appearance to confront the Raw Women's Champion–whoever that may be. In any event, Asuka's main roster debut will be one of the most epic things to happen in WWE's women's division.
A new week begins with Raw and will end with Hell In A Cell in Detroit, where Natalya and Charlotte will clash over the SmackDown Women's Championship! Until next week!
3 Impacts From Impact (Victory Road)
Victory Road is in the books, and what an event it was! Who had the biggest breakout moments? Here is the Victory Road edition of 3 Impacts From Impact:
Only one title changed hands at the event, and it was the GFW Tag Team Championship. oVe, after spending a good while pursuing the belts, defeated LAX to capture the tag titles, ending a long and dominant reign for the militant faction. Things have not gone well for LAX in the end of summer entering the fall season, as Low Ki went from being the top contender for the World Title to being out of the loop due to outside circumstances. Losing the titles was the biggest blow to the group. On the flipside, this was perhaps the biggest win for the Crist brothers; indy sensations who have competed in several different promotions, most notably Combat Zone Wrestling.
We would not see the last of LAX, as they invaded the main event segment at the end of Impact. After Eli Drake nefariously defended the World Title, he and Chris Adonis engaged in a post match beatdown of Johnny Impact, only for Garza Jr to get involved. It was at that moment that LAX got involved and beat down Garza Jr, but the fact that they're getting involved in the main event is very interesting. Is Garza Jr the next contender? Where does LAX fit in? Will Johnny Impact get another shot? All burning questions, and Bound For Glory is barely over a month away, so the answers should come quickly!
The battle lines were drawn in the Knockouts Division, and the results of Victory Road saw Taya Valkyrie, Taryn Terrell, and Sienna victorious over Gail Kim, Allie, and Rosemary. With that over and done with, what will be the plan for the Knockouts at Bound For Glory in five weeks? I would say multiple women's matches, but now that I think about it, I sense all six of them clashing for the Knockouts Championship. I say that because Impact is having it's biggest year in a while, and of course, they'll want to give Gail a last title shot in what will most likely be her retirement match. I still would like to see more Knockouts added to the roster; the Division could be larger.
Those are my 3 Impacts From Impact! Until next time!
Women's Wrestling Wrap-Up
Welcome to the latest edition of the Women's Wrestling Wrap-Up, which details everything in women's wrestling in the past week, beginning with Monday's Raw and ending with No Mercy.
Raw took place in San Jose, so for those of you expecting You-Know-Who to return, you got it! On the program, Nia Jax defeated Alexa Bliss in non-title action, and we saw a confrontation between those two and Sasha Banks. At that moment, Bayley returned from injury and got involved in the brawl, which ended with Bayley and Sasha standing tall! Later in the program, Bayley was added to the Women's Championship contest, making it a five way at No Mercy. As for Emma, she was still in her native Australia following WWE's latest trip to the Land Down Under.
Charlotte made her first appearance on SmackDown in weeks, as she thanked the WWE Universe for supporting her during the hospitalization of Ric Flair. Of course, that didn't deter Natalya from interrupting and making it all about her, which led to Charlotte challenging Nattie for the SmackDown Women's Championship. Naomi, Tamina (with Lana), and Becky Lynch all threw themselves in the mix, and that prompted Daniel Bryan to put the potential challengers in a #1 Contender's contest. The match main evented SmackDown and was won by Charlotte, who pinned Tamina for the victory. Charlotte's championship shot will come at Hell In A Cell on October 8.
NXT featured a battle between a pair of Mae Young Classic combatants, as Bianca BelAir defeated Lacey Evans; all the while another MYC participant, Dakota Kai, threw her name into the NXT Women's Championship mix, as did Sonya Deville. Lucha Underground featured Melissa Santos' in-ring debut, as she and Fenix were defeated by Marty the Moth and Mariposa, while Impact featured Taya Valkyrie defeating Ava Storie, as well as a brawl between six Knockouts.
The No Mercy PPV saw Alexa Bliss successfully defend the Raw Women's Championship in the five-way match when she pinned Bayley, which was a bad move. Bayley was supposed to have a comeback story, but instead she gets pinned in her first match back, on PPV no less. For the entire week, we saw promos for Asuka's upcoming debut on the Raw brand, and the PPV officially confirmed that Asuka's Raw debut will come at the TLC event on October 22.
Happy birthday this past Tuesday to Eva Marie, who turned 33! Eva Marie's WWE career began in 2013, when she was also announced as part of the cast of Total Divas. On-screen, Eva Marie portrayed a villainous henchwoman for the Bella Twins for the first few months, until all three became babyfaces due to AJ Lee's promo. She continued working the main roster until 2014, when she began training to improve her in-ring skills. Eva Marie returned on NXT, portraying a villainess once again with a gimmick that included donning a red robe and referring to herself as the "Red Queen." She racked up wins against various women and later formed an alliance with the debuting Nia Jax in the process, before returning to the main roster last year and teaming with her fellow Total Divas at WrestleMania. Eva Marie was drafted to the SmackDown brand in the returning brand split, and she was given a new gimmick which included a voiceover promo and also had her backing out of competing. She received a 30-day Wellness Policy suspension last summer, but even after it ended, she didn't return to WWE TV and finally left last month. Outside of WWE, Eva Marie filmed movies, one of them being Inconceivable, which starred Nicolas Cage and Gina Gershon.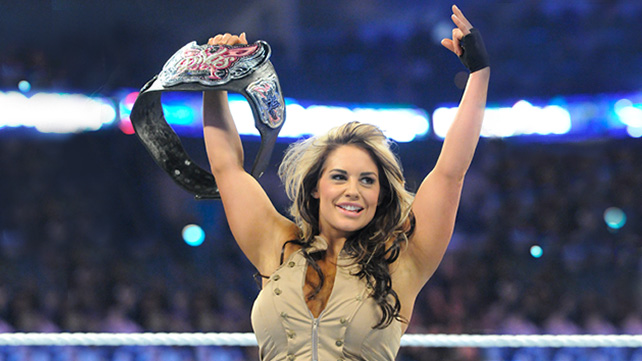 Kaitlyn returned to a wrestling ring this weekend, training at the Main Event Training Center in Fort Lauderdale. Her last wrestling match came on January 8, 2014, when she was defeated by AJ Lee on Main Event before retiring. Kaitlyn competed in WWE for three and a half years, which included a five month Divas Championship reign in 2013. In the years that have passed since leaving WWE, Kaitlyn has focused on her clothing line, Celestial Bodiez, but after reading that news, I do hope she returns to wrestling; in the indies, Impact, or even back in WWE. It still bothers me that Kaitlyn never had a proper run as a heel; she would have made an excellent villainess if given the chance. I could definitely see Kaitlyn as a returning heel on NXT; most likely aligned with Sonya Deville and Bianca BelAir.
A new week begins with the fallout from No Mercy, and will featured SD's build to Hell In A Cell! Ultima Lucha begins this Wednesday, and Victory Road takes place on Thursday! Until next week!
3 Impacts From Impact
The last Impact before Victory Road is in the books!! Who had the biggest breakout moments? Here are my 3 Impacts From Impact:
Johnny Impact lived up to his surname and made an impact by putting his #1 Contendership on the line against KM to start the show. He was looking for Eli Drake, but ended up with KM instead, and he later defeated KM to hold on to his title opportunity. But his night wasn't done. Johnny later found himself face to face with Texano, who got involved in Fantasma and Pagano's match against EC3 and Eddie Edwards, which led to Johnny putting his contendership on the line against him! Now Texano proved more formidable, but in the end, Johnny pulled out a victory. He competed twice, and put his title shot on the line both times, and won! Now Johnny only has Eli Drake and the GFW Title in mind.
We saw Knockout warfare heading into Victory Road as well, as following her victory over Ava Storie, Taya Valkyrie proclaimed that she wants the Knockouts Championship. At that moment, Rosemary appeared and confronted Taya–who took out the Demon Assassin in her debut–and staked her claim to the title. This led to a brawl, which later involved Sienna, Allie, Taryn Terrell, and Gail Kim. Battle lines were drawn in the process, and when the villainous Knockouts entered Karen Jarrett's office and demanded a match against their heroic counterparts, Karen acquiesced. Next week's Victory Road will see Sienna, Taya, and Taryn face off against Gail Kim, Rosemary, and Allie. This will be a very interesting match, and it will most likely set the tone for the Knockouts as Bound For Glory grows closer.
Speaking of Bound For Glory, it was officially announced that the prestigious event will take place in Ottawa, the capital of Canada. This will only mark the second time that BFG emanated from outside the US; it was in 2014 that BFG took place in Japan. One has to believe that Impact's Canadian stars, especially Knockouts Taya, Gail, and Rosemary, would get huge pops, and many would believe that Gail would get what is referred to as the "Trish Stratus" treatment. This is in reference to Trish Stratus' retirement from WWE in 2006, which ended with her winning her seventh and final Women's Championship in her last match in her native Toronto. Bound For Glory will take place on November 5.
Those are my 3 Impacts From Impact! Victory Road is coming; until then!
3 Impacts From Impact
An explosive and unforgettable Impact is in the books! What moments stood out above the rest? Here are my 3 Impacts From Impact:
Bobby Lashley announced to Jim Cornette that he wants his release from GFW so he can return to MMA, with America's Top Team at his side. Though Cornette was disappointed in Lashley's decision, and upset that he would allow himself to be seen with Dan Lambert, he did allow the former World Champion one last chance to settle things with Moose. Lashley did just that, but not on his own, as his MMA buddies got involved and delivered a beat down to Moose. I'm still wondering where this is going, and with Bound For Glory scheduled to take place in the first Sunday in November (a first for Impact), it's going to be a long wait for us fans to find out what America's Top Team will be doing at the prestigious event.
Johnny Impact and Low Ki faced off in a #1 Contender's Match, which was the result of Low Ki continuing to vent over not receiving a fair shot at the World Title. Alberto El Patron's suspension made Low Ki a victim of circumstance, and after he was defeated in the battle royal, he and LAX have had an axe to grind with Jim Cornette. Johnny Impact went on to win the match and become #1 Contender, so that axe has become sharper. Meanwhile, the new challenger was on the receiving end of an assault by both Eli Drake and Chris Adonis, and it was announced that the title contest will take place on a live Impact on September 28!
Some craziness in the Grand Championship contest between Ethan Carter III and challenger El Hijo de Fantasma, as after three rounds, EC3 retained. That wasn't the craziness. The craziness came after the match, when Fantasma went after Hector Guerrero, a judge representing AAA, as he expected Hector to rule in his favor. This was followed by Pagano making his GFW debut and joining Fantasma in beating down EC3, which prompted Eddie Edwards to come to EC3's defense. So what happened here? Did we see a face-heel double turn between Fantasma and EC3? It seems like we did, but EC3 wasn't happy with Eddie's presence, especially since the former X Division, Tag Team, and World Champion wanted a shot at the Grand Championship. So regarding the Impact Grand Championship, the plot certainly thickens.
Those are my 3 Impacts From Impact! Until next week!
Women's Wrestling Wrap-Up
Welcome to the latest edition of the Women's Wrestling Wrap-Up, which details everything in women's wrestling in the past week, beginning with Monday's Raw.
Raw featured Sasha Banks defeating Emma via submission, with Alexa Bliss and Nia Jax on commentary. As we all know, Alexa will defend the Raw Women's Championship against Sasha, Nia, and Emma, with Nia and Emma being added to the match after they defeated Alexa and Sasha in tag team action. The next night, SmackDown was in Vegas, and Natalya was successful in her first defense of the SmackDown Women's Championship, defeating Naomi with Carmella was on commentary.
Of course the biggest moment came following SmackDown, as Kairi Sane defeated Shayna Baszler in the finals of the Mae Young Classic. Kairi went through Tessa Blanchard, Bianca BelAir, Dakota Kai, and Toni Storm to reach the finals, and following her victory, it was announced that Kairi will compete for the vacant NXT Women's Championship at NXT Takeover: Houston in November.
NXT saw Ruby Riot face Billie Kay and Peyton Royce, and with the shocking help of Nikki Storm as Ruby's partner, the pair defeated the self-professed "Iconic Duo." On Lucha Underground, Sexy Star and Taya were on opposite ends of an Atomicos match, with Taya and Worldwide Underground winning. We saw more of Taya on Impact the following evening, as GFW's newest villainess defeated Amber Nova in her in-ring debut for the promotion, and then basically made a demand to Karen Jarrett regarding the impact (no pun intended) she's making.
Just when I was asking the question "Where are Liv and Aliyah?", I see the former in a video on WWE.com. With the NXT Women's Championship vacant, the entire women's division in NXT is vying for a shot, and Liv Morgan was no exception. What I couldn't help but notice was that Liv gave a bit of a heel persona in the video; not too much, but just enough. It's been far too long since Liv have been on NXT TV, and the same goes for Aliyah. I would love a heel turn from one, the other, or even both; though if I had a choice, it would be Aliyah. I still loved how great of a heel Aliyah was when she faced off against Liv.
Mae Young Classic competitor Princesa Sugehit made waves this past weekend, as she lost a 2 Out Of 3 Falls Mask vs Mask match against Zeuxis at the CMLL 84th Anniversary Show. Sugehit, who portrays a ruda (heel/villainess), won the first fall, but lost the next two, and following her defeat, she removed her mask and revealed her face to the crowd. Sugehit's participation in the Mae Young Classic was short; she defeated Kay Lee Ray in the first round, but was defeated herself by Mercedes Martinez in the second round. In other news, Christy Hemme announced the gender of her quadruplets: three boys and one girl. The former Diva Search winner and Impact Knockout announced her latest pregnancy last weekend on social media.
A new week begins with Raw and will conclude at No Mercy in Los Angeles! Until next week!
3 Impacts From Impact
The first Impact of September saw many spectacular occurrences, but which ones stood out the most? Here are my 3 Impacts From Impact:
The biggest impact came from the debuting Taya Valkyrie for so many reasons. First off, as advertised in her promos, Taya is portraying a much different gimmick than she has been playing in AAA and Lucha Underground. Secondly, she made her epic entrance and appeared to be saving Rosemary from Sienna and Taryn Terrell, only to attack Rosemary instead! Taya will definitely make waves on Impact; she has shined for so long in her wrestling career, especially in Lucha Underground! I'm so anxious to see more of Taya in GFW, and to see if we'll see her and Gail Kim go at it one-on-one–maybe at Bound For Glory.
So it was last week that Grado and Joseph Park were stunned to learn that Laurel Van Ness, Grado's bride-to-be, is a Canuck. Now I figured that they may have Laurel say she's a documented U.S. citizen and they could still get married. Instead, on this past Thursday's edition, Grado decided to break it off with Laurel, and in his mind, she was taking it well. Oh, Grado, you poor sap. As we all saw, glimpses of evil psycho Laurel were showing themselves, but she briefly hid that from Grado. So it looks like LVN will go off the rails again, though it may be in small doses. As I'm writing this, it has me thinking of past psychotic gimmicks in women's wrestling, most notably Victoria's first year or so in WWE and Mickie James' stalker angle with Trish Stratus. Of course, Brittany was a resident psycho in Impact in 2014, but LVN may take the cake here.
I have to apologize, because with all of this going on, I have yet to mention oVe. Dave and Jake Crist, who have been wrestling for years, joined Impact last month and have racked up wins; now they want the tag titles. The brothers challenged LAX after their match, and it was Konnan who made the title match, but it would take place in Tijuana. I'm so happy that the Crists are in Impact; I've heard of them for a long while and I've actually seen them in action. Of course, for those who follow women's wrestling, Jake Crist is the husband of one of my faves in the indy scene, Nevaeh, and honestly, I hope they get her to be oVe's centerpiece. In the indies, Nevaeh is part of a group known as Ohio Is 4 Killers (OI4K) with her husband and brother-in-law.
Those are my 3 Impacts From Impact! Next week, Johnny Impact and Low Ki will face off in a #1 Contender's Match for a shot at the GFW World Title! Until then!
Women's Wrestling Wrap-Up
Welcome to the latest edition of the Women's Wrestling Wrap-Up, which recaps everything in women's wrestling in the past week, beginning with Monday's Raw.
Entering Raw, Alexa Bliss vs Sasha Banks in a one-on-one title rematch was set for No Mercy; however, Nia Jax and Emma had problems with being left out of the match. This was especially true for the former, as Nia left both champion and challenger laying to end the previous Raw. So Kurt Angle decided to have Nia and Emma team up against Alexa and Sasha; if Nia and Emma win, they're added to the match. Sure enough, that's exactly what happened, though it was Emma who capitalized on Nia's offense. Nevertheless, the Raw Women's Championship match at No Mercy is a Fatal Four Way!
SmackDown Live saw Natalya defeat Carmella in non-title action, thanks to James Ellsworth slipping in the MITB case under the belief that the plan was to cash in. Sure enough, Miss MITB was irate with Ellsworth messing up her plans for the second straight week and dumped him, but not before hurling cruel barbs at him. However, it seems like Carmellsworth is back on, as after Ellsworth begged Carmella to forgive him, the Princess of Staten Island took him back–under one condition:  they do things her way from now on.
NXT saw Sonya Deville defeated Zeda, one of the many women who participated in the Mae Young Classic. Later on, Ruby Riot was shown talking with William Regal; wanting a handicap match against Billie Kay and Peyton Royce. Regal stated that it would be unfair to make such a match, so he decided to make a tag team match instead; Billie and Peyton against Ruby and a partner. The show was centered on Asuka, as she surrendered her NXT Women's Championship due to injury
and preparations for the Empress of Tomorrow to be called up to the main roster.
Impact Wrestling featured the long awaited debut of Taya Valkyrie, who came out assumingly in defense of Rosemary, who was being assaulted by Taryn Terrell and Sienna. Instead, Taya attacked Rosemary herself, and is apparently aligned with Taryn and Sienna. Meanwhile, Grado called off the wedding to Laurel, and as we witnessed, Laurel appears to be going off the rails again. Oh boy.
So much news outside the ring; the biggest story being Christy Hemme announcing that she is pregnant with quadruplets! The 2004 WWE Diva Search winner and former Impact Knockout made the announcement on Friday, with the revelation that she's 15 weeks along in her pregnancy, which means she'll be due to give birth sometime in February. This is not Christy's first pregnancy; she gave birth to daughter Charlie Rose in January 2015. The genders of the babies were not revealed. Christy isn't the only one expecting, as Lucha Underground ring announcer Melissa Santos went public with her own pregnancy; having her first child with boyfriend and LU competitor Brian Cage.
Nikki Bella will be Dancing With the Stars! It was announced this past Monday that WWE's longest-reigning Divas Champion will be among the celebrity contestants in the upcoming season of Dancing With the Stars, joining Stacy Keibler and Chris Jericho as the only WWE names to participate on the show. Regarding her WWE career, Nikki revealed that she plans to return to the ring with twin sister Brie Bella sometime in 2018. The new season of DWTS begins next Monday.
A new week begins with Raw, and will also include the finals of the Mae Young Classic! On SmackDown, Naomi will get her title rematch against Natalya, and we should see more from LU, NXT, and Impact! Until next week!