3 Impacts From Impact
Another amazing Impact is in the books, as the promotion enters the month of December. Who made the biggest impression? Here are my 3 Impacts From Impact:
Due to the events of the last Impact, a tag team main event was made, pitting Eli Drake and Chris Adonis against a team consisting of Eli's last two challengers, Johnny Impact and Petey Williams. The former challengers ended up victorious, but the very end saw Alberto El Patron stealing the spotlight again; taking down Eli and holding the Global Championship that he once possessed. This whole tit for tat between Eli, Johnny, Petey, and Alberto has been going on for weeks, and I say it's about time we saw a resolution to this. Maybe have all four of them duke it out for the title, hopefully as soon as next week. They can't take Johnny out of the title picture completely, especially since he should have walked out of BFG as champion.
The second three way semifinal match in the Knockouts Championship tournament took place, pitting former champions Sienna, Rosemary, and Allie against each other. Sienna had been the most vocal about the tournament, stating that it was unfair due to the fact that she wasn't actually pinned in Gail's title victory at BFG. However, Sienna had the chance to get the title back, and Rosemary and Allie also had chances to become champion again. What I did enjoy was Rosemary and Allie's bond being mentioned as the pair went at it during the match, which actually ended with Rosemary pinning Allie to advance. The Demon Assassin will face off against the unhinged Laurel Van Ness in the final, while Sienna finds herself in a place that's foreign to her: completely out of the title picture.
Matt Sydal received his latest big opportunity, as he challenged Ethan Carter III for the Grand Championship. It was dead even from beginning to end, with EC3 winning Round 1 while Sydal won Round 2. After the third round, even the judges were even, with two of them splitting between champion and challenger, while the third stated it was a draw. So EC3 retained and still referred to Sydal as a choke artist, even though they basically tied. One has to believe that Sydal will get another shot at the title, because, again, it was a tie.
Those are my 3 Impacts From Impact! Until next time!
Women's Wrestling Wrap-Up
Welcome to the latest edition of the Women's Wrestling Wrap-Up, which details everything in women's wrestling in the past week, beginning with Monday's Raw.
Raw featured Paige's first match in a year, as she (with her Absolution cohorts Mandy Rose and Sonya Deville) defeated Sasha Banks (with her allies Bayley and Mickie James). Later on, Alicia Fox was defeated by Asuka, and afterwards, she was taken down by Absolution, with the attack coming after Paige referred to Alicia as her best friend. In between all of this, a possible romance could be budding between Nia Jax and Cruiserweight Champion Enzo Amore. More on that later.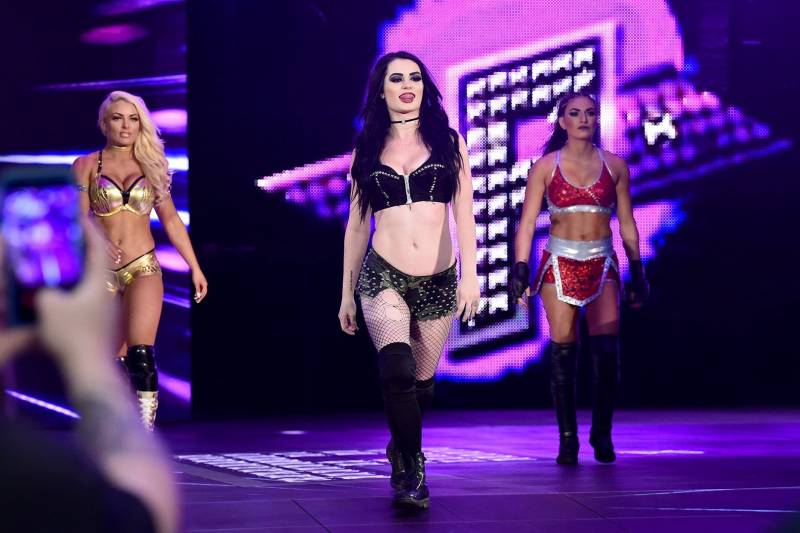 SmackDown featured Charlotte defeating Tamina in singles action, but before this, Daniel Bryan was caught in a crossfire between The Riott Squad, Carmella, Lana, and the aforementioned Tamina. The GM announced that all of the other women would be involved in the title contest between Charlotte and Natalya, as it will be a Lumberjack Match. Following Charlotte's victory, the future Lumberjacks went at each other, while Charlotte walked away unscathed. We would see more of Charlotte later in the week, as she made her appearance in Psych: The Movie, which aired this past Thursday.
NXT featured the final chapter in the rivalry between Ruby Riott and Sonya Deville, which began before both women were promoted. Sonya defeated Ruby in a No Holds Barred Contest, while new NXT Women's Champion Ember Moon was challenged by Peyton Royce during her interview. On Impact, Rosemary defeated Allie and Sienna to advance to the finals of the Knockouts Championship tournament, where she will face Laurel Van Ness.
So about Nia. Online reports did state that the plan is to have Nia and Enzo paired up as a comedic heel couple, following in the footsteps of Glamarella and Carmellsworth, though IMO, that bar was set by Eddie Guerrero and Chyna during the Attitude Era. I have been vocal in stating that Nia should be pushed, though I am all for this angle; I do love couples like this. Reports state that the angle will see Nia appear on 205 Live, though if it were up to me, Nia would do what Jacqueline did in 2004: win the Cruiserweight Championship. I wouldn't be surprised if it eventually leads to that.
This upcoming week is actually one of my favorite weeks of the year, the annual WWE Week! USA Network has used this promotion for several years now, and it always takes place at the 2nd or 3rd week in December, in time for the holidays. For this week, it's Raw on Monday, SmackDown on Tuesday, an actual airing of NXT on Wednesday, and the 15th annual Tribute to the Troops on Thursday. Yes, you read that correctly, NXT (or at least part of it) will be on the USA Network for the first time ever, and will air on actual television for the first time in seven years. Raw should featured the continuation of Absolution's dominance, while SmackDown will be the last one before Clash of Champions. And I do enjoy Tribute to the Troops; a WWE holiday tradition that began in 2003.
So that's what in store for us on this upcoming week! Until next week!
3 Impacts From Impact
Another historic edition of Impact is in the books! What stood out the most on this action packed edition? Here are my 3 Impacts From Impact:
The Knockouts Championship tournament began with Laurel Van Ness, Madison Rayne, and KC Spinelli clashing in one of two three-way matches in the round robin. For Madison, this marked her return to the Impact Zone, and a chance to become a six-time Knockouts Champion. For KC, this was her first official appearance in the Impact Zone, and for Laurel, it was an opportunity to shine after a year in Impact Wrestling. In this hard fought and fast paced match, Laurel ended up emerging as the victor when she pinned KC, and she advances to the championship final, which will air on December 14. It was great seeing KC compete in the Impact Zone, and I can't wait to see more of her!
The continuation of the Matt Sydal/Ethan Carter III angle was displayed, as the Impact Grand Champion was on commentary during Sydal's contest against Tyson Dux. EC3's continuous criticism of Sydal is that he can't win big matches, referencing Sydal beating Lashley yet coming up short in his Global Championship opportunity. Sydal was victorious over Dux, and following his victory, it was announced that Sydal will receive a shot at the Grand Championship on the next Impact. I do sense that the "close but no cigar" tag will be removed from Sydal after everything is settled.
Speaking of things being (possibly) settled, Johnny Impact and Alberto El Patron finally had their grudge match stemming from the events of Bound For Glory. Global Champion Eli Drake stated that he would have a front row seat to see the two championship contenders go at each other, and he certainly did, as it was Eli's interference that led to Johnny winning. Eli then went after Johnny and Alberto, with Chris Adonis assisting him. However, at that moment, Petey Williams, who had a shot at the title before, went after the champion, and the show ended with Petey and Johnny celebrating. I dare say that the top title picture has become crowded, and I am curious to see who will emerge as Eli's next contender. It may be more than one challenger.
Those are my 3 Impacts From Impact! Until next time!
Women's Wrestling Wrap-Up
Welcome to the latest edition of the Women's Wrestling Wrap-Up, which details everything in women's wrestling in the past week, beginning with Monday's Raw.
On Raw, we were supposed to receive a match pitting Sasha Banks, Mickie James, and Bayley against the newly formed tandem of Paige, Sonya Deville, and Mandy Rose–with Paige referring to the trio as Absolution. Paige revealed her motivation, stating that she was the one responsible for the Women's Revolution: getting the Diva label eliminated, and making things better for the women, with both Sonya and Mandy agreeing and showing their allegiance to Paige. The match wouldn't happen due to Absolution taking out Bayley and Mickie, leaving Sasha by her lonesome. Paige gave Sasha an ultimatum: either pledge to Paige, or else. The Boss wouldn't bow down to Paige, and she ended up assaulted by the villainous trio. Later on, Asuka defeated Dana Brooke in five seconds (shameful), and was circled by Absolution, only this time, they didn't dare cross Asuka.
We were supposed to receive a six-woman match on SmackDown, and this time, the blue show delivered. In a backstage interview, Ruby Riott, Sarah Logan, and Liv Morgan referred to themselves as The Riott Squad, and they faced off against Charlotte, Naomi, and Natalya. The match quickly became three-on-two once Natalya walked out, and Charlotte was left on her own later in the match after Liv and Sarah took out Naomi. Charlotte held her own, but she ended up pinned by Ruby. On NXT, Kairi Sane defeated Peyton Royce in a battle between former championship contenders, and speaking of championships, Laurel Van Ness defeated KC Spinelli and Madison Rayne in the Knockouts Championship Tournament, advancing to the championship final in two weeks.
On Friday, WWE gave us a behind the scenes look at Charlotte's appearance in the upcoming Psych: The Movie, where she appears as the villainous Heather Rockrear. Charlotte is no stranger to villainy, as she has spent a majority of her WWE career reigning as WWE's evil queen, holding the Raw Women's Championship multiple times. On the flipside, Psych is no stranger to having WWE talent on their TV series, which ran between 2006 and 2014. WWE names that appeared on the original series include Mickie James, John Cena, Stacy Keibler, The Miz, The Big Show, and The Bella Twins. We don't have to wait too long for this film; it will premiere on the USA Network this upcoming Thursday.
Staying on the subject of Charlotte, it was announced that she will defend the SmackDown Women's Championship against Natalya in a title rematch. Charlotte captured the title on November 14, just five days before Survivor Series, where she defeated Raw Women's Champion Alexa Bliss. Her title rematch against Natalya a week later was interrupted by the debuting Riott Squad, who attacked both challenger and champion after taking down Naomi and Becky Lynch. We all expect the Riott Squad to have a match at the PPV, though it'll have to be against a makeshift team. Some are expecting Ruby to be added to the match due to the fact that she pinned Charlotte this past Tuesday.
This past Saturday, Candice Michelle competed in her retirement match, doing so at Tommy Dreamer's House of Hardcore promotion. The promotion held their event in Waukesha, Wisconsin, which is close to home for Candice, and her opponent was a fitting one: Lisa Marie Varon, the former Victoria (in WWE) and Tara (in Impact Wrestling). Candice and Lisa Marie have been long time good friends since their time in WWE together over a decade ago, which included serving as villainous partners in crime as Vince's Devils with Torrie Wilson. The match started off well until Lisa Marie suffered an apparent knee injury, causing concern from Candice as she was helped to the aisle. At that moment, however, Lisa Marie turned heel and attacked Candice, while showing off her ruse by doing jumping jacks. Despite the swerve, Candice was victorious over the evil Lisa Marie, and after her victory, she gave a long promo thanking not only her long time friend, but her family and her fans for supporting her during her wrestling career, which saw her reign as WWE Women's Champion. The match was Candice's first and only one following her WWE release in 2009, and it was done as a farewell to her career and to give closer to her many loyal fans, which includes myself.
In Impact news, it has been reported that Laurel Van Ness has asked for her release from Impact Wrestling, which could be coming shortly. Laurel (real name Chelsea Green) has had a very interesting last few years, with her string beginning with a villainous appearance on WWE's Raw in 2014; portraying Megan Miller, a woman who falsely accused Daniel Bryan of having an affair with her. She was later part of WWE's Tough Enough a year later, and it was in 2016 that she debuted in Impact as the evil Laurel Van Ness. Laurel was originally portrayed as a spoiled rich girl, and had been paired up with Braxton Sutter as part of Maria Kanellis' scheme to torment Allie. After Braxton dumped Laurel at the altar for Allie, Laurel began a new gimmick which had her continuing to wear her tattered wedding dress and losing her mind over being dumped–a gimmick that really got Laurel over. She turned face this past summer and regained her normalcy long enough to accept Grado's proposal, which would keep him in the US. Grado dumped Laurel after learning that she's Canadian, leaving Laurel to transform back into a psychotic villainess. Laurel's heel turn was cemented at Bound For Glory when she attacked Grado during his match against Abyss. Is a return to WWE on the horizon? Her current real-life beau, Zack Ryder, is there; and she could really get over if she uses that crazy gimmick again.
A new week begins with Monday's Raw, and it was announced that Paige will be in action for the first time in a year, as she'll face off against Sasha Banks. The Knockouts Championship tournament continues with the other three-way match: Allie vs Rosemary vs Sienna. Until next week!
The 10 Count
This is the first of a new weekly article where I plan to give you the fans 10 happenings wither they be rumors, opinions or facts about the wrestling business. Everything is up for grabs WWE, Impact, Ring of Honor, NXT and the independent circuit as well. These 10 things are in no particular order so throw everyone out of the ring, and let's start the 10 Count!
Jeff Hardy has been out of action for a couple of months after having right shoulder surgery.The time line for his return was given by WWE as not able to come back into the ring until after WrestleMania. But Jeff was at the pre-sale party for WrestleMania 34 in New Orleans. While he was there he talked to some media outlets and fans, in doing so, he said that not only was his rehab going well but that he anticipated he would be able to compete in a tag match with his brother Matt at WrestleMania 34.
The 2018 pay-per-view schedule will have a huge change that will then have a trickle down effect on the WWE in 2018. WWE has always had the "Big Four" per year with Royal Rumble, WrestleMania, SummerSlam and Survivor Series. However in 2018, there will be the "Big Five" with Money In The Bank being added. What do I mean by being added? It has been announced that the Money In The Bank show will now be a co-branded pay-per-view with both Raw and Smackdown superstars participating in the event.
Let's talk about The Revival. They are being labeled as injury prone by some fans, not long after making their debut last year after WrestleMania last year Dash Wilder broke his jaw and was out of action. They come back, then Scott Dawson goes down with a biceps injury that required surgery. I can confirm that Scott Dawson should be cleared for in ring competition in mid to late December and I hope they will be the Top Guys very soon thereafter.
Emma, who was recently released from WWE will be making her first appearance at WrestlePro on February 3rd in New Jersey. She can not go by Emma as with most WWE talent WWE owns the rights to her name as Emma, therefore she will now be wrestling under her real name which is Tenille. She has been booked to face Angelina Love, former Impact Wrestling talent.
If you watched the NXT event War Games before Survivor Series on the WWE Network you saw that on the final spot of his match Drew McIntyre tore his bicep. I still have not been told how significant the tear was, but I can tell you that the WWE has already gotten an MRI on his injury and that they have asked for a second opinion on the initial MRI. Not sure if this is good news or bad news, but the WWE are holding their cards tight to their chest on this one seemingly because if the tear is not bad the idea was to have him wrestle and loose for the NXT title one more time and be in the Royal Rumble and I assume, again if the tear is minimal, the WWE will just not have him loose again in NXT and go forward with the Royal Rumble angle. But, as I write this article I saw a tweet from Drew;
Unfortunately I did suffer an injury during my title defense at TakeOver. I've dealt with setbacks before. The reality is, I always come back better…There's a scary thought for whomever is NXT champion come 2018… #TickTock

— Drew McIntyre (@DMcIntyreWWE) November 27, 2017
Jim Ross had Dave Batista on his podcast earlier this week. Ross asked Batista if he would ever consider returning to the WWE. He had a great fan answer, he said only on a full time basis. Now I don't think he meant full time like WWE would be his only job, I took it as he wants to do the Chris Jericho returns and not the Brock Lesnar schedule. He wants and would be willing to do stints with WWE between movie roles and Hollywood commitments. He would come back and do a real feud or two like Jericho does and then leave again rather than show up at pay-per-views for more 1 off matches.
Why was this weekends Starrcade not on the WWE Network? First, WWE was again flexing it's muscle and burring another indy wrestling promotion in Wrestlecade. That event was a 3 day event only about 200 miles away in the same state and WWE crushed them. Secondly, for those of you who do not know, WWE records and broadcasts in 4K, which is why the Network has such great picture quality if you have a newer television. However, doing so is not cheap. Have you ever been to a Raw or Smackdown taping and seen the tons of white production trucks? Again, not cheap. Plus, and this is a hope from a person who attends house shows, the older house shows had a different feeling than they do now. Remember when AJ Styles won a title at a house show? Social media was talking about it for days. The WWE needs to build value back into their house shows again. If they do, then those dates sell out and those merchandise stands sell out and the WWE makes more money while we the fans get treated every once in a while and seemingly get a bargin as house shows are usually less expensive to go to. The NXT events are starting to create this buzz, and when NXT comes back to where I live, I will buy tickets and see it live for that reason.
Speaking of NXT, they did not do a taping this week and the programming they will be showing is from the San Antonio tapings prior to Take Over War Games. The WWE is only going to be doing one more set of tapings, which will take place tomorrow at Full Sail University. If you are planning to go to FSU, in the near future and watch the NXT tapings you need to change your schedule. The dates the WWE needed to do the tapings at FSU were not available so they will be doing the tapings for the shows at Center Stage in Atlanta Georgia for January and February.
Don't challenge Cody Rhodes and the Young Bucks. Ring of Honor has been doing increasing well, and people are wondering if it is time for ROH to start looking at booking bigger venues. Dave Meltzer then was quoted as saying something to the effect of ROH could not sell out a 10,000 seat arena. Well, now sources are saying that that Cody and the Young Bucks are looking to finance a 10,000 seat venue in conjunction with ROH, but paying for the event themselves taking the liability off ROH. The tentative title for the event is "All In" and venues are being looked at currently to house the event.
Lastly, I want to talk about the current storylines in the Women's Division, especially since we do a weekly Women's Wrestling Wrap-Up article and are firmly behind women in wrestling. With the addition of the 6 new women to the Raw and Smackdown rosters I personally think this is leading to another historic first in the Women's Division. Let me make this clear, this is only my opinion, and has not been confirmed by any source. I think we will be having a Women's Royal Rumble match! With the influx of the additional 6 talents, and the other ladies on the NXT roster which include several women from the Mae Young Classic I think a 20 women over the top rope Battle Royal will take place this year. I also believe the winner of that event will be able to challenge either the Raw or Smackdown Women's Champion just like the male version. I will have more on this later in a separate article in the coming days.
Thank you for reading.
If you think this article would be of interest to someone you know, then share it to your Twitter, Facebook, of one of the other social medias below! #GeeksRuleTheSportsWorld! Speaking of what we have below, join our community and the thousands of people who comment on the over 4,000 articles we have shared with our fanbase by using the comment section below!
Women's Wrestling Wrap-Up
Welcome to the latest edition of the Women's Wrestling Wrap-Up, which recaps everything in women's wrestling in the past week, beginning with Monday's Raw.
The week began with a bang on Raw, as Alicia Fox, Bayley, Mickie James, and Sasha Banks each threw their proverbial hats in the ring for a title opportunity against Alexa Bliss. General Manager Kurt Angle decided to have the four of them compete in a #1 Contender's Match, but during the contest, we were treated to the return of former Divas Champion Paige! Paige asked if the fans missed her, but she later stated that she didn't come alone. She wasn't kidding, as out of nowhere, the evil Sonya Deville entered the ring along with Mandy Rose, and the two of them joined Paige in attacking Bayley, Sasha Banks, and Mickie James, while Alicia escaped! So not only did Paige return and turn heel, but she brought a pair of NXT alums with her! The assault didn't stop there, as the evil trio even attacked Raw Women's Champion Alexa Bliss backstage!
I had a feeling that SmackDown would do the same to match Raw, and I was right! A backstage segment saw Naomi bring up the upcoming title rematch between Charlotte and Natalya, when she was suddenly approached by Ruby Riot, who introduced herself to the former two time SmackDown Women's Champion. Just like Paige, Ruby came with associates, in the form of Liv Morgan and Sarah Logan, and the three of them beat down both Naomi and Becky Lynch. Later on, the villainous trio crashed the title match and attacked Natalya at ringside before entering the ring and beating down the champion, Charlotte! In just two days, we saw five NXT women promoted, and two of them made their NXT farewells on this past Wednesday's post-Takeover edition, as Ruby Riot defeated Sonya Deville in a grudge match.
Thursday's Thanksgiving Impact featured the annual Turkey Bowl match, a five-on-five affair that included Allie and Laurel Van Ness on opposite sides–with Allie on the winning side. During the program, the Knockouts Championship tournament was promoted, and among the six women who will participate in the round robin is five-time Knockouts Champion Madison Rayne. Madison is a household name in Impact Wrestling; she began all the way back in 2009 as part of The Beautiful People, and it was within months that she won the first of her five Knockouts Championships. Her last title run came in early 2014, and she spent a good bit of the rest of her Impact career as part of the Beautiful People reunion with Angelina Love and Velvet Sky before leaving last year. Madison is also the real-life wife of Impact announcer Josh Mathews. The tournament will consist of a pair of three-way matches, with the two winners facing off for the title. Madison will compete against Laurel Van Ness and KC Spinelli in one match, while the other match will see Sienna, Rosemary, and Allie face each other.
So back to the NXT call-ups. As a result of the actions on Monday and Tuesday, four women (Paige, Ruby, Liv, and Sarah) turned heel, while Mandy and Sonya were already villainesses in NXT. I myself am elated that Liv is a heel, as I've wanted her and/or Aliyah to turn villainous for some time now. I've also wanted Alexa as a babyface again, and I think we'll have that after what happened. Now, we as women's wrestling fans don't tend to look gift horses in the mouth, but we have to ask the million dollar question. Why the call-ups? A report stated that Vince felt that the Women's Division had been stale, and these call-ups have certainly spiced things up! And now for another million dollar question. Will this lead to the first ever Women's Royal Rumble Match? A report on that stated that WWE not only has that been discussed, it's expected to be announced. A Women's Royal Rumble would be absolutely epic! The Women Superstars Uncensored promotion had the Uncensored Rumble match, which was similar to the Royal Rumble. Now I'm not expecting 30 women in the match; 20 or 25 will do, with a few NXT guest appearances entering.
In other news, it was announced this past week that Becky Lynch will be featured in the upcoming sixth installment of The Marine, which is titled, The Marine 6: Close Quarters. The Miz will reprise his role as Jake Carter for the fourth time, and the film will also star WWE Hall of Famer Shawn Michaels as fellow marine Luke Trapper. The plot line has Miz and HBK's characters dealing with a gang of international criminals, who have held a young girl captive. Becky's character has not been revealed, though I have a sinking feeling she'll be a villainess in the film. Becky joins the long list of female WWE stars who have appeared in WWE Studios' films; a list that includes Summer Rae, Paige, Maryse, and Naomi. She'll be the second of the Horsewomen to appear in a film; Charlotte's appearance in Psych: The Movie will air on December 7. Filming on Marine 6 is set to begin on Monday.
A new week begins with the fallout from the fallout, the aftermath of the NXT call-ups and Paige's return. Speaking of NXT, Kairi Sane will face off against Peyton Royce, and the Knockouts Championship tournament will begin! Until next week!
3 Impacts From Impact
On Thanksgiving Night, we all received a huge helping of Impact Wrestling! What were we all most thankful to see that evening? Here are my 3 Impacts From Impact:
We were treated to a package promoting the upcoming Knockouts Championship tournament. The tournament was announced last week after Gail Kim vacated the title after winning it at Bound For Glory. The round robin will feature six women and among them is the returning Madison Rayne, who held the title five times in her Impact career. Many of the KOs spoke about the tournament, but the most vocal was Sienna, who held the title for most of the year until Bound For Glory. Sienna voiced her anger over Gail relinquishing the title and claimed that the tournament is unfair; stating that the reason she's not champion anymore is because Allie (in Sienna's mind) served as Gail's backup in the title bout at BFG. The tournament takes place on the next Impact.
Impact's Thanksgiving tradition is the Turkey Bowl, which is the annual match where the loser dons the dreaded turkey suit. The episode took a look back at past matches involving the suit, with the most memorable one being the one between Robbie E and Grado. They had formed a tight partnership even entering their match, which saw them get down to business. Especially Robbie E, because he had to wear that suit before. In the end, Robbie E was victorious, and Grado had to don the suit. Grado wasn't comfortable at first, but in his usual fashion, he began to embrace the suit and began dancing to his theme. The match took place last year, and it was an absolutely hilarious moment.
Which brings us to the five-on-five Turkey Bowl match. The participants were picked out in a random drawing by Jeremy Borash, with team captains. Eddie Edwards served as one captain, while the other was none other than Chris Adonis, much to Adonis and Eli Drake's surprise. Eddie's partners:  Fallah Bahh, Allie, Garza Jr, and Richard Justice. Adonis' partners:  KM, Laurel Van Ness, Fantasma, and Caleb Konley. Yes, you read that right; this year's Turkey Bowl match involved Knockouts for the first time in history, and the end result saw Eddie's team victorious, with Eddie pinning Adonis. Per the rules, Adonis had to don the suit as he was pinned, but it was only the threat of Eli Drake having to wear it that led to Adonis finally acquiescing. And of course, a food fight ensued, because what's Thanksgiving in the world of pro wrestling without a food fight?
Those are my 3 Impacts From Impact! Until next time!
3 Impacts From Impact
A historic Impact is in the books, the aftermath of the aftermath. What stood out the most on this fantastic evening? Here are my 3 Impacts From Impact:
Since Gail Kim captured the Knockouts Championship at Bound For Glory, the question on everyone's mind was, "What's next?" As we all figured, Gail vacated the Knockouts Championship, but not before giving a passionate speech thanking the fans and several of the women she had worked with in her career, with WWE Legends such as Trish Stratus, Lita, and Molly Holly being mentioned. Jeremy Borash was in the ring as Gail spoke, as was Allie, whose presence I found interesting because part of me actually thought that Allie would take this opportunity to turn heel and attack Gail, maybe establish a more vicious streak in her quest to become the next champion. Following the title's vacancy, it was announced that a six-woman tournament will take place to crown a new champion, and that will start on November 30.
Dan Lambert decided to take the opportunity to boast about America's Top Team winning at Bound For Glory, and later decided to attempt to fully release Lashley from Impact's contract. Moose later came out and gave the facts, that it took six men to beat him down, and he went face to face with Lambert, well, until the rest of ATT came out. James Storm came to Moose's aid, took out ATT, and then gave an impassioned speech about pro wrestling and his own career and path. Storm and Moose together. I do like the sound of that. Now let's hope we see more of it!
The main event was Petey Williams' ultimate opportunity; facing Eli Drake for the Global Championship. The match was made on the previous Impact, and it was the former X Division Champion's chance to rise to the top. The match was amazing, and it included something we had NEVER seen before: a kick out on the Canadian Destroyer. Eli ended up winning, but with Johnny Impact seemingly out of the picture, who's next to go for the title? Only time will tell.
Those are my 3 Impacts From Impact! A Thanksgiving edition is coming, including the return of the Turkey Suit! Until then!
Women's Wrestling Wrap-Up
Welcome to the latest edition of the Women's Wrestling Wrap-Up, which details everything in women's wrestling in the past week, beginning with Monday's Raw and ending with Survivor Series Weekend in Houston!
On Raw, the last spot on Team Raw was up for grabs, and in the end, it went to Bayley, as she defeated Dana Brooke and Mickie James in a Triple Threat Match. Bayley joined Asuka, Sasha Banks, Nia Jax, and team captain Alicia Fox on the team of red brand representatives. Meanwhile, things were shaken up on SmackDown the next night, as Charlotte defeated Natalya to capture the SmackDown Women's Championship in an emotional outing that later saw her embraced by her two-time Hall of Fame father, Ric Flair. Charlotte was originally booked to be part of Team SmackDown in the women's elimination match, but the win moved her to the Champion vs Champion match vs Raw Women's Champion Alexa Bliss.
NXT featured Ember Moon defeating Mercedes Martinez in a match that was made due to Mercedes' comments about Ember coming up short in title opportunities. On Impact, Gail Kim made her announcement that she will retire and vacate the Knockouts Championship, and it was announced that a six woman tournament will be held to crown a new champion. The tournament will kick off on November 30.
Survivor Series Weekend in Houston kicked off with NXT Takeover: War Games, and it saw Ember Moon finally capture the NXT Women's Championship in a Fatal Four Way Match! The match was months in the making, beginning with Asuka surrendering the title en route to her promotion to the Raw roster. Kairi Sane was the first entrant announced in the match after winning the Mae Young Classic in September, and a pair of qualifying matches were held on NXT, with Ember and Peyton Royce winning to advance. The last spot was determined in a battle royal, which was won by Nikki Cross. Ember won by pinning Cross, and after her victory, Asuka left her seat in the crowd and presented Ember with the title that she had been fighting for months to win.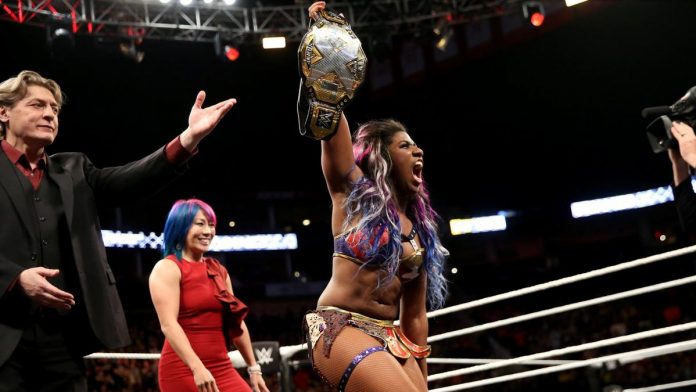 Asuka got down to business the next night at Survivor Series, which saw Team Raw defeat Team SmackDown in the women's elimination match. The match saw Becky Lynch, the SD captain, as the very first elimination, with fellow Horsewoman Bayley taking her out. SD gained a huge advantage with the eliminations of Bayley (by Tamina), Nia Jax (by countout), and Raw captain Alicia Fox (by Naomi), only for Sasha to later eliminate Naomi. After Asuka eliminated Carmella, she was left on her own when Natalya ousted Sasha, but she managed to eliminate Tamina and Natalya to emerge as the sole survivor. In the Champion vs Champion match, Charlotte defeated Alexa Bliss in a fantastic match that saw both women deliver and give fantastic performances. Also, Maryse appeared in the crowd and cheered for The Miz during the IC vs US Champion match, which Corbin won. Raw won the Survivor Series overall, but the brands split the women's matches.
This past Monday's Raw saw the return of Dana Brooke's villainous persona during her Triple Threat contest against Bayley and Mickie James. Dana turned heel when she attacked Asuka at ringside, doing so after Asuka checked on her when she was tossed outside. Realizing she made a major error in her actions, Dana attempted to escape, only for the Empress of Tomorrow to strike back with a spin kick, which ended up costing Dana the match. I had enjoyed Dana as a babyface since her turn in March of this year, though a small part of me wanted Dana to become a villainess again. I had hoped that the PPV would feature a continuation from Raw, with the evil Dana appearing and attacking Asuka, which would have resulted in a brawl and a countout elimination for Asuka. It would have kept Asuka strong and elevated Dana as a heel, but we saw neither hide nor long hair of Dana at the PPV.
Hard to believe, but Sunday marked exactly six years since Paige competed in her final pre-WWE match. Paige, 19 at the time and competing as Britani Knight, was the holder of the British Ladies Championship, and defended the title at the World Association of Women's Wrestling (WAWW) event, The Return. Paige dropped the title to Liberty, with the loss coming after interference from the villainous Allison Danger, who defeated Paige's mother, Saraya Knight, in a championship match that evening. Following her match, Paige went across the pond, reported to NXT, and the rest is history. Paige was backstage at Raw in Atlanta, but not used despite teases that she would return and possibly join Team Raw, which would leave Bayley off Survivor Series entirely.
A new week starts with the fallout from Survivor Series on Raw, SmackDown, and NXT! Until next week!
The 10 Count
This is the first of a new weekly article where I plan to give you the fans 10 happenings wither they be rumors, opinions or facts about the wrestling business. Everything is up for grabs WWE, Impact, Ring of Honor, NXT and the independent circuit as well. These 10 things are in no particular order so throw everyone out of the ring, and let's start the 10 Count!
Remember a few weeks ago when Neville supposedly walked out, wanted out and asked for his release? Well, multiple sources are telling me that Neville is coming back to WWE! I am so happy about this. From what I am hearing, Neville will come back either at the Survivor Series event this Sunday or perhaps the 205 Live following Survivor Series. I also now expect Enzo to retain his title so an immediate feud can begin between he and Neville unless the 205 writers are subscribing to the theory that you don't need a belt when you have a good rivalry in which Neville should cause Enzo to loose the title at Survivor Series.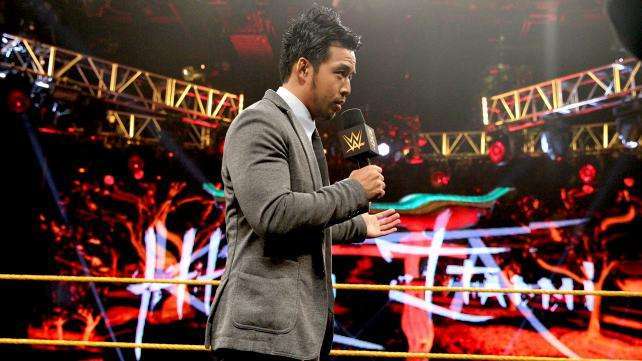 Speaking of 205 Live, the call up of Hideo Itami to the main roster to 205 Live is suppose to take place the week after Survivor Series. But, there are a few rumblings that once his contract expires at the end of this January, that he will be returning to Japan. He is supposedly unhappy with how WWE is using him as well, much like Neville was unhappy in the same regard. We will keep you updated on this evolving story.
Lucha Underground will be back for season number 4. We do not know when they will start taping or when the episodes will air on the El Rey Network except that it will be sometime in 2018. As more details become available we will bring them to you and as we always have we will cover every episode right here on @cleatgeeks. Here is the promotional video posted to the Lucha Underground YouTube Channel.
I am being told that several male talents are upset that Alberto El Patron has his own private locker room. He had this private locker room at both the Bound For Glory event and also the t.v. tapings the days that followed. Talent that has been with Impact Wrestling, have paid their dues and been with the company for much longer think him having his own locker room, which is his own private trailer, is unfair. But, Impact Wrestling has virtually no choice as him having his own private dressing room is in his contract. Plus, I have also been informed that Alberto let before the final day of Impact tapings, therefore we assume that he might not even appear on the final tapping for the show.
There was a major change to the Raw men's traditional 5 on 5 match tonight on Raw. There was an angle where first Stephanie in the opening segment was questioning Kurt's reasoning for having Jason Jordan as the final member of the 5 on 5 elimination match. She was hinting as though he was favoring Jordan because he was his son and not doing the right thing for the Raw brand. Kurt then decides to make a match later in the program for Jordan to face the returning Bray Wyatt. Jordan wins the match despite an obvious injury that occurred during the match to his knee. As soon as the match concluded a furious Wyatt attacked Jordan and did more damage to the already injured knee striking it against the ring post. Kurt is then shown talking to his son asking him if he is 100% to which he replies he will be by Sunday. A couple segments latter Kurt comes to the ring and the story unfolds into this…….
This was brilliant writing, and I fully expect this to be the kickstart that leads to HHH vs Kurt Angle at WrestleMania.
Raw will finally retaliate against Smackdown this Tuesday night with the show in Charlotte North Carolina. I know that The Shield will be a part of the show, but that is all I can confirm. I do expect to see other superstars from Raw at Smackdown but I think it makes more sense and I fully expect Raw superstars to individually attack Smackdown superstars at different points of the show to hype the individual rivalries instead of a under siege type segment that Smackdown did on Raw a few weeks ago.
Here is my opinion on a rumor. A lot of different people I talk to and almost everything I read say that Sami Zayn and Kevin Owens were sent home early from the European tour because they are being disciplined for not staying in the ring after their match last Tuesday and allowing the New Day to beat then up. Personally, I think the whole thing is a work and you will see them appear again on Survivor Series costing the Smackdown brand to loose the 5 on 5 match to Raw.
Impact Wrestling is in some real trouble. As most of you already know James Storm has already became the latest superstar to leave the company. Which makes me wonder if we will ever see a reunion of Beer Money. The father and son team of Earl and Brian Hebner as well as long time referee Brian Stiffler were all granted their release from Impact Wrestling. The job of a ref is much more than meets the eye. Most of the matches on Impact wrestling look thrown together and with inexperienced refs, the product may get worse. The Bound For Glory event was just done in Canada, Anthem, who now owns the show is headquartered in Canada and they are currently doing Impact tapings in the days that followed BFG that will carry television til January. All 3 of these res were told that they would not be used at either BFG or the tapings afterword, so they all asked and were granted their release. Lastly, Impact Wrestling did not sell enough tickets to their BFG event so they actually had to hire an outside agency to pay people between $50.00 and $75.00 each to sit in the arena and cheer. That is pitiful, not to mention that the heavyweight title still had the wrong side plates and seemed to have a sticker covering the old belts until they can afford to buy new ones.
We have already talked about the cruiserweights at 205 Live getting a few new wrestlers in returning Neville, Hideo Itami and as most of you probably saw they also had Paul Dundee make his debut as well when Raw was in England. But there are also two former Impact Wrestlers who could also be making their way to 205 Live soon. The first is Crazy Steve who teamed with Abyss and Rosemary in his last action to form Decay. He has been working at the performance center for a few months and said to be progressing well. The second is the wrestler know on Impact as Rockstar Spud. He is in negotiations with WWE after he was released from Impact. From all indications, he wants to completely skip NXT and go right up to the main roster by joining the cast of 205 Live, but as of this writing nothing has been signed or made official.
Finally, we have some interesting NXT news for you as well. This Saturday on the Takeover Hpuston there is a War Games match. The WWE has released the rules for that match, so we will share them with you. Like other War Games matches there will be two rings side by side with one large cage covering both rings. One member of each of the three teams will start the match. The remaining 2 members from each team will be locked in shark cages that will be located on the entrance ramp. After a five minute period, one of the shark cages will open and both remaining members, will then be able to enter the match. This time after a 3 minute peirod, one of the remaining two shark cages will open and those two members will be allowed in. After a second three minute time period, the final cage will open and the final group will enter the match. But a pinfall or submission can only occur after all parties have entered into the cage.