Women's Wrestling Wrap-Up
Welcome to the latest edition of the Women's Wrestling Wrap-Up, which details everything in women's wrestling in the past week, beginning with Monday's Raw.
Due to the injury to Bayley's shoulder, two Triple Threat matches were set for Raw, with the two winners facing each other in a #1 Contender's Match. In the first one, Sasha Banks defeated Alicia Fox and Emma, while the second one saw Nia Jax defeat Mickie James and Dana Brooke, setting up Sasha vs Nia. On SmackDown, Lana's attempt to challenge Charlotte fell flat, as Charlotte defeated the Ravishing Russian. Lana was later mocked by Tamina, who decided to plan out how Lana could get an opportunity for her. Later on, Carmella was victorious over Naomi, thanks to the returning James Ellsworth.
Neither Wednesday program (Lucha Underground and NXT) saw in-ring action from the women, though we did see Zelina Vega manage Andrade "Cien" Almas to victory over No Way Jose, and then answer Johnny Gargano's open challenge for Takeover. Thursday's Impact featured Karen Jarrett announce that Gail Kim will challenge Sienna for the Unified Knockouts Championship. Other than that, we saw the continuation of the Laurel Van Ness angle, as she stopped Kongo Kong from continuing his assault on Grado, who has been pursuing LVN in recent weeks.
Meanwhile, outside the ring, it was announced that Angelina Love is officially done with GFW, six months after returning to what was then known as TNA. Angelina's return came in February, as she and Alisha Edwards were both in support of Eddie Edwards during his World Title rematch against Lashley. The ending saw Eddie's longtime tag team partner, Davey Richards, turn on Eddie and prevent him from regaining the title, and included in the betrayal was Angelina becoming a villainess and attacking Alisha. The events started a feud between the couples, which came to a head at Slammiversary. Angelina and Davey were defeated by Eddie and Alisha at the event, and Angelina's announced departure came shortly after Davey announced his retirement from wrestling.
Liv Morgan worked a SmackDown live event this weekend, teaming with Becky Lynch and Naomi in defeating Carmella, Lana, and Tamina. This is good news considering we have not seen Liv on NXT TV in what seems like ages. In fact, the same can be said for Aliyah, as NXT has been mainly focused on Asuka and Ember Moon, and (to a slightly smaller extent) Nikki Cross and Ruby Riot. I remember briefly believing that Liv would turn heel due to jealousy of Ember, and regarding Liv and Aliyah's alliance on NXT, I often pictured Aliyah turning against Liv–mainly due to their match against each other where Aliyah seemed to be portrayed as the heel. Considering that Liv is dating Enzo, I'm a bit surprised that she was working a SmackDown show, but I just hope that this is the beginning of big things for Liv. And please put Aliyah back on TV!
A new week begins with the final Raw before SummerSlam, which will include Sasha vs Nia in a #1 Contender's match! This big week will also include the final SmackDown and NXT before the big weekend, and Lucha Underground will come closer to Ultima Lucha Tres! It will all end at Takeover and SummerSlam in Brooklyn! Until next week!
Details on Ric Flair's Hospitalzation
Former wrestling superstar Ric Flair is heading to surgery after being placed in a medically induced coma, a WWE representative told TMZ Sports.
Former wrestling superstar Ric Flair, the 68-year-old was initially taken to the hospital this past Saturday. That initial visit to the hospital was for "routine monitoring" according to multiple sources I used to write this story. When he was admitted on Saturday it was again reported by multiple sources that Flair was dealing with, "tough medical issues." These issues were for "routine monitoring" and "tough medical issues" have been confirmed to me that it had to deal with heart-related issues.
But his condition reportedly worsened over the weekend according to Legacy Talent CEO Melinda Morris Zanoni who represents Ric Flair. At 9:11 pm on August 13th 2017 Melinda Morris Zanoni sent out a heartfelt felt tweet that got my attention and implied that The Nature Boy's condition took a major turn for the worse. "Are u a Fan/Friend of Ric Flair?" Morris Zanoni tweeted. "If so, we need prayers & positive energy 4 our Living Legend as he is dealing w/some tough medical issues."
According to multiple reports, Ric Flair is currently in a medical induced coma, and is being prepped for surgery.
The Nature Boy has been in professional wrestling since the 1970s, but became one of the biggest stars in the sport during his time with WWF and WCW in the 1990s. He has been a world heavyweight champion 16 times in his extended career.
He also still makes intermittent appearances on WWE shows, supporting his daughter Charlotte.
BREAKING NEWS UPDATE 
August 14th 3:15pm MST
Dave Meltzer noted the following about Flair's condition on his message board:
"He's out of surgery. It's good that he's out of surgery. It's still real bad. I had it just told to me in some detail, not exactly identical, but very similar to what happened to my dad. However, his kidneys are functioning which is the main difference and no cancer issues."
ANOTHER UPDATE
It seems that as previously reported, his operation on Monday was not heart related in a tweet from Flair's representation, Legacy Talent CEO Melinda Morris Zanoni
Ric had surgery today (not

related)am happy 2report it was a success.Still a long road ahead so plz keep 

4Ric Charlotte Megan David&Wendy
A documentary on his life and wrestling career, entitled Nature Boy, will be shown on Nov. 7 as part of ESPN's 30 for 30 series.
3 Impacts From Impact
An explosive and shocking Impact is in the books! What stood out the most on this amazing edition? Here are my 3 Impacts From Impact:
Just like after Slammiversary, Konnan promised a new member of LAX, but unlike the first Impact after Slammiversary, he delivered…BIG TIME! The main event featured LAX fighting against Alberto El Patron and his brother and father. It was at that moment that Low Ki suddenly appeared and assisted LAX in defeating the El Patron family, brandishing the LAX logo on his blazer. So not only is Low Ki part of LAX, but he was shown holding Alberto's championships as well! Now it should be no surprise to see Low Ki with LAX. He and Homicide do go way back, and the two of them were part of the Beat Down Clan a few years ago. So the former five-time X Division Champion appears to be stepping up and going after the top title in GFW.
Speaking of the X Division Championship, Sonjay Dutt has caught hell attempting to get back that very title, which he is the rightful owner of. He got the chance to at least go after the man who stole it from him, Trevor Lee, doing so dressed as Mumbai Cat in a sanctioned match. After defeating Trevor, Sonjay removed his mask, and that prompted Bruce Prichard to come out with security to eject him again; a theme that can only be the result of a steady heel turn for Prichard. However, Sonjay said his piece and decided to give Trevor a chance to actually hold the title rightfully, by challenging him to a ladder match at Destination X.
The X Division Championship isn't the only title mired in controversy, as Ethan Carter III shockingly captured the Grand Championship from Moose. EC3 and Moose won Rounds 1 and 2, respectively, leaving Round 3 as the decider. After time expired, judges Scott D'Amore and Dutch Mantell each gave dead even 10-10 scores, as they should have; it was a very even round. However, Bruce Prichard (there's that name again) decided to score it 10-8 in favor of EC3. Not ten to nine. Ten to eight. A 10-8 decision is based on flat out domination, and there was everything but that in Round 3. Despite this, Prichard's decision ended up giving EC3 the Grand Championship, and if Prichard turning heel wasn't obvious enough, this decision definitely makes it official.
Those are my 3 Impacts From Impact! Until next time!
Women's Wrestling Wrap-Up
Welcome to the latest edition of the Women's Wrestling Wrap-Up, which details everything in women's wrestling in the past week, beginning with Monday's Raw.
Raw featured Bayley in action against Nia Jax, and despite efforts by both Nia and Alexa to take her down, Bayley emerged victorious via countout, but not without consequence (more on that later). On the following evening's SmackDown, Natalya and Carmella battled against Naomi and Becky Lynch, but it was Miss Money In the Bank's insistence to get into the match that ended up being the downfall of her and Natalya. We got some continuation from the Lana/Tamina angle, as Lana decided to challenge Charlotte one-on-one, which didn't set too well with Tamina.
On to NXT, where Sonya Deville defeated Jenna Van Bemel in dominant fashion. Before that, Asuka and Ember Moon engaged in an eye-to-eye confrontation, which saw the villainous champion deliver a slap to Ember. The war of words quickly turned physical, and in the end, Ember Moon delivered the Eclipse to Asuka. Not much involving the Knockouts on Impact the next day, despite Karen Jarrett promising some blowback after the Sienna/Rosemary rematch. Only Allie, LVN, and Diamante appeared on the program, all in non-wrestling angles. Friday's Main Event featured a rematch between Emma and Mickie James, this time with the former winning and no backstage appearance from Dana Brooke.
Some bad news regarding Raw's women's division was reported two days after the program, with the announcement that Bayley suffered a shoulder injury during her match against Nia Jax. This puts the Raw title match in jeopardy, with reports stating that Bayley will not be able to compete at SummerSlam. If so, chances are that they'll put Sasha in to replace her, and if that happens, Sasha will most likely win at SummerSlam. Following this, we could see Bayley get her opportunity after she's cleared, only for Sasha to turn heel and attack her. Sasha could further her villainous role by revealing that she secretly enlisted Nia to take out Bayley so she could replace her. We will most likely get an official announcement regarding Bayley's status on Raw in Toronto.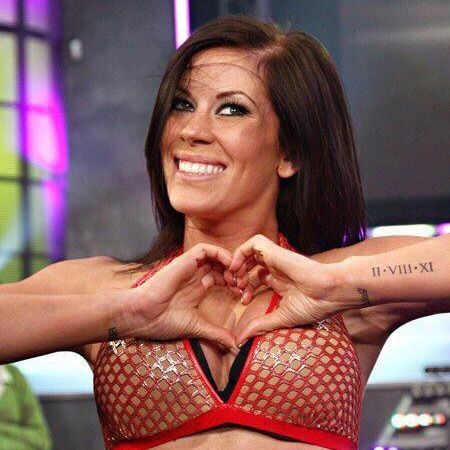 This was officially announced weeks ago, but Madison Rayne's tenure with Impact has come to an end. Madison debuted all the way back in 2009, and quickly became the newest member of the villainous Beautiful People faction with Angelina Love and Velvet Sky. Madison and Velvet replaced Angelina with Lacey Von Erich after Angelina's brief departure, and Madison won her first title in early 2010 when the BPs won the KO Tag Titles under the Freebird Rule. Madison later won her first of five Knockouts Championship just months later, after which she went on her own as Impact's lead heel in the Knockouts Division. Madison went on maternity leave in 2012, only to return at the tail end of 2013 and regain the Knockouts Championship in early 2014. She engaged in various angles following her last title run, beginning with a brief feud with Brittany, and a brief feud with Taryn Terrell that turned Madison into a villainess. Madison also reunited with Angelina and Velvet as a babyface from 2015-2016, and she spent most of her last year in TNA/GFW as a heel.
And speaking of departures, Eva Marie officially announced her release from WWE this past Friday. It was in the summer of 2013 that Eva Marie officially debuted as one of two new additions to the WWE roster. She and JoJo were the newbies added to the debuting Total Divas program, and it was in her first appearance on Raw that Eva Marie established herself as a heel when she delivered a slap to Jerry "The King" Lawler. Eva Marie's biggest criticism is her in-ring skills, but she took time to vastly improve on her craft and return on NXT with a new evil "Red Queen" gimmick in 2015. After months on NXT, Eva Marie returned to the main roster and became part of Brie Bella's team against Team BAD and Blonde at WrestleMania 32. She was later drafted to SmackDown after the returning brand split, and was given a new gimmick which included a voiceover intro, and promos for her big debut, only to cook up excuses for not competing. Eva Marie was booked to participate in a six-woman tag bout at Summerslam last year, but she received a Wellness Policy suspension. It only lasted 30 days, but Eva Marie was off WWE TV for over a year, as she was filming movies. Her first film, Inconceivable, came out on VOD on June 30.
A new week begins with Raw and SmackDown in Toronto, with both shows and NXT winding down the countdown to SummerSlam weekend! Until next week!
August: When Good Girls Go Bad
The month of August is here, and one thing I have noticed as an avid women's wrestling fan is that so many heel turns have taken place in the month of August. Many heroic and villainous swerves take place constantly, but it seems like in the past near decade and a half, the eighth month has seen many women take dark paths, whether they're wrestlers, managers, or even authority figures. Here's a list of them.
2003:  Gail Kim made her memorable WWE debut on June 30 of that year, and it was on that night's Raw that she captured the Women's Championship in a seven-woman battle royal. Her title reign was short lived, as she would lose the belt to Molly Holly on July 28. A week later on August 4, Gail came to the rescue of Trish Stratus as she was beaten down by Molly and Victoria, but following this, Gail attacked Trish herself, turning heel after only five weeks in WWE. The villainous Gail explained her attack on Trish by accusing her of causing them to lose a tag team match on a previous Raw, and following her heel turn, Gail formed an alliance with Molly, as the pair attempted to take down not only Trish, but the returning Lita as well. Ironically, Gail would serve as a henchwoman of sorts for Trish in 2004, after Trish's memorable heel turn at WrestleMania 20.
2005:  One of my favorite moments took place on August 22 of that year, as it was announced that a four-woman trade took place, with Torrie Wilson and Candice Michelle heading to Raw, while Stacy Keibler and Christy Hemme were sent to SmackDown. Torrie and Candice announced the trade themselves in their promo, which had the pair coming across as a bit arrogant, something I definitely noticed but should have pinpointed on when I watched. Anyway, the pair brought out Ashley Massaro and appeared to congratulate her on winning the Diva Search, only for Torrie and Candice to turn heel and attack her instead. From that point on, Torrie and Candice continued to torment Ashley, and formed an alliance with the recently heel-turned Victoria to form Vince's Devils. The trio feuded with Ashley as well as the returning Women's Champion Trish Stratus and the debuting Mickie James. Torrie was ousted from the group by Candice and Victoria in March 2006, due to Candice's increasing arrogance involving her Playboy cover. Candice's own heel role ended in July 2006.
2006:  Once upon a time, Vickie Guerrero actually appeared on WWE TV as a voice of reason, doing so in 2005 during her husband, Eddie's, feud with Rey Mysterio. She returned a year later when her nephew, Chavo, started targeting Rey after costing him the World Heavyweight Championship. Vickie's attempt to get through to both of them during their grudge match at SummerSlam resulted in her being knocked over accidentally, while Chavo went on to defeat Rey. On August 25, Vickie again appeared in the middle of another Chavo/Rey confrontation, which had Chavo attempt to level Rey with a chair. Vickie took the chair out of Chavo's possession, only to use it herself to level Rey! The deceptive villainess later watched her nephew beat down his rival in the ring, and regarding her actions, Vickie explained herself just one week later and accused Rey and others of wanting her to grieve over Eddie forever, while referring to Rey as "an insignificant chapter in her past." She also announced that she is now Chavo's business manager, and the pair continued feuding with Rey until October of that year. Of course, this was just a small sampling of what we would see from Vickie as an on-screen villainess in WWE for years to come.
2007:  TNA's first contribution to the August trend came in 2007, which featured Kurt Angle and Samoa Joe feuding. The feud even involved Kurt's then-wife, Karen, who verbally lambasted Kurt over the way he had been acting and his treatment of her. So we all figured that Karen would be on Joe's side, right? Wrong! At the Hard Justice PPV, Kurt and Joe faced off in a Winner Takes All main event for all of the titles, and during the match, Karen appeared to be in Joe's corner, but she would send a chair for Kurt to use on his opponent, leading to Kurt's victory and turning Karen heel. Karen would go on to become TNA's equivalent of Vickie: an on-screen wicked wrestling wife who received a lot of heat. We have even seen glimpses of Karen's past heel persona in her current role as a babyface authority figure.
2011:  It was six years ago this week that the diabolical Divas of Doom duo formed. WWE Hall of Famer Beth Phoenix started things on Raw on August 1, when she won a #1 Contender's Battle Royal. Divas Champion Kelly Kelly left her commentary position to congratulate her upcoming SummerSlam opponent, only for the Glamazon to deliver a vicious attack towards Kelly. Four days later, Natalya defeated AJ Lee in singles action, and attacked her opponent afterwards. In both attacks, Beth and Nattie uttered the same sentiment, which was eliminating what they called the "perky princesses" from WWE. Beth went on to become Divas Champion in October, and near the end of 2011, Kaitlyn was originally booked to turn villainous and join the DOD. In fact, leaked video showed Kaitlyn betraying partner AJ and aligning with the DOD as their third member, but because Vince and Creative weren't thrilled with the swerve, it was kiboshed. Beth and Natalya continued teaming together until they quietly disbanded in March 2012.
2013:  August 2013 saw three villainous swerves; two in WWE and one in TNA. However, the most notable one, IMO, was Layla's turn, which was months in the making. After returning from injury and capturing the Divas Championship, Layla formed a tight alliance with Kaitlyn in 2012, which saw them mainly feud with Eve Torres and Aksana–even after Layla lost the title to Eve at Night of Champions. Kaitlyn defeated Eve to win the title in January 2013, and following Kaitlyn's title victory, Layla began a steady heel turn, with an opportunity at the title serving as Layla's villainous motive. The angle actually began on January 18 (four days after Kaitlyn won), but it was after the Elimination Chamber PPV that Layla served as an ambitious villainess who attempted to upstage and even sabotage Kaitlyn during her matches. The angle was dropped after March 15, and Layla was mostly off TV until Payback, when she reunited with Kaitlyn following her title loss to AJ Lee. Layla was in Kaitlyn's corner during her quest to regain the title, including on August 2, when Layla was shown praising Kaitlyn before her opportunity in her hometown of Houston. However, the evil Layla betrayed Kaitlyn during the match, preventing her from harming AJ and opening the door for AJ's defeat of Kaitlyn. Layla and AJ formed an alliance, which abruptly ended due to Layla taking time off.
Layla wasn't the only one who became a villainess in August 2013, as just weeks later, Stephanie McMahon turned heel for the first time in seven years, when she boldly defended the actions of her husband, Triple H, at SummerSlam. As we all remember, Daniel Bryan defeated John Cena to capture the WWE Championship in a match officiated by Triple H, who was portrayed as an outspoken supporter of Bryan. However, The Game would deliver a Pedigree to Bryan and allow Randy Orton to cash in Money In The Bank and take the title. Stephanie defended her husband's actions on the next day, referring to Orton as the Face of the WWE and calling Bryan a "B+ Player." Days later in TNA, Brooke Tessmacher (one of Layla's former Extreme Exposé cohorts) ditched her heroic persona and returned to Impact as the evil girlfriend of Aces & Eights leader Bully Ray; a role she played for the remainder of 2013.
2014:  How could we not remember the Bella Betrayal that took place at SummerSlam that year? As we all recall, Brie Bella was in a feud with Stephanie McMahon, over The Authority's treatment of Daniel Bryan. It was at Payback that Brie quit WWE to save Bryan, and later slapped Stephanie. Of course, Nikki Bella received harsh torment at the hands of Stephanie, and after weeks of seeing her sister subjected to unfair matches, Brie had enough and confronted Stephanie, which led to the pair facing each other at SummerSlam; Stephanie's first match in nearly 11 years. With the referee down, Triple H came out, but so did Nikki, appearing to make the sides even. Stephanie found herself in between two Bellas with axes to grind. To the surprise of many, Nikki used her proverbial axe on her own sister, as she attacked Brie with a vicious forearm to the head, and later helped Stephanie up so she could defeat Brie. Nikki explained her traitorous actions by accusing Brie of abandoning her by quitting back in June, and she even delivered a vicious slap to Brie while screaming that she'll never forgive her. The sisters feuded for a few months leading to their grudge match at Hell In A Cell, which Nikki won. Per their stipulation, Brie had to work as Nikki's personal assistant for a month, and the only way she could get out of it is to quit. Of course, Survivor Series saw Brie help Nikki defeat AJ for the Divas Championship, which put the Bellas back together as villains.
2015:  The August 26, 2015 edition of Impact Wrestling featured not one, but two female heel turns. The first came from Rebel, who debuted a year prior as part of The Menagerie, which was led by Knux and also included The Freak and Crazzy Steve. The departures of Freak and Knux left the remaining members on their own, and on August 26, Rebel entered the ring appearing to save Velvet Sky from being beat down by The Dollhouse, only to turn heel and attack Velvet from behind. Rebel became the villainous faction's newest member, and remained with them until their split last April. The end of that night's program also saw Karen Jarrett become a villainess by revealing that she was the mastermind behind the attacks of then Impact General Manager Bully Ray and Drew Galloway, setting off a war between Impact and Global Force Wrestling.
2016:  Last August, Carmella suffered a stinging defeat when she was pinned by the returning Nikki Bella in a six woman tag team contest at SummerSlam. On August 23, 2016, Carmella was set to face off against Nikki Bella, who gave an interview before her match. At that moment, Carmella took this opportunity to brutally attack Nikki from behind, which resulted in a face-heel double turn. At SummerSlam, Nikki was on the heel side of the tag bout, while Carmella was on the babyface side. With the attack, Carmella turned heel for the first time on the main roster, and Nikki became a babyface as a result. Carmella didn't waste continuing to show off her new heel persona, as she attacked Nikki again on Talking Smack later that evening. Here it is, nearly a year later, and Carmella is on her way to becoming SmackDown Women's Champion.
All of these examples are proof that August brings out the evil side of our favorite female combatants. Now that the eighth month is here, who will join that list this year? Sasha Banks seems to be inevitable, but who else will turn? Maybe Becky turns this month; some have been clamoring for her to turn heel this year. Regarding GFW's Impact, I wouldn't be surprised if Karen makes her third August heel turn; a double turn including her and Sienna. And to be honest, part of me senses a face-heel double turn between Sexy Star and Taya, as Sexy Star has been on the edge lately. The next 31 days will be very interesting!
3 Impacts From Impact
A wild edition of Impact is in the books, and it was immensely explosive! Who has the biggest explosions of the evening? Here are my 3 Impacts From Impact:
The El Patron/LAX saga continued on with the World Champion challenging LAX to a Gauntlet Match. Alberto made quick work of Homicide and defeated Ortiz, but when it came to Santana, that's when LAX got involved in the match which resulted in it geting thrown out. The aftermath would see Dos Caras and El Hijo de Dos Caras attempt to make things even, but it would be the Veterans of War (Wilcox and Mayweather) who would take the fight to LAX. As we remember, it was a few months ago that LAX reverted to their militant, anti-American sentiment when Konnan berated a fan for waving the US flag, which led to VOW confronting LAX. It was a nice surprise, as VOW hadn't been on TV since losing the finals of the GFW Tag Team Championship tournament to LAX. I think we may get a tag title rematch between the two sides in due time.
The women got involved in the explosiveness, as Rosemary and Sienna clashed in a Knockouts Championship Last Women Standing rematch, which was made by Karen Jarrett a week prior. The ladies literally threw everything at each other, but despite their performances, it would be KM's interference that would allow Sienna to send Rosemary through a table for the victory. I have a sinking feeling that we're in for a Sienna/Gail title encounter, and that may come at Destination X in a few weeks, especially if Karen Jarrett has her way.
This whole X Division Championship angle is giving me a headache. I can't be the only one upset at this angle, which has Trevor Lee waltzing around with the X Division Championship, which belongs to Sonjay Dutt. I would actually like this if Sonjay wasn't the victim. Here's a guy who finally won the X Division Championship after 15 years, on-and-off, in Impact, and they do this angle to him. Even worse, we have a (possibly) heel turning Bruce Prichard who not only lets Trevor walk around with the title, but he has kept Sonjay from getting back what's his on so many occasions. This better be settled either at Destination X or before it, because they shouldn't do that to Sonjay during what should be a historic title reign for him.
Those are my 3 Impacts From Impact! Until next time!
Women's Wrestling Wrap-Up
Welcome to the latest edition of the Women's Wrestling Wrap-Up, which details everything in women's wrestling in the past week, beginning with Monday's Raw.
Raw gave us a double dose of women's action, first with Emma being soundly defeated by Nia Jax–with the match being made after Emma vented about not being used to Kurt Angle, while also suggesting that she should date Angle's son, Jason Jordan. Of course, the main match was Bayley vs Sasha Banks in a #1 Contender's match, and despite both Horsewomen putting up a good fight, it would be Bayley who emerged victorious, and will face Alexa Bliss for the Raw Women's Championship at SummerSlam in three weeks. Much more on this later.
The SmackDown Women's Championship contest for SummerSlam in Brooklyn is already set: the vivacious Queen of Glow, Naomi, defending the title against the villainous Queen of Harts, Natalya. After Natalya explained her lack of sportswomanship at Battleground, we were treated to a tag team bout which saw the other two Horsewomen, Charlotte and Becky Lynch, defeat Tamina and Lana. We also saw some cracks in the relatively new alliance, as Tamina was visibly upset at Lana over the loss. I sense them splitting up, with Lana becoming a sympathetic babyface being mistreated by Tamina.
NXT saw Ember Moon defeat former Impact Wrestling Knockout Lei'D Tapa to kick off the show, and Ember would later announce her intentions to challenge for the NXT Women's Championship. Later on, we also saw the fallout from Zelina Vega (Thea Trinidad) cementing her alliance with Andrade "Cien" Almas, which saw her deliver some words of warning for No Way Jose. The following evening's Impact featured an epic Last Knockout Standing title rematch between Sienna and Rosemary, with the former winning by sending the latter crash landing through a table.
I myself would like to say how happy I am with this progress. SummerSlam is three weeks away, and counting NXT, all three women's matches are already announced for that weekend, which includes Takeover. About five or six years ago, when booking PPVs, WWE would habitually announce the women's match last, with little to no build. Naomi vs Nattie was made official at Battleground, Alexa vs Bayley was made official on the next night's Raw, and while Asuka vs Ember has been brewing for months, that match was made official this past Wednesday.
Speaking of Bayley, her victory over Sasha should serve as the pivotal reason for The Boss' anticipated heel turn. Many are expecting Sasha's villainous swerve to happen at SummerSlam, but she can't cost Bayley the title, because the story here is Bayley bouncing back from her past two defeats against Alexa. So what has to happen is that Bayley captures the title at the event, and after the match,  the evil Sasha attacks Bayley after feigning happiness for her. This could happen either at SummerSlam, or the Raw after, especially if Sasha should become #1 Contender. A Bayley/Sasha title feud has been rumored for months, especially given their past chemistry as foes in NXT. According to past rumors, this feud is supposed to result in Sasha becoming champion.
A new week begins tomorrow, as the build to SummerSlam continues! Until next week!
3 Impacts From Impact
A wild and crazy Impact is in the books, and it was full of mayhem! What stood out on such a chaotic show? Here are my 3 Impacts From Impact:
LAX made things even more personal with Alberto El Patron than they already were, as they turned up the heat on Alberto's father and brother, threatening harm to them unless they successfully coerced Alberto to join LAX. Having the reigning World Champion as part of their faction would make them an unstoppable force, and that was exactly what Konnan was going for when he named Alberto as their newest member on the first Impact after Slammiversary. After being beaten down and having his family threatened in recent weeks, Alberto lashed out at Konnan before finally putting on the LAX colors and becoming part of the faction. His compliance was only a ruse, as Alberto delivered a vicious assault to Ortiz, Santana, and Homicide with a Kendo Stick, and later tore off the LAX shirt, making it loud and clear that he will never align with LAX.
After defeating Amber Nova, Women's Champion Sienna demanded that Karen Jarrett basically bow down to her, as she was upset that Karen didn't congratulate her following her title unification victory. Karen flat out refused, which led to Sienna getting in the Queen of the Mountain's face, before Allie entered to make the save. Allie's appearance was followed by Rosemary and Laurel Van Ness, with Gail Kim coming out to make it an all out brawl–with even Karen getting physical. Karen later announced that Rosemary will get her title rematch on the next Impact…in a Last Knockout Standing Match! What I couldn't help but love about this was that even as a babyface, Karen was a bigger heel than Sienna, and a small part of me wants a rare double turn between Karen and Sienna. I still love seeing Karen as a babyface standing up to Sienna and her arrogant attitude, but Impact could easily switch the roles and have Karen as a power-abusing villainess combating against an anti-establishment Sienna.
The four way match between Moose, Eli Drake, Ethan Carter III, and Eddie Edwards was quite messy. First off, it was a four way non-title match. Secondly, it seems like Eddie was thrown in at random, as he really has nothing to do with the Grand Championship picture. Third, and most glaring, EC3 was portrayed as the one going after Moose's title, yet the end result saw Eli win and steal the glory from EC3. Why? Eli was already in the Grand Championship picture and lost. Again, he should be going for the World Title. I thought they would have EC3 win the match and then later put him in a one-on-one contest for the Grand Championship, but that did not happen. Bottom line, Impact screwed up royally with that match.
Those are my 3 Impacts From Impact! Until next time!
Women's Wrestling Wrap-Up
Welcome to the latest edition of the Women's Wrestling Wrap-Up, which details everything in women's wrestling in the past week, beginning with Monday's Raw and ending with Battleground.
Raw featured Bayley again defeating Alexa Bliss, this time in singles action, and later in the program, both she and Sasha Banks were debating which one should have a shot at the title. Bayley defeated Alexa twice, while Sasha had a countout win at Great Balls of Fire. Kurt Angle decided to have Bayley and Sasha in a #1 Contender's Match on the next Raw. Meanwhile, the other two Horsewomen faced each other on SmackDown, with Becky actually defeating Charlotte.
Wednesday's NXT saw Ember Moon defeat Ruby Riot, as Ember is now on her way to pursuing the NXT Women's Championship. The following night's Impact saw Sienna defeat Amber Nova, and then demand some respect from Karen Jarrett. It would lead to a brawl involving Allie, Laurel Van Ness, Rosemary, and Gail Kim, and it would end with Karen announcing a title rematch between Sienna and Rosemary for the next Impact, which will be competed under Last Knockout Standing rules!
Philadelphia was the site for WWE's Battleground PPV, which featured a five-way elimination match for a title opportunity at SummerSlam. Becky started things off by eliminating Tamina and Lana, in that order, but Natalya would not only defeat Becky, she would oust Charlotte to emerge as the new #1 Contender. So it will be Naomi vs Natalya at SummerSlam for the SmackDown Women's Championship; the evil Queen of Harts' first one-on-one title opportunity since last year, when she served as a persistent opponent against the then-villainous Charlotte for what was simply known as the Women's Championship. Chances are that this match will be featured in an upcoming episode of Total Divas.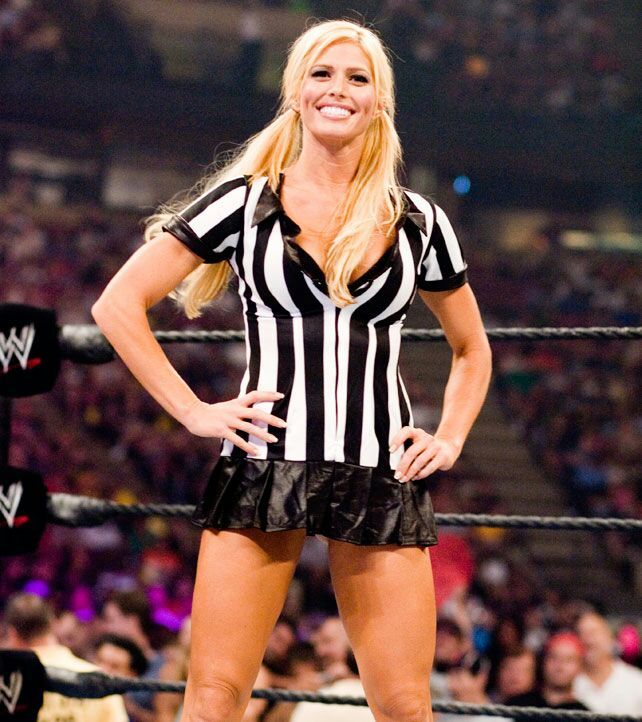 Happy birthday to former WWE competitor Torrie Wilson, who turns 42 today! Torrie began her wrestling career in WCW before joining the then-named World Wrestling Federation in 2001. Her first role in WWF/E had her serving as a villainous member of the Alliance with Stacy Keibler, before defecting to the WWF as a babyface months later. Torrie served as WWE's signature "girl next door" babyface for nearly four years before becoming a villainess in 2005 and serving as the leader of the Vince's Devils trio with Candice Michelle and Victoria. Torrie became a babyface once again in 2006 and competed in WWE until her departure in 2008. In her entire seven years in WWF/E, Torrie never held the Women's Championship, which remains one of the biggest crimes in WWE history, IMHO.
Earlier this month, Velvet Sky announced her retirement from wrestling, as she plans on going back to college. Velvet (real name Jamie Szantyr) began her wrestling career in 2003 as Talia Madison, but it was in 2007 that she began her lengthy on-and-off career in Impact Wrestling. She began her first gimmick as part of the Beautiful People with Angelina Love, and later Madison Rayne and Lacey Von Erich, and after four years in Impact, Velvet finally reached the top by capturing the Knockouts Championship in 2011. Velvet added one more reign as champion in 2013, and she spent most of her remaining Impact tenure in a pair of BP reunion stints. Velvet's last Impact appearance came last April, when a loss to Sienna forced her to leave Impact.
A new week begins tonight with Bayley vs Sasha Banks in a #1 Contender's Match. We will also see the fallout from Battleground, but overall, tonight begins the final countdown to SummerSlam. Impact will feature Sienna vs Rosemary in a Last Knockout Standing match for the GFW Women's Championship. Until next week!
3 Impacts From Impact (July 13, 2017)
The fallout from the fallout has come and gone, and it was a doozy! What moments stood out on this post-post-Slammiversary show? Here are my 3 Impacts from Impact:
As a women's wrestling fan, I have to start with Gail Kim. As many expected, Gail announced that she will retire at the end of the year, which makes sense, considering Bound For Glory is three months away. Gail turned 40 this past February, and BFG marks a decade since Gail became the first-ever Knockouts Champion. Amazingly, the title that Gail made history with is currently unified with the GFW Women's Championship, and the modified title is currently held by Sienna. Gail stated in her announcement that she wants to go out on top, so I'm already picturing a Trish Stratus-esque retirement for the longtime loyal Knockout. I'm anxious to see how her final months will play out.
So is Alberto El Patron part of LAX? The Unified World Heavyweight Champion answered that question with an emphatic "NO!" to Konnan. With Lashley entering to beat down LAX, this would result in Lashley and Alberto forming an unlikely team to battle the World Tag Team Champions. Despite their heated past, the current and former champions defeated LAX, but while Alberto was speaking his piece to Lashley, LAX beat down the man that Konnan considered a turncoat to their cause, while Lashley walked off and left his "partner for the night" behind. This thing is clearly not over. (NOTE: Like literally every wrestling fan, I am aware of what has happened with Alberto in his personal life. We all have our opinions about it; I certainly have mine, but let's not dwell on it.)
We now know what Joseph Park told Grado on the last Impact, and it was what I expected: Grado is facing deportation. With that, Park decides to recycle an old sitcom angle: have Grado marry a citizen to stay in the country. What follows is Grado asking out the Knockouts, and striking out more times in one night than Orioles slugger Chris Davis. After Laurel Van Ness defeated Ava Storie, Grado appears and asks out Impact's favorite hot mess…when Kongo Kong suddenly entered. Now, we really don't know the extent of LVN's alliance with Kong; it's not really a fact that they're a (kayfabe) couple, but not wanting to risk anything, Grado and Park scurried from the scene like the Three Stooges in the end of their films. However, an exclusive video showed LVN actually saying yes to going out with Grado. The plot thickens.
Those are my 3 Impacts from Impact! Until next time!