Straight Up Smack Down
Tuesday night was the culmination of a 4 day WWE extravaganza in Brooklyn, New York.  I don't even want to try and do the math on how many hours of wrestling I watched over that period. Yikes. Quick thoughts:  I really enjoyed NXT Takeover. Their Takeover specials usually are always pretty good & their weekly TV has been much better recently. Seems that there is some shakeup now happening with the NXT roster & I can't wait to see what they have planned. Summer Slam was very LONG and boring for the most part. Styles & Owens had a good match, but New Day & Usos probably had the best match of the Smack Down roster…..and they were on the pre-show! Cena & Corbin were first out to start the "official show" & the match stunk, Orton & Rusev was over in the blink of an eye, and Natalya defeated Naomi to become Smack Down Women's champion. Kind of a lackluster event for the blue guys. The match of the night was easily the main event. I like it so much I went back & watched it again. Anyways, this is about Smack Down from Brooklyn & tonight's huge debuts. One of which was, well in a word, GLORIOUS.
Very smart of WWE to use the Brooklyn crowd to debut Roode. I can safely assume many in attendance follow NXT, judging from their reactions. This was a welcome addition to Smack Down who desperately needed a few more heels on the brand. Roode could have a short run as a babyface though and a potential opponent could have returned just in time for Roode. That man, was Dolph Ziggler. Hey, it worked for Shinsuke Nakamura.
I didn't really care for this interview with Dolph. He came off sounding very rehearsed & disingenuous. I hope it was just a one week thing, but recent history says otherwise. It just sucks because his promos were so good last year with his feuds against both Ambrose & Miz, right after the brand split. Plus, its not like the guy can't wrestle. He's one of the best in-ring workers on either roster.
Another wrestler who has great in-ring work but is less than entertaining otherwise, is Chad Gable. Things haven't gone well for Gable since American Alpha got torpedoed Dr. Phil-style by Kurt Angle. Tuesday night though, American Beta was born with the debuting return (?) of Shelton Benjamin:
Shelton looks already annoyed by Gable. Nevertheless, I am interested to see these two compete as a tag team. The division sorely needs not just a new team, but another team PERIOD.
One dynamic that WWE has loved to use time and time again, is pairing their big wrestlers with smaller, diminutive wrestlers to make the bigger wrestlers appear even larger. Look no further than the clip above. Or the clip below, with Lana & Tamina:
I think this is a very good position for both Tamina & Lana right now. We'll see if I'm right over the next few weeks, but going back to recent pairings of big and small wrestlers another example is or was, Enzo & Cass.
Or the Singh Brothers with Jinder Mahal:
The visual with that trio has constantly reminded me of when Seth Rollins was constantly surrounded by J&J Security:
It was good for Nakamura to get some revenge on the Singh Bros. and it was also good to see that his feud against Mahal will continue.
Speaking of continuing feuds, A.J. Styles & Kevin Owens bookended Smack Down once again:
It's kind of hard to argue with Owens' logic here. A 3 count from a few weeks stood, but a 3 count on Sunday didn't stand? Owens got his match against A.J., but KO is starting to really build a case for his frustration with Shane McMahon. And the main event made matters even worse:
I can only imagine what Owens will say next week, regarding Shane. This was the second time in 48 hours that Shane directly affected the outcome of Owens' match against Styles. And arguably, cost him the title twice.
Oh boy.  Can't wait for next week…..thanks for reading!
A GFW Release, 2 WWE Injurys, & A New WWE Signee
The Signee
WWE has announced a blockbuster signing in the form of 22-year-old prodigy Lio Rush.
Internationally recognized as one of the ring's top high-flyers, Rush officially joined the WWE Performance Center today in Orlando, Fla.
Born Lionel Gerard Green, of Lanham, Md., Rush wrestled in high school, becoming a two-time All-American and three-time state qualifier. He began training for sports-entertainment in 2014 and, in less than three years, has competed in 43 states, Canada, Mexico, the United Kingdom, Germany and Ireland. In 2016, he won Ring of Honor's Top Prospect Tournament, and earlier this year, he held the Combat Zone Wrestling Heavyweight Championship.
The 160-pounder quickly became a fan favorite on the independent scene for his daredevil creativity and unbelievable resiliency, as well as his "Dragon's Call" finisher, a devastating frog splash that recalls D'Lo Brown's split-leg variation. In joining the WWE PC, Rush reunites with a former tag team partner, current NXT Superstar The Velveteen Dream, with whom Rush co-held the Maryland Championship Wrestling Tag Team Titles in 2015.
The Injury
WWE.com has reported that NXT Superstar Asuka broke her collarbone during her match against Ember Moon Saturday night at NXT Takeover: Brooklyn. WWE stated the following as to how the injury happened.
A victory in exchange for bone 🤡
I have decided to see it through no matter what the cost… Because I'm a super star. #toKeepLaughing #WWE pic.twitter.com/sNDXcivgZL

— ASUKA / 明日華 (@WWEAsuka) August 22, 2017
"During the match, she landed awkwardly from a throw from Ember Moon and was able to complete the match, but had notable pain and discomfort," Dr. Westerfield said. "We performed an initial ultrasound backstage that was highly suspicious of a break that was later confirmed by an X-ray."
Although there has been no time table set by WWE the typical recovery is 6-8 weeks.
Last night on Monday Night Raw there was a second injury. Watching it live it was hard to tell if it was real or a work so that Enzo could win. But it was later confirmed by WWE with this press release; Big Cass suffered an injury to his left knee during the Brooklyn Street Fight against Enzo Amore on Raw.  The injury occurred after Amore dodged a big boot by pulling down the top rope, sending Cass to the floor in the process.
"It's hard to tell what the extent of the injury is, but we're going to send him to get an MRI tomorrow and figure that out," said WWE ringside physician Dr. Chris Robinson.
The Release
Former WWE Superstar Brodus Clay & The Funkasaurus as well as Impact wrestling performer Tyrus has asked for and was granted his release. He had been complaining about the way he was treated by Impact/GFW management. It was reported that he actually refused to appear on Impact last week because of his dispute with management.
Thank you to @EdNordholm and @IMPACTWRESTLING for granting me my release. Wishing the roster and crew all success. #TyrusSmash #Nuffsaid

— Tyrus (@PlanetTyrus) August 19, 2017
Women's Wrestling Wrap-Up
Welcome to the latest edition of the Women's Wrestling Wrap-Up, which details everything in women's wrestling in the past week, beginning with Monday's Raw and ending with the 30th annual SummerSlam.
Raw featured a double dose of women's action, with Sasha Banks and Nia Jax facing each other in a #1 Contender's Match. Both women won Triple Threat Matches on the previous week, which were made due to the original #1 Contender, Bayley, suffering a shoulder injury. Sasha defeated Alicia Fox and Emma, while Nia defeated Mickie James and Dana Brooke. As for the one-on-one bout, Sasha defeated Nia Jax, putting her one win away from the Raw Women's Championship. Later on, Emma continued complaining about being ignored, so she was challenged to a match against Mickie James, with the former six-time champion winning.
SmackDown featured Natalya defeating Becky Lynch, while Naomi was on commentary; meanwhile, Carmella continued to flaunt her MITB briefcase. Meanwhile, Lana is basically attempting to make Tamina more dominating than she already is, as it looks like she'll be the one managing her from this point on. The go-home NXT featured Ruby Riot defeating Billie Kay, but before that, Asuka and Ember Moon held their contract signing for their match at Takeover. On Impact, Taryn Terrell returned to the Impact Zone and attacked Gail Kim, costing her in her title match against Sienna.
SummerSlam weekend kicked off with Takeover in Brooklyn, and to the surprise of many, Asuka defeated Ember Moon via submission to continue her reign as NXT Women's Champion, which has eclipsed the 500-day mark. The main reason why I looked forward to Takeover was to see Ember win the title, but instead, they decided to have Asuka hold on to the title while Ember could be called up without an actual title run; a fate that befell women such as Carmella, Alexa Bliss, Nia Jax, and Becky Lynch. Meanwhile, who will be next for Asuka? Will they give Ruby Riot a one-on-one shot? Will they finally put Liv Morgan or Aliyah back on and push one of them? Only time will tell.
The 30th annual SummerSlam saw both Raw and SmackDown Women's Championships change hands. The SmackDown match came before Raw's, and it ended with Natalya forcing Naomi to submit to the Sharpshooter, winning her first championship in six and a half years! It seems like ages ago, but Natalya held the now-defunct Divas Championship from November 2010 until January 2011, and has spent most of the six years that passed putting other women over. And the Queen of Harts was able to walk out with the title, as there was no cash-in from Carmella, to the surprise of many.
Sasha Banks made Alexa Bliss submit to capture her fourth Raw Women's Championship, and her first in almost a year. The Boss' victory has exorcised some Brooklyn demons, as it was in Brooklyn two years ago that Sasha lost the NXT Women's Championship to Bayley. Seeing as Alexa was featured in the promo for Raw's No Mercy PPV on September 24, one has to believe that Alexa's rematch will take place at the PPV. By then, Bayley should be fully cleared, so we could see Bayley vs Heel Sasha in October.
GFW signed a pair of women from the indy circuit: Hania and Kiera Hogan. Hania has spent most of her career competing in the Women Superstars Uncensored promotion, starting out as a masked wrestler named Saturyne before ditching the mask and becoming Hania. Hania spent parts of 2014 and 2015 feuding with Athena, which included a heel turn from Hania in February of 2015, and came to an end when with a victory over Athena–who is now in NXT as Ember Moon. Kiera Hogan is an up-and-comer who also competes in WSU, where she holds the Spirit Championship.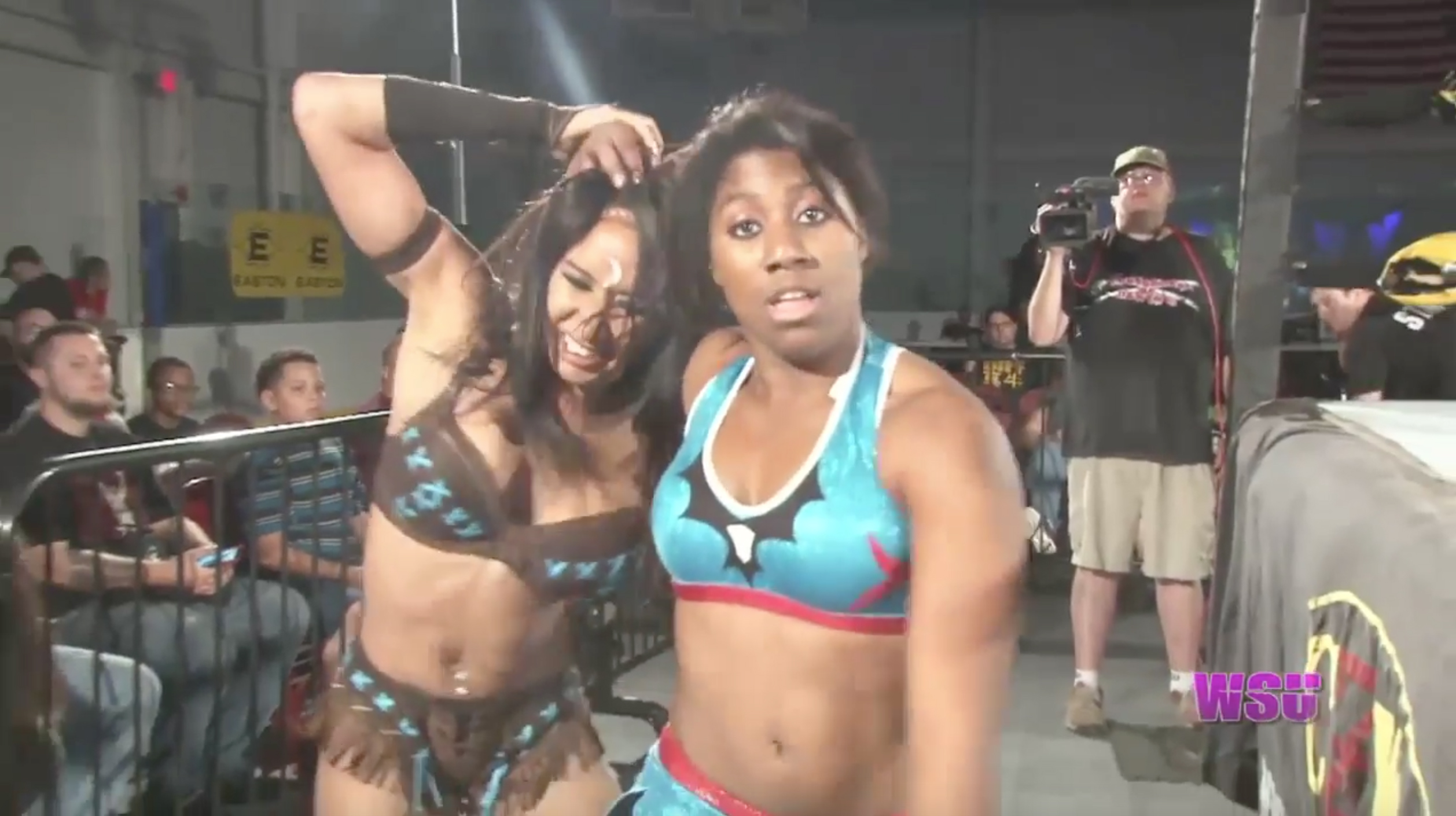 A new week begins with the fallout from SummerSlam on Raw and SmackDown, as well as the post-Takeover edition of NXT! Until next week!
First Look: The Mae Young Classic (Part V)
We are closing in on the highly anticipated Mae Young Classic, the 32-woman tournament featuring competitors from all over the globe. The first look at those women continues with this fifth chapter:
Reina Gonzalez: Add Reina Gonzalez to the list of NXT signees who have increased my curiosity. Some info on Reina; her real name is Victoria Gonzalez, and she stands at 6 feet, 1 inch–another Amazon standout along with Ayesha Raymond and Sage Beckett. She played high school basketball in her native Texas, and averaged a double-double (22.2 points and 12.3 rebounds) in her senior year. I was surprised to learn that Reina is actually a second-generation wrestler; her father is Ricky Gonzalez, who competed as Desperado in Texas. She was signed by WWE last year, and it was last month that she received the ring name Reina Gonzalez ("Reina" is Spanish for "queen"). In the introductory video released last month, Reina had some attitude in her entrance, which leads me to believe that she'll be a heel in the tournament.
Kay Lee Ray: You can imagine my elation when I learned that Scottish standout Kay Lee Ray would be participating in the Mae Young Classic! Many fans of independent women's wrestling are very familiar with Kay Lee Ray, as she has competed in various promotions all over the world. Her work includes participating in Bellatrix Female Warriors, as well as American promotions such as SHIMMER Women Athletes. Among other accomplishments, Kay Lee Ray won SHIMMER's Chickfight Tournament in April 2015. Kay Lee Ray recently turned 25, but she is a seasoned veteran, and she'll bring a lot to WWE's female roster if they decide to sign her full time. She will join a recent list of UK & Ireland female stars that includes Layla, Paige, Katie Lea, Becky Lynch, and Nikki Cross.
Mia Yim: One of the most known women in the last five years (at least) has to be Mia Yim. She is a household name on the indy circuit and in mainstream wrestling as well, competing all over the globe in her eight year career. Mia has competed in SHIMMER, Women Superstars Uncensored, and SHINE Wrestling–where she is a former SHINE Champion and SHINE Tag Team Champion with Leva "Blue Pants" Bates. She would make appearances for Impact Wrestling at the first two Knockouts Knockdown events before she was officially signed by the promotion in 2015. Mia debuted under the name Jade, and served as a member of the villainous Dollhouse faction with Marti Belle and leader Taryn Terrell. She spent nearly two years in Impact Wrestling, which included a solitary reign as Knockouts Champion in 2016. Mia has made WWE appearances before, mainly on NXT as a jobber. I can't wait to see Mia in action in the Classic!
Kairi Sane: Perhaps the most talked about signing in the last year has to be Kairi Sane, who is best known as Kairi Hojo. Her real name is Kaori Housako, and she was born in Hikari, Yamaguchi, Japan on September 23, 1988. She is, of course, best known for her lenghty tenure in the World Wonder Ring Stardom promotion in her native Japan, where she held multiple championships in the five years she spent there, including the World of Stardom Championship, the promotion's top title. WWE signed Kairi to a three-year deal, and was given the Kairi Sane name later on. She made her Stardom farewell in March and reported to WWE. Picture her and Asuka facing each other in a WWE ring, how epic would that be?!
Santana Garrett: To say that Santana Garrett is one of my all time favorites would be an understatement. I have vastly enjoyed watching her matches on TV, YouTube, and on DVD for a long time; she is an absolute phenom (another understatement, I know). Santana is 29 years of age, and she has competed for eight years for various promotions, mainly SHIMMER and (especially) SHINE Wrestling. Santana was a mainstay at SHINE until she was officially signed by TNA in January 2014. She had appeared at the first Knockouts Knockdown event months prior, but she impressed the higher-ups enough for them to sign her. Santana debuted that March as Brittany; originally as a babyface but became a psychotic villainess obsessed with Madison Rayne. Her mainstream tenure ended in November of 2014, and she returned to SHINE and the indy circuit as a whole shortly afterwards. Santana would hold many championships since leaving TNA, including holding the SHINE Championship and the more presitigious NWA World Women's Championship simultaneously. She made other mainstream appearances recently, including appearing at this year's Knockouts Knockdown and competing on NXT a few times. Regarding character, Santana is a career babyface, with the exception of her brief run as the evil Brittany in TNA. It would be nice if Santana switched it up and acted as a heel in the Classic, but overall, I'm just happy to see her and I hope they sign her!
There's still more where that came from; the First Look at the Mae Young Classic continues on!
Summer Slam Predictions
The second biggest weekend in WWE and the Biggest party of the summer kicks off this weekend with NXT Take Over: Brooklyn 3 happening on Saturday and if the past two Takeovers in Brooklyn are anything to go off of they could steal the weekend. Then on Sunday we get the biggest party of the summer and WWE second biggest pay per view Summer Slam with a card almost as big and impactful as WrestleMania. This card is stacked from the Fatal four way for the universal title of Brock Lesner vs Roman Reigns vs Samoa Joe vs Braun Strowman to the return of the Demon Fin Bálor to take on the eater of worlds Bray Wyatt and Shinsuke Nakamura attempting to take gold for the first time on the main roster taking on the WWE Champion Jinder Mahal. This Summer Slam is a cannot miss show and we will break them down and give our thoughts and predictions.
Universal Champion Brock Lesner vs. Roman Reigns vs. Samoa Joe vs. Braun Strowman (Fatal 4-Way Match)
Theses fatal four-way matches are always tricky to predict on their own but then you add in the factor of the Universal Title and the fact that your Universal Title is promising to leave to the UFC if he loses the title. So, who is more likely to walk out summer slam with the title? Will it be Roman Reigns the man who for all we know has retired the Undertaker at WrestleMania and now owns the yard? Will it be the man who has taken Lesner to his limit in their last meeting back at Great Balls of Fire, Samoa Joe? Will it be the monster among men who beat Reigns in an ambulance match last month and then again in a last man standing match a few weeks ago, Brown Strowman? With all the talk of Lesner going to the UFC it is almost a guarantee that he would drop the title and with the mega push Strowman has been getting it would look like he would be the obvious choice.
My Prediction: Just because it to obvious and too public I believe that Lesner will retain his title
WWE Champion Jinder Mahal vs. Shinsuke Nakamura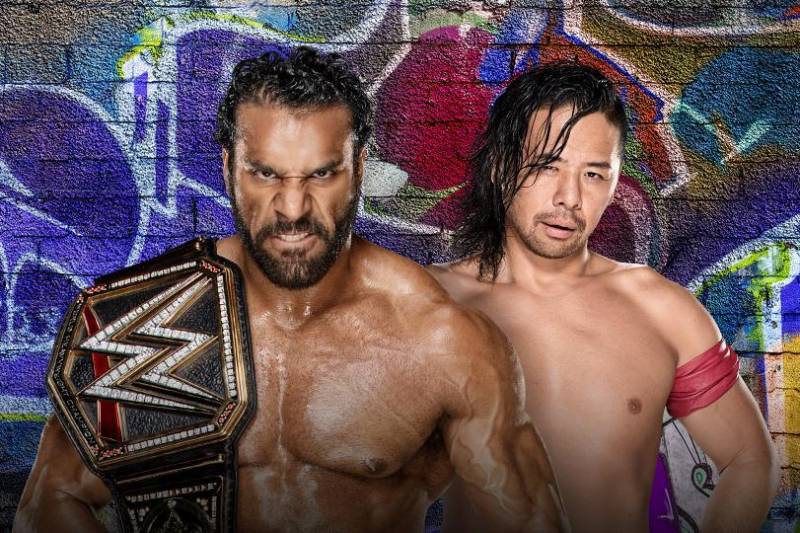 This match was a product of the number one contenders match between Nakamura and Cena which was sent in place because Cena came out and challenged Jinder. Nakamura won the match clean with probably the best match he has had since coming to the main rooster after mania. That is the whole back history of the match so much of this story will play out in the ring on Sunday.
My Prediction: Nakamura doesn't need or has proved he ready but I think WWE sees more than I do so I believe Nakamura will win
John Cena vs. Baron Corbin
Right after the number one contenders match between Cena and Nakamura where Nakamura beat Cena clean to earn his first shot at a world title Corbin attacked Nakamura. Cena then ran in to save his most worthy opponent, then Corbin tried to turn the tables on Cena and put him through a table but for his effort he was awarded a trip through the table himself. The following week Corbin came out during Cena's promo where Corbin said he doesn't need to beat Cena he has the money in the bank so he has nothing to prove to anyone. Then the match was made official after that by GM Danial Brian. Well on this week's Smackdown Live Cena had a match against WWE Champion Jinder Mahal, after the sing brothers were ejected from ringside area Cena hit Jinder with an AA of the 2nd rope and got him down for the 1. 2. Corbin came in hit Cena with the Money in the Bank briefcase causing the DQ. As he was leaving the ring he realized the champ was as vaulnerable as he would ever be. So, he cashed in his Money in the Bank but he went after Cena before he could interfere but during the distraction Jinder got the role up and retained his title, making Corbin only the third person in WWE history to not gain the title when cashing in. Now he has something to prove in beating Cena on Sunday.
My Prediction: Corbin wins
SmackDown Women's Champion Naomi vs. Natalya
How long has it been since we have seen Natalya in this position challenging for the Women's Championship? Back at Battleground Natalya Defeated 5 other women in a Fatal five way to gain this great opportunity to take on the Women's Champion Naomi. Naomi is now a 2-time Women's Champion after winning the title back at WrestleMania this year. Is it finally time for the Queen of Hearts to gain her crown or will Brooklyn feel the glow? We also must take in to account the unpredictable Carmella and her money in the bank contract.
My Prediction: Naomi wins and Carmella cashes in.
United States Champion AJ Styles vs. Kevin Owens (Shane McMahon as special guest referee)
This matches history is a long and tangled mess starting back at the 4th of July spectacular where AJ not only had to win his way into the Independence Day battle royal to determine the number one contender for the US title, but then he had to fight his way through all the men in the match and against all odds he did. It was styles vs Owens for the US title at Battleground, but things took a turn at Madison square garden the next week end where as normal on house shows the challenger will take on the champion and lose to build up the match but this time in a shocking turn of events Styles won the title at the house show and shocked the world. On the next Smackdown it was announced that Owens would get his rematch at Battleground. Everyone assumed Styles would retain since he just won the title in such glorious fashion but at the end of the match it appeared to be a botched finish or a mid-match change but Styles lost the title. The next Smackdown seemed like they were playing damage control because during the segment with Styles and Owens who should appear, the great Y2J Chris Jericho to claim his rematch for the title from Owens. Since Styles had also claimed his rematch it was made a triple threat for the title that night. Styles went on to reclaim the title that night but no sooner was the match over then Owens was again demanding a rematch so the next week it was set again for Styles and Owens for the title. This match ended with styles pinning owns and getting the win but it was a bad call by the reff and Owens shoulders were not down. Owens lost it and demanded a rematch with a competent reff and GM Daniel Brian appointed Commissioner Shane McMahon to be the reff. Over the last few weeks Shane's impartialness has come into question and each week has ended with Shane being hit by each man bringing into question will Shane be able to stay out of the match at Summer Slam or will this become another screw job.
My Prediction: AJ Styles retains
SmackDown Tag Team Champions The New Day vs. The Usos
This is the third time that we have seen this match up for the tag team titles. The first time we saw this at Money in the Bank where the Usos escaped with the title by count out. The next time we saw these two was at Battleground where their match was arguably the highlight of the event and stole the show. At this same event, the New Day also reclaimed tag team gold buy defeating the Usos. The Usos get their rematch at Summer Slam after ambushing the New Day during one of their entrances. Then last week on Smackdown the Usos were finishing their promo and the New Day came and attacked them with chairs.
My Prediction: New Day retains
Randy Orton vs. Rusev
This match is a product of Rusev running his mouth and Orton wanting a fight for summer slam, right time right place where these two means will collide it what could be an awesome match or a mega flop. This match to me is the definition of a filler match that has no defined future or rezoning for happening.
My Prediction: Orton wins
Big Show vs. Big Cass (with Enzo Amore suspended above the ring in a Shark Cage)
After the back-stabbing end of their tag team Big Cass and Enzo had a match at Great balls of Fire last month and as you would imagine Big Cass dominated and won. Now Big Show is involved because of his relationship with Enzo and his part during the break down of the tag team. Now after matches and blind attacks we are going to get a one on one match between these to monster men but just so Enzo can't play any tricks or get involved in any way the will be locked in a shark cage and hung above the ring.
My Prediction: Big Cass wins
"The Demon" Finn Bálor vs. Bray Wyatt
This is the match we all hoped it would become it was originally booked as Balor vs Wyatt in a regular match but then it was moved up to raw as a Pre-summer slam type show. Balor lost the match and then Wyatt proceeded to humiliate Bálor by covering him in red paint. At the end of the next segment Balor was seen leaving Kurt's office and when asked what was happed in the meeting he said, bray has his demons and I have mine and he has brought them out. Now we are getting the return of the Demon Finn Balor vs the eater of worlds and self-proclaimed god Bray Wyatt at summer slam.
My Prediction: Balor wins
Raw Women's Champion Alexa Bliss vs. Sasha Banks
The match that wasn't supposed to be but everyone is happy is happing. This match was originally set to be Bliss vs Bayle but unfortunately Bayley suffered a shoulder injury and was not cleared to compete at summer slam. A thee match tournament was set up where the winners of match one and two would face off in three and the winner would face Bliss at Summer slam. It came down to Jaxs and Banks in the final and it looked like Jaxs was finally going to get her shot but banks locked in the banks statement to cause Jaxs to tap out and send Banks to summer slam. Now we have the Boss vs the Goddess of WWE.
My Prediction: Banks wins
WWE Cruiserweight Champion Akira Tozawa vs. Neville
This match was scheduled to take place for the first time at Summer Slam on Sunday with Neville being the Champion and Tozawa challenging for his first Cruiserweight title. With Monday being the day that Summer Slam came early on to mix up the card this match took place on Monday Night RAW where Tozawa defeated Neville to claimed the title going into summer slam where Neville is invoking his rematch.
My Prediction: Tozawa retains
The Hardy Boyz & Jason Jordan Vs. The Miz & The Miztourage
This match was added late in the week and the only reason I can think of is that one their match on Raw was pretty good and the response was good so they wanted a rematch or since the Hardy's didn't have an opponent do to The Revel being out due to injury again and the Miz not having an opponent for summer slam they just killed two birds with one stone and did a rematch from Raw. Eithway this match was good on Raw and I believe that they will put on a good show but this will be the end of the series.
My Prediction: The Hardy Boyz & Jason Jordan win
3 Impacts From Impact (Destination X)
An epic and fantastic Destination X is in the books! So many shocking moments occurred, but I can only whittle them down to three, so here they are; my 3 Impacts From Impact!
The biggest Impact came from the returning Jim Cornette; who made his first Impact appearance in about a decade! Following Alberto El Patron being stripped of the GFW World Heavyweight Championship, we were promised an announcement from Bruce Prichard, who had planned to give the title back to the man who lost it to Alberto, none other than Bobby Lashley. It was at that moment that Jim Cornette returned, much to Prichard's extreme dismay, and he would fire Prichard and make his own announcement regarding the title. Cornette announced that a 20-man Gauntlet Match will take place next week to crown a new champion, and while being confronted by LAX, Cornette informed one-time #1 Contender Low Ki that he will enter at #20. Later on, Cornette informed Eli Drake that he'll enter at #1. I'm so happy that Cornette is back, and regarding the now fully heel Prichard, I dare say his words that we haven't seen the last of him may be true.
Honestly, Cornette's return wasn't the most surprising one of the evening! Destination X kicked off with Sienna vs Gail Kim for the GFW Knockouts Championship, and Gail was clearly closing in on victory even after taking down KM. At that moment, Taryn Terrell (yes, you read that right) made her return to the renamed GFW and attacked Gail, allowing Sienna to retain! Now I'm not going to lie, they showed her from the back, so when I saw her, I thought it was Kelly Kelly! But it was indeed Taryn Terrell, and I am still surprised to see her back! As we all remember, Gail and Taryn had been bitter rivals for a long while, with the rivalry beginning with the face/heel roles reversed. They first feuded in 2013, which included a memorable Last Knockouts Standing Match that Taryn won over the then-villainous Gail. Their feuded was re-ignited two years later when Taryn was the Knockouts Champion and the evil leader of The Dollhouse, until Taryn's departure in January 2016. Taryn returned at last year's Bound For Glory to help induct Gail into the Hall of Fame, and regarding her return, the evil Taryn referenced that in an exclusive video, as she accused Gail of not being there for her lately. It looks like we'll get one last classic between the two before Gail hangs it up, but beyond that, who knows what will happen? I'm just so happy that Taryn's back!
Staying on the trend of returns, we saw another epic return in the X Division Championship Ladder Match between champion Sonjay Dutt and challenger Trevor Lee. During the match, Caleb Konley attempted to assist Trevor in winning the title, but he would be taken down by Petey Williams, a former Impact original, with the Canadian Destroyer. Of course, Petey is best known for being part of Team Canada with Bobby Roode, Eric Young, and A-1, with Scott D'Amore as their coach. I loved Team Canada back in the day, so seeing Petey back was a huge treat! Another huge treat was Sonjay winning and retaining, and now we could see a long reign for him–coming after 15 years of attempting to win the title.
Those are my 3 Impacts from Impact! Next week is the 20 man Gauntlet Match to crown a new World Champion! Until then!
NXT Weekly
Just 3 days away from Takeover: Brooklyn 3, we are welcomed in to NXT from Full Sail University.
Contract signing for NXT Woman's Championship Match
Ember Moon and Asuka are joined in the ring by William Regal for this signing. Ember Moon starts by showering Asuka with compliments over her title reign, mentioning her breaking Goldberg's record for longest I undefeated. She states Asuka only made 1 mistake as Champion. That is taking a shortcut to beating her. She said Asuka resorted to pushing a referee to be able to beat her before. Asuka is visibly upset and goes off on a temper tantrum yelling angrily in Japanese before signing the contract. The two stare each other down as Asuka leaves the ring.
Analysis: This did the job to build some heat between these 2 and get people ready for what should be an awesome woman's title match.
Tag Team match: Street Profits vs Lars Sullivan and Chris Silvio
Sullivan is ready to get the match started against Dawkins of Street Profits when Silvio comes in the ring and runs at Dawkins taking a forearm and the match is underway. Street profits dominate this match and pin Silvio pretty quickly. Sullivan never even got tagged into the match. Winner: Street Profits
After the match Street Profits high tail it up the ramp. Lars was warned by William Regal earlier that he couldn't beat his partner after the match in the ring as he has been doing. Lars picks up the lifeless body of Silvio and helps him to the back, then out the back door and he rams him into the dumpster.
Analysis: this gimmick is running its course. It's time to see Lars actually do something either with a decent tag team partner or in singles competition.
Billie Kay vs Ruby Riot
They start this one off at a slower pace until Riot attempts a series of roll up pins that frustrate Kay. Kay would mount some offense of her own for a bit until Riot hits a few strikes and regains the upper hand. Kay reverses the tide and straps on a submission hold to Riot. Riot is able to escape the hold but damage has been done. Riot is able to regain the upper hand with her premier striking ability. After a hard knee to the face of Kay Riot hits Kay with an inverted kick to the head and gets the pinfall. After the match Peyton Royce gets on the mic and talks smack about Ruby Riots looks and appearance.
Analysis: Riot really needed a win here. She has been taking a lot of close losses and with a win here she now has something she can hopefully build on. Kay looks better and is making some progress but is still a long ways from being even a useful hand.
Drew McIntire vs Roderick Strong
Some back and forth offense early until McIntire hits a monster Suplex. Strong would soon take advantage of the action and the two men would find themselves outside the ring. Strong running at McIntire but McIntire side steps Strong and tosses him into the ring post. Strong would later regain his composure and lay a back drop on McIntire on the edge of the ring. After some back and forth action Strong has McIntire down in the corner of the ring and he proceeds to kick and stomp McIntire for a solid minute. After some slower offense by strong McIntire gets back into the match with a belly to belly suplex. McIntire would have the better of the action for a while before Strong would hit knee strike to the face of McIntire. Strong goes to the top rope, but is met up there and McIntire head butts Strong. Both men fall and are in tangled in the ropes. Just then Bobby Roode comes out and attacks both men. Result: No Contest.
Roode then hit McIntire with the Glorious DDT and stands mocking over McIntire.
Analysis: good way to build heat before these 2 do battle at Takeover Brooklyn 3. Should be a fun match. Is it time for the Glorious one to make his way up to the main roster?
All images provided from wwe.com.
Straight Up Smack Down
Summer Slam, Summer Slam.  You're such a greedy event. The 2nd biggest spectacle of WWE's year is so jam packed this year that, over the last 2 weeks now, we've seen:
1.) Cena vs. Nakamura
2.) Naomi vs. Carmella
3.) Jinder vs. Orton
4.) Jinder vs. Cena
Unreal. The only thing that I can surmise, is that Smack Down is gearing up for some fresh feuds after Summer Slam. Why else would they give away all of these main event worthy matches? Here was how we got to John Cena versus Jinder Mahal tonight:
What a fantastic presentation by WWE. Seriously. I know it wasn't well received by the audience, in attendance & at home, but the celebration was very well performed. The appearance by Shinsuke was predictable, given the setting. However, I thought Shinsuke would call out Jinder for being a hypocrite of sorts.  Paraphrasing, Jinder has railed the WWE universe for being unaccepting of him as champion because of his heritage. I expected Nakamura to talk about his own heritage & how he IS accepted by the fans. Maybe that is being saved for chapter 2 of this feud? It wouldn't surprise me.
What did surprise me, was the final moments of tonight's main event….Jinder Mahal vs. John Cena:
The Singhs were a constant part of Jinder/Cena match…until they were both thrown out! Corbin's later interference & attempted cash in was evidently thwarted.  The moment was exciting at the attempted cash in, but I have to think that the plans for Corbin changed along the way.  WWE clearly wants to feature Mahal & Nakamura in the title match & I doubt it's a one and done.  However, if Nakamura is going to fulfill all of these "dream matches", WWE needs to put the belt on him soon. That would elevate him into the upper echelon, where he could main event pay per views with Owens, Styles, Lesnar, Samoa Joe, etc. But that also probably requires a lengthy title run & with the inevitability of Corbin cashing in now erased, that seems more likely.
We move on to a segment advertised on the show as "A.J. APOLOGIZES." What? I hated this idea. Not that A.J. being apologetic after last week was the bad idea, I hated that it was advertised as such. It made Styles look very different than the brash superstar that gained popularity on Smack Down.
First of all, let me say that Shane needs to stop with the tanning. This guy had so much internal heat, coupled with the outfit he was wearing & the bright ring lights, that he was sweating profusely. Like it was almost uncomfortable to watch. Like someone who never speaks in public, giving a public speech. Like when someone's guilty & they know it, but nobody else does yet. That kind of sweating. Plus he looks like Hulk Hogan's hot dog colored skin from the 80's at this point. The white hair makes it look even more contrasting. Second, Shane said there was "no apology necessary because it was in the heat of the battle." What battle? He's talking about last week when he tried to separate Styles & Owens going at each other then was Pele kicked by Styles. It was hardly a "battle." Maybe he meant heat of the moment? Third, he stated that he is the special referee because he can absorb contact & get involved if necessary. Well, as you could see its been 2 weeks in a row now that both Styles & Owens have inadvertently assaulted Shane & he has gone down like a sack of potatoes both weeks. Not much different than any other referee that would be in his place. If the real reason is to have a referee that will see the entire match, why not have multiple referees at ringside in case one gets injured?  It's not like WWE is getting only one match out of their referees now. Anyways, if Shane wanted an apology from Owens (which his character would never grant) he couldn't now, based on the logic he gave to A.J. about "the heat of the battle."
Finally, the best moment of the night went to Randy Orton (1:30):
Well shot by WWE also. I wish the match had been more like the match they had a few weeks ago because Gable is really good in the ring. Hopefully he gets better opportunities in the future. As for Orton & Rusev, their match at Summer Slam seems unimportant. I don't think this feud has any steam to it, even after the RKO outta nowhere.
Thanks for reading & enjoy Summer Slam!
3 Impacts From Impact
The final Impact before Destination X is in the books, and it was chaotic! What action stood out the most on the go-home show! Here are my 3 Impacts From Impact:
A lasting impact was made in the main event, as Low Ki, Trevor Lee, and Lashley defeated Matt Sydal, Sonjay Dutt, and Alberto El Patron. The main event match was a combination of three top matches set for Destination X, which is centered around Alberto and Low Ki facing off for the World Title. The other two bouts are Sonjay vs Lee for the former's X Division Championship (which the latter stole), and Lashley vs Sydal in a match dubbed "Shot vs Shot," as the winner will receive the title shot of their choosing. Regarding the six man match, Low Ki got the pin on Sonjay, which is fitting, considering that Destination X used to be focused on the old "Option C," the reigning X Division Champion turning the title into a World Title shot.
The program kicked off with Sienna staging a sit-in as she demanded to know who her challenger will be at Destination X. Out came Karen Jarrett, who announced that Sienna will defending her title against none other than Hall of Famer Gail Kim, which prompted a brawl between champion and challenger. Gail being announced as Sienna's challenger was expected, as Gail stated that she wanted to retire on top, and Destination X would allow Gail to pick up one last title victory. What happens beyond that is up in the air, but this should be a very interesting title bout.
The X Cup Finals is all set, and it will be Dezmond Xavier facing off against Ishimori at Destination X. The go-home Impact featured Ishimori defeating ACH in the second semifinal, setting up the final encounter between himself and Dezmond. The winner gets the X Cup, but one would have to believe that a future X Division Championship opportunity would be on the horizon as well. In any case, I myself am looking forward to this X Cup final!
Those are my 3 Impacts From Impact!! Until next time, after Destination X!
Women's Wrestling Wrap-Up
Welcome to the latest edition of the Women's Wrestling Wrap-Up, which details everything in women's wrestling in the past week, beginning with Monday's Raw.
Due to the injury to Bayley's shoulder, two Triple Threat matches were set for Raw, with the two winners facing each other in a #1 Contender's Match. In the first one, Sasha Banks defeated Alicia Fox and Emma, while the second one saw Nia Jax defeat Mickie James and Dana Brooke, setting up Sasha vs Nia. On SmackDown, Lana's attempt to challenge Charlotte fell flat, as Charlotte defeated the Ravishing Russian. Lana was later mocked by Tamina, who decided to plan out how Lana could get an opportunity for her. Later on, Carmella was victorious over Naomi, thanks to the returning James Ellsworth.
Neither Wednesday program (Lucha Underground and NXT) saw in-ring action from the women, though we did see Zelina Vega manage Andrade "Cien" Almas to victory over No Way Jose, and then answer Johnny Gargano's open challenge for Takeover. Thursday's Impact featured Karen Jarrett announce that Gail Kim will challenge Sienna for the Unified Knockouts Championship. Other than that, we saw the continuation of the Laurel Van Ness angle, as she stopped Kongo Kong from continuing his assault on Grado, who has been pursuing LVN in recent weeks.
Meanwhile, outside the ring, it was announced that Angelina Love is officially done with GFW, six months after returning to what was then known as TNA. Angelina's return came in February, as she and Alisha Edwards were both in support of Eddie Edwards during his World Title rematch against Lashley. The ending saw Eddie's longtime tag team partner, Davey Richards, turn on Eddie and prevent him from regaining the title, and included in the betrayal was Angelina becoming a villainess and attacking Alisha. The events started a feud between the couples, which came to a head at Slammiversary. Angelina and Davey were defeated by Eddie and Alisha at the event, and Angelina's announced departure came shortly after Davey announced his retirement from wrestling.
Liv Morgan worked a SmackDown live event this weekend, teaming with Becky Lynch and Naomi in defeating Carmella, Lana, and Tamina. This is good news considering we have not seen Liv on NXT TV in what seems like ages. In fact, the same can be said for Aliyah, as NXT has been mainly focused on Asuka and Ember Moon, and (to a slightly smaller extent) Nikki Cross and Ruby Riot. I remember briefly believing that Liv would turn heel due to jealousy of Ember, and regarding Liv and Aliyah's alliance on NXT, I often pictured Aliyah turning against Liv–mainly due to their match against each other where Aliyah seemed to be portrayed as the heel. Considering that Liv is dating Enzo, I'm a bit surprised that she was working a SmackDown show, but I just hope that this is the beginning of big things for Liv. And please put Aliyah back on TV!
A new week begins with the final Raw before SummerSlam, which will include Sasha vs Nia in a #1 Contender's match! This big week will also include the final SmackDown and NXT before the big weekend, and Lucha Underground will come closer to Ultima Lucha Tres! It will all end at Takeover and SummerSlam in Brooklyn! Until next week!