Raw to Raw Women's Wrestling Wrap-Up
Welcome to the latest edition of the Women's Wrestling Wrap-Up, which details everything in women's wrestling in the past week, beginning with Monday's Raw.
Last Monday's Raw featured Alexa Bliss again attempting to humiliate Mickie James, only for the six time champion to again fight back and take down her upcoming PPV opponent. Speaking of opponents, Asuka needed one for TLC, and Kurt Angle decided to have the rest of Raw's women compete in an elimination match for that honor. Surprisingly, Bayley was the second woman eliminated after Dana Brooke, leaving Alicia Fox, Emma, and Sasha Banks. In the end, Emma was victorious, and she'll face Asuka at TLC next Sunday. On SmackDown. Charlotte and Natalya got physical backstage, and Becky Lynch picked up a huge victory over Carmella.
Wednesday's NXT featured the first step to determining who will join Mae Young Classic winner Kairi Sane in the chase for the vacant NXT Women's Championship at NXT Takeover next month. Nikki Storm, Peyton Royce, and Liv Morgan all faced each other in a Triple Threat Match, and during that match, Taynara Conti appeared with the Undisputed Era, who sent her to sabotage Nikki Storm during the match. Thanks to Conti's interference, Nikki ended up pinned by Peyton Royce, who advances to Takeover. Later that evening, Sexy Star defeated Taya in a thrilling Last Luchadora Standing contest in Part III of Ultima Lucha Tres, but Taya would get the last laugh on Rosemary the next night on Impact, as she used Rosemary's own mist against the Demon Assassin. This came after Gail Kim delivered a vicious slap to Taryn Terrell, and before Allie and Sienna were participants in a six person tag match, with Allie's side winning.
Staying on the subject of Mae Young Classic competitors, it was announced this past weekend, that WWE officially signed Kavita Devi, who took part in the inaugural tournament this summer. Kavita made history as the first woman of Indian descent to compete in a WWE ring, and at the tournament, she was defeated in the first round by Dakota Kai. Kavita was one of my faves from the tournament; she reminded me a lot of one of my faves from the independent scene: Queen Maya. In her match against Dakota, Kavita played the villainess role to perfection; displaying arrogance and nastiness to go with her massive power. A lot of us expect to see Kavita aligned with Jinder Mahal, but I myself am just waiting ever so patiently to see her on NXT TV.
This Monday on Raw Mickie James teamed with Bayley to take on Emma and Little Miss Bliss with Mickie picking up the win. Per usual, this makes their rivalry look better as they build James up, but it ultimately means that Bliss, who took the pin will more than likely retain her title this Sunday. But, in my opinion the other womens match was the more interesting. Alicia Fox took on Sasha Banks. This match has many different levels for me. First, as the announcers pointed out, Foxy has been in WWE for 10 years, is a former womens title holder and yet she is rarely used on WWE television with the exception of lately. Plus, in a move that reminds me of how Zack Rider forced WWE to notice him, Alicia Fox has been using social media to her advantage voicing her frustration earlier this month when she stated the fact that WWE had never sold a shirt with her likeness or character on it. Suddenly, earlier this week, there is 1 shirt for her available for purchase on WWE Shop now and she and Sasha Banks had a very physical match where Foxy gave Banks a real bloody nose with a vicious back elbow. But, Sasha did win the match with her submission, the bank statement. But that was not all. They also did a back stage segment where Foxy took her to task as well as going crazy on a referee. It was announced later in the broadcast that Alicia was fined an undisclosed amount of money for assaulting the referee. Those two incidents ultimately lead to a kickoff show match between the two ladies before TLC.
We also have a womens wrestling rumor to report on. According to multiple sources former TNA womens wrestler, Knockout Champion and current GFW creative partner as well as the wife of GFW announcer Josh Matthews was actually at the WWE performance center this past weekend. Yes we are talking about Madison Rayne. She replaced the departed Christy Hemme as head of creative for the Knockouts Division. But, with her husband working for GFW, I would think that would be a turn off for WWE as Matthews is also on the creative side with GFW. We will monitor this situation and see how things shake out.
A new week begins with Raw and will end with TLC, which will feature Alexa Bliss and Mickie James competing for the Raw Women's Championship, as well as Asuka's main roster debut against Emma. On NXT, Sonya Deville, Ember Moon, and Ruby Riot will face off for the right to join Kairi Sane and Peyton Royce at Takeover. Thursday will feature Taya and Rosemary facing each other on Impact! Until next week!
3 Impacts From Impact
Bound For Glory is getting closer and closer, and Impact is preparing for their biggest event! What stood out the most in the antepenultimate show before BFG? Here are my 3 Impacts From Impact:
When the dust settled, Johnny Impact once again stood alone as the #1 Contender for Eli Drake's GFW World Title. Johnny faced off against Garza Jr for a shot at the title at Bound For Glory, and after a hard fought and intense contest, Johnny emerged victorious. What was supposed to be an interview conducted by Jim Cornette was abruptly halted due to Chris Adonis taking out Johnny from behind. Regardless, Johnny has second life in the World Title picture, and it looks like this time, he'll take Eli to Slamtown and leave Canada's Capital as World Champion. The question after that, though: who will step up against Johnny Impact?
When the Knockouts four way title contest was made, a question I couldn't help but ask was, "What about Taya and Rosemary?" I figured that GFW had plans for the two of them to square off, and it was pretty much confirmed following Rosemary's match. The Demon Assassin called out Taya, who acquiesced and entered the ring to face Rosemary. It appeared that Rosemary was set to unleash her mist to her foe, only for Taya to do just that to Rosemary, much to everyone's shock. So it's pretty safe to say that the Demon and the evil queen will do battle at Bound For Glory, but one has to believe that this won't be a simple one-on-one match. I wouldn't be surprise if these two compete in Full Metal Mayhem!
This may be an understatement, but LAX didn't exactly take losing the tag titles to oVe very well. They took it out on Garza Jr weeks ago, and it was on the latest Impact that they decided to challenge oVe to a 5150 Street Fight. The match itself will be epic, but what I couldn't help but love was Diamante getting physically involved in the segment. I hope BFG will see Nevaeh make an appearance alongside her husband and brother-in-law, to make things even and very interesting! We could see some mixed tag action as a result, even a one-on-one contest between Diamante and Nevaeh!
Those are my 3 Impacts From Impact! Until next time!
The Ultima Lucha Lowdown (Part III)
Welcome to Part III of The Ultima Lucha Lowdown!
Part III kicks off with the long awaited Last Luchadora Standing contest between Sexy Star and Taya, two women who have been at each other's throats for so long! Taya has cost Sexy quite a bit this season, that and the recent real-life issues elsewhere have led to this match that should settle things between these two phenomenal women. To the surprise of no one, both women took this fight outside quickly, with Taya ramming Sexy's back to the railing. The brutality plays an important role in this match, as the winner has to make sure that her opponent cannot answer the referee's 10 count. We later see Sexy dish out some punishment of her own; ramming Taya's face onto the gate. Taya's already bleeding, but Sexy isn't done, as she gets the table (in Dudley Boyz fashion) and rams Taya's face on that as well! The table finally comes in to play, as Taya sent herself and Sexy through the table from the stairs! However, Sexy managed to barely beat the 10 count, and win the match, serving as the Last Luchadora Standing!
Next up, the Trios Championship is on the line, with Vibora, Pindar, and Drago (with Kobra Moon) defending against the makeshift team of The Mack, Dante Fox, and Killshot. The Mack won this title opportunity last week during Part II of this event, but it was Dario Cueto who threw the proverbial curveball of teaming him with Fox and Killshot: two combatants who not only can't stand each other, but went through hell in Part I of this fabulous event! However, winning can cure all ills, and the rivals worked together with Mack, who got into the match and brought the fight to Drago! Fox and Killshot came together to take down Vibora, only for Kobra Moon's largest minion to fight back against the pair. Mack took down Vibora, and Fox and Killshot delivered an aerial assault to the champions! And in the end, a shocker: the unlikely trio won the titles! All Kobra Moon could do is stand in shock at what had occurred.
The main event commences, and it is Son of Havoc and Pentagon Dark facing off in a ladder match for the Gift of the Gods Championship! This match was made weeks ago after the traditional seven-way match ended with Havoc and Pentagon gaining pinfalls at the same time, prompting Dario Cueto to have the two of them face each other for the title. The title means a guaranteed shot at the Lucha Underground Championship, a title NEITHER combatant has ever held. For Pentagon, that title means he's one win closer to pure dominance. For Son of Havoc, the title means he's one win away from ultimate redemption. The two warriors put each other through hell to get the title, and in the end, Pentagon Dark climbed the ladder and took possession of the Gift of the Gods Championship!
Next week, Ultima Lucha Tres concludes with Prince Puma fighting for his career and his second Lucha Underground Championship. We see the challenger with Vampiro, preparing him for his ultimate battle next week.
It all concludes next week! Until then!
Straight Up Smack Down
Just a few short days after Hell In A Cell (that seemed like a week), Smack Down was live from Grand Rapids, Michigan. Both cell matches lived up to their hype at HIAC & much of the fallout was addressed in Grand Rapids. The first segment of the show was led by The Usos, who reclaimed their Smack Down Tag Team titles on Sunday in an entertaining, innovative cell match against The New Day. In fact, The Usos invited New Day to the ring tonight to show their respect to Kofi, Xavier, & Big E.  They all seemed to bury the hatchet in a ….Truce-O?
These 5 performers even make these same old, recycled segments become interesting. I don't know how many times I've watched an A-B conversation between 2 Smack Down tag teams quickly morph into the entire tag team division on camera…but it's a lot of times. A funny part of The Usos interaction with said tag team division, was not in this clip.  The teams were told to get to the "Back of the Line!" Instead, they competed in the aforementioned Fatal 4 way match to decide the number one contenders for the Smack Down tag team titles:
As expected, Gable & Benjamin were victorious. They will eventually challenge The Usos for the tag team titles. We also learned of another tag team that should make some waves within the division upon their return: Luke Harper & Erick Rowan. They have been renamed as the Bludgeon Brothers….
Looks like they discovered World of Warcraft or something.
Kevin Owens & Sami Zayn were given a chance to explain the ending to Sunday's Hell In A Cell match with Shane McMahon, which if you haven't yet seen Zayn rescue Owens from Shane's incredible elbow drop….here you go:
That'still amazing for me to see, even though I have watched that an unhealthy amount of times. Shortly before that, Shane had sent Owens crashing through a table, from the cage:
That thumbnail above just shows how outrageous those spots really were. Owens appeared on Smack Down, still showing the effects of his Hell In A Cell match:
Ok, so now let's get to Sami's motivation for saving Owens. I think any fan would agree that Zayn needed a fresh coat of paint for his character. His in-ring work was phenomenal in NXT & he's one of the best ever to compete there. Since moving to the main roster, Zayn has not been able to have those long one on one high stakes matches. Except against Owens, but even those matches were better on the pay-per-view events than on weekly TV. Plus, Zayn's character was not compelling for TV. So someone at WWE decided to attach Sami to the hip of the Kevin Owens rocket ship & send him along for the ride. It's probably the right move & Sami gave a list of reasons for his sudden change of heart:
This will undoubtedly be fascinating to watch evolve over the next few weeks, but I have more faith in attaching Zayn to Owens than letting Zayn get over on his own at this point.
Baron Corbin faced A.J. Styles in a rematch for the U.S. title & retained! With a clean win nonetheless!!
This seemed like the final encounter for these two, much like The Usos & New Day. Corbin looks like he will be champion for awhile, leaving Styles to challenge for the WWE title?  I don't think any fans would argue with that booking.
Next week should provide more answers as to where Smack Down intends to head with their roster of superstars. Until then, thanks for reading!
Women's Wrestling Wrap-Up
Welcome to the latest edition of the Women's Wrestling Wrap-Up, which recaps everything in women's wrestling in the past week, beginning with Monday's Raw and ending with Hell In A Cell.
Fresh off the verbal confrontation on Raw, Mickie James was looking to get physical with Alexa Bliss, especially after the cracks on Mickie's age continued. Instead, she ended up facing Nia Jax (while WWE makes us forget that Alexa and Nia were actually feuding), and ends up winning via DQ after Bliss gets involved. After Mickie takes out Bliss, she is encountered by Kurt Angle, who gives Mickie a Raw Women's Championship opportunity against Bliss at TLC on October 22. Later on, Bayley and Sasha Banks team up again and win, this time against Emma and Alicia Fox.
SmackDown saw Natalya and Carmella victorious over the Charlotte and Becky Lynch, and on this past Wednesday's NXT, a double dose of women's action, beginning with Ruby Riot and Nikki Cross defeating Billie Kay and Peyton Royce. Kairi Sane, the inaugural Mae Young Classic winner, made her NXT TV debut and defeated Aliyah. Lucha Underground featured Part 2 of Ultima Lucha, which saw Ivelisse defeat Catrina, and Mariposa turn against Marty the Moth during and after his loss to Fenix, resulting in Fenix and Melissa Santos shaving his head. On Thursday's Impact, a Knockouts Championship match was set for Bound For Glory: Sienna will defend against Gail Kim, Taryn Terrell, and Allie at the event on November 5.
The Hell In A Cell event featured Charlotte vying for the SmackDown Women's Championship against Natalya, and as stated in the pre-show, Charlotte has a chance to become the first to have held the NXT Women's Championship, the now-defunct Divas Championship, and both Raw and SD Women's Titles at least once. Natalya, who also made history for breaking Trish Stratus' PPV match record, prevented Charlotte from doing so, as she intentionally got herself disqualified by using a steel chair. Clearly this thing isn't over.
The Bayley/Sasha team-ups have been interesting as of late; it has me wondering if this is the moment that they'll finally go through with the Sasha heel turn that had been rumored and planned for about seven months. If WWE is going though with Horsewomen vs Horsewomen at (most likely) Survivor Series, then we may have to wait on that. Charlotte's face turn after WrestleMania puts all four WWE Horsewomen on the side of good for the first time ever, and while the UFC Horsewomen aren't established heels (though it may seem like they are), WWE wants to keep their own quartet as babyfaces for the time being.
A pair of former Mae Young Classic combatants made the news, as Serena Deeb visited the WWE Performance Center, mainly to mentor the up and comers. Serena participated in the tournament this summer, defeating Vanessa Borne in the first round before she was eliminated by Piper Niven. On the flipside, it was reported that Impact may be interested in indy sensation Tessa Blanchard, who has competed in several indy promotions and even appeared on WWE's NXT a few times. Tessa's MYC participation was brief; she was eliminated in the first round by eventual tournament winner Kairi Sane.
A new week beginst with Raw, and will include a Triple Threat pitting Liv Morgan, Nikki Cross, and Peyton Royce against each other, with the winner joining Kairi Sane in the NXT Women's Championship contest at Takeover. Until next week!
The Ultima Lucha Lowdown (Part II)
Welcome to Part II of the Ultima Lucha Lowdown!
We kick off with Jeremiah Crane backstage with Ivelisse, with Crane finally revealing to Ivelisse that he's in love with Catrina, her opponent for tonight. Ivelisse tells Crane that she doesn't need him, and she'll deal with Crane after she's done with Catrina. She even delivered a superkick to Crane for good measure.
Into the temple, and we have the first match of Part II of Ultima Lucha Tres: a Unique Opportunity Battle Royal! Joey Ryan, The Mack, and The Rabbit Club were among those in the ring, and the last entrant introduced was none other than the returning Pimpinela Escarlata! We see Vinny Massaro eliminated by Worldwide Underground members PJ Black and Ricky Mandel, while the Rabbit Club took out Son of Madness. A huge elimination saw Mascarita Sagrada take out both Joey Ryan and Cortez Castro. Pimpinela and Sagrada ousted all of the Rabbit Club, but Pimpinela ended up eliminating himself while taking out another competitor. With Sagrada out, it was down to the WU members and The Mack, who eliminated both WU members for the win!
Out comes Dario Cueto, "El Jefe," who tells Mack that he will receive a Trios Championship match due to his victory. However, like all of Cueto's "Unique Opportunities," there's a price: Cueto will choose Mack's partners, and they are none other than Killshot and Dante Fox–the same men who KILLED each other last week! Oh, and the title match is next week. Oh boy.
Next up, the match fans (myself especially) have been waiting for:  Ivelisse vs Catrina! This match was a year in the making, though, it was actually longer than that, as Catrina has been a thorn in Ivelisse's side dating back to the first Ultima Lucha! It was after Catrina cost Ivelisse against Taya at Ultima Lucha Dos that Ivelisse laid out the challenge, which Catrina accepted. This is Ivelisse's first match back in months, while it's the first time that Catrina has ever competed in the temple. The sinister siren brought the fight to Ivelisse in very violent fashion, which included Catrina hiding out in Cueto's office and ambushing Ivelisse with not one, but TWO glass bottles to Ivelisse's head. Even covered in blood, Ivelisse was not deterred, and she delivered an onslaught that sent her running back to the ring!
Even Catrina's double underhook finisher was not enough to take down Ivelisse, prompting Catrina to unleash the very stone she uses to control Mil Muertes. Ivelisse took the stone out of her possession, leading to a tug of war for the weapon. Ivelisse wins that battle, and strikes Catrina to pick up the pinfall victory! Three years of redemption was awarded to Ivelisse, as she finally defeated someone who had been plaguing her for so long. It was at that moment that Jeremiah Crane resurfaced and attacked Ivelisse with a hammer, and later striking one of Ivelisse's previously injured ankles in the process!
At long last, the main event is underway: Fenix vs Marty The Moth in a Mask vs Hair contest. This has been building for so long; solely based on Marty's long and documented obsession with ring announcer Melissa Santos. Fenix catching Melissa's eye has made Marty more unbalanced than he already is, causing him to develop another obsession:  removing Fenix's mask. Fenix agreed to put his mask on the line, but only if Marty risks his hair, and this match is underway. Of course, Mariposa is always a wild card, and she got involved early as she hooked the leg of the Triple Crown champion. She got involved again as she thwarted Fenix's aerial attempt, but her brother failed to get the pinfall. Not only that, we see Fenix take out both siblings with a high flying attack, and apparently, that set off Mariposa to the point where she flipped off Marty and walked off, leaving Marty on his own!
Taken aback by his sister's abandonment, Marty slipped on his own two feet, but got back in the fight. He decided not to waste time and decided to try to tear Fenix's mask, prompting an angry Fenix to fight back. Marty delivered a vicious assault to his opponent, which included sending him to a turnbuckle that Marty exposed earlier, much to Melissa's immense dismay. Despite the punishment, Fenix kicked out and stayed in this match, later delivering a modified cutter to Marty. Fenix continued to fight off and kick out of everything Marty delivered to him, but every shot was countered by his opponent. We later see Fenix deliver a Springboard from the top rope, but even THAT wasn't enough to take down Marty! The combatants fought back-and-forth, even with Fenix weakening and bleeding still. After Marty's latest pin attempt was unsuccessful, he went to the lunchbox and took out a pair of scissors, and it was at that moment that Melissa attempted to appease Marty to save Fenix. Marty brought Melissa into the ring, and received a slap for good measure. Not only that, Melissa delivered a Mason Crosby-like kick between Marty's uprights, and that led Fenix to victory–with both Fenix and Melissa covering Marty!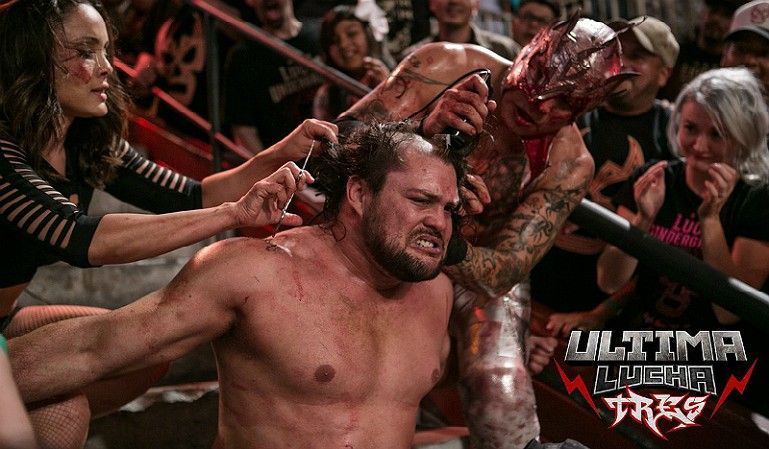 Marty got out of the ring looking to renege on the bet, and he joined his sister upstairs. However, Mariposa struck her brother with a chair, and later handcuffed her brother to the bannisters! We now see Mariposa assisting Melissa with her brother's humiliation:  having his hair cut off in front of all of the Believers! All Marty could do was just sit and take it, as Fenix and Melissa cut and shaved Marty's hair, leaving him embarrassed, broken, and furious!
Ultima Lucha Tres continues next week!!! Until then!
3 Impacts From Impact
The fallout from Victory Road has come and gone, and has featured some shaping up in the Bound For Glory card. What stood out the most in this thrilling aftermath? Here are my 3 Impacts From Impact:
As a Knockouts fan, I had been anxious to know what the KOs will be doing at BFG in Ottawa. Apparently, Knockouts Champion Sienna was even more anxious, as she appeared to be upset over not having a match at BFG, though she later beamed when she figured it meant a Hall of Fame induction. This prompted Hall of Famer Gail Kim to throw her name in the ring, reminding Sienna that Taryn Terrell cost her the title. Speaking of Taryn, she was quick to remind everyone that she was the longest reigning Knockouts Champion in history, and even Allie set her sights on the title she once held. It was at that moment that Karen Jarrett appeared and announced that the four of them will face each other for the title at Bound For Glory. Now, I figured a multi-woman title match would happen, but I was surprised that Taya and Rosemary weren't part of it. Though the reason could most likely be that Taya and Rosemary will probably face each other in singles action at the event. A lot of us are expecting Gail to get the championship send-off in her native country.
Things are getting interesting in the World Title picture. Eli Drake claimed that he was done with Johnny Impact and that Impact wasn't in the arena. Sad to say, he was 0-for-2. First off, Johnny went after Chris Adonis during his match with Garza Jr, and later on, as Johnny and Garza were going at it, Jim Cornette announced that the two of them will face each other, and the winner gets Eli at BFG for the title. So it looks like Eli Drake may have to deal with Johnny Impact in GFW's biggest stage, and if so, it may not end well for The Defiant One.
The X Division Championship picture is getting interesting. First off, GFW did something that I often accuse WWE of doing: believing that we all have bad memories. A six-man tag pitted Sonjay Dutt, Petey Williams, and Matt Sydal against Caleb Konley, Andrew Everett, and X Division Champion Trevor Lee. Lee and Everett? Weren't they feuding? Now they're together again? Anyway, the babyfaces won, but the unity ended when each of them attempted to get a shot at Lee's title. Even Cornette couldn't come up with something that night, but something tells me that we may see Ultimate X make a return at Bound For Glory–with the aforementioned six combatants going at it.
Those are my 3 Impacts From Impact! Until next time!
WWE: Hell In a Cell Predictions
This Sunday WWE goes to Hell in Detroit Michigan at the brand new Little Caesars arena for Hell in a Cell. This is the smackdown brands exclusive Pay-per-view how will it stand up to the Raw Brands No Mercy where we had two WrestleMania caliber matches and a very surprising title change. We won't know the answer to that until Sunday but here are the matches, lets break them down and see who will make it out of Hell and who will go down in flames.
Randy Orton vs. Rusev
This will be the third instalment in this rivalry, the quote on quote rubber match which in all honesty there rivalry could be watched in about 20 seconds. At Summer Slam Orton won with an rko ten seconds after the match started then on Smackdown Live Rusev won with a kick to the face after a distraction and nine seconds into the match. So hopefully this match will go somewhere because both men are very talented performers and together they could put on one hell of a show.
My Prediction: Randy wins
Bobby Roode vs. Dolph Ziggler
This will be Roodes debut on pay per view on the main raster and he is going up against a man who as of late has been disrespecting the greats of WWE history by impersonating their entrances and saying all they had was a flashy entrance and no in ring skill. This new gamic of his won't last long and neither will this feud with Roode. It seems like if you come from NXT your starting feud is with Ziggler and you always win.
My Prediction: Roode wins
United States Champion AJ Styles vs. Baron Corbin
After weeks of interference and cheap shots Corbin will get his one on one shot at Styles' United States Championship. Corbin has been determined to redeem himself after being one of only a hand full of people to cash in his money in the bank and lose to Jinder Mahal. He has interfered in Tye Dillinger's attempts to win the title so that he could be the one to take Styles title from him.
My Prediction: Styles retains
SmackDown Tag Team Champions The New Day vs. The Usos (Hell in a Cell Match)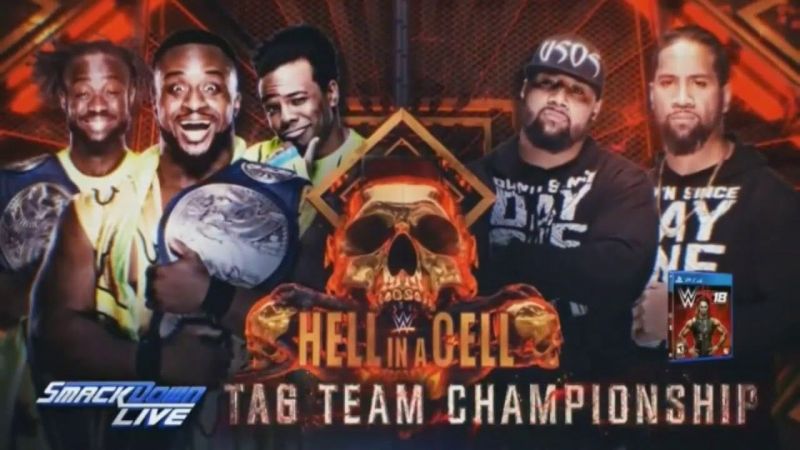 As much as I despise the new days gimic and I believe that it has become stale, there is no denying that when the New Days steps into the ring with the Usos that their matches are one of the best, if not the best match, on the card for the night. The past matches have been full of high spots and false finished and amazing moves but now you add the element of the Hell in a Cell and this could be a match of the year contender. Inside the cell there will be no numbers game for the New Day. There will only be two of them in the cell which the Usos will turn into the Usos Penitentiary and tear the house down. But will the Usos prevail or will the New Day reign supreme inside the Devils Playground known as Hell in a Cell?
My Prediction:  the New Day retains
SmackDown Women's Champion Natalya vs. Charlotte Flair
After taking close to a month off to be with her dad during his recent severe medical scare where they feared the worst, Charlotte Flair maid her triumphed return to Smackdown Live where she laid out the challenge to Natalya for her Championship but before any decision was maid GM Daniel Bryan told Flair that this is the land of opportunity and she must earn her shot at the title in a multi women match that night. Flair went onto win the match that night to become the number one contender to the title. Whether Natalya retains her title or Flair wins the title yet again we must not forget about the unknown variable in Carmella and her Money in the Bank Contract to be used anywhere any time.
My Prediction: Flair wins the Women's Title yet again
WWE Champion Jinder Mahal vs. Shinsuke Nakamura
Since their first meeting at Summer Slam where they had very anti climatic match Mahal as slung nothing but threats and racial biased insults towards Nakamura even getting to the level where WWE had to issues an official statement apologizing and having Mahal somewhat apologize on air without damaging his heel charter. Over the last two weeks however their rivalries have become more violent where two weeks ago Mahal was going on another one of his rants about Nakamura's crazy facial expressions and showed what he thought was a still picture but turned out to be a live video, then Nakamura came to the ring and attacked Mahal and the Sings leaving them laying in the ring. Then this week Mahal returned the favor and blindsided Nakamura in the ring. This rivalry has been very one-sided promo wise do to Nakamuras limited English and putting the title on him without a manager would make it very difficult to get a believable feud going. On the other hand, WWE hates having to issues official statements it makes them look bad and that could fall on the superstar how was in the wrong so that promo may cost Mahal.
My Prediction: Mahal will retain
Shane McMahon vs. Kevin Owens (Hell in a Cell Falls Count Anywhere Match)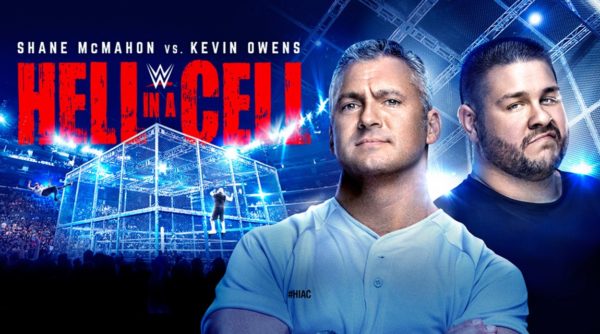 This match is as preanial as it can get and has been building for months since Owens came over from raw. Owns believes Shane has been screwing him out of title opportunity's anytime he defends or attempts to win the title. Shane has denied the allegations and as it looks he is right every time Owens had lost it was his fault not Shane's and to prove it Shane even let Owens pick his own ref for his title match with styles where he picked Corbin and then Corbin left the ring side area so Shane took over and of cores owns lost. The next week owns called out Shane a verbally ran down his entire family in front of Shane even saying his kids would have been better off if he had died in the helicopter crash and that set Shane off and he beat down Owens. After the refs separated the two owns said he was going to sue Shane, all the McMahons and all WWE after these comments Shane was suspend by Mr. McMahon and it was announced that he would be on Smackdown live the next week. The next week Mr. McMahon reinstated Shane and made the match for hell in a cell and after that owns made Mr. McMahon promise to him that he could beat a McMahon senseless and not be fired and after they shook on it Owens head butted Mr. McMahon busting his head open the fallowed it up with a frog splash. After this week's Smackdown it's been changed from a regular hell in a cell match to a fall count anywhere hell in a cell match which can lead to only one thing and that is some big spots and the cell will be broken out of.
My Prediction: Owens wins
Straight Up Smack Down
We are just days away from Hell In A Cell & tonight's go home episode took place in Denver, Colorado. The episode began in the exact same way that Raw did, the night before. All of the present WWE wrestlers, even Shane & Vince McMahon, appeared on the entrance stage area. They gathered to stand in a moment of silence, honoring & remembering the victims of the Las Vegas shooting. WWE has always been mindful in these tragic situations & this seemed like a thoughtful way to pay their respects to the victims.
As the show began, Renee Young appeared in the ring to invite Shinsuke Nakamura out for an interview. As you might guess, that interview did not last long.  Shortly after the interview began, the Singh Brothers interrupted to announce the WWE champion…..
It took a few weeks, but the main title program was finally treated like the main title program. It felt important. This was, again, the first segment featured on the program. The interview with Renee, the misdirection by the Singhs, and the following sneak attack by Mahal, gave this feud a much needed spark as we approach Hell In A Cell.
One championship feud that has a lot of buzz heading in to Hell In A Cell is the Smack Down Tag Team title card: The New Day & The Usos. Both teams confronted each other & were surprisingly complimentary of each other, referencing their recent matches that always seemed to steal the show….
Sunday's match has been billed as the final chapter in the saga of this long feud. I have no doubt that these two teams will have an unforgettable Hell In A Cell match together & quite possibly, steal the show, again.
The feud that has been given the most attention over the past weeks, has not had a championship attached to it. The United States title initially began the feud between Shane McMahon & Kevin Owens, as the friction started months ago. In case you need a refresher or just want to watch what the full saga looks like, Smack Down created this video montage of the McMahon/Owens rivalry:
It's a pretty incredible story that these two have written thus far, but there was one more chapter to write before Sunday….one of their best parts yet:
That was simply awesome. Logically, I'd say that Sunday will provide the best opportunity to mark an end to this feud. But I'm not sure it ends there. This feud has so much momentum behind it, there's a real possibility that this could continue on past Hell In A Cell.
Baron Corbin lost to Tye Dillinger, as Corbin prepares to face A.J. Styles at Hell In A Cell. It's unclear what's next for Tye Dillinger….
Bobby Roode quickly defeated Mike Kannelis in under 2 minutes. Roode is set to make his WWE main roster debut at Hell In A Cell against Dolph Ziggler. Dolph continued his extremely annoying, sarcastic characterization of WWE superstars following Roode's victory:
In a somewhat surprising outcome, Charlotte Flair tapped out to Natalya's sharpshooter as the tag team of Carmella & Natalya defeated Becky Lynch & Charlotte Flair:
As it stands, the pay-per-view Hell In A Cell looks pretty good. New Day versus The Usos should be great, as well as Shane versus Owens. Natalya & Charlotte have had great matches against each other in the past, so there's the potential for another really good match on the card. A.J. Styles doesn't know how to have a bad match, so I'm expecting an entertaining title defense against Baron Corbin. That leaves 2 other matches: the WWE title match between Nakamura & Mahal and Roode versus Ziggler. At worst, these are opportunities to refill salsa, take a bathroom break, or tweet with me about the pay-per-view so far. With any luck, one or both of these matches will be compelling.
Thanks for reading & enjoy HELL IN A CELLLL!  (Vince McMahon voice)
Women's Wrestling Wrap-Up
Welcome to the latest edition of the Women's Wrestling Wrap-Up, which recaps everything in women's wrestling in the past week, beginning with Monday's Raw.
Raw featured a verbal confrontation between Women's Champion Alexa Bliss and Mickie James; in a continuation from Alexa making disparaging comments referring to Mickie as an "old lady." Of course, as we recall, Alexa and Mickie started 2017 as villainous allies on SmackDown, but my how a few months has changed a person. Mickie dared Alexa to repeat what she said to her face, and when she did, the former six-time champion made her pay for it. Also, we saw Bayley and Sasha Banks paired together in defeating Nia Jax and Emma in tag team action. The following evening's SmackDown featured a battle between #1 Contender Charlotte and Miss Money In The Bank Carmella, with the former winning.
Wednesday's NXT featured Liv Morgan defeating Mae Young Classic competitor Vanessa Borne, while Ruby Riot was informed that she is not done with Billie Kay and Peyton Royce, as they've requested a rematch. Before all of this happened, NXT General Manager William Regal announced that the vacant NXT Women's Championship will be up for grabs in a Fatal Four Way Match at next month's NXT Takeover: Houston. Kairi Sane is one of the combatants, earning the opportunity after winning the Mae Young Classic tournament on September 12. On Thursday's Victory Road edition of Impact, Taya Valkyrie, Taryn Terrell, and Sienna defeated Gail Kim, Allie, and Rosemary.
On last week's blog, it was reported that former WWE Divas Champion Kaitlyn stepped in a ring for the first time in three years on a training regimen. Now reports are out that WWE is interested in bring Kaitlyn back to the fold. After winning the NXT competition in 2010, Kaitlyn spent nearly three more years competing in WWE, which included a five month reign as Divas Champion in 2013. Seeing Kaitlyn return to WWE would be interesting giving their current group of women. If it were up to me, Kaitlyn would return to NXT as a heel, with her villainous persona seeing her state that started the rise of NXT's women. She would be golden in a feud with women such as Liv Morgan, Aliyah, and Ruby Riot, and in this angle, the evil Kaitlyn could align herself with heels such as Vanessa Borne and Sonya Deville.
SmackDown's Hell In A Cell is next week, but the more anticipated PPV is Raw's TLC, which is in three weeks. That PPV will feature the main roster debut of the undefeated former NXT Women's Champion, Asuka. One has to wonder who Asuka will face at the event; if she has a match at all. Or maybe she'll make an appearance to confront the Raw Women's Champion–whoever that may be. In any event, Asuka's main roster debut will be one of the most epic things to happen in WWE's women's division.
A new week begins with Raw and will end with Hell In A Cell in Detroit, where Natalya and Charlotte will clash over the SmackDown Women's Championship! Until next week!