Women's Wrestling Wrap-Up
Welcome to the latest edition of the Women's Wrestling Wrap-Up, which recaps everything in women's wrestling in the past week, beginning with Monday's Raw.
Raw featured a double dose of women's action, as Sasha Banks and Bayley faced off against each other, with both of them coming off singles defeats at the hands of Asuka. Bayley defeated Sasha in front of her home crowd in San Jose, after which both were laid out by the ominous Nia Jax. Later on, the other four Elimination Chamber combatants were in action, with Mandy Rose and Sonya Deville defeating Alexa Bliss and Mickie James, with the latter duo coming together after Alexa actually saved Mickie from Absolution.
Tuesday's SmackDown saw Charlotte defeat Sarah Logan in singles action, putting the SmackDown Women's Champion just 2/3 through her mission to go through the entire Riott Squad. The main story came later that evening in the Mixed Match Challenge, as Rusev and Lana defeated Elias and Bayley, with Lana pinning Bayley for the win. Lana became emotional after the match, as this was her first victory on WWE's main roster. I myself just love the outright passion from Lana; she exudes it immensely.
Wednesday's NXT was main evented by a championship rematch between Ember Moon and Shayna Baszler, which was interrupted by Kairi Sane, who took down Shayna as payback for the attack that occurred in December. On the following evening's Impact, Rosemary defeated Hania in a grudge match, but Hania attempted a post-match attack following her defeat, only for the Demon Assassin to fight back. Meanwhile, Allie's search for her secret admirer led her to the psychotic Knockouts Champion, Laurel Van Ness, who popped out of a trunk like Chucky, only for Allie to take Laurel down with a box of chocolates! Yes, you read that right.
This week also included the first match of the Women of Honor Tournament, the 16-woman round robin that will crown the first ever Women of Honor Champion. That match featured Mandy Leon facing off against the former five-time Impact Knockouts Champion, Madison Rayne, with Mandy emerging victorious. It's no secret that Mandy is my fave in the WOH Division, and she's among the favorites to survive the tournament as champion. I also hope that this tournament features a heel turn from Mandy, something I've wanted for a long while.
Monday's Raw also featured the announcement that Ivory will be inducted into the WWE Hall of Fame this WrestleMania Weekend. Ivory is known as one of the trailblazers in women's wrestling, having already had an established career before joining the then-named World Wrestling Federation in 1999. Within months, Ivory captured her first Women's Championship, and later became a brash and arrogant villainess in her feud with Tori entering SummerSlam. Ivory added two more title reigns, while also beginning her most known role as a member of the villainous Right to Censor faction in 2000. The faction disbanded weeks after WrestleMania in 2001, leaving Ivory to return to her previous heel persona, which included aligning with Alliance women Torrie Wilson and Stacy Keibler against the WWF's female stars, and also becoming a trainer on Tough Enough. After various sporadic appearances, Ivory left WWE in 2005.
Is Lacey Evans ditching her "Lady of NXT" gimmick? This photo appears to show exactly that. At the event, Chad Lail (the former Gunner in Impact Wrestling) defeated SaNiTy's Killian Dain via DQ, after which Lacey arrived with Steve Cutler and Wesley Blake (the latter a former NXT Tag Team Champion with Buddy Murphy) and attacked both Dain and Alexander Wolfe. It appears that the four of them are part of a newly formed faction, which would be military based, as both Lacey and Lail are former soldiers. Lacey had a different look, donning braids and camo shorts, a far cry from her pin-up look. It's fitting that they went after SaNiTy, as Lacey was defeated by Nikki Cross on the post-Takeover NXT. Live events are used to test out new gimmicks, so time will tell if Lacey's villainous militia-like character will stick and she'll be part of this faction on NXT TV. If not, we'll see her back as the arrogant Lady of NXT.
A new week begins with the final Raw before the Elimination Chamber PPV, with both Raw and SD featuring six-woman tag team matches. Until next week!
3 Impacts From Impact
Following a surprise return and title change that ended one edition of Impact, what topped that on the following week? Who delivered the best moments? Here are my 3 Impacts From Impact:
First off, I have to mention the shocking news from some time ago that Jeremy Borash left Impact after being for the company since day one. This past Thursday's Impact was the first without JB, and regarding commentary, former X Division Champion Sonjay Dutt joined Josh Mathews at the table. I honestly don't expect Sonjay to be a permanent announcer with Josh, but if so, it'll be cool to hear him on commentary on Impact every week. If not, I and others can only wonder who will join Josh permanently on commentary.
It looks like Allie has a secret admirer, which is interesting considering that she's with Braxton Sutter (both in real life and especially on screen). It was during a backstage segment with Allie and Kiera Hogan that the former received a letter from someone claiming to be her secret admirer. Now, this could be what brings Taya back; as she could be the "admirer" and attack Allie. It would be similar to one of Sasha Banks' earliest angles from NXT, where she was receiving notes from an admirer, only for the admirer to be revealed as a jealous Audrey Marie, who attacked her. Should be interesting to see where this goes.
Johnny Impact won his way back in the World Title picture, as he defeated Moose, Ethan Carter III, and Alberto El Patron in the main event. Johnny was the main pursuer for Eli Drake when he held the title, and now he's back in the hunt and could be going against Austin Aries. The next Impact will have Eli getting his rematch, but Johnny will be first in line after the dust has settled. Johnny pinned EC3, who vowed to become champion for the third time.
Those are my 3 Impacts From Impact! Until next time!
Straight Up Smack Down
The WWE was in Bakersfield, California on Tuesday night….the sight for Smack Down Live, or perhaps more appropriately named "The Dolph Ziggler Show"?  Here, Dolph arrives with his new combination entrance of the vinyl scratch silence plus his old theme song:
The show kicked off with Baron Corbin set to take on Ziggler on a 1 on 1 match. Sami Zayn & Kevin Owens would have none of that:
Immediately following that ambush of Corbin & the swarming attack on Dolph, Shane McMahon met Daniel Bryan on-camera backstage to address those situations & steer the fallout. The same two guys that were nowhere near either incident as it happened, felt the need to address it & be filmed in discussion as neither acknowledged the cameraman & his crew…..
I'm not trying to play Captain Obvious here, but I just want to point out a misstep as I saw it. In my opinion, if Shane & Daniel wanted to pre-tape this segment earlier in the day to arrange tonight's card, then at some point Shane should have turned & looked directly into the camera to relay those decisions. I firmly believe that would have been much more effective. Let's move on to another segment of the Ziggler Show. This part involves Dolph touching his hair many times during an interview, speaking as if he just realized a goal (the same goal of all WWE wrestlers) while speaking to Renee Young, who just happens to be going through a Gwen Stefani appreciation phase:
Good for Dolph, he finally wants to main event Wrestle Mania. After all these years, it's finally sunk in for him. Maybe some of the younger veterans, recent roster call-ups, & talent at NXT will also come to this revelation after many years on the main roster. Unfortunately for Dolph, Wrestle Mania is ready for Shinsuke versus A.J. WWE isn't changing course from that 2 months out.
So from Shane's fallout, Match #1 was Kevin Owens versus the previously injured Baron Corbin:
Great! Now we have a Fatal 4-way match at Fastlane! Am I being sarcastic? YEP! More often than not, when WWE involves more than 3 wrestlers in a match, there is a pattern of sequence. Everyone starts off vibrant until someone, or multiple wrestlers in the match, take a serious bump. Then it becomes a 1 on 1 until someone is revived in the match from the earlier bump. It's true, it's formulaic, & it's boring. On top of that, tell me the last time that there was a 5 star match in WWE that involved 4 or more singles competitors in the same match.
Part Two of Shane's fallout was Dolph Ziggler versus Sami Zayn:
Great! Now we have a Fatal 5-way match at Fastlane! A.J. versus the 4 heels! God I hope I'm wrong but this just seems like really lazy booking by the creative team. I'm picturing that this match at Fastlane goes 35 minutes & results in Styles retaining the belt. We'll see if that prediction holds….in the meantime Gwen, I mean Renee, caught up with Ziggler after his victory to ask a few questions. Fun game: Go grab a beer & drink every time Dolph uses the word/letter "I" in this quick interview (I'd try this game at home, if I were you):
After the Ziggler show coverage, there's not a lot of newsworthy type results from Tuesday. United States champion Bobby Roode called out Randy Orton, but also got Jinder & the Singh Brothers all at one time:
Kudos to Jinder for keeping that Top 10 list gimmick alive this week. He actually made a decent point derived from that data. That was my major takeaway from this segment.
Shelton Benjamin & Chad Gable faced Big E & Kofi of the New Day, as if you haven't watch this before:
The New Day finally wins. Gable & Benjamin really need to get back on track.
Lastly, Charlotte Flair took on the 2nd member of the Riott Squad this week. Charlotte looked to pin, submit, or eliminate Sarah Logan after dispatching Liv Morgan last week:
The Queen has her sights set on beating Ruby Riott, but that will have to wait. Next week Naomi, Becky Lynch, & Charlotte will face the entire Riott Squad in a 6 woman tag match.  In all honesty, that should be a pretty good match.
We'll see which matches & whatever craziness is added to next week's Smack Down Live….until then, thanks for reading!
Women's Wrestling Wrap-Up
Welcome to the latest edition of the Women's Wrestling Wrap-Up, which recaps everything in women's wrestling in the past week, beginning with Monday's Raw.
With WWE entering the brief month of February, this past Monday's Raw revealed the five challengers in WWE's very first Women's Elimination Chamber. We knew that Alexa Bliss (despite her attempted protests) will be defending inside the Chamber; that was announced the day after the Rumble. Her five challengers are Mickie James, Sasha Banks, Bayley, Mandy Rose, and Sonya Deville. This left many (myself especially) asking, "What about Nia Jax?!" Nia will be facing Asuka at the event, and if she wins, she'll have an opportunity at the Raw Women's Championship. As for Raw's in-ring action, Bayley was defeated by Asuka, and Nia defeated an enhancement talent, while also proclaiming that she'll defeat Asuka.
Tuesday's SmackDown saw Charlotte defeat Liv Morgan, while revealing her plans to take down the Riott Squad one-by-one. Speaking of Mandy Rose, she made an impression as Goldust's partner in the Mixed Match Challenge, but they were defeated by Jimmy Uso and Naomi. They were the first SD duo to actually win a MMC match; the other three matches were won by Raw teams. Rusev and Lana came out and proclaimed themselves as the top married team in WWE, and they stated that they'll prove it when they face Bayley and Elias in Week 5.
On NXT, Shayna Baszler continued making her case for the NXT Women's Championship, while Candice LeRae again followed the words of the late Tammy Wynette, and stood by her man, Johnny Gargano, as he was confronted by Andrade "Cien" Almas and Zelina Vega. As for in-ring action, Bianca BelAir won her match against an enhancement talent, and in near record time. The following evening's Impact saw Kiera Hogan face Laurel Van Ness again, this time for the title, but with Laurel winning. Hania defeated Amber Nova in singles action, and she was taken down by Rosemary.
This past Saturday, Celeste Bonin (the former Kaitlyn in WWE) competed in her first match since January of 2014, doing so at the Florida-based Coastal Championship Wrestling promotion. At their Breaking Chains event, Celeste was introduced under her real name and competed in the main event against Rachael Ellering, who is one of the names from the Mae Young Classic. Celeste received "You still got it!" chants from the crowd, and as the match progressed, Rachael adopted a bit of a vicious heel persona; mainly being portrayed as someone who didn't want to be upstaged by Celeste. The former Divas Champion emerged victorious with a spear, but not before she put Rachael through a table!
This was the week for former WWE stars to make impacts, as Tenille Dashwood (the former Emma) made her Ring of Honor debut and teamed with Mandy Leon in a winning effort against Stacy Shadows and Kelly Klein. Tenille was announced as the final entrant in the highly anticipated Women of Honor Championship tournament, with Stacy Shadows being her first round opponent. Mandy will face off against Impact Wrestling Knockout Madison Rayne, and Kelly Klein will compete against Bonesaw Brooks.
Back to Nia Jax. Many of us expected Nia to be in the first Women's Chamber Match; after all, it was made for her. Nia stands at 6′ and weighs about 250, so she can definitely take bumps in that Chamber. Plus, Nia has clearly been underutilized in the near three years she's been in WWE, having only received two PPV title shots since her main roster call-up. Now according to reports, there are rumors that Nia actually will challenge for the Raw title at WrestleMania, with those same reports stating that Asuka will jump ship and go after Charlotte and the SD title. As for Ronda Rousey, there are still reported plans for her and Stephanie McMahon to face each other in a mixed tag at WM, with Ronda's partner (hopefully) being The Rock.
A new week begins with Raw and the countdown to the Elimination Chamber PPV continuing on! Until next week!
3 Impacts From Impact
A week removed from Genesis, but the surprises continued on Impact! Who had delivered the biggest shocker of the evening? Here are my 3 Impacts From Impact:
The biggest impact came as Eli Drake and Chris Adonis were celebrating the former's reign as World Champion. Just as Eli referred to himself as the greatest man that ever lived, out came the return of someone who continuously refers to himself as such: Austin Aries. The former multiple time champion, as well as the man who created Option C, returned to Impact to challenge Eli to a match for the title. Eli refused, but accepted after ambushing Aries, figuring that it would be easy pickings after the attack. However, Aries not only fought valiantly, he delivered the Brain Buster to Eli and won the World Title! Eli Drake won the title in a battle royal and survived Petey Williams, Johnny Impact, and Alberto El Patron for months, but Austin Aries was too much for him. Now that A-Double has the title again, the Impact Zone just got more interesting.
Before A-Double's return, we received a debut in the form of the diminutive Kiera Hogan, who faced off against Knockouts Champion Laurel Van Ness. Kiera is known in the indy circuit; having competed in promotions such as Shine Wrestling, Queens of Combat (where Laurel reigns as one-half of the tag champs), and Women Superstars Uncensored. Meanwhile, Laurel was a week removed from her successful title defense against Allie, who would later get the last laugh and cause a distraction that led to Kiera–all 4'11" of her–defeating Laurel in non-title action.
For months, LAX and oVe engaged in a bitter feud over tag team supremacy, and it all came to a head in that Barbed Wire Massacre, which LAX won. The two teams again met face-to-face, this time it was a verbal encounter, which ended with an unlikely duo getting involved. That duo was none other than former X Division Champion Trevor Lee and his cohort Caleb Konley, who assaulted LAX after oVe walked off. It looks like LAX has new foes for their tag titles, and it was Lee who stated to Konley earlier in the program that they needed to do something to stand out. They did just that!
Those are my 3 Impacts From Impact! Until next time!
Straight Up Smack Down
The first post-Super Bowl Smack Down Live kicked off from Kansas City, Missouri on Tuesday night. The blue crew was tasked with trying to equal the intensity & entertainment from the Eagles vs Patriots classic this past Sunday for many crossover viewers. Did they succeed?
Shane called out Daniel Bryan to ask him if he liked the zippers on his suit jacket cuffs. I'm kidding. Shane wanted to question Daniel's decision making as of late…..
Shane was really good in this segment, as he set the table for the next chapter in this storyline: "Daniel Bryan is living vicariously through Zayn & Owens." That was the idea that most fans perceived over the last month, but Shane clearly defined his own perception in front of the Kansas City faithful. Styles clearly agrees that Bryan's judgement is clouded, but here did not absolve Shane either. He thinks that both Shane & Daniel are obsessed with Kevin & Sami, when they should be focused on A.J. instead. After this segment, Shinsuke encountered Styles backstage to simply tell him that he will beat him at WrestleMania. It was an awkwardly funny moment between the two.
A.J. was probably more upset that he wasn't directly involved in the night's main event: Sami Zayn versus Kevin Owens. The winner would go on to face Styles at Fastlane. For a while, this match looked like it might just be a "rest hold" type friendly between the two. That, however, would not be the case:
So Daniel Bryan's great solution was just to put all 3 of these guys in a match again, similarly to the match at Royal Rumble? I know, this is a triple threat match & the previous match was a 2 on 1 but the cast is still the same. Something must be in the works for WrestleMania because this program would leave Sami & Kevin alone to feud at WrestleMania, while Styles faces Nakamura. This week didn't provide many answers to that & we probably won't have a clear picture until after Fastlane.
Daniel Bryan also did his best David Letterman impression & revealed the "Top 10" list as voted on by the locker room. Here is Bryan to remind everyone on the criteria used & the selection results:
Ok, he didn't mention the criteria for the vote but honestly…who cares?  I thought this was a perfect angle for a Jericho return with "The List."  Oh well, I guess it was just a nothing angle. Here's Cathy Kelly with a recap of the Twitter responses by those on "the list":
The most "over" act in WWE right now (yes, even more than Braun) is Rusev Day & on Tuesday night, the fans were finally heard. Rusev was granted a U.S. title opportunity against Bobby Roode, or "Bob" Roode as Rusev calls him.
I'd say its safe to assume that Orton has thrown his hat into the U.S. title picture with that appearance. Maybe a triple threat match next week between all 3 competitors?
Here's a quick recap of the night's other matches:
Charlotte began her systematic approach of beating each member of the Riott Squad:
The Ascension were soundly defeated by Shelton Benjamin & Chad Gable:
The Bludgeon Brothers continued their squash match streak this week:
Convincing win over the "local competitors" as WWE put it. The man in the red wrestling gear is known to many as Mat Fitchett. I couldn't track down his partner's name. Another foreshadowing moment at the end of this video for the upcoming Bludgeon Brothers/Usos feud, as the Usos were en route to the ring to deliver this promo:
These guys are on fire right now. That Top 10 list is garbage in my opinion. With all due respect to Charlotte Flair, she should have been #3 & The Usos should have been #2.  (I love Nakamura, but #4 based on what? NJPW? NXT?)  Anyways, Jimmy & Jey are right near the peak of tag team royalty. There is absolutely no flaws in their characters or match quality & they might be the best tag team in the world. They're not just in the discussion, they're the team you have to argue against. 2018 might be their best year ever.
Thanks for reading!
Total Diva Fallout (Season 7 Finale)
Welcome to the Total Diva Fallout, which recaps the latest edition of Total Divas! This edition is a look back at the two-part Season Seven finale, which consisted of the episodes, "Let's Get Naked!" and "Breaking News."
The former was centered around Rusev's lack of comfort regarding Lana wearing so little, so with that in mind, Rusev decided to become more…liberal regarding his attire, or lack thereof. It started with Rusev out doing yard work wearing very little, and escalated to him barbecuing wearing nothing. Thank God for censors. Lana saw this as Rusev's attempt to teach her a lesson; I swear those two are just made for each other. Also, Brie and Bryan went on a cross-country trip with some neighbors of Nattie's, and needless to say, things didn't go as they planned. The acquaintances were every bit as weird and quirky as Nattie is, which can be a dangerous thing on a long trip. Meanwhile, Jimmy Uso and Naomi were on a weekend trip, though the latter wasn't quite as into it as the former was.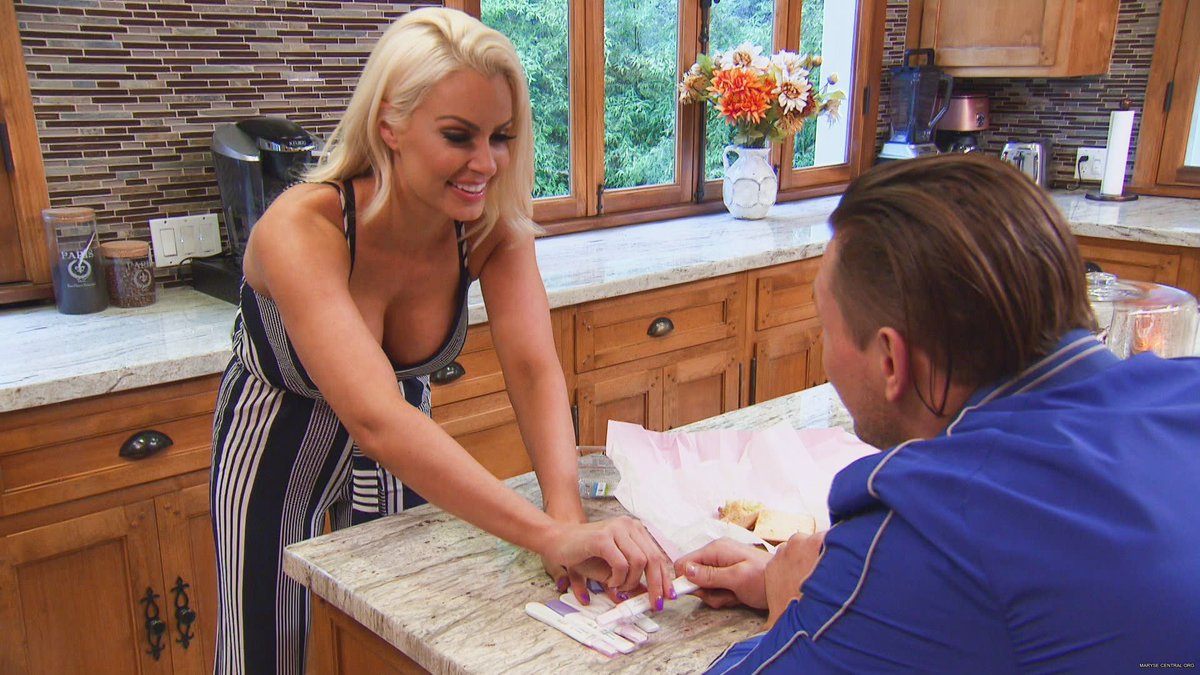 The main focus in both episodes was on Miz and Maryse, as the first of the two-parter featured Maryse announcing to Miz that she's pregnant. Regarding a due date, the end of Part 1 revealed that the baby (a girl) will be due on April 6, which is two days before WrestleMania. Part 2 saw the couple traveling to Miz's home town of Cleveland, where Miz's parents were told the news. Couldn't help but point out Maryse voicing her unwillingness to live in Cleveland due to the cold weather…even though she was born in Quebec. In the near end of the episode, the couple broke the news to Mark and then to the man himself, Vince McMahon, before they finally announced it publicly on an edition of Raw.
In the other storylines in Part 2, Nikki was practicing for Dancing With The Stars, while dealing with Brie attempting to get her sister to prepare for her and Cena's upcoming wedding. Lana, meanwhile, is receiving in ring training from TJ (Tyson Kidd), which didn't set too well with Nattie. It was reminiscent of a Total Bellas episode where Brie didn't want Nikki to ask Bryan to train her, due to her worries over Bryan being downtrodden over his in-ring career ending. Nattie even lied to Lana to keep her away from TJ, with a claim that he was ill, though both she and Lana saw through it. Nattie and Lana were basically the stars of Season Seven, with so much drama between them, though they do have a kinship and Nattie does admire and respect Lana's drive, even though Lana may drive her crazy at times.
The conclusion of the season finale was a milestone:  it was the 100th episode of Total Divas! Amazing feat for the series, which began in the summer of 2013 and has now completed seven seasons since then, while also spawning the Total Bellas spinoff. The spinoff will return sometime this spring, and we should see an eighth season of Total Bellas sometime in the fall!
Women's Wrestling Wrap-Up
Welcome to the latest edition of the Women's Wrestling Wrap-Up, which recaps everything in women's wrestling in the past week, beginning with Monday's Raw.
Fresh off a spectacular Royal Rumble event, Raw featured yet another historic announcement from Stephanie McMahon:  for the first time ever, there will be a Women's Elimination Chamber match! The Elimination Chamber PPV will take place on February 25 and one of the Chamber matches will feature Alexa Bliss defending the Raw Women's Championship against five different opponents inside 10 tons of steel! One woman who will not compete inside the Chamber is Asuka, who won the first ever Women's Royal Rumble. She was later challenged by Sasha Banks, who entered at #1 and lasted the longest, and that resulted in a one-on-one battle which Asuka won via submission.
On SmackDown, the blue brand's champion, Charlotte Flair, ended up confronted by the Riott Squad, who beat down Charlotte inside the ring. At that moment, Carmella appeared and attempted to cash in her MITB briefcase that she had been holding on to for nearly eight months; however, Charlotte still managed to regain her composure, leading to Carmella escaping with her case intact. The post-Takeover NXT featured the evil Lacey Evans facing off against Nikki Cross in a match won by SAniTy's right-hand woman, and Impact Wrestling featured the debuting Kiera Hogan defeating Laurel Van Ness in non-title action. On Main Event, Bayley defeated Sonya Deville.
Impact Wrestling lost their third Knockout this year and it's barely February. It was announced this past Wednesday that Ava Storie departed from the promotion after just 10 months as a Knockout. She signed with Impact last March and competed as Brandi Lauren and Kayci Quinn before receiving her more permanent Ava Storie name. Ava participated at the fifth Knockouts Knockdown event and was defeated by Angelina Love, and later on, Ava appeared on Impact as a villainous challenger for Christina Von Eerie's GFW Women's Championship. One of her few victories came in October when she defeated Amber Nova, but Ava was mostly relegated to appearances on Xplosion. Ava's departure follows the release of Laurel Van Ness and the firing of Hania, all taking place in January.
It was most recently reported that Rosemary suffered a knee injury at AAW's Chaos event in Illinois. At the event, former Knockout Jessicka Havok defended the Women's Championship against Rosemary, and the injury occurred during a kicking exchange between the two. A quick finish happened later, and according to reports, Rosemary couldn't put weight on her knee. No word on how long she'll be out for, but this has to be devastating for the Demon Assassin, as she had pretty much just come back from a broken arm that she suffered at the hands of a shooting Sexy Star.
A new week begins with the continuation of the Elimination Chamber build-up on Raw, where we should hopefully find out who Alexa Bliss' Chamber opponents will be. Until next week!
3 Impacts From Impact (Genesis Edition)
Genesis has come and gone, and so many memorable moments took place! But what were the most memorable? Who made the biggest impression? Here are my 3 Impacts From Impact:
Perhaps the best moment of Genesis was Dan Lambert getting what was coming to him, and even better, it came from a shocking source! Genesis featured the grudge match between Moose and Lashley, which featured KM attempting to help the latter on numerous occasions. Lashley flatly did not want KM to interfere, as it had been clear that he wasn't happy with Lambert's constant promoting of KM as of late. In the end, Lashley was defeated by Moose, and after the match, Lambert actually chewed out Lashley; putting all the blame on him. Lashley had enough and speared KM, and then tossed Lambert in the ring, where both he and Moose worked together to demolish him! So it looks like Lashley is free from Lambert, and the aftermath of this should be very interesting!
At long last, Matt Sydal captured the Impact Grand Championship from Ethan Carter III! Sydal had been saying that without the rounds and judges, he could beat EC3 for the title, and he did just that, while also putting an end to EC3's claims that Sydal is a choke artist. Of course, as we've seen this past weekend, it worked out well for both men. Not only is Sydal the Grand Champion, but EC3 is part of WWE, as he was featured in Philadelphia at NXT Takeover!
Genesis ended with the three way cage match main event between Eli Drake, Johnny Impact, and Alberto El Patron. Two months worth of build and bad blood came to a head in this bout, and it is often said that cage matches are meant to prevent interference. However, that statement is always disproven, as Chris Adonis managed to help Eli retain his title. With both Eli and Johnny climbing out, Johnny ended up caught by Adonis, while Eli landed feet first on the floor. Adonis kept Johnny from touching the ground, ensuring the victory for Eli Drake. One has to believe that Eli is now officially done with Johnny and Alberto, and time will tell who will be next to go after the title.
Those are my 3 Impacts From Impact! Until next time!
Straight Up Smack Down
Tuesday night was the first Smack Down Live following the Royal Rumble, but it felt like the last turn on a long race. Personally, I watched NXT Takeover (2.5 hours) along with their pre-show (1 hour), the Royal Rumble event (4.25 hours) along with their pre-show (2 hours), Raw on Monday night (3 hours) & then Smack Down Live on Tuesday night (2 hours, not including the Mixed Match challenge afterward). That's 15 hours of WWE programming! That's why I said Tuesday night felt like the last turn on a long race, but it was a fun & memorable journey. The men's & women's Rumble winners, Shinsuke Nakamura & Asuka, are both Japanese. This seems like a huge tip of the cap and/or olive branch to the Japanese wrestling community by WWE. The fact that they are willing to make Asuka the winner of the inaugural women's Royal Rumble, speaks volumes about how much their company has grown in recent years. Unfortunately, she had to share that moment with WWE's most recent acquisition, Ronda Rousey…..
On the men's side, Shinsuke Nakamura has vaulted himself into an elite status with his victory. He was first to appear on Smack Down Live this past Tuesday in Philadelphia & had an interesting way of recapping his huge win:
Sami & Kevin had a legit beef after that match on Sunday.  The referee DID count the shoulders down of an illegal man in the match.  However, I laughed out loud here when Nakamura called Sami & Kevin "losers."  So naturally, Owens & Zayn took their grievance to Daniel Bryan. Not only did Bryan make the Styles & Nakamura versus Owens & Zayn match officially the main event of Smack Down, he also created next week's main event as well:
Throughout the night, the show teased dissension between Owens & Zayn. That dissention, between them, was never more apparent than in the main event:
It's unclear on which way this story goes after next week but I'm so excited to tune in & find out. Seems hard to believe that Zayn & Owens friendship would unravel THIS fast, but maybe I should cite Chris Jericho as a point of reference for this scenario.
Well, we need a new number one contender for Bobby Roode's United States championship. Let's throw Kofi Kingston, Jinder Mahal, Zack Ryder, & Rusev all in a match to see who comes out victorious. (I'll give you a hint, it's the guy most "over" with the fans):
Not much to add from the match, but Rusev was quick to challenge the champion to a title match. Next week, Roode versus Rusev for the title:
If that presentation seemed a little odd or different, I will get to that shortly. Stay with me.
Tye Dillinger found Shane backstage & wanted to vent about being ambushed by Sami & Kevin, before he could enter the Royal Rumble on Sunday. Baron Corbin felt like he wanted to interject & Dillinger responded with a verbal low blow:
Now, (stay with me) that was significant BECAUSE Tye brought up the Money In The Bank briefcase. Neither Money In The Bank briefcase has really been referenced much at all recently. One person that still has her MITB briefcase is Carmella. This verbal low blow by Tye Dillinger would prove to be an indirect foreshadowing to something that happened later in the episode:
To me, the other 2 takeaways from this clip are insignificant. Charlotte's mini tirade about Rousey's interruption on Sunday & the Riott Squad's subsequent beatdown on Charlotte still means less to me than Carmella's attempted cash in here. I feel like that threat hasn't been a large enough focus recently & was enthused by her attempt. It probably won't lead to anything quite yet, but this is an unstable situation that needs to remain relevant to the fans.
Without any further ado, here is your Tye Dillinger versus Baron Corbin match…if you think you know who wins, you're right:
What a sad path it has been for Tye. I never saw much for him in NXT past his gimmick & apparently the folks on the main roster tend to agree. He's a hell of a worker, but there's not a whole lot of depth to his character.
Okay, now earlier I said "If that presentation seemed a little odd or different, I will get to that shortly. Stay with me."  It appears WWE is trying out some new forms of presentation & it seems that a lot of this came about via the Mixed Match Challenge. Superstars are doing promos via smartphone, there's new graphics packages for both Raw & Smack Down.  The company is trying to be more engaging with their televised product, by appearing more in the vibe of their social media presence. If that sounds confusing, check this out & tell me if you can understand this idea:
Huh? I need to see this play out to gain a more clear understanding, but on its surface….this just seems like an angle for a storyline. As far as the "new graphics" reference, I present to you the Usos penitentiary……
I really hope that was a one week trial. For a company their size, I thought that looked really cheap. A better idea might have been a pre-produced promo IN a jail. Each cell could have had pictures of the referenced tag teams & then, once named in the promo, one Uso slams the jail door shut. Boom, locked down.
I just quickly wanted to mention the match that followed the Usos' promo for 2 reasons. One is that because of the timing of the Bludgeon Brothers' arrival, it looks like that might be the next feud for the Usos. The other reason is that, the other participants in this squash match have names! They're not just "local competitors" as the video title reads.  The man with longer hair is Chris Wylde, the ECWA Mid-Atlantic champion. The other is Rory Gulak, yes brother of WWE's 205 Live Drew Gulak……
and now they appear to both be dead after this match.
Thanks for coming "local competitors" & thank you everyone for reading!