Is Ferguson The Perfect Dance Partner For McGregor's Return?
With UFC 216 over, Tony Ferguson can finally breathe a small sigh of relief. His third-round submission win over Kevin Lee was the culmination of an exciting, drama-filled weekend in the UFC. In a scene that is all too familiar with Ferguson, his opponent struggled to make weight for their interim title fight with Kevin Lee weighing in at the 25th hour of the weigh-in only to be a pound over. Due to a rather unknown rule in Nevada, the doctors cleared him to cut the additional pound with an extra hour of weight cutting opportunity. Lee hit the mark three hours after his opponent, weighing in at 154.5 pounds, making their interim title fight official. Lee joked with Ariel Helwani the day prior that he was 19 pounds over and had had eaten tiramisu. It seemed like a jab at Khabib Nurmagomedov and his weigh-in failure from UFC 209, but Lee apparently wasn't kidding about being 19 pounds over and struggled mightily. He appeared to have a staph infection as well, which would certainly affect his ability to cut weight.
Ferguson may not have the charisma and drawing power that Nate Diaz offers, but Dana White shot down rumors of a trilogy fight quickly, stating that McGregor vs Ferguson "has to happen."
Ferguson did what he usually does—start off slow, find an opening, wear his opponent out and wrap up a choke. He reminds me a lot of Tim Duncan, who will go down as one of the greatest to ever play in the NBA. He didn't have any real finesse to his game, he just stayed quiet and let his game do all of the talking for him, much like Ferguson. Tony's ripped off 10 straight in one of the thickest divisions in the UFC right now and it hasn't always been pretty, but he continues to find ways to win. He found himself in somewhat unfamiliar territory in the closing seconds of round one with Kevin Lee raining elbows and punches from full mount. He bounced back once Lee started to slow down and was able to lock in a triangle choke after an unsuccessful armbar just a few seconds prior in the third round. He wasted little time in his post-fight interview to call out "McNugget" in an expletive-filled callout.
Ferguson may not have the charisma and drawing power that Nate Diaz offers, but Dana White shot down rumors of a trilogy fight quickly, stating that McGregor vs Ferguson "has to happen." I agree. Had Nate Diaz not beat McGregor the first time, we wouldn't even be having this conversation. He's one of the most unreliable UFC fighters on the roster, fighting just 4 times in the last 4 calendar years. He's 2-2 in those 4 fights, coming in 5 pounds over for his December 2014 affair with Rafael dos Anjos and getting beat handily. His other 2 wins were the first over McGregor and a one-sided beating of Michael Johnson. He's made some ludicrous demands in regards to money as if he's the draw and McGregor isn't.
A fight between Tony Ferguson and Conor McGregor needs to happen not only to unify the lightweight titles, but also because it'd surely be a fun fight to watch. Prior to his win Saturday night, Ferguson's last 5 fights had won some form of Performance of the Night bonus. He's finished 7 of his current 10-fight win streak and he continues to evolve inside of the Octagon. He's more than comfortable off his back, although that's not something he'd have to be too concerned with against McGregor, and has a very diverse striking attack on his feet. From a technical standpoint, he isn't as precise or powerful as McGregor, but he seems to get stronger as the fight goes on. Few fighters in the UFC could match his pace over the course of a five-round fight and McGregor is not one of them.
For all of his accomplishments, Ferguson does have a weakness that's been seen in his last few fights, he absorbs a lot of punches. Lando Vannata had him all but beat in the first round of their fight when he landed a flush head kick. He somehow bounced back and found a second wind in the second round but he was in all sorts of trouble. Kevin Lee, whose striking is far from great, had some success early on finding his chin with punches and even kicks. That's great news for McGregor, who's one of the best ever at finding his opponents' chin. Ferguson has started slow in 3 of his last 4 fights and McGregor, by comparison, starts off fast and slows down as the fight goes on. As is the usual narrative, McGregor has his best chance of success early in the fight and that makes this fight extremely dangerous for Ferguson.
When looking at the landscape of the lightweight division, Ferguson, aside from the fact that he's now the interim lightweight Champion, is the only suitable dance partner for McGregor. McGregor's made it well-known that he doesn't trust Khabib to show up for a fight on weight, and as well he shouldn't. He's already beat Eddie Alvarez, who's currently booked for a match-up with Justin Gaethje. The process of elimination in the top-5 of the division leaves Edson Barboza as the only other potential match-up and that's just not in the cards. He receives a lot of criticism for his choice of opponents but McGregor is simply looking for someone consistent who can move the needle like him. Although Ferguson wouldn't be the biggest name in the division, to quote Dana White, "it doesn't just make sense, it has to happen."
Ferguson's pressure has made many of his opponents wilt, including former lightweight Champion Rafael dos Anjos, who's a great pressure fighter himself. McGregor likes to apply pressure himself but he's also pretty comfortable counter punching, even from his back foot as we saw in the Aldo fight. Both fighters use great movement, fight with their hands mostly down and use odd angles to land shots. They're very similar in style but McGregor is the far superior striker while Ferguson is the far superior grappler. Ferguson was being outstruck on the feet against Edson Barboza when they met in December of 2015 and he had to resort to his grappling. If there's one area where we know McGregor isn't supremely confident, it's on the ground. His takedown defense against Diaz was good but he struggled against Chad Mendes at UFC 189, taken down multiple times in the first two rounds. Ferguson has sneaky takedowns and trips and that would be where he wants the fight to take place. It would, and should, be an interesting clash of styles if they meet in the Octagon to unify the titles. I look for this fight to be booked in the coming weeks and headline UFC 219 in Las Vegas on December 30. It could end up playing out a lot of different ways but it would draw the masses and it would leave one of them as the undisputed lightweight Champion.
UFC 216 Predictions
Beneil Dariush vs. Evan Dunham
The main card kicks off with a lightweight bout between top-15 ranked fighters Beneil Dariush and Evan Dunham. The latter has had 17 fights in the UFC, winning 11 of those, while dropping 6 to only the elite competition in the 155-pound division. Dunham is good everywhere but I wouldn't say he's great anywhere. He's also a four-time Performance of the Night winner and has won four straight. Dariush is 7 years younger at 28 years old and boasts an impressive 8-3 record as a lightweight in the UFC. Both fighters are black belts in Brazilian Jiu Jitsu but Dunham has only one submission victory while his opponent owns 3. Both fighters are 5'10" while Dariush will own a 2-inch reach advantage and does have the power to end this fight on the feet. He was doing well against Edson Barboza before he caught a flying knee that rendered him unable to continue. Dunham has struggled with the upper echelon of the division for too long, and while the jury is still out on whether or not Dariush is elite, he does hold notable wins over Jim Miller and Michael Johnson, who are much better than any fighter Dunham has beat in his time. Dariush wins a close, back-and-forth decision.
Fabricio Werdum vs. Derrick Lewis
2 of the biggest guys on the entire roster look to get back on track, both coming off losses in their most recent performances. Both fighters really underperformed, Werdum found some success with his punches and had Overeem all but finished on his feet but opted for a takedown instead of follow-up shots that earned him a split decision loss. Lewis wore out over the course of his four-round affair with Mark Hunt and fell victim to a Hunt TKO, which there's no shame in. Werdum has lost 2 of his last 3, the other loss coming at the hands of current Champion Stipe Miocic in a first-round knockout shocker. He's improved his standup dramatically but he did nothing to push the pace in the Overeem fight, even though he seems to have a better gas tank than Overeem. He's still much more comfortable on the ground and should look to get this fight to the mat as soon as possible. Lewis has an underrated gas tank but that wasn't the case in his last fight, wearing himself out and getting finished more from exhaustion than from punishment. Prior to the loss to Hunt, he had won 6 straight, finishing 5 of those 6 fights. He had a brief retirement after the loss to Hunt but now finds himself still very close to a title shot. A win over a former Champion like Werdum would put him within reaching distance of a shot at gold. Fortunately for him, every fight starts standing up and let it be known that is where he wants this fight to stay. If Werdum is able to drag him to the ground, he's in big trouble. His last 3 fights have all been scheduled for 5 rounds and I think a 3-round fight suits him better. Lewis likes to push the pace and chase his opponents down and throw combinations. He'll have to be careful doing that against someone as seasoned as Werdum, but he will evade the takedowns en route to a unanimous decision.
Demetrious Johnson vs. Ray Borg
Demetrious Johnson may very well be the best pound-for-pound fighter in the UFC. Although the idea of a superfight with TJ Dillashaw would likely have served a much better fight on paper, I'm sold on Ray Borg. Borg is only 5-2 in the UFC and has struggled to make weight in a few of his bouts, most recently his scheduled title bout from last month at UFC 215. Both of his losses came by way of decision and he's never been put in trouble in his young UFC career. He'll have his hands full with the best flyweight of all time, by a wide margin I might add. Johnson has slick submissions, great takedowns, the gas tank to go for days and the striking to compete with anyone in the division. Borg possesses all of those same skills, but doesn't have anywhere near the experience that Johnson has. Mighty Mouse comes into this fight looking for his 11th consecutive title defense, with the opportunity to pass Anderson Silva for most consecutive title defenses in UFC history. Borg was quoted as saying that TUF 24 Winner Tim Elliott laid the blueprint to beating the Champion. While Elliott did enjoy some early success and had the Champion in trouble with a submission attempt, I don't think a blueprint exists to beat a guy as well-rounded as Johnson. His resume speaks for itself and aside from his first fights with Ian McCall, Joseph Benavidez and John Dodson, he's beat the majority of his opposition with ease. For as great as he is, I think Mighty Mouse avoided the fight with TJ because he saw the bout with Borg as an easier road. I also think he's distracted by multiple things, including but not limited to, not headlining a PPV and taking a back seat to an interim title that really means nothing at this point. I wrote months ago about how I believed Borg was the guy to dethrone the Champion and I still believe that to be true. Borg is younger, hungry and extremely confident. He's also coached by Greg Jackson, whose fighters always have a great game plan in Championship fights. I'll stick to my guns and pick Borg to shock the world and win a unanimous decision.
Tony Ferguson vs. Kevin Lee
I want to get excited about this fight but I just can't. I love the trash talk that's ensued between these two and I think Kevin Lee is a great talker, but I'm not sure he's a great fighter. Watching him fight, I don't see any areas where he can be problematic for a guy like Tony Ferguson. Aside from a minor setback that came in the form of a unanimous decision loss against Michael Johnson, Ferguson has looked unstoppable. He overlooked Lando Vannata when he stepped in on late notice to replace Khabib Nurmagomedov and found himself in early trouble but he rebounded in the second route and choked him out with a D'Arce choke. In the last 2 years, Ferguson has beat Josh Thomson, Edson Barboza, Vannata and Rafael dos Anjos. In the same 2 years, Lee has defeated 6 guys but none of them are as good as the competition Ferguson has fought recently. His last win, a submission win over Michael Chiesa, was very controversial and ultimately got him this fight. Both fighters are well-rounded and are very evenly-matched when it comes to height and reach. Lee doesn't have what I consider to be big fight experience and Ferguson has had his fair share of big fights, having gone five full rounds with former lightweight Champion Rafael dos Anjos. Ferguson fights long and keeps his opponents at the end of his jab but has the grappling skills to compete with the best in the division. Both fighters grew up in Michigan and attended Grand Valley State University as wrestlers. Ferguson is 8 years older and for that reason, they never faced each other in any form of wrestling nor did they spend time together on the same team. Ferguson's chokes are some of the best in the division but he proved his standup is lethal as well when he beat Edson Barboza back in December of 2015. Lee certainly has the tools to upset the favorite but Ferguson looks poised to take over the lightweight division. The winner of this fight, although they will be the interim lightweight Champion, may have to sit out while Conor McGregor and Nate Diaz settle their score, although that's not been made official yet. Ferguson will use his boxing and striking at range to pepper Lee and wear him out over time, mixing in some takedowns throughout the fight. Ferguson will finish the fight via submission in the third round and make a strong case for a fight with McGregor to unify the lightweight belts.
The State of the MMA Division — Featherweight
The State of the Division – Featherweight
The featherweight division got a lot more interesting back in June when interim Champion Max Holloway defeated Jose Aldo by 3rd-round TKO to become the unified Champion. Although neither fighter has fought since, the landscape of the division looks good with a lot of solid competitors at the top. Alarmingly, there are currently only two top-10 fighters in the division with bouts scheduled. Although a rematch between Aldo and Ricard Lamas has been rumored for UFC 217 in November, nothing has been made official by the UFC. Holloway is in the middle of a contract dispute with the UFC regarding his pay but has said that he expects that to get done sometime soon. His first title defense will come against perennial contender and former lightweight Champion Frankie Edgar when they headline UFC 218 in December. That fight will create a good stylistic match-up and a great fight for the fans between two guys who rarely disappoint in the Octagon.
Cub Swanson, Chan Sung Jung (aka Korean Zombie), Brian Ortega, Yair Rodriguez, Jeremy Stephens, Darren Elkins and Renato Moicano round out the rest of the top-10 in the division. As I mentioned above, only two of these fighters currently have a bout scheduled and most have not been in the ring in a while. Swanson seemed to be sitting on the sidelines awaiting a title shot after his defeat of Artem Lobov in a main event in April, improving his win streak to 4. His match-up with Brian Ortega should net one of them a title shot or at least put them within reach. Chan Sung Jung had his first fight in 3+ years when he beat Dennis Bermudez via first-round KO in February. He was scheduled to fight Ricardo Lamas at UFC 214 in an important battle but pulled out of the fight due to injury. We haven't heard anything about him since that time, but he's battled injuries for the majority of his career.
Brian Ortega is coming off a submission win over Renato Moicano in July and has finished 5 straight if you count his win that was overturned due to a positive drug test. He'll get the toughest test of his career against Cub Swanson, with the chance to prove he belongs in the title discussion. Yair Rodriguez is coming off his first UFC loss, a doctor's stoppage TKO to Frankie Edgar at UFC 211 in May. He said this week that he anticipates having another fight before the end of the year although he doesn't have an opponent in mind. He's a very marketable fighter and has 4 Performance of the Night bonuses in just 7 UFC fights.
Jeremy Stephens beat Gilbert Melendez earlier this month via unanimous decision against the former lightweight title challenger in his featherweight debut. Prior to that, Stephens dropped two straight to Frankie Edgar and the aforementioned Moicano. He's just 3-5 in his last 8 in the UFC, losing to all of the top contenders he's faced recently. Darren Elkins has rattled off 5 straight victories with his most recent win being a split decision against Dennis Bermudez back in July. He also earned his first finish since 2013 earlier this year in March. With 17 fights in the UFC, the time is now for Elkins if he looks to make a run at the featherweight title.
Ideal Match-ups:
Jose Aldo vs. Ricardo Lamas
These two met back in at UFC 169 in February of 2014 when Aldo was able to take a unanimous decision in a one-sided win. The rematch would be much more interesting with Aldo having lost two bouts by finish since then, while Lamas has still hung around the top-1o of the divison, losing only to Chad Mendes and Holloway. This fight shouldn't be a title eliminator but should get the winner into a title eliminator.
Chan Sung Jung vs. Yair Rodriguez
This fight would boost the winner into immediate title contention and would likely provide some serious fireworks. They're both aggressive with slick submissions and great striking while this fight could easily headline an event in South America or Asia.
Jeremy Stephens vs. Myles Jury
Stephens has proved he can't hang with the top-5 of the division and Jury needs a chance to get back on track at 145. He lost his featherweight debut vs. Charles Oliveira but rebounded nicely with a first-round TKO of Mike De La Torre. These two could kick off a PPV main card or even co-headline a free TV card.
Renato Moicano vs. Darren Elkins
Moicano shocked the world when he beat Jeremy Stephens by split decision in April of this year. He was submitted by Ortega in July and Elkins would be the perfect veteran to welcome him back into the Octagon. Elkins has fought just about every prospect in the division and those who've beat him have gone on to do great things in the division.
Weigh-in Wednesday; Is The UFC On Life Support?
Somewhere right now the Fertitta brothers, who sold the UFC last August, are either laughing rolling in their money or crying in misery. The UFC is in trouble. That may sound crazy for one of the most profitable and fastest-growing sports in the world. I wrote last week about their lack of any real superstars to help push the sport and I'm writing this week to explain how that will affect the UFC going forward. Its lack of superstars has been extremely evident this year with the lack of quality main events it's put together. UFC 215 was a fairly-stacked card 4 weeks ago with a looming battle between giants Francis Ngannou and Junior Dos Santos. It was also billed as an opportunity for Demetrious "Mighty Mouse" Johnson to break Anderson Silva's title defense record and remind everyone just how good he really is. The first of those fights fell through on August 18 when Dos Santos was notified of a potential USADA violation. The second fell apart late Friday night, just 24 hours from the fight, and likely took with it the crowd that was probably going to purchase this card. You know the fight cards aren't great when Might Mouse getting pulled is a big hit to a fight card. Love him or not, he typically makes everything look easy in the Octagon and isn't nearly as entertaining as some of the other champions on the mic.
All hope isn't lost though, the UFC has a card coming up on Saturday in Pittsburgh for a free-TV event. It's headlined by former middleweight champion Luke Rockhold, who's fighting for the first time since his UFC 199 loss to Bisping. Surely the UFC has presented one of the better-known UFC fighters and former champions with a great main event against a top-ranked opponent, right? If you thought that may be the case, unfortunately you are wrong. The UFC, for whatever reason, has placed Rockhold against 35-year-old David Branch. You may or may not be familiar with who Branch is, and if you aren't that's completely understandable. He went 2-2 in his first stint in the UFC dating back to 2010-2011, losing to Rousimar Palhares and Gerald Harris while beating Rich Attonito and Tomasz Drwal. He was cut from the UFC after his loss to Palhares and fought for a few different promotions before joining the World Series of Fighting. He remained undefeated in the WSOF, going 10-0 while winning the middleweight and light heavyweight belts. He's got a fairly impressive resume and should be considered at least somewhat of a journeyman. Still, he finds himself completely unmatched against Rockhold, who's likely the most well-rounded fighter at 185 pounds and should find himself hungry having lost the belt with no bouts in over a year.
I'm here to discuss why, in 2017, we have a top-ranked talent at middleweight against a guy who no one knows.
UFC 199 didn't go exactly like Luke Rockhold probably envisioned it to, falling victim to a first-round KO at the hands of Michael Bisping. He had already beaten Bisping with rather ease back in 2014 and didn't even break a sweat. He underestimated his opponent, who was coming in on late notice for a shot at gold. There's a small chance that the same could happen this Saturday, and I'm not here to make that prediction just yet. I'm here to discuss why, in 2017, we have a top-ranked talent at middleweight against a guy who no one knows. The same thing happened last month when Stefan Struve fought Alexander Volkov. Luckily for Volkov, he made the most of the spotlight and slightly shocked everyone when he finished the Dutchman in front of his home crowd. There is too much talent on the UFC roster for this to happen as often as it does. I consider myself an avid UFC fan and I love watching Donald Cerrone fight. With that said, it was announced last week that he will fight Darren Till in the main event of a free TV event next month. I have absolutely no idea who Darren Till is, yet he's going to be on one of the biggest stages of them all in a main event.
The UFC has lost some ground in the last year or so to Bellator MMA and that trend will likely continue into the foreseeable future. Putting together main events like Branch vs. Rockhold and Till vs. Cerrone won't help right the ship that's clearly off course. I'm not saying that the UFC is going bankrupt overnight but I think they've got some serious problems with match making. Losing a guy like Joe Silva certainly hurts the company and Joe seemed to be a match maker that all of the fighters liked. There isn't an influx of fresh blood at any of the weight classes and I'm sure that has a lot to do with it. Using platforms like the Tuesday Night Contender Series to find new talent is a genius plan and I hope for all of our sake that it finds some new competitors. The Ultimate Fighter is currently airing on Fox Sports 1 in its 26th season but it's not nearly as exciting as it used to be.
They've lost countless main events, some of them on the day of or day before a big event. They've lost a few more big names to Bellator. The Reebok deal continues to sour relationships with some of its best fighters. Their biggest draw just made, according to what you believe, as much in 1 boxing match as he has throughout his entire UFC career. The talent pool is thin right now and the stranglehold the Reebok deal has on the fighters' ability to make sponsorship money will make it increasingly more difficult to land prized free agents. Overall viewership is down and they're starving for another superstar to come to light. Sometimes change is good, but the UFC is in peril right now with its current state. Needless to say, 2017 hasn't gone the way the new owners had planned.
And Then There Was…One?
Not only do I believe Conor McGregor to be the biggest superstar in the UFC, I now believe him to be the only true superstar they have on the roster. A lot of events have unfolded in the past month that have solidified his place atop the mountain. Daniel Cormier lost to Jon Jones and has since been relatively quiet. Jon Jones then tested positive for steroids, again, with his entire future in the sport in jeopardy with a looming suspension. Brock Lesnar retained his WWE title amid rumors that he would lose it at Summerslam, making his return to the UFC inevitable. Then on Saturday, the same day of McGregor's fight with Floyd Mayweather, Ronda Rousey tied the knot with Travis Browne. All of those things happening have essentially eliminated people who were or would have become superstars in the UFC. There aren't too many champions left on the roster with any drawing power. Tyron Woodley and Demetrious Johnson have proved that their names alone won't draw in crowds for PPV buys. Dana White promised us after her last-minute cancellation that Amanda Nunes would never headline another PPV card. Stipe Miocic still isn't a big enough name and is currently in somewhat of a contract dispute over his earnings. The closest two you have to superstars are Michael Bisping and Cris Cyborg. Bisping could very well be considered a superstar with his roots in the UK. If he loses the title to Georges St. Pierre in November, that does bring back one of its superstars, but I'm still not convinced that fight will ever happen.
Diaz said he wants a $20 million payday to fight McGregor and we all know that isn't going to happen.
All of those scenarios have left McGregor with all the leverage for future negotiations when it comes to money and fights, both. Since his loss to Mayweather in the boxing ring, there's been a lot of rumors about what is next for McGregor in the Octagon. I think at this point he can choose his opponent. He's made mention of a trilogy fight with Diaz and a super-fight in Russia with perennial lightweight number one contender Khabib Nurmagomedov. At the end of the day, those are both dangerous fights for him for very different reasons and it'd cause some trouble in the 155-pound division. Kevin Lee and Tony Ferguson are scheduled to battle for the interim lightweight title at UFC 216 in October. It'd be odd, to say the least, for the UFC to have the lightweight champion fight anyone other than the interim title holder. They did just that when they scheduled Bisping to fight former welterweight GSP while Robert Whittaker holds the interim crown, but he's injured and unable to compete for the immediate future.
With all of that said, while I think McGregor should defend his title against the winner between Lee and Ferguson, I don't think that will be the case. Neither of those are guys are in McGregor's league as far as name value to help sell the PPVs and fight. I think we will see McGregor return to the welterweight division, this time for a chance to win his third title, against Tyron Woodley. I know that sounds crazy but hear me out. Diaz said he wants a $20 million payday to fight McGregor and we all know that isn't going to happen. Diaz made enough money from his last fight with McGregor that he never needs to work again, and I think we've seen the last of him in the Octagon. He's a poor communicator and negotiator and I think for those two reasons, the UFC will ignore his silly request. The Diaz brothers seem content not fighting, even with their fans clamoring for them to get back in the Octagon. Truth is, I don't think we will see either of them compete in MMA anymore. At welterweight, the title picture is really odd right now. 5 of the top 10-ranked fighters in the 170-pound division are coming off losses. Second-ranked Robbie Lawler has fought just once since getting viciously knocked out by Woodley at UFC 201, and that came in a close decision win against Donald Cerrone last month at UFC 214. Sixth-ranked Neily Magny and tenth-ranked Rafael dos Anjos are already scheduled to meet next month at UFC 215. That leaves you with Colby Covington and Santiago Ponzinibbio. Although both of those guys are coming off impressive wins over longtime contenders, wins over Dong Hyun Kim and Gunnar Nelson don't warrant a title shot.
He's got nothing left to prove by beating Diaz, Ferguson, Lee or by hoping that Khabib comes into a fight on weight and uninjured. He has absolutely no fear and he wants to go down as the greatest of all time.
Dana White has made it very obvious that he isn't a big fan of Tyron Woodley. He may never admit it and he may come up with lots of reasons for that, but the fact remains that he just doesn't like the guy. His last two title fights have been atrocious, he's constantly whining about the UFC and the way they run their business, and he's publicly lashed out at his boss. All of those things have created some friction between the two and unfortunately neither one has shown much willingness to back down. Woodley's last two performances should make it clear that he won't be headlining a PPV anytime soon. White's also made it clear that he isn't in favor of Demetrious Johnson headlining a PPV card. With the light heavyweight division in limbo with Jones and his legal issues, Stipe in a contract dispute, and three other champions not getting much opportunity to headline PPV cards, I don't know that the UFC has many other options. That leaves them with Joanna, Garbrandt, Holloway and Bisping to lead the way for the foreseeable future. The problem is, most champions only fight twice a year and you can't depend on 4 people to headline 12 cards, or more, per year.
McGregor has already gone to boxing and fought the best boxer of our generation in his first professional boxing match. He did so with the blessing and backing of Dana White and the UFC. They do their absolute best not to show favoritism but we all know the UFC loves Conor McGregor for the cash cow that he is. He's already cemented his place in UFC history by becoming the first fighter to hold titles in two separate divisions at the same time. He's got nothing left to prove by beating Diaz, Ferguson, Lee or by hoping that Khabib comes into a fight on weight and uninjured. He has absolutely no fear and he wants to go down as the greatest of all time. Although there would always be those that hate him, if he were able to grab titles in 3 separate divisions, it'd be extremely hard to ignore him as the greatest ever. He could achieve that status with only 11 fights in the UFC. It's the only Tyron Woodley-headlined PPV that the masses would tune in for and I truly believe that he's gained the respect of a lot of the boxing community and may draw in some of its fans as well. He's not going to fight forever and he's filthy rich now. I don't foresee him fighting out his next four fights on his contract, but I do believe his next fight should, and will be, against Tyron Woodley for the welterweight title.
The Legacy of Jon Jones
The career of Jon Jones is one of the most puzzling ever and as Dana White put it quite frankly this past week, it will make a great 30 for 30 someday. His story of redemption peaked 3 weeks ago when he finished Daniel Cormier in the third round of their title fight at UFC 214. Although he defeated Cormier back at UFC 182 via unanimous decision in January of 2015, it still felt like he needed an emphatic win to lay to rest their bitter rivalry. He did just that but didn't boast in the Octagon after his performance, instead choosing to use his win as a tool to motivate others. He had both knees on the Octagon floor as Joe Rogan interviewed him, fighting back tears and countless emotions as he delivered one of the most heartfelt post-fight speeches in recent memory. He'd overcome so much, especially his own demons, to come back and reclaim what he never truly lost. All of that came crashing down on this past Tuesday when word broke that he had been flagged by USADA for another drug test failure, once again for steroids. If this test holds up and it's proven that he knowingly took anabolic steroids, his career in the UFC is likely over, with a 4-year suspension imminent due to his second failure in as many years.
Jones is his own worst enemy and he's never been one to downplay that.
Having tested positive for a steroid and cocaine in the past, this new failure raises many questions about his entire career and questions how talented he really was. He's viewed by many as one of the greatest to ever step in the Octagon, but his legacy is now tainted forever. Although he's innocent until proven guilty, it doesn't look like the kind of case that is going to prove anything other than him being guilty. He may go down as one of the best talents of all time, but he'll always have an asterisk next to his name should this hold up, like most expect it to. His relationship with Dana White, who has long been one of his biggest advocates, is likely over as a whole. They've both admitted publicly that they haven't spoken much since the debacle at UFC 200, and this should serve as the final straw and draw an end to their personal and business relationship.
Jones is his own worst enemy and he's never been one to downplay that. His coaches and everyone else who knows of his past would point out the obvious as well. The list of UFC fighters he's beaten in the Octagon include a who's who of future UFC hall-of-famers. Stephan Bonnar, Shogun Rua, Rampage Jackson, Lyoto Machida, Rashad Evans, Vitor Belfort and Daniel Cormeir will all find their rightful place in the UFC hall of fame in the future and none of them were a match for Jones in the Octagon. Aside from an armbar that was tight from Belfort, none of the above-mentioned fighters had anything for him. The question now is was he truly an elite talent unlike any we've ever seen before or was he a product of a supplement out of a bottle or syringe?
Early on in his career he seemed like a genuine person, showing nothing but respect for his opponents even after he'd left them unconscious in the Octagon. He spoke of God and his faith after all of his fights. Somewhere along the line that guy changed and the then-youngest champion in UFC history became the villain almost overnight. After his hit-and-run incident in April of 2015, he was stripped of the UFC title and his match-up with Anthony Johnson was put on hold while he sorted out his legal issues. Johnson would go on to fall to Daniel Cormier, who became the champion only 4 months after losing to Jones. The rematch with Cormier was scheduled for UFC 197, with Cormier getting injured three weeks prior and being replaced by Ovince St. Preux in an interim title bout. Jones dominated and swept the scorecards winning all five rounds on all three judges' cards.
UFC 200 was supposed to be the biggest event in UFC history. It was supposed to feature Conor McGregor and Nate Diaz in a highly-anticipated rematch from their clash at UFC 196. McGregor retired, unretired and was subsequently pulled from the card just a few weeks out. Dana White announced the Jones-Cormier rematch as the new headliner, only to have it pulled 3 days out for a failed drug test from Jones, this time a positive steroid test. His b sample came back showing the same substances as his a sample, leading us to this. His image is destroyed, no matter the results of the b sample this time. A 4-year suspension would put him at 34 years old with his prime likely behind him, and that's if there's an MMA promotion willing to sign him to a contract. He's been silent on social media since the news broke and I don't expect that to change anytime soon. While I think it's still too early to call him a waste of talent, he's got a long road ahead of him.
Matches to Make After UFC 214
UFC 214 delivered in every way possible, with the exception of a lackluster co-main event featuring Tyron Woodley vs. Demian Maia. Jon Jones ended his rivalry with Daniel Cormier with a third-round TKO to regain his title and inch closer to the title of the Greatest Of All Time. Robbie Lawler and Donald Cerrone did not disappoint as they went to war on their feet for 3 full rounds. Cris "Cyborg" was finally able to capture the vacant women's featherweight title. Volkan Oezdemir shocked the crowd in the first fight of the main card and knocked Jimi Manuwa out cold in under a minute, notching his second sub-minute knockout in as many fights. Matching the winners and losers up is becoming a little more difficult, especially in the light heavyweight division.
Jimi Manuwa vs. Volkan Oezdemir
Jimi Manuwa was supposed to win this fight and he was supposed to do so with rather ease. Instead, he underestimated his opponent and his punching power. Manuwa initiated the clinch early on in the fight and ate a short, left hand that had him stumbling backwards. Oezdemir pushed him down and laid the finishing touches on the ground to stun the crowd in the opening minute of UFC 214. Manuwa and Cormier both suffered knockout losses but were anxious to fight each other prior to this event and should Cormier stay at 205 pounds that is the fight to make in a few months. If Cormier goes back to heavyweight, which I expect him to do, Manuwa should fight Misha Cirkunov, who is also coming off a knockout loss to Oezdemir. As for Oezdemir, he should be matched up against Glover Teixeira or Alexander Gustafsson, depending on who fights Jon Jones next.
Donald Cerrone vs. Robbie Lawler
These two were expected to put on a show and they did just that as they fought hard for 3 full rounds. The decision really could have gone either way but Lawler escaped with a victory. Cerrone shouldn't fall too far from the rankings as a lot of other welterweights are coming off losses, but he should be matched up with Santiago Ponzinibbio, who is coming off a knockout win over Gunnar Nelson. Ponzinibbio is a striker like Cerrone and that fight should entertain the crowd. Lawler's next fight should be a rematch with current champion Tyron Woodley after news broke that GSP would challenge Michael Bisping for the middleweight crown. The two met at UFC 201 last July when Woodley knocked out Lawler to become the welterweight champion.
Tonya Evinger vs. Cris "Cyborg"
Evinger lasted much longer than most thought she would but she still did little besides being a moving heavy bag for Cyborg. If she stays in the UFC she should be rewarded with a big fight at 135 pounds and Julianna Pena seems like a good match-up. Cyborg essentially called out Holly Holm in her post-fight interview and that is the fight to make in the new division. Holm most recently knocked out former bantamweight title challenger Bethe Correia with a headkick. Cyborg and Holm are viewed as two of the very best strikers in all of women's MMA and it would be a great technical match-up. Book that fight for a co-main on a big PPV.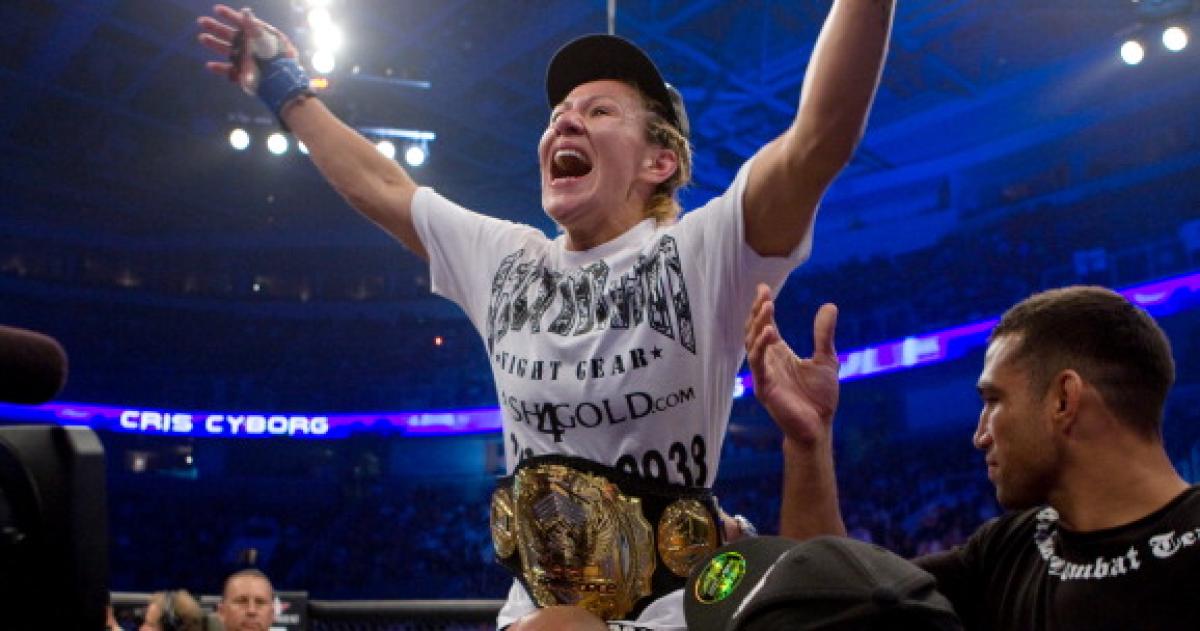 Demian Maia vs. Tyron Woodley
Demian Maia probably won't ever receive a title shot again, no matter how many consecutive wins he rattles off at 170 pounds. He's now been involved in two of the worst title fights in UFC history. The reality is that if he can't get his opponents to the ground somehow, he's got limited options in the Octagon. He's beat many of the guys in the division already but should test his skills next against rising contender Colby Covington, who is fresh off a unanimous decision win against Dong Hyun Kim. Tyron Woodley should rematch Robbie Lawler as we discussed earlier.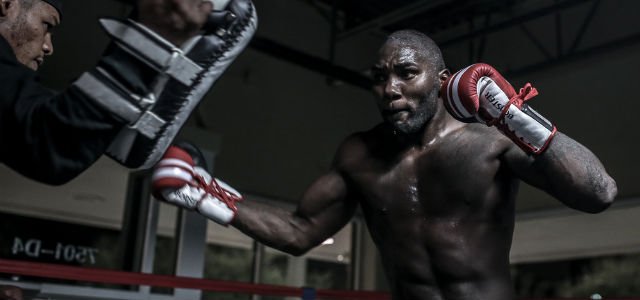 Daniel Cormier vs. Jon Jones
Daniel Cormier should go back to the heavyweight division. Jones has beat him twice, the second time coming via KO, and will have a difficult time getting a third match with the champion. With the absence of Cain Velasquez, Cormier could quickly jump into the title picture at 265 pounds. If he does go up he should be matched up with Fabricio Werdum, who is also coming off a loss against Alistair Overeem. The winner of that fight would be within reach of a title shot and would be a good stylistic match-up. While Jones will likely be looking to settle the score with Alexander Gustafsson, he should be matched up with Anthony "Rumble" Johnson. The two were scheduled to fight at UFC 187 in 2015 but Jones was removed after some trouble outside of the Octagon. While Jones and Gus put on a great performance, it would be a shame if we never got to see Jones vs. Rumble. Throw enough money at him to get him out of retirement and make that fight to headline the UFC event in November at MSG.
Jones Jones Reclaims Title; Calls Out Brock Lesnar
Jon Jones defeated Daniel Cormier in their rematch at UFC 214 to reclaim the Light Heavyweight championship. Jones looked dominate as he knocked out Cormier in the third round.
A devastating kick to the side of the head stunned the former champion Cormier. After Jones continued on the attack striking Daniel with lefts and rights until he eventually dropped. When Cormier dropped Jones punched his face in until the ref stepped in and called the fight.
This was the second time Jones beat Cormier, as he defeated him at UFC 182 two and a half years ago.
Jones did not look rusty at all, after being suspended a whole year for failing a doping test four days before UFC 200.
" I made it back."
Jones said after the fight. Jones also reflected on the fight to Dana White. 
"It's such a beautiful moment. I did a lot of right things to get back in this position. Anybody at home who let yourself down, you let your family down, you let your parents down or your co-workers down, you let yourself down, it's never over. As long as you never quit, it's never over. I'm back here."
Comier said after the fight that he thought it was going well and he did not know what happened. 
"They said I got kicked in the head. Man, that was so disappointing. I guess if you win both fights, there is no rivalry."
Jones showed gratitude to his opponent, as he spoke about being champion again.  
"I'm going to do my best to be the champion that you guys deserve to have. Daniel Cormier has been one of the biggest sources of motivation I've had in the last two-three years and I thank him for that and for pushing me to a higher level."
 After the bout Jones called out Brock Lesnar and he is hoping for a superfight.
Lesnar replied via Twitter saying
"Be careful what you wish for young man."
UFC 214 Predictions
Jimi Manuwa vs. Volkan Oezdemir
The first fight on the main card has large implications in the light heavyweight division. Although the thought of Daniel Cormier vs. Volkan Oezdemir for the light heavyweight title isn't really appealing, that's a distinct possibility should they both win. However, I don't expect Oezdemir to beat Manuwa. They're both stand up fighters and Manuwa is deceptively fast and has much more big-fight experience than his counterpart. I doubt that either one of these guys goes for a takedown but Oezdemir should seriously consider working his way into a takedown or three. Manuwa is 6-2 in the UFC with his only losses coming to Gustafsson and Johnson in that span, which is nothing to be ashamed of. He's a marketable contender across the pond since he is British and the UFC fed him a pretender, not a contender. This fight is his to lose and he won't do that. Manuwa by second-round KO is the pick.
Robbie Lawler vs. Donald Cerrone
When this fight was first announced for UFC 205, only to be pulled a few days later, I said that Lawler would kill Cerrone. A few welterweight fights later, I'm not so sure. Taking into consideration that Lawler hasn't fought since his UFC 201 KO loss to Tyron Woodley a year ago, I like Cerrone's chances much more. This fight should be entertaining, two guys who just like to slug it out in the Octagon and aren't too interested in grappling. Cerrone has shown some improved takedowns since coming to 170 pounds but Robbie Lawler was able to avoid being taken down by Johny Hendricks and Josh Koscheck so I wouldn't bet on a successful takedown from Cerrone. Although I do believe he will shoot for some takedowns or trips, Cerrone is comfortable standing on his feet and has some of the most vicious Muay Thai in the division. The winner of this fight inches closer to a title shot and may even get one after the winner of the co-main fights GSP. Cerrone's Achilles heel has always been shots to the body, which Lawler loves to land kicks on. A body shot will hurt him and follow up shots will finish him. Expect this to look a lot like Cerrone vs. Pettis. Lawler by second-round TKO is the pick.
Cris "Cyborg" vs. Tonya Evinger
I'm excited to watch Cyborg fight again because she always brings it and she is now the best female fighter on the planet. With Rousey out of the picture, Nunes backing out of UFC 213 and Holly Holm in a slump, Cyborg will finally get the push she deserves. The UFC has rewarded her with a title shot and has gifted her with an opponent who has spent her career at bantamweight. It should be pretty apparent by now that I don't expect this fight to be competitive. Most of her fights don't, she's a woman among girls and this fight is no different despite the fact that she's facing a former champion. I respect the hell out of Tonya Evinger for taking this fight at all, especially on short notice. She doesn't appear to be scared of Cyborg but that will change the first time she gets hit on Saturday night. Cyborg by first-round TKO is the pick.
Tyron Woodley vs. Demian Maia
Tyron Woodley looks to make his third consecutive title defense when he takes on Demian Maia, who's now won 7 straight since losing a unanimous decision to Rory MacDonald in 2014. This isn't the first time Maia has challenged for a title, you may recall the awful fight that headlined UFC 112 in Abu Dhabi in 2010. Maia has gotten back to his roots and has figured out a way to drag all of his previous opponents to the ground, choking out Neil Magny, Matt Brown and Carlos Condit in the last 2 years. His most recent win was a split decision over Jorge Masvidal in a fight that saw him control the second half of each of the three rounds, which the judges awarded him a controversial decision for. Woodley is coming off back-to-back decision wins over Stephen Thompson but may be looking ahead to a showdown with GSP. Woodley has great power in his hands and the wrestling chops to thwart some takedowns from Maia. The one area where we've seen him struggle in the past is with cardio and if Maia can make it through the first three rounds Woodley could be in trouble. Woodley's wrestling offense probably won't be a factor in this fight as his striking is much better than Maia's and he'll look to keep the fight standing. Maia's takedowns are difficult to train for because he's been so good at latching onto the backs of his opponents and dragging them to the ground. He gets a little too desperate with his attempts sometimes and if he does that Saturday night he will pay for it. I expect this to look a lot like Woodley's last fight with a lot of inactivity from both guys. Love him or hate him, Woodley has some of the best fight IQ in the game today and he doesn't make many mistakes inside the Octagon. He may slow down over the course of the fight but he has the power to shut the lights out on anyone in the division. It may not be the best welterweight title fight ever but Woodley will find an opening in the third and finish Maia with strikes. Woodley by third-round TKO is the pick.
Daniel Cormier vs. Jon Jones
This fight is one of the best in UFC history, not just because it features the two greatest light heavyweights ever, but also because these two genuinely hate each other. Their first fight wasn't very close, with the judges awarding Jones a 49-46 unanimous decision but a lot has changed since then. Since their first meeting in January of 2015, Jones has fought just once, against Ovince St. Preux and won by unanimous decision despite not looking like the old Jon Jones. Some guys can't handle the fame and I think Jon Jones was one of them. I think the Jon Jones we are watching now is the real "Bones," and I think he's sincerely relieved that he's made mistakes and now has a point to prove. There won't be any love lost after this fight and Cormier has made it clear that win or lose, they won't be getting along after this fight is over. Their rivalry is a lot like the one that Tito Ortiz and Chuck Liddell has and just like that one, one of these guys is clearly better than the other. Cormier will come into the Octagon with a great winning streak that includes wins over Anthony Johnson (twice), Alexander Gustafsson and Anderson Silva. Unfortunately for him, he'll also come into the Octagon with a 6-inch height and a 12-inch reach disadvantage. Jones has made a career out of beating fighters smaller than him while he's struggled with guys like Alexander Gustafsson and Glover Teixeria who he couldn't manhandle. If you were going to build the perfect fighter in the light heavyweight division, you would build Jon Jones. He towers above most of the other guys in the division, he owns a huge reach advantage over all of them, he has the wrestling to nullify most others' and his ability to mix up his kicks and punches is second to none. He reminded us against OSP that he is human and he can be beat. If he shows up Saturday night and looks no better than he did then, Cormier could win this fight. Even if Jones is rusty, Cormier will have a hard time getting inside to land his punches without taking punishment. His only clear route to victory is to somehow plant Jones on his back and that seems farfetched as well. He wasn't able to take Jones down in the last fight and he's two years older and has been hit a lot since then. Gustafsson brought the fight to him and if it weren't for a horrible game plan by "Rumble" and the towel keeping him at 205 for his last fight, he probably wouldn't be champion right now. Jones has surely been heavily tested leading up to this fight and it's entirely possible that the Jon Jones we saw have a dominant run was only the product of some enhancements. At the end of the day, Jones is too good and too big for Cormier to take this fight. Jones has something to prove and he looks relieved and poised while Cormier will have trouble bottling his emotions. Jones makes a statement and puts the entire light heavyweight and heavyweight divisions on notice. Jones by fourth-round TKO is the pick.
Weigh-in Wednesday; Is UFC 214 the best card ever?
UFC 214 is scheduled to take place this Saturday, July 29 at the Honda Center in Anaheim, California. The main event is the long-awaited and highly-anticipated rematch between Jon Jones and Daniel Cormier. These two will (hopefully) meet for the second time in three years, with this being the third time this fight has been rescheduled. The promo video the UFC dropped last week has everyone ready for this one, a chance for one of them to prove his place atop the light heavyweight division and reign supreme. The co-main event will see current champion Tyron Woodley looking for his third straight title defense, this time against BJJ wizard Demian Maia. This fight is an interesting clash of styles as the wrestler meets the submission ace. For just the third time in UFC history, a card will feature 3 title fights on the main card. The third title fight of the evening will feature the return of Cristiane "Cyborg" Justino as she takes on bantamweight transplant Tonya Evinger. Evinger and Cyborg were the featherweight and bantamweight champions in Invicta Fighting Championships at the same time, respectively. The main card will also feature a brawler's dream match-up with Robbie Lawler and Donald Cerrone after their UFC 213 bout was canceled due to injury. The final fight on the main card will feature rising, hard-hitting, light heavyweight contenders Jimi Manuwa and Volkan Oezdemir, with a potential title shot on the line. From just the main card portion, this appears to be one of the best lineups the UFC has ever put together. Although it may not break the records that UFC 202 and UFC 100 hold for PPV buys, it has potential to be 3+ hours of non-stop action. Not only do you have 3 champions defending their belts, you have a former welterweight champion in Robbie Lawler, a former lightweight title challenger in Donald Cerrone and the first fight could determine who fights the winner of the main event. If this card doesn't lose any more fights, it could be the best main card in UFC history.
Jon Jones vs. Daniel Cormier
Grade: A+
A couple of weeks ago, I'd have given this a B+ or A- at best. The first fight was not especially close, and just because Cormier wants to beat Jon Jones and has elevated his level of trash talking doesn't mean this fight is any more competitive this time around. The promo the UFC released last week changed my tune on this fight and has everyone drooling for the cage door to lock behind these two. This does feel like a redemption story for Jon Jones, and I think the promo video revolving solely around him will spark a fire for Cormier and elevate his game. There are a lot of questions coming into this fight and I think we will get a lot of answers in the first round. Cormier nearly missed weight in his last title defense against Anthony "Rumble" Johnson and he looked completely drained. Jones looked human in his last fight for the first time in a while so that could even the playing field. This may not be a competitive fight but I'm excited to see the two best light heavyweights in history run it back.
Tyron Woodley vs. Demian Maia
Grade: C
It's not that I don't like this fight, it's just that this fight features Demian Maia. With all due respect to his ground skills, his striking game is otherworldly pathetic. If he can't figure out a way to latch onto Woodley's back or get him to the ground, it will be a very short night for him. The only thing worse than his striking defense is his striking offense. However, to his credit, he hasn't needed to use that too much since making the drop to 170 pounds. Woodley's first fight with Thompson was incredible while their second left a lot to be desired. He's anxious to win over the fans in the UFC but he can't afford to have another lackluster performance like he had in his last fight. If he wants to win over the fans, he needs to bite down on his mouth piece and end this fight like he did the Koscheck and Lawler fights. Alternatively, the UFC had no other booking options. It was apparent they wanted Jorge Masvidal to beat Maia so they could sell a title fight between strikers with brutal knockout power, but Masvidal did what he does best in close fights and lost a split decision, bringing his total to 4. Both of these guys offer unique challenges to Georges St. Pierre's throne should he return to the division he once ruled. I'm still not sure what to expect from these two other than lots of feeling each other out.
"Cyborg" vs. Tonya Evinger
Grade: B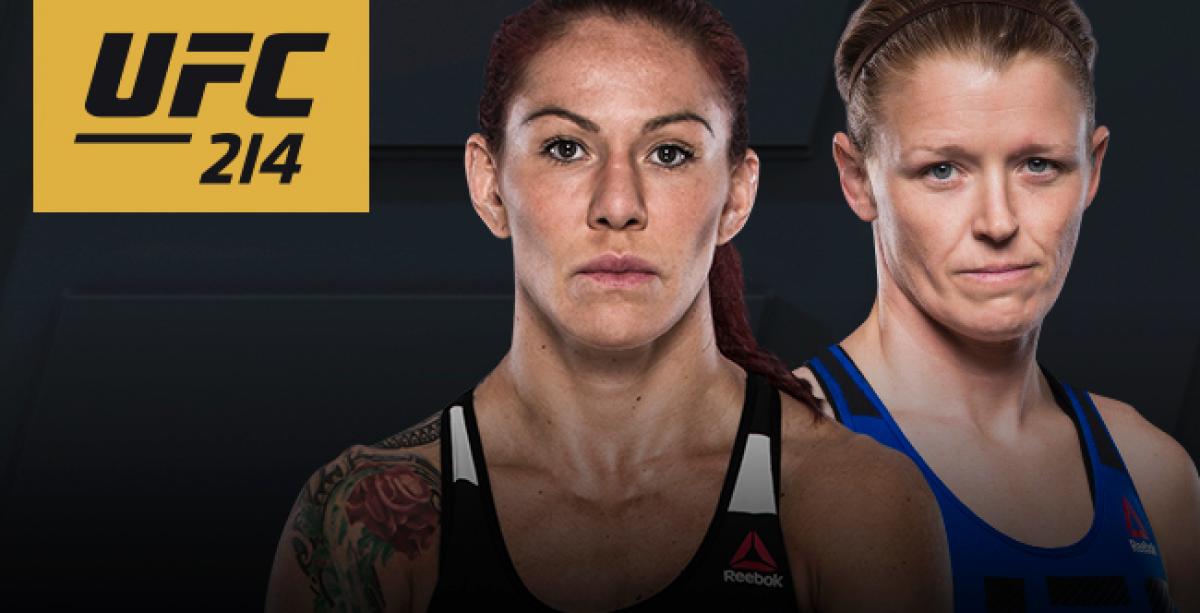 While Evinger is fairly unknown and this being her debut in the UFC, it's evident that they are ready to crown "Cyborg" the new featherweight champion. You have to admire Evinger's courage for taking this fight on short notice but she's being fed to the lions here. Dana White admitted last week to making some mistakes along the way with Cyborg and this is what she gets in return, a fight that she wins 99 times out of 100. She's been to decision just twice in her 19-fight career, winning 15 of those by KO/TKO. There wasn't a lot of people willing to fight Cyborg, Germaine de Randamie gave up her belt to avoid it and that should tell you everything you need to know about the baddest woman on the planet. The only women I think could be competitive in the Octagon with her are Nunes and Shevchenko. This fight won't be competitive at all but we will get to see another highlight-reel knockout for Cyborg and it won't take long.
Robbie Lawler vs. Donald Cerrone
Grade: A+
This fight would be amazing if these two weren't ranked in the welterweight division so the fact that they are makes it much more intriguing. Lawler hasn't been seen in the Octagon since he was knocked out in the first round last July by current champion Tyron Woodley. Cerrone hasn't been in the Octagon since January when he was knocked out by Jorge Masvidal. It's crazy to think that the 6 months away from the Octagon is the second-longest streak he's been away in his 24-fight, 6-year UFC career. Although he's improved his takedowns and is much more efficient with them lately, Cerrone is still a brawler that would prefer to stand and trade. His counterpart will gladly oblige and this fight shouldn't make it to the judges' scorecards. The jump to welterweight hasn't slowed Cerrone down much as he's tasted defeat only once, which came in his most recent fight. Prior to that he had finished 4 straight opponents, with his final three coming via knockout. Lawler had his career resurgence halted after he ate a right hand from Tyron Woodley at UFC 201. The former champion still finds himself at the top of the division even though he's not had a contest since. A win here doesn't get either of these guys a title shot but it gets one of them within reach. I don't care which one it is and you shouldn't either. Enjoy this fight.
Jimi Manuwa vs. Volkan Oezdemir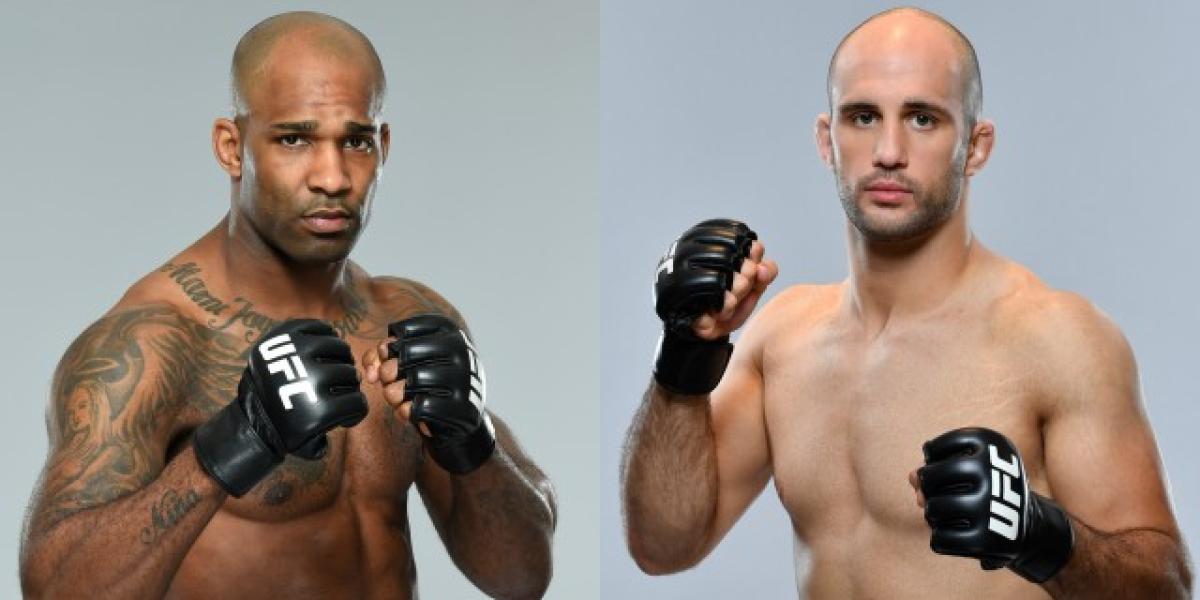 Grade: A
I'm not giving this fight an A because it's a bout that everyone is looking forward to. Although that isn't the case either, I do think this is a fight that is flying under the radar on this card. I'm giving this fight an A because should something happen to one of the men involved in the main event, Jimi Manuwa is stepping in and will get the opportunity of a lifetime. Although no one other than Jimi would want that to happen, I don't think anyone would be shocked if this fight got rescheduled again for some reason. Oezdemir isn't a big name in the light heavyweight division yet but he's caught the attention of the matchmakers by taking out Ovince St. Preux and Misha Cirkunov in his first two fights, the latter a 28-second KO. Manuwa's only two losses in the UFC have come to 2-time title challengers Alexander Gustafsson and Anthony Johnson. He's knocked out Ovince St. Preux and Corey Anderson back-to-back to get this opportunity. If Jon Jones wins the main event, I look for the winner of this fight to battle DC for the next shot while Jones looks for revenge on Gustafsson.