Matches to Make After UFC 214
UFC 214 delivered in every way possible, with the exception of a lackluster co-main event featuring Tyron Woodley vs. Demian Maia. Jon Jones ended his rivalry with Daniel Cormier with a third-round TKO to regain his title and inch closer to the title of the Greatest Of All Time. Robbie Lawler and Donald Cerrone did not disappoint as they went to war on their feet for 3 full rounds. Cris "Cyborg" was finally able to capture the vacant women's featherweight title. Volkan Oezdemir shocked the crowd in the first fight of the main card and knocked Jimi Manuwa out cold in under a minute, notching his second sub-minute knockout in as many fights. Matching the winners and losers up is becoming a little more difficult, especially in the light heavyweight division.
Jimi Manuwa vs. Volkan Oezdemir
Jimi Manuwa was supposed to win this fight and he was supposed to do so with rather ease. Instead, he underestimated his opponent and his punching power. Manuwa initiated the clinch early on in the fight and ate a short, left hand that had him stumbling backwards. Oezdemir pushed him down and laid the finishing touches on the ground to stun the crowd in the opening minute of UFC 214. Manuwa and Cormier both suffered knockout losses but were anxious to fight each other prior to this event and should Cormier stay at 205 pounds that is the fight to make in a few months. If Cormier goes back to heavyweight, which I expect him to do, Manuwa should fight Misha Cirkunov, who is also coming off a knockout loss to Oezdemir. As for Oezdemir, he should be matched up against Glover Teixeira or Alexander Gustafsson, depending on who fights Jon Jones next.
Donald Cerrone vs. Robbie Lawler
These two were expected to put on a show and they did just that as they fought hard for 3 full rounds. The decision really could have gone either way but Lawler escaped with a victory. Cerrone shouldn't fall too far from the rankings as a lot of other welterweights are coming off losses, but he should be matched up with Santiago Ponzinibbio, who is coming off a knockout win over Gunnar Nelson. Ponzinibbio is a striker like Cerrone and that fight should entertain the crowd. Lawler's next fight should be a rematch with current champion Tyron Woodley after news broke that GSP would challenge Michael Bisping for the middleweight crown. The two met at UFC 201 last July when Woodley knocked out Lawler to become the welterweight champion.
Tonya Evinger vs. Cris "Cyborg"
Evinger lasted much longer than most thought she would but she still did little besides being a moving heavy bag for Cyborg. If she stays in the UFC she should be rewarded with a big fight at 135 pounds and Julianna Pena seems like a good match-up. Cyborg essentially called out Holly Holm in her post-fight interview and that is the fight to make in the new division. Holm most recently knocked out former bantamweight title challenger Bethe Correia with a headkick. Cyborg and Holm are viewed as two of the very best strikers in all of women's MMA and it would be a great technical match-up. Book that fight for a co-main on a big PPV.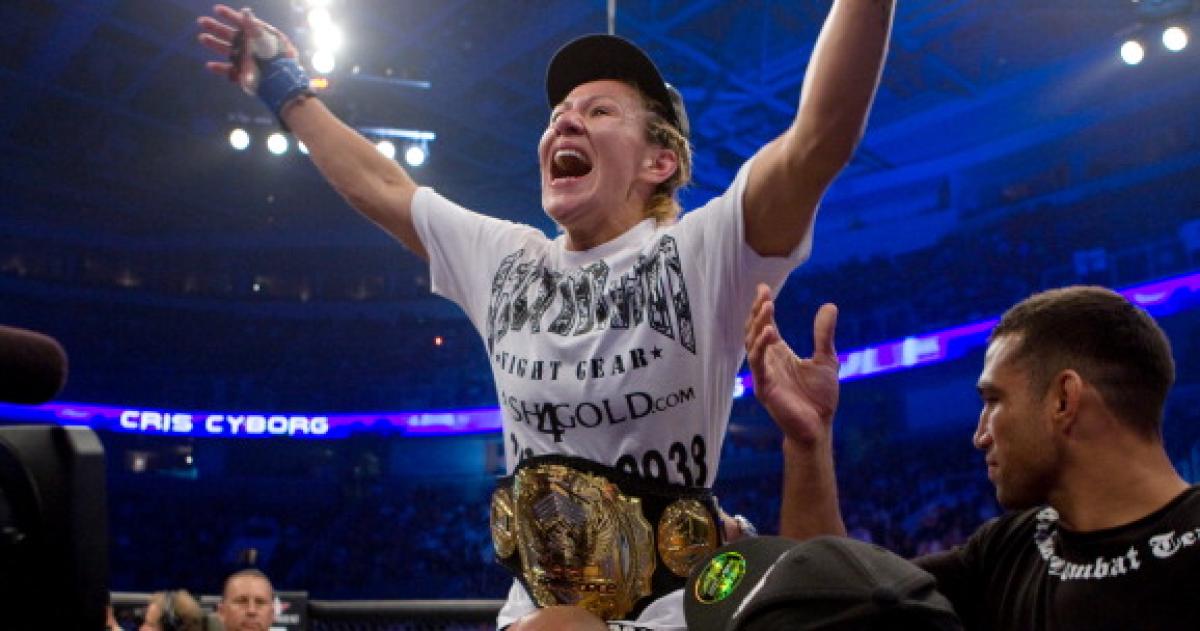 Demian Maia vs. Tyron Woodley
Demian Maia probably won't ever receive a title shot again, no matter how many consecutive wins he rattles off at 170 pounds. He's now been involved in two of the worst title fights in UFC history. The reality is that if he can't get his opponents to the ground somehow, he's got limited options in the Octagon. He's beat many of the guys in the division already but should test his skills next against rising contender Colby Covington, who is fresh off a unanimous decision win against Dong Hyun Kim. Tyron Woodley should rematch Robbie Lawler as we discussed earlier.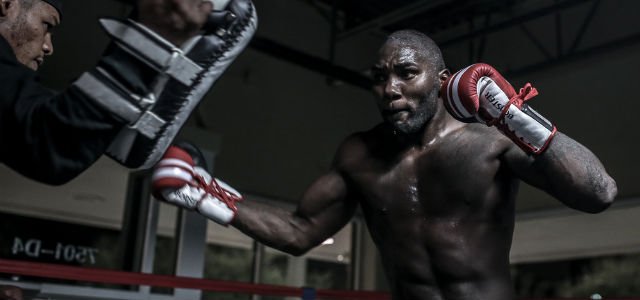 Daniel Cormier vs. Jon Jones
Daniel Cormier should go back to the heavyweight division. Jones has beat him twice, the second time coming via KO, and will have a difficult time getting a third match with the champion. With the absence of Cain Velasquez, Cormier could quickly jump into the title picture at 265 pounds. If he does go up he should be matched up with Fabricio Werdum, who is also coming off a loss against Alistair Overeem. The winner of that fight would be within reach of a title shot and would be a good stylistic match-up. While Jones will likely be looking to settle the score with Alexander Gustafsson, he should be matched up with Anthony "Rumble" Johnson. The two were scheduled to fight at UFC 187 in 2015 but Jones was removed after some trouble outside of the Octagon. While Jones and Gus put on a great performance, it would be a shame if we never got to see Jones vs. Rumble. Throw enough money at him to get him out of retirement and make that fight to headline the UFC event in November at MSG.
Jones Jones Reclaims Title; Calls Out Brock Lesnar
Jon Jones defeated Daniel Cormier in their rematch at UFC 214 to reclaim the Light Heavyweight championship. Jones looked dominate as he knocked out Cormier in the third round.
A devastating kick to the side of the head stunned the former champion Cormier. After Jones continued on the attack striking Daniel with lefts and rights until he eventually dropped. When Cormier dropped Jones punched his face in until the ref stepped in and called the fight.
This was the second time Jones beat Cormier, as he defeated him at UFC 182 two and a half years ago.
Jones did not look rusty at all, after being suspended a whole year for failing a doping test four days before UFC 200.
" I made it back."
Jones said after the fight. Jones also reflected on the fight to Dana White. 
"It's such a beautiful moment. I did a lot of right things to get back in this position. Anybody at home who let yourself down, you let your family down, you let your parents down or your co-workers down, you let yourself down, it's never over. As long as you never quit, it's never over. I'm back here."
Comier said after the fight that he thought it was going well and he did not know what happened. 
"They said I got kicked in the head. Man, that was so disappointing. I guess if you win both fights, there is no rivalry."
Jones showed gratitude to his opponent, as he spoke about being champion again.  
"I'm going to do my best to be the champion that you guys deserve to have. Daniel Cormier has been one of the biggest sources of motivation I've had in the last two-three years and I thank him for that and for pushing me to a higher level."
 After the bout Jones called out Brock Lesnar and he is hoping for a superfight.
Lesnar replied via Twitter saying
"Be careful what you wish for young man."
UFC 214 Predictions
Jimi Manuwa vs. Volkan Oezdemir
The first fight on the main card has large implications in the light heavyweight division. Although the thought of Daniel Cormier vs. Volkan Oezdemir for the light heavyweight title isn't really appealing, that's a distinct possibility should they both win. However, I don't expect Oezdemir to beat Manuwa. They're both stand up fighters and Manuwa is deceptively fast and has much more big-fight experience than his counterpart. I doubt that either one of these guys goes for a takedown but Oezdemir should seriously consider working his way into a takedown or three. Manuwa is 6-2 in the UFC with his only losses coming to Gustafsson and Johnson in that span, which is nothing to be ashamed of. He's a marketable contender across the pond since he is British and the UFC fed him a pretender, not a contender. This fight is his to lose and he won't do that. Manuwa by second-round KO is the pick.
Robbie Lawler vs. Donald Cerrone
When this fight was first announced for UFC 205, only to be pulled a few days later, I said that Lawler would kill Cerrone. A few welterweight fights later, I'm not so sure. Taking into consideration that Lawler hasn't fought since his UFC 201 KO loss to Tyron Woodley a year ago, I like Cerrone's chances much more. This fight should be entertaining, two guys who just like to slug it out in the Octagon and aren't too interested in grappling. Cerrone has shown some improved takedowns since coming to 170 pounds but Robbie Lawler was able to avoid being taken down by Johny Hendricks and Josh Koscheck so I wouldn't bet on a successful takedown from Cerrone. Although I do believe he will shoot for some takedowns or trips, Cerrone is comfortable standing on his feet and has some of the most vicious Muay Thai in the division. The winner of this fight inches closer to a title shot and may even get one after the winner of the co-main fights GSP. Cerrone's Achilles heel has always been shots to the body, which Lawler loves to land kicks on. A body shot will hurt him and follow up shots will finish him. Expect this to look a lot like Cerrone vs. Pettis. Lawler by second-round TKO is the pick.
Cris "Cyborg" vs. Tonya Evinger
I'm excited to watch Cyborg fight again because she always brings it and she is now the best female fighter on the planet. With Rousey out of the picture, Nunes backing out of UFC 213 and Holly Holm in a slump, Cyborg will finally get the push she deserves. The UFC has rewarded her with a title shot and has gifted her with an opponent who has spent her career at bantamweight. It should be pretty apparent by now that I don't expect this fight to be competitive. Most of her fights don't, she's a woman among girls and this fight is no different despite the fact that she's facing a former champion. I respect the hell out of Tonya Evinger for taking this fight at all, especially on short notice. She doesn't appear to be scared of Cyborg but that will change the first time she gets hit on Saturday night. Cyborg by first-round TKO is the pick.
Tyron Woodley vs. Demian Maia
Tyron Woodley looks to make his third consecutive title defense when he takes on Demian Maia, who's now won 7 straight since losing a unanimous decision to Rory MacDonald in 2014. This isn't the first time Maia has challenged for a title, you may recall the awful fight that headlined UFC 112 in Abu Dhabi in 2010. Maia has gotten back to his roots and has figured out a way to drag all of his previous opponents to the ground, choking out Neil Magny, Matt Brown and Carlos Condit in the last 2 years. His most recent win was a split decision over Jorge Masvidal in a fight that saw him control the second half of each of the three rounds, which the judges awarded him a controversial decision for. Woodley is coming off back-to-back decision wins over Stephen Thompson but may be looking ahead to a showdown with GSP. Woodley has great power in his hands and the wrestling chops to thwart some takedowns from Maia. The one area where we've seen him struggle in the past is with cardio and if Maia can make it through the first three rounds Woodley could be in trouble. Woodley's wrestling offense probably won't be a factor in this fight as his striking is much better than Maia's and he'll look to keep the fight standing. Maia's takedowns are difficult to train for because he's been so good at latching onto the backs of his opponents and dragging them to the ground. He gets a little too desperate with his attempts sometimes and if he does that Saturday night he will pay for it. I expect this to look a lot like Woodley's last fight with a lot of inactivity from both guys. Love him or hate him, Woodley has some of the best fight IQ in the game today and he doesn't make many mistakes inside the Octagon. He may slow down over the course of the fight but he has the power to shut the lights out on anyone in the division. It may not be the best welterweight title fight ever but Woodley will find an opening in the third and finish Maia with strikes. Woodley by third-round TKO is the pick.
Daniel Cormier vs. Jon Jones
This fight is one of the best in UFC history, not just because it features the two greatest light heavyweights ever, but also because these two genuinely hate each other. Their first fight wasn't very close, with the judges awarding Jones a 49-46 unanimous decision but a lot has changed since then. Since their first meeting in January of 2015, Jones has fought just once, against Ovince St. Preux and won by unanimous decision despite not looking like the old Jon Jones. Some guys can't handle the fame and I think Jon Jones was one of them. I think the Jon Jones we are watching now is the real "Bones," and I think he's sincerely relieved that he's made mistakes and now has a point to prove. There won't be any love lost after this fight and Cormier has made it clear that win or lose, they won't be getting along after this fight is over. Their rivalry is a lot like the one that Tito Ortiz and Chuck Liddell has and just like that one, one of these guys is clearly better than the other. Cormier will come into the Octagon with a great winning streak that includes wins over Anthony Johnson (twice), Alexander Gustafsson and Anderson Silva. Unfortunately for him, he'll also come into the Octagon with a 6-inch height and a 12-inch reach disadvantage. Jones has made a career out of beating fighters smaller than him while he's struggled with guys like Alexander Gustafsson and Glover Teixeria who he couldn't manhandle. If you were going to build the perfect fighter in the light heavyweight division, you would build Jon Jones. He towers above most of the other guys in the division, he owns a huge reach advantage over all of them, he has the wrestling to nullify most others' and his ability to mix up his kicks and punches is second to none. He reminded us against OSP that he is human and he can be beat. If he shows up Saturday night and looks no better than he did then, Cormier could win this fight. Even if Jones is rusty, Cormier will have a hard time getting inside to land his punches without taking punishment. His only clear route to victory is to somehow plant Jones on his back and that seems farfetched as well. He wasn't able to take Jones down in the last fight and he's two years older and has been hit a lot since then. Gustafsson brought the fight to him and if it weren't for a horrible game plan by "Rumble" and the towel keeping him at 205 for his last fight, he probably wouldn't be champion right now. Jones has surely been heavily tested leading up to this fight and it's entirely possible that the Jon Jones we saw have a dominant run was only the product of some enhancements. At the end of the day, Jones is too good and too big for Cormier to take this fight. Jones has something to prove and he looks relieved and poised while Cormier will have trouble bottling his emotions. Jones makes a statement and puts the entire light heavyweight and heavyweight divisions on notice. Jones by fourth-round TKO is the pick.
Weigh-in Wednesday; Is UFC 214 the best card ever?
UFC 214 is scheduled to take place this Saturday, July 29 at the Honda Center in Anaheim, California. The main event is the long-awaited and highly-anticipated rematch between Jon Jones and Daniel Cormier. These two will (hopefully) meet for the second time in three years, with this being the third time this fight has been rescheduled. The promo video the UFC dropped last week has everyone ready for this one, a chance for one of them to prove his place atop the light heavyweight division and reign supreme. The co-main event will see current champion Tyron Woodley looking for his third straight title defense, this time against BJJ wizard Demian Maia. This fight is an interesting clash of styles as the wrestler meets the submission ace. For just the third time in UFC history, a card will feature 3 title fights on the main card. The third title fight of the evening will feature the return of Cristiane "Cyborg" Justino as she takes on bantamweight transplant Tonya Evinger. Evinger and Cyborg were the featherweight and bantamweight champions in Invicta Fighting Championships at the same time, respectively. The main card will also feature a brawler's dream match-up with Robbie Lawler and Donald Cerrone after their UFC 213 bout was canceled due to injury. The final fight on the main card will feature rising, hard-hitting, light heavyweight contenders Jimi Manuwa and Volkan Oezdemir, with a potential title shot on the line. From just the main card portion, this appears to be one of the best lineups the UFC has ever put together. Although it may not break the records that UFC 202 and UFC 100 hold for PPV buys, it has potential to be 3+ hours of non-stop action. Not only do you have 3 champions defending their belts, you have a former welterweight champion in Robbie Lawler, a former lightweight title challenger in Donald Cerrone and the first fight could determine who fights the winner of the main event. If this card doesn't lose any more fights, it could be the best main card in UFC history.
Jon Jones vs. Daniel Cormier
Grade: A+
A couple of weeks ago, I'd have given this a B+ or A- at best. The first fight was not especially close, and just because Cormier wants to beat Jon Jones and has elevated his level of trash talking doesn't mean this fight is any more competitive this time around. The promo the UFC released last week changed my tune on this fight and has everyone drooling for the cage door to lock behind these two. This does feel like a redemption story for Jon Jones, and I think the promo video revolving solely around him will spark a fire for Cormier and elevate his game. There are a lot of questions coming into this fight and I think we will get a lot of answers in the first round. Cormier nearly missed weight in his last title defense against Anthony "Rumble" Johnson and he looked completely drained. Jones looked human in his last fight for the first time in a while so that could even the playing field. This may not be a competitive fight but I'm excited to see the two best light heavyweights in history run it back.
Tyron Woodley vs. Demian Maia
Grade: C
It's not that I don't like this fight, it's just that this fight features Demian Maia. With all due respect to his ground skills, his striking game is otherworldly pathetic. If he can't figure out a way to latch onto Woodley's back or get him to the ground, it will be a very short night for him. The only thing worse than his striking defense is his striking offense. However, to his credit, he hasn't needed to use that too much since making the drop to 170 pounds. Woodley's first fight with Thompson was incredible while their second left a lot to be desired. He's anxious to win over the fans in the UFC but he can't afford to have another lackluster performance like he had in his last fight. If he wants to win over the fans, he needs to bite down on his mouth piece and end this fight like he did the Koscheck and Lawler fights. Alternatively, the UFC had no other booking options. It was apparent they wanted Jorge Masvidal to beat Maia so they could sell a title fight between strikers with brutal knockout power, but Masvidal did what he does best in close fights and lost a split decision, bringing his total to 4. Both of these guys offer unique challenges to Georges St. Pierre's throne should he return to the division he once ruled. I'm still not sure what to expect from these two other than lots of feeling each other out.
"Cyborg" vs. Tonya Evinger
Grade: B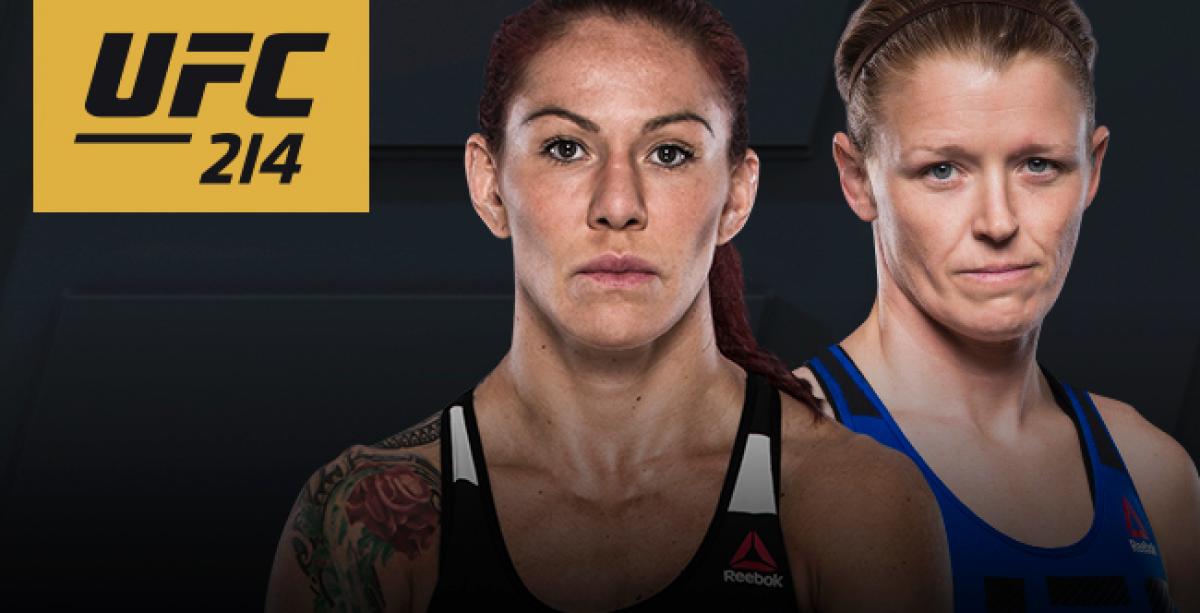 While Evinger is fairly unknown and this being her debut in the UFC, it's evident that they are ready to crown "Cyborg" the new featherweight champion. You have to admire Evinger's courage for taking this fight on short notice but she's being fed to the lions here. Dana White admitted last week to making some mistakes along the way with Cyborg and this is what she gets in return, a fight that she wins 99 times out of 100. She's been to decision just twice in her 19-fight career, winning 15 of those by KO/TKO. There wasn't a lot of people willing to fight Cyborg, Germaine de Randamie gave up her belt to avoid it and that should tell you everything you need to know about the baddest woman on the planet. The only women I think could be competitive in the Octagon with her are Nunes and Shevchenko. This fight won't be competitive at all but we will get to see another highlight-reel knockout for Cyborg and it won't take long.
Robbie Lawler vs. Donald Cerrone
Grade: A+
This fight would be amazing if these two weren't ranked in the welterweight division so the fact that they are makes it much more intriguing. Lawler hasn't been seen in the Octagon since he was knocked out in the first round last July by current champion Tyron Woodley. Cerrone hasn't been in the Octagon since January when he was knocked out by Jorge Masvidal. It's crazy to think that the 6 months away from the Octagon is the second-longest streak he's been away in his 24-fight, 6-year UFC career. Although he's improved his takedowns and is much more efficient with them lately, Cerrone is still a brawler that would prefer to stand and trade. His counterpart will gladly oblige and this fight shouldn't make it to the judges' scorecards. The jump to welterweight hasn't slowed Cerrone down much as he's tasted defeat only once, which came in his most recent fight. Prior to that he had finished 4 straight opponents, with his final three coming via knockout. Lawler had his career resurgence halted after he ate a right hand from Tyron Woodley at UFC 201. The former champion still finds himself at the top of the division even though he's not had a contest since. A win here doesn't get either of these guys a title shot but it gets one of them within reach. I don't care which one it is and you shouldn't either. Enjoy this fight.
Jimi Manuwa vs. Volkan Oezdemir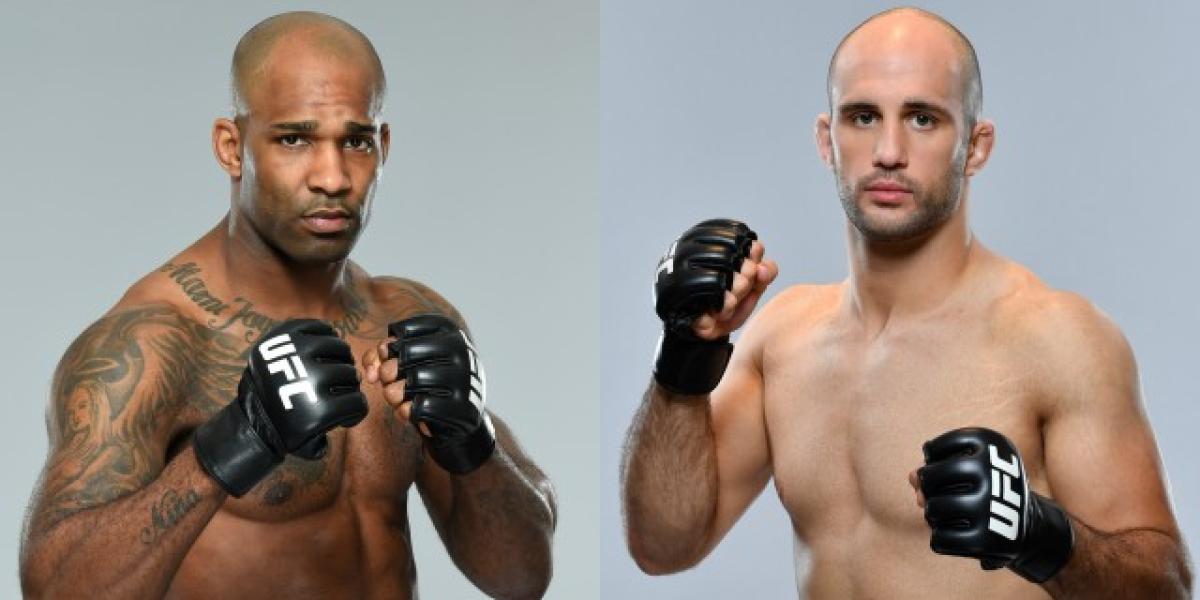 Grade: A
I'm not giving this fight an A because it's a bout that everyone is looking forward to. Although that isn't the case either, I do think this is a fight that is flying under the radar on this card. I'm giving this fight an A because should something happen to one of the men involved in the main event, Jimi Manuwa is stepping in and will get the opportunity of a lifetime. Although no one other than Jimi would want that to happen, I don't think anyone would be shocked if this fight got rescheduled again for some reason. Oezdemir isn't a big name in the light heavyweight division yet but he's caught the attention of the matchmakers by taking out Ovince St. Preux and Misha Cirkunov in his first two fights, the latter a 28-second KO. Manuwa's only two losses in the UFC have come to 2-time title challengers Alexander Gustafsson and Anthony Johnson. He's knocked out Ovince St. Preux and Corey Anderson back-to-back to get this opportunity. If Jon Jones wins the main event, I look for the winner of this fight to battle DC for the next shot while Jones looks for revenge on Gustafsson.
UFC on FOX 25 Predictions
Jimmie Rivera vs. Thomas Almeida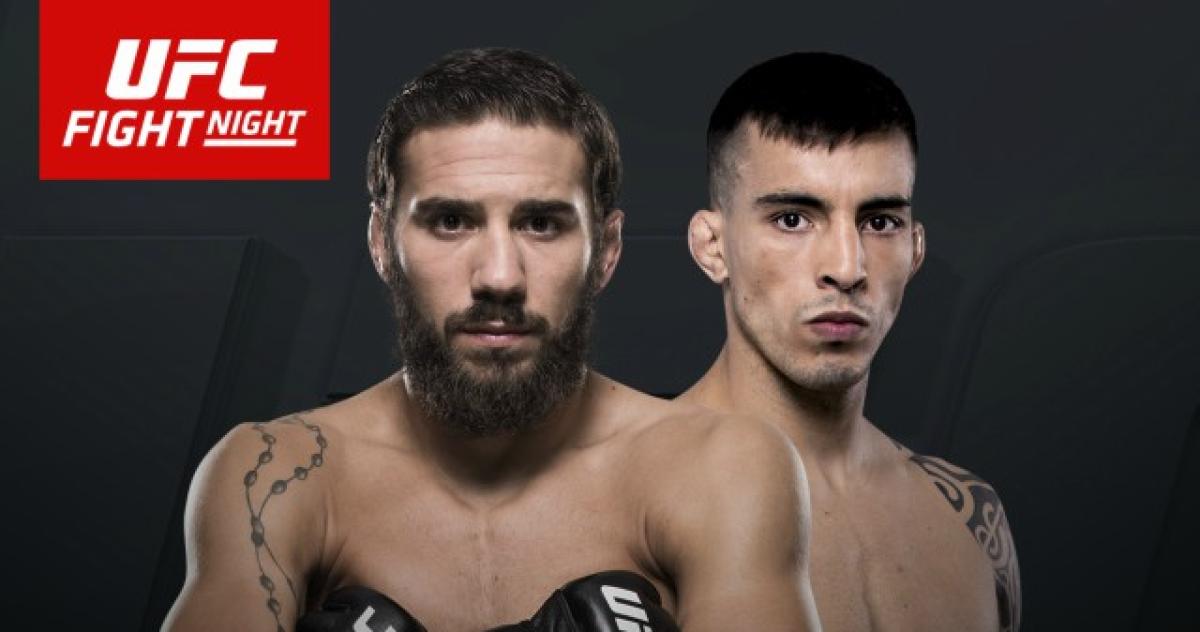 The winner of the opening bout on the main card will be in great position to challenge for a title in 2018. With Garbrandt and Dillashaw's fight still unscheduled, they will most likely lock horns in the final quarter of 2017. A win for Rivera should net him a title shot but a win for Almeida likely keeps him one fight away, having already suffered a knockout loss to the champion in May of last year. Rivera is coming off the most impressive win of his career, a unanimous decision over Urijah Faber, who was at that point undefeated in the bantamweight division in non-title fights. Almeida got back on track after his knockout loss to Garbrandt with a knockout win over Albert Morales in November of last year. Neither fighter has fought in 2017 yet, with Rivera's bout with Bryan Caraway being canceled last minute in January. Rivera only has 4 fights in the UFC but he has climbed the ladder quickly, coming into the UFC with only one loss in his professional MMA career. While he has only one finish, he was able to stifle the attack of Faber and take him the distance, a feat which not many can claim. His opponent has a knack for the finish, winning all but 1 of his 5 fights by finish, and an impressive 20 of his 22 overall professional fights by finish. If Rivera can plant Almeida on his back, he could cruise to a unanimous decision. However, he will be at a 3-inch height and a 5-inch reach disadvantage and that will make his shots harder and Almeida fights long. Almeida is a brown belt in BJJ and could reach for submissions if the fight reaches the canvas, and I do expect it to at some point. Almeida's height and reach will determine this fight and he will find an opening early in the second round, winning by TKO.
Patrick Cummins vs. Gian Villante
With all due respect to these fighters, the fact that both of them are ranked in the top-15 in the light heavyweight division shows how truly weak it is. The fourth-ranked fighter in that division, Volkan Oezdemir, has just two fights in the UFC and lost his final fight in Bellator. That's great news for two guys who are no the main card of a FOX-televised event, with a chance to make a big splash in a shallow division. Cummins is 5-4 in the UFC while his opponent is 5-5. Looking at the competition they both have faced, it's easy to see why they are hovering around .500 in the UFC. They've lost collectively and respectfully to Ovince St. Preux, Shogun Rua, Glover Teixeira and Daniel Cormier. They've both beat up on some of the division's lower rankings but have been fed to the wolves too early in their respective careers. Nonetheless, here we are as they are set to do battle on a big stage in New York. Cummins is a wrestler by trade but has knockout power in his fists and is a massive light heavyweight on fight night. Villante does stand an inch taller at 6'3" and boasts impressive power as well, finishing 4 of his 5 UFC bouts. Both guys are works in progress with backgrounds in wrestling, while Villante should look to get this fight standing as he has much better striking at range. Cummins has extremely underrated wrestling and will look to get the fight to the mat. He'll be able to do just that en route to a unanimous decision.
Dennis Bermudez vs. Darren Elkins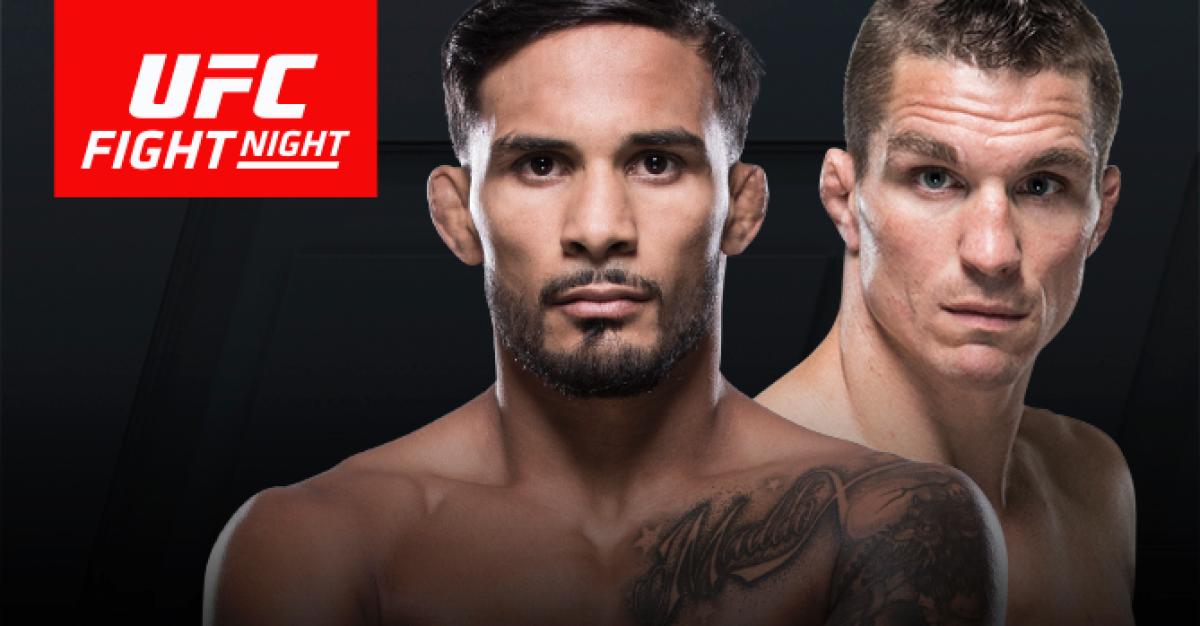 These two guys are essentially exact replicas of each other. They are both grinders with unlimited gas tanks, solid striking and great grappling skills. This will be an interesting bout because I'm not sure that either of these guys is any better than the other, although it would appear on the surface that Bermudez is the better athlete and superior fighter. Elkins is a 16-fight veteran sporting an impressive 12-4 record, losing only to Charles Oliveira, Chad Mendes, Jeremy Stephens and Hacran Diaz, respectively. His last bout was an impressive comeback against Mirsad Bektic and netted him his first stoppage win since 2013. He's a featherweight version of Jon Fitch, like it or not. He's a former state championship wrestler from Indiana that has been able to ground the majority of his opposition in the UFC and he'll look to do the same again Saturday night. Bermudez lost his first official UFC bout against Diego Brandao at The Ultimate Fighter 14 Finale but would go on to win 7 straight. He then lost back-to-back fights against top contenders Ricardo Lamas and Jeremy Stephens. He's just 2-3 in his last 5, losing by finish in all 3 of those contests, his most recent a one-punch KO against the returning Korean Zombie Chan Sung Jung. They are currently ranked 11th and 12th in the 145 pound division and a win will get one of them a top-10 opponent. Elkins is 3 years the elder and will own a 4-inch height and 5-inch reach advantage on fight night. Elkins is deceptively strong and Bermudez will find himself fighting for position from the opening bell. Elkins' biggest problem in the UFC has been finishing fights and he will continue to look for it. Bermudez will be taken down and find himself in uncomfortable positions, but he's been there before and bounced back. I expect him to do the same here to take a close, split decision.
Chris Weidman vs. Kelvin Gastelum
This fight really isn't being talked about as much as it should be. This is a bout with massive implications in a weight class that is in flux. Both of these guys desperately need a win, and Weidman may need a win to keep his job. Another knockout loss for him would be four in a row and may send him to the unemployment line, although that is still unlikely as he's faced some of the best in the weight class. The Chris Weidman that dominated Anderson Silva, Lyoto Machida and Vitor Belfort appears to be long gone for whatever reason. He doesn't have the same confidence he once had and has struggled to get his wrestling going. Kelvin Gastelum needs this win, and to pass a post-fight drug test, and with that he may find himself very close to a title shot. Although he's said that he will call for a title shot with a win here, he won't get that just yet. The champion is still healing his knee and is set to take on interim champion Robert Whittaker to unify the middleweight belts. With that said, a win for Gastelum will most likely net him a title eliminator bout against Rockhold, Romero or Jacare Souza. The division is suddenly wide open with the champion and interim champion set to lock horns and Gegard Mousasi bolting to Bellator. Chris Weidman has dropped three straight and is somehow still ranked sixth in the division, but will also find himself at least one more win away from a title opportunity. These two are very similar just like the last matchup we looked at. Both guys have wrestling backgrounds but have shown improved standup. Weidman's biggest downfall appears to be his cardio while Gastelum really hasn't shown many holes in his game aside from giving up takedowns to Neil Magny. Weidman is 33 while Gastelum is very young at the age of 25, and Weidman will own a 5-inch height and a 7-inch reach advantage. The height and reach will come into play for Weidman if he fights smart. However, the longer the fight goes, the more it favors the younger Gastelum. Weidman faded late in title fights against Luke Rockold and Lyoto Machida while Gastelum proved he can go 5 full rounds by taking over late against Magny back in November of 2015. Both fighters have fought and finished Vitor Belfort but Weidman needed to overcome an early barrage of punches and ground the former light heavyweight champion to win his bout. His opponent was able to beat Vitor Belfort in the first round, where he's most dangerous, on the feet and picked him apart. That was Gastelum's biggest win of his career but it has since been ruled a no contest due to a positive post-fight drug test for marijuana metabolites. Hopefully he's put his weight issues behind him at 185 pounds, and if he's motivated on Saturday I look for him to finish this fight. I called for a second-round TKO earlier in the week but I've got more faith in Weidman than that. I think it will be the same result but that it will come later in the fight, Gastelum by fourth-round TKO is the pick.
Weigh-in Wednesday; Weidman vs. Gastelum
Saturday night's main event will feature two guys at completely different places in their career in Uniondale, NY. Weidman will be the hometown favorite as he grew up just a few miles away in Baldwin, NY. His last fight in New York did not go according to plan with a controversial TKO loss to Gegard Mousasi. Although controversy surrounds that fight, he was in big trouble against Mousasi and has now been stopped in three straight fights. For most of the fighters in the UFC that would signal the end of their tenure, but Weidman is a former middleweight champion and is still ranked #6 in a strange division. Bisping is out for the immediate future and will lock horns with interim champion Robert Whittaker in his next fight to unify the belts. Luke Rockhold hasn't been seen since last June when he suffered a KO loss to Bisping in his title fight and currently does not have a bout scheduled. Yoel Romero and Jacare Souza are both coming off losses to the aforementioned Whittaker while Anderson Silva has recently called out Nick Diaz for a rematch. The bottom line is we have a fight between a former champion who has lost 3 straight and a former welterweight who had his most recent stoppage of Vitor Belfort overturned because of a positive test for marijuana. Despite all of that, the winner of this bout inches closer to title contention and is likely just one more win away from a shot at gold. Weidman cemented his place in history by doing the unthinkable, he beat Anderson Silva, twice. While both fights ended in bizarre fashion, he got the victories nonetheless and went on to defend his title against Lyoto Machida and Vitor Belfort. He found himself against a very hungry Luke Rockhold in his fifth title bout and lost the title via fourth-round TKO. He then ate a flying knee at the beginning of the third round against Olympic medalist Yoel Romero in a highlight-reel knockout.
Kelvin Gastelum started out his career as a middleweight appearing on The Ultimate Fighter 17 and shocked the world when he defeated Uriah Hall by decision in the finale. He then decided to move down to welterweight, being undersized at 185 pounds at just 5'9". He won four straight at 170 pounds before losing to current champion Tyron Woodley, losing only to him and Neil Magny while going 5-2 in the division. Losing to both of those guys is totally respectable, but he missed weight on three different occasions with the final time being at UFC 205 against Donald Cerrone, a bout that was canceled. After missing weight at UFC 205, Dana White said that he would never be allowed to fight at 170 pounds again and was dismissed to the middleweight division. Just a month later at UFC 206, he went on to defeat veteran Tim Kennedy via third-round TKO and made quite the impression. His performance earned him a bout with multiple-time title challenger Vitor Belfort and he made quick work of him, finishing him with strikes in the first round. He then failed a post-fight drug test for marijuana metabolites and the decision against Vitor was overturned and he was removed from the middleweight rankings. Not being ranked right now doesn't hurt him much as a win should net him another top-five opponent with Gegard Mousasi out of the picture after signing with Bellator.
This is a very interesting fight as well, pitting two guys with wrestling backgrounds against each other. Don't let that fool you into thinking this will be a wrestling match because both guys have good stand up games as well. Weidman fell in love with his knockout power after the Mark Munoz and Anderson Silva fights but he needs to get back to his wrestling roots and figure out a way to ground Gastelum. He was a two-time Division I All-American at Hofstra University and became the first junior in history to be crowned NYS Collegiate Champion. Gastelum was a state champion wrestler at Cibola High School in Arizona. He gained his fame by being the last pick on The Ultimate Fighter and defeating Uriah Hall as a big underdog. His striking has continued to improve with every fight, his last performance showed us his willingness to stand and trade with Vitor Belfort, which usually doesn't turn out well for people. I look for this fight to stay mostly standing, but Neil Magny was able to get Kelvin down and I expect Weidman to be able to do the same should he choose to do so. 5 of Gastelum's 9 UFC wins have come via stoppage while Weidman has finished 6 of his 9. With that said, I don't expect this bout to make it to the judges' scorecards for a couple of different reasons. Both fighters are extremely aggressive but not overly so, while Weidman tends to fade late in his fights and we saw Gastelum rally late in the fourth and fifth rounds against Magny. For whatever reason, Weidman has had a huge fall from grace and the only immediate names that come to mind that have suffered like he has are Johny Hendricks and Anthony Pettis. While both of those guys recently got back on track in new divisions, I think Weidman continues to struggle. He doesn't fight with the same confidence he had when he knocked Anderson Silva out cold and Gastelum is not going to back down. I expect a fun but short bout and a second-round TKO for Gastelum to move within reaching distance of a title shot.
Weigh-In Wednesday; A Star is Born
Justin Gaethje. If you didn't know that name prior to this weekend, you surely do now. He's one of the few of a dying breed—UFC fighters that aren't necessarily out to win but to put on a spectacular showing for the fans, trading concussions and broken bones for cheers and bonus money. With his Friday night main event win over fifth-ranked Michael Johnson, he moves his win total to 18, while finishing 16 of those wins in his professional career. He doesn't approach fights with technique, he doesn't fight cautiously, he goes out to impress the fans and his bosses but has somehow remained undefeated against some of the best other promotions have had to offer. Many were skeptical of his chances against a fighter who's been a perennial contender in a stacked lightweight division. Bellator and Strikeforce transplants haven't always fared so well in the UFC when making the transition over, especially in their first fight with the promotion. He was the most talked about individual from a weekend that also featured a PPV with former world champions that also featured the first Australian-born champion in UFC history.
For the last 4 years, Gaethje has run the World Series of Fighting's lightweight division, winning the title in his fourth appearance with the promotion. He would go on to defend the title 6 more times before bolting to the UFC in free agency, turning down an offer from Bellator MMA in the process. While many UFC fighters are heading to Bellator for the opportunities with sponsors, Gaethje was vocal this week about his decision to head to the UFC because of its name value. While there is potentially more money to be made in Bellator for a big name or a champion, most fans relate MMA only to the UFC and its massive promotion. His back-to-back wars with Luis Palomino undoubtedly took years off his life, but they made him famous amongst hardcore MMA fans and caught the attention of UFC President Dana White. It's his fighting style and his aggression that has lead him to stardom, and with the backing of Dana White, the sky is the limit for the 28-year-old.
However, Dana White was quoted yesterday as saying that if Khabib isn't ready to fight, Ferguson vs Gaethje for the interim title may be the fight to make.
There are a lot of options currently for the first-time UFC fighter, and you'd have to go back a long time to find a fighter that had this much hype behind him/her after his/her first appearance. He was asked on multiple occasions after the fight what is next and he gave the best answer possible—whoever. With Conor McGregor out for the immediate future, there are only a few names that make sense for him rankings-wise. Tony Ferguson and Khabib Nurmagomedov have unfinished business and they may very well fight for an interim title, a bout which has already been scheduled twice to be canceled. However, Dana White was quoted yesterday as saying that if Khabib isn't ready to fight, Ferguson vs Gaethje for the interim title may be the fight to make. There would be a lot of unhappy people should that be the case, but the landscape of the lightweight division is strange right now to say the least. Edson Barboza, Eddie Alvarez, Dustin Poirier and Kevin Lee are all without a fight currently.
Ferugson vs. Gaethje would give us a great fight between guys who are very similar in style, both guys are brawlers with backgrounds in wrestling. There are also rumors swirling of a potential match-up with Eddie Alvarez, which isn't nearly as exciting in my opinion. Alvarez made a name for himself in Bellator with his willingness to trade punches and put on exciting fights, but he's done the exact opposite in the UFC. He used his wrestling to exploit the weakness of Anthony Pettis, he grinded Gilbert Melendez on the fence and he was used as a human punching bag against Conor McGregor. Regardless of his next move, Gaethje will get a big fight. If he doesn't find himself in an interim title fight, he will likely find himself just one more fight from a title shot, depending on what happens with McGregor, Ferguson and Khabib. The TUF Finale salaries were revealed today and Gaethje found himself at the top of the list with his UFC debut, netting $200k plus his performance bonus. That's more money than he ever made for one fight in WSOF and he's just getting started. Don't be too surprised if he finds himself in a co-main on a PPV for his next trip to the Octagon.
UFC 213 Predictions
Anthony Pettis vs. Jim Miller
Anthony Pettis makes his return to the division he once ruled after a failed attempt to make weight in an interim title fight against Max Holloway at UFC 206. Pettis fell short against Holloway, who would then go on to become the undisputed champion at 145 pounds when he stopped Jose Aldo. Pettis is just 1-4 in his last 5 and is set to take on one of the most resilient fighters at 155 pounds in Jim Miller. Pettis' submissions are extremely underrated thanks mostly in part to his unorthodox striking and high-volume kicking game. He will look to keep this fight standing but is rather comfortable off his back, with takedown defense being his only true hole. Jim Miller had a three-fight winning streak snapped back at UFC 208 when he lost a unanimous decision to surging lightweight Dustin Poirier. He finds himself far from the title picture and a loss here likely makes a run to the top impossible. He has a great all-around game and few can match his pace over the course of a 15-minute fight. His underrated boxing, solid ground skills and grinding style have led him to a UFC-record 17 lightweight wins. He'll likely go down as one of the best to never win a title, although a win here may get him closer to a title shot than ever before. Although Pettis has not impressed in his last few fights, he's still a huge name for the division and a win over a veteran like Pettis should get him a top-10 opponent. Although this may seem like your traditional striker vs. grappler match-up, that is not the case here. Miller's striking and Pettis' submissions are both highly underrated as previously stated. Clay Guida laid the blueprint for beating Pettis in his UFC debut and Miller is better in every aspect than Guida. A unanimous decision is the pick with the chance of a late stoppage by Miller.
Alistair Overeem vs. Fabricio Werdum
Overeem and Werdum will meet for the third time this weekend. Their first fight came all the way back in 2006 in Pride while their second meeting came under the Strikeforce banner in 2011. The first fight saw Overeem take Werdum down on multiple occasions even though he was winning the majority of the striking exchanges and was known purely as a grappler. The second fight saw Werdum channel his inner Demian Maia and try to lure Overeem into his guard and getting dropped with punches. They have both improved drastically since the last time they met. The move to Jackson Wink has paid dividends for Overeem as he has gone 5-2 since joining the world-famous gym, with the only losses coming to Ben Rothwell and current champion Stipe Miocic. He's been much more patient in his fighting style since, leaving behind the Overeem that was good for one solid round to fade later. Werdum has improved his striking as well, putting on a clinic against then-champion Cain Velasquez at UFC 188. This fight should take place mostly on the feet as Overeem has always had good takedown defense and he won't make the same mistake he made in the first fight. Although he is comfortable on the ground, Werdum is one of the best submission artists in the UFC and would oblige to be on his back against the Dutchman. If this fight hits the ground, look for Werdum to try and lock up some limbs. He may even fall down willingly to try and lure Overeem into his guard, but it won't work. Overeem will avoid the takedowns and punish Werdum on the feet en route to a unanimous decision.
Robert Whittaker vs. Yoel Romero
Styles make fights. That has held true since the beginning of MMA and it is just as true today. Sometimes the MMA gods give us fights that just promise violence with no chance of a lame fight. Look no further than this fight here as proof. Throw in the fact that an interim title is up for grabs and a shot at Michael Bisping to unify and we have one of the best matches in recent memory. Both guys fight patiently but both can end the fight in the blink of an eye. If you don't believe me watch Whittaker's fight against Jacare and Romero's fight against Weidman. The only two men to beat Jacare in the UFC lock horns and will throw leather until one of them falls. This fight will not go five rounds. Romero is an Olympic medalist in freestyle wrestling but has fallen in love with the power in his limbs. He is undefeated in the UFC with impressive wins over Derek Brunson, Jacare Souza, Chris Weidman and Lyoto Machida. He hasn't risen to the top without some controversy though as he sat on his stool in between the second and third rounds of his battle with Tim Kennedy for an extended period of time, an act otherwise known as "stoolgate." He then tested positive for an out-of-competition drug test that ended up resulting in a six-month suspension. Robert Whittaker rose to fame as an Australian fighting as a welterweight during The Ultimate Fighter: The Smashes, winning the season in the finals against Brad Soctt. He enjoyed mixed success at 170 pounds, going 3-2 before deciding to move up to 185 pounds. That decision was the best of his short career as he has gone 6-0 at middleweight, facing increasingly tougher competition every time. Although Romero has a distinct advantage in the grappling department, he's been content to trade punches with the majority of his opponents in the UFC and I don't expect that to change here. Sometimes we get too caught up in trying to predict fights and their outcomes but I'm not going to do that here. If you are a fan of violence and gore, watch this fight and enjoy it. Whittaker by third-round TKO is the pick.
Amanda Nunes vs. Valentina Shevchenko
It wasn't all that long ago that these two met and had a great, back-and-forth contest that went to the judges. Unfortunately for them, their fight didn't make too many splashes because the world was focused on Rousey, Tate, Holm and Cyborg. Their fight was also the opening act for a PPV that was headlined by Conor McGregor and Nate Diaz, which obviously stole the show and the spotlight. Amanda Nunes is fresh off the biggest win of her career, a 48-second pounding of Ronda Rousey at UFC 207 back in December of 2016. In her 18-fight professional MMA career, Shevchenko is the only opponent to ever take her to a decision and that makes this fight all the more interesting. It should also be noted that she has never seen the fourth round in any of her MMA contests, with this one scheduled for 5 rounds. Shevchenko is coming off a second-round submission of Julianna Pena and a unanimous decision over former champion Holly Holm. While Shevchenko has not seen the judges many times in her career either, she has shown that she has the gas tank to go five rounds without slowing down, while I'm not sure the same can be said for her opponent. Nunes comes forward and throws a lot of strikes, often wearing expending a lot of energy early on. As you can see from her past two fights, a lot of those strikes land and all of them do damage. She is a fearless fighter and will back down from no one, she will push the pace and look for the knockout shot. Unfortunately for her, Shevchenko has good striking defense and well-timed counters. The champion will win a round or two early but fade later in the championship rounds. Shevchenko takes over after round 2 and cruises to a comfortable decision in a great fight.
Weigh-in Wednesday; UFC vs. Bellator
It seems strange talking about a free UFC card and a Bellator PPV card being on the same weekend as the roles are usually reversed. Bellator NYC aired Saturday night while the UFC's free card in Oklahoma City aired on Sunday night. Looking back, neither card impressed a whole lot. The Bellator card was stacked with some of the biggest names in MMA, yet it still seems odd that the 2 main even fights (as described by them) were ahead of 3 title fights on the card.
Phil Davis and Ryan Bader and their light heavyweight title fight were buried on the prelims of Bellator 180 on free TV channel Spike. Their fight was less than thrilling, much like their first encounter, but that still seems like a slap in the face, especially since both men were big names from the UFC. The rest of the card saw the best welterweight in the world, as told by Scott Coker, Douglas Lima defend his title against newcomer Lorenz Larkin on the opening fight of the PPV portion. That fight failed to live up to its hype as well, with a rather easy decision win for the defending champion. The second fight on the prelims saw one of MMA's hottest prospects in Aaron Pico tap to a guillotine choke in just 24 seconds. Billed as the next big thing in MMA, the hype train was derailed quickly by Zach Freeman, who did exactly as he said when he shocked the world. The third fight on the card featured a title fight between defending champion Michael Chandler and undefeated prospect Brent Primus. This fight ended in bizarre fashion as the NYSAC-appointed referee called the doctors in to look at Chandler's ankle, which had him hobbled, without an illegal strike occurring. The doctors, shortly thereafter, waved off the fight and the title switched hands in a less-than-desirable fashion.
The first of two main events featured MMA great Fedor Emelianenko against former UFC heavyweight Matt Mitrione. Their fight was cut short in the first round when a double knockdown occurred but Mitrione was able to recover first and land a few more strikes to steal the win. The main event saw Chael Sonnen doing what he does best, talking trash and outwrestling his opponent. He took a unanimous decision from Bellator newcomer Wanderlei Silva, although their rivalry seems far from over. Chael reminded the crowd how much he hates New York, called out Fedor for a fight (and for wanting an autograph) and was subsequently pushed by Silva on his way out of the ring. In a nutshell, that was Bellator's PPV in Madison Square Garden and it did not go the way they wanted it to. Scott Coker predicts this card to have done around a quarter-million buys, saying that anything over 300k buys would be a big hit.
UFC Fight Night 112 was headlined by lightweight contenders Michael Chiesa and Kevin Lee. This fight was a grudge match in the making, with Lee and Chiesa throwing punches at a press conference months ago when Lee referenced his opponent's mother. This fight was supposed to produce a future title contender at 155 pounds but instead it has been clouded with controversy. Lee had a deep rear-naked choke sunk in on Chiesa and although Chiesa looked to be in trouble, the fight was called off by Mario Yamasaki prematurely. The media, the fighters and even Dana White have let him know how they feel about the early stoppage. A rematch between the two seems inevitable but Lee was able to successfully pick a fight with second-ranked Tony Ferguson after the show.
The main card kicked off with former champion BJ Penn taking on Dennis Siver. BJ looked nothing like the fighter who held titles in two weight classes, getting beat by unanimous decision in rather convincing fashion. Aside from a counter punch that dropped Siver, he had nothing to offer to German and his kickboxing. The second fight between Tim Means and Alex Garcia was a close contest with Means taking a unanimous decision and climbing higher up the welterweight ladder. The light heavyweight division was put on notice in the third fight with newcomer Dominick Reyes ending Joachim Christensen's night in just 29 seconds with hard lefts. Reyes has now finished 6 of his 7 professional MMA fights in the first round and is a name to watch in the future. Felice Herrig and Justine Kish experienced their own strange night, with Kish losing control of her bowels at some point in the fight and being taken to a decision. The co-main event saw Johny Hendricks, who now missed weight as a 185-pound fighter, lose to longtime middleweight Tim Boetsch with a high kick and follow-up uppercuts. The main event sealed the MMA universe's fate for the weekend with a bizarre ending to a great main event fight.
In summary, neither promotion's fight cards went the way they probably wanted them to. A new lightweight title contender was supposed to emerge, MMA's next big thing was supposed to win easily, Larkin and Lima were supposed to go to war with their fists. None of those things happened. It wasn't all bad news for the promotions though as Zach Freeman and Dominick Reyes emerged as potential future stars. Neither promotion had a complete fail of a weekend, but the UFC had a few top 10 stars on their card while Bellator had all of their stars on theirs.
The State of the MMA Division; Bantamweight
The State of the Division Bantamweight
The 135-pound belt was put on hold when news broke in the last few weeks that Cody Garbrandt may not be ready for his UFC 213 showdown with former teammate TJ Dillashaw. The news was later confirmed by Dana White that they wouldn't be able to meet in July and would have to put their fight on hold. News then broke that Dillashaw was interested in dropping down to flyweight to challenge Demetrious Johnson for the 125-pound title. Uncle Dana seems to be on board for that fight but Mighty Mouse said he is expecting a clash with fast-rising contender Ray Borg. With only one more win needed to break Anderson Silva's title defense record, it's easy to see why he would prefer to face Borg instead of Dillashaw, a former bantamweight title holder. If Borg ends up getting the title shot I fully expect Dillashaw and Garbrandt to settle their differences in the fall or winter of 2017.
Dominick Cruz is a wild card in the division, a champion who never truly lost his title but was stripped of it due to inactivity. If Dillashaw does go down to flyweight I would expect Cruz to challenge Garbrandt for a rematch. The landscape of the division gets a little unclear aside from those top 3 in the division. Raphael Assuncao is set to take on UFC newcomer and former WSOF bantamweight champion Marlon Moraes, who is currently riding a 13-fight win streak. That fight could very well decide a future title contender, as could the upcoming match-up between fifth-ranked Jimmie Rivera and tenth-ranked Thomas Almeida, who meet on July 22 in New York. The sixth through eighth-ranked fighters John Lineker, John Dodson and Bryan Caraway are all currently waiting for a fight.
Lineker had a nice win streak halted at UFC 207 when he was beat by Dillashaw while Dodson was able to beat former title challenger Eddie Wineland last month. Caraway hasn't been in the Octagon in over a year but was successful in his last trip when he took a split decision from Aljamain Sterling. Sterling has since bounced back with a win over Augusto Mendes last month and is now booked for a fight with Renan Barao in his return fight to the 135-pound division. Although he is a former title holder, Barao has a long way to go to get back to the top, he hasn't looked like the same fighter since his loss to Dillashaw back at UFC 173 when he lost the title. He's gone 2-2 since that loss, losing a second fight to Dillashaw and dropping his featherweight debut against Jeremy Stephens.
There aren't many young prospects or newcomers to watch for in this division but one name to keep an eye on is Tom Duquesnoy.
John Dodson is currently without a fight and a match-up with Caraway would make great sense. The two-time flyweight title challenger does own a finish of TJ Dillashaw and finds himself in great position in a somewhat thin division. A fight with Caraway would surely boost one of them into the top 5 and a marquee match-up. Jimmie Rivera may be the closest in the division to a title shot, especially if he can win his upcoming fight against Thomas Almeida. He is currently riding a 19-fight unbeaten streak and has wins over Urijah Faber and Iuri Alcantara in his two most recent fights. There aren't many young prospects or newcomers to watch for in this division but one name to keep an eye on is Tom Duquesnoy. He has an extremely aggressive fighting style and has finished 12 of his 15 professional fights, which we know that Dana White loves.
Marlon Moraes is expected to make his promotional debut this weekend at UFC 212 against perennial contender Raphael Assuncao. If he can get past Assuncao, he will prove that be belongs in the upper echelon of the bantamweight division and will likely find himself in a title shot or eliminator. It will be interesting to see how he looks by taking a big step up in competition in the UFC. The two are very similar in their fighting styles and should make for an entertaining fight as they headline the UFC 212 prelims. Assuncao's ability to stay healthy in the last few years has taken some time away from the prime of his career, as this will be just his third fight in as many years. He was able to shake off the rust after his loss to Dillashaw at UFC 200 and bounced back in January with a split decision win against Aljamain Sterling.
Cody Garbrandt sits atop the throne at 135 pounds and appears to be mending some injuries for the time being. When he is able to return to action, he has a list of formidable opponents who could challenge for his belt. Mighty Mouse doesn't seem too thrilled about the prospect of a fight with Dillashaw, for whatever reason. With that said, I would expect Garbrandt to defend his title by the end of 2017 against Dillashaw. There are a lot of fights on the horizon that could produce the next title challenger and it may very well come down to whoever has the most impressive performance. I expect the next title challenger to be Jimmie Rivera. He was able to knock off Urijah Faber and if he can stop Thomas Almeida, he should set himself up for a title shot by the end of the year or beginning of next.