Women's Wrestling Wrap-Up
Welcome to the latest edition of the Women's Wrestling Wrap-Up, which details everything in women's wrestling in the past week, beginning with Monday's Raw.
Due to the injury to Bayley's shoulder, two Triple Threat matches were set for Raw, with the two winners facing each other in a #1 Contender's Match. In the first one, Sasha Banks defeated Alicia Fox and Emma, while the second one saw Nia Jax defeat Mickie James and Dana Brooke, setting up Sasha vs Nia. On SmackDown, Lana's attempt to challenge Charlotte fell flat, as Charlotte defeated the Ravishing Russian. Lana was later mocked by Tamina, who decided to plan out how Lana could get an opportunity for her. Later on, Carmella was victorious over Naomi, thanks to the returning James Ellsworth.
Neither Wednesday program (Lucha Underground and NXT) saw in-ring action from the women, though we did see Zelina Vega manage Andrade "Cien" Almas to victory over No Way Jose, and then answer Johnny Gargano's open challenge for Takeover. Thursday's Impact featured Karen Jarrett announce that Gail Kim will challenge Sienna for the Unified Knockouts Championship. Other than that, we saw the continuation of the Laurel Van Ness angle, as she stopped Kongo Kong from continuing his assault on Grado, who has been pursuing LVN in recent weeks.
Meanwhile, outside the ring, it was announced that Angelina Love is officially done with GFW, six months after returning to what was then known as TNA. Angelina's return came in February, as she and Alisha Edwards were both in support of Eddie Edwards during his World Title rematch against Lashley. The ending saw Eddie's longtime tag team partner, Davey Richards, turn on Eddie and prevent him from regaining the title, and included in the betrayal was Angelina becoming a villainess and attacking Alisha. The events started a feud between the couples, which came to a head at Slammiversary. Angelina and Davey were defeated by Eddie and Alisha at the event, and Angelina's announced departure came shortly after Davey announced his retirement from wrestling.
Liv Morgan worked a SmackDown live event this weekend, teaming with Becky Lynch and Naomi in defeating Carmella, Lana, and Tamina. This is good news considering we have not seen Liv on NXT TV in what seems like ages. In fact, the same can be said for Aliyah, as NXT has been mainly focused on Asuka and Ember Moon, and (to a slightly smaller extent) Nikki Cross and Ruby Riot. I remember briefly believing that Liv would turn heel due to jealousy of Ember, and regarding Liv and Aliyah's alliance on NXT, I often pictured Aliyah turning against Liv–mainly due to their match against each other where Aliyah seemed to be portrayed as the heel. Considering that Liv is dating Enzo, I'm a bit surprised that she was working a SmackDown show, but I just hope that this is the beginning of big things for Liv. And please put Aliyah back on TV!
A new week begins with the final Raw before SummerSlam, which will include Sasha vs Nia in a #1 Contender's match! This big week will also include the final SmackDown and NXT before the big weekend, and Lucha Underground will come closer to Ultima Lucha Tres! It will all end at Takeover and SummerSlam in Brooklyn! Until next week!
The Lucha Lowdown
Welcome to the Lucha Lowdown, which recaps the latest edition of Lucha Underground!
We kick off things in the temple, as the first three of the seven Aztec Medallions are up for grabs. As announced last week, Worldwide Underground's PJ Black, Ricky Mandel, and Taya all have a shot at the medallions, and to kick off tonight's show, they will face off against the Rabbit Club–who are making some sort of impression on Melissa Santos. Of course, as we all know, the seven medallions are part of the Gift of the Gods Championship, which was last held by Johnny Mundo, who turned that title into a Lucha Undeground Championship victory. The amazing thing about the Rabbit Club is that you don't know what to expect from them, and they proved that when their eccentric ways made a bit of an impression on Taya. Their eccentricities led them to victory, as Paul London's Shooting Star Press on Mandel gave them the win and three medallions for the trio. The three of them will compete in the seven-way match for the Gift of the Gods Championship.
Following the match, the losing trio was chewed out by Mundo and their agent, with the threat to kick them all out off the group. Mundo stated that all he wanted was to remain LU Champion, which Taya agrees, but the champ threatens to head to greener pastures if his cohorts can't step it up. Hmmm, interesting. BTW, in case you missed it, Johnny Mundo had a cameo appearance in Sharknado 5 this past Sunday!
The Cueto Cup's third quarterfinal match got underway, with Mil Muertes facing off against Jeremiah Crane. It actually got started before they entered the ring, as Mil went after Crane at the top of the stairs. After coming back from commercial, Crane was tossed through a wall! Obviously, this is a heated fight, and the reason can be summed up in one word:  Catrina. As we've seen for months, Crane has history with Catrina, and that has prompted Mil Muertes to flat out destroy Crane, which has included tossing him towards the announce position. So with all of that, the Cueto Cup is a footnote in this match. Crane's attempt to set up a table for Mil to go through ended with Mil putting Crane through said table. Despite this, Crane countered Mil's spear with a submission move, only for the Man of 1000 Deaths to get out of it! The brutal fight continued on, but in the end, Mil Muertes' Flatliner placed him into the Final Four. In a twist, Catrina gave Crane a kiss instead of her trademark Lick of Death, which prompted Mil Muertes to put Crane down again.
In Dario Cueto's office, the boss is met by an FBI agent: Winter, who is sent as Mayor Delgado's replacement. He informed Cueto that Delgado was killed by Cage, and he states that he loves what Cueto has done–calling himself a fan of Pentagon Dark. Oh boy, the plot thickens.
The main event is the fourth and final quarterfinal between Texano and Pentagon Dark. Just as the match was progressing, we see Famous B and The Beautiful Brenda appear at ringside. As we know, the two of them have spent practically an eternity attempting to acquire Texano, only for Texano to turn them down at every turn. He was clearly not pleased to see the two of them appear at ringside, but that did not distract him in the least, as he continued to bring the fight to his ominous opponent. We later see Famous B attempt to hand a horseshoe to Texano, so he could use it as a weapon. However, his shot ended up going to Pentagon Dark, who clocked his opponent and picked up the victory. Famous B thwarted Pentagon Dark's arm-breaking ritual, only to end up on the receiving end himself, much to the crowd's delight! He wasn't done there, as Pentagon Dark decided to re-enter and break Brenda's arm as well!
Hey @Cleatgeeks fans, have you been think of buying tickets to a MLB, NFL or College Football game? Maybe there is a concert you have been eyeing? This weekend (Friday-Sunday) we have teamed up with Stadium Quest to bring you a special! Simply visit this link, and use the code
CHAPS

 to receive $20.00 off your total purchase!

We later see Catrina with Captain Vasquez, who warns her about the Gods coming. Cage's gauntlet is a gateway for the Gods to return, and it was there that she held up her half of the medallion, while Catrina had the other half. Vasquez offered to give her half to Catrina so she could enlist Mil Muertes to stop the Gods. It would put Vasquez's immortality at an end; a price she's willing to pay. Catrina ends the exchange with this shocking quote:  "It looks like we have a deal…Mother." WOW!!! I was actually close; I actually thought they were sisters, but it turns out that Vasquez is Catrina's mother; and she gave herself and her daughter immortality!

So the Final Four is set! Fenix, Prince Puma, Mil Muertes, and Pentagon Dark! Hard to tell who the George Mason of that Final Four is. The matches are Fenix vs Prince Puma and Mil Muertes vs Pentagon Dark, and both take place next week!

That's the Lucha Lowdown! Until next week!
The Lucha Lowdown
Welcome to the Lucha Lowdown, which recaps the latest edition of Lucha Underground!
We see Dario Cueto admonishing his brother, Matanza, stating that his hunger is a weakness, and it was why he fell to Rey Mysterio. It appears there's some humanity left in the monster, but Dario stated in so many words that he's in danger of losing that. Dario told Matanza to control his hunger, or it will destroy him.
On to the temple, and wouldn't you know it, the Elite Eight of the Cueto Cup is finally here! The first quarterfinal match features Pindar facing against Fenix, and this is an interesting match! Pindar is one-third of the Trios Champions, taking the titles from Fenix and Aerostar (Drago was with them, but he betrayed his partners). Also, each one has a woman at his side; of course, Pindar has the evil Kobra Moon with him, while Fenix has gained the affection of Melissa Santos. Kobra Moon, as always, interjected herself into the match and went after Fenix, allowing Pindar to gain a huge advantage. However, Fenix is a Triple Crown Champion, and he would go on to not only bring the fight to Pindar, he would defeat his opponent and become the first entrant into the Final Four!
Worldwide Underground is shown in Cueto's office, and as we see, Jack Evans' jaw is wired shut. Cueto reminded WU of their failings to succeed, especially in PJ Black's match against Rey Mysterio. With that, Cueto has banned WU from Johnny Mundo's match against Dragon Azteca Jr., as he plans to put them into the chase for the Gift of the Gods Championship; with a shot at three of the seven medallions. If the group gets involved, no opportunities for them.
Back in the temple, the second quarterfinal match is underway, with Prince Puma (the first Lucha Underground Champion) facing off against Dante Fox. As the bracket revealed, the winner will face Fenix in the semifinals, and Puma continues his edgier delivery in his quest to regain the title he lost at the very first Ultima Lucha. Fox fought back with that same intensity, making this a very hard hitting and even contest. Fox's attempt at a top-rope 540 Splash was countered by Puma getting his knees up and picking up a near fall, and he nearly gained a victory following that! Puma ended up getting the last three count, however, and advanced to the Final Four! Following the match, Killshot decided to get his revenge on Fox and delivered a post-match attack to his former ally in arms. Killshot later stated to Fox that he was right:  it's not over between them.
We now see a face we haven't seen in a while: Cortez. Captain Vasquez wasn't thrilled with his wrestling performance, and she reminded him about Cage killing the councilman weeks earlier. She stated to Cortez that she wants Cage's gauntlet. The plot thickens.
On to the main event; the reigning Lucha Underground Champion, Johnny Mundo, in action against Dragon Azteca Jr. As shown early in the program and during the match, Rey Mysterio's wife, Angie, was in attendance, along with their son, Dominick (which I couldn't help but be excited about due to his involvement in Mysterio's 2005 feud with Eddie Guerrero), and daughter, Aliyah, who was featured in Rey's feud with CM Punk in 2010. Regarding the match, it was back and forth for the entire affair, but it would be Mundo's End of the World that gave the champion the victory over Azteca. As always, Mundo decided to add insult to injury and assault Azteca with a chair; symbolism, as Azteca has been learning under Mysterio. And speaking of Mysterio, he came in and saved Azteca from Mundo's assault. Mundo originally left, but after Mysterio left, Mundo decided to get in Dominick's face. This was an orchestrated trap by Worldwide Underground, who tackled Mysterio and allowed Mundo to actually assault Dominick with the belt! Looks like Mysterio's son is in it again and I can't wait!
We see Fenix leaving with Melissa, and their conversation involved Melissa asking Fenix if he wears the mask all the time. Fenix stated not all the time, only in the ring and in special occasions. Of course, we see Marty the Moth creepily watching, and he plans to de-mask Fenix. Ooh boy!
That's the Lucha Lowdown for this week! Until next week!
Women's Wrestling Wrap-Up
Welcome to the latest edition of the Women's Wrestling Wrap-Up, which details everything in women's wrestling in the past week, beginning with Monday's Raw.
Raw featured Bayley in action against Nia Jax, and despite efforts by both Nia and Alexa to take her down, Bayley emerged victorious via countout, but not without consequence (more on that later). On the following evening's SmackDown, Natalya and Carmella battled against Naomi and Becky Lynch, but it was Miss Money In the Bank's insistence to get into the match that ended up being the downfall of her and Natalya. We got some continuation from the Lana/Tamina angle, as Lana decided to challenge Charlotte one-on-one, which didn't set too well with Tamina.
On to NXT, where Sonya Deville defeated Jenna Van Bemel in dominant fashion. Before that, Asuka and Ember Moon engaged in an eye-to-eye confrontation, which saw the villainous champion deliver a slap to Ember. The war of words quickly turned physical, and in the end, Ember Moon delivered the Eclipse to Asuka. Not much involving the Knockouts on Impact the next day, despite Karen Jarrett promising some blowback after the Sienna/Rosemary rematch. Only Allie, LVN, and Diamante appeared on the program, all in non-wrestling angles. Friday's Main Event featured a rematch between Emma and Mickie James, this time with the former winning and no backstage appearance from Dana Brooke.
Some bad news regarding Raw's women's division was reported two days after the program, with the announcement that Bayley suffered a shoulder injury during her match against Nia Jax. This puts the Raw title match in jeopardy, with reports stating that Bayley will not be able to compete at SummerSlam. If so, chances are that they'll put Sasha in to replace her, and if that happens, Sasha will most likely win at SummerSlam. Following this, we could see Bayley get her opportunity after she's cleared, only for Sasha to turn heel and attack her. Sasha could further her villainous role by revealing that she secretly enlisted Nia to take out Bayley so she could replace her. We will most likely get an official announcement regarding Bayley's status on Raw in Toronto.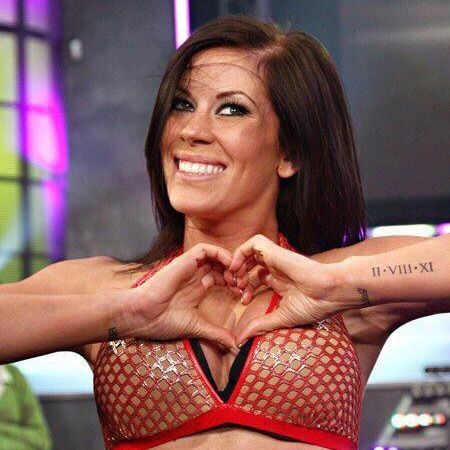 This was officially announced weeks ago, but Madison Rayne's tenure with Impact has come to an end. Madison debuted all the way back in 2009, and quickly became the newest member of the villainous Beautiful People faction with Angelina Love and Velvet Sky. Madison and Velvet replaced Angelina with Lacey Von Erich after Angelina's brief departure, and Madison won her first title in early 2010 when the BPs won the KO Tag Titles under the Freebird Rule. Madison later won her first of five Knockouts Championship just months later, after which she went on her own as Impact's lead heel in the Knockouts Division. Madison went on maternity leave in 2012, only to return at the tail end of 2013 and regain the Knockouts Championship in early 2014. She engaged in various angles following her last title run, beginning with a brief feud with Brittany, and a brief feud with Taryn Terrell that turned Madison into a villainess. Madison also reunited with Angelina and Velvet as a babyface from 2015-2016, and she spent most of her last year in TNA/GFW as a heel.
And speaking of departures, Eva Marie officially announced her release from WWE this past Friday. It was in the summer of 2013 that Eva Marie officially debuted as one of two new additions to the WWE roster. She and JoJo were the newbies added to the debuting Total Divas program, and it was in her first appearance on Raw that Eva Marie established herself as a heel when she delivered a slap to Jerry "The King" Lawler. Eva Marie's biggest criticism is her in-ring skills, but she took time to vastly improve on her craft and return on NXT with a new evil "Red Queen" gimmick in 2015. After months on NXT, Eva Marie returned to the main roster and became part of Brie Bella's team against Team BAD and Blonde at WrestleMania 32. She was later drafted to SmackDown after the returning brand split, and was given a new gimmick which included a voiceover intro, and promos for her big debut, only to cook up excuses for not competing. Eva Marie was booked to participate in a six-woman tag bout at Summerslam last year, but she received a Wellness Policy suspension. It only lasted 30 days, but Eva Marie was off WWE TV for over a year, as she was filming movies. Her first film, Inconceivable, came out on VOD on June 30.
A new week begins with Raw and SmackDown in Toronto, with both shows and NXT winding down the countdown to SummerSlam weekend! Until next week!
The Lucha Lowdown
Welcome to the Lucha Lowdown, which recaps the latest edition of Lucha Underground!
Matt Striker announced that Ultima Lucha Tres, which will feature Johnny Mundo vs Rey Mysterio for the Lucha Underground Championship, is just four weeks away! But that's the future. The here and now features the conclusion of Round Two of the Cueto Cup, and the first of the two remaining matches pits The Mack and Texano against each other. The combatants shook hands before getting down to the business at hand. Texano is Mexican wrestling's answer to WWE Hall of Famer Stan Hansen and former WWE Champion John "Bradshaw" Layfield (mainly the APA version), while The Mack often delivers a Stunner and has a bit of an Austin-esque demeanor. To no surprise, the super-heavyweights fought tit for tat; a dead even match. All of a sudden, we see Famous B enter, and he shoots a water pistol at Mack, who delivers a stunner to him. The odd distraction allowed Texano to capitalize and pick up the victory, advancing him to the Elite Eight.
We now see Son of Havoc at a bar, where he is confronted by Son of Madness, leading to another fight. Madness made it plain and simple; in his mind, Havoc turned his back on the club, and Madness will make Havoc's life a living hell if he doesn't return to the group. Meanwhile, Mascarita Sagrada approached the Rabbit Club bearing a gift, with a card that read:  "Hope this brings you better luck." So what was inside? A rabbit's foot. Oh goodness.
Back to the temple, the final second round match takes place, with Pentagon Dark facing off against Drago, who is accompanied by the only being more evil than even Pentagon Dark:  the Queen herself, Kobra Moon. These two have never faced each other in Lucha Underground, and how fitting that this first time ever situation is in the Cueto Cup. Pentagon easily went through Argenis in the first round, while Drago defeated one of his former partners, Aerostar, to advance. Interestingly, his other former ally, Fenix, is in the Elite Eight. Pentagon has done it all in Lucha Underground…except win the Lucha Underground Championship. He has been on the receiving end of a gritty fight from Drago, but Pentagon delivered his usual brutal viciousness; definitely not taking Drago lightly. Even Pentagon's modified Mexican Destroyer wasn't enough to put down Drago, but the piledriver was! Pentagon wins and the Elite Eight is complete!
After the match, Pentagon went for his usual tradition, breaking the arm of his fallen opponent. Kobra Moon's attempt to stop Pentagon earned her a kick to the face! In a shocking occurrence, Aerostar appeared to save Drago from Pentagon's ritual, but his attempt to get through to his former partner resulted in Drago beating him down and leaving him to be an unwilling part of the arm breaking ritual. So to recap, Pentagon advances, and Drago is still in Kobra Moon's evil clutches. Backstage, Pentagon is approached by another sinister femme fatale, Catrina, who reminded him of how he crossed Mil Muertes. Catrina vowed that should Pentagon advance to a head-to-head battle against Mil Muertes, the Man of 1000 Deaths will completely end him.
On to the main event, which was made last week. PJ Black lost his second round Cueto Cup match, but he received a consolation in the form of a match against Rey Mysterio, the #1 Contender for the Lucha Underground Championship! As Matt Striker said earlier, PJ has his marching orders from Johnny Mundo: take down Mysterio on all costs. Mundo knows what Mysterio is capable of; his first title win in WWE came at Mysterio's expense. A classic match changed gears when the ref was knocked down, allowing Mundo to enter and beat down Mysterio. Jack Evans joined the fray, making it a three on one battle, but El Dragon Azteca, Jr appeared and beat down the male members of WU, but forgot about Taya–who eliminated him from the equation. Despite WU's efforts, Mysterio still kicked out, and Azteca chased the group out of the temple with a chair in hand.  Mysterio went on to defeat PJ, and after his win, the former WWE World Heavyweight Champion stated that he'll become Lucha Underground Champion in just four short weeks.
That's the Lucha Lowdown! The Elite Eight starts next week! Until then!
The Lucha Lowdown
Welcome to the Lucha Lowdown, which recaps the latest edition of Lucha Underground!
We see Prince Puma at the rooftop, and we also see flashbacks to his defeats at the hands of Mil Muertes. Vampiro walks up to him, and tells him that the only way he'll find peace is if he regains the Lucha Underground Championship. "And what if I don't win?" asks Puma. Vampiro responds that there will be nothing left. After he leaves, Puma sees Worldwide Underground walking by, with PJ Black flipping him the bird. The former Lucha Underground Champion promised his master that he will not lose.
Back to the temple, where the second round of the Cueto Cup continues. Melissa Santos, fresh off what happened with Fenix last week, introduces the first bout of the evening:  Pindar (with Kobra Moon, of course) against Cage. Cage was instructed by the official to remove his glove, his gauntlet, but Cage refused and took him out. Just as Cage was about to take down Pindar, the official, Justin Borden, signaled for the bell–with the announcement that Cage has been disqualified. So just like that, Pindar advances to the Elite Eight, and the evil queen celebrates; after all, a win is a win. Pindar's opponent will be Fenix, a familiar foe to Kobra Moon's wicked empire.
The action continues with Dante Fox facing Son of Havoc in another second round match. Dante Fox defeated Dragon Azteca Jr to reach the second round, while Son of Havoc defeated Son of Madness, and speaking of which, Madness appeared from behind and assaulted Havoc during his entrance, continuing their business from weeks ago. Havoc brought the fight to his former brother-in-arms, but Madness clocked Havoc with a steel chain, much to Fox's delight. Dario Cueto appears and states to Havoc that despite what happened, he will not postpone the match, so it's either fight of forfeit. Of course, Havoc chose the former.
Cueto signaled for the bell, and Fox went on the attack, delivering more wear and tear to an already worn down Havoc. Fox started out as the dominant combatant in this match, but Havoc finally shook off the proverbial cobwebs and got back into the fight, making this an even man-to-man battle. Havoc's drive to finally reach the top, to finally become Lucha Underground Champion, led him to deliver countless counters and devastating moves towards Fox, and on several occasions, Havoc nearly had Fox defeated. However, Havoc's 360 Splash missed the mark, and Fox delivered the Foxcatcher and picked up the win, advancing him to the Elite Eight.
Backstage, Worldwide Underground is holding a meeting, with Johnny Mundo introducing PJ Black to this new agent, who looks like a bad knockoff mixture of Joey Styles and Paul Heyman. Ugh what a waste. Anyway, Matt Striker promotes the last of the second round matches set for next week, and we later move on to the main event:  PJ Black vs Prince Puma. Puma, as we saw last week, informed Rey Mysterio that he needs to defeat Mundo for the title, because he wants a rematch between the two. Puma has shown what appears to be an insatiable drive to regain the Lucha Underground Championship, as he was the first to hold the title, and it was shown in this match. PJ combated against Puma's aggression, making this an all out fight, with both men throwing everything at each other. Puma finally ended the lengthy tit-for-tat, and picked up the victory to advance to the Elite Eight.
In Cueto's office, the head honcho is on the phone before he is met by the defeated PJ. Apparently, WU's new agent phoned him consistently and begged him to give PJ another shot. While Cueto can't put PJ back in the tournament, he can do the next best thing:  put PJ one-on-one against the #1 Contender, Rey Mysterio.
That's the Lucha Lowdown! Until next week!
Women's Wrestling Wrap-Up
Welcome to the latest edition of the Women's Wrestling Wrap-Up, which details everything in women's wrestling in the past week, beginning with Monday's Raw.
Monday was the fallout from Great Balls of Fire, and on Raw, Sasha Banks and Bayley defeated Alexa Bliss and Nia Jax, with Bayley pinning the Raw Women's Champion. More on those four later, as the following evening's SmackDown saw Natalya and Tamina defeat Charlotte and Becky Lynch, thanks to Lana's involvement. Before that match took place, Shane McMahon made an announcement for Battleground:  a five-way elimination match will take place at the PPV next Sunday, with the winner challenging for the SmackDown Women's Championship at SummerSlam. Meanwhile, Carmella's attempt to appease Shane to overrule Daniel Bryan's ruling regarding James Ellsworth fell on deaf ears.
Wednesday's NXT saw Vanessa Borne defeat Jayme Hachey to earn a spot in the Mae Young Classic, and Lucha Underground saw Sexy Star deliver a violent revenge on Taya; not only costing her in the Cueto Cup, but clocking Taya with a set of brass knuckles. Later on, Mariposa helped brother Marty the Moth brutally punish Fenix, forcing Melissa Santos to watch while Fenix was bloodied and beaten. On Impact the following evening, Gail Kim announced that she will retire at the end of the year, and later on the program, Laurel Van Ness defeated Ava Storie.
Regarding SummerSlam, the match set for the event in Brooklyn will see the winner of the Battleground five-way against the SmackDown Women's Champion, whether Naomi holds on to the title, or Carmella cashes in before the event. As for the Raw side, it has been confirmed that the plan has Alexa Bliss, Bayley, Sasha Banks, and Nia Jax facing each other in a four-way dance. This is basically the same match as WrestleMania, with Alexa taking Charlotte's place, plus Bayley will be a challenger. The match is not official, but rumored, and if this match happens, I could see a repeat of the Batista/Mysterio aftermath from Bragging Rights in 2009, with Sasha turning on Bayley should both of them fail, or especially if Bayley wins.
And I have to bring this up. This past week, WWE decided to cancel Talking Smack as a weekly program on the Network. This upcoming week marks the one-year anniversary of the returning brand split, and it was two weeks after that on August 2 of last year that Talking Smack made its debut as a half-hour program that followed SmackDown. The show aired at 10PM (EST) on Tuesdays, but was moved back when 205 Live premiered. To say that show was monumental would be an understatement, as it allowed SD's stars to shine in and get put over, and that included the women. Some notable moments from the women on the program included the continuation of Carmella's heel turn last August, Natalya venting after being revealed as Nikki's attacker in December, and the fallout from Mickie James' return in January. The show was a benefit to everyone involved on the blue brand, and quite honestly, cancelling it as a weekly show is a mistake. Talking Smack will remain as a post-show for SD PPVs, meaning we should see it after Battleground.
A new week begins with Raw and will include the final SD before Battleground! Until next week!
The Lucha Lowdown
Welcome to the Lucha Lowdown, which recaps the latest edition of Lucha Underground!
On to the temple, the second round of the Cueto Cup begins, with Jeremiah Crane in the ring facing off against Worldwide Underground's vivacious vixen, Taya. Crane advanced by defeating Killshot in the first round, while Taya defeated Joey Ryan to become the only female combatant in the second round. Taya started with a slap to Crane, who delivered a swift kick to his fiery opponent and later went around the ring and delivered a cannonball to Taya. Taya recovers, and the fight is on and brought back to the ring. It's a back and forth fight, as neither one backed down from each other. Taya was able to counter against Crane, but even then, she only got a two count out of it, with the fans cheering for her. At that moment, Sexy Star appeared and slightly distracted Taya, allowing Crane to deliver some offense for a two count. Remember:  Taya cost Sexy Star in the first round of the tournament, and she got payback as Taya fell to Crane. Crane is the first to advance to the Elite Eight, and as for Taya, she was on the receiving end of a right hand (loaded with brass knuckles) from Sexy Star. Honestly, I can't help but sense a double turn for both women, as Sexy Star was clearly villainous in her interaction with Taya, who received massive pops.
Backstage, Fenix and Aerostar are backstage, with the latter telling the former that he's rooting for him. They also mentioned their former partner Drago and his betrayal, with Fenix stating that Drago left the Reptile Tribe once, and he'll do so again. Fenix also referred to Aerostar as a time traveler, and when he asked Aerostar if he'll win tonight, Aerostar gave a "so so" signal before giving a thumbs up.
Back to action, the second round continues with former Lucha Underground Champion Mil Muertes facing off against the Rabbit Club's leader, former WWE Cruiserweight Champion and Tag Team Champion Paul London. London has survived in matches with his eccentric behavior and it actually served him well in this second round match, as he forced Mil Muertes to have to put up a fight, which he didn't have to do in the first round. The fight was taken outside the ring, where London delivered a series of superkicks to the massive Mil Muertes. All the while, the rest of the Rabbit Club appeared and, well, did as rabbits do:  hop around. Their craziness helped London win his first round match via countout, but it did not deter Mil Muertes. Despite the onslaught, London kicked out at two, and the Rabbit Club returned again, only for Mil Muertes to deck Mala Suerte. This allowed London to deliver not one, but two Shooting Star Presses–with Mil kicking out of both of them. One spear and a DDT later, and Mil Muertes joins the Elite Eight.
Backstage, The Beautiful Brenda is with Texano, a continuation of the last time Texano dealt with Famous B. She was attempting to do Famous B's job and get him to become his latest client. Brenda did state that Texano needs a woman's touch. That should be interesting.
And speaking interesting, the Cueto Cup continues with the main event. Fenix facing off against Marty the Moth: one has been receiving Melissa Santos' affection, while the other has been obsessively trying to get said affection. Of course, Mariposa (who Fenix defeated to advance) is at her brother's side, and while Matt Striker stated that Marty is looking to avenge his sister, we all know he's looking to get Melissa Santos' attention. And speaking of Melissa, she voiced her displeasure and horror at the siblings actually tearing Fenix's mask. Fenix, the first and only Triple Crown Champion, continued bringing the fight to his massive opponent, but Marty regained control and nearly put Fenix away. Marty delivered what looked like a modified Codebreaker to Fenix, but even that wasn't enough to put Fenix away. Mariposa's latest attempt to get involved was thwarted by Melissa, who stopped Mariposa from handing Marty the lunchbox he brought with him. Fenix later picked up the victory over Marty, but Marty clocked Fenix with the lunchbox, which had actual lunch…and a fork. Melissa pleaded with Marty to stop his assault, but Marty jabbed the fork in Fenix's head, while Mariposa forced Melissa to watch! Even with this assault, Marty proclaimed his love for Melissa, but this is a whole new level of insanity for Marty. I didn't think he'd get any crazier!
The second round continues next week, and that is the Lucha Lowdown! Until next week!
The Lucha Lowdown
Welcome to the Lucha Lowdown, which recaps the latest edition of Lucha Underground!
The show begins with a flashback to Dante Fox's war days in Afghanistan, the subject of his feud with former brother-in-arms, Killshot. It shows him captured by the enemy and tortured, before he is rescued. Fox has continued to claim that Killshot left him for dead, and since then, we have seen them battle constantly. It was last week that Fox popped up and cost Killshot against Jeremiah Crane in the Cueto Cup.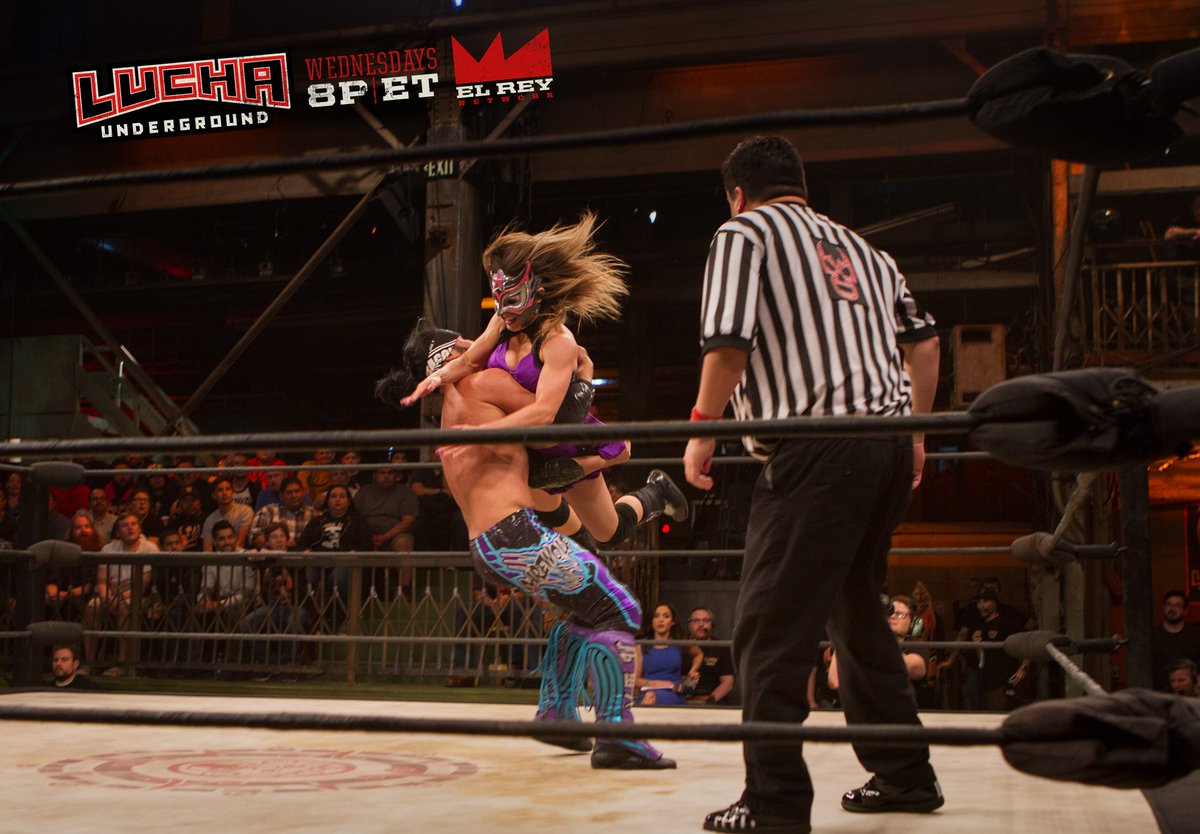 Inside the temple, and tonight is the conclusion of the first round of the tournament, and the action begins with PJ Black representing the Worldwide Underground against a very familiar foe, Sexy Star. Of course, Sexy Star is a former Lucha Underground Champion; the only woman (at the moment) to hold the title, and she was robbed of the title by Johnny Mundo and Worldwide Underground. This is the second meeting between the two, with Sexy Star holding a victory over PJ. And of course, as is the case when WU competes, another member gets involved, as Taya appeared and tossed brass knuckles to PJ. PJ missed with the knucks and lost them, but Sexy grabbed the knucks and made contact. However, Sexy was caught red-handed, and that resulted in a DQ win for PJ. So PJ joins fellow member Taya in the second round of the tournament, and an enraged Sexy Star clocked the official.
Another video package for the upcoming Lucha Underground Championship contest between Johnny Mundo and Rey Mysterio followed, and back in the temple, Son of Havoc competes in first round match against Son of Madness, who is a S0H copycat. Very weird to say the least, but then again, most things involving Son of Havoc are weird. Their similar looks were attributed to Havoc and Madness having known each other, with the suggestion that Madness may have been sent by someone to go after Havoc. The two Sons fought back and forth, but in the end, Havoc triumphed over Madness. However, Madness took out Havoc and took his vest, ex-communicating him from his group.
Next up, Prince Puma, the first ever Lucha Underground Champion, begins his quest to regain that title. His opponent, none other than Ricky Mandel, who calls himself "interning" for the Worldwide Underground. Mandel did his best Mundo impression, but that and about a dollar could get him a cup of coffee…maybe. Puma made quick work of Mandel, foiling his quest to be promoted to "assistant." Oh boy.
We see Rey Mysterio backstage with Dragon Azteca Jr, as he is preparing for his first round matchup. Azteca stated that he wants to face Rey for the Lucha Underground Championship, and it was there that the victorious Prince Puma entered and informed Rey that he better beat Mundo, because he wants a rematch from the first Ultima Lucha. Puma stated that this time, he won't lose. The plot thickens.
Main event time:  the final first round match-up pitting Azteca against Dante Fox. As stated before, Fox popped up last week and cost Killshot in the Cueto Cup, and he's looking to advance; all the while, Rey Mysterio entered with Azteca, and is in his protege's corner. We later see Taya and the rest of Worldwide Underground taking out Rey, as they have a Lucha Underground Championship contest coming up. Azteca took out all of WU, but the distraction allowed Fox to defeat Azteca and advance.
The Sweet Sixteen is complete, and it begins next week! Second round matches set for next week include the following:
Paul London vs Mil Muertes
Jeremiah Crane vs Taya
Marty the Moth vs Fenix
That's the Lucha Lowdown for this week! Until next week!
Women's Wrestling Wrap-Up
Welcome to the latest edition of the Women's Wrestling Wrap-Up, which details everything in women's wrestling in the past week, beginning with Monday's Raw and ending with Slammiversary!
This past week was Main Event Week for the women of WWE, as Raw, SmackDown, and NXT had women main eventing! For the first time ever, a Women's Gauntlet Match took place on Raw, with Nia Jax, Emma, Mickie James, Dana Brooke, Sasha Banks, and Bayley participating. The match saw Nia eliminate Bayley, Mickie, Emma, and Dana, but she fell short against The Boss. As a result, Sasha Banks became the #1 Contender for Alexa Bliss' Raw Women's Championship, and her title opportunity will come at Great Balls of Fire. More on Sasha's shot and what that could mean in the future later.
SmackDown was main evented by the Money In The Bank Ladder Rematch, and it ended with the same result: Carmella victorious. But not in the same exact fashion that caused the rematch, though. Daniel Bryan had banned James Ellsworth from ringside on last week's Talking Smack, and threw him out of the building to kick off SmackDown. Despite this, Ellsworth returned and attempted a repeat of the PPV, but was taken out by Becky Lynch. Despite this, Carmella did the climbing herself and reclaimed the briefcase that was taken away from her. Speaking of rematches, Naomi again defended her SmackDown Women's Championship against Lana, and defeated her in no time.
Asuka and Nikki Cross main evented NXT when they fought in a Last Woman Standing Match for the NXT Women's Championship, with Asuka winning. Lucha Underground saw Taya become the first woman to advance in the Cueto Cup Tournament, and Impact saw Rosemary, Allie, and Braxton Sutter defeat KM, Laurel Van Ness, and Sienna, just days away from Slammiversary.
Speaking of the big event, Allie, Braxton, and Shera defeated Kongo Kong, KM, and LVN at the Slammiversary Pre-Show. A brutal mixed tag team Full Metal Mayhem match saw Alisha and Eddie Edwards defeat Angelina Love and Davey Richards, and in the big title unification match, Sienna defeated Rosemary to capture the Impact Knockouts Championship and unify that with the GFW Women's Championship. Gail Kim appeared at the event, right before the match started; her first appearance on Impact programming in several months.
Back to the Raw portion of things. Great Balls of Fire is Raw's last PPV before SummerSlam next month, and Sasha Banks is back in the title picture. Alexa has been champion for just over two months, and one has to believe that with the ongoing Sasha/Bayley SummerSlam rumors, The Boss would walk out of the PPV as Raw Women's Champion. The SummerSlam feud is supposed to include a heel turn from Sasha, but that was back when Bayley was the champion. If they stick with that plan, we could see Sasha become a villainous titleholder, and she could possibly attack Bayley after she becomes #1 Contender. Everything depends on this upcoming Sunday.
A new week begins tonight, and we'll see the last Raw before Great Balls of Fire. SmackDown will feature a third title encounter between Naomi and Lana, with the latter claiming controversy after her shoulder appeared to be up on Naomi's winning pin. With Battleground on the horizon, could Carmella cash in? We shall see! Until next week!