Straight Up Smack Down
Summer Slam, Summer Slam.  You're such a greedy event. The 2nd biggest spectacle of WWE's year is so jam packed this year that, over the last 2 weeks now, we've seen:
1.) Cena vs. Nakamura
2.) Naomi vs. Carmella
3.) Jinder vs. Orton
4.) Jinder vs. Cena
Unreal. The only thing that I can surmise, is that Smack Down is gearing up for some fresh feuds after Summer Slam. Why else would they give away all of these main event worthy matches? Here was how we got to John Cena versus Jinder Mahal tonight:
What a fantastic presentation by WWE. Seriously. I know it wasn't well received by the audience, in attendance & at home, but the celebration was very well performed. The appearance by Shinsuke was predictable, given the setting. However, I thought Shinsuke would call out Jinder for being a hypocrite of sorts.  Paraphrasing, Jinder has railed the WWE universe for being unaccepting of him as champion because of his heritage. I expected Nakamura to talk about his own heritage & how he IS accepted by the fans. Maybe that is being saved for chapter 2 of this feud? It wouldn't surprise me.
What did surprise me, was the final moments of tonight's main event….Jinder Mahal vs. John Cena:
The Singhs were a constant part of Jinder/Cena match…until they were both thrown out! Corbin's later interference & attempted cash in was evidently thwarted.  The moment was exciting at the attempted cash in, but I have to think that the plans for Corbin changed along the way.  WWE clearly wants to feature Mahal & Nakamura in the title match & I doubt it's a one and done.  However, if Nakamura is going to fulfill all of these "dream matches", WWE needs to put the belt on him soon. That would elevate him into the upper echelon, where he could main event pay per views with Owens, Styles, Lesnar, Samoa Joe, etc. But that also probably requires a lengthy title run & with the inevitability of Corbin cashing in now erased, that seems more likely.
We move on to a segment advertised on the show as "A.J. APOLOGIZES." What? I hated this idea. Not that A.J. being apologetic after last week was the bad idea, I hated that it was advertised as such. It made Styles look very different than the brash superstar that gained popularity on Smack Down.
First of all, let me say that Shane needs to stop with the tanning. This guy had so much internal heat, coupled with the outfit he was wearing & the bright ring lights, that he was sweating profusely. Like it was almost uncomfortable to watch. Like someone who never speaks in public, giving a public speech. Like when someone's guilty & they know it, but nobody else does yet. That kind of sweating. Plus he looks like Hulk Hogan's hot dog colored skin from the 80's at this point. The white hair makes it look even more contrasting. Second, Shane said there was "no apology necessary because it was in the heat of the battle." What battle? He's talking about last week when he tried to separate Styles & Owens going at each other then was Pele kicked by Styles. It was hardly a "battle." Maybe he meant heat of the moment? Third, he stated that he is the special referee because he can absorb contact & get involved if necessary. Well, as you could see its been 2 weeks in a row now that both Styles & Owens have inadvertently assaulted Shane & he has gone down like a sack of potatoes both weeks. Not much different than any other referee that would be in his place. If the real reason is to have a referee that will see the entire match, why not have multiple referees at ringside in case one gets injured?  It's not like WWE is getting only one match out of their referees now. Anyways, if Shane wanted an apology from Owens (which his character would never grant) he couldn't now, based on the logic he gave to A.J. about "the heat of the battle."
Finally, the best moment of the night went to Randy Orton (1:30):
Well shot by WWE also. I wish the match had been more like the match they had a few weeks ago because Gable is really good in the ring. Hopefully he gets better opportunities in the future. As for Orton & Rusev, their match at Summer Slam seems unimportant. I don't think this feud has any steam to it, even after the RKO outta nowhere.
Thanks for reading & enjoy Summer Slam!
3 Impacts From Impact
The final Impact before Destination X is in the books, and it was chaotic! What action stood out the most on the go-home show! Here are my 3 Impacts From Impact:
A lasting impact was made in the main event, as Low Ki, Trevor Lee, and Lashley defeated Matt Sydal, Sonjay Dutt, and Alberto El Patron. The main event match was a combination of three top matches set for Destination X, which is centered around Alberto and Low Ki facing off for the World Title. The other two bouts are Sonjay vs Lee for the former's X Division Championship (which the latter stole), and Lashley vs Sydal in a match dubbed "Shot vs Shot," as the winner will receive the title shot of their choosing. Regarding the six man match, Low Ki got the pin on Sonjay, which is fitting, considering that Destination X used to be focused on the old "Option C," the reigning X Division Champion turning the title into a World Title shot.
The program kicked off with Sienna staging a sit-in as she demanded to know who her challenger will be at Destination X. Out came Karen Jarrett, who announced that Sienna will defending her title against none other than Hall of Famer Gail Kim, which prompted a brawl between champion and challenger. Gail being announced as Sienna's challenger was expected, as Gail stated that she wanted to retire on top, and Destination X would allow Gail to pick up one last title victory. What happens beyond that is up in the air, but this should be a very interesting title bout.
The X Cup Finals is all set, and it will be Dezmond Xavier facing off against Ishimori at Destination X. The go-home Impact featured Ishimori defeating ACH in the second semifinal, setting up the final encounter between himself and Dezmond. The winner gets the X Cup, but one would have to believe that a future X Division Championship opportunity would be on the horizon as well. In any case, I myself am looking forward to this X Cup final!
Those are my 3 Impacts From Impact!! Until next time, after Destination X!
Women's Wrestling Wrap-Up
Welcome to the latest edition of the Women's Wrestling Wrap-Up, which details everything in women's wrestling in the past week, beginning with Monday's Raw.
Due to the injury to Bayley's shoulder, two Triple Threat matches were set for Raw, with the two winners facing each other in a #1 Contender's Match. In the first one, Sasha Banks defeated Alicia Fox and Emma, while the second one saw Nia Jax defeat Mickie James and Dana Brooke, setting up Sasha vs Nia. On SmackDown, Lana's attempt to challenge Charlotte fell flat, as Charlotte defeated the Ravishing Russian. Lana was later mocked by Tamina, who decided to plan out how Lana could get an opportunity for her. Later on, Carmella was victorious over Naomi, thanks to the returning James Ellsworth.
Neither Wednesday program (Lucha Underground and NXT) saw in-ring action from the women, though we did see Zelina Vega manage Andrade "Cien" Almas to victory over No Way Jose, and then answer Johnny Gargano's open challenge for Takeover. Thursday's Impact featured Karen Jarrett announce that Gail Kim will challenge Sienna for the Unified Knockouts Championship. Other than that, we saw the continuation of the Laurel Van Ness angle, as she stopped Kongo Kong from continuing his assault on Grado, who has been pursuing LVN in recent weeks.
Meanwhile, outside the ring, it was announced that Angelina Love is officially done with GFW, six months after returning to what was then known as TNA. Angelina's return came in February, as she and Alisha Edwards were both in support of Eddie Edwards during his World Title rematch against Lashley. The ending saw Eddie's longtime tag team partner, Davey Richards, turn on Eddie and prevent him from regaining the title, and included in the betrayal was Angelina becoming a villainess and attacking Alisha. The events started a feud between the couples, which came to a head at Slammiversary. Angelina and Davey were defeated by Eddie and Alisha at the event, and Angelina's announced departure came shortly after Davey announced his retirement from wrestling.
Liv Morgan worked a SmackDown live event this weekend, teaming with Becky Lynch and Naomi in defeating Carmella, Lana, and Tamina. This is good news considering we have not seen Liv on NXT TV in what seems like ages. In fact, the same can be said for Aliyah, as NXT has been mainly focused on Asuka and Ember Moon, and (to a slightly smaller extent) Nikki Cross and Ruby Riot. I remember briefly believing that Liv would turn heel due to jealousy of Ember, and regarding Liv and Aliyah's alliance on NXT, I often pictured Aliyah turning against Liv–mainly due to their match against each other where Aliyah seemed to be portrayed as the heel. Considering that Liv is dating Enzo, I'm a bit surprised that she was working a SmackDown show, but I just hope that this is the beginning of big things for Liv. And please put Aliyah back on TV!
A new week begins with the final Raw before SummerSlam, which will include Sasha vs Nia in a #1 Contender's match! This big week will also include the final SmackDown and NXT before the big weekend, and Lucha Underground will come closer to Ultima Lucha Tres! It will all end at Takeover and SummerSlam in Brooklyn! Until next week!
Details on Ric Flair's Hospitalzation
Former wrestling superstar Ric Flair is heading to surgery after being placed in a medically induced coma, a WWE representative told TMZ Sports.
Former wrestling superstar Ric Flair, the 68-year-old was initially taken to the hospital this past Saturday. That initial visit to the hospital was for "routine monitoring" according to multiple sources I used to write this story. When he was admitted on Saturday it was again reported by multiple sources that Flair was dealing with, "tough medical issues." These issues were for "routine monitoring" and "tough medical issues" have been confirmed to me that it had to deal with heart-related issues.
But his condition reportedly worsened over the weekend according to Legacy Talent CEO Melinda Morris Zanoni who represents Ric Flair. At 9:11 pm on August 13th 2017 Melinda Morris Zanoni sent out a heartfelt felt tweet that got my attention and implied that The Nature Boy's condition took a major turn for the worse. "Are u a Fan/Friend of Ric Flair?" Morris Zanoni tweeted. "If so, we need prayers & positive energy 4 our Living Legend as he is dealing w/some tough medical issues."
According to multiple reports, Ric Flair is currently in a medical induced coma, and is being prepped for surgery.
The Nature Boy has been in professional wrestling since the 1970s, but became one of the biggest stars in the sport during his time with WWF and WCW in the 1990s. He has been a world heavyweight champion 16 times in his extended career.
He also still makes intermittent appearances on WWE shows, supporting his daughter Charlotte.
BREAKING NEWS UPDATE 
August 14th 3:15pm MST
Dave Meltzer noted the following about Flair's condition on his message board:
"He's out of surgery. It's good that he's out of surgery. It's still real bad. I had it just told to me in some detail, not exactly identical, but very similar to what happened to my dad. However, his kidneys are functioning which is the main difference and no cancer issues."
ANOTHER UPDATE
It seems that as previously reported, his operation on Monday was not heart related in a tweet from Flair's representation, Legacy Talent CEO Melinda Morris Zanoni
Ric had surgery today (not

related)am happy 2report it was a success.Still a long road ahead so plz keep 

4Ric Charlotte Megan David&Wendy
A documentary on his life and wrestling career, entitled Nature Boy, will be shown on Nov. 7 as part of ESPN's 30 for 30 series.
The Lucha Lowdown
Welcome to the Lucha Lowdown, which recaps the latest edition of Lucha Underground!
We kick off things in the temple, as the first three of the seven Aztec Medallions are up for grabs. As announced last week, Worldwide Underground's PJ Black, Ricky Mandel, and Taya all have a shot at the medallions, and to kick off tonight's show, they will face off against the Rabbit Club–who are making some sort of impression on Melissa Santos. Of course, as we all know, the seven medallions are part of the Gift of the Gods Championship, which was last held by Johnny Mundo, who turned that title into a Lucha Undeground Championship victory. The amazing thing about the Rabbit Club is that you don't know what to expect from them, and they proved that when their eccentric ways made a bit of an impression on Taya. Their eccentricities led them to victory, as Paul London's Shooting Star Press on Mandel gave them the win and three medallions for the trio. The three of them will compete in the seven-way match for the Gift of the Gods Championship.
Following the match, the losing trio was chewed out by Mundo and their agent, with the threat to kick them all out off the group. Mundo stated that all he wanted was to remain LU Champion, which Taya agrees, but the champ threatens to head to greener pastures if his cohorts can't step it up. Hmmm, interesting. BTW, in case you missed it, Johnny Mundo had a cameo appearance in Sharknado 5 this past Sunday!
The Cueto Cup's third quarterfinal match got underway, with Mil Muertes facing off against Jeremiah Crane. It actually got started before they entered the ring, as Mil went after Crane at the top of the stairs. After coming back from commercial, Crane was tossed through a wall! Obviously, this is a heated fight, and the reason can be summed up in one word:  Catrina. As we've seen for months, Crane has history with Catrina, and that has prompted Mil Muertes to flat out destroy Crane, which has included tossing him towards the announce position. So with all of that, the Cueto Cup is a footnote in this match. Crane's attempt to set up a table for Mil to go through ended with Mil putting Crane through said table. Despite this, Crane countered Mil's spear with a submission move, only for the Man of 1000 Deaths to get out of it! The brutal fight continued on, but in the end, Mil Muertes' Flatliner placed him into the Final Four. In a twist, Catrina gave Crane a kiss instead of her trademark Lick of Death, which prompted Mil Muertes to put Crane down again.
In Dario Cueto's office, the boss is met by an FBI agent: Winter, who is sent as Mayor Delgado's replacement. He informed Cueto that Delgado was killed by Cage, and he states that he loves what Cueto has done–calling himself a fan of Pentagon Dark. Oh boy, the plot thickens.
The main event is the fourth and final quarterfinal between Texano and Pentagon Dark. Just as the match was progressing, we see Famous B and The Beautiful Brenda appear at ringside. As we know, the two of them have spent practically an eternity attempting to acquire Texano, only for Texano to turn them down at every turn. He was clearly not pleased to see the two of them appear at ringside, but that did not distract him in the least, as he continued to bring the fight to his ominous opponent. We later see Famous B attempt to hand a horseshoe to Texano, so he could use it as a weapon. However, his shot ended up going to Pentagon Dark, who clocked his opponent and picked up the victory. Famous B thwarted Pentagon Dark's arm-breaking ritual, only to end up on the receiving end himself, much to the crowd's delight! He wasn't done there, as Pentagon Dark decided to re-enter and break Brenda's arm as well!
Hey @Cleatgeeks fans, have you been think of buying tickets to a MLB, NFL or College Football game? Maybe there is a concert you have been eyeing? This weekend (Friday-Sunday) we have teamed up with Stadium Quest to bring you a special! Simply visit this link, and use the code
CHAPS

 to receive $20.00 off your total purchase!

We later see Catrina with Captain Vasquez, who warns her about the Gods coming. Cage's gauntlet is a gateway for the Gods to return, and it was there that she held up her half of the medallion, while Catrina had the other half. Vasquez offered to give her half to Catrina so she could enlist Mil Muertes to stop the Gods. It would put Vasquez's immortality at an end; a price she's willing to pay. Catrina ends the exchange with this shocking quote:  "It looks like we have a deal…Mother." WOW!!! I was actually close; I actually thought they were sisters, but it turns out that Vasquez is Catrina's mother; and she gave herself and her daughter immortality!

So the Final Four is set! Fenix, Prince Puma, Mil Muertes, and Pentagon Dark! Hard to tell who the George Mason of that Final Four is. The matches are Fenix vs Prince Puma and Mil Muertes vs Pentagon Dark, and both take place next week!

That's the Lucha Lowdown! Until next week!
First Look: The Mae Young Classic (Part IV)
The Mae Young Classic is close; only 3 weeks away from the epic 32-woman tournament being uploaded on the WWE Network! Here are some more of the women who we'll see in this monumental event. Also, to preview the other 3 articles previewing other contestants here are the 1st, 2nd and 3rd articles.
Vanessa Borne:  Like Bianca BelAir, Vanessa Borne won her way to the Mae Young Classic, as she defeated Jayme Hachey on the July 12 edition of NXT to qualify for the tournament. Some info on Vanessa:  her real name is Danielle Kamela, and she was born in LA, but has spent a lot of time in Arizona. She is a former dancer for the Phoenix Suns, as well as a former cheerleader for the Arizona Cardinals. Danielle's foray into wrestling began when she auditioned for Tough Enough in 2015. She made it to the final 40, but did not make the final cut (the remaining 13 contestants who were shown weekly on TV). Despite this, Danielle was signed by WWE last April, and she has made a number of appearances at NXT live events, mainly as a villainous character. What I love and can't help but notice about Danielle is that she bears a slight resemblance to Layla, mostly the look that Layla had when she began her WWE career. I'm anxious to see what she'll bring to the tournament.
Zeda: I remember seeing Zeda as one of the women who basically started this year's trend of new signees by WWE, back when she was credited under her real name, Julia Ho. Zeda was profiled along with fellow new signees Heidl Lovelace (Ruby Riot), Kimberley Frankele (Kimber Lee/Abbey Laith), and Sage Beckett. Not much is detailed about Zeda, only that she's from Virginia and she is a former model. Zeda is also a mixed martial artist, and I just love how WWE is signing and looking for more women who have done MMA. Despite her American birthright, Zeda will represent China in the Mae Young Classic, and I can't wait to see her in action. It's hard to determine what side she'll be on based on her look. Some competitors are natural babyfaces, others are natural heels. Zeda looks like she would shine either way.
Ayesha Raymond: Here is a competitor who I am slightly familiar with. I nearly marked out when I saw Ayesha among the combatants revealed for the Classic, because I have some of her work on DVD. Among other promotions, Ayesha competed for the World Association of Women's Wrestling (WAWW), which is now known as Bellatrix Female Warriors–a promotion founded in Norwich, England by Saraya Knight, the mother of former two-time WWE Divas Champion Paige. She competed under the name, Amazon, which is fitting considering she stands at six feet even. Despite her imposing physique, Amazon was a babyface in her native England's promotion, though knowing WWE, they'll make her one of the monster heels along with Sage Beckett. Ayesha is 27 years of age, which is just young enough for WWE to consider signing her full time.
Rhea Ripley: Rhea Ripley is another young and up-and-coming superstar who had fans excited after news broke in March that she signed with WWE. Her real name is Demi Bennett, and she was born on October 11, 1996 in Adelaide, the capital of South Australia. She previously competed in the Australian promotion, Riot City Wrestling, where she held their Women's Championship twice, and she was signed after WWE held tryouts in Australia in December 2016. Demi was given the name Rhea Ripley a couple of months ago, which seems to fit her. I have never seen this girl in action; women like her (the ones who I have yet to see) are the reason why I am so excited for this tournament.
Shayna Baszler: Another notable name in MMA, Shayna Baszler fought several MMA fights since 2006, before heading to world of wrestling in 2015. Part of Shayna's wrestling debut included joining SHIMMER Women Athletes last June, where she formed a villainous alliance with current fellow Mae Young Classic combatants Mercedes Martinez and Nicole Savoy. She has even been seen on Total Divas, as she was shown training Nikki Bella during her comeback in one episode of the show. Shayna was born in Sioux Falls, South Dakota, and she'll turn 37 this upcoming Tuesday. She's another one who I'm anxious to see in action, I just know she'll be absolutely phenomenal.
There's more to come in the weeks leading to the Mae Young Classic! Keep your eyes peeled on more insight on the participants!
Straight Up Smack Down
It's really incredible to think that Summer Slam is just over a week away. Battleground was just a couple weeks ago, but it seems like a month ago now. Twists & turns in existing feuds, fresh matches, & new feuds have the WWE Universe geared up to see the Smack Down roster steal the show at Summer Slam.
Tonight's show took place in Toronto, in front of a very vocal crowd. The fans were extremely loud for the first wrestler's appearance on this show, John Cena. He talked about how he lost clean last week to Shinsuke Nakamura…
The fans were obviously very loud for Corbin & Bryan here too. Baron had a new entrance theme that wasn't part of the video. I thought it was a solid replacement for the previous theme. So there you have it, John Cena versus Baron "Dumpster Fire" Corbin at Summer Slam. The "dumpster fire" name might be the funniest thing I've seen on Smack Down in a long time. I don't think Corbin is that bad in the ring, not as bad as Lana….
Now that, is a dumpster fire. I know the reports say Lana has been training for months, but the other competitors are just so much better than her. Time will tell if she can improve.  She could become Carmella….or Eva Marie.
As for Carmella, she challenged Naomi tonight & just as I wrote last week, a surprise return was made:
Just in time for Summer Slam too. As silly as it sounds, Ellsworth changes the outlook for Carmella. Without him, she is just another competitor. With him, she is capable of stealing wins. He is her ace in the hole & a big reason that she is Miss Money in the Bank. Even Naomi's Summer Slam opponent, Natalya, seemed worried by his return….
and she should be. I wouldn't put it past Ellsworth to cost Natalya or Naomi the match at Summer Slam, but something tells me that Carmella will not cash in just yet. Call it a hunch, but speaking of returns this evening….
Yes, Fandango is back. The aliens released him apparently. It was great to see "The Enforcer" AA, Arn Anderson get some TV time. A very nice, meaningful tie in as well.
Another group of competitors that returned tonight were The New Day. They were absent last week on Smack Down & this week were called out by The Usos.  They attacked both of The Usos is a surprise fashion:
I have no doubt that these 2 teams will put on another classic at Summer Slam. The chemistry between both teams & current story line are fantastic.
We also were treated to a Shane McMahon/Kevin Owens/A.J. Styles segment tonight, where Shane told Styles & Owens that he would call a fair match & won't become involved unless he needs to….
Owens was so good in this. He baited all of the fans to side with him on that Bret Hart comment, then turned it around on them. He is such a good heel. This match is building a lot of intrigue, as I can imagine most fans think that Shane & Owens will end up in some sort of altercation. One thing is certain, Styles & Owens will have a hell of a match. They always do.
Finally, Randy Orton faced Jinder Mahal in a Grudge Match. The "grudge" is that Randy can't beat Jinder, mainly because of the constant interference by the Singh Brothers.  However, the Singhs were not present tonight, due to injury:
and what do you know? Randy wins. The most exciting part of the clip was at the very end, with Rusev making a surprise attack on Orton & knocking him out.
All in all, a solid week for Smack Down in the build up for Summer Slam. Next week should be an incredible show, as the go-home episode for Summer Slam.
Thanks for reading!
3 Impacts From Impact
An explosive and shocking Impact is in the books! What stood out the most on this amazing edition? Here are my 3 Impacts From Impact:
Just like after Slammiversary, Konnan promised a new member of LAX, but unlike the first Impact after Slammiversary, he delivered…BIG TIME! The main event featured LAX fighting against Alberto El Patron and his brother and father. It was at that moment that Low Ki suddenly appeared and assisted LAX in defeating the El Patron family, brandishing the LAX logo on his blazer. So not only is Low Ki part of LAX, but he was shown holding Alberto's championships as well! Now it should be no surprise to see Low Ki with LAX. He and Homicide do go way back, and the two of them were part of the Beat Down Clan a few years ago. So the former five-time X Division Champion appears to be stepping up and going after the top title in GFW.
Speaking of the X Division Championship, Sonjay Dutt has caught hell attempting to get back that very title, which he is the rightful owner of. He got the chance to at least go after the man who stole it from him, Trevor Lee, doing so dressed as Mumbai Cat in a sanctioned match. After defeating Trevor, Sonjay removed his mask, and that prompted Bruce Prichard to come out with security to eject him again; a theme that can only be the result of a steady heel turn for Prichard. However, Sonjay said his piece and decided to give Trevor a chance to actually hold the title rightfully, by challenging him to a ladder match at Destination X.
The X Division Championship isn't the only title mired in controversy, as Ethan Carter III shockingly captured the Grand Championship from Moose. EC3 and Moose won Rounds 1 and 2, respectively, leaving Round 3 as the decider. After time expired, judges Scott D'Amore and Dutch Mantell each gave dead even 10-10 scores, as they should have; it was a very even round. However, Bruce Prichard (there's that name again) decided to score it 10-8 in favor of EC3. Not ten to nine. Ten to eight. A 10-8 decision is based on flat out domination, and there was everything but that in Round 3. Despite this, Prichard's decision ended up giving EC3 the Grand Championship, and if Prichard turning heel wasn't obvious enough, this decision definitely makes it official.
Those are my 3 Impacts From Impact! Until next time!
The Lucha Lowdown
Welcome to the Lucha Lowdown, which recaps the latest edition of Lucha Underground!
We see Dario Cueto admonishing his brother, Matanza, stating that his hunger is a weakness, and it was why he fell to Rey Mysterio. It appears there's some humanity left in the monster, but Dario stated in so many words that he's in danger of losing that. Dario told Matanza to control his hunger, or it will destroy him.
On to the temple, and wouldn't you know it, the Elite Eight of the Cueto Cup is finally here! The first quarterfinal match features Pindar facing against Fenix, and this is an interesting match! Pindar is one-third of the Trios Champions, taking the titles from Fenix and Aerostar (Drago was with them, but he betrayed his partners). Also, each one has a woman at his side; of course, Pindar has the evil Kobra Moon with him, while Fenix has gained the affection of Melissa Santos. Kobra Moon, as always, interjected herself into the match and went after Fenix, allowing Pindar to gain a huge advantage. However, Fenix is a Triple Crown Champion, and he would go on to not only bring the fight to Pindar, he would defeat his opponent and become the first entrant into the Final Four!
Worldwide Underground is shown in Cueto's office, and as we see, Jack Evans' jaw is wired shut. Cueto reminded WU of their failings to succeed, especially in PJ Black's match against Rey Mysterio. With that, Cueto has banned WU from Johnny Mundo's match against Dragon Azteca Jr., as he plans to put them into the chase for the Gift of the Gods Championship; with a shot at three of the seven medallions. If the group gets involved, no opportunities for them.
Back in the temple, the second quarterfinal match is underway, with Prince Puma (the first Lucha Underground Champion) facing off against Dante Fox. As the bracket revealed, the winner will face Fenix in the semifinals, and Puma continues his edgier delivery in his quest to regain the title he lost at the very first Ultima Lucha. Fox fought back with that same intensity, making this a very hard hitting and even contest. Fox's attempt at a top-rope 540 Splash was countered by Puma getting his knees up and picking up a near fall, and he nearly gained a victory following that! Puma ended up getting the last three count, however, and advanced to the Final Four! Following the match, Killshot decided to get his revenge on Fox and delivered a post-match attack to his former ally in arms. Killshot later stated to Fox that he was right:  it's not over between them.
We now see a face we haven't seen in a while: Cortez. Captain Vasquez wasn't thrilled with his wrestling performance, and she reminded him about Cage killing the councilman weeks earlier. She stated to Cortez that she wants Cage's gauntlet. The plot thickens.
On to the main event; the reigning Lucha Underground Champion, Johnny Mundo, in action against Dragon Azteca Jr. As shown early in the program and during the match, Rey Mysterio's wife, Angie, was in attendance, along with their son, Dominick (which I couldn't help but be excited about due to his involvement in Mysterio's 2005 feud with Eddie Guerrero), and daughter, Aliyah, who was featured in Rey's feud with CM Punk in 2010. Regarding the match, it was back and forth for the entire affair, but it would be Mundo's End of the World that gave the champion the victory over Azteca. As always, Mundo decided to add insult to injury and assault Azteca with a chair; symbolism, as Azteca has been learning under Mysterio. And speaking of Mysterio, he came in and saved Azteca from Mundo's assault. Mundo originally left, but after Mysterio left, Mundo decided to get in Dominick's face. This was an orchestrated trap by Worldwide Underground, who tackled Mysterio and allowed Mundo to actually assault Dominick with the belt! Looks like Mysterio's son is in it again and I can't wait!
We see Fenix leaving with Melissa, and their conversation involved Melissa asking Fenix if he wears the mask all the time. Fenix stated not all the time, only in the ring and in special occasions. Of course, we see Marty the Moth creepily watching, and he plans to de-mask Fenix. Ooh boy!
That's the Lucha Lowdown for this week! Until next week!
Women's Wrestling Wrap-Up
Welcome to the latest edition of the Women's Wrestling Wrap-Up, which details everything in women's wrestling in the past week, beginning with Monday's Raw.
Raw featured Bayley in action against Nia Jax, and despite efforts by both Nia and Alexa to take her down, Bayley emerged victorious via countout, but not without consequence (more on that later). On the following evening's SmackDown, Natalya and Carmella battled against Naomi and Becky Lynch, but it was Miss Money In the Bank's insistence to get into the match that ended up being the downfall of her and Natalya. We got some continuation from the Lana/Tamina angle, as Lana decided to challenge Charlotte one-on-one, which didn't set too well with Tamina.
On to NXT, where Sonya Deville defeated Jenna Van Bemel in dominant fashion. Before that, Asuka and Ember Moon engaged in an eye-to-eye confrontation, which saw the villainous champion deliver a slap to Ember. The war of words quickly turned physical, and in the end, Ember Moon delivered the Eclipse to Asuka. Not much involving the Knockouts on Impact the next day, despite Karen Jarrett promising some blowback after the Sienna/Rosemary rematch. Only Allie, LVN, and Diamante appeared on the program, all in non-wrestling angles. Friday's Main Event featured a rematch between Emma and Mickie James, this time with the former winning and no backstage appearance from Dana Brooke.
Some bad news regarding Raw's women's division was reported two days after the program, with the announcement that Bayley suffered a shoulder injury during her match against Nia Jax. This puts the Raw title match in jeopardy, with reports stating that Bayley will not be able to compete at SummerSlam. If so, chances are that they'll put Sasha in to replace her, and if that happens, Sasha will most likely win at SummerSlam. Following this, we could see Bayley get her opportunity after she's cleared, only for Sasha to turn heel and attack her. Sasha could further her villainous role by revealing that she secretly enlisted Nia to take out Bayley so she could replace her. We will most likely get an official announcement regarding Bayley's status on Raw in Toronto.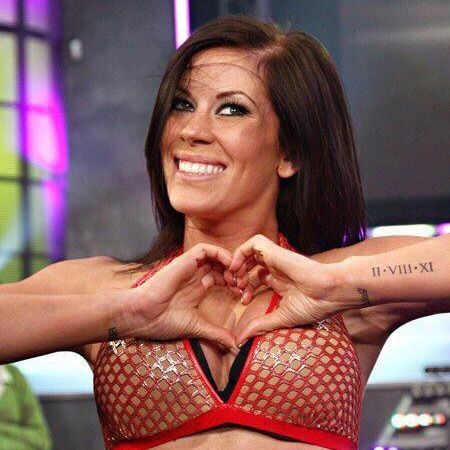 This was officially announced weeks ago, but Madison Rayne's tenure with Impact has come to an end. Madison debuted all the way back in 2009, and quickly became the newest member of the villainous Beautiful People faction with Angelina Love and Velvet Sky. Madison and Velvet replaced Angelina with Lacey Von Erich after Angelina's brief departure, and Madison won her first title in early 2010 when the BPs won the KO Tag Titles under the Freebird Rule. Madison later won her first of five Knockouts Championship just months later, after which she went on her own as Impact's lead heel in the Knockouts Division. Madison went on maternity leave in 2012, only to return at the tail end of 2013 and regain the Knockouts Championship in early 2014. She engaged in various angles following her last title run, beginning with a brief feud with Brittany, and a brief feud with Taryn Terrell that turned Madison into a villainess. Madison also reunited with Angelina and Velvet as a babyface from 2015-2016, and she spent most of her last year in TNA/GFW as a heel.
And speaking of departures, Eva Marie officially announced her release from WWE this past Friday. It was in the summer of 2013 that Eva Marie officially debuted as one of two new additions to the WWE roster. She and JoJo were the newbies added to the debuting Total Divas program, and it was in her first appearance on Raw that Eva Marie established herself as a heel when she delivered a slap to Jerry "The King" Lawler. Eva Marie's biggest criticism is her in-ring skills, but she took time to vastly improve on her craft and return on NXT with a new evil "Red Queen" gimmick in 2015. After months on NXT, Eva Marie returned to the main roster and became part of Brie Bella's team against Team BAD and Blonde at WrestleMania 32. She was later drafted to SmackDown after the returning brand split, and was given a new gimmick which included a voiceover intro, and promos for her big debut, only to cook up excuses for not competing. Eva Marie was booked to participate in a six-woman tag bout at Summerslam last year, but she received a Wellness Policy suspension. It only lasted 30 days, but Eva Marie was off WWE TV for over a year, as she was filming movies. Her first film, Inconceivable, came out on VOD on June 30.
A new week begins with Raw and SmackDown in Toronto, with both shows and NXT winding down the countdown to SummerSlam weekend! Until next week!