First Look: The 2nd Mae Young Classic (Part II)
The 2nd annual Mae Young Classic is closing in, and here is the second installment of an eight-part series that takes an in-depth look at the 32 combatants!
Jinny: Jinny was part of the wave of indy stars recently signed by WWE, in fact quite a few of this year's MYC combatants are. According to what I learned about her while reading news about her acquisition, Jinny is the current Progress Women's Champion, having defeated one of last year's MYC semifinalists, Toni Storm, to capture the title. She is another one who I will be watching for the first time, and as I stated in Part I, that's one of the many perks to the MYC. I do know this: based on the introductory video, Jinny will act as an arrogant heel; with a gimmick of being a model. Should be very interesting to see what Jinny brings to the proverbial table.
Kacy Catanzaro: I am not a viewer of American Ninja Warrior, but I have heard of the show, as well as the name Kacy Catanzaro. Kacy competed for three seasons of the hit NBC competition series, up until her retirement from the show in 2017. It was that same year that the 28-year-old was signed by WWE, and she had been competing in various NXT house shows against women such as Aliyah and fellow MYC combatants Rhea Ripley and Reina Gonzalez. The 2nd MYC will mark the largest bit of exposure for Kacy in her budding WWE career, and I am among many others looking forward to see how Kacy will perform at the tournament.
Tegan Nox: The story involving Tegan Nox in WWE is quite an interesting one. First off, the Welsh wrestling phenom is best known under the name, Nixon Newell, and she was actually announced for the first MYC last year. However, she became injured before the introductions were even made. She became determined to bounce back from her injury, with her drive leading to a return to in-ring action earlier this year. Nixon began competing under her real name, Steffanie Newell, before receiving the Tegan Nox name, and it was in her first appearance following her injury that she was paired with Dakota Kai at a live event, defeating Aliyah and Kavita Devi. I have had the fortune of seeing Tegan compete once before; I have Bellatrix 11 on DVD, and it was at the event that she (as Nixon Newell) participated in the event's British Ladies Championship tournament. I can't wait to watch her on the MYC.
Deonna Purrazzo: Deonna Purrazzo has to be the most high-profile indy wrestling alum out of all of participants in this year's tournament. Her wrestling career began in 2014 and she has not looked back; making appearances in several promotions and even Impact Wrestling. Deonna is also known for igniting the Women of Honor division with her 2015 match against Mandy Leon, and she would spend three years competing in ROH, feuding with women such as Kelly Klein and fellow MYC combatant Karen Q. Deonna has also made appearances for WWE on its NXT program, and it was in late 2016 that she made a brief appearance on SmackDown Live as Alexa Bliss' planned opponent. Just weeks later, Deonna returned to SmackDown as a villainess, appearing as the original evil La Luchadora associated with Bliss before Mickie James appeared as the character during the reveal. There is no question about Deonna's abilities, she is one of the best out there today, and she will show out at the MYC and beyond in WWE.
The Mae Young Classic is closing in! More combatants to come! The tournament premieres on September 5!
Straight Up Smack Down
As we are just days away from Summer Slam, Smack Down was live from Greenville, South Carolina on Tuesday night. During the Attitude Era, go home shows for any of these big four wrestling pay-per-views were usually must see.  Since that time, its been rare that any of these shows delivered to their audience on the same level. The prevailing formula has been to build the stories in the previous weeks & just be as conservative as possible in the last show. That makes for boring, easy to miss television. This past Tuesday was a blend of both styles; there was some definite headline-worthy news that happened & there was also a structured, adequate amount of taped segments.The two styles married very well & made for a really entertaining show.
Charlotte Flair & Becky Lynch began the evening by meeting Carmella in the ring.  This segment was so good!  Each woman was on their A game here. The segment really peaked when Charlotte called Carmella "a diva living in a women's era."
Immediately following Carmella's last words, General Manager Paige appeared. The GM was seen throughout the evening, trying to grab control of her competitors just days before Summer Slam. This was that conservative narrative of "don't screw anything up" in the go home show on display.  It was very evident in her actions, but subtle in comparison to other years & GM's. Paige told Carmella to go do what she does best & commentate on the next match, Becky Lynch & Charlotte Flair versus Mandy Rose & Sonya Deville…..
I would have guessed that Mandy Rose would be the one tapping out right from the start. WWE seems like they want Sonya Deville to be something, but I think they're struggling on how to give her a story line. She is not very charismatic, but is a great worker. I think WWE also wants the publicity of pushing a member of the LGBTQ community, without alienating any other fans in the process. She won't be on the main card for Summer Slam (much like her tag team partner Mandy Rose. Or the IIconics. Or Naomi. Or even Asuka!)  However, I fully expect her to be part of the Evolution pay-per-view in October. As far as the triple threat match goes for Sunday, I'm on the fence about it. The momentum for Becky seems like it's quelled over the past few weeks, ever since Charlotte became part of this match. Charlotte's absence was the best thing for Becky because it really shone the spotlight on her as the number one female babyface. That momentum is a funny thing. I am starting to think that Charlotte will win Sunday & the feud will then morph to Becky versus Charlotte. It seems too perfect. It also seems like there's been little hints along the way to it. Just watch that match & then the segment backstage. Seems like some clear animosity from Becky that she's trying to hide. If Charlotte or Carmella wins the match on Sunday, I would expect either a unprovoked or provoked explosion from Becky next Tuesday.
Paige also tried to control Samoa Joe later in the evening, by confronting him in front of his locker room & warning him to avoid A.J. Styles that evening. Joe, like he did just a few weeks ago, again made Paige eat her own words:
I loved this segment, but unfortunately it had to come at Paige's expense once again. Hey, this still made any demeaning Kurt Angle segment look like amateur hour. I love that Joe is being made out to look so good in the last few weeks. He's the breath of fresh air that Smack Down needs at the top. A.J. took the ring to speak to the audience, but Joe held true to his words to Paige & was less than predictable:
Honestly, I thought the segment before carried more weight. To me, this seemed so scripted & expected. Both superstars pulled off their parts well, but the layout was formulaic. To try an put an exclamation mark on the feud for Tuesday, WWE.COM caught A.J. Styles being restrained to verbal jabs by an………..unrestrained Samoa Joe?
Yeah, that's a weird one for me. Joe is just launching bombs on A.J., while A.J. is restrained, & nobody is pulling Joe out of the situation? I think one of the 5 or 6 restraining A.J. could have tried to push Joe out of the area? I'm just ready for their match at this point. I think it's going to be great & would be the 2nd from top match, in order, on Sunday.
What would be the last match on Sunday? Well, how about the match 8 years in the making?
This was what we've (I've) been waiting for. A 10 minute+ video montage chronicling the history between these two. Part 2 is where it REALLY began to pick up:
If there was ever a commercial for Talking Smack's return or opportunity for the Twitter trend #BringBackTalking Smack to restart, this was it. I mean, how good was that? These two don't necessarily need each other, but they definitely bring out the best in each other. Part 3 was the exclamation mark on this trilogy:
So good. If that 3 part montage wasn't fulfilling enough the first time around, just tune into WWE Network this Sunday. Including the video package just before their match, I'd say this airs at least 3 more time on Sunday. I don't know if their match at Summer Slam can live up to or exceed the hype, but I would give it the top billing if it were me lining up the card.
Aiden English squared off against Andrade "Cien" Almas, attempting to right his previous wrings against Rusev & Lana:
Right after the bell, English just vanished. Nowhere to be seen.  I don't think many noticed because Zelina, Andrade, Rusev, & Lana took hold of the scene. English had this to say to Rusev & Lana afterwards:
Jeff Hardy faced Shelton Benjamin in a warmup for his match Sunday against Shinsuke Nakamura:
It sure seems like the Shinsuke/Jeff feud is just hanging on by a thread at this point. It feels like the real feud is lying between Randy Orton & Jeff Hardy, but I don't think WWE has any challenger ready to feud with Nakamura. Jeff gave a quick interview backstage, following his match:
Luke Harper & Erick Rowan destroyed 3 local South Carolina jobbers, in an effort to send a message to The New Day:
I don't think The New Day got that message because the trio overcame SAnitY to claim victory on Tuesday night:
I thoroughly enjoyed this match from both teams. They have really good chemistry & are a good go to match for WWE. I still expect The Bludgeon Brothers to retain on Sunday, however.
So there you have it & I have a good feeling that Sunday's card might have a few surprises still to come. I'm very excited for NXT Takeover on Saturday & hoping that 6 hours of TV this Sunday doesn't feel like 6 hours of TV on a Sunday. Thanks for reading & enjoy Summer Slam weekend!
The Lucha Lowdown (Season 4, Episode 10)
Welcome to the Lucha Lowdown, which recaps the latest edition of Lucha Underground!
We open things in the office of Antonio Cueto, as he receives an invitation to Johnny Mundo and Taya's wedding. "It'll never last," Antonio quips. Kobra Moon enters and demands a rematch for the Trios Championship. She is not in a good mood; she lost Drago last week after losing to Worldwide Underground, a fact that Antonio was quick to remind her of. Kobra Moon states that she doesn't need Drago and that she wants what the Tribe deserves. Antonio gives her wants she wants:  the Reptile Tribe will challenge for the Trios Championship in tonight's main event!
Matt Striker stated that the match is official, and Vampiro also added that Killshot will also challenge for the Gift of the Gods Championship tonight. As for the action, The Rabbit Tribe–sans Mala Suerte–is in the ring, and Paul London was quick to rip his former ally and later enlist Saltadore to fight in defense of the Tribe. Antonio says that Saltadore will be the next sacrifice, and in comes Matanza! London actually prevented his ally from running off, sending him into the clutches of the diabolical Matanza. Saltadore pulls off some moves, but Matanza manages to finish off his opponent faster than you can say "squash match." So Saltadore joins his fallen brother (among others) in Matanza's collection, with London actually showing pleasure over what occurred.
The Trios Champions are still having problems, as Killshot continued to voice his bitterness over what occurred the Aztec Medallion match. Son of Havoc and The Mack were both surprised to learn that Killshot would be challenging for the Gift of the Gods Championship, with Killshot stating that after he wins the title, he hopes his partners retain the Trios Championship, while also stating to Havoc that he doesn't like him.
The Gift of the Gods Championship contest is next, and challenger Killshot makes his entrance, followed by the champion, Dragon Azteca Jr, who had a successful title defense against Mariposa last week. Azteca starts off with a pair of chops, but the technical wrestling follows. Killshot is ejected from the ring, but he late delivers a double stomp to Azteca before diving on top of his opponent. The challenger gets the first near fall, but Killshot places Azteca in a submission situation, which the champion escapes. Azteca starts bringing the fight to his opponent, including a head scissors outside the ring! After another two count, Azteca takes Killshot to the top rope, only for the challenger to fight back, leading to the combatants trading shots and chops! Killshot delivers the Kill Stomp from the top rope, but despite this, he only gets a two count! The champion fights back against the challenger, and it ends up resulting in Azteca getting the three count and cementing his second successful title defense in as many weeks!
We see Drago, sitting alone, before he is joined by Aerostar. Drago was freed last week thanks to Johnny Mundo's wish, and he is feeling regretful for his actions under Kobra Moon's evil control. Aerostar says that Drago is not to blame for his actions, but Drago believes that he is not deserving of Aerostar's friendship and must leave. That is just a beautiful segment, I absolutely love it.
Speaking of Kobra Moon, the evil queen enters with Jeremiah Snake and Daga, as the main event is underway. Melissa Santos emphatically introduces the Trios Champions, but we only see two of them:  Son of Havoc and The Mack. It could be said that Killshot is licking his wounds after losing to Azteca, but it also adds to the friction between the champions. Other than being a wrestling fan, I am also a hockey fan, and I know a power play situation when I see one, and that is the case with the challengers. It's 3-on-2, and Kobra Moon is in the ring getting a dropkick from Mack. Mack later battles Jeremiah, but Killshot appears! Looks like the sides are even and Killshot is fighting back in response to Jeremiah spitting in his face. Killshot entered the evening with everything to win, but has everything to lose, and we now see a borderline Human Centipede situation between all six participants! Wow!
A series of high flying dives follow, first from Mack, then Daga, and finally Havoc. Kobra Moon's attempt was thwarted by Killshot, but Jeremiah Snake appeared and took down Killshot, and later assisted Kobra Moon into delivering a head scissors to Killshot. Kobra and Jeremiah later take the fight to Killshot and get a two count due to Havoc breaking up the pin. Jeremiah and Havoc later go at it, but Killshot enters and delivers a kick to Jeremiah. Daga takes down Killshot, Mack kicks Daga, Kobra Moon enters, but ends up on the receiving end of Mack's Stunner, leading to a Stone Cold impression from Matt Striker. Jeremiah places a submission move on Mack, but Havoc breaks it up. Havoc's dive accidentally hits Killshot, but Killshot took it the wrong way and shoved Havoc off the top rope! This allowed Jeremiah to pin Havoc, and the Reptile Tribe have captured the Trios Championship, the first championship for Kobra Moon!
Killshot sits by Havoc and taunts him, blaming Havoc for losing the titles (not true at all). Havoc holds his shoulder, which appears to be injured, and Killshot responds by delivering the Kill Stomp to Havoc. Mack is furious over what Killshot has done, but Killshot simply blew Mack off before leaving the ring. In Killshot's mind, and he stated this before, Mack made his choice regarding which partner he was siding with.
Cage is brought out to the ring, and as announced earlier in the program, he'll be challenging Pentagon Dark for the Lucha Underground Championship in a Last Man or Machine Standing Match next week. However, Cage barely got a few words in before Pentagon entered and went after the challenger! The battling combatants took the fight all over the arena, which included Pentagon channeling his inner Jeff Jarrett and striking one of the band members with a guitar! Nobody is safe; not fans, and not even security! Pentagon and Cage continue brawling over the crowd and later into it, absolute chaos! Cage bumps into Father Rick O'Shea, and grabs him by the collar before Pentagon delivers a chair shot to Cage. O'Shea blessed Pentagon, but the Lucha Underground Champion actually breaks O'Shea's arm! The fight continues even as the credits roll, wow!
Mack enters Antonio Cueto's office and demands a match against Killshot, only for Antonio to remind Mack that he already has a match for next week:  a Haunted House Match against Mil Muertes! Whoa!
That's the Lucha Lowdown! Until next week!
NXT Weekly
The show opens up with a recap from last week where General Manager William Regal announced a triple threat match for the NXT Championship between Tommaso Ciampa, Johnny Gargano, and Alister Black at NXT Takeover: Brooklyn. They then cut to later that night where Black was found unconscious in the parking lot, which forced Regal to take him out of the match and make Ciampa vs Gargano in a Last Man Standing match for the title instead.
Street Profits vs The Mighty
The Mighty take control to begin the match but the Street Profits change the momentum after a Black Panther Splash. The Mighty regain the advantage by using heel tactics to single out Angelo Dawkins. He makes the hot tag to Montez Ford and shows off his athleticism with some impressive moves. Nick Miller gets knocked off the apron by Ford and Shane Thorne tries to roll up Ford with a handful of tights. Ford rolls through and pins Thorne with a handful of tights for the victory. These teams might not be near the NXT Tag Title picture anytime soon, but they are still a very entertaining lower mid-card teams that will have decent runs in NXT.
After the match, we see a graphic of Velveteen Dream and Nigel McGuiness says he will address EC3. Also, Tyler Bate vs Roderick Strong is hyped up for later on in the show. They cut to backstage where NXT Women's Champion Shayna Baszler talking to Aliyah and giving her pointers before her match with number one contender Kairi Sane.
We see a video from earlier with Undisputed Era. They are hyping up their tag title match at Takeover and Adam Cole says they aren't hiding behind anyone.
Kairi Sane vs Aliyah
Baszler comes out to join commentary for the match. Sane dominates most of the match and sent a message to the champion by hitting three Insane Elbows and pulled Aliyah up before the pin could happen. Sane locks in the Anchor submission and bridges back to stare at Baszler while performing the move. Sane and Baszler stare each other down as Baszler raises the title. Good job of building up Kairi Sane as someone who could actually provide a challenge to Shayna Baszler.
We see a hype video for the NXT North American Championship match between Adam Cole and Ricochet. One major thing I enjoyed of it was the visualization of the nameplate on the championship being taken off.
Velveteen Dream comes out next and mocks the NXT Universe and that EC3 has gotten his attention. EC3 comes out and says that all Dream is doing is trying to get in his head and says he will claim victory at Takeover. They brawl and EC3 counters the DVD into the One Percent and stands tall.
We get a breakdown of who could have attacked Alister Black with three different camera angles from WWE Now from their website as Cathy Kelley breaks down who was seen after we learned of the attack. Great job by WWE NXT creative by making a storyline out of a bad situation with a main eventer for the brand.
Next is a hype video for the Last Man Standing match for the NXT Championship between Tommaso Ciampa and Johnny Gargano.
Tyler Bate vs Roderick Strong
Trent Seven and Kyle O'Reilly are both ringside for the match. They have a good main event match as Bate counters Roderick Strong's End of Heartache twice and hits a lariat. He then hits a suicide dive outside of the ring before being distract by O'Reilly. Bate then hits the Tyler Driver '97 for the pin and the victory before their encounter at Takeover. The show goes off the air with Mustache Mountain standing tall in the middle of the ring with the momentum-building victory before NXT Takeover: Brooklyn 4 on Saturday.
Make sure to keep your eye out for my predictions for both Takeover and Summerslam, which will be out later this week.
3 Impacts From Impact
A wild and shocking Impact is in the books! What was the biggest surprise of the show? Here are my 3 Impacts From Impact:
Clearly, the biggest impact was made in the main event World Title contest between Austin Aries and Eddie Edwards. It was a back and forth match in more ways than one, not only with technical wrestling, but with the devious tactics between both of them, especially after the referee was taken down. The most devious act of all came when Killer Kross suddenly appeared and took down Edwards, allowing Austin Aries to retain the title. Now, Killer Kross appearing in the main event was already shocking enough, but it now appears that he has aligned with A-Double as his heavy! A-Double and K-Double together; very lethal combination!
Eddie's better half, Alisha Edwards, made her return to in-ring competition, facing off against the always lethal Tessa Blanchard. Alisha's last stretch of in-ring competition came when she and Eddie were engaged in a bitter couples feud with Eddie's former partner, Davey Richards, and his then-wife, the villainous Angelina Love, last year. Alisha and Tessa's match could be considered a classic, but despite Alisha's game efforts, Tessa emerged victorious. Tessa voiced her own ambitions after the match, as she continued accusing Allie of going after the Knockouts Championship, and stated that she would be close behind her if that was the case.
Scarlett Bordeaux continues to uses her feminine wiles to get what she wants, and the latest act saw her manipulate a collection of all-male executives in to keeping her out of the ring–despite Scarlett really being an accomplished wrestler–and giving her a talk show of her very own. No surprise, the drooling execs acquiesced, with Scarlett's show being titled, "The Smoke Show." I myself am loving Scarlett's sexually manipulative heel persona, something we don't see a lot of in wrestling, and I do hope it leads to her first official Impact Wrestling match–not counting Knockouts Knockdown 2 and her Xplosion match.
Those are my 3 Impacts From Impact! Until next time!
The 411 on 205 Live
205 Live is preparing itself to get ready for the Biggest Event of the Summer and actually having a match on a pay-per-view since the Greatest Royal Rumble back in April. The show opened with General Manager Drake Maverick hyping up Lio Rush vs Akira Tozawa and Cedric Alexander vs Jack Gallagher with both Drew Gulak and The Brian Kendrick banned from ringside for the show. WWE had running text talking about the death of Jim "The Anvil" Neidhart, which was a very nice touch from the company to do over 24 hours after his passing.
The show opened with Nigel McGuiness, Vic Joseph, and Percy Watson hyping up the Cruiserweight Championship match of Cedric Alexander vs Drew Gulak at Summerslam.
Lio Rush vs Akira Tozawa
Lio Rush comes out and runs down the crowd and says they have the honor and privilege of "watching this 23-year piece of gold." He says Tozawa will feel the rush tonight. Akira Tozawa comes out next. Tozawa gets a lot of early offense, but Rush takes control of the match towards the end as he is sitting on the top rope and Tozawa tries to climb up for a superplex and Rush just pushes him off and hits the Final Hour for the victory to remain undefeated at 5-0. I love the charisma and raw talent of a Lio Rush and would not be shocked to see him in the main event picture sooner rather than later.
The commentary team begins to talk about the challenger for the Crusierweight Title, Drew Gulak as we cut to a video of Gulak training at the Performance Center as B-roll footage as he is talking about becoming the next champion.
We see highlights of Hideo Itami vs Mustafa Ali and get an interview with Drake Maverick about Ali's health. Maverick says that Mustafa Ali has been suffering from extreme exhaustion and is expected to make a full recovery, but Maverick takes some of the blame. Maverick says Mustafa Ali will not compete in 205 Live until he believes Ali is 100%. Great way to build more heat on Itami by taking out one of the crowd favorites.
Hideo Itami vs Trent Newman
Itami squashes Newman and hits a couple of basement dropkicks in the corner, which knocks Newman out cold. The referee stops the match and awards the victory to Itami. After the match, Itami drops Newman once again and screams "respect me" before leaving the ring. Feels a little backwards to have Itami knock Mustafa Ali out of competing and then a jobber instead of vice versa, but it seems like Itami is getting set for a nice heel push on 205 Live and that could only lead to good matches.
Next is a similar video as Drew Gulak, but this time it is of Cedric Alexander. We see Cedric training and he mentions that he is undefeated in 2018 and says no man on the roster is more dedicated to 205 Live than him.
Drake Maverick is backstage as Tony Nese and Buddy Murphy walk in. Maverick congratulates them on their victory last week but is upset that Murphy, who was the illegal man, was the reason Nese got the pinfall over Kalisto. He makes Tony Nese and Buddy Murphy vs The Lucha House Party in a tornado tag match next week. It also announced that the rubber match of TJP vs Noam Dar will happen next week.
Cedrick Alexander vs Gentleman Jack Gallagher 
This match was good as both these wrestlers have good chemistry together. I just never really got into the match since they were pushing the whole "Cedric Alexander has not lost in 2018" and you knew the streak wasn't ending at the go-home show to Summerslam. The match was back-and-forth and Gallagher has the advantage with Cedric down in the middle of the ring and Gallagher charges him. Cedric gets up and hits a spanish fly and gets the pin for the victory.
After the match, Cedric Alexander is heading up the ramp as Brian Kendrick attacks him from behind and throws him in the ring as Cedric Alexander fights back. Cedric hits the lumbar check on Kendrick but Gulak comes from behind and locks in the Gu-lock for a few moments before grabbing the title and placing it on Alexander's prone body as the show goes off the air.
All in all, it was a good show as usual with three different matches. The cut-and-paste aspect of the two hype videos for the Cruiserweight Title match was a little bit disheartening, but it was still a good show that built some intrigue on the match at Summerslam. Make sure to keep your eyes out for my predictions for both NXT: Brookyln IV and Summerslam coming to the website later this week.
The Raw Truth (Prelude to SummerSlam2018)
RAW had quite a few surprises for August 13th show, leading up to Sunday's SummerSlam PPV.
At first, it looked as though WWE was going to mishandle the tragic loss of The Anvil, Jim Neidhart. However, they put together a nice video tribute toward the end of the show. Ill timed, but well done nonetheless. You can read more about the life of "The Anvil."
Renee Young made history as the first woman ever to call an entire episode of Monday Night Raw. She is good at her job and offers a refreshing departure from the normal banter. As always, there are many reasons why things are done in WWE. According to HHH, Renee has "earned" it. In addition to that, I am sure other things were factored in.
The segment with Alexa Bliss hiring a security team was humorous, but, the outcome predictable. Rousey wound up laying waste to the group and standing alone in the ring. We get it. Rousey is a bad seed and is to be feared. The psychological versus the physical is a nice gimmick, but we all know Rousey would kill Bliss in the real world.
As I have mentioned many times, Rousey has the look and attitude to turn heel and I think that's where she needs to be.
Strowman and Balor defeated Owens and Mahal. I understand the placement of this match prior to SummerSlam, but, it was awful to watch. Mahal is a train wreck in the ring and among the most boring talents I have seen in a while. While I am glad his "push" has waivered, he does not belong on main card.
Ricky Roberts hit Lashley with a guitar. Unfortunately, not hard enough to send him back to Impact Wrestling!
The B-Team are still RAW Tag Team Champions. Don't know what to say here. It's sports entertainment at it's low point. I will say both Axel and Dallas have "paid their dues" but it's sad that their legacies (Hennig, Rotunda, Mulligan) are tarnished by a sideshow creative approach.
Heyman and Lesnar got one over on Reigns. After a faux plea in the ring from Heyman to join forces with Reigns, Heyman sprayed "mace" in the eyes of Reigns, blinding him and leaving him defenseless. Lesnar's music hits and the beatdown ensues. Candidly, these feud lost it's shine after their first match. Now, it's either in need of a dramtic twist (Heyman turning on Lesnar) or it needs to end at SummerSlam. I choose the latter.
It was nice to see Ruby Riott back! She won a nice one over Sasha Banks. I like The Riott Squad. Nice, comic book creative and some decent talent too.
The leaked return of Dean Ambrose still was a nice surprise. Dean has a new haircut and looks jacked! He will be in Rollins corner to "watch" McIntyre, who will be in Ziggler's corner. Not sure about this one? This has all the makings of a heel turn for Dean. We shall see.
The final card seems to be set, pending SmackDown.
AJ Styles vs. Samoa Joe
Brock Lenar vs. Roman Reigns
Alexa Bliss vs. Ronda Rousey
Carmella vs. Becky Lynch vs. Charlotte
Daniel Bryan vs. The Miz
Dolph Ziggler vs. Seth Rollins
Nakamura vs. Jeff Hardy
Braun Strowman vs. Kevin Owens
Bludgeon Brothers vs. New Day
B Team vs. Revival
Finn Balor vs. Baron Corbin
Cedric Alexander vs. Drew Gulak (Kickoff Show)
Andrade Cien Almas/Zelina Vega vs. Rusev/Lana (Kickoff Show)
Bobby Lashley vs. Elias
Banks/Bayley vs. Riott Squad
Big card! But, some big names missing.
Asuka, Bobby Roode, Nia Jax, Seamus, Cesaro and The Usos…..
Enjoy SummerSlam 2018~
TK
36 Things You May Not Know About Jim Neidhart
As most of you know, we here at cleatgeeks do morn the passing of our sports heroes, but we choose to do it in a celebratory way. We like to look back and see all the memories that our heroes have provided for us. Hopefully, these memories will bring a smile to the faces of the fans and will even shine a light on some things that even a lifelong fan may not know about Jim "The Anvil" Neidhart. Therefore, here are 36 things you may not know about one half of the Hart Foundation.
Neidhart held the California high school record in shot put from 1973 until 1985.
2) After graduating from high school, Neidhart pursued a career in the National Football League, where he played for the Oakland Raiders and Dallas Cowboys in practices and preseason games, but never made it on a 53 man NFL roster.
3) Following his release from the Dallas Cowboys, Neidhart traveled to Calgary to train with Stu Hart and pursue a career in professional wrestling. He worked for Hart's Stampede Wrestling from 1978 to 1983, and again in 1985, during which time he married Ellie Hart, one of Stu's daughters.
4) Stu Hart, seeking publicity for Neidhart, promised him $500 if he would not just enter, but also win an anvil toss at the Calgary Stampede. He did, throwing it 11 feet, 2 inches. This earned him the nickname "The Anvil", replacing his prior nickname of "The Animal"
5) Neidhart actually teamed twice with King Kong Bundy for Georgia Championship Wrestling in 1983.
6) When Stu Hart sold Stampede Wrestling to Vince McMahon, owner of the World Wrestling Federation, Neidhart and Bret Hart were included in the deal.
7) Initially a singles wrestler, managed by Mr. Fuji, Neidhart debuted on January 21, 1985, in Madison Square Garden, defeating Tony Garea.
8) Initially a heel team managed by Jimmy Hart, The Hart Foundation made their pay-per-view debut at WrestleMania 2, where they were the last two eliminated from a 20-man battle royal, featuring wrestlers and NFL players, the two were eliminated by André the Giant.
9) The Hart Foundation won their first WWF World Tag Team Championship on the February 7, 1987 episode of WWF Superstars (taped January 26), from fellow Stampede alumni, The British Bulldogs (Davey Boy Smith and The Dynamite Kid), with the help of heel referee Danny Davis, who was continually "distracted" by checking on Dynamite (laid out of the match early by a megaphone shot from Jimmy), allowing the challengers to double-team Smith (in reality, Smith was forced to wrestle alone due to Dynamite being so debilitated with a back injury that he was virtually carried to the ring by his partner). Davis was subsequently fired as referee, and began wrestling, aligned with The Hart Foundation.
10) They lost the belts on the November 7 episode of Prime Time Wrestling (taped October 27), to Strike Force (Rick Martel and Tito Santana) when Neidhart submitted to Martel's Boston crab.
11) The Hart Foundation unsuccessfully challenged Demolition (Ax and Smash) for the tag title at the 1988 SummerSlam, where Ax hit Hart with Jimmy Hart's megaphone for the pin.
12) The Hart Foundation continued feuding with Jimmy Hart's wrestlers for the next year, teaming with Jim Duggan to defeat Dino Bravo and The Rougeaus in a 2/3 falls match at the 1989 Royal Rumble, then defeating The Honky Tonk Man and Greg Valentine at WrestleMania V.
13) After Neidhart had a long singles series against Valentine, Honky Tonk Man and The Genius to start 1990. The Hart Foundation reformed full-time on March 24 in Las Vegas.
14) At WrestleMania VI in Toronto, they defeated The Bolsheviks (Nikolai Volkoff and Boris Zhukov) in 19 seconds.
15) They started a second feud with champions Demolition, who at this point added Crush, to reduce the load on Bill Eadie (Ax) after a health scare. From April 21, the teams wrestled each other exclusively at house shows, to either double count-outs or disqualifications. This culminated at SummerSlam 90 on August 27, where The Hart Foundation won the title for a second time in a 2/3 falls match.
16) On October 30, 1990, The Rockers (Shawn Michaels and Marty Jannetty) did actually defeat The Hart Foundation in a two out of three falls match in Fort Wayne, Indiana, to seemingly win the title, though the WWF has never officially recognized The Rockers' champion status. During the match the top rope broke by accident making the match a disjointed affair that would require serious clean up before it could be shown on TV. The Rockers defended the WWF Tag Team title against Power and Glory (Paul Roma and Hercules) on November 3, 1990. Shortly after November 3 it was decided to not air the title change and that the title would revert to the Hart Foundation. In his book, Shawn Michaels claims that the Hart Foundation had politicked to keep the title. However Michaels claim is contradicted by other claims that the WWF had actually fired Neidhart forcing the title change, but after the match the two sides came to an agreement and Neidhart was re-signed.
17) Jimmy Hart once again cost The Hart Foundation the belts at WrestleMania VII, in a match with his new team, The Nasty Boys (Brian Knobs and Jerry Sags), when he distracted the referee, allowing Sags to knock out Neidhart with his motorcycle helmet.
18) Jim Neidhart actually commentated for Wrestling Challenge alongside both Gorilla Monsoon and Bobby Heenan from March until August 1991.
19) He returned on the December 1 edition of Wrestling Challenge, teaming with Owen Hart (Bret's younger brother) as The New Foundation, defeating Barry Horowitz and Duane Gill.
20) Jim was fired from WWF on February 16, 1992 after a house show in Augusta, Georgia, for unprofessional conduct.
21) Neidhart debuted for World Championship Wrestling (WCW) on the May 15 episode of WCW Worldwide Neidhart even teamed with The Junkyard Dog as they beat, Paul Orndorff and Dick Slater by disqualification on the June 5th edition of WCW Saturday Night. A short time later on October 7, Neidhart left WCW.
22) Then, on November 13, 1993, Neidhart wrestled The Sandman to a no contest at November to Remember in the ECW Arena. Yes, "The Anvil" dropped the hammer in WWF, WCW and ECW.
23) Neidhart returned to the WWF at King of the Ring in 1994, as Bret Hart's cornerman for his WWF World Heavyweight Championship match defense against Intercontinental Champion Diesel. After Diesel hit Hart with his Jackknife finisher, Neidhart interfered to prevent the pin, and disqualifying Hart but allowing him to retain the title. After the match, Diesel and Shawn Michaels beat down Hart, and Neidhart didn't intervene. Later that night, Neidhart reappeared at ringside again during Owen Hart's King of the Ring tournament final against Razor Ramon. He attacked Razor outside the ring, behind the referee's back, then Neidhart threw Razor back for Hart to elbow drop and pin to become "The King of Harts", turning heel for the first time since 1988.
24) Owen had been feuding with Bret since the Royal Rumble. Neidhart, believing Bret had held Owen back from his potential, sided with Owen. Neidhart claimed he'd only helped Bret keep the WWF World Heavyweight Championship at King of the Ring so Owen could take it from him.
25) This opportunity came in a steel cage match at SummerSlam. Neidhart sat in the third row during the match, behind other Hart family members. After Bret won the match, Neidhart entered the cage, locked it and helped Owen beat him down, while the Hart family members tried to climb over it and save him.
26) In a storyline, Diesel and Michaels were WWF Tag Team Champions when they split, therefore the titles was vacated and a tournament held. Neidhart and Hart lost to The New Headshrinkers (Fatu and Sionne) in the first round on the December 31 edition of Superstars, by disqualification. By the time it aired, Neidhart had left the WWF. Bret Hart wrote in his autobiography that the original plan was for Owen and Neidhart to win the tournament and the WWF Tag Team Championship, but Neidhart was officially fired due to no-showing events. Owen wound up winning the WWF Tag Team Championship at WrestleMania XI with new partner Yokozuna and a year later with fellow brother-in-law The British Bulldog.
27) On the July 6, 1996 edition of Superstars, he returned as the masked heel Who, a gimmick designed for commentators Vince McMahon and Jerry Lawler to make "Who's on First?"-style jokes during his matches (most of which he lost). Who last appeared on TV in the "Bikini Beach Blast-Off" party on the SummerSlam pre-show. His last match was a win over Alex Porteau in Miami on September 12.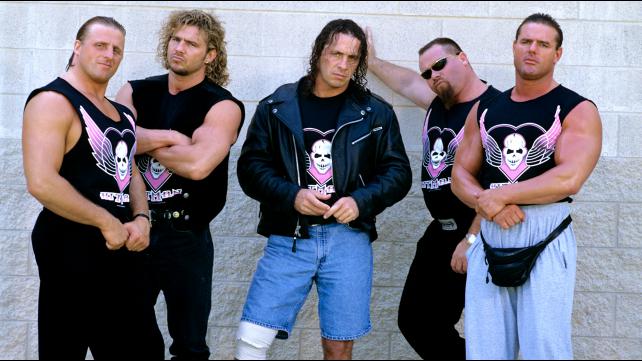 28) Neidhart returned to the WWF on the April 28, 1997 episode of Raw is War, and attacking Stone Cold Steve Austin and reuniting with Bret and Owen Hart as part of the new Hart Foundation, a stable of Canadian sympathizers, also including Davey Boy Smith and Brian Pillman.
29) On July 6 at In Your House 16: Canadian Stampede in Bret's hometown of Calgary, The Hart Foundation defeated the American team of Stone Cold Steve Austin, Ken Shamrock, Goldust and The Legion of Doom.
30) Neidhart was also part of Team Canada at Survivor Series in Montreal, teaming with The British Bulldog, Doug Furnas and Philip Lafon defeated Team USA Vader, Goldust, "Marvelous" Marc Mero and the debut of "The Lethal Weapon" Steve Blackman (Bulldog was the sole survivor, Neidhart was pinned by Vader).
31) After Bret and Davey Boy Smith left the WWF on bad terms because of the Montreal Screwjob at Survivor Series. D-Generation X leader and WWF Champion Shawn Michaels offered Neidhart a spot in the group on the November 24 episode of Raw Is War. Neidhart accepted, only for it to be revealed as a setup as the group assaulted Neidhart at the end of the show, turning face for the first time since 1994. The following week on the December 1 episode of Raw is War, DX member Triple H defeated Neidhart. After the match, DX beat up Neidhart once again and spraypainted "WCW" on his back, signifying him following Bret Hart to World Championship Wrestling.
32) In January 1998, Neidhart returned to WCW, where he formed a short-lived tag team with The British Bulldog. His final match for WCW was on the September 26 episode of WCW Saturday Night, where he and The British Bulldog lost to Stevie Ray and Vincent.
33) Neidhart appeared in TNA on the November 12, 2009, edition of Impact! winning against Jay Lethal in his initial open challenge thrown out to the legends of professional wrestling.
34) Jim has made brief appearances on the reality show Total Divas produced by WWE and E! that his daughter Natalie is featured on as main cast.
35) Neidhart and wife Ellie have three daughters – Jennifer, a gourmet chef and caterer, Natalie, and Kristen ("Muffy"), who was married in early June 2007.
36) Neidhart was arrested on September 6, 2010 and charged with two counts of possession of controlled substances with intent to distribute, two counts of trafficking illegal drugs, one count of burglary of an unoccupied dwelling, and one count of third degree grand theft for property stolen between $300 and $5,000. He was arrested after becoming aggressive with police after ingesting multiple pills outside a gas station. In March 2012, he was sentenced to five months and 29 days in jail. During his sentencing, he was arrested and held in contempt of court. Neidhart then completed two stints in rehabilitation paid for by WWE.
On August 13, 2018, Neidhart died at the age of 63. According to the Pasco County Sheriff's Office, he fell at home and hit his head. All of the staff and writers at cleatgeeks ask that you take a moment and say a prayer for his family in memory of Jim "The Anvil" Neidhart.
Women's Wrestling Wrap-Up
Welcome to the latest edition of the Women's Wrestling Wrap-Up, which recaps everything in women's wrestling in the past week, beginning with Monday's Raw.
Raw featured a rematch between the newly named Boss 'n' Hug Connection of Sasha Banks and Bayley, and the already established Riott Squad. However, things were different this time, as the match saw the return of the Squad's leader, Ruby Riott, who interfered and helped Liv Morgan and Sarah Logan defeat two of the Horsewomen. Raw was main evented by Ronda Rousey, who competed in her first ever Raw match against Alicia Fox. Needless to say, Ronda made easy work out of Alicia, and managed to dispose of Alexa Bliss during her post match interview. On SmackDown, Lana received a rematch against Zelina Vega, but it ended the same way as her last attempt: Zelina winning thanks to an Aiden English miscue. Also, championship co-challengers Charlotte Flair and Becky Lynch defeated The IIconics, but they now know that when it comes to SummerSlam, it's every woman for herself.
On NXT, maniacal marvel Nikki Cross kicked of the show with a victory over the evil Amber Nova, while Lucha Underground saw Ivelisse in action, and ended with Johnny Mundo proposing to Taya! On Impact, Tessa Blanchard defeated Alisha Edwards in what was Alisha first foray into the Knockouts Division in over a year. After her victory, Tessa gave a warning to Allie, stating that if Allie is targeting the Knockouts Championship, she'll be right behind her. Also, Scarlett Bordeaux used her looks to manipulate the higher ups into keeping her out of the ring and giving her a talk show of her very own.
This past weekend, it was announced that Rusev and Lana will team up to face Andrade "Cien" Almas and Zelina Vega during the SummerSlam Kickoff Show, giving the overall event three women's matches total. Many are speculating that with Ruby Riott's return, we could see the entire Riott Squad face off against Sasha Banks, Bayley, and a mystery partner. With Natalya most likely being in the corner of Ronda Rousey for her title opportunity against Alexa Bliss, one has to believe that Ember Moon will be the partner for Sasha and Bayley against the Riott Squad, if such a match is announced for SummerSlam.
We will find out this week, as the final countdown to SummerSlam weekend starts with Raw! Until next week!
First Look: The 2nd Mae Young Classic (Part I)
The wait for the second annual Mae Young Classic tournament is almost over! All 32 women have been announced, and we are just weeks away from the tournament's premiere on the WWE Network! To increase your anticipation, here is the first of an eight-part series that takes a look at the 32 combatants!
Kaitlyn: Clearly among the biggest and most anticipated of the 32 combatants, Kaitlyn was the very first woman announced for the 2nd annual tournament. The MYC marks Kaitlyn's return to WWE after four years, and is the culmination of a wrestling comeback that began earlier this year. Kaitlyn's WWE career began with NXT in 2010, and it was within a year that she was promoted to the main roster and formed a partnership with AJ Lee. Kaitlyn's elevation began in 2012, when she was put into the Divas Championship picture en route to capturing the title on January 14, 2013. She held the title for just over five months before she would be on the wrong end of history; losing the title to AJ Lee and kickstarting AJ's 295-day reign (which has been surpassed by Nikki Bella). Kaitlyn left WWE in 2014, but she would return to wrestling this past February when she defeated now-fellow MYC combatant Rachael Ellering at an indie event. Kaitlyn will definitely show out in the MYC, and I do hope that this leads to a full on WWE return.
Rhea Ripley: Australian sensation Rhea Ripley was the first returning combatant announced, and the first of many to return to the MYC. Rhea participated last year's event; defeating Miranda Salinas in the opening round before being eliminated by Dakota Kai in Round 2, but she remains signed with WWE. She has competed on NXT and during several live events, but in recent months, Rhea has been working as a heel, aligning with Reina Gonzalez and a villainous Aliyah in recent house shows. The "Parade of Champions" special earlier this week saw Rhea debut her new villainous look during her intro; consisting of a new hairstyle, leather apparel, and a very fierce attitude. I am very curious to see how far Rhea will go with this new character. I know this much, she'll give a great performance in the tournament, regardless of how far she reaches.
Io Shirai: The great thing about the Mae Young Classic is that I and other fans of women's wrestling get to see certain women for the first time ever. In my case, Io Shirai is one of those women. Io Shirai is a name I've heard many times, but I have never seen her in action. So when I saw her name among those announced for the MYC, I was elated. Another Japanese phenom, Io made a mark during her time with the STARDOM promotion, having held the World of STARDOM Championship on two occasions. I myself am anxious to see what Io will bring to the MYC. I have a feeling that she will not disappoint.
Nicole Matthews: As a longtime fan of SHIMMER and a collector of their DVDs, I was so, so elated when I learned that Nicole Matthews would be participating in this year's tournament! Nicole is a veteran of the Berwyn, Illinois based promotion, where she is best known as one half of the Canadian NINJAs with Portia Perez. The duo captured the SHIMMER Tag Team Championship twice, and it was in 2014 that Nicole captured the SHIMMER Championship in a four-way elimination match, defeating Athena (WWE's Ember Moon), Madison Eagles, and entering champion Cheerleader Melissa (Lucha Underground's Mariposa). Nicole actually appeared as an enhancement talent on WWE's NXT, and she as actually an alternate for the first Mae Young Classic, but never used. Nicole has acted as a heel for pretty much all of her career, and quite a despicable one; she tossed a fireball at Eagles to win the SHIMMER Championship. With that, I'm hoping that she's a face in the MYC. I have yet to see the heroic side of Nicole Matthews, and I hope to see that because I know she'll pull it off very well.
Those are just a small collection of the combatants who will participate in the 2nd annual Mae Young Classic tournament, which premieres on September 5! And there's more to come!