Total Diva Fallout (Season 7, Episode 6)
Welcome to the Total Diva Fallout, which recaps the latest episode of Total Divas! This week, a look at the episode, "Divas Gone Wild."
And that was exactly what happened. It was a party in Cabo to celebrate Nikki Bella's engagement, and she was happy to have reunited with Alexa Bliss at the party, as they hadn't seen a lot of each other since the Superstar Shake-up sent Alexa to Raw. It was an amazing party, which saw the return of Brie Mode! I still say that Brie Mode should have served as a heel alter-ego for Brie Bella on WWE TV; imagine how that side of Brie could have been portrayed back when she was wrestling regularly!
Unfortunately, the two Divas who went the wildest were Natalya and Lana, and definitely not in a good way. The bitterness that began a few episodes back continued in spades in Cabo, as the two women were constantly at each other's throats. Moments included Lana pranking Nattie by T.P.-ing her room, and it even got physical when Nattie slapped Lana when they were at a night club. The episode ended with Nattie actually tossing Lana's phone and luggage in to the ocean, which had an angry Lana banging on Nattie's door demanding her stuff, even threatening to break down the door and even shave her bald! Wow!
Honestly, Nattie went too far; she was bullying Lana, IMO. Lana was moving past their argument, or at least trying too. Nattie kept bringing it up over and over, which prompted Lana to stand up for herself. And according to the preview for next week, the drama continues. Hopefully it concludes.
That's the Total Diva Fallout! Until next time!
WWE Clash of Champions Predictions
On Sunday the Smackdown Live roster comes to you live on pay-per-view for Clash Of Champions where every title on Smackdown Live will be defended. We have a women's lumber jack match for the Women's Title, we have a fatal four way tag team match for the Tag Titles and a triple threat for the United States Title. The WWE Title will also be defended in a standard one on one match when Jinder Mahal invokes his rematch. We will also see long time friends turned bitter enemy's then brought back together for a common cause take on an unlikely team in a match that will have two referees calling the same match. All this and more will take place Sunday on the WWE Network.
WWE Champion AJ Styles vs. Jinder Mahal
The modern day magherjas gets his rematch for WWE Championship after dropping it to the phenomenal AJ Styles just before Survivor Series. Over the last few weeks Mahal has kept to his old ways of ambushing and cheap shots on the champion and still can't do anything by his self and must keep involving his minions. Both men are coming off the heels of some big losses that have moved their careers forward with a big step, at Survivor Series AJ fell to Lesner in a match that showed even the smallest fighters can take it to the gents. Then Mahal fell to Triple H on a house show in India where at the end of the match Mahal earned the respect of the King of Kings. Even with the big losses I don't see them having AJ drop the title on his first pay per view defense.
My Prediction: AJ wins by disqualification by the Sing Brothers causing mahal to turn on the sings
SmackDown Women's Champion Charlotte Flair vs. Natalya (Lumberjack Match)
I feel like we have seen a variation of this match every week since before Survivor Series and it's gotten old I hope this to be the last time Natalya is given a rematch for the title. What is even more intriguing about this match is the lumberjack aspect of it where the Smackdown women's locker room will surround the ring to keep the participants of the match inside the ring. If all women are involved in the match, then that means the riot squad will be at ring side to cause, and most likely will have an impact on the outcome of the match but also at ringside will be Carmella who's still has the Money In The Bank briefcase both of those unpredictability's could and probably will have an impact at the end of the night.
My Prediction: Flair retains in the match
SmackDown Tag Team Champions The Usos vs. The New Day vs. Shelton Benjamin & Chad Gable vs. Rusev & Aiden English (Fatal 4-Way Match)
Start off by saying this will be my pick for the match of the night over the last few months The Usos and The New Day have been putting on five star matches that have out shined most of the other matches on the card for the night. Now we add in the team of Benjamin and Gable who have each held tag team gold multiple times in their careers and have been putting on some good tv matches over the last few weeks. They have come up short a few times to claim gold for themselves, but Clash of Champions may be the right time. The unpredictable factor here is Rusev and English as a tag team when we haven't seen a lot of them in matches together. The team has good chemistry between the two of them, but I don't think they are ready to be the top dogs on Smackdown Live's tag team division just yet.
My Prediction: Shelton Benjamin and Chad Gable win the tag team titles
Randy Orton & Shinsuke Nakamura vs. Kevin Owens & Sami Zayn (Shane McMahon and Daniel Bryan as special guest referees)
This monumental match is more about the conflict between Bryan and Shane than it is about the match itself. There are 3 major components to this match, one if Owens and Zayn lose they will be fired from Smackdown Live. Now WWE has already stated indirectly that they won't lose by putting Zayn in this mix match challenge to represent Smackdown Live witch may mean that this match doesn't end with a decisive victory. Next this is the first time that WWE is allowing Bryan to be involved in an active match where he could take a bump as planned or as an accident this could be leading up to something big. Finally, there will be two reffs in the match which means that both will have to agree on the outcome and with Shane's hatred for Owens and Zayn that is bound to cause an issue between the two. There are many combustible elements to this match and I believe the outcome will cause ripples through out WWE.
My prediction: the match will have no clear victor
United States Champion Baron Corbin vs. Bobby Roode vs. Dolph Ziggler (Triple Threat Match)
This match kind of came out of the blue, Corbin has not had a running program with anyone since winning the title and Roode had won the feud with Ziggler but during a live show tour it was announced that Roode and Ziggler would be entered into the match. Ziggler will be the one to take the fall most liklye since over the last year he has mainly been used as enhancement talent to build up NXT stares when they come up. Keeping in mind that this is Corbin's first pay-per-view defense of his first WWE title with him dropping it now I feel is unlikely when the only other person in the match who could win it would be Roode and he is still so new to the main roster.
My Prediction: Corbin retains
Breezango vs. The Bludgeon Brothers
Finally, the Fashion police have come back to Pay-Per-View! After months of being absent from in ring compaction on pay per view and on Smackdown Live for the most part, Fandango and Breeze are back as their old tag team Breezango to square off with the newly daubed tag team the Bludgeon Brother. The Bludgeon Brothers are a repackage of Luck Harper and Eric Rowen from the Watt Family. The Bludgeon Brothers are undefeated since arriving on Smackdown Live and they have been so dominating their matches which have lasted less than five minutes and this match will be no different.
My Prediction: The Bludgeon Brothers win in a destructive fashion
Zack Ryder vs. Mojo Rawley
The Hype Bros lost their hype a few weeks ago when Mojo finally reached his limit after constant loses and he turned on his partner and long-term friend Zack Ryder, this shocked no one. This tag tea never got any traction and could never win the matches that mattered. This is a grudge match for Ryder to try to get his revenge on Mojo before the two proceed down their own singles paths. Ryder has been here for years and has had a few pushes and they never took he has always been more of a gimmick where Mojo is still very new and has had a few small pushes and I believe the small pushes have taken very well and I think its time to see what Mojo can do on his own
My Predition: Mojo wins
UFC on FOX 26 Predictions
UFC on FOX 26 takes place Saturday, December 16, 2017 at the Bell MTS Place in Winnipeg, Canada. The four-fight main card will begin at 8 PM EST and is televised on FOX, while the prelims take place on UFC Fight Pass for the opening two bouts, moving to Fox Sports 1 at 5 PM EST for the remaining 6 prelims. The opening bout will feature third-ranked and seventh-ranked light heavyweights Glover Teixeira and Misha Cirkunov. Both fighters are coming off losses, but the winner will find himself among title discussion in the beginning of 2018 in a shallow division. The second bout will see fan favorite Mike "Platinum" Perry take on tenth-ranked welterweight Santiago Ponzinibbio. Both fighters are coming off impressive knockout wins in their last bouts and the winner will find a good top-10 matchup in the near future. The co-main event will feature former featherweight title challenger and current third-ranked Ricardo Lamas and late replacement Josh Emmett. Lamas was scheduled to fight Jose Aldo in a rematch from 2014, but Aldo was pulled out in favor of a rematch against Max Holloway earlier this month when Frankie Edgar was removed with an injury. The main event is a fight that should produce the next title challenger in the 170-pound division as former welterweight Champion Robbie Lawler and former lightweight Champion Rafael dos Anjos meet.
Glover Teixeira vs. Misha Cirkunov
The main card kicks off with a fight that is unlikely to reach the judges' scorecards after three rounds. Glover Teixeira has finished 7 of his 9 UFC fights while his counterpart has finished all 4 of his UFC fights. Both fighters are coming off knockout losses from May in this year, to Alexander Gustafsson and Volkan Oezdemir, respectively. Teixeira has faced much tougher competition in his time in the UFC, with wins over future hall of famers Rashad Evans and Rampage Jackson, having shared the Octagon in losses with Gustafsson, Anthony Johnson and Jon Jones. The most respectable name on Cirkunov's list of wins is Nikita Krylov, who is no longer in the UFC. This fight should be contested mostly on the feet where both guys have heavy hands and knockout power. The fight could hit the mat and that's where it could get interesting, both fighters have black belts in Brazilian Jit Jitsu with 7 submission wins each in their respective careers. Glover may be a little shop worn at this point in his career, and at 38 years old, the clock is ticking. This may be his last opportunity to climb back to the top for another shot at gold. Cirkunov is only 30 years old but is still inexperienced, but will own a 1-inch height and reach advantage. Teixeira is comfortable on the feet but has relied on his BJJ skills and underrated wrestling to bail him out of tough spots in the past, while that isn't likely to work well against Cirkunov. Cirkunov hasn't shown much ability to lock up chokes from the bottom but I suspect he's capable of doing so with his slick submission skills. This fight really depends on which version of Glover shows up. I think he's seen better days, but I don't think his skills and/or chin have diminished enough to get beat by Cirkunov. Teixeira by second-round TKO.
Mike Perry vs. Santiago Ponzinibbio
Mike Perry has quickly become a fan favorite, not only for his exciting style and knockout power, but also because of his personality. He's one of those guys you either love or hate, but he comes to fight every single time and he's downright fun to watch. Ponzinibbio is coming off the biggest win of his career as he upset 13th-ranked Gunnar Nelson in their main event bout in July. Perry had a Knockout of the Year contender in April when he disposed of Jake Ellenberger with a vicious elbow. He's looked impressive thus far, finishing all 4 of his UFC win, while his opponent also touts 4 finishes in 7 fights. Ponzinibbio will own a 2-inch height and reach advantage in this fight and will likely use his reach to stay away from the power of Perry. He may look to take this fight to the ground as Perry has finished all of his professional MMA wins via strikes, with no submissions or decisions. The win against Gunnar Nelson was somewhat controversial as he appeared to land an eye poke prior to the finishing shots. Both of these guys have knockout power, but Perry is more powerful and more confident in his striking. Although I think Ponzinibbio may make it to the final bell, you can't bet against a guy who's never won a decision before. This fight will be violent and fun. Perry by third-round KO is the pick.
Ricardo Lamas vs. Josh Emmett
Respect to Josh Emmett for taking this fight as an unranked opponent going up against the third-ranked featherweight in the world on short notice. That will be the only positive thing that comes out of this fight for him. He's earned some respect from the MMA community, Ricardo Lamas and Dana White, surely. Unfortunately for him, "atta boys" don't get you very far in the UFC. He's being thrown in the deep end against one of the best featherweights the UFC has ever seen. Emmett fights with a very similar style to Lamas, he's just not as good as Lamas wherever this fight goes. Emmett made his return to featherweight in October and was able to beat Felipe Arantes, but he ran out of gas fairly quickly. He was still able to dominate that fight, but he's up against a different animal now. I'm tired of writing about this fight. Lamas by first-round submission is the pick.
Robbie Lawler vs. Rafael dos Anjos
This is a very intriguing matchup for a variety of different reasons. Since dropping the welterweight title to Tyron Woodley in July of 2016, Lawler's fought just once, a unanimous decision win against Donald Cerrone. He came out like a man possessed and tried to take Cerrone's head off, and nearly did, but found himself reeling a little bit in the second and third rounds of their exciting UFC 214 bout this past July. That's not the same Robbie Lawler we've seen fight since his return to the UFC in 2013. If he fights like that against a fighter as technical and aggressive as RDA, he's going to come out of this fight the loser. Rafael dos Anjos has looked incredible since going up to the welterweight division, but he beat Tarec Saffiedine and Neil Magny, neither of who are on the level of Lawler. His most recent performance was rather impressive though, submitting Neil Magny in the first round, a feat that took BJJ wizard Demian Maia two full rounds to do. Lawler used to come out firing away with reckless abandon, but has since changed his style to a much more technical and methodical approach. It's paid dividends for his career as he tasted UFC gold when he beat Johny Hendricks at UFC 181 to capture the welterweight Championship. He went on to defend it twice, both in Fight of the Year winners, against Rory MacDonald and Carlos Condit. It's a little unfair to lay any blame on him for the Woodley loss, it was a flash knockout that was the first significant strike landed in the fight by either man. Lawler is surely licking his chops for another shot at the Champion, but he's got to get through one of the very best pressure fighters the UFC has ever seen. Once upon a time Rafael dos Anjos fought "Cowboy" Cerrone as well, and he beat him in just over a minute. MMA math doesn't always work out, but I see dos Anjos giving Lawler problems, assuming his chin holds up. This fight being five rounds could benefit either man if it goes that long. Lawler's shown an ability unlike any other to find another gear in the final frame of his fights before. Dos Anjos put on a clinic against Anthony Pettis to win the lightweight title at UFC 185 in a five-round beating, never slowing down. There were questions about dos Anjos before his move to welterweight as he lost the title via knockout to Eddie Alvarez and was picked apart for five rounds against current interim Champion Tony Ferguson. He's bounced back since, but questions still remain about his size, as he will give up 3 inches of height and 4 inches of reach against Lawler, a former middleweight. This is a very difficult fight to predict and it's a coin flip, as evidenced by the lines in Vegas, with Lawler giving up no more than -124. Dos Anjos can strike with Lawler, maybe not for extended periods of time, but he has some brutal leg kicks and a smothering top game to fall back on. Unless he gets clipped early, I just see him being too much for Lawler over the course of five rounds. Lawler was hurt by Rory and Carlos in those fights, and he's just taken too much damage throughout his career. RDA by fourth-round TKO is the pick.
Straight Up Smack Down
Clash of Champions is this Sunday & the last Smack Down Live episode came to us from the "Natty" this week. No, not the former Smack Down Live Women's champion Natalya.  Not that "Natty."  Cincinnati, home to Renee Young's husband Dean Ambrose. Actually, Renee was featured quite frequently this week. It seemed like every moment of the show was either a part of a Renee Young interview or a wrestler on guest commentary during a match. Or wrestlers on commentary during a match. Or at some points, all of the above.
My favorite moment of this episode happened during the Bludgeon Brothers' match against the team of Joe Monroe & former ECW competitor, Colin Delaney. For the past few weeks now, Harper & Rowan have been running through tag teams on Smack Down Live….even breaking up the Hype Bros along the way. But what made this squash match stand out was Joe Monroe. At 53 seconds into this video, Harper & Rowan performed an assisted power bomb on Monroe. Joe let out a scream of pure terror, like he had just seen a mouse in his house:
That scream is so good. I've heard it ten times now at least & it's still making me laugh. Monroe was nowhere to be found afterwards, but Delaney had these words for WWE.COM:
However, a close second place finish for my favorite moment on Smack Down Live this week would have to go to Shelton Benjamin & Chad Gable. Prior to a match pitting the Usos against Aiden English & Rusev, they were part of an opening promo to the match. Also featured were The New Day, on guest commentary. Gable & Benjamin pointed out that the other 3 teams in their match on Sunday all used the word "day" as a reference to their team. Whether it was the team of New "Day", or English singing about Rusev "Day", or the Usos talking about their "Day" One Ish, this was a very astute observation. Chad & Shelton then ended their talking segment by saying their names, in the same creepy way that both New Day & The Usos had been referring to them (at 2:55 into the video):
A rare win for Rusev & English, who seem to have a decent amount of steam behind them. As history goes, the winners on these go home pay-per-view shows don't typically win their pay-per-view match but don't tell Aiden & Rusev that! They were flying high after this week:
I don't see the English & Rusev team being dissolved any time soon, mainly because they have become a prominent team in the division. They're both charismatic personalities & they are both very good in-ring workers. Will they win the tag team titles?  Possibly…..but I doubt it's this Sunday.
Ok, so I already mentioned that New Day was on guest commentary for the Usos versus English & Rusev match. Here's this episode's other matches that featured guest commentary:
(spoiler alert: both of these matches ended almost the exact same way)
Charlotte faced Ruby Riott, with Natalya on commentary:
Baron Corbin versus Dolph Ziggler, with Bobby Roode on commentary:
Funny how (at 1:25 in) the referee allowed Roode to kick Ziggler in the gut without disqualification, but as soon as Bobby completed the Glorious DDT, that warranted disqualification. He literally waited for the impact of Roode's finishing move to happen, before he called for the bell. Why? It's simple, when you think about it. It's an audio/visual association. Vince or whoever booked this, wants you to associate Roode's Glorious DDT as a finish to the match. Pretty stupid when you spell it out, but that's exactly why & don't think for a second that you won't see it again. If I'm a betting man, I could see this DQ in slow motion replay as part of their match's video package on Sunday….bell call & all.
Moving on, Daniel Bryan sat in on commentary for Shinsuke Nakamura versus Kevin Owens in the main event & boy, did he ever. Before we get to that, throughout the night both Owens & Zayn were trying to collect momentum for an "Occupy Smack Down" movement. Or a "Yep Movement" as they also termed it. Both slogans in obvious reference to their General Manager Daniel Bryan. Owens & Zayn seem to think Bryan is on their side in the Shane versus Sami & Kevin feud. On paper, Daniel is saying all the right things. Here, he confronted both Owens & Zayn prior to the main event:
It wasn't shown in the video, but it was pretty awkward when Bryan first appeared in this segment. It was awkward because after he appeared, 10 seconds later his entrance music began to play! Like I said, Bryan said all the right things but making himself the second guest referee in the match sure does raise a few eyebrows. Am I expecting a full heel turn from Bryan? Not really, but I could see this leading to an eventual Shane heel turn. We'll see Sunday, but here was the Nakamura/Owens match that began with a Renee Young interview & also ended with a Renee Young interview. However, it was really more like the Saxton versus Bryan commentary match featuring Owens & Nakamura but unfortunately WWE edited out their verbal clash:
Interesting how Bryan delayed going into the ring for a few seconds before he counted Nakamura's pin on Owens. I wonder if that was intentional or if Bryan just had a mental burp. I'm guessing it was intentional because otherwise WWE could have just edited it out, much like they edited out the better parts of this match.
The Singh Brothers tried to pull one over on A.J. Styles at the beginning of the show, but Styles showed the world that he can use social media:
Very sneaky, but what was even sneakier was Jinder's attack on Styles later in the evening.  It was Mahal who would have the last laugh headed into Sunday:
So now we've covered the feuds for almost every Clash of Champions match, except for two.  One is Breezango versus the Bludgeon Brothers.  That screams of either a pre-show match or a filler match just before the main event.  The second match that I haven't mentioned is one that's already been scheduled for the pre-show, Zack Ryder versus Mojo Rawley:
There, I mentioned it.
Finally, WWE revealed that they begin airing a "Mixed Match Challenge" next month between Raw & Smack Down.  This challenge will involve mixed gender tag teams of both brands.  The challenge will begin streaming live on Facebook Watch January 16, 2018 at 10:00 P.M. EST & both brands announced the contestants.  What they did not mention is the team pairings.  WWE is leaving that option up for the fans to vote on.  So here is Smack Down General Manager Daniel Bryan to announce Smack Down's contestants:
Kurt Angle also announced Raw's contestants for the challenge, but since I don't cover Raw, you'll just have to go to WWE's YouTube to find out their contestants.
Thanks for reading as always & enjoy Clash of Champions on Sunday!
3 Impacts From Impact
Another amazing Impact is in the books, as the promotion enters the month of December. Who made the biggest impression? Here are my 3 Impacts From Impact:
Due to the events of the last Impact, a tag team main event was made, pitting Eli Drake and Chris Adonis against a team consisting of Eli's last two challengers, Johnny Impact and Petey Williams. The former challengers ended up victorious, but the very end saw Alberto El Patron stealing the spotlight again; taking down Eli and holding the Global Championship that he once possessed. This whole tit for tat between Eli, Johnny, Petey, and Alberto has been going on for weeks, and I say it's about time we saw a resolution to this. Maybe have all four of them duke it out for the title, hopefully as soon as next week. They can't take Johnny out of the title picture completely, especially since he should have walked out of BFG as champion.
The second three way semifinal match in the Knockouts Championship tournament took place, pitting former champions Sienna, Rosemary, and Allie against each other. Sienna had been the most vocal about the tournament, stating that it was unfair due to the fact that she wasn't actually pinned in Gail's title victory at BFG. However, Sienna had the chance to get the title back, and Rosemary and Allie also had chances to become champion again. What I did enjoy was Rosemary and Allie's bond being mentioned as the pair went at it during the match, which actually ended with Rosemary pinning Allie to advance. The Demon Assassin will face off against the unhinged Laurel Van Ness in the final, while Sienna finds herself in a place that's foreign to her: completely out of the title picture.
Matt Sydal received his latest big opportunity, as he challenged Ethan Carter III for the Grand Championship. It was dead even from beginning to end, with EC3 winning Round 1 while Sydal won Round 2. After the third round, even the judges were even, with two of them splitting between champion and challenger, while the third stated it was a draw. So EC3 retained and still referred to Sydal as a choke artist, even though they basically tied. One has to believe that Sydal will get another shot at the title, because, again, it was a tie.
Those are my 3 Impacts From Impact! Until next time!
Women's Wrestling Wrap-Up
Welcome to the latest edition of the Women's Wrestling Wrap-Up, which details everything in women's wrestling in the past week, beginning with Monday's Raw.
Raw featured Paige's first match in a year, as she (with her Absolution cohorts Mandy Rose and Sonya Deville) defeated Sasha Banks (with her allies Bayley and Mickie James). Later on, Alicia Fox was defeated by Asuka, and afterwards, she was taken down by Absolution, with the attack coming after Paige referred to Alicia as her best friend. In between all of this, a possible romance could be budding between Nia Jax and Cruiserweight Champion Enzo Amore. More on that later.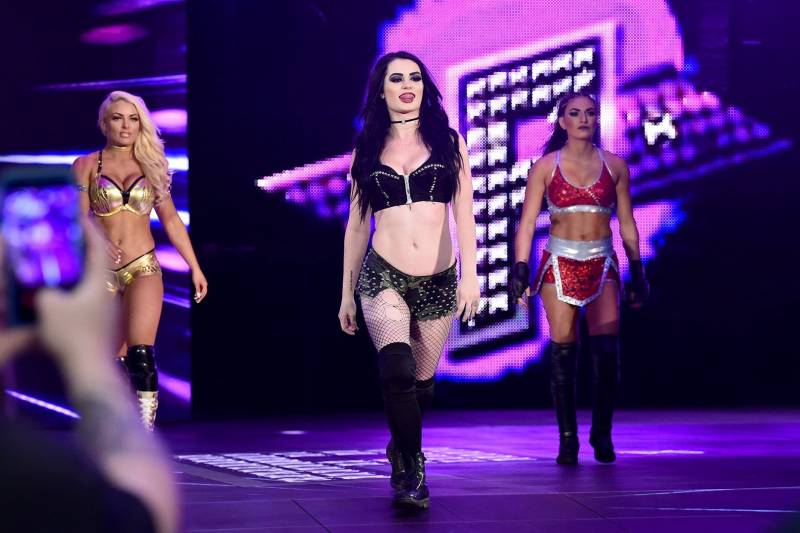 SmackDown featured Charlotte defeating Tamina in singles action, but before this, Daniel Bryan was caught in a crossfire between The Riott Squad, Carmella, Lana, and the aforementioned Tamina. The GM announced that all of the other women would be involved in the title contest between Charlotte and Natalya, as it will be a Lumberjack Match. Following Charlotte's victory, the future Lumberjacks went at each other, while Charlotte walked away unscathed. We would see more of Charlotte later in the week, as she made her appearance in Psych: The Movie, which aired this past Thursday.
NXT featured the final chapter in the rivalry between Ruby Riott and Sonya Deville, which began before both women were promoted. Sonya defeated Ruby in a No Holds Barred Contest, while new NXT Women's Champion Ember Moon was challenged by Peyton Royce during her interview. On Impact, Rosemary defeated Allie and Sienna to advance to the finals of the Knockouts Championship tournament, where she will face Laurel Van Ness.
So about Nia. Online reports did state that the plan is to have Nia and Enzo paired up as a comedic heel couple, following in the footsteps of Glamarella and Carmellsworth, though IMO, that bar was set by Eddie Guerrero and Chyna during the Attitude Era. I have been vocal in stating that Nia should be pushed, though I am all for this angle; I do love couples like this. Reports state that the angle will see Nia appear on 205 Live, though if it were up to me, Nia would do what Jacqueline did in 2004: win the Cruiserweight Championship. I wouldn't be surprised if it eventually leads to that.
This upcoming week is actually one of my favorite weeks of the year, the annual WWE Week! USA Network has used this promotion for several years now, and it always takes place at the 2nd or 3rd week in December, in time for the holidays. For this week, it's Raw on Monday, SmackDown on Tuesday, an actual airing of NXT on Wednesday, and the 15th annual Tribute to the Troops on Thursday. Yes, you read that correctly, NXT (or at least part of it) will be on the USA Network for the first time ever, and will air on actual television for the first time in seven years. Raw should featured the continuation of Absolution's dominance, while SmackDown will be the last one before Clash of Champions. And I do enjoy Tribute to the Troops; a WWE holiday tradition that began in 2003.
So that's what in store for us on this upcoming week! Until next week!
Total Diva Fallout (Season 7, Episode 5)
Welcome to the Total Diva Fallout, which recaps the latest episode of Total Divas! This week, a look back at the episode, "The Bella Rush."
The Bellas took center stage in the episode, mainly Brie, as she was talking about a comeback. While Nikki was out of the ring due to injury, it had been much longer for Brie. Nikki did make a comeback in the summer of 2016, but has been out of action since this year's WrestleMania. As for Brie, she hasn't competed since last year's WrestleMania, and in the 20 months that have passed since then, she became pregnant and gave birth to a daughter, Birdie Joe, and solely focused on motherhood. The twins were featured finding new rushes, including extreme sports and attending horse races, and this was done after Brie mentioned missing WWE and competing. Brie was last shown training with Nia, and as we all know, a full on Bella comeback has been teased and nearly promoted to happen sometime in 2018, most likely in time for WrestleMania.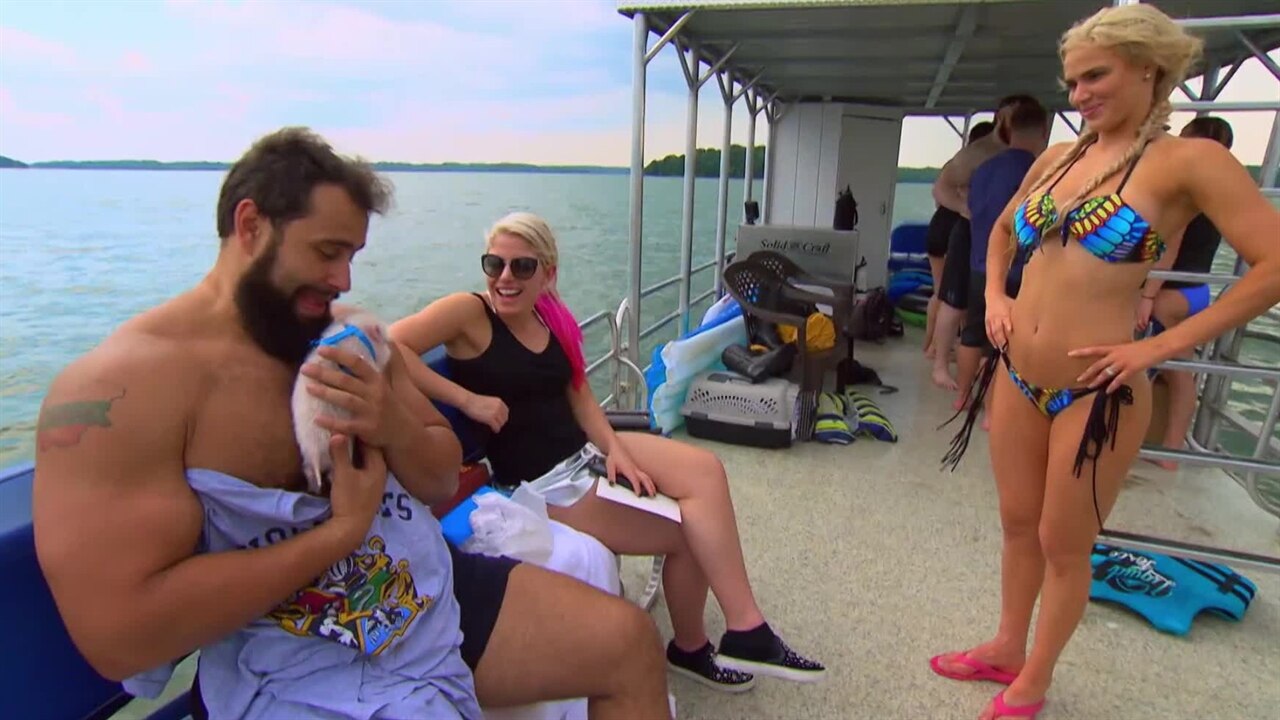 A close secondary story involved Lana, as she and Rusev were debating over starting a family. Rusev is dead set on becoming a father, while Lana doesn't feel ready and is more focused on her career. We also received an Alexa/Nia story, as the former of the pair adopted a piglet from a farm, and part of that story saw Lana give Alexa's new pet to Rusev to hold in an attempt to hold off any baby talks, but to no avail. Nattie's part of the show saw her act as a very stern and strict landlord to her parents. I always love anything involving Nattie's family, and this moment was the craziest. What still stays in my mind is the Anvil owning marijuana oil! Wow!
That is the Total Diva Fallout for this week. According to the promos, we are expected to see some continuation from the Lana/Nattie drama that began on episode 7.04, so until next week!
Straight Up Smack Down
Believe it or not, Clash of Champions is a week away from THIS Sunday. Sure seems like Survivor Series just ended but with the enhanced storylines over the last few weeks & Smack Down's new additions to the roster, there has been a very solid build to the upcoming pay-per-view. Most of the attention has surrounded Kevin Owens & Sami Zayn. Last week, they used a technicality within the prescribed guidelines to emerge victorious again & remain employed. That is right where this week picked up again…..
Ok, so a couple thoughts from the opening segment. First, I liked it. It initially brought us right back to last week & then as it began to drag, Orton hits the RKO Outta Nowhere.  Which leads me to my second thought, Owens sold the crap out of that RKO. Go back & watch at 2:45 in. KO made it look like he had no premonitions that Orton was about to deliver that & used no arms or hands to take that faceplant. Well done, sir. Third observation was that Shane added all 3 competitors to the upcoming pay-per-view. That's cool, except you know, it's called CLASH OF CHAMPIONS! NONE OF THESE GUYS ARE CHAMPIONS! Again, Shane just changes things as he sees fit. So can we now call this upcoming event, "Clash of Champions plus a non-title tag match?"  Yep, rolls right off the tongue. Shane also made the main event match between Sami & Randy, with Kevin handcuffed to the ring ropes. Ok, so let's fast forward now to the end of the show & see what happened in the main event:
First things first, at 1:41 Sami made that top rope suplex look amazing. He sprung off that rope & held his legs at their highest point throughout the course of the rotation.  Incredible. Next, Shinsuke coming to Randy's aid was somewhat expected. Orton needed a tag partner for the pay-per-view & whether it was this week or next, that partner would be revealed. Nakamura had nothing else going on so, why not? Afterward, Shane spoke to Daniel Bryan in the backstage area on camera:
Umm, can he do that? Pretty sure Vince has the last say on whether or not in-ring talent is fired from WWE. Maybe that's where this is headed?  Shane sure looks to be displaying heel tendencies & with Bryan seeming to be somewhat sympathetic to Owens & Zayn's plight, maybe this becomes an "anti-authority" storyline. Bryan would be all to familiar with that. I'm interested to see where this goes because the next few weeks could register a seismic shift with the current structure of Smack Down Live.
This week was heavy on promo segments. Let's start with the women's division. Before this week's episode, it was announced that Natalya will face Charlotte at Clash of Champions for the Smack Down Live Women's title. This riled up Carmella, Lana, & Tamina enough to address Daniel Bryan:
So apparently Daniel is very prejudicial. Tattoos, big game hunters, southerners, blondes, & anyone who's not in the Bella Army are the type of women that Bryan is opposed to helping according to these women….some of whom are now "afterthoughts."  Okay then, Tamina faced Charlotte later….
That 3 part promo from the Riott Squad was terrible. It sounded so canned & rehearsed. So that was the women's contribution to Smack Down this week. Hopefully, next week will bring more excitement as we get ready for the Lumberjack match at Clash of Champions. One last thing, thank you Vince for resisting your temptation to call this a "Lumber Jill Match."  It was very 2017 of you.
Then there were more promo segments, like this one featuring Mojo Rawley blaming Zack Ryder for holding him back:
Great stuff, Mojo. Nobody really cares unfortunately.
Yet another backstage promo segment but this time featuring Bobby Roode, Baron Corbin, & Dolph Ziggler discussing mathematics:
I actually think Dolph saved this segment, but it still wasn't very good overall. However, it got us to a match between Roode & Corbin with Ziggler on commentary:
Can't say I didn't see that coming. Clash of Champions now has a Triple Threat match for the United States championship. That's the way to get everyone involved, right? Let's just add more wrestler into the matches! Oy vey. That theory was put in play yet again for the tag team division.
But first, 12 days of Rusev as presented Aiden English…..
Rusev Day > New Day, enough said. Following the match, it was announced that there will be a Fatal 4 way match for the Smack Down Live Tag Team titles at Clash of Champions.  The teams will be The Usos, The New Day, Shelton Benjamin & Chad Gable, and Rusev & Aiden English. The losing teams will receive participation trophies afterwards.  Just kidding, but there goes that theory again. Just add more wrestlers.
So far on the Clash of Champions card we have: the non title holders tag match, the Fatal 4 way tag title match, the Women's title Lumberjack match, the U.S. title Triple Threat match, & A.J. Styles versus Jinder Mahal for the WWE Championship without any weird stipulation. A very effective week for Smack Down Live, as they turn the corner toward their go home show next week. It seems like their card is pretty much set. Heck, I think they might even have the pre-show covered already too….
I'll leave you with a team who could be possible pre-show contestants, The Bludgeon Brothers. They had a great squash match this week against 2 jobbers. Don't blink or you'll miss it:
Thanks for reading!
It's Time to Put McGregor in the Rearview Mirror
After UFC 216, it seemed as if all would finally get back to normal when Tony Ferguson defeated Kevin Lee to become the interim lightweight Champion. Dana White all but confirmed that Ferguson had stamped his ticket for a mega-fight with the superstar, Conor McGregor, to unify the lightweight belts. Yet here we are two months later and there's still no indication who, if anyone at all, McGregor will fight next. Quite frankly, it's annoying that he doesn't seem to have any interest in defending the belt he was gifted a title shot at and that his name is brought up anytime there are fights on live TV. He's irrelevant to the UFC world right now. After Georges St. Pierre beat Michael Bisping to claim the middleweight Championship, fans clamored for a super fight between him and McGregor. This past weekend at UFC 218, Max Holloway finished Jose Aldo in the third round of a featherweight title fight for the second time this year. Once again, McGregor found his way into discussions of a fight with the winner of a PPV, as he has for the last 3. It's time for the UFC to put Conor McGregor in the rearview mirror. He's spent enough time holding up divisions with fighters who haven't hit their ceiling, preventing them from becoming bigger stars. GSP doesn't need a super-fight with McGregor to get or stay relevant, he was the PPV king before McGregor came along. Max Holloway and Tony Ferguson are both stars in the making, but they're both wasting their time campaigning for a fight with him. The UFC has made it clear that Conor McGregor calls his own shots, and if he doesn't want to fight someone, it's not going to happen. Tony Ferguson is an exciting fighter and the best lightweight on the planet right now. He deserves to be crowned the undisputed Champion and he's got unfinished business with Khabib Nurmagomedov. If Khabib gets past Edson Barboza at UFC 219 later this month, that's the fight to make in the 155-pound division.
The Conor McGregor that didn't seem to forget where he came from is all but a forgotten memory.
Conor McGregor seems to be in the news for all the wrong reasons lately. If you're not familiar with Conor McGregor's rise to stardom, I'd encourage you to watch some interviews and listen to him speak humbly about his struggles prior to the UFC. He's made claims of being on welfare in Ireland, fighting at local shows and using government assistance just to make ends meet. You won't hear him talk like that anymore because, quite frankly, money and fame changes people and he is no exception. Unfortunately for fans of the UFC, the Conor McGregor that wept with emotion when he captured the interim featherweight title from Chad Mendes at UFC 189 is no more. The Conor McGregor that didn't seem to forget where he came from is all but a forgotten memory. The UFC allowed him to breach his contract with them to step into the boxing ring with the greatest boxer of our generation and he doesn't seem ready to return the favor. Questions have surrounded him since that defeat that left him filthy rich. He doesn't seem motivated or in a hurry to get back into the Octagon to defend the belt he's left on the shelf since November of last year. Meanwhile, Tony Ferguson, the newly-crowned lightweight interim Champion, awaits confirmation on his next fight. If I were a betting man, I would bet the house that his next bout won't be against McGregor in the UFC. Dana White said at this past weekend's UFC 218 scrum that
he's not even sure if McGregor ever fights again.
So too is the case for Georges St. Pierre as the newly-crowned middleweight Champion. He has been mum about his fighting future since capturing the middleweight title from Michael Bisping last month at UFC 217. It should be noted that Dana White, at the same UFC 218 media scrum, ripped into the Champion, saying that he won't be happy if he doesn't defend the belt. Dana said part of the agreement for him coming back was to defend the belt if he won it. His relationship with GSP hasn't always been the best and it seems there is still a breakdown in communication somewhere. It may seem a little premature to be calling for a Champion to defend his belt after only 4 weeks while McGregor has held onto his for a year without Dana calling him out publicly. Unfortunately for everyone else, Dana White knows that McGregor is his cash cow and realizes he isn't in control. The UFC has a bad reputation for playing favorites, although you can't necessarily blame them for doing so. However, Champions should be treated equally, and a world title needs to be defended regularly.
There is no official rule in place for a timetable to defend your title, it seems to be at the discretion of the UFC, who plays judge, jury and executioner. Dominick Cruz went 609 days on the shelf before vacating his bantamweight Championship from 2012-2014. He was scheduled to fight longtime rival Uriajh Faber for a third time at UFC 148 for the bantamweight title before pulling out with an injury. Renan Barao stepped in on short notice and defeated Faber before defending the interim title twice. Barao was then scheduled to fight Cruz for the undisputed bantamweight title but Cruz again had to pull out, forcing the UFC to declare Barao the undisputed Champion. By contrast, in 2004 Frank Mir won the UFC heavyweight title when he defeated Tim Sylvia. The following October he was scheduled to fight Andrei Arlovski but was still healing from injuries sustained in a motorcycle crash. The UFC stripped him of his title after 419 days of inactivity. Earlier this year at UFC 208, Germaine de Randamie defeated former bantamweight Champion Holly Holm for the inaugural featherweight Championship. Her first title defense was supposed to be against superstar Cris "Cyborg," but rumors swirled that she was unwilling to fight her based on her previous banned substance positive tests. The UFC made the decision to strip her of the title after only 128 days of inactivity.
128, 419 and 609 days of inactivity caused three Champions to be stripped of their titles. Those numbers represent a very large range and are perplexing to someone from the outside looking in. A male Champion went 609 days without being stripped of his title while a female only went 128 days without being stripped. In any other industry, that would get you a lawsuit. Not in the UFC apparently. Conor McGregor went 189 days before he was stripped of his featherweight title, this while he currently held a title in another division in which he'd never competed. As of this day, it's been 391 days since McGregor won the UFC lightweight title and not only has there been no talk of a title defense, UFC president Dana White doesn't sound confident that he will ever fight again.
Conor McGregor gets preferential treatment based on who he is and how much revenue he generates for the company while people like Germaine de Randamie don't have much say in anything at all.
I don't particularly like writing opinion-based articles and that's why I've done the research to present facts and figures. The bottom line is that the UFC, as I eluded to earlier, plays the part of judge, jury and executioner. Conor McGregor gets preferential treatment based on who he is and how much revenue he generates for the company while people like Germaine de Randamie don't have much say in anything at all. Life isn't always fair but punishments should be the same across the board, no matter who you are. The UFC got big long before McGregor came into the picture and he wasn't around at its peak at the beginning of the decade so they will survive without him.
3 Impacts From Impact
Another historic edition of Impact is in the books! What stood out the most on this action packed edition? Here are my 3 Impacts From Impact:
The Knockouts Championship tournament began with Laurel Van Ness, Madison Rayne, and KC Spinelli clashing in one of two three-way matches in the round robin. For Madison, this marked her return to the Impact Zone, and a chance to become a six-time Knockouts Champion. For KC, this was her first official appearance in the Impact Zone, and for Laurel, it was an opportunity to shine after a year in Impact Wrestling. In this hard fought and fast paced match, Laurel ended up emerging as the victor when she pinned KC, and she advances to the championship final, which will air on December 14. It was great seeing KC compete in the Impact Zone, and I can't wait to see more of her!
The continuation of the Matt Sydal/Ethan Carter III angle was displayed, as the Impact Grand Champion was on commentary during Sydal's contest against Tyson Dux. EC3's continuous criticism of Sydal is that he can't win big matches, referencing Sydal beating Lashley yet coming up short in his Global Championship opportunity. Sydal was victorious over Dux, and following his victory, it was announced that Sydal will receive a shot at the Grand Championship on the next Impact. I do sense that the "close but no cigar" tag will be removed from Sydal after everything is settled.
Speaking of things being (possibly) settled, Johnny Impact and Alberto El Patron finally had their grudge match stemming from the events of Bound For Glory. Global Champion Eli Drake stated that he would have a front row seat to see the two championship contenders go at each other, and he certainly did, as it was Eli's interference that led to Johnny winning. Eli then went after Johnny and Alberto, with Chris Adonis assisting him. However, at that moment, Petey Williams, who had a shot at the title before, went after the champion, and the show ended with Petey and Johnny celebrating. I dare say that the top title picture has become crowded, and I am curious to see who will emerge as Eli's next contender. It may be more than one challenger.
Those are my 3 Impacts From Impact! Until next time!