The 19th Hole: JT Races to First Major
Charlotte is NASCAR country, but for a week it became the center of the golf world, hosting the PGA Championship.
But the storyline went a lot like a race, with drama, passes and wrecks along the way as Quail Hollow Country Club wreaked havoc but also was the scene for many clutch shots. In the end, young star Justin Thomas made more of those big shots, including two huge back-nine birdies, avoiding the carnage at the top of the leaderboard and claiming his first major championship.
The most dramatic moment came at the 13th hole, when Thomas chipped in from about 70 feet for an unlikely birdie, the first of two on the back nine's par threes, helping him overcome a talented leaderboard featuring the likes of Hideki Matsuyama, Kevin Kisner and Patrick Reed.
"That chip-in on 13 was probably the most berserk I've ever gone on the golf course," Thomas said right after the round. "I'm kind of interested to see how I looked for that."
No doubt it looked pretty good to Thomas, as it did to his family and friends, both those at the course and beyond. The 24-year-old was particularly excited about being able to share the victory with his grandfather, one of his great influences in the game. Thomas got to speak to him shortly after the win.
He just said, "You're something else, and this is the first of many." Thomas said.
"I love my grandparents, I love my grandpa so much. I've just spent so many times with him on the golf course. He's watched me play and win so many junior golf tournaments. It would have been great if he could have been here. I mean, I understand he couldn't. But I'm just glad that he could watch it and we can share this together. I know we'll have some fun, you know, when I see him again, hopefully soon."
Kisner and Chris Stroud began the final round leading the way, with Matsuyama right in the hunt as well. Several others made a run on Sunday, including Reed and Rickie Fowler, who might have won the whole thing were it not for an awful finish in Saturday's third round.
But as others were struggling around him, Thomas was slicing through the difficult back nine like a boss. Three birdies propelled him to a great position and by the time he came to the tough 18th, Thomas had a three-stroke lead and was able to make a safe bogey and still maintain his edge.
Reed, Francesco Molinari and Louis Oosthuizen ultimately tied for 2nd, while Fowler and Matsuyama were another shot back in a tie for 5th. Kisner, who had the lead a good bit of the week, tied for 7th with Canadian Graeme DeLaet while Stroud slid into a tie for 9th, a week after winning in Reno to qualify for the event.
Thomas has some of that race car driver swag, too. His girlfriend had a 7 p.m. flight out of Charlotte planned on Sunday, but he told her before the final round to push the time back, because he was "going to win."
He celebrated afterward with fellow pros and longtime friends like Rickie Fowler, Bud Cauley and Jordan Spieth, who won The Open last month.
"It's a cool little friendship we have. I know Rickie was a couple groups in front and Jordan was probably through nine or something when I finished. I just didn't believe Bud Cauley stayed around. He's one of my best friends. We live together in Florida. I was about ten minutes from going to tee off and he was walking off to go sign his scorecard. So he hung around for an entire 18 holes just to stick around, and not knowing what could happen."
What happened was another breakthrough for a young star. Now a four-time winner on the PGA Tour this season, Thomas is right in the hunt for player of the year honors and will be a major factor in the FedExCup playoffs.
This Week
The Wyndham Championship is the final event before the playoffs. The top 125 on the money list after this event advance to the tour's postseason, while the next 75 will have to fight to keep their cards via the Web.com Tour playoffs. The rest will be looking for other ways to continue their careers next season.
PGA Picks
Our winless 2017 continues.
Matt Kuchar – The back door was open for a top 10 finish and more cash for Kuch. 1-under, tied for 9th
J.B. Holmes – A strong third round made Holmes some money, but he couldn't catch Thomas and the lead pack. 2-over, tied for 28th
Charley Hoffman – A strong summer for Hoffman continues with another made cut. He's 11th in the points standings. 5-over, tied for 48th
Sergio Garcia – The Masters champ never got it going. 8-over, missed the cut
Wyndham Picks
Bill Haas – A former winner in this event and a former FedEx Cup champion, Haas has good memories of playing good golf this time of year.
Ryan Moore – He's battled some injury issues this year, but a solid top 15 finish at the PGA has Moore trending in a good direction.
Jason Dufner – The former PGA champion was in the hunt in this event each of the last two years. His solid iron play is always a benefit.
Longshot – Scott Brown – Brown tied for 13th at the PGA and has some urgency, as he needs a good week to boost his standing.
The 19th Hole: Hideki's 61, Glory's Last Shot
When a run of good putting can match up with the sweet swing that Hideki Matsuyama brings to the golf course, really good things are likely to happen.
It did last fall when he won multiple times, before a stretch earlier this season where the putts just weren't falling. But last week, it was all clicking, particularly in a sensational final-round 61 that propelled the Japanese star to victory at the World Golf Championships-Bridgestone Invitational.
The round matched a longtime course record at Firestone Country Club.
"I just couldn't believe it that anyone could shoot a 61 on this golf course," Matsuyama said after the round. "And then from that point, to work hard and to be able to do it today is a dream come true."
Matsuyama doesn't get perhaps the publicity of some of golf's young stars, but at age 25, he's already put together an impressive resume.
He's already a five-time winner on the PGA Tour and has 14 professional wins, most of them as part of the Japanese Tour. His work this season has pushed Matsuyama to a career-high ranking of No. 3 in the Official World Golf Rankings.
When all was said and done, Matsuyama finished the Bridgestone five shots clear of runnerup Zach Johnson and six ahead of Charley Hoffman, who was third place in another strong performance.
This Week – PGA Championship
The season's final major – apparently no longer referred to promotionally as "Glory's Last Shot" – still is in fact the last chance for players to claim one of golf's four biggest events.
Quail Hollow outside of Charlotte hosts the event at a course that typically is the site for the Wells Fargo Championship. It's a course that has created some close events, as seven of the 14 years the tournament has been played it's needed a playoff to determine the champion.
Out of all those events, Rory McIlroy is the only two-time winner at the course, and that coupled with his recent form has many looking at him as the favorite this week.
"I would say Rory's probably the guy to beat at this point next week," said Jordan Spieth, who claimed his third career major last month at The Open. "I played with him the first two days (at Bridgestone), and the way that he is driving the golf ball, if he continues to do it there he just has a massive advantage over the field at that point."
Last year, Jimmy Walker broke through for his first major title at the PGA, besting Jason Day by a stroke at Baltusrol.
PGA Championship Picks
Matt Kuchar – You've read this in this space before, a pick of Kuchar. After his near-miss at The Open, he's primed.
Sergio Garcia – Sergio could solidify one of the best seasons of anyone not named Tiger in the last few decades with a second major win.
Charley Hoffman – He's knocked on the door a bunch of times this summer, including last week. A first major may be coming soon.
Longshot – J.B. Holmes – The 2014 winner at Quail Hollow made a nice run at the U.S. Open and has been in the hunt multiple times this year.
Bridgestone Picks
Adam Scott – A good week, but the Aussie, like everyone else, didn't have enough for Matsuyama. 4-under, tied for 13th
Brooks Koepka – Another solid finish for Koepka as he looks for a second major this week. 3-under, tied for 17th
Jason Day – Day tried to get in the hunt with a good second day but couldn't make enough ground on the weekend. 2-under, tied for 24th
Keegan Bradley – The all-time worst pick we've ever made. It's hard to miss on placing in a tournament with no cut unless your guy is not in the field. Check the list closer next time! Did not play.
The 19th Hole: Twice as Nice in Canada
For the second straight year, a trip north of the border and some positive energy from the Canadian golf fans was just what Jhonattan Vegas needed.
The Venezuelan golfer may want to make a summer home in Canada, after claiming his second straight win at the RBC Canadian Open over the weekend, defeating Charley Hoffman in a playoff.
As impressive as it is to win a tournament in back-to-back years, it becomes almost moreso given how Vegas has struggled other than this event.
Vegas hadn't recorded a top 10 since February and had missed cuts in each of his last five starts. In fact, he'd only made one paycheck since mid-April.
"My ball-striking was great this week, which is something that I've been struggling with the past few weeks," Vegas said. "I feel like I hit a lot of greens and gave myself a lot of opportunities."
Vegas rallied this week, posting rounds of 67 and 65 on the weekend to chase down Hoffman, Martin Flores and Matt Every, who had jumped to the front early in the week.
Ultimately, Vegas and Hoffman came in at 21-under par around the Glen Abbey Golf Club layout and went to extra holes. In the playoff, Vegas needed only one hole, rolling in birdie on the par-5 18th to claim the victory.
"Just being the defending champion was something really positive," Vegas said. "Having the fans really support me through the whole week, seeing the enthusiasm when I got here, everyone was like: 'You know what, you're going to repeat again and you're going to win for us.' The positive energy really helped me to play good golf."
This Week
The next edition of the World Golf Championships comes to Ohio for the Bridgestone Invitational. This event was dominated by Tiger Woods for many years, but recent years have seen a variety, with seven different winners – including Woods in 2013 – in the last seven events.
The tournament features 76 of the top players in the world, with only Martin Kaymer and Brandt Snedeker sitting out (both injured) among eligible players.
The rest of the PGA Tour is headed to Reno for the Barracuda Championship, the annual event played with the modified stableford scoring system. Last year, Dustin Johnson won there as part of his breakthrough summer.
RBC Canadian Open Picks
Our winless campaign continues, although we again had guys in the hunt.
Tony Finau – Four solid rounds lead to a top-5 for Finau. 18-under, tied for 5th
Dustin Johnson – The world's No. 1 player is showing good form heading into two big weeks. 17-under, tied for 8th
Nick Taylor – It was a rough week in general for not just Taylor but all the Canadians, as only two made the weekend. 3-under, missed the cut
Graeme McDowell – The former U.S. Open champ is really off his game of late. 3-over, missed the cut
Bridgestone Picks
Jason Day – The Aussie turned Ohio resident gets pretty close to a home game this week. He's ready for momentum as he looks for a second PGA Championship the following week.
Brooks Koepka – The U.S. Open champion has the power game to play well on this big course.
Adam Scott – Seems like Adam has been under the radar with all the breakthrough performances this year. If he can just get that putter going …
Longshot – Keegan Bradley – A former winner of this event, Bradley was solid last week in Canada. He's not much of a "longshot" but everyone this week is pretty highly ranked.
The 19th Hole: A Super Sunday for Spieth
That supposed slump Jordan Spieth had been in the last year or so?
It sounds laughable to talk about anything but greatness now, as Spieth orchestrated a tremendous finish to claim his third major title at The Open Championship Sunday at Royal Birkdale.
After losing a three-shot lead earlier in the day, Spieth made three birdies and an eagle in a four-hole stretch on the back nine Sunday, overtaking fellow American Matt Kuchar to claim the title.
"I felt once I lost my lead completely and we were tied, I actually felt the nerves go away for a few holes until I got the lead again," Spieth said. "And then they were back. You just don't know really what your mind is going to do to you sometimes. You can control it to an extent but certain situations are going to bring more tension and you have to kind of channel that the right way, play the right shots. And that was a difficult thing to do today because it was just so up and down."
The amazing run came after a bizarre sequence that saw Spieth hit his tee shot at the 13th into an unplayable lie. By rule he could go back from that spot as far as he wanted, keeping that location between himself and the hole. That actually placed him on Birkdale's driving range, which had not been declared as out of bounds, largely because no officials thought a player would get anywhere near it.
Spieth dropped, hit up short of the green and got up and down for bogey. Kuchar led by one at that point, but then the young Texan caught fire, going birdie, eagle, birdie, birdie to close the deal.
Now at just age 24, he's got three major titles in his pocket, the others coming in an incredible 2015 season.
"I'm going to thoroughly enjoy this," he said. "I look back on (2015) and thought, yeah, I enjoyed it, but I never realized the significance until you kind of hit a low, hit a pitfall, to appreciate the high so much. And this is as much of a high as I've ever experienced in my golfing life. And I'm going to enjoy it more than I've enjoyed anything that I've accomplished in the past."
It was a bitter ending for Kuchar, a regular on the leaderboard but still seeking his first major title. He was never out of it, shooting 69 the final day but falling just short to Spieth's barrage.
"It's crushing," Kuchar said. "It hurts. And it's an excitement and a thrill to have played well, put up a battle, put up a fight. You work so hard to get to this position. And to have a chance to make history and win a championship. You don't get that many opportunities. And to be this close, to taste it with five holes to go, it's a hard one to sit back and take."
Earlier in the week, South African Branden Grace set a new major championship single round record, posting a third-round 62. Previously numerous players had shot 63 in a major event but never lower. Grace finished the week tied for 6th.
This Week
The PGA Tour heads north of the border for the Canadian Open. One of the oldest events on the tour, it has a storied list of former champions, and was the sparkplug for Jason Day two years ago before he claimed the PGA Championship a few weeks later.
Last season, Jhonattan Vegas bounced back from several years of frustration due to injury for a victory in the event.
The Open Results
For as many times in the past as we've picked Spieth or Kuchar, it clearly was the wrong week not to.
Hideki Matsuyama – A triple bogey at the 1st hole Sunday pretty well ended any chances. 2-under, tied for 14th
Jon Rahm – The fiery young Spaniard never could get it going at the level he showed the week before in winning the Scottish Open. 3-over, tied for 44th
Justin Rose – Crowds applauded the Englishman in his return to the course he amazed on as an amateur 19 years ago. 4-over, tied for 54th
Alexander Levy – The Frenchman was one shot too high to play the weekend. 6-over, missed the cut
Canadian Open Picks
Dustin Johnson – The world's No. 1 player has been kind of quiet recently, and this would be a good spot for a late summer charge.
Tony Finau – Like Johnson, his massive drives will be a big help this week.
Graeme McDowell – the former U.S. Open champion failed to qualify for The Open for the first time in years. He's going to be hungry to get things going again.
Longshot – Nick Taylor – The young Canadian would thrill crowds with a good performance, and he's had a solid season with multiple top 10s.
The 19th Hole: Another Week, Another Breakthrough
It seems to be a familiar story in this 2016-17 PGA Tour season. A young rising star breaks through for his first win and announces himself as a new factor in the game.
It happened again Sunday at the John Deere Classic, as Bryson DeChambeau's late rally produced a victory as Patrick Rodgers faltered at the finish. It's the first pro win for DeChambeau, a former U.S. Amateur and NCAA champion.
While the story is familiar, DeChambeau's methods are not.
A literal student of the game, DeChambeau is perhaps the most analytical golfer ever, as far as thinking through the science of shotmaking. He uses golf clubs that are all the same length, an unusual method compared to any other player on the tour.
"I try and make a very complex variablistic game and try to understand it, to understand every single variable in this whole game of golf," he said. "I was a physics major in college, and I just kind of understood how to do the scientific method and understand what I need to accomplish out there in order to get all those variables watched."
We'll take his words for it.
Rodgers looked like he'd be breaking through as he had the lead most of the week with strong play. But DeChambeau put the pressure on him Sunday with a final round 65 that included a dramatic birdie on the final hole. At the time it tied him for the lead but moments later Rodgers bogeyed the 17th hole. When he failed to birdie the final hole himself, DeChambeau was a winner.
It gets him a spot in The Open Championship this week. And now he jumps closer to the head of the line and perhaps changes his goals to thinking about FedEx Cup contention.
"Shoot, I was just hoping to make it to next year. I wasn't playing my best, but that's really what I was kind of hoping to do. I knew that I was playing really well, and I was fortunate enough to come out with the win this week."
This Week
The Open Championship marks the year's third major, with play returning to Royal Birkdale for the first time in a decade.
The last time here, Padraig Harrington won the first of his three major titles. That event featured a duel with Sergio Garcia, who won this year's first major at The Masters.
Harrington hasn't been on great form in recent years but played a strong tournament last week, finishing in the top 10 at the Scottish Open.
The Open Picks
Justin Rose – The former U.S. Open and Olympic champ is primed to win one at home.
Jon Rahm – He's getting into must-pick territory after dominating the Irish Open two weeks ago.
Hideki Matsuyama – After some putting struggles early in the year, Matsuyama seems to have all cylinders firing now.
Longshot – Alexander Levy – You may not know the Frenchman, who plays mostly on the European Tour. But you may after this week.
John Deere Results
Brian Harman – A solid week for the lefty. 14-under, tied for 10th
Charley Hoffman – Another check for Hoffman as he heads for Birkdale – 10-under, tied for 39th
Ben Martin – He slipped a bit on the weekend. 10-under, tied for 39th
Curtis Luck – Welcome to pro golf, where you can be under par and still miss the weekend. 1-under, missed the cut

The 19th Hole: Meet Xander
Xander Schauffele has one of the coolest – and probably most mispronounced or misspelled – names on the PGA Tour.
And after last weekend, he has a nice new title to put in front of it – tour winner.
Schauffele continued a strong recent run of play with a one-shot victory in the Greenbrier Classic, securing playing status on the big tour for the next two years and jumping into an elite category.
Schauffele, a graduate of the Web.com Tour last year, has had his ups and downs as most rookies will. But he's been on a solid swing of late, started by a strong showing in the U.S. Open last month.
"The U.S. Open was a huge moment in my career, it was one of the biggest stages and for me to kind of be calm and collected throughout the week and just kind of hang on and come in tied fifth was huge for me mentally, so it kind of gave me the confidence and allowed me to play and win this week," Schauffele said.
Since that effort, Schauffele has tied for 14th and tied for 35th his two previous outings before busting through at the Greenbrier. He finished it off in style, hitting his tee shot at the par-3 18th to within 4 feet and canning the birdie putt to move one shot ahead of Robert Streb.
Streb, playing in the group behind Schauffele, was unable to convert a birdie putt at 17 and when his chip shot at the 18th missed, it was all over.
Streb collected 2nd place while Jamie Lovemark and another tour rookie, Sebastian Munoz, tied for 3rd.
With the win, Schauffele becomes the fourth rookie to win on the tour this year, joining Wesley Bryan, Cody Gribble and Mackenzie Hughes.
Rahm-Bo Goes Off
Young Spanish star Jon Rahm is already overseas getting ready for next week's Open Championship. His tuneup at the European Tour's Irish Open served more notice to the world that he's a force to be reckoned with.
Rahm pulled away on the weekend and lapped the field, finishing at 24-under par and six shots ahead of his closest competitor. The fiery 22-year-old is sure to be one of the favorites in The Open July 20-23 at Royal Birkdale.
This Week
The John Deere Classic brings golf to the Upper Midwest for the annual stop in the Quad Cities.
This event saw Jordan Spieth's professional breakthrough a few years ago and while he won't be here this time around, several big names will. Hometown favorite Zach Johnson is in the field, along with veteran Steve Stricker and recent tour winners Kyle Stanley and Daniel Berger.
Also playing is defending champion Ryan Moore, who scored a win last year that helped propel him eventually to the U.S. Ryder Cup squad, outlasting Ben Martin by two strokes.
Greenbrier Picks
Russell Henley – Close, but no dice for our longshot pick. 11-under, tied for 5th
J.B. Holmes – A run of back nine birdies Sunday earned him a top 10. 9-under, tied for 9th
Keegan Bradley – A paycheck earned, but not as much as he wanted. 2-under, tied for 50th
Kevin Kisner – One of the pre-tournament favorites bombed out. 2-over, missed the cut.
John Deere Picks
Charley Hoffman – He's had a ton of steady finishes this year, and this week looks like another one he can find his way to the leaderboard.
Ben Martin – As mentioned above, he was runner-up here a year ago, and also played decent last week at the Greenbrier with a tie for 37th.
Brian Harman – Now better known after his close call in the U.S. Open a few weeks ago, Harman actually won this event three years ago.
Longshot – Curtis Luck – The former amateur star turned pro earlier this year and has the game where, soon enough, he won't be a "longshot" in anyone's book.
The 19th Hole: Stanley Finds His Way Back
Kyle Stanley just kept plugging away, even as the results seemed to slip more and more. Such is the life in professional golf, where just the slightest wobble can take a player from contention to middle of the pack or just fighting to make cuts.
Sunday, the hard work paid off, as Stanley took down veteran Charles Howell III in a playoff to capture the Quicken Loans Invitational. It's Stanley's second PGA Tour win but first since 2012.
Though only 29 years old, Stanley has been through some struggles the last few years. Since the win, his results had slipped every year, to 158th in 2014 and 181st in 2015, when he spent part of the year alternating between the PGA Tour and Web.com Tour.
"There was some doubt there for a little bit," Stanley said. "It's no fun. You certainly question if you'll get back to, you know, and have a moment like this. It makes this pretty special, for sure."
"I just had a lot of people kind of help me the last few years. It's been a huge team effort. It just feels good to put the work in and to see the rewards."
It was also a big opportunity for Howell, who has been on the PGA Tour since 2000 but also has gone through many peaks and valleys and of late injury issues. He last won in 2007 and last was this close in 2013, when he lost in a playoff to Brian Gay in the Humana Challenge.
Representing the Oklahoma State crew along with Howell was Rickie Fowler, who charged Sunday with nine birdies. But a devastating double bogey on the 14th – statistically the easiest hole on the course – wound up the difference as he was two strokes out of the playoff, finishing tied for 3rd with Martin Laird.
This Week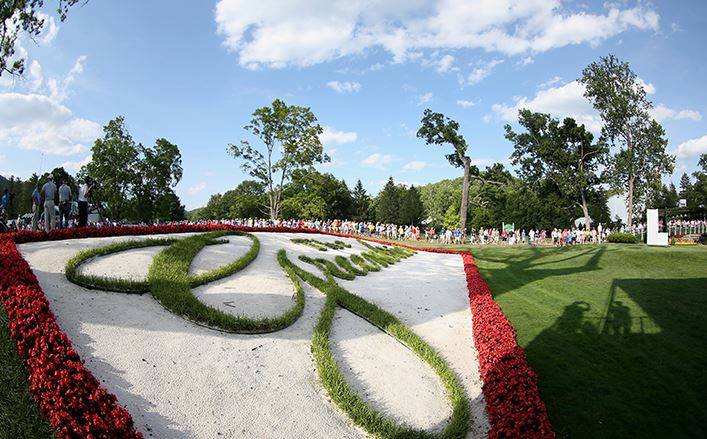 The tour returns to the Greenbrier in West Virginia for the first time since 2015, after last year's event was wiped out by terrible flooding in the area in the days leading up to the event.
After months of cleanup and hard work, the area is back to its beautiful and challenging self. The last time this event was staged, it came down to a four-man playoff, with Danny Lee outlasting Kevin Kisner, David Hearn and Robert Streb.
Quicken Loans Picks
Man, did we get close to finally breaking back into the win column. It produced a nice DFS week at least.
Rickie Fowler – A Sunday charge almost got the Cowboy there. 5-under, tied for 3rd
Marc Leishman – The Aussie is quietly one of the most steady guys on tour recently. 4-under, tied for 5th
Kevin Streelman – A steady week leads to a nice paycheck. 2-under, tied for 17th
Robert Garrigus – It was the big man's best week in some time. 1-over, tied for 29th
Greenbrier Picks
Keegan Bradley – After registering top 10s in his last to starts, the former PGA champion may be finding some good form again.
Kevin Kisner
– He's looking to avenge the near-miss from two years ago and become a multiple winner this season.
J.B. Holmes – The big hitter looks to bounce back after making the cut last week but then struggling on the weekend.
Longshot – Russell Henley – The Georgia product finished one stroke out of the playoff here two years ago.
The 19th Hole: Spieth's Heroics Save the Day
Settled into a greenside bunker and seemingly in trouble on the first hole of a playoff to decide the Travelers Championship, Jordan Spieth was ready to make something big happen.
And wow, did he.
That shot gave Spieth victory over Daniel Berger and the title at the event, his 10th career PGA Tour win, quite a feat at the age of 23.
"It's cool to look at the different places around the world we've won and the differences in the golf courses and similarities as well," Spieth said. "I think we've won on very different golf courses."
Spieth led the event wire-to-wire after a strong opening round, but he got pushed Sunday by Berger, who was looking to win for the second time in a month.
Berger birdied three of the last six holes in the final round Sunday to chase down Spieth and force the extra play.
In the playoff, Spieth pushed his approach into the right greenside bunker while Berger hit the green. But Spieth's heroics saved the day and set off a Tiger-like celebration with caddy Michael Greller.
"He leaped pretty high. I have leap envy," joked Phil Mickelson of Spieth.
This Week
The PGA Tour heads to Washington, D.C., for the Quicken Loans National.
Last year, this event saw a popular result, as former Naval officer Billy Hurley III broke through for his first PGA Tour victory, holding off Vijay Singh and Ernie Els, among others, to capture the title in the event hosted by Tiger Woods.
Due to his continuing back injuries Woods will not be playing and his attendance at all this week is in question as he battles the after-effects of pain killer use.
Travelers Picks
We were in the ball park, but still remain on quite a winless drought.
Paul Casey – Another solid week for the Englishman. 9-under, tied for 5th
Marc Leishman – The former Travelers champion had a steady effort. 6-under, tied for 17th
Rory McIlroy – He salvaged the week with a blistering 64 on Sunday. 6-under, tied for 17th
Beau Hossler – The young Texan was near the lead early but didn't fare as well on the weekend. 2-under, tied for 53rd
Quicken Loans National Picks
Rickie Fowler – The Oklahoma State product nearly won this event in 2015, falling just short of eventual champion Troy Merritt.
Kevin Streelman – A tie for 12th in this tournament last year and a solid top 10 last week in Hartford are both good signs for a promising week.
Marc Leishman – Hey, didn't we just pick him? Well, he sounds like a good call again this week. And since Jon Rahm isn't playing, the big Aussie is in.
Longshot – Robert Garrigus – OK, so we're throwing Robert a life preserver here. He hasn't finished higher than T17 this season and hasn't made a cut since early April. It's gut feeling time.
Phil Mickelson and Caddy Jim "Bones" MacKay Split After 25 Years
One of the longest-running player-caddie relationships in golf history is no more. Phil Mickelson and Jim "Bones" Mackay, joined at the hip for a quarter-century, have gotten to the 18th green of their professional relationship and have decided to go their separate ways.
"After 25 very rewarding and memorable years, Bones and I have mutually decided to end our player-caddie relationship," Mickelson said in a statement. "Our decision is not based on a single incident. We just feel it's the right time for a change."
"When Phil hired me in 1992, I had one dream: to caddie in a Ryder Cup," Mackay said in his own statement. "Last year, at Hazeltine, Phil played in his 11th straight Ryder Cup. It was so cool to have a front row seat."
Mickelson's brother Tim will serve as Phil's caddie for the remainder of the season, including the next two majors.
Mackay wrote the following in his statement, "Player-caddie relationships don't often last that long. I will always be grateful that I was around to witness so much of Phil's career."
In their storied career together, Phil and Bones have captured five major championships (three Masters titles, one PGA Championship and one British Open) among 41 total PGA Tour titles. Most recently, Bones scouted the intricacies of Erin Hills even though Phil was half a country away at his daughter's graduation.
Do you want more golf? You can check out out weekly golf story that gives our fans the details on this past weekends U.S. Open and a look ahead as well as predictions on who will win the Travelers Championship this weekend. All that and more right here.
One of the many quirks of the Mickelson-Bones relationship was the "veto," the once-a-year opportunity Bones had to overrule Phil. Both referenced the veto in their parting statements, both with good humor.
"Bones has not used his veto this year, and I heard a rumor that he is trying to pass his veto to Tim," Mickelson said. "For the record, vetoes are non-transferable."
The 19th Hole: Koepka takes U.S. Open
The major champion club keeps growing. For a seventh straight time, golf has a new major winner, this time in the big-hitting Brooks Koepka, who overpowered Erin Hills and the field for victory in the U.S. Open.
Koepka tied a U.S. Open round for strokes under par by finishing at 16-under, equaling Rory McIlroy's mark set in 2011. He did it with big, accurate drives and a putter that was hot at the right times.
And, Koepka got some sage advice from his friend Dustin Johnson, who also happened to be the defending champion of this tournament, breaking through for his first major win last June.
"Dustin actually called me (Saturday) night and told me, just stay patient. Just keep doing what you're doing, you're going to win the thing, and just don't get ahead of yourself. A bunch of people told me that."
On a week scores were much lower than a normal U.S. Open at the top of the leaderboard, there still was plenty of danger in the high rough and fescue off the fairways and around the greens,
"This golf course, you had to put the ball in the fairway and if you didn't you really got penalized, just plain and simple," Koepka said. "I was in the fescue a couple of times, I think maybe three times, and it all jumped out straight left on me, I didn't even have a good lie. I can't imagine if I hit it in there a couple more times how bad it would be."
That fact was evidenced by the struggles of many players. While Koepka was going low Sunday, five other players failed even to break 80. The world's top three players – Johnson, Jason Day and McIlroy, all missed the cut, the latter two barely breaking 80 in their first round.
Look Phil-BREAKING GOLF NEWS- Phil Mickelson and his caddy of 25 years are calling it a career together. Get all the details and quotes from each person here.
So while many were complaining about the low scores, it wasn't as if everyone on the grounds was torching the course.
Brian Harman had his best major effort as well, keeping the heat on Koepka until a late run of birdies by the champion Sunday. At 12-under, Harman still had far and away his best major finish, coming home tied for second with Hideki Matsuyama, who closed with a 66.
Young Englishman Tommy Fleetwood was alone in fourth, with Rickie Fowler, Bill Haas and PGA Tour rookie Xander Schauffele another stroke back tied for fifth.
Koepka's win means this is seven consecutive major championships won by first-time major winners, dating back to Day's win in the 2015 PGA Championship.
As is customary, the U.S. Open finished on Father's Day, and Koepka was thinking of his own dad … sort of.
"I didn't get him a card, so I really hope this works," he said of the U.S. Open trophy.
This Week
The PGA Tour heads to the northeast for the Travelers Championship outside Hartford, Conn., where the birdies figure again to be flying.
Last year, this event saw Scotland's Russell Knox take down the victory, one stroke better than veteran Jerry Kelly. Jim Furyk had the highlight of the week, tearing the course to shreds in a final-round 58, a score that tied the all-time PGA Tour record for any competitive round.
This week also sports a more solid field than might be expected the week after a major, as McIlroy, Day and Jordan Spieth are all among the competitors.
U.S. Open Picks
Sure was good that we picked Brooks Koepka – THE WEEK BEFORE!
Matt Kuchar – A solid weekend got Kuchar his customary nice check for his efforts. 5-under, tied for 16th
Sergio Garcia – It's been a very good major season for Sergio as he follows up his Masters win. 4-under, tied for 21st
Jason Dufner – It got started in the wrong direction for the former PGA champ and never did get on track. 7-over, missed the cut
Brian Stuard – There will be better weeks for Stuard, but this wound up being one of the worst picks we've made all season. 12-over, missed the cut
Travelers Picks
Marc Leishman – The big Aussie got his first career win at this event and finished tied for 9th a year ago. He also was solid at Erin Hills, finishing tied for 27th.
Rory McIlroy – Rory is liable to have a little more motivation after an embarrassing missed cut at the U.S. Open.
Paul Casey – The 36-hole co-leader at Erin Hills faded a bit on the weekend, but his game still is in good form.
Longshot – Beau Hossler – The University of Texas product was 2nd in the Web.com Tour event last week in Wichita.