Broncos Blast Cardinals
"I wouldn't say it's a must win, but we're going to kick their ass, though." -Von Miller
Von Miller is the Broncos' best player. He's an incredible talent and the heart that drives the engine on defense. That's why he was the Super Bowl 50 MVP. But Broncos fans are used to him letting his play do the talking. That changed on Tuesday. In a press conference, following the team's fourth loss and second straight game allowing more than 200 yards to a single rusher, Miller showed some fire. He offered a bold proclamation about Thursday's tilt with the Cardinals.
And Thursday night his team backed it up. The Broncos came out with fire and more like the team that fans thought they'd see when the season began. The Cardinals (1-6), with dysfunction on offense and defense and a rookie quarterback still out of his depths, aren't the class of the NFL. But a 45-10 win does plenty to boost confidence of Broncos nation and help embattled head coach Vance Joseph breathe a little easier, this weekend at least.
It's been a season of record-setting, so it makes sense that the Broncos set marks again Thursday night. Todd Davis and Chris Harris, Jr., each had INTs returned for touchdowns. It's the first time the Broncos have had two INT returns for touchdown in a game since 1989.
Offensively, Emmanuel Sanders continued his incredible season with two more touchdowns. The first was on an end around where he took the ball, rolled out and connected with Courtland Sutton on a 28-yard touchdown pass. He later caught a 64-yard touchdown pass from Case Keenum. With the passing TD, Sanders became the first Broncos' receiver to score a touchdown rushing, receiving and passing in a season.
But everything began with Miller, and the game ended with Miller, who was a one-man wrecking crew. He hit Josh Rosen five times, sacked him twice, forced two fumbles and recovered one himself. He personally delivered on his promise to play better, and is starting to look like the defensive player of the year candidate that fans know and love. And his partner in crime, rookie Bradley Chubb, continues to shine, too. Chubb added two sacks of his own Thursday, with the team accounting for six. In short, Denver's defense scored two touchdowns, grabbed five turnovers and kept Rosen under near constant pressure.
And about those rushing woes, David Johnson recorded 39 yards rushing on 14 carries, and the Cardinals amassed just 69 yards rushing on 21 carries as a team.
It was a big night, offensively and defensively, and now the Broncos have 10 days to prepare and show it wasn't a one-time thing as they battle the red hot Kansas City Chiefs in Arrowhead on October 28.
News and Notes:
Phillip Lindsay continues to look like one of the best among a group of fantastic Broncos' rookies. He rushed for 90 yards and a touchdown on 14 carries, starting with a 22 yards scamper on his first carry and adding a 28-yard TD run.
Sanders threw that touchdown to Sutton, but also caught six balls of his own for 102 yards and a touchdown. He's looking like one of the best receivers in the NFL in 2018.
Brandon McManus made his lone field goal attempt Thursday, a 41-yard kick. He also made all six of his extra points. Quietly, McManus has been one of the best Broncos this season, a perfect 11-for-11 on field goals and 18-for-18 on extra points.
Win, Lose or Draw Tonight, McCoy Should Be Relieved of Duties
Whether the Cardinals win, lose or draw against the Denver Broncos (2-4) this evening, Mike McCoy needs to be relieved of his duties as Arizona's offensive coordinator. The writing is on the wall, and has been for some time now already.
In their loss to the Minnesota Vikings last Sunday, the Arizona Cardinals converted 0 of their third down opportunities. They were 0 for 10 in that regard. Not only does the Cardinal offense rank last in most offensive categories, including, but not limited to, plays, 3rd down conversions, rush yards, they are also second to last in points, pass yards, & pass TD. The worst part about it is that they haven't shown any growth at all from Wk-1 to Wk-6. As evidenced by the lack of converting even one third down last Sunday. We are six weeks into the season and the Cardinals are one of two teams (Buffalo) that have yet to have a 300-yard passer, 100-yard rusher or 100-yard receiver.
The 21.9% third down conversion rate is the worst in the NFL since 2010. The 1,323 yards by the Cardinals through six games is the lowest amount through the first six games of a season in the NFL since 2009. Arizona has yet to even break 300 total yards as an offense. Last week in Minnesota, they put up a season best 268 total yards. That's not going to cut it in any league.
One could argue that there would be no better time to make a move at replacing the OC than tomorrow morning.
After tonight's game, the Red Birds have 11 days off before the 49ers come to town. After that, they have another 14 days to prepare before heading to Arrowhead to take on Patrick Maholmes and the Kansas City Chiefs, thanks to the Bye week. That would give QB coach Byron Leftwich – or whoever else they would promote or hire to take over the OC gig – nearly a full month before taking on one of, if not the most, high-octane offenses in the NFL. If the Cardinals have any chance in that game they're going to need to put up points (and probably a lot of them) to try and keep up with Chiefs head coach Andy Reid and his prolific offense. In between those 25 days from the Bronco to the Chief game, AZ will take on SF, which would be a good opponent for the new OC to start with.
Ironically enough, the Broncos are the same team that fired Mike McCoy as their OC after Week-11 last season. That was less than a full calendar year after the Chargers fired him as their head coach.
There's no other way to put it, the 2018 Arizona Cardinals, especially the offense, have been a dumpster fire up to this point in the season. While the Broncos are the only team that has given up more rush yards on defense than the Cardinals, it wouldn't be surprising if they can't find a way to exploit it tonight. The fact remains, Arizona currently ranks 29th in the league in rushing attempts, yet they rank first in runs right up the middle in between the guards.
Unless McCoy can pull a rabbit out of his hat against Denver tonight and set season highs in nearly every offensive category – don't hold your breath – it's time for the Arizona Cardinals to move in a different direction. And no, that does not mean trading away key players like recent reports have suggested the may do. First and foremost, before even considering moving a Patrick Peterson, David Johnson, etc., they need to move on from Mike McCoy and his antiquated playbook/playcalling. The fans, players, organization and most importantly, rookie franchise QB Josh Rosen deserves better.
Broncos Seek To Halt Skid
Four in a row. That's what the Broncos have done. After starting 2-0 for the sixth straight season, the Broncos have lost four games in a row. Last season, a historic eight-game losing streak tanked the season. At 2-4, having dropped four in a row, the Broncos are in danger of heading that way again. And now they get to face the Arizona Cardinals on a short week.
It hasn't been a great season for the Cardinals, either. They have new coaches and rookie Josh Rosen is still learning the NFL game. Aside from a win in San Francisco in Week 5, the Cardinals have stumbled. They come into Thursday's home tilt 1-5, among the worse records in the NFL. But they still have David Johnson, and that might be enough.
The Broncos, in addition to losing four straight, have been historically bad against the run the past two games. They allowed Isaiah Crowell to run for 219 yards, a career high and Jets franchise record, on just 15 carries in Week 5. In Week 6 at home, while they held the Rams' passing game in check, the Broncos allowed Todd Gurley to run for a career high 208 yards. And with only three days between games, there wasn't much time to work on a good fix.
The Cardinals haven't been good this season, but Johnson is an all world running back who's starting to find his form. He got into the end zone for the Cardinals in Week 6 and now returns home against a reeling rush defense in Denver. If they can't contain him, Johnson could make it a long night for the Broncos.
Meanwhile, the Cardinals' defense allowed Latavius Murray to go for 155 yards on Sunday. The Broncos are averaging 5.3 yards per carry through six weeks, so if the coaches can commit to the run, it could be a good night for rookie Phillip Lindsay and Royce Freeman. But given the recent splits, that could be a big if. And if the Broncos' losing streak extends to five games, it's going to be a long 10 days before the Broncos head to Kansas City to face the red hot Chiefs.
Fantasy Impact:
It's hard to feel great about the Broncos' passing game, however Emmanuel Sanders has been a solid WR2 and Demaryius Thomas, especially given bye weeks, has been a decent flex of late. Case Keenum, while not being a great NFL quarterback, has been decent for fantasy the past two weeks, and the Cardinals' defense isn't what it once was. He might be a streaming consideration in deep 2 QB leagues.
I like both Lindsay and Freeman as starts this week. I know Freeman disappointed last week, but this should be a better match-up and he should be relatively fresh after getting less than 10 carries Sunday. If the Broncos can keep it close, or build a lead, they can keep it on the ground. And Lindsay provides explosive burst in the rushing and receiving game, showing he doesn't need a lot of touches to return flex-worthy value.
If you are in a deep league and desperate, Courtland Sutton remains an interesting dart throw. He had a long gain on Sunday, and had a TD catch in Week 5. He's getting plenty of snaps, and only needs one or two to salvage an OK deep league flex day.
Coaches, Receivers & Keim Among Those That Let Rosen Down In First Start
3 straight runs, 5 dropped passes, and another week that goes by without wide receiver reinforcements. The Cardinals beat themselves in rookie Josh Rosen's first career start against Seattle last Sunday, as they let their first victory of the season slip through their grasps and right into the Seahawks arms.
Down seven midway through the fourth quarter, Rosen fired a 22-yard strike to 2nd-year-WR Chad Williams to knot the game up at 17. The touchdown was a career first for both Rosen and Williams. The defense made Seattle immediately punt back to Arizona after the TD, setting up a possible game winning drive by the rookie in his first career start.
Starting inside his own 25-yard-line with about seven minutes to go, the UCLA product drove the Cardinals down the field by going 4 for 5 and converting three first downs through the air. With over three minutes left in the tie game, the Cardinals had 1st and 10 at Seattle's 32 yard-line, thanks in large part to their rookie franchise-QB throwing dart-like dimes all over the field. That's where things go haywire for Cardinal fans.
Instead of putting trust in their new face of the franchise, OC Mike McCoy and HC Steve Wilks chose to run on the next three downs to set up a 45-yard field goal for Phil Dawson, who already missed once on the afternoon. Dawson's kick had no chance as he pushed it well right of his intended mark.
The miss gave Russell Wilson and the Seahawks offense just under two minutes to move the ball about 30 yards to set themselves up for a game winning field goal. That's exactly what happened, as Sebastian Janikowski drilled a 52-yard field goal to seal the deal as time expired.
Even if Dawson hit the mid-range field, Wilson would've still received the ball with over 1:30 on the clock just needing to get in field goal range to extend the game to OT. As expected, many fans and people covering the team questioned why the coaching staff decided to take the ball out of Rosen's hands and seem to settle for a non-chip shot field goal while leaving a decent chunk of time on the clock for the 4X pro-bowler, Russell Wilson.
"The Rosen One," which Chad Williams called the impressive first-round pick earlier this week, finished 15 for 27 for 180 yards, to go along with 1 TD and 0 INT. Not necessarily impressive, but considering the wide receivers accounted for five drops and left roughly 100 yards (and two possible TDs) on the field due to passes they failed to haul in, Rosen did more than enough to lead his team to their first win of the season.
Coming into the game, Larry Fitzgerald was nursing a sore hamstring, leaving the door open for another WR to step up and have a big game. That wasn't the case. It wasn't just one or two guys, rather the group as a whole that let down Rosen, even Larry, as he had one of his worst games of his career.
Fitz finished with 3 catches for 28 yards and two, yes, TWO drops on the day. Larry has 9 full seasons of two drops or less in his illlustrous career. After his 7 catch, 76 yard performance to open the season, 'Larry Legend' has 8 catches for 65 yards his last three games. He has also yet to haul in a TD this season. Larry did return to practice Thursday but is still listed on the injury report as questionable with a hamstring and now a back issue. He's fully expected to play today though.
J.J. Nelson, Christian Kirk and Ricky Seals-Jones all had bad drops to go along with Larry, leading to Rosen's 56% completion percentage. His adjusted completion percentage (accounts for drops) was 74%, a reason why he was the highest graded player for the Cardinals on Sunday, via Pro Football Focus.
But Could The Cardinals Have Helped Rosen More?
A month ago, GM Steve Keim and the Cardinals brought wide receiver Braxton Miller – 34 receptions for 261 yards and two touchdowns in 21 career games for the Texans – for a workout. Three weeks ago, they brought in Kendall Wright – 339 catches, 3,858 yards, 11.4yds/catch, 19 TDs in 82 career games; 59 catches and 614 yards in 2017 – to do the same.
Neither player signed, but admission that the receivers room needed help was more than implied.
Even with Larry Fitzgerald's slow start to the season (15 catches), he and Kirk have combined for 31 catches on 44 targets. The problem is, the three receivers behind those two have combined for well less than a catch a game. Through four games, the fifth WR on the depth chart, Trent Sherfield, has yet to even yield a target, let alone a reception. While Chad Williams hauled in his first career touchdown last week (and almost had another), that was his lone catch of the day. He and J.J. Nelson have combined for 34 yards on 3 catches so far this season.
That's not going to cut it. And Keim knows it.
Just yesterday, Adam Schefter reported that newly released WR Rishard Matthews will visit Cleveland on Monday and the Cardinals on Tuesday. Matthews was cut by the Titans on September 27th after he demanded they drop him due to a lack of playing time. While Matthews had only three catches in three games prior to his release, he did have a combined 118 receptions and 1,740 yards (14.7 yds/catch) over the course of his two previous seasons. It'll be interesting to see if the Browns let him leave the building without a contract on Monday.
Even though Steve Keim seems to understand just how poor the receivers room is, it's somewhat baffling the lack of urgency he has shown to help upgrade it up to this point of the season. For at least one more week, it'll be the same five guys that have combined for a measly 34 catches through the first quarter of the 2018 season.
Bradford's Last Hoorah?
It's safe to say that the Sam Bradford experiment has gone so poorly for the Cardinals that Valley sports fans should miss the days of the 'Fernando Rodney Experience'. By now, everyone knows how historically anemic the Arizona Cardinals have been through the first two games of the 2018 season. Sure, the Cards are 0-2 for the first time since 2005, but it's how they've gotten to 0-2 than just the record itself that has the fans and everyone else around the organization at a loss for words.
The six points through two games is the lowest total for the Red Birds since 1945, when the Chicago Cardinals got shutout in their first two games of the season. If they get shutout against the Chicago Bears (1-1), the 2018 Cardinals will share the worst offensive point per game mark through three games in the franchises 99-year NFL existence with that World War ll era team at 2.0 ppg.
Offensively, the current Cardinals rank dead last in the NFL in points per game, plays, rush attempts, longest run, pass yards, pass yards per attempt, pass TD's, total yards, 1st downs, 3rd down conversions, 3rd down conversion percentage & time of possession. Entering Week-3, they are also second worst in penalties & rush yards.
Defensively, Arizona ranks bottom ten in rushing and passing yards & total yards. They are also the second worst in getting off the field during 3rd downs at 50%, as opponents have converted half of their 28 attempts.
Things have gone sideways so quickly that in an unheard of move, head coach Steve Wilks started piping in fan noise during practice this week. And no, not because the Bears are in town and he's expecting their fans to take over the stadium – which in all likelihood will happen if the Cards fall behind early – Wilks piped in booing during practice, just in case the Sam Bradford led offense can't get out of their own way for the third week in a row.
Before delving back into the bad, there has been a couple bright spots. Per Pro Football Focus' analytic grades, Larry Fitzgerald has graded out as the 18th best WR through two games, while Patrick Peterson ranks as the 9th overall CB & 7th in pass coverage, even though he has the second best passer rating allowed when the man he's guarding is targeted.
There's also two backups who are filling in as starters due to injuries that are making their case for more playing times, even when said starters are healthy. Since replacing Andre Smith (elbow) during the first game of the season at right tackle, John Wetzel is tied for second in allowing QB pressures (1 pressure) in 70 pass blocking plays. He also has the second best grade on the whole offense, only trailing Fitzgerald. Filling in for an injured Olsen Pierre (toe; hasn't played this season yet) & Markus Golden (ACL) on the defensive line, Benson Mayowa has been playing well enough to garner some attention. Mayowa recorded his first two sacks of the season on Sunday against the Rams and currently has 9 tackles through two games at left defensive end.
For the first time since their major injuries last season, LDE Markus Golden and TE Jermaine Gresham (Achilles) were full participants during latter half of this weeks practice. Both Golden and Gresham are questionable against the Bears, as is Larry Fitzgerald (hamstring), but the assumption is that all will play. Olsen Pierre and Andre Smith are both ruled out, meaning Wetzel is going to have his hands full with the Bears' Khalil Mack. Mack has a sack in each of the first two games and has the second highest ranked edge pass-rusher, with a grade of 90.8. New England's Trey Flowers is at 90.9.
While the offensive line has kept Bradford off the ground for the most part – 3 sacks (T-9); hit 11 times (T-16th) – there haven't been very many holes opening for David Johnson to do much on the ground, even though the Cardinals are 14th in the league with a 4.1 avg/carry, as backed up by the longest run of the year being 11 yards. The grades through two games aren't very pretty to say the least, for not just Sam Bradford, but the entire offense. The Cardinals are certainly going to have their hands full if they expect to come a way a winner for the first time in 2018.
Head coach Steve Wilks turned some heads early in the week when he said the offensive playbook will likely be 'scaled back' due to too many mistakes. It's not just the fact that the offense is tied for last, with three other teams, on plays of 20+ yards (2X), or that they're one of nine teams to not have a 40+ play thus far as too why Wilks' comments were a head-scratcher, it's also because of the usage of their star RB David Johnson.
While it might feel like the offense has enough of the blame to go around for the whole team, the defense which finished 6th in yards/game and 19th in PPG allowed, are currently 30th and 25th respectively.
One reason being Jamar Taylor. After starting poorly last season, the defense clamped down and became a much better unit once Tramon Williams was inserted into the starting lineup around mid-season. The Cardinals better hope that Bene Benwikere can provide that same boost, because Jamar should be hanging onto the starting gig by a thread. Not only has he been penalized with four defensive holdings in two games, he also ranks 102nd of 103 eligible players by PFF.
Taylor isn't the only Cardinal defensive player though.The Cards have been playing a lot of three-safety sets (Baker, Bethea & Boston), even though Bethea is the highest rated of the three and he only has a grade of 61.6. Even safety turned linebacker, Deone Bucannon, has seemingly lost his spot as a starter, as he played 25 snaps Sunday (35%). For good reason too, as Deone has been graded out as the 4th worst LB, 3rd worst against the run & 5th worst in coverage in the NFL.
Haason Reddick, who seems to be in Wilks' doghouse as well, played on only three defensive snaps against the Rams. While the 1st-round pick from a year ago has played only 17 snaps this season, he's been graded out as the best defensive player on the team & would be ranked top-13 in the league in rush & coverage grades, as well as an overall grade if he had enough snaps under his belt. Josh Bynes also grades out as the 10th best overall linebacker thanks in large part to his 84.5 grade against the rush, which puts him at third in the league for that category.
What Steve Wilks should've done instead of piping in boo's during practice this week, was have "ROOOSSSEEENNN" chants filtering through the loud speakers. Because if the Cardinals drop to a third consecutive big first half deficit, and after fans watched Baker Mayfield come off the bench down 21-3 to lead the Cleveland Browns to their first win in nearly two seasons on Thursday, everyone in attendance will surely be waiting for the first opportunity to let their voices be heard. After all, inserting the 10th overall pick in this years draft can't break this offense anymore than it already is.
FEED DJ THE DAMN BALL
Less than 24 hours after signings his 3yr/$39M ($30M guaranteed) contract extension late last Saturday evening, RB David Johnson was underutilized by his new coaching staff as he received a mere 14 touches for 67 total yards and a rushing TD. After receiving five touches on the opening drive, they chose to go away from DJ as the fell out to a 21-point 2nd-Quarter deficit. He certainly wasn't the only Cardinal to underwhelm during Sunday's 24-6 snoozefest of a loss at home to open the 2018 campaign against the Washington Redskins.
In fact, the 14 first downs and 213 yards compiled by the Cardinals offense last Sunday was the lowest amount in each category since the 2014 Wild Card game in Carolina, when they posted only eight first downs and 78 total yards. The Ryan Lindley game.
On top of that, the Cardinals ran less plays in the first half than Washington had points (21; Cards ran 14 plays including a kneel), as Sam Bradford went 3 for 7 for 11 yards during that first half of play. As the offense turned one-dimensional in the second half, Sam went 17 for 27 for 142 yards with 0 TDs and 1 INT in the third and fourth quarters. Cardinal wide receivers caught 8 passes for 80 yards. Larry Fitzgerald caught 7 of those for 76 yards. Rookie Christian Kirk caught the other pass. J.J. Nelson, Arizona's only real deep threat, played only one snap in the embarrassing loss.
Even though he's known more for his feet than hands, the Cardinals need J.J. out there to help open up passing lanes that otherwise wouldn't be there. With his elite level speed, even if just acting as a decoy, Nelson being on the field would help keep the Rams secondary honest and give the Cardinals intermediate passing game more of a chance to be successful than it was against Washington.
This week's opponent, the Los Angeles Rams, sport two cornerbacks, Aqib Talib (5X Pro-Bowler from 2013-'17) and 4th-year vet, Marcus Peters (2X Pro-Bowler in his first 3 seasons), that will in all likelihood make life miserable for Cardinal receivers for a second consecutive week. With that being said, it's going to be vital to get David Johnson running downhill from the start in hopes of opening up the air attack as the game progresses. Last week, Talib & Peters held WR's Jordy Nelson & Amari Cooper of the Raiders to 4 catches on 32 yards combined. Peters also had one of the Rams' three interceptions on the day.
The L.A. Times' Sam Farmer was on Arizona Sports 98.7 F.M. earlier this week and said he believes the Rams biggest weakness is probably their linebacker group. That was evident by the nine catches apiece that TE Jared Cook (180 yards) and RB Jalen Richardson (55 yards) had during Week-1 (both positions typically guarded by linebackers). The Cardinals will most certainly try and follow the blueprint laid out by the Raiders on how to move the ball against such a stout defense, that not only has Peters & Talib, but also the reigning Defensive Player of the Year, Defensive Tackle Aaron Donald. Donald was mostly contained last Sunday as he finished with just one tackle to his name. Ndamukong Suh, who the Rams acquired this off-season, finished his first game with the team that drafted, now Cardinal, QB Sam Bradford first overall and one spot ahead of him in the 2010 draft.
On that note, it's going to be imperative that the tight ends make an impact against the Rams. If Jermaine Gresham (Achilles) can't go, Ricky Seals-Jones will be asked to shoulder the workload for a second straight week. RSJ finished last week with 18 yards on three receptions. Seals-Jones also failed to haul in a touchdown late in the game. Last season, the second-year tight end averaged over 16 yards per catch. While that number is probably unrealistic, the Cardinals need him and Bradford to combine for better than 6 yards a completion to help open the field up for Larry & David this afternoon.
Of the 11 victories with Johnson starting in the backfield, only twice did the Cardinals feed him less than the 28.6% that he received in last week's loss. In victories, DJ receives over 36% of touches, while he's closer to 33% in losses – not much of a difference but the Cards will want to be over 35% more times than not, especially in this offense with the lack of starpower in the skill players. With an offense in a state of flux while still learning a new system, to go along with an exceptionally unproven receivers room – of the 1,319 combined receptions from the five WRs, 1,315 have come from Fitzgerald (1,241) and Nelson (74) – offensive coordinator Mike McCoy and Sam Bradford need to find a way to get their most potent playmaker, David Johnson, much more than 14 touches – or 28.6% of the plays – he received in the season opener.
Look for the Cards to try and get as close to that 30 touch magic number for DJ today – even though he worked through a minor back injury this week – as they look to pull off the biggest upset of the NFL weekend in LA (worst odds of the week in Vegas; 23% chance of winning).
The Cardinals "Invest" In David Johnson
So, David Johnson had a tale of two seasons. He was not a high draft pick, he set the football world on fire in his first year and earned his money and then some. But, his second year was a loss, through no fault of his own, but if the Cardinals are looking at this like a business, and they should be, they got no return on their investment in year two.
So, lets take this a step further and lets look at this as if you are an investor and David Johnson is a stock. You got lucky on your initial investment, you had a few "scouts" looking at a few options for you, and you took their advice and you bought low and got a good return. Last year, the stock did nothing for you, you may have even lost a minimal amount, but you made so much off the initial investment, you were able to absorb that loss and still come out ahead. Now the owner of the stock is saying that they believe their investment is again going to bring you a return similar to the first year of the stock, and they ask you to put an upfront investment of $30 million dollars into the stock, so you can guarantee that you and only you will get that big return that they see coming, but is not a sure thing. And to sweeten the pot for you, not only will you get that potential windfall for one year as you did before, but since you made a large upfront investment, your return, good or bad will be for 3 years. So, what do you do?
The Cardinals decided to invest in David Johnson. A dynamic and one year runaway success, that all your counterparts noticed and wished they had, followed by a year of no gains. They will hope that over the next three years that their investment pays off as the the Arizona Cardinals have completed a contract extension with running back David Johnson, the team announced Saturday night. The deal is a 3-year, $39 million extension, but no deal in the NFL is a straight deal, all deals with major superstars have a maximum and a minimum.  According to ESPN's Adam Schefter, the deal has a maximum worth of $45 million and a minimum guarantee of $30 million.
Johnson was a third-round pick (86th overall) in the 2015 NFL draft out of Northern Iowa. He was a person no one really ever heard of, from a school no one knew existed, but he has made himself into a millionaire. Johnson became a first-team All-Pro in 2016 after bursting onto the scene and leading the NFL while setting a team single-season record with 2,118 scrimmage yards (1,239 rushing; 879 receiving). He also led the NFL and set a franchise record with 20 touchdowns. Then, in the first game of 2017 while playing the Detroit Lions in the motor city, Johnson broke his wrist and was lost for the season.
Who will the investment pay off for? Johnson, the Cardinals, or both? Leave your comments below.
Cardinals Wk-1/Season Preview
With first-year head coach Steve Wilks' propensity to preach defensive turnovers, which was on full display during the Arizona Cardinals four preseason games as they created a whopping 17 of them, and with the calendar now flipping over to September, the hope is the Cardinals emphasis on takeaways will also translate to the regular season starting this week against Adrian Peterson and the Washington Redskins.
While the defense itself has changed schemes – from a 3-4 to 4-3 – the personnel on that side of the ball has, for the most part, remained intact over a hectically fluid off-season. The same cannot be said about the offense.
Considering TE Jermaine Gresham is questionable for Week-1, the Cardinals offense might only suit up four players against Washington who played at least one snap in last seasons Week-17 finale against Seattle: Larry Fitzgerald, J.J. Nelson, Ricky Seals-Jones and John Wetzel.
On the bright side, Arizona will have LT D.J. Humphries, LG Mike Iupati and RB David Johnson all back from major injuries to go along with free agent additions at QB (Sam Bradford), RG (Justin Pugh) and RT (Andre Smith).
While Bradford will catch most of the flak for being 'injury prone' – he actually played in 29 of a potential 32 games from 2015-'16 – the health of the two FA hogs up front might just be as important to the Cardinals success this season, as neither would be considered players with impeccable health records. In addition to the fact that Sam's played at least 14 games in only 4 of his 8 seasons, Pugh has played in 19 games the last two season (8 in '17) and Smith has played in only 40 of 64 games the last four seasons and hasn't played more than 14 games since 2013.
Other than last season when he went 2-0, Bradford has never finished any of the other six seasons in which he's taken a snap with a winning percentage above .500.
With the Bruce Arians philosophy of "no risk it, no biscuit" in the review mirror, and with an offensive line built around the run game (Iupati, Pugh and Smith all grade out as better run blockers, via PFF), don't be surprised if the Cardinals rack up more carries than we've seen in the desert since the franchises arrival in 1988.
While new offensive coordinator, Mike McCoy, isn't necessarily known to have a 'ground and pound' mentality, player personnel would seemingly dictate that Arizona's best chance to quiet the doubters and make a run at a playoff spot would be through the ground game and defense.
One of the bigger causes for concern on this team is the lack of proven weapons in the passing game. The four receivers on the depth chart behind Larry Fitzgerald have a combined 77 career catches. 74 of which are from J.J. Nelson, who certainly is more known for his legs than hands. Chad Williams had three receptions last season to round out the 77. The Cardinals did use a second-round pick on Texas A&M WR Christian Kirk this off-season, and while he could be a possible dynamic weapon this season, he's still a rookie. We'll find out soon enough though, as they'll seemingly be forced to lean heavily on Christian this season, whether he's ready for it or not.
The fifth wideout to make the club is undrafted rookie FA, Trent Sherfield, from Vanderbilt. The 6'1, 205-pounder impressed enough during training camp and preseason that the outright released veterans Brice Butler & Greg Little in favor of the rookie. Sherfield finished his college career with 136 receptions for nearly 1,900 yards and nine TDs in 48 games.
With the lack of proven weapons on the outside, and even though it wouldn't be surprising if teams keep an extra eye on Fitzgerald, it certainly wouldn't be surprising if Larry finishes top-3 in the NFL in receptions this season for the third year in a row.
Whatever the case is, the Cardinals are going to need at least two of the wide receivers, outside of Larry, to step up so that defenses don't stack the box against their dynamic running back, David Johnson. In all likelihood, David will finish with the second most receptions on the team, as he did in 2016 when he finished with 80 receptions for 879 yards. After injuring his wrist Wk-1 last season, Johnson will look for a bounce back year similar to '16 when he racked up over 2,100 all-purpose yards.
While there are new faces galore on offense, the defense will also be integrating a couple new ones as well with seemingly their biggest loss on that side of the ball being fan favorite, Tyrann Mathieu.
Steve Wilks, who has a defensive backs background, will be inheriting a defense that, while was 6th in the NFL in yards/gm against, was also 19th in points/gm at 22.6.
The Cardinals also lost CB Tramon Williams to the Packers in free agency. Williams wasn't the teams number two starter – opposite Patrick Peterson – to begin last season, he actually rarely played during the first half of the schedule, but once he stepped in as starter, he never looked back. Trying to fill that void will be Jamar Taylor, who the Cardinals traded a 6th round 2020 pick for this off-season from Cleveland. If he falters, Bene Benwikere, who followed Wilks to the desert from Carolina, would be the next man up. Even though Taylor has much more of a pedigree than Benwikere, the ex-Panther looked phenomenal this preseason.
Even with the loss of Mathieu, the defensive backfield looks to be the strength of the Cardinals entering the 2018. Not only did they add Taylor and Benwikere, Arizona also added one of the better Safeties in the league to team up with an already potent combo of Antoine Bethea and Budda Baker. Last season with San Diego, Boston finished with 5 interceptions to go along with a Pro Football Focus 'coverage' grade of 89.0.
If all goes according to plan, defending NFL sack leader Chandler Jones should be receiving a lot of free meals from the DB's for making their jobs that much easier. Not only did Chandler lead the league in sacks with 17, he also led the league in QB pressures with 76. Having a player of Jones' caliber will only make life that much easier for the DB's, as QB's will consistently be pressured to release the ball before they, or their WR's, are ready.
The other side of the two-headed sack monster for the Cardinals, Markus Golden, is ruled out for Wk-1, but isn't expected to be too far away from taking the field for the first time since Wk-4 of last season. Entering his 4th season in the league, a healthy Golden returning to 2016 form (12.5 sacks), or even better, will give Arizona one of the deadliest one-two pass-rushing combos in the league.
Even though he's learning his third position in three years, the Cardinals should also be asking for a lot from their second-year, first-round pick, Hassan Reddick. Reddick, just like most rookies under old-coach Bruce Arians, didn't play much last season. With his sideline-to-sideline speed and athleticism, it'll be interesting to see how much they utilize Reddick out of the gates this season.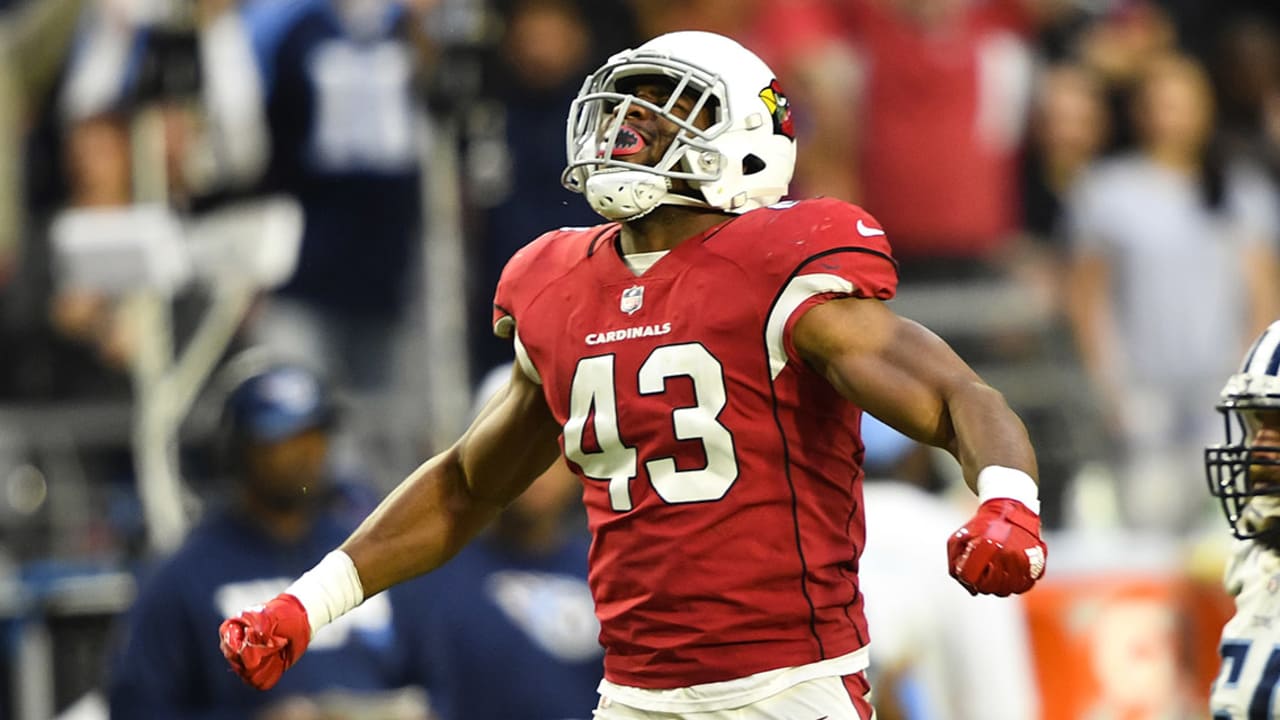 Other than practicing everyday against their own starting QB, Sam Bradford, this will be the first game action that Arizona's defense has faced an opposing teams starter since last seasons regular season finale in Seattle, against Russell Wilson. Coming off a career year where he threw for over 4,000 yards for the the first time in his career, and a career-high 26 TDs to go along with a career-low 5 INTs (had 4 INTs in only 7 games in '07), Alex Smith will look to put his best foot forward in his debut with Washington to open the 2018 season.
Considering defensive lineman Olsen Pierre and Robert Nkemdiche are both questionable to play, the linebackers, including Deone Bucannon and Josh Bynes, should have their hands full against Washington and ex-teammate Adrian Peterson. Peterson – was the Cardinals leading rusher last season – is expected to get the bulk of the carries, but the defensive front can't sleep on the 'Skins' other RB, Chris Thompson. Thompson is a good duel-threat RB, as he's averaged nearly 5 yards/carry and has 88 receptions out of the backfield over the last two seasons.
If the Cardinals can find a way to shut down the running attack of Peterson and Thompson, so that Washington has to become one-dimensional, there's a very good chance that the defense can translate those preseason turnovers into the regular season and come away with a big victory to open their season. This Wk-1 matchup feels bigger than just one game, as they don't want to be 0-1 heading into next week in L.A. against the reigning NFC West Champion, Rams.
Week 2 Review; Week 3 Preview
With Arizona decimated with injuries to their defensive front seven starters – Deone Bucannon, Josh Bynes, Markus Golden – it wasn't very surprising to see the Saints prolific rush offense consistently carve up the Cardinals on the ground, time and time again. It's not very often, even in preseason, that you'll see a team rack up more rushing yards than passing, but that's exactly what the Saints did to the Cardinals last Friday in New Orleans, as they finished with 6.5 yards per carry for a total of 183 yards. In fact, none of the six Saints who picked up yardage on the ground finished with less than 4.6 yards per carry, while none of the six Cardinals finished with over a 4.0 average.
To make matters worse, disappointing former first-round pick, Robert Nkemdiche, left the game with a foot injury and will miss tonight's game in Dallas. As will Corey Peters and Olsen Pierre (all expected to miss preseason game #4 as well), meaning three of their four defensive tackles who are expected to make the team will be in street clothes for the final two preseason games.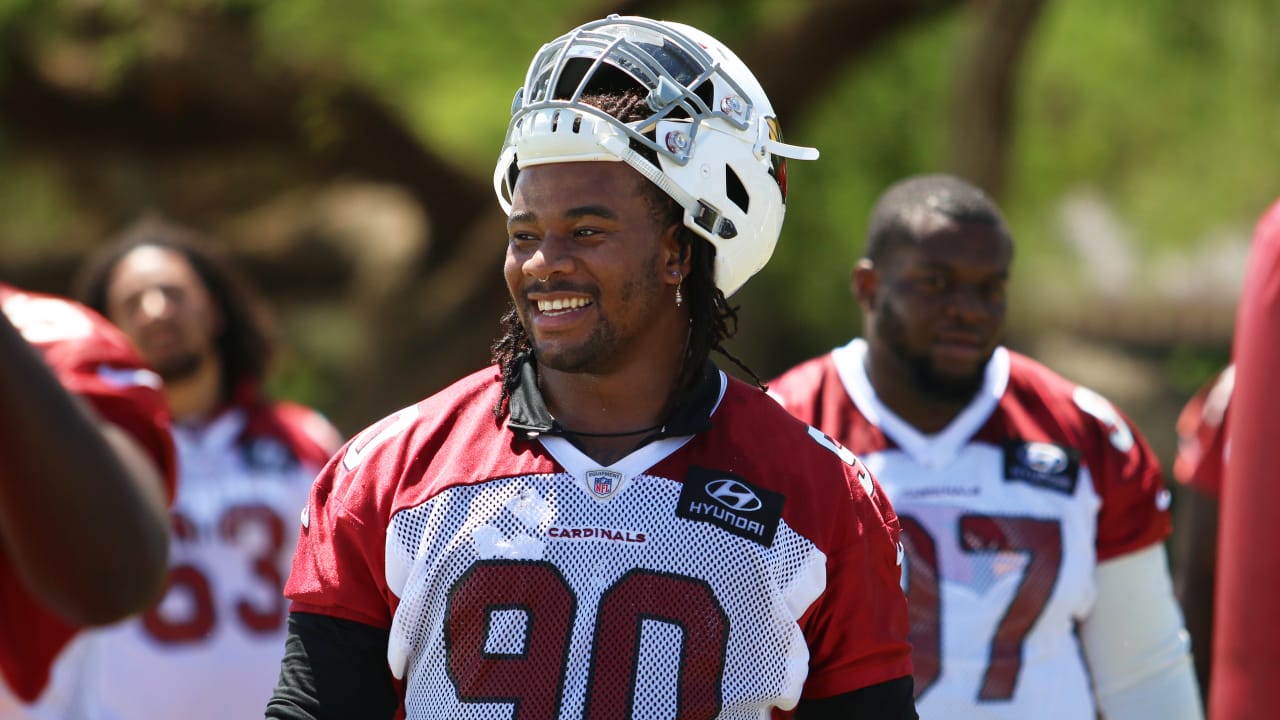 With an ever thinning defensive front, the Cardinals needed to add some bodies for the remaining two preseason games, so they went out and signed DTs Tani Tupou and Nigel Williams. In corresponding moves, they released TE Chris Bazile and WR Austin Wolf.
After what surely was an intense week of practice, with an emphasis on defending the run, I'd expect a better performance for the rush D against the Cowboys, especially considering Dallas is expected to rest starting RB Ezekiel Elliot, along with QB Dak Prescott for the remainder of the preseason because of injuries to offensive lineman Zack Martin and Travis Frederick.
First Philip Rivers, then Drew Brees, now Dak – In all likelihood, the Cardinals will round out their preseason slate without facing any of their opposing teams' starting QB's, unless the Broncos would like to see a little more out of Case Keenum next week. Not exactly ideal for any defense as they head into games that count.
On that note, expect Arizona's defense to add plenty of more defensive turnovers by the time the preseason is all said and done. The Cardinals 8 turnovers forced – four in each game – is second in the NFL, only behind Baltimore's 9. The Red Birds are also second in turnover ratio, 8 to 1, behind only Dallas, who has yet to turn the ball over this preseason.
While the Cards finished with only 211 passing yards, they themselves carved the Saints DB's up as the QB's finished 21 for 32 while throwing for one touchdown to go along with no interceptions, as they beat New Orleans 20-15. The touchdown came in the form of a dart from 1st-round pick, Josh Rosen, to 2nd-rounder, Christian Kirk, on a third and goal from the Saints 13. The first of hopefully many touchdowns by the dynamic rookie duo.
Rosen finished 10/16 with the lone touchdown strike from a Cardinal QB, but don't call it a quarterback controversy as starter Sam Bradford stayed perfect on the preseason, by going 6/6 for 61 yards. Bradford is now 7/7 this preseason and the only thing that would keep him from being the starter Week 1 against Washington would be an injury tonight.
While most fans would like to believe the real QB battle is for third-string duties, between fifth-year veteran Mike Glennon and rookie Charles Kanoff, money and experience talks. Glennon, who's 2/7 this preseason for 11 yards and one interception – the lone Cardinals turnover heading into Dallas – seems destined to be the backup to the backup once the season opens September 9th, while the fan favorite, Kanoff, is 8/15 for 109 yards and a TD.
Rumored to be interested in him since he entered the 2013 draft, General Manager Steve Kiem gave Glennon (both from NC State) a two-year, $8M deal this off-season. While, in limited playing time this preseason, Kanoff has looked to be the better of the two, one can not overlook the fact that in his career, Glennon has a 34 to 20 Td/Int ratio. It's hard to see Keim going with two rookies backing up an injury prone Bradford, so expect Kanoff to find his way to the practice squad as long as he passes through waivers.
8 Things To Keep A Bird's Eye On Entering Preseason Game #2
After an overall ugly game by both teams in Arizona's victory over the Los Angeles Chargers in preseason game number one, the hope is, besides any significant injuries, that the second game in New Orleans will provide us with not only a more aesthetically pleasing performance, but that it will also give us some much needed answers across both the offensive and defensive units.
On that note, here are eight items that Cardinal fans should be keeping an eye on as the they take the field under Steve Wilks in his second game as an NFL head coach.
1) Josh Rosen – Thanks to a Christian Kirk 39-yard punt return that gave the 1st team offense great field position, the Cardinals starters looked very efficient as they found the endzone on their initial possession. Same couldn't be said for the second unit, particularly the offensive line, who had the 10th overall pick running for his life time and time again. The rookie Rosen had mixed results in his NFL debut – was fortunate a Charger defensive back dropped a sure fire pick-6. His singular best play was when he was pressured off the bat but was able to keep his eyes down field while manipulating the pocket before delivering a 21-yard strike to tight end Gabe Holmes. The standout rookie from the UCLA finished his first NFL stint 6 for 13 for 41 yards. His wide receivers also let him down by dropping two very catchable passes in the process. Wilks has already come out and said Rosen will see more time with the 1st team offense tonight. When asked what he wants to get out of playing with the starters, Rosen said "completions and touchdowns." Overall, Josh finished with a PFF passer rating of 40.6 (worst of the five first rounder rookie QBs), but that jumped to 67.9 when he had a clean pocket (rated 3rd out of the 5 when compared to those same rookies under those circumstances).
2) Second-String Offensive Line – The starting OL looked pretty sharp in their 2018 debut, especially in the run game, where you could see second and third efforts all-around in their limited playing time last week. The optimism up front stops there though, as the backups had a helluva time containing the man in front of them while trying to protect Rosen and open holes in the run game. While the Chargers kept some of their defensive starters in to face the Cards second-stringers, it was still a performance to forget by anyone's standards, especially for center Daniel Munyer, who had Rosen picking up his snaps off the ground seemingly every play when they were in shotgun. While Josh wasn't officially sacked, he had a clean pocket only 46% of his drop backs. Guys like Will Holden, Evan Boehm and John Wetzel need to have a better showing tonight, if for nothing else than to instill confidence in themselves moving forward.
3) Wide Receivers – The second-string OL and the WR's were the two units who had the roughest nights last Saturday. The wide receiving unit as a whole finished the game with a whopping 3 receptions (only Kirk and Jalen Tolliver caught passes) for 57 yards. Newcomer Greg Little had a dropped pass, while JJ Nelson also had one while trying to haul in a dart from Rosen. Understandably, most Cardinal fans would like to see second-year WR Chad Williams and rookie Christian Kirk grab the number two and three WR spots behind future-HOF Larry Fitzgerald. While most eyes will be on the rookie Kirk tonight, Chad will be the one that i'll be keeping the closest eye on, even though he had only six snaps last weekend. Brice Butler will be sidelined for tonight's game, potentially opening up more playing time for Williams.
4) Chase Edmonds – While Edmonds made the most of his fourth and fifth effort in getting in the endzone on a 4th and goal on Saturday, he also finished the night with 5 rushes for only 11 yards. With starter David Johnson more than likely not going to see much run during the preseason, everyone wants to know if the rookie can fill the role as DJ's primary backup once the season starts. The collegiate standout from Fordham finished each of his first three years there with at least 1,600 rushing yards and 19 TDs, before having his Senior year cut short due to an injury. We should expect Chase to get upwards of 10 rushes tonight.
5) Mason Cole – Taking over the starting duties at center because of A.Q. Shipley's season-ending injury, the rookie played just 10 snaps, just like every other starter on the o-line. While Cole looked good in his limited time during his NFL debut, the Michigan product will surely receive more run tonight as Wilks would like to see how his franchise QB looks while behind his starting line. The 4-year collegiate starter will have a lot of pressure on his shoulders, but as long as he knows the playbook I wouldn't expect too much off a drop off from Shipley's standards moving forward. That all could change with an injury to Mason, as there would not be much confidence at all if Munyer or Boehm had to slide into the lineup as a starter.
6) Cap Capi & Robert Nkemdiche – One has turned into a preseason legend (Capi), while same could be said about the other, but as a training camp phenom.The problem is that they have both combined for a whopping 19 tackles when it matters most. Cut by the Cardinals before the season last year, Capi recorded 3 sacks on Saturday and now has recorded a pressure every 5.5 snaps dating back to the start of last preseason (via PFF). During Chandler Jones' torrid season last year when he led the NFL in sacks and pressures, he pressured the QB once in every 8 snaps. The time is now for the 26-year-old defensive end to not only make the regular season roster, but to be a productive member of the defense. The same could be said about former 1st-round pick Robert Nkemdiche. Still only 23, the defensive lineman from Ole Miss has played sparingly during his first two seasons and has recorded a total of 12 tackles to go along with 0 sacks. The hope is that with a new coaching staff and defensive scheme (4-3), the 3rd-year collegiate monster will regain that confidence which was obviously lacking under the old regime while being a force to be reckoned with in a scheme that will give him more freedom, similarly to how ex-Cardinal Calais Campbell had a career season last year in Jacksonville in a similar 4-3 defense.
7) Linebacker Depth – Already a position which is regarded to as 'thin', the Cardinals lost their most impressive LB from Saturday to a season-ending injury in Jeremy Cash. Cash was rated by Pro Football Focus as the Cardinals second best player from the first preseason game for anyone with at least 10 snaps (LG Mike Iupati led the team and all offensive lineman in the NFL with the highest PFF grade). Not only was Cash all over the field from sideline to sideline, he also had a fumble recovery for a TD against the Chargers. Arizona waived Cash and signed LB Gerald Hodges earlier this week. With linebacker's Deone Bucannon and Josh Bynes still not medically cleared to play yet, it'll be interesting to see the snap counts of each linebacker after the game. Either way, there's going to be ample opportunities for someone to step up and prove to the coaching staff that they deserve to be on the roster once the season is underway.
8) Cornerback Opposite Patrick Peterson – The leader in the clubhouse to start oppo Peterson is Bene' Benwikere. And he did nothing to change that on Saturday, as he finished as the 4th-highest graded Cardinal player by PFF. The 26-year-old was all over the field and played a part in two turnovers during the game against the Chargers. Not only did he deflect a pass that Safety AJ Howard intercepted, he also caused the fumble that Cash scooped up and took to the house. Another game or two like that and the concern about the second CB spot will be all but quieted.