Purple Reign-Baltimore Ravens Week 4
It has been stated that The Ravens/Steelers games are "rivalry" matches and throwbacks to the more smashmouth brand of heavy hits and close games.
For the most part, new NFL rules have taken many of the "hard hit" elements out of competitive play, along with the uber protection of quarterbacks and receivers. However, these two teams still find a way to rattle the helmets at times.
The Ravens, who tend to experience brain cramps when playing away and in prime time, truly came to play in Week 4 versus their nemesis, The Steelers.
The Ravens 26-14 victory in Pittsburgh moves their record to 3-1 and drops The Steelers to 1-2-1. The Ravens now share 1st Place with The Bengals, also at 3-1.
There are many things to be excited about on the Offensive side, although Crabtree's catch rate (he drops way too many passes) and mystery on use of Alex Collins, remain eye sores.
Through 4 games, The Ravens rank as follows:
5th in Points Per Game at 30.8
4th in Points Against at 65
11th in Yards Per Game at 408
8th in Pass Yards Per Game at 319
23rd in Rushing Yards Per Game at 89 (THIS MUST IMPROVE)
25th in Time of Possession  (ANOTHER RESULT OF RUNNING ISSUES)
Flacco obviously leads in QB stats with 1,252 Yards Passing, 8 TD's and 2 INT.
Alex Collins leads at RB with 158 Yards, 2 TD's and 2 Fumbles (costly). His longest run to date is 14 yards!
John Brown has been a nice addition! 338 Yards Receiving and 3 TD's and exciting to watch.
Snead, Crabtree, Williams, Andrews and Boyle have also seen some action.
Justin Tucker..well, what can you say. A rock at his position making 9/10 FG's including 3/3 over 50 yards!
Sam Koch steady again averaging nearly 50 yards per Punt.
Week 5 moves us to the Dog Pound in Cleveland.
Although The Browns are 1-2-1 they are completely retooled and fun to watch. Baker Mayfield hopes to live up to the hype and will have to do so against a reborn Ravens Defense.
Go Ravens!
Purple Reign-Ravens for Week 3
We are three (3) weeks in to the 2018-19 season, and The Ravens now sit at 2-1 after a very impressive home victory over The Denver Broncos!
Through their first three games, the offensive leaders are Joe Flacco with 889 Passing Yards, Alex Collins with 116 Rushing Yards (not real impressive) and John Brown with 222 Receiving yards (also a bit low).
There are some very encouraging signs for this retooled team (albeit mostly on Offense):
The Offense has 74 First Downs versus 52 for Opponents
Passing Yards at 913 Total versus Opponents at 555
Total Offensive Yards at 1,173 versus Opponents at 866
12 TD's scored versus 6 for Opponents
Average Time of Possession 33:38 versus 26:22
The "rival" Steelers are up next, who squeaked by Tampa Bay last light. With Antonio Brown looking back in form (and with LeVeon Bell still missing), this should be a very interesting (and physical) divisional game.
This rivalry has lost much of it's firepower from prior years, however, both teams remain well coached with the Steelers really needing to get back on track.
With the game in Pittsburgh, I give a slight edge to the Steelers. But, it still should be a great game!
Broncos Fall in Baltimore
Well, the team was likely not going to go undefeated. Now we know they won't after a 27-14 loss in Baltimore. The Broncos dropped to 2-1, and the flaws that dogged them in a pair of close wins came home to roost in their first road game of the season. The team now has just a few days to get things cleaned up before they host the red hot Kansas City Chiefs on Monday Night Football. And after yesterday's demonstration in Baltimore, there is plenty to clean up.
Things started well for the Broncos, who forced a three and out, including a big sack of Joe Flacco by rookie Bradley Chubb. On the ensuing punt, reserve linebacker Joe Jones blocked it, setting up a first and goal. And rookie Royce Freeman strolled in on the first carry of the game, giving Denver a 7-0 lead.
After the Ravens scored a touchdown on their next drive, the Broncos' offense went back to work. The team finished an eight play, 70-yard drive with a 35-yard TD run from Emmanuel Sanders. That put the Broncos up 14-7, but was sadly the high point of the game for the team.
The Broncos later blocked a Justin Tucker field goal attempt, but the offense couldn't get going. And penalties were a big reason why. The Broncos incurred 120 yards of penalties in the game, including a number of personal foul penalties. One of which was a personal foul on rookie running back Phillip Lindsay, which led to his ejection. He had just four carries and 20 yards prior to being ejected. And without him, the Broncos' offense lacked some spark.
The defense also had its share of struggles. Adam "Pacman" Jones didn't play, and during the game Tramaine Brock was injured. That left the Broncos secondary thin as they had only Chris Harris, Jr., Bradley Roby and rookie Isaac Yiadom at cornerback. That didn't prove to be enough as Flacco was able to keep the offense moving enough to put points on the board, while the Ravens' defense smothered the Broncos' offense for the final three quarters.
John Brown caught five passes for 86 yards, while Michael Crabtree caught seven passes for 61 yards. And Javorius Allen scored a pair of touchdowns (one rushing, one receiving) for the Ravens, who held on for the 27-14 victory. Now the Ravens prepare for their division rivals, the Steelers, on Sunday Night Football, while the Broncos will go back to the drawing board before meeting the 3-0 Chiefs.
News and Notes:
There were some questions about the final 53, namely fan-favorite players who were left off. One of those who made the cut was Jones, who did so on the basis of his great work on Special Teams. He continues to pay dividends, making several plays yesterday including the blocked punt to spark the Broncos' offense early.
Freeman ran better on Sunday, arguably his best game so far. He ran hard on his 13 carries against a stout Ravens' rush defense. He only recorded 53 yards, but I was encouraged by what I saw.
Demaryius Thomas bounced back well from a down game in Week 2. He caught all five of his targets for 63 yards and had another 39-yard play called back due to penalty. And he made some tough catches in traffic.
Quarterback Case Keenum has struggled to start the season. After a three-interception game in Week 1, he hasn't thrown a touchdown pass in the past two games. But he has thrown an interception in each, now sitting with three TD passes and five INTs through three games. He had two TD passes reversed by officials in Week 2, and did add a rushing TD, but the Broncos need more consistent production. Sunday he threw for just 192 yards and was sacked three times in addition to his interception.
Von Miller was held without a sack for the first time this season. After three sacks on opening day, and one in Week 2, he was limited to just two tackles in the game against the Ravens.
Broncos Hit The Road
The Broncos face their first road test of the season on Sunday as they travel to battle the Baltimore Ravens (1-1). The Broncos started the season 2-0, squeaking out a 27-24 win over the Seahawks in Week 1 and a 20-19 win over the division rival Raiders in Week 2. While it's nice to be 2-0, the wins were hardly impressive.
In fact, on Sunday, the Broncos' offense struggled to do anything in the first half. The Raiders built a 12-0 lead thanks to a bend but don't break approach from the defense. And while the Broncos accounted for six sacks against Russell Wilson in Week 1, they mustered just a single sack against Derek Carr in Week 2 while allowing him to complete 29-of-32 passes for 288 yards and a touchdown.
But they made the plays they needed to when it mattered, including a blocked extra point by Shaq Barrett in the first half that ended up being the difference in the game. And now they face a Ravens' team that was barely tested in their home opener and looked sloppy in a divisional loss to the Bengals last Thursday night. Flacco was sacked four times and committed three turnovers against the Bengals, something that the Broncos' defense must seek to replicate if the team wants to win Sunday.
The Ravens will have had 10 days to prepare for the game, and get to return home, but their defense was hardly imposing in Week 2, surrendering four touchdowns to Bengals QB Andy Dalton. Case Keenum has started slowly, tossing three TDs against four INTs in two games (and adding one rushing), but his came could have looked much different. He had two touchdown passes reversed by officials Sunday, including a beautiful throw to Courtland Sutton that appeared to have been a missed call on replay. If he can have better luck, and avoid costly mistakes, Keenum can take the Broncos' offense to the next level.
Much of that also depends on Demaryius Thomas, who struggled mightily in Week 2. He led the team with 11 targets, but grabbed just five of them for 18 yards, dropping a number of passes and eliciting boos from the home crowd in the fourth quarter. He can play better, and must if the Broncos are going to get their first road win of the season.
On the flip side, Emmanuel Sanders has started red hot. He caught 10 passes for 135 yards in Week 1 and grabbed all four of his targets for 96 yards in Week 2. He appears to have found some good chemistry with Keenum, and appears to be the Broncos' go-to man for big plays. Also stepping up big is undrafted rookie free agent Phillip Lindsay, who ran for 107 yards on 14 carries. He leads the team with 178 yards rushing in two games, and has the third highest rushing total of any running back in the NFL through two weeks.
Fantasy Impact
Keenum hasn't been incredible, but he's produced decent numbers. He is QB 18 through two games, and is worthy of consideration in deep and two QB leagues, especially considering this week's match-up. On the ground, I'm staying away from rookie Royce Freeman. He has just 99 yards in two games despite plenty of work, and is really only a value if he can find the end zone. Considering the Bengals had their best success throwing, that seems less likely. And the way Lindsay has played, I expect Freeman to cede work unless the Broncos build a lead. Lindsay is currently RB14 in PPR and should be in your lineup.
Among receivers, Sanders is a must start. As for the rest, I think it depends on your options. I expect Thomas to be better than he was a week ago, and he and Sutton should get some opportunities in the Red Zone. But I want to see them bounce back a bit before I feel good playing them. At tight end, I liked what I saw from Jake Butt, who caught four of six targets in Week 2 for 48 yards. I expect the Broncos to keep getting him involved, and he could be an upside play in deeper leagues in a position that's kind of a toss up.
Prediction
The Broncos are 2-0 but haven't looked dominant. Yet I think they've done some good things, and I think they can match up well with the Ravens. Baltimore started hot by routing the Bills at home, but they showed their weaknesses in that Thursday night game against the Bengals. I think the Broncos will move to 3-0 with another close win.
Jets Fly To Cleveland, Will They Leave With A Loss?
The Cleveland Browns are still trying to get their first victory since Christmas Eve of 2016.
Tyrod Taylor is completing 52.9 percent of his passes for 443 yards, two touchdowns and two interceptions. Taylor has one or less touchdown passes in each of his last nine games.
Jarvis Landry and Rashard Higgins have combined for 260 receiving yards on 18 receptions while Antonio Callaway has three receptions.
The Cleveland Browns ground game is averaging 135 yards per contest, and Carlos Hyde leads the way with 105 yards and two touchdowns.
Defensively, Cleveland is allowing 21 points and 373.5 yards per game. Joe Schobert leads the Cleveland Browns with 16 tackles, Larry Ogunjobi has three sacks and Denzel Ward has two interceptions.
Browns Stats vs. Jets
The Browns lead this head-to-head match-up with a record of 13-12. But the Jets have won the last five meetings, including a 17-14 win last season.
What teams do not have Wins over the Browns in the last five years?
Tyrod Taylor holds a 4-2 career record against the Jets. He has completed 98 of 154 passes for 1,146 yards, eight touchdowns and two interceptions. He went 1-1 last season with the Bills including a 34-21 loss in Week 8.
Isaiah Crowell returns to Cleveland for the first time since signing with the Jets in the off-season. In four years with the Browns, the running back rushed for 3,255 yards and 23 touchdowns in 66 games.
Morris Claiborne last year against the Browns, had an interception that he ran back for 28 yards in the Jets 17-14 win in Cleveland.
The Browns are +3.0 point favorites.
This is the first time since 2015 the Browns are the favorite in a game.
On paper the Browns should easily win this game, 24-10.
A win is a win, but a loss on Thursday could be the one that sends this season on a downward spiral that will see Hue being replaced before the season is over.
So last article I said that I would explain what the Browns needed to do to gets some wins this year.
And I can explain it with one word, HARD.
We saw this tag on the shirts in training camp.
And that is exactly what they need to get back to.
H

UNGRY


A

CCOUNTABLE


R

ELENTLESS


D

ETERMINED.

Each year we see the same level of expectation in training camp.
Each year is our year, The year we reach the playoffs, the big turnaround.
And each year we are let down.

It's almost like the players buy into the narrative that this team is "Cursed."
All hype, then a few bad plays or missed kicks, and that's it.
The players then start to doubt themselves, and believe that there is no way they can win.
You will hear it in interviews and talking to the players.
They begin to believe that no matter how HARD they play, Its just not enough.

So Mr. Jackson.
Its all on you now, you have the job, you have the talent.
Your job is to change the Culture, Motivate, and finish the cleanse you started.

So, comment below or on twitter @grindstonejohn.
Is Hue's job on the line this week?
What do you think the Browns need to change?
Will the victory fridge finally open?
Will the beer taste as good this week as it would have last week?

As always,
Stay Classy Cleveland
Browns Trade Josh Gordon to the Patriots
The Browns have traded Josh Gordon to the New England Patriots for a fifth-round draft pick.
The deal announced on Monday, two days after the Browns reached a breaking point with Gordon, who has been suspended for much of his NFL career. Gordon played in Cleveland's season opener, but reported to the team on Saturday with a hamstring injury that happened at a "Photo shoot" that was not a team activity.
Gordon was granted permission by the Browns to conduct a photo shoot for his "Flash" clothing line Friday evening, but instead, he was participating in the filming of what one source called a "hype video" intended to be released as a social-media commercial. At least five other people were present as Gordon went through football-related drills, and after about 90 minutes of shooting Friday, the source said Gordon pulled up limping while running a 40-yard dash and grabbed at his hamstring.
The Browns have been supportive of Gordon, but the team was let down for the last time, and decided it was time to cut ties.
Gordon's very apparent skills with the ball was the reason that the Browns supported him while he dealt with drug and alcohol issues. He missed training camp to receive treatment and the Browns were cautiously optimistic he would help them this season.
In New England, former Cleveland and Baylor teammate Corey Coleman, who had his own issues with the Browns before being traded last month, was cut to make room for Gordon.
So for the record the Browns have cut Coleman twice this year.
So what number will Gordon wear?
Will this move benefit Gordon or the Browns?
What do you think?
comment below or tweet me @grindstonejohn
Stay Classy Cleveland.
Cleveland Browns Come Up Short In New Orleans.
The Cleveland Browns winless streak now sits at 19, and the Bud Light Victory fridge remains locked.
The Browns went on the road Sunday and lost to the Saints 21-18.
Last week, Cleveland ended its 17-game losing streak by tying the Steelers 21-21, but the team has gone 631 days without a win.
In Sunday's contest, the Browns looked like they would finally earn that long awaited win.
Once again all hope was lost in the 4th.
With a 12-10 lead late in the fourth, Tyrod Taylor was picked off by New Orleans' Marcus Williams, who returned the ball to the Browns' 18-yard line. Drew Brees was able to connect with Michael Thomas, who played an amazing game, on a five-yard score and Alvin Kamara ran in a two-point conversion to give the Saints an 18-12 lead.
Cleveland regained possession with two minutes and 40 seconds left and then proceeded to march down the field. On a fourth-and-five at the New Orleans 47-yard line with 1:24 remaining, Taylor launched the game-tying touchdown pass to Antonio Callaway.
Tyrod Taylor finds Antonio Callaway for SIX! 😱 pic.twitter.com/BCWPGQ7PWL

— Cleveland Browns (@Browns) September 16, 2018
What should have been the game winning PAT  was hooked by Zane Gonzalez ,as he missed the go-ahead extra point, and the game remained tied at 18.
On the next drive for the Saints, Bress found Ted Ginn Jr. for 42 yards to put the Saints in position for the game-winning score. Wil Lutz nailed a 44-yard field goal with 21 seconds left giving the Saints a 21-18 lead.
Cleveland had one last show of hope when Taylor connected with Jarvis Landry moving the ball to the New Orleans 34-yard line, but Gonzalez rough night continued , and he missed a 52-yard field goal, ending the Browns Tie streak at one .
There was a lot of solid plays and growth during this game, and the Browns defense was solid.
But the Browns Offense lacked that same energy that we saw last week.
In the end the combination of Brees, Kamara, and Thomas in the 4th, was just too much for the Browns defense to handle.
The Browns have little time to recover as they head back to the Hardland to face the New York Jets on Thursday.
What changes are coming, Ill explain what I think needs to happen in my next post.
And No. Firing Hue is not the answer.. At least not yet.
Until then Stay Classy Cleveland.
Browns to release Josh Gordon on Monday

In a surprise move today, the Browns announce they will be releasing Josh Gordon on Monday.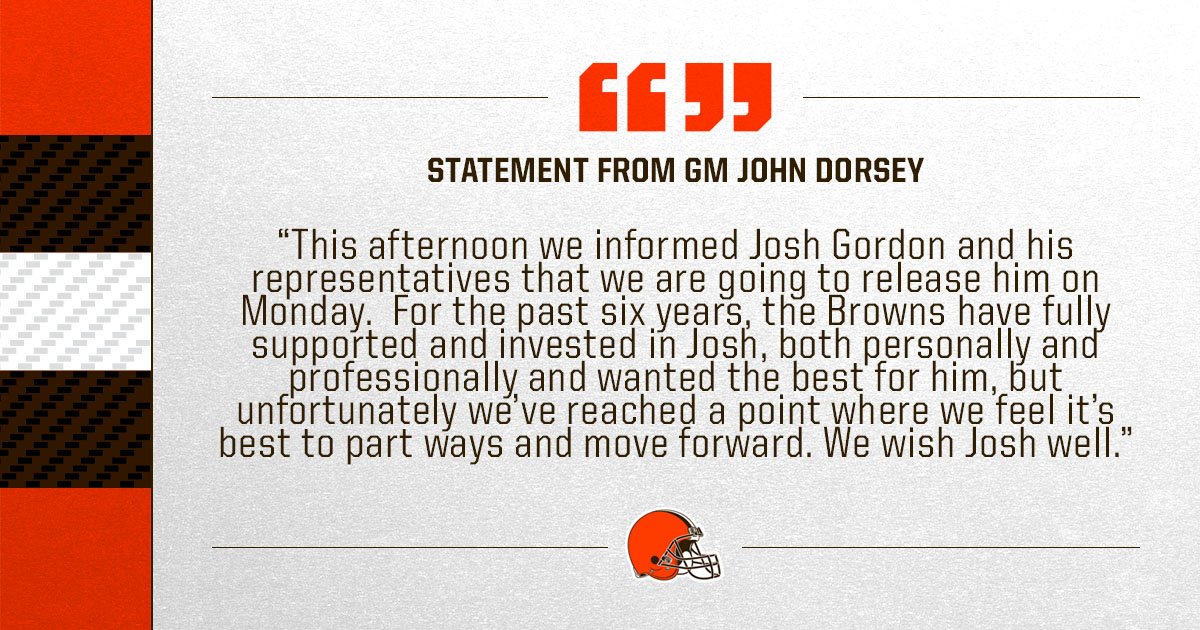 Sounds like there was more to Gordon's hamstring injury.
Per my source, Josh Gordon Failed to report this morning, and could not be reached.
Once he did report to the complex, he was evaluated and ruled out for Sundays Game against the Saints.
Two hours later the decision was made to release Gordon.
There have been no comments made in regards to any failed drug test.
It is believed that this is simply an issue where Gordon was late, then refused to play on Sunday.
The front office felt that the distractions were leading to a division in the locker room and coaching staff, and felt they needed to cut ties and moved on, Next Man up.
The source said there were other "mitigating factors" inclusive of present and past incidents.
We will be updating regularly when there is more released on this story.
What do you all think would cause the Browns to support Gordon so long, just to release him?
Does the Browns Front office have a bigger plan at WR?
Do they know something more than has not been disclosed yet?
Stay tuned and Stay Classy, Cleveland.
Browns vs. Saints game Week 2 Preview
Cleveland Browns vs. New Orleans Saints
Week 2 The Browns March to New Orleans and take on the Saints, in what I think will be a passing game between the teams.
Look for the Browns to keep the pressure on Drew Brees, disrupting the offense and create takeaways.
On paper, Cleveland has a much better chance of getting the win against the Saints than they did last week against Pittsburgh. And I am looking forward to the opening of the Bud light Victory fridge!
The Browns are 13-4 all-time versus the Saints, 5-1 since 1993, 3-0 on the road since 1999. In their last meeting in 2014, Saints were 6-point favorites to take the win in Cleveland, and lost 26-24. In 2010, New Orleans was 12.5-point favorites at home and lost, 30-17.
The Saints have toned down the Blitz plays we have seen in the past few years.
So I expect a big game for Landry as well, Taylor will have a little more time in the pocket to make some big plays. The Saints will have to keep pressure on Taylor, if they want to keep Landry in check and force the Browns to stick to short gain passes if they want to contain the offense. Look for Antonio Callaway to get significant playing time, as the Browns have announced the release of Josh Gordon.
My prediction. Browns win 28-13
Additionally this week I would like to provide a very accurate and pro take on the Browns game 1 tie over the Steelers. Check out this video and give Cleveland Sports Memes a follow.
One of my favorite Browns Twitter accounts, and also has some great takes and updates during the games.
It is almost mathematically impossible for a team to get 6 turnovers and not win.
It is apparently impossible for the #Browns to win.
Rick and Morty try to make sense of these colliding forces. pic.twitter.com/dYrM4qLgZs

— Cleveland Sports Memes (@BrownsMemes) September 10, 2018
https://platform.twitter.com/widgets.js
So will this finally be the week Cleveland goes crazy in streets?
Will the victory fridge open?
Will we see a replay of the Cleveland Indians 10 cent beer night 44 years ago?
Comment below or catch me on Twitter @grindstonejohn
Stay Classy Cleveland.
Eddie Johnson & Erich Barnes Inducted Into Browns Legends Program
During the Browns 2018 Alumni weekend, Eddie Johnson and Erich Barnes were inducted into the Browns Legends program.
Eddie Johnson (February 3, 1959 – January 21, 2003) A seventh-round pick in the 1981 NFL Draft, Johnson joined the Browns after finishing third at Louisville in tackles in three separate seasons. In Marty Schottenheimer's first year as head coach, Johnson registered 172 tackles and 108 solo stops. The following season, he was voted defensive co-captain and earned AP honorable mention All-Pro laurels after finishing the season second on the team with 148 tackles. With a hard-hitting style of play, Johnson helped the Browns claim three consecutive AFC Central Division championships (1985-87). He was also known for his durability on the field as he appeared in 101 consecutive games from 1981-1987. Johnson's contributions to the organization continued off of the field as he was awarded the team's Ed Block Courage Award in 1988. After his NFL career, Johnson became an ordained minister in 1993 and dedicated the rest of his life to helping others in the community. Eddie wore number 51 during his time with the Browns (1981-1990) and was nicknamed "The Assassin". He was known for his fierce tackling style. Sadly, Eddie Passed away in 2003 after a two-year battle with colon cancer.
Erich Barnes– Was actually a fourth-round pick by the Chicago Bears in 1958, Barnes brought Pro Bowl and All-Pro experience to the Cleveland Browns when he signed with them in 1965. A seven-year player for the Browns, Barnes had 18 of his 45 career interceptions in a Browns uniform, returning three for TDs. Barnes anchored a defensive backfield that made five postseason appearances, reaching the 1965 NFL Championship game, plus back-to-back conference championship games in 1968-69. He was selected to a Pro Bowl with the Browns following the 1968 season and totaled six Pro Bowl honors during his NFL career. He was also a first-team All-Pro selection in 1961 and a second-team All-Pro in 1959, 1962 and 1964.
A native of Elkhart, Indiana he attended college at nearby Purdue, there he was a three sport athlete. Barnes was inducted into the Indiana Football Hall of Fame in 1968 and the Purdue University Intercollegiate Athletics Hall of Fame in 2009. While with the Browns, Barnes was known for standing at the goalpost (then stationed at the goal line) and blocking field goal attempts.
Head Coach Hue Jackson made a nice gesture as he also invited the more than 60 Browns alumni participating in the weekend's festivities to be special guests during the team's workout on Saturday morning. Congrats to Eddie and Erich true legends!