Colts @ Titans on Monday Night Football
There are no moral victories in the NFL. You win or you lose. The Titans were defeated last Sunday by the Miami Dolphins 16 to 10. It wasn't the blow out loss that the Texans laid on them in week 4 but there are no moral victories.  It doesn't matter that Marcus Mariota didn't play in that game. He is the face and leader of the franchise, there is no one more important long-term than he is. I hope that he does not play until he is ready. That all said I hope he is ready Monday night in Nashville. As a divisional game with the Indianapolis Colts is looming.
The Colts have won 11 consecutive games and seven of the past eight in Nashville.
The Jacksonville Jaguars going into this week are first in the AFC South at 3-2 and the Texans, Titans, and Colts were all just a step behind at 2-3. The Jaguars faced and lost to a resurgent Rams team in Jacksonville 27-17 and the Texans handled the Cleveland Browns at home 33-17. The winner of the Colts-Titans game will ind find themselves in a tie for first place in the division. The loser will be a game behind of the other three. It will be an important night for Tennessee's hopes for winning the division.
It won't be an easy night though no matter what the stakes are. The Colts have won 11 consecutive games and seven of the past eight in Nashville. Yes, a lot of those were to quarterbacks named Manning and Luck. The Colts just seem to have the Titans number. The Colts may not be the only team without their starting quarterback, Mariota is still questionable to play and it wouldn't surprise me if he spent one more week in street clothes. There is still a lot of football to be played this year but those games take on a different meaning to a team that is 3-3 with two wins in the division vs a team that is 2-4 with a single divisional win.
The Titans defense looked better last week but the Dolphins offense is not the measuring stick you want to use. Indianapolis is 22nd in the league with just over a thousand yards through the air but 17th in rushing yards. Quarterback Jacoby Brissett is a large part of that with over 80 yards running the football and three rushing touchdowns, tops on the team. Those three touchdowns on the ground also tie Brissett for the lead among all quarterbacks with Carolina Panthers Cam Newton and our own Marcus Mariota. Containing Brissett in the pocket and staying home on his designed runs will be a key defensively.
Offensively the key is Marcus Mariota. If he plays Monday night then the Titans chances increase significantly. If not then it will be difficult generating offense through either the air with Matt Cassel or on the ground against a loaded box. The Titans are still in a position to win the game but the margin for error gets a smaller with Cassel at the controls.
New Look Cards Seek a Week 6 Spark
If the Arizona Cardinals can't beat the 2-2 Tampa Bay Buccaneers this afternoon, the hope of a playoff push could disappear quicker than the Lost Colony itself. A team that has been a near mirror image of our Cardinals, the Buccaneers and ex-ASU head coach Dirk Koetter come to Glendale in what seems to be a make or break game for the home team.
Some of the peripherals of this game scream that it will come down to a last second field goal. The four combined wins between the two teams have all come against sub-.500 teams. Each team has a victory against a winless team. Two teams in the NFL have missed at least four field goals this season. The Cardinals have missed four, while the Buccaneers lead the league with five, in only four games. Check, check and check.
Here's a look at how the result of today's game can equate to nearly a 30% swing in postseason chances:
While the Cardinals rank 2nd in passing yards/gm, they are over 20 yards per game shy of the 2nd worst rushing team in the league. The Buccaneers, who rank 3rd in passing, only average one less yard per game through the air than the Cardinals. Similarly to Arizona, the Bucs have had a hard time finding a ground attack as they rank 27th in that department.
While the Cards and Bucs have had their struggles to start the 2017 season, both are anticipating having reinforcements come back for today's game.
Tampa Bay is expecting their 3rd leading tackler from 2016, Linebacker Lavonte David, and Safety T.J. Ward to return to action.
For the 4th consecutive game, Tampa Bay will be without their leading tackler from last season, Kwon Alexander.
The Cardinals biggest weakness on the season should receive a much needed boost. Left Tackle D.J. Humphries and Left Guard Alex Boone are both expected to return from injuries against the Buccaneers. In parts of three games with the Cardinals, Boone has graded out as the top eligible offensive lineman for the team at 54.2. Due to injury, D.J. Humphries has played less than 20 snaps this season for the Cards. Although, in his limited playing time D.J. has an Overall grade of 67.4. In 13 games started last season, Humphries posted an Overall grade of 70.3. Now if both can stay healthy, the left side of the line should at the very least be better than what we've seen.
That same optimism can't be shared when talking about the right side of the line though. Earl Watford left Arizona as a free agent and signed a two-year contract with the Jacksonville Jaguars this past off-season. Watford impressed his new team so much that the Jaguars released him two days prior to their season opener last month. On October 2nd, the Cardinals brought back their 4th round selection in the 2013 draft. Watford, making his first game action of 2017 and his first appearance in an NFL game on the left side of the O-line, was forced into action as a starter against the Eagles in Week 5. As the Cardinals starting Left Guard, Earl received a 34.6 Pass and 43.1 Run grade for an overall 38.3 rating from Pro Football Focus. In 788 snaps in 2016 for Arizona, Watford garnered a miserable 33.5 Overall grade.
Watford will replace Evan Boehm as the Cardinals starting Right Guard against Tampa. Boehm, a 4th round Center taken by the Cardinals in last years draft, has started the first five games at RG in 2017. Boehm earned early season grades of 35.5 and 74.5 in Pass and Run blocking, respectively. The second year Center turned Guard, now turned Center again has an overall season grade of 44.0. On the season, Boehm ranked 40th out of 51 eligible Guards in Pass-Blocking Efficiency. It has been announced that Evan will focus solely at Center and will be starter A.Q. Shipley's backup.
On Wednesday, the Houston Texans signed the Cardinals 2017 4th round pick, Right Guard Dorian Johnson off of Arizona's practice squad and onto the Texans active roster. While at Penn State, Bill O'Brien, whose the current head coach of the Texans, recruited Johnson. Dorian eventually decided to attend the University of Pittsburgh. Not a good look for the Cardinals to lose their 4th round pick, especially with an offensive line that has shown ineptness at various positions. The Cardinals are giving up 3.8 sacks/gm, while Tampa Bay is giving up 1.75/gm.
After allowing an NFL high 102 pass rushes through the first five weeks, 17 more than the 2nd worst team, Arizona's offensive line as a whole is tasked with shutting down the Buccaneers fierce interior defense, led by DT Gerald McCoy. McCoy, ranks 4th among defensive tackles in both pass rushes, with 18, and pass-rush productivity. Even though he only has one sack to his credit. In fact, nobody for Tampa Bay has more than one sack through their first four games. Which helps explain why the Buc's are dead last in the NFL with four sacks. Even though they rank last in sacks, the Buccaneers will feature two other pass rushers that also rank top 15 in productivity at their position by PFF, interior DT Clinton McDonald and Edge rusher Robert Ayers.
Earlier this week, the Arizona Cardinals traded a 6th round pick to the New Orleans Saint for 2015 NFL rushing leader and future Hall-of-Famer, Adrian Peterson. Peterson will replace Cardinals starting running back Chris Johnson, who was cut by the team immediately after the trade. No NFL team has finished a season with less than 1,000 rushing yards since 2011. The Cards are on pace for sub-900 yards in 2017.
On 77 carries this season, Cardinals running backs Chris Johnson, Kerwynn Williams and Andre Ellington have combined to break a total of six tackles to go with an average of 1.81 yards after contact. In New Orleans, Peterson broke five tackles on only twenty seven carries. Peterson also had a yards after contact average of 2.67 for the Saints.
In roughly 50 games since the start of the 2014 season, the Cardinals have used a man blocking scheme on running plays more than any other team in the NFL. During Peterson's last healthy season with the Minnesota Vikings, the team used a man blocking scheme on 170 run plays. Of those 170 plays, Peterson had an NFL high 1,027 yards to go along with a 6 yards per carry average and a monstrous 482 yards after contact. Cardinals fans are holding their breaths in hopes the 32-year old Peterson can regain some of that 2015 magic.
Last season on defense, Arizona led the NFL in both the percentage of times that they blitzing, at 41%, and QB Sacks with 48. In 2017, the Cardinals are blitzing only 34% of the time, which is 10th in the league. The decrease in blitz packages have led to Arizona accumulating only 10 sacks, which ranks 24th. The Cards are on pace for 32 sacks this season, a full sack per game less than 2016.
The more disturbing trend on defense though is the lack of turnovers that the Cardinals are creating. Through nearly a third of their season, the Cards have four total turnovers in 2017, all interceptions. The Cardinals are only one of four teams in the NFL who have forced zero fumbles on the year. The lack of explosive plays on defense has led to a team plus/minus turnover ratio of -3, good for an eight way tie for 21st. Tampa Bay is 10th in plus/minus so far this season, at +2. The Bucs have six takeaways (3INTs/3FR) while turning the ball over only four times in their first four games.
Even though the Cardinals defense gave up 34 points to the Eagles last week, the top four graded out players by PFF were all on the defensive side of the ball. Probably more of an indication of how poor the offense performed in Philadelphia. Larry Fitzgerald graded out as fifth highest player from Week 5 for the Cardinals. Most of Larry's six catches came in garbage time late in the fourth quarter.
While Deone Bucannon combined for seven tackles in his second game of the season versus Philadelphia, he still graded out as Poor, with an overall grade of 33.5 by PFF. The Poor rating still raised his season grade to a 29.8 through two games as Deone finished with a lone tackle in his first week back against the Niners. Deone was flagged twice for defensive pass interference against the Eagles last week. With Markus Golden lost for the rest of the season, the Cardinals are going to need a very productive D-Buc moving forward starting today if they want to make the most of what has become a very trying season, for fans and players alike.
Feel free to check out for yourself who the top rated Cardinals were from Week 5…. And some of those who were on the other end of the spectrum.
https://www.profootballfocus.com/news/pro-refocused-philadelphia-eagles-34-arizona-cardinals-7
The Roar: Lions Looking to Get Back On Track in the Big Easy
Detroit's football team heads into New Orleans for the third straight year.
The previous two meetings?
Victories for the Honolulu Blue and Silver.
The Lions haven't had much trouble putting away the Saints in the Mercedes-Benz Superdome in recent history and for whatever reason, will have another shot at doing so this season as well. Usually, non-divisional matchups will flip flop locations each time, but that isn't the case with these two teams.
The Saints should be well rested as they're coming off their bye week after topping the Miami Dolphins in London two Sunday's ago.
The Lions are coming off a 27-24 loss to the Carolina Panthers last Sunday.
Matthew Stafford and his offense struggled to get things going for most of the afternoon. They eventually made a late push in the fourth quarter, but ultimately ran out of time as the Panthers were able to pick up a late first down and run the clock down to zero as the Lions burned their timeouts.
Stafford didn't get a ton of help from his offensive line as the Panthers dropped him in the backfield on six different occasions. Obviously, that isn't a winning combination and will have to be corrected for success against the Saints.
As of right now, Stafford is listed as questionable for the game with a banged up ankle, but practiced every day this week and is expected to play. No. 9 has started in 101 consecutive games and certainly won't miss for anything that he can walk on.
Despite Stafford's more than likely weakened mobility, he'll be going up against a defense that isn't top of the line. New Orleans allowed 29 and 36 points in their first two games, but held Cam Newton and the Panthers to 13 in Week 3. Not a single point was allowed to the Dolphins.
It will be interesting to see which defense shows up for the Saints in this one.
Regardless, the Lions will need to be more productive and come out of the gate firing. Just like any road game, finding a way to quiet the crowd as early as possible is important.
Eric Ebron has been under the microscope all week. The Lions' first-rounder of the 2014 NFL Draft hasn't been able to reel in passes on a consistent basis of late. His hands haven't been all that kind to him in his four seasons and fans are starting to get on him.
After the game on Sunday, Detroit's tight end found his way on Twitter and tweeted: "Some of you wouldn't know the half. Boooo me all u want but pay attention to the whole picture #StayWoke."
Earlier this week, in regards to figuring things out, Ebron said, "Just got to get my act together as far as playing." Ebron also went on record for saying: "You guys aren't booing me because I'm an awful player, you're booing me because you expect more from me and I expect more from myself."
Darren Fells, 31, signed with the Lions in the off-season, has filled in nicely at the tight end position over the last two weeks of play. He found the end zone twice in the fourth quarter last Sunday.
Stafford and the Lions will still go to Ebron, but for how much longer is to be determined. He's been targeted 23 times this season and has caught 12 of those passes for a chilly percent rate of 52.2. If he can't figure it out soon, his tenure in the Motor City will be diminishing.
Any sort of consistent play out of Lions' tight ends will allow for the offense to gel a little bit more. They can't afford to have those guys shut down as it makes it harder on the Golden Tate's, Marvin Jones', Ameer Abdullah's, Theo Riddick's, etc.
As for Detroit's defense, they'll have to deal with Drew Brees, who loves to throw and throw. Last week was the first game of the season where the defense didn't come up with a takeaway. Against the Dolphins, Brees went 29/41 for 268 yards with two touchdowns. Brees has yet to throw an interception this season. Michael Thomas has been his number one target thus far.
On the ground, Adrian Peterson is gone, so the Lions won't have to deal with him, although, he wasn't getting many carries for the Saints. Mark Ingram should get most of the carries for the Saints and has been decent. In each of their last two games, Ingram carried the ball 14 times for 56 yards and then for 45 yards. Against the New England Patriots in Week 2, Ingram had just eight carries, but rushed for 52 yards.
The Lions will be without linebacker Paul Worrilow once again as he continues to nurse a knee injury.
Other banged up Lions listed as questionable:
Receiver Kenny Golladay, who continues to battle that hamstring injury, was limited in practice throughout the week. Running back Dwayne Washington was limited throughout the week with a quad injury that has kept him sidelined for three weeks and a half or so. Guard T.J. Lang has a banged up back, sat out for two practices this week, but is expected to go. Defensive end Ziggy Ansah, knee, missed a practice and participated lightly in others and is expected to go. Tackle Ricky Wagner is dealing with an ailing shoulder, but participated lightly throughout the week and should be fine for battle.
The Saints have only listed three as questionable:
Tackle Terron Armstead with a shoulder issue, guard Andrus Peat with a hip injury and receiver Andrus Peat with a tender hamstring.
Kickoff from the Superdome is set for 1pm.
Lions (3-2) @ Saints (2-2): Saints Back In Action
After a long rest due to a bye week, the New Orleans Saints (2-2) have taken the time to get healed up and prepare for a tough match-up against QB Matthew Stafford and the Detroit Lions (3-2). The last time the Saints played in a game was two weeks ago in London against the Miami Dolphins where New Orleans shut out the Dolphins 20-0. This is also the first home for the Saints in almost a month. The last home game for the Saints was on September 17th (week 2 match-up) against the New England Patriots when they lost eminently with a 36-20 score.
The biggest storyline for the Saints this whole week was the trading of 7-time Pro Bowl Running Back Adrian Peterson to the Arizona Cardinals for a conditional 6th round NFL Draft pick. The departure of Peterson clearly more illustrates how he did not fit into the Offensive schemes at New Orleans and possibly how his best days are behind him. Through 4 games for New Orleans, Peterson rushed for 81 yards on 27 carries. New Orleans was still trying to become a more productive offense and having an aging Peterson in the 3rd string depth chart was obviously more of a distraction to the Saints organization than a great building block.
With New Orleans still pressing forward against a tough Detroit Lions team, the Saints have a big opportunity to make themselves a legitimate threat in the NFC South. Detroit has been playing great in 4 of their games while their biggest disappointment was a 27-24 loss to the Carolina Panthers, a team that New Orleans defeated 34-13 in week 3.
Saints QB Drew Brees vs. Lions QB Matthew Stafford
Very likely, this match-up between the New Orleans Saints and Detroit Lions could be a potential shootout. Drew Brees and Matthew Stafford are two of the best Quarterbacks in the NFL in terms of completely high-velocity deep passes. Last season, Brees finished 1st in the regular season in total passing yards (5,208) and Stafford finished 6th in the regular season in total passing yards (4,327). This is with New Orleans having their #1 Wide Receiver in Brandin Cook, who is now with the New England Patriots.
This season, Drew Brees is currently 16th in the NFL in total passing yards with 1,135 yards in only 4 games into the 2017-2018 NFL season. Lions QB Matthew Stafford is 17th in the NFL in passing yards with 1,116 yards through the Lions' 5 games of the season. With the leadership and the arm of Drew Brees, the Saints are 4th in the league in passing yards per game (276.5 yards) and 12th in points per game (23.3 points). While Stafford has led his Lions team to be ranked 23rd in the nation in passing yards per game (200.6 yards) and 10th in points per game (24.6 points).
The support staff of the Quarterbacks will be the difference maker
Both of these Quarterbacks are going to pass the ball efficiently and keep drives going through long deep passes. The difference maker in this match-up will be the impact from the Receiver corps and the stability of the Offensive Line. Detroit and New Orleans have excellent and reliable Receivers for different reasons. Detroit has a passing game that has mostly been impacted from a short-yard game from slant routes of WR Golden Tate, flat routes from RB Theo Riddick and Ameer Abdullah, and single-coverage short verticals from TE Eric Ebron. New Orleans also has a diverse Receiver corps where 6 of their offensive players have at least 125 yards or more. Of those 6 receivers, 3 of them are actual Wide Receivers. Saints WR Michael Thomas is the team's leading Receiver with 310 yards, 2 touchdowns, 19 first-downs as well as 4 of his catches going over 20 yards. WR Willie Snead could make his debut for the Saints this season but is questionable with a hamstring injury.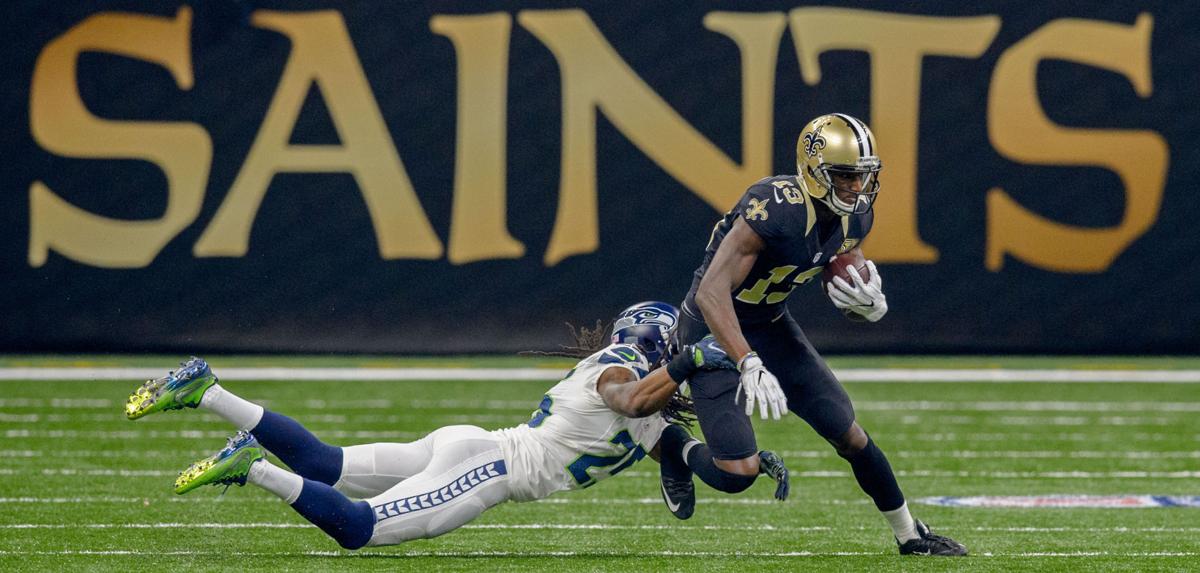 The big difference maker could be the Offensive Line where even though New Orleans' O-Line hasn't been stable with health, they have only given up 4 sacks. Most of this is Drew Brees throwing away the ball efficiently. For Detroit, they have certainly had struggles protecting Matthew Stafford as the O-Line has given up 18 total sacks so far this season. Detroit is tied for 4th in the NFL in total allowed sacks. If the Lions cannot pass protect efficiently then it will allow Saints DE Cameron Jordan or DE/OLB Alex Okafor to have a big game. It hurts the Lions defense that star DT Haloti Ngata is likely out for the season with a biceps injury. The Lions will rely on 2nd year DT A'Shawn Robinson more as he will go against Saints G Andrus Peat often. Peat is not only the Saints inconsistent blockers but is suffering a hip injury.
This can be a make or break game for the Saints defense, especially in their Secondary
For the past two games, the defense for the New Orleans Saints has improved dramatically from where they were in the first 2 games of the season. In the first 2 games of the season, the Saints have given up an average of 32.5 points to the Minnesota Vikings and the New England Patriots. The next 2 games  for the Saints, they have given an average of 6.5 points to the Carolina Panthers and the Miami Dolphins. This includes the fact that they shut out the Miami Dolphins.
The Secondary is the position group that has benefited the most from the increase of performance. After the week 2 performance of the Patriots victory over the Saints, the defense was ranked 32nd (last) in the league in passing yards allowed per game (388.5 yards) and 32nd in the league in total yards allowed per game (512.5 yards). Though the Saints have only decreased to being ranked to 28th in the league in passing yards allowed per game, the Saints have now only allowed 265 passing yards allowed per game. This is a 123 yards difference after the 2nd week of the 2017-2018 NFL season.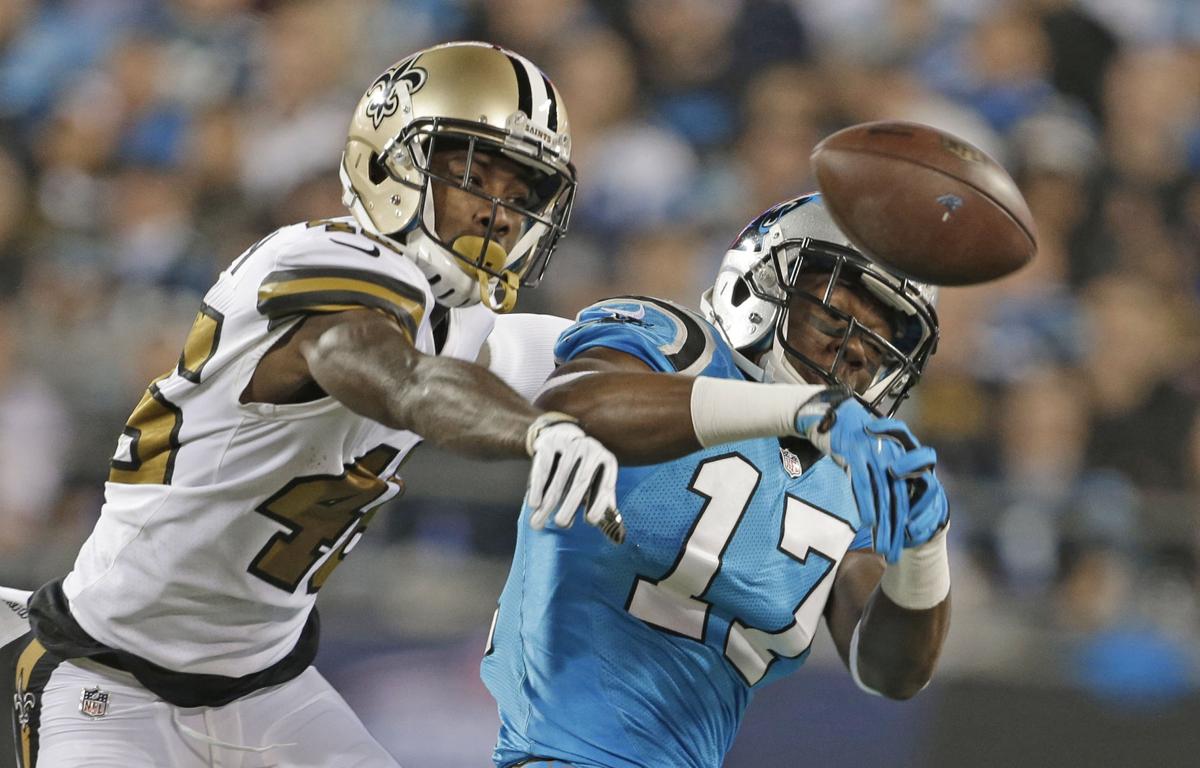 The Saints Defensive Backs have progressed their man-to-man pass coverage and relied less on zone coverages. The impact of the 2017 1st round NFL Draft pick in CB Marshon Lattimore has been highly notable as one of the best coverage players on the field. Lattimore rarely lets a Receiver beat while in man-to-man. CB Ken Crawley has also improved dramatically with his performance including accounting for 4 pass deflections and an interception. S Kenny Vaccaro, when given a man-to-man coverage on a Tight End or a Slot Receiver, has improved since his lackluster performance against New England Patriots TE Rob Gronkowski. Vaccaro will likely be tasked with covering TE Eric Ebron or their best Receiver in Golden Tate when in as a slot Receiver. If the Saints pass defense continue to play efficient and DE Cameron Jordan makes consistent pressure, then New Orleans will have a big win to make themselves 3-2.
Ring the Upset Alarm
Welcome to Ivan (J.D.) Geter's weekly "Ring the Alarm" upset picks series. Every week I sit down and look for potential upset picks at the NFL and College Football level. Each week I will put three NFL teams and two College Football teams on upset alert. I hope you enjoy this series, and please leave you comments below.
NFL
"Ring the Alarm" I am putting the Green Bay Packers on upset alert in Minnesota. The Minnesota Vikings are lead by their defensive front four that get after the quarterback. Everson Griffen leads the team with six sacks. The Vikings can't win a shootout with the Packers but can slow down Aaron Rogers with a good pass rush. I am willing to go out on a limb and say the Vikings can keep it low scoring and win a close game 20-17.
"Ring the Alarm" for the Baltimore Ravens losing at home to the Chicago Bears. Mitchell Trubisky showed excellent mobility and accuracy rolling out of the packet. He will get a good challenge from the Ravens defense but lets face it, the Ravens offense isn't anything to write home about. I see the Bears going into Baltimore and getting the win 23-17.
"Ring the Alarm" I have the Oakland Raiders on upset alert with or without quarterback Derek Carr. Before Derek Carr was injured the Raiders offense wasn't that impressive after beating the Jets in week two. Amari Cooper is dropping passes at an alarming rate and just looks like he has lost his confidence. The Oakland Raiders defense is still a one-man show of Khaili Mack or bust. On the flip side beside from the lose to the Chiefs, the other loses by the Chargers have come by three points, two points, and another game by just two points. The Chargers could just as well be 4-1 instead of 1-4. I got the Chargers winning 24-17.
College Football
"Ring the Alarm" for the Oklahoma Sooners as I see them losing back to back games this year. If you follow the Oklahoma vs. Texas rivalry, than you know rankings matter little in this game. What's interesting about this year is that both teams have new head coaches coming into this rivalry game. Texas will rely on a rush heavy and ball control attack to keep the Oklahoma offense off the field. While Oklahoma will be looking to bounce back from an embarrassing lose at home to Iowa State, I see Texas pulling the upset 41-38 in double overtime.
"Ring the Alarm" for the USC Trojans again. Let's face it Sam Darnold is playing really inconsistent compared to last year. While he is completing 64.8 percent of his passes, he has thrown nine interceptions in just six games so far. He looks to be forcing throws and not making the correct reads or checking the ball down. At the same time Utah has been impressive going 4-1 and losing by just three points at Stanford. They look to be a more stable football team so I have them beating USC 38-27.
I hope you have enjoyed my section and don't forget when you see upset alert come across your television set, shout out "Ring the Alarm"!
Top Ten Thursday; NFL Football
Following an insane week 5 of the NFL season, here is the Top 10 teams heading into week 6. Among this Top 10 there are a couple new faces being added.
10. Detroit Lions (3-2) Previous Rank: 7
Week 5: Lost to the Carolina Panthers 27-24
Week 6: New Orleans Saints
The defense looked rough the last 2 games against the pass but have continued to dominate against the run. Detroit will have to figure itself out against the pass when going up against the Saints
9. Seattle Seahawks (3-2) Previous Rank: 8
Week 5: Defeated the Los Angeles Rams 16-10
Week 6: Bye Week
The Seahawks are banged-up both at the receiver and running back positions. The Legion of Boom has been able to stand and force turnovers.
8. Pittsburgh Steelers (3-2) Previous Rank: 2
Week 5: Lost to the Jacksonville Jaguars 30-9
Week 6: Kansas City Chiefs
The defense has continued to do its part to help try and keep the games close. Offensively the team lacks power behind Antonio Brown and Le'Veon Bell. Big Ben is starting to lose his edge after throwing 5 interceptions in a game for the first time in his career.
7. Carolina Panthers (4-1) Previous Rank: N/A
Week 5: Defeated the Detroit Lions 27-24
Week 6: Philadelphia Eagles on Thursday Night
Cam has showed us that he is healthy and has continued to wow us after defeating both the New England Patriots and Detroit Lions.
6. Denver Broncos (3-1) Previous Rank: 6
Week 5: Bye Week
Week 6: New York Giants
The Broncos has continued to impress us defensively. Offensively their run game has looked better behind a healthy C.J. Anderson and if Trevor Siemian continues to play like he did during weeks 1-4, expect Denver to be a legit contender for the AFC.
5. Philadelphia Eagles (3-1) Previous Rank: 9
Week 5: Defeated the Arizona Cardinals 34-7
Week 6: Carolina Panthers on Thursday Night
Defensively the Eagles have weaknesses in the secondary but the front line has been able to get pressure on opposing QBs. Offensively the team has continued to impress behind 2nd year quarterback Carson Wentz along with receivers Nelson Agholor, Torrey Smith, and Alshon Jeffery.
4. New England Patriots (3-2) Previous Rank: 5
Week 5: Defeated Tampa Bay 19-14
Week 6: New York Jets
The defense was finally able to come together and make some key stops. Offensively the team as been able to grind behind receiver Brandin Cooks and Tom Brady.
3. Atlanta Falcons (3-1) Previous Rank: 3
Week 5: Bye Week
Week 6: Miami Dolphins
Offensively the bye week helped behind injuries to both Mohamad Sanu and Julio Jones. The long break also allowed QB Matt Ryan to figure out a way to get out of his recent slump.
2. Green Bay Packers (4-1) Previous Rank: 4
Week 5: Defeated the Dallas Cowboys 35-31
Week 6: Minnesota Vikings
Aaron Rodgers has looked great without his top 2 tackles in the line-up. Rodgers has thrown 6 touchdowns in the 4th quarter and 4 of those had come with the Packers trailing. Running back Aaron Jones helped provide a spark for the offensive as the defense has had some iffy moments.
1.Kansas City Chiefs (5-0) Previous Rank: 1
Week 5: Defeated Houston Texans 42-34
Week 6: Pittsburgh Steelers
The Chiefs offense currently leads the league in scoring and haven't committed a turnover since the first snap of the season. Alex Smith still continues to impress as well as rookie running back Kareem Hunt.
Tomahawks and Touchdowns: Week #5 Recap
The Kansas City Chiefs had another successful week. They beat the Houston Texans on the road on Sunday night 42-34. The win moved their record to 5-0. The Chiefs special teams unit had a big role in the win.
Harrison Butker had another big game last week. He went 5/5 on field goal attempts, all of which were 35-yards or longer. Butker is 8/9 in his first two NFL starts. In last weeks game Butker was responsible for 18 of the Chiefs 42 total points. Harrison Butker has been a valuable addition for the Chiefs since he joined the team two weeks ago.
Tyreek Hill also had a strong performance on special teams. He returned a punt 82-yards for a touchdown, which helped secure the victory for the Chiefs. It was his first special teams touchdown of the 2017 season. Last year he had two punt returns and one kick return for a touchdown. The Chiefs decided to reduce his use on special teams this season. So far in 2017 he has only been used on eight punt returns. Tyreek Hill has been a valuable player for the Chiefs on special teams despite his limited play.
The Chiefs suffered a key loss at the end of the game. Chris Conley ruptured his Achilles late in the fourth quarter. The loss of Conley will have an impact on the Chiefs offense. Conley has 11 receptions for 175 yards this season. Albert Wilson will likely replace Chris Conley as the #2 receiver in the Chiefs offense.
Kansas City still leads the AFC West after five weeks. The Denver Broncos are in second with a record of 3-1. The Oakland Raiders started the season strong but have loss three straight games and are third in the division with a record of 2-3. The Los Angeles Chargers won their first game last week but are in fourth in the AFC West with a record of 1-4. The Chiefs are in a great position in the division but will need to continue to win to stay in the lead.
Next week the Chiefs will face the Pittsburg Steelers at Arrowhead. The Steelers are 3-2 this season. Last week they lost to the Jacksonville Jaguars at home 30-9. Ben Roethlisberger threw five interceptions in the game. Last season in week four the Chiefs lost to the Steelers in Pittsburgh 43-14. The teams had a rematch in the divisional round of the playoffs. The Steelers won the game 18-16. The game on Sunday should be an interesting rematch of the divisional round last season.
Top Ten Thursday; College Football
Another week of crazy games, and another Top Ten for the fans. There were a few shake-ups from this weeks game, so here's the new Top Ten.
10. Miami
Last Week: NR
Last Game: Won 24-20 over Florida St.
Next Game: Postponed against Georgia Tech until October 14th.
The Hurricanes are looking to become the teams they used to be, and a solid win over Florida State has them on the track to be back to that.
9.   Ohio State
Last Week: #10
Last Game: Won 62-14 over Maryland
Next Game: 10/14 at Nebraska
The Buckeyes have only suffered one loss this season to Oklahoma, but their easy schedule for the rest of the first half so far has hurt their rankings through six weeks.
8. Washington State
Last Week: NR
Last Game: Won 33-10 over Oregon
Next Game: 10/13 at California
Ol' Crimson flew high for it's 200th College Gameday appearance this past weekend, and now the team it stands for is looking to make a statement in the PAC-12.
7. Wisconsin
Last Week: #6
Last Game: Won 38-17 over Nebraska
Next Game: 10/14 versus Purdue
The Badgers have not faced a Top 25 team this season yet, and it doesn't look like that is going to change anytime soon. They have the luck of being in the weaker BIG-10 West Division this season.
6. TCU
Last Week: #8
Last Game Won 31-24 over West Virginia
Next Game: 10/14 at Kansas St.
The Horned Frogs now look to run the table in the BIG-12 and become a Play-off team. One loss could take them right out of the running though.
5. Georgia
Last Week: #7
Last Game: Won 45-14 over Vanderbilt
Next Game: 10/14 versus Missouri
The Bulldogs are looking like the second team to beat in the SEC, as they are off to a 6-0 start this season. If they continue their success in the second half of the season, it could lead to an epic showdown against Alabama.
4. Washington
Last Week: #5
Last Game: Won 38-7 over California
Next Game: 10/14 at Arizona St.
The Huskies control their own destiny in the PAC-12 right now, and a shot at the Play-offs. They win out in the second half and they could be one of the four teams battling for a National Title.
3. Penn State
Last Week: #4
Last Game: Won 31-7 over Northwestern
Next Game: 10/21 versus Michigan
The Nittany Lions now begin a brutal stretch of their schedule where they face Michigan, Ohio State, and Michigan State over a three week stretch. This will be a proving time for Penn State who has been fairly unmatched this season.
2. Clemson
Last Week: #2
Last Game: Won 28-14 over Wake Forest
Next Game: 10/13 at Syracuse
Clemson now takes on an easier schedule on paper for the second half of the season. The Tigers are looking continue their march for a second straight National Title.
1. Alabama
Last Week: #1
Last Game: Won 27-12 over Texas A&M
Next Game: 10/14 versus Arkansas
For the Crimson Tide, being held under 30 points for a game might not site well with Saban, who looks for perfection game in and game out. Now, they are just focused on making it to another SEC Championship game, and ultimately a National Title Game.
Dropping Out: #3 Oklahoma, #9 Michigan 
On the Cusp: Auburn
Marquee Game of the Week: Arkansas @ Alabama, 6:15 CT on ESPN 
The Roar: Haloti Ngata to IR, Lions Add Replacements; No Peterson for a Reason
On Wednesday morning, the Lions announced that they placed veteran defensive tackle Haloti Ngata on injured reserve.
By rule, Ngata is guaranteed to miss the next eight weeks, but many insiders are expecting the veteran to be done for the season. The injury is officially listed as an elbow injury, but the Lions are saying that it's more so in the bicep.
Detroit has already added defensive help as they've signed defensive end Datone Jones and defensive tackle Caraun Reid.
Jones, 27, spent the preseason as a Minnesota Viking and the previous four seasons as a member of the Green Bay Packers. Jones was selected 26th overall by the Packers in the 2013 NFL Draft. In his career, the former first-rounder has 53 solo tackles, nine sacks, one interception and one fumble recovery on the resume.
The addition of Jones comes shortly after the release of defensive end Armonty Bryant, who was coming off a suspension.
Reid, 25, once wore the Honolulu Blue and Silver as he was selected in the fifth-round of the 2014 NFL Draft, 158th overall. Reid spent two seasons in the Motor City, last season and this preseason with the Chargers. His resume consists of 28 solo tackles, three sacks and two fumble recoveries.
Why no trade for Adrian Peterson?
First off, general manager Bob Quinn and the Lions didn't sign the 11-year veteran when they had a chance in the off-season. Secondly, the Lions still believe that Ameer Abdullah is their guy and want that to be the case. Finally, Quinn isn't big on taking chances on guys that have had off-field issues and Peterson has had some in recent years. Not to mention, the Lions value their draft picks and more than likely would have had to given one to the Saints, just how the Cardinals did.
Peterson, 32, hasn't had a Peterson-like year since 2015 and has battled the injury bug in recent seasons as well. With him starting off slow in 2017, many wonder if he can still be productive. His best days running the ball are certainly behind him. Regardless of that, Arizona is likely going to use the veteran back more than New Orleans did. You may want to consider adding him to your fantasy football roster before your buddy does.
With all of that said, at least the Lions won't have to deal with their former divisional foe this weekend in New Orleans.
2017 Battle For The Belt – South Alabama Jaguars (1-4) @ Troy Trojans (4-1)
The 6th annual Battle for the Belt will be underway this Wednesday with a red-hot Troy Trojans (4-1) team facing off against in-state Sun Belt Rivals in the South Alabama Jaguars (1-4). Troy is coming off an upset of a lifetime last September 30th at #25 LSU with a 24-21 victory. While the Jaguars are still facing troubles on both sides of the ball, which was evident in their 34-16 loss at Louisiana Tech. ESPN's FPI (football power index) gives the Trojans an 86.1% chance to win. The line for the game is a 17 point difference in the Troy Trojan's favor.
Three of the last four match-ups between South Alabama and Troy have been been decided by a touchdown or less. Last year, the Trojans beat the Jaguars in Mobile thanks to Trojans Quarterback Brandon Silvers passing for 395 yards and a touchdown as well as RB Jordan Chunn running for 143 yards and two touchdowns. The year before, the South Alabama Jaguars came out of the match-up at Troy with a 24-18 victory.
Being a rivalry, especially an in-state rivalry and conference game, the Battle for the Belt can shed any factor of previous success or failure. The Jaguars (1-4) are looking to get back into the winning column with a win over the Trojans (4-1), who are trying to prove that their victory over the #25 LSU Tigers wasn't a fluke. This game will be played through two very similar offenses through power-run schemes, screens, and occasional deep passing. This game might come to a potential tight 4th quarter battle as both teams struggled to keep their opponents in check in the 4th quarter.

Can the Jaguars defense be able to stop the diverse and talented Troy Trojans offense?
This year, both Silvers and Chunn are back for Troy compiling a great season offensively by being ranked 24th in the nation in rushing yards per game (108.8) and 55th in passing yards per game (250). For the Jaguars, they rank 91st in the nation in points allowed per game (30.8) and 119th in passing yards allowed per game (292.2). Even though South Alabama has played their toughest opponents in their first five games, they are not making much of a convincing statement to be able to stop the efficiency passing of Brandon Silvers. The Trojans have 5 eligible Receivers who have caught 14 receptions or more so far this year, which indicates that Silvers can spread the ball all throughout the field.
The loss of the CB Jalen Thompson's leadership and star-playmaking ability has been a burden for the Jaguars defense since he was declared academically ineligible for the year. Other players throughout the depth chart have stepped up including DT Tyree Turner, who has accounted for 17 total tackles, 3 tackles for loss, and 3 sacks so far this season. Former Louisville Cardinals DE Finese Middleton has been a big contributor to the Jaguars defense as well by creating consistent pressure against opposing offenses as he has accounted for 17 total tackles, 4 tackles for loss, and 3.5 sacks.
Troy is easily one of the most of the talented offenses that South Alabama has played all season in terms of diverse playcalling. South has played the Oklahoma State Cowboys and the Ole Miss Rebels, who both have a high-power passing game but also don't create much of a running game as well. Not only do the Trojans establish a great running game under RB Jordan Chunn but they will have a great passing game through multiple stages of passing schemes. Stopping this Trojans offense will be tough because it means that South Alabama will have to be alert at all times through pre-play reads and paying attention to certain key formations. The Trojans cannot assume that the Jaguars will make mistakes on reads because they will let their guards down. Jaguars S Jeremy Reaves is one of the most talented defensive players in the Sun Belt by accounting for 37 total tackles, 5 tackles for loss, 1 sack, and 6 pass deflections.
Troy Trojans defense have a tough task even with a change at Quarterback for South
Jaguars QB Dallas Davis is a game-time decision for South Alabama with a shoulder injury after missing the last game against Louisiana Tech. The Jaguars may actually have a reliable chance with the arm of Cole Garvin than the game-management of Davis. The Trojans are ranked 77th in the nation in passing yards allowed per game (231 yards), mostly because their run defense is so good but also because of they are not very well established in deep coverages. The Trojans made a high amount of plays in LSU's backfield because the Tigers tried to conserve their offensive playcalling against Troy. Garvin has recovered from his injury that he suffered during the game against Oklahoma State in the 2nd week of the season. Last week, Garvin passed for 23 yards and a touchdown but also threw two interceptions and accounted for a completion percentage of 46.7%. If the Jaguars offense
want to have any chance to score consistently on Troy or even continue drives, he will need to be more efficient on passing the ball.
A big bright side for Troy's defense is that they are ranked tied for 53rd in the nation in rushing yards allowed per game (181.6 yards). Their first opponent in the Boise State Broncos did not run the ball efficiently through 44 attempts for 147 rushing yards. This was done through the interior penetration from the Trojans Defensive Tackles and blitzing Linebackers. In the matchup against LSU, the Tigers did not play their star Running Back in Derrius Guice. The Trojans would've had more trouble against the elusive agility of Guice if he would've played against Troy.
This is a match-up where the Trojans defense will be tested all throughout the game against the Jaguar's run-first philosophy. For South Alabama, if their Offensive Line can block efficiently against the Trojans tough interior Defensive Line then they can open up efficient running room for Jaguars RB Xavier Johnson. The Senior Jaguar has rushed for 345 yards on 57 carries (an average of 6.1 yards per rush) and 4 touchdowns.