Troy Trojans Dominate North Texas Mean Green in 2017 New Orleans Bowl
The 2017 College Football Bowl season has begun and with it the last chance to see some exciting match-ups and performances in College Football. The FBS Bowl match-ups kicked off with the Troy Trojans (11-2) dismantling the North Texas Mean Green 50-30 in the R+L Carriers New Orleans Bowl.
The Trojans were worried about the Mean Green offense ranked 18th in total offensive yards per game and 21st in passing yards per game without some of their main Defensive Backs. The Trojans also needed a big game from QB Brandon Silvers and the offense to match the intensity of the fast-tempo Mean Green offense. Not only did the Trojans score 50 points against the Mean Green defense but the Trojans put a huge performance with their defense.
QB Brandon Silvers and WR Damon Willis Were Efficient Leaders on Offense
The Troy Trojans also have a fast-tempo offense, but they are more focused on the short passing game whereas North Texas goes deeper. Some of the usual plays that the Trojans do are quick slants, Receiver screens, and out-routes. Troy took a hard hit in the beginning of the game when their leading in WR Deondre Douglas was injured in the first play of the game on the opening kickoff and did not return. Troy did find a reliable replacement in WR Damon Willis with his quick speed and great catch-ability. Throughout the game, QB Brandon Silvers and Willis were an excellent match-up for the Trojans as they made quick work on scoring drives.
Brandon Silvers accounted for 305 yards on 24 completions (out of 31 attempts) for 4 touchdowns, 1 interception, and rushed for a touchdown. Silvers also accounted for a passer rating of 196.2. Damon Willis accounted for 11 receptions for 135 yards and 2 touchdowns. Silvers had set a tie for 2nd in consecutive completions in the beginning of the game where he was 11-for-11. When given great passing situations, Silvers delivered the ball with great precision and away from the opposing Defensive Backs. Willis accounted for his two touchdowns early in the 2nd quarter and late in the 4th quarter to put the game away for Troy.
The Trojans offense accounted for 435 total offensive yards with 130 coming from the ground. Jordan Chunn was injured again for Troy but Josh Anderson was up for the task as he rushed for 113 yards on 22 carries for 2 touchdowns. The Trojans Offensive Line was stout as they only gave up one sack from North Texas and 4 tackles for loss. Mean Green DE/LB Joshua Wheeler accounted for 2 tackles for loss and 1 sack.
There was no drive of Troy that lasted more than 4 minutes and 23 seconds. Troy only had 2 total drives that lasted more than 4 minutes. The Trojans averaged 6.3 yards per play on offense with Silvers averaging 12.7 yards per completion. Troy was highly efficient against this Mean Green defense who relied more on their ability to create pressure throughout the season but couldn't pressure consistently against Troy.
The Defensive Line and Linebackers of Troy Smothered the Mean Green Offense
The Troy Trojans knew the North Texas Mean Green offense would be a tough unit to crack being ranked 20th in points per game (35.9) and 21st in passing yards per game (291). The Trojans defense did see a weakness in the Offensive Line that was tied for the 14th highest allowed sacks (33). Before the game, the Trojans defense accounted for 36 total sacks from throughout the line. North Texas QB Mason Fine was 9th in the nation in total passing yards accounted for, but the Trojans Defense pressured well all throughout the game.
The defense for Troy accounted for 6 sacks and 11 tackles for loss and forced 5 total turnovers from the Mean Green offense. DT Jamal Stadom accounted for 5 total tackles, 3 solo tackles, 2 tackles for loss, 1 sack and helped the set the momentum for the Trojans in the Mean Green's 1st drive by forcing a fumble where LB Sam Lebbie would recover at their 14-yard line.
Fine accounted for 303 yards on 30 completions (out of 54 attempts) for 3 touchdowns and 2 interceptions. Fine also fumbled twice on the pressure from the Trojans defense. Though Fine had a good passing game for the most part, he was consistently pressured where he would throw the ball several times. DE Hunter Reese accounted for 4 solo tackles, 2 tackles for loss, 1 sack and an interception off a pass breakup from S Cedarius Rookard. LB Sam Lebbie was the team's 2nd leading tackler with 5 total tackles, 2 tackles for loss, 1 sack, 1 forced fumble and the fumble recovery in North Texas' 1st drive that set up the Trojan's 2nd touchdown of the game.
A Young, Primarily Inexperienced Defensive Backs Tested But Held Their Own
The main worry for the Troy Trojans was their Defensive Backs, who had gone through some significant injuries. CB Blace Brown and S Kris Weatherspoon both had experienced injuries that would sideline them against the 21st ranked offense in the nation in North Texas. Even with the Defensive Line and the Linebackers creating some pressure against the North Texas offense, it was the Defensive Backs' role to stop the passing offense once the ball was thrown.
There were a few situations where the Mean Green were continuing drives against the Trojans defense due to open Receivers and busted coverages. For the most part, the young Trojans Defensive Backs did well in defending the pass. The Mean Green averaged 10.1 yards per completion (2.6 less than Troy's passing game) as well as averaged 5.6 yards per passing attempt due to pressure on the Quarterback or the DB's forcing the incompletion on the Receivers.
In the press conference when asked about the injured Defensive Backs and if they blitzed or substituted more, Trojans Head Coach Neal Brown responded "Probably what we've been doing the last three weeks I guess is playing a 6 DB package. We had two starters out in the secondary, we just played some young guys. Marcus Jones got the start at Corner, he's been starting at the Nickel. We played Tyler Murray a lot today and we're excited about his future."
Overall, the Defensive Backs did very well in defending against this aggressive passing offense of North Texas. S Cedarius Rookard was the team's leading tackler with 9 total tackles, 6 solo tackles and accounted for 2 pass breakups. Freshman CB Marcus Jones and CB Kamryn Melton each also accounted for 2 pass breakups. Another tested young player was S Ardarius Wesley, who accounted for an interception in the 2nd play of the 4th quarter.
Troy Trojans finish their best FBS season in program history
The Troy Trojans finish the 2017 College Football with an 11-2 record (their first 11-win season in their FBS schedule), a win over #25 LSU earlier in the season, their first Sun Belt Conference Championship since 2010, and a huge win in the 2017 New Orleans Bowl. Not only did the defense for the Trojans hold the Mean Green to -8 total rushing yards but it is the first-time in New Orleans Bowl history that a defense holds their opposing team to negative rushing yards. QB Brandon Silvers finishes out his Troy Trojan career as the 2017 New Orleans Bowl MVP as well as the Troy Trojans career leader in total touchdowns (87). Silvers will begin a potential 2018 NFL Draft process where he hopes to continue a long line of Trojans drafted in the NFL.
The Troy Trojans will take their best season in their FBS play and go into the offseason as they gear for a tough 2018 College Football season. Their first game will be a revenge game at home against the Boise State Broncos, where they lost to them in week 1 with a 24-13 score.
Titans @ 49ers
Who's in and Who's out
The Titans are still in the playoff field for now. The loss to the Arizona Cardinals dropped Tennessee out of a tie with the Jacksonville Jaguars for first place in the AFC South. The Titans remain in the playoffs currently as the 5th seed. If the season ended today the Titans would be on the road against the Kansas City Chiefs. This is before the outcome of the Los Angeles Chargers at the Chiefs is known. That game will affect the playoff picture in the AFC West.
The Titans still control their own destiny but the road is harder. After the game against San Francisco, Tennessee finishes the season against the Los Angeles Rams and current division leader Jacksonville. Those games won't be easy. If you look at how the 49ers have played lately then you know this game won't easy either. With Jimmy Garoppolo installed at quarterback San Francisco has won two straight games and will be looking to extend that to three.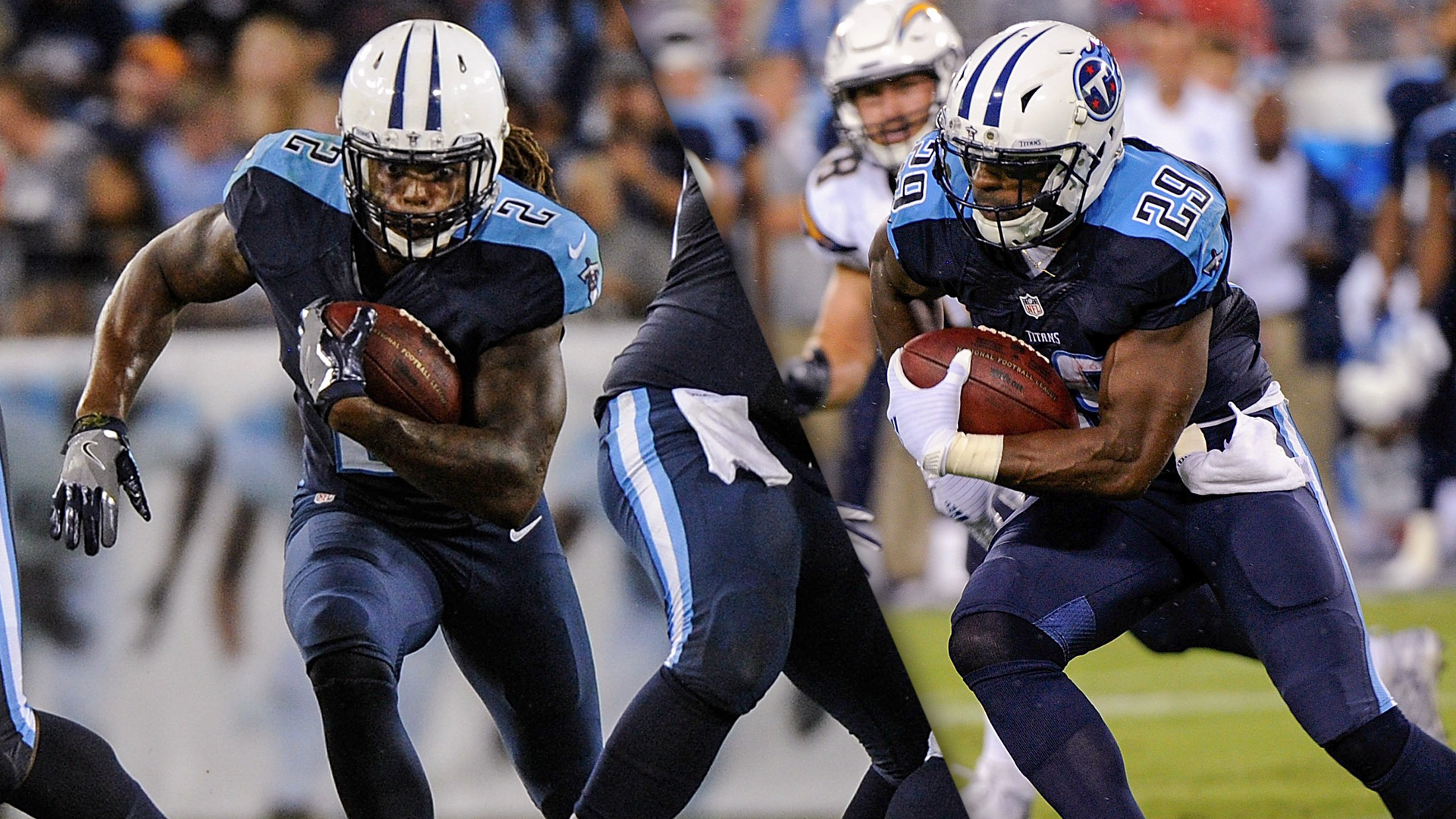 The Titans need to get the offense off to a solid start and establish themselves on the ground. To do that they need to minimize the 49ers playmakers touches. Marquise Goodwin leads all receivers in the NFL with more than 40 receptions with a 19 yard per catch average. With elite speed and decent hands, he is a legitimate big play threat whenever he touches the football. Carlos Hyde has over 1,000 yards from scrimmage rushing and receiving.
The Titans big plays eminate from their quarterback Marcus Mariota. Mariota has not played well this season. With more interceptions than touchdowns Titan fans are waitng for him to breakout this year. The 49ers have given up the 20th mostr yards on the ground in the league this year altough they have held opponets under 100 yards in the last three contests. Demarco Murray and Derrick Henry are one of the most dynamic running back tandums in the league. The Titans should use them to control the ball and open up passing lanes for Mariota.
The IR, The O-line & Fitz
While the Cardinals play-off chances shrunk from 0.02 to 0.01% after their 12-7 win vs. Tennessee, the end of the 2017 season couldn't come fast enough for the teams offensive line. The Cardinals playoff chances will die this weekend if: They lose. Seahawks win. Both Atlanta and Carolina win.
With the loss of left tackle Jared Veldheer, coach Arians said he "cracked his ankle" against the Titans, the Cards will start their fourth left tackle of the year. Due to season-ending injuries, Arizona has now lost 60% of the five lineman who opened the 2017 season as starters. Center A.Q. Shipley and RG Evan Boehm are the two left standing. Boehm was benched in the middle of the season, but will start this week due to injuries. After giving up eight sacks during last Sunday's game, the Cardinals are now forced to start rookie fifth-round pick, Will Holden, at left tackle. While this will be Holden's third start of the season, it's going to be his first at LT. Holden has played almost all of his 106 snaps this season at left guard, but none at left tackle. The rookie offensive lineman did have 15 career starts while he was at Vanderbilt University though. According to Pro Football Focus, in those 15 collegiate starts, Will ranked 75th of 97 draft-eligible tackles with at least 150 pass-blocking snaps. The Cardinals have given up the second-most sacks in the NFL, 44, three less than all of 2016.
Flying under the radar the last two months, the loss of Veldheer is going to be a big one. Through the first five games of the season – the first five in his career at right tackle – Veldheer allowed 27 quarterback pressures. Those 27 pressures were fourth-most from the tackle position in the league. In the eight games following (five at RT, last three at LT), Jared registered a PFF Pass-Blocking Grade of 96.8. In those eight games, the fourth-year Cardinal managed to allow only 12 QB pressures, the fifth-least from the tackle position over that span.
Jared Veldheer took a practice day-off during training camp this off-season to contemplate the possibility of retirement. Whether the main reason for the 24-hour hiatus was due to a "demotion" to right tackle, or whether he was just one of many players who now consider stepping away from the game at a younger age (30), Jared was a great Cardinal and a big reason why the Cardinals were one of two 2015 NFC Championship Game representative's in 2015. If Sunday his the last as an on-field member of the BirdGang, thank you Hulk.
Veldheer wasn't the only Cardinal to land on Injured Reserve this week, as running back Adrian Peterson (neck) joined the ever-growing IR list. Peterson will finish the season, possibly career, with 99 career touchdowns. Those 99 TD's have Adrian tied with Barry Sanders for ninth place in NFL history.
There are now 13 Cardinals currently on IR. Even though more than a handful have served the minimum eight games on the list and are now eligible to return, only long snapper Aaron Brewer has come of the list this season (two are eligible per team). Brewer was activated this week and will see his first game action since early October.
Four more Cardinals have been ruled out for the game against Washington, RG Earl Watford, LB Gabe Martin (hamstring), WR John Brown (Toe) and TE Jermaine Gresham (illness). Considering Gresham played 75% of the snaps last week, expect Rookie Ricky Seals-Jones (played <29% in each of his four games) to get his opportunities to continue his end-of-the-year breakout campaign.
Two Keim-Time free-agent signings came up large in Sundays victory over Tennessee, CB Tramon Williams and LB Josh Bynes. Both defensive players, who are set to become free agents after the season, came up with interceptions in the win.
After having the worst season of his career in 2016 in Cleveland, Williams is currently having the second-best year of his career (by PFF metrics) with a season-long grade of 87.0, eleventh best CB grade in the league. The 34-year-old cornerback signed a 1 year/$2M contract near the end of training camp. Through the first five game of the season, the eleven-year-pro tallied only six total snaps. In game six against Tampa Bay, Tramon had a late-game interception to preserve the victory. Williams has started all seven games since. In those seven starts, the veteran CB has been targeted on deep balls (20+ yards) 10 times. Those ten passes have resulted in a 24.2 passer rating, the fourth-best mark by a CB this season. In addition to his interception, Tramon gave up 3 catches for 23 yards last Sunday and was graded out as the 4th-highest defensive player in the NFL for Week-14, with a PFF grade of 91.7.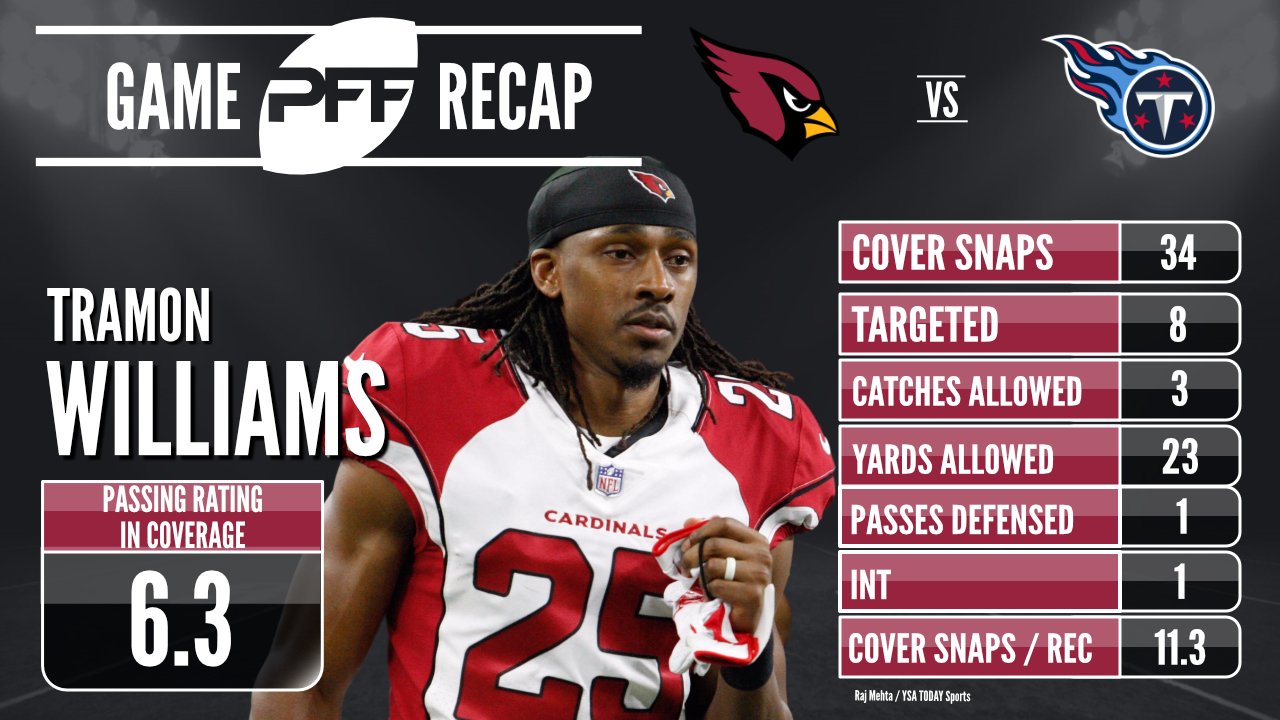 Both Washington and Arizona have 31 quarterback sacks on the season. Of Arizona's 31, Chandler Jones has 45% of those. Jones' 14 sacks are now only 2.5 behind franchise single-season leader, Simeon Rice. Chandler leads the NFL with his 14 sacks and 24 tackles for loss.
Congratulations to Cardinals wide receiver Larry Fitzgerald on passing Randy Moss for third all-time in NFL history in reception yards. This season alone, Larry has passed Moss, Marvin Harrison, Steve Smith Jr., Tim Brown, Tony Gonzalez and Isaac Bruce in career receiving yards. Larry needs three more catches to achieve the 90-catch mark for the eighth time in his career. According to the Arizona Cardinals twitter page, no wide receiver in the history of the game has ever had more than six seasons with 90+ catches. Your Gold jacket awaits you #11 whenever you decide to exit stage left.
I'll leave you with this little gem of a video about Fitzy in high school:
The Roar: Bears Visit Lions for Saturday Match-up
The (4-9) Chicago Bears pay a visit to the (7-6) Detroit Lions for a rare edition of big boy football on a Saturday.
Last Sunday, the Bears devoured the Cincinnati Bengals on the road, 33-7. Mitch Trubisky went 25/32 for 271 yards and a touchdown. Kendall Wright was the leading target for Trubisky and the Bears as he reeled in 10 passes for 107 yards. On the ground, Chicago drove down the throat of Cincinnati's defense. Jordan Howard had 23 carries for 147 yards and two touchdowns. Tarik Cohen carried the ball 12 times for an impressive 80 yards.
Detroit squeaked out of Tampa Bay with a 24-21 victory. Matthew Stafford went 36-44 for 381 yards with a touchdown and two interceptions. Eric Ebron, who has been stout since surviving the trade deadline, caught 10 passes for 94 yards. Golden Tate caught eight passes for 85 yards and a touchdown. Theo Riddick had a productive afternoon as he had 10 carries for 29 yards along with two rushing touchdowns and also caught six passes for 64 yards.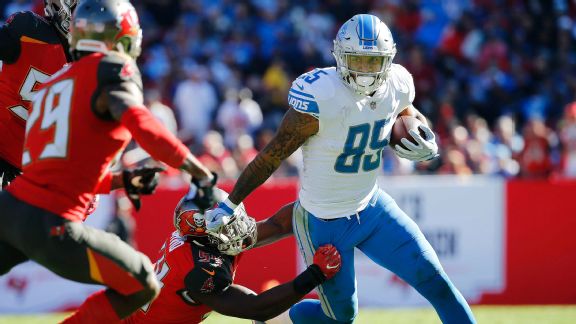 The streak of not having a back reach 100 yards on the ground in a single game continued. Reggie Bush remains the most recent Lions' back to accomplish the feat.
It won't be much easier this time around against the Bears' defense. Chicago, on average, allows 108.9 yards on the ground per game. They sit in the middle half of rankings for run defense.
As mentioned before the Lions topped the Bears in Chicago a few weeks back, 27-24, Chicago's record doesn't explain how tough they've played teams. They're played in several close games against tough opponents. With Detroit's season hanging by a thread, especially after losing to the Lions at home, the Bears won't go quietly.
Detroit, at this point, is the only side to lose players for the match-up. Rick Wagner and Travis Swanson have been ruled out for this Week 15 battle.
Interview with Troy Trojans DC Vic Koenning leading to the 2017 R+L Carriers New Orleans Bowl
As the Troy Trojans (10-2) and the North Texas Mean Green (9-4) prepare to face each other in the R+L Carriers New Orleans Bowl, I had a chance to talk to the Troy Trojans Defensive Coordinator Vic Koenning about this season and this match-up.
What do you feel has contributed the most success to your defense this season?
"I think it's a combination. We've got some depth on our d-line. So, we've been able to keep guys fresh and by keeping them fresh on the front, it's enabled guys to stay healthy and obviously play faster. You know the health issue is a real deal, we've been able to stay healthy this year and that's kind of a crapshoot from year-to-year. Then I think that the addition to the six Freshman we've played every week on defense has also helped us, it's enabled guys not play on every special team and on every snap on defense like we've had kind of had to do the last two years. So, it's the influx of new talent and guys good enough to play as a freshman has really helped the whole picture. I think it's a combination of a bunch of stuff."
You guys lose 2016 Sun Belt Defensive player of the year in Rashad Dillard and you guys are tied for 14th in the nation in sacks with 36. Do you think that says more about your players stepping up and feeling in or your defense system or do you think it's a little bit of both?
"The Pride part of me wants to say it's a little bit of both. Always, I've said kind words about our players. I know we had two years ago where we had Roberts who probably should have been Sun Belt Defensive player of the year, last year Rashad was. Then we have at the same position Hunter Reese, he was a walk-on, then he was a backup then he got an opportunity to play, then got first-team all-conference. I think it's somewhat the nature of that position and what we want out of that position in what we call it a bandit. There have been about seven or eight Bandits playing this game that have or are playing in the league, it's some of both. I do know our guys play hard I do know if one position isn't strong as another then teams are going to take advantage of it. So, you kind of have to be like the fence you got to be strong all the way across the fence are you going to lose what's in it, so we have to kind of as a group play together. If you're not good at stopping the pass or running or stopping the run you have to do a little bit of everything two to have a success."
What do you feel are some of the main attributes that gave you guys the win over number 25 LSU?
"I say they probably did not respect us.They did not play at the level that they played after our game, I think we probably got their attention little bit. I'm sure it was hard to coach them that week. You know because they're saying it's just Troy, there's always some of that going into it. We've had issues of that this year ourselves. I think that we've had a really good plan. I think that their ability to run the football and our ability to stop the run was a surprise for them and I think our guys played extremely hard. The team that played the hardest won the game. So, it's probably a combination all those three things."
What did you guys learn about your defense after the game against South Alabama?
"Well, we played a pretty good defensive game. I don't know if they had 275 yards, I don't know the exact stat. They had three plays where they got over half their yards on 3 screen passes. We obviously did well cover-wise which lends itself so if we don't have one guy who can do a good job on-screen passes. They ran the ball and they didn't throw the ball well except for those three-screen passes. Defensively against South, we did okay, so happens, their defense outplayed our defense. It was a hard-fought game, we didn't play well on any phase against them. A fumble and a couple of punts which gave them immediate fill position and possession, that was what happened it was their defense that played great and they had some turnovers."
Your defense will be playing a top 20 scoring team. 18 in total offense a quarterback that's ranked 9th in total passing yards and a 1000-yard rusher. What do you feel is the key to not really stopping North Texas but really slowing him down?
"Well, I don't know if we'll be fully able to but we're going to have to get takeaways. You know their quarterback finds a way, I think he's very much Russell Wilson-ish. I have a lot of respect for their coaching staff and the plays from the run. They're getting their Rusher back so there's the other 1200-yard back. We're going out to play unconscious, we're going to swarm to the ball and make tackles and make takeaways. We're going to have to force them to drive the length of the field and not give up big plays, which we've done a good job all year. As soon as you say something like that it goes against you. We got some young guys that are going to play, we are down two DB's and down to our starting four, some young guys have to step up and play and play better than the way we played in the first quarter against Arkansas State."
Do you feel this Mean Green offense is the best offensive unit you have played all season?
"I think they're very topical to Arkansas State in a lot of their stats. There's one of the best, it wouldn't surprise me if they are. It's going to be really a challenge for us. It's really going to be an unbelievable precursor for us going to next year. With us playing so many young guys, it's going to give our guys opportunity to see what we got. I know they are extremely well coached, they may be as well coach has any team we have played. I know we're just going to have to play our best football to give us our chance to win."
Your defense ranks 5th in tackles for loss per game while North Texas has given up the 14th highest allowed sacks this season. Do you feel you have an edge in the trenches with your D-Line?
"Well if we have any advantage at all, it's going to be that. Our D-Line is going to have to pressure. We've kind of combined a bunch of things we've learned throughout the year, so the game plan is to work to what sinks in the best. We, first of all, have got to stop the run because their ability to run the football probably scares me more than anything and then we'll know they'll pass. when they do throw the ball, we're going to get pressure on the quarterback and not so much in but to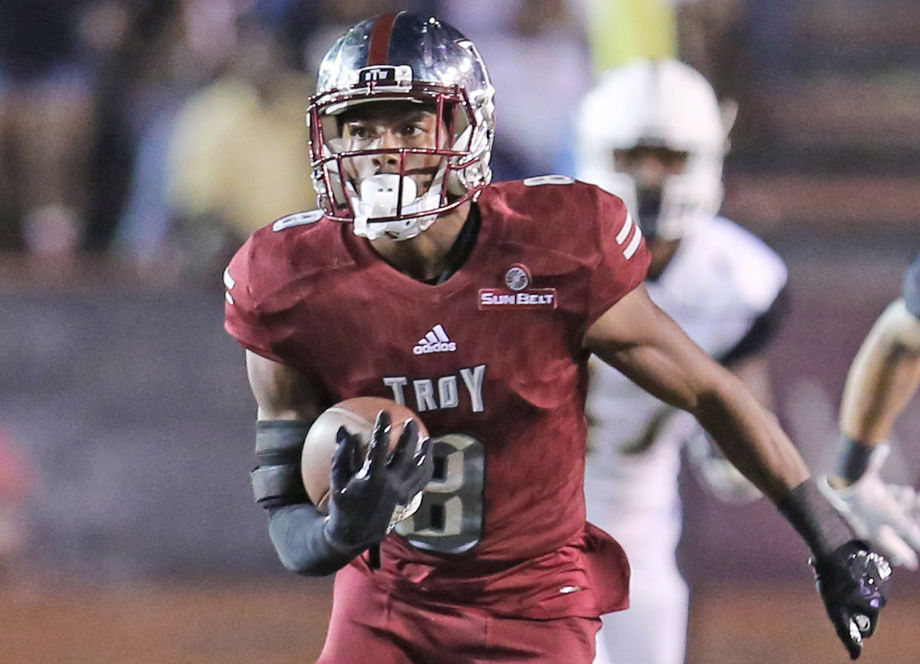 keep them from throwing the football."
What's one match-up in this game that you are most excited for, individualized or GroupWise?
"Well like I said we are playing some guys like Marcus Jones is going to be starting at corner, Dunlap is going to play a lot of Corner. Ardarius Wesley is going to play or start at safety. So, we've got some new guys filling rules that they haven't had all year. We're going to see what they've got which is don't you leave into next year. That's what your kind of use bowls for, gives them an extra spring practice. With these bowls around the 16th, you haven't had that many practice opportunities. So we haven't had that much but we're going to give these guys games reps because they're guys that are going to have be big players for us next year."
Do you think this game feels like a home game being around the Gulf Coast or if you think it's the opposite?
"We are going to be the home team and we are going to be wearing gray. I would imagine are Troy fans will come out here. They travel great. I will be surprised if we will not have more Troy Fans in attendance. We've been on the road so many games this year and we feel that we've had as many Trojan fans then the other team did. We may not be our home team we are going to have to do that this weekend."
Troy Trojans Face Explosive Offense In North Texas in the 2017 R+L Carriers New Orleans Bowl
The 2017-2018 College Football Bowl season will kick off their FBS bowl schedule with a matchup of former conference rivals. The Sun Belt Co-Conference Champions in the Troy Trojans (10-2) and the C-USA Western divisional title champs in the North Texas Mean Green (9-4) will meet in the R+L Carriers New Orleans Bowl.
The North Texas Mean Green come into this game with one of the most efficient and explosive offenses in the nation. While the Trojans are not far from the Mean Green offense in terms of consistency. The Trojans come into this game as the favorite because their reliable defense that ranks 11th in the nation in points allowed per game (17.5). Both teams will come into this matchup putting their best systematics ahead of them and trying out different techniques. Execution and consistency will be the goal for both teams to get this win.
Trojans' Successive Offensive Match-ups

VS.

The Mean Green's Explosive Tempo
Both the North Texas Mean Green and the Troy Trojans display a fast tempo type of offense that gives their offense a significant advantage against the opposing defense in terms of speed and aggression. The Mean Green offense are ranked 18th in the nation in total yards per game (467), 20th in points per game (35.9), and 21st in passing yards per game (291). This is due largely to the input from Quarterback Mason Fine, who has thrown for 294 completions (out of 457 attempts) for 3,749 yards, 28 touchdowns, 13 interceptions and has accounted for a 147.8 rating. Fine is ranked 9th in the nation in total passing yards. The Mean Green also a 1,000-yard rusher in RB Jeffery Wilson, who has rushed for 1,215 yards on 188 attempts (an average of 6.5 yards per rush) and 16 touchdowns.
Their version of the fast-tempo offense utilizes a deep passing setting and a diverse run game. Offensively the North Texas Mean Green rank 40th in the nation in offensive efficiency. The Troy Trojans, on the other hand, also utilize a fast-tempo offense but use more short-yardage plays like screens, bubbles, and quick slants. The Trojans have a talented and accurate Quarterback in Brandon Silvers to run those plays. Silvers will be playing in his last game for the Troy Trojans after being a four-year starter.
The Trojans have not only revived their successful program to consistent bowl eligibility, but they have turned into a non-power 5 conference powerhouse where they have won 10 games in back-to-back years. They have done so with an offense that is impressively consistent and efficient by being ranked 50th in points per game (30) and 34th in passing yards per game (266.7). This season, Silvers has passed for 2,985 yards on 259 completions (out of 412 attempts), 13 touchdowns, 6 interceptions, and accounted for a 131.2 rating. His most reliable target in WR Deondre Douglas has accounted for 628 yards on 48 receptions (an average of 13.1 yards per catch) and 4 touchdowns. Douglas is much more than a bubble screen receiver. He can fly through the opposing team's Defensive Backs with incredible breakout speed.
Trojans Defense Is Ready For

This Mean Green High-Power Offense
A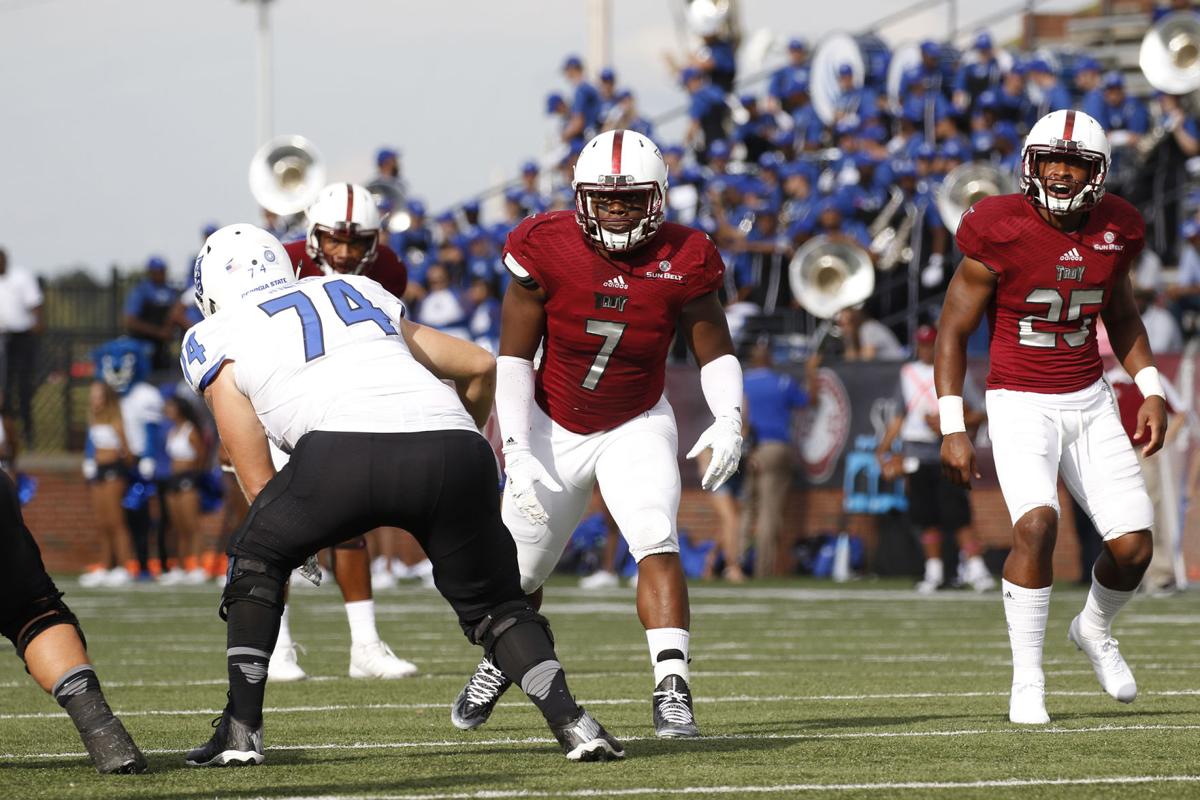 lthough the Trojans offense is very good and efficient, it is their defense that makes opposing teams very cautious. Troy's defense is ranked 14th in the nation in rushing yards allowed per game (114.8) and 11th in points allowed per game (17.5). When 2016 Sun Belt Defensive Player of the year in Trojans DE Rashard Dillard graduated, many thought the Trojans defense would lose potency. Instead, the Trojans became more stout in the interior of the Defensive Line with DT Jamal Stadom being the new leader of the Defensive Line. The Trojans are also tied for 14th in the nation in sacks accounted for with 36. The pressure coming from the Defensive Line and the Linebackers quickly make the opposing offense disarrayed during the play and even before the snap with the anticipation.
Even with the Mean Green offense is efficient in creating big plays and a large amount of yardage, the weakness might be the Offensive Line. The Mean Green offense has allowed the 14th most sacks in the nation with 33 allowed sacks. The Trojans defense is great in creating pressure and sacks because of the multiple packages with their Defensive Line, Linebackers, and their blitzing Defensive Backs. One of the biggest keys when going against a talented offense like North Texas is to create turnovers. The Trojans will be without CB Blace Brown (ACL tear) and S Kris Weatherspoon (ankle), so the Trojans will need to rely on creating turnovers on their main pass rushers and some reserves filling in the Defensive Backs. Star Freshman Cornerback Marcus Jones will get the start for the Trojans defense.
Watch For The Trojans To Start Scoring At A Highly Fast Pace
The North Texas Mean Green defense is not as a talented and consistent as their offense. The Mean Green defense ranks 65th in passing yards allowed per game (223.1), 108th in rushing yards allowed per game (208.1), and 105th in points allowed per game (33.8). The Mean Green defense is ranked 110th in the nation in defensive efficiency.
Their latest matchup in the C-USA Conference Championship against the Florida Atlantic Owls (10-3), the North Texas Mean Green had no answer to stopping the highly efficient offense of the Owls early. Within 2 full quarters and 2:39 minutes into the 3rd quarter, the Owls had already scored 34 points against the Mean Green defense. At the end of the game, the Owls had accounted for 633 total yards against North Texas' defense.
If Troy wants to take the game early from North Texas' reach, the Trojans will have to start trick plays and deep passing situations on 1st downs. Troy has a Quarterback in Brandon Silvers that is accurate in his deep throws. An early connection between Silvers and Deondre Douglas deep down the field can dismantle the Mean Green's defensive stability. Trojans RB Jordan Chunn can also be a key factor for Troy as he and the Offensive Line led by 1st team All-Sun Belt Tackle Steven Rowzee. If the Trojans utilize their run game efficiently then it will make their offense more versatile and likely to tear apart the Mean Green defense.
Final Analysis And Prediction
Despite North Texas being a more productivity team offensively, the Trojans are the overall efficient team. North Texas Head Coach Seth Littrell has done an incredible job with the Mean Green in his two seasons (14-12) but the Trojans will also have the favor in coaching. Trojans Head Coach Neal Brown has accounted for a 24-13 this season and last season. He will be one of the hottest non-power 5 conferences coaches to be looked at within possibly after this season or at the end of the next season. In the meanwhile, he has a goal for the Troy Trojans. This Saturday, that goal is to beat the North Texas Mean Green and finish with 11 wins in the 2017 season.
Silvers will have a chance to show NFL scouts that he has potential to be in the league. He will have one final chance to make more consistent deep passes as he will be playing his last game with the Troy Trojans. Defensively, DE Hunter Reese can continue his impressive performance against one of the top offenses in the C-USA. So far, this season, he has accounted for 11.5 tackles for loss. The Trojans are ranked 5th in the nation in tackles for loss per game (8.4). The consistent presence in the background will make a huge impact against the Mean Green offense but they will need to capitalize on this attribute. Starting fast and finishing strong is something the Trojans have been doing all season, expect North Texas to attempt a comeback but their drive depends on the energy levels of Troy.
Prediction:


Troy 33

,

North Texas 28
Adams Leading Packers Receivers Regardless of QB
Green Bay Packers receiver Davante Adams is making some kind of a contract statement while not saying a word on the subject. Adams is slated to be a free agent in the next free agency cycle (March 2018) Based on the contracts that have been given to other receivers in the league this season and Adams yearlong production this season his contract price is going steadily up.
Why has Adams contract price likely climbed so high? The answer to this question is simple: His production has not been tied to who his quarterback is. Adams on the season has 69 catches for 828 yards and 9 touchdowns. All of those numbers lead the team. When those numbers are compared to other top wide receivers in the league Adams ranks very favorably. That is especially true considering that Adams has been productive regardless of his QB this season. Before Aaron Rodgers went down with his broken collar bone Adams numbers were 23 catches, 285 yards and 4 touchdowns.  In the game when Rodgers got hurt and following Adams numbers are as follows: 46 catches, 543 yards and 5 touchdowns. The same cannot be said for all the Packers receivers during Rodgers absence.
The torch of the so called number one receiver has unofficially been passed from Jordy Nelson to Adams for several reasons. Adams is 6 years younger then Nelson. But once Rodgers departed, so did much of Nelson's early season production.  That is not a shot at Nelson either. There has been a career long connection between Nelson and Rodgers – an ability to communicate with a simple head nod – that was not the same between Hundley and any other Packers receiver minus Adams.
Adams has been at his best when it was needed most. He scored the winning touchdown that beat the Cowboys, the score the ended up being the deciding score to beat the Bears, and the tying and winning scores to beat the Browns last weekend. I think the Packers will pay the price, move some contracts around in relationship to the salary cap and drop the franchise tag on Adams if it becomes necessary in order to keep him. More likely Adams will sign a multiyear extension in Green Bay to spend several more years with Rodgers and company. The price of said extension has grown significantly more expensive thanks to Adams performance under both quarterbacks this season.
The Bear Cave; Can John Fox Save His Job?
The Bear Cave
Match-up: Chicago Bears (4-9, 4th in the NFC North) vs. Detroit Lions (7-6, 2nd in NFC North)
Time and Location: 3:15 pm CT kickoff. Ford Field. SATURDAY! SET A REMINDER!
Betting info: Lions -5.5, 38 (opening)
Game Balls:
Mitch Trubisky – Man, it was nice to see Trubisky make some big plays for the Bears. Last week, I'll admit, I was nervous about playing this guy so much and ruining him for the future. Trubisky looked good, even great at times. Granted, the Bengals were very short handed on defense, Trubisky had arguably his best week in the NFL. Benefitting from a solid running game to start the game, Trubisky accounted for 271 yards and a touchdown through the air, and five yards and a touchdown on the ground. Congrats rook! Let's have many more.
Devin Hester – Congrats on the retirement. Think back and remember what a great career that was for the greatest returner of all time. Thank you for all the memories and making what would be a normal bathroom break, the most exciting part of the game (as most of the time our offenses were atrocious). Better be seeing this man in Canton some time in the future.
Takeaways
I think Marvin Lewis is as good as gone from Cincy after that embarrassment. Not sure which coach will have the hook first – John Fox or Marvin Lewis.
The Bears looked the best they have on offense all year – against a beat up, short week Bengals. The Bears needed one and they got one.
Jordan Howard is the real deal. Tarik Cohen continues to shine. Cohen had two touchdowns called back that did not hurt the Bears in the long run of the game. Good to see the running game moving.
Bears came out fighting and ready to play – this bodes well for Fox and Company towards the end of the year when he is fighting for his job.
Ryan Pace – that rookie class was very involved. Adam Shaheen, Trubisky, Cohen, Eddie Jackson…not a bad week for Ryan Pace and his scouts.
State of the Bears:
The Bengals were not a good team at all and have been a head scratcher all season. That was a very different team that showed up against the Bears versus the one that showed up on the Monday night game against the Steelers. The Bears showed up, which was nice to see. They showed some life, on offense and defense. Kicking…still a big concern. The only thing that sucks about the Bears winning is that you lose some draft positions, closer to the front of the draft.
This draft seems to be loaded, but more so at the QB spot than in recent memory. This might hurt the Bears if they keep winning, but it also could help them. I don't think the Bears will be drafting a QB, at least early in the draft. There are some teams that have some QBs that are getting up in age that may want to move up to and trade with a team like the Bears (depending upon where they end up) to take a QB for the future. Teams like the Steelers, the Patriots, and maybe the Saints. This could help the Bears when thinking ahead to the draft. If they end up with 4-5 wins, they could trade back and stock pile some picks. It will be interesting to see where they end up with wins and with draft positioning.
Could John Fox keep his job if the Bears somehow win out? How many wins would it take? I don't think Fox can save his job unless the Bears win out and this offense truly starts rolling. I don't see that happening with so many banged up players and such a limited amount of weapons for Trubisky. The Bears obviously need to get their Rookie QB some help, and I don't think Fox and Dowell Logains are the help that he needs. The Bears need a QB Whisperer. It would be nice to see the Bears gain some momentum at the end of the year here, like last week, to spring board into 2018 – with whoever is leading them as the head ball coach.
Quick Hits, Game Preview:
Don't forget – this game is on a Saturday this week!
Detroit needs a win if Jim Caldwell wants to keep his job. The Lions, if they miss the playoffs, could be a very underachieving team this year after a fast start.
The Lions offense really struggles running the ball…we all know the stat that the Lions haven't had a 100 yard rushing running back in a game since Reggie Bush.
The Lions love slinging the ball up and down the field. They have some playmakers at the WR spot.
John Fox could do himself some favors this week if he wins this game and the offense looks effective.
It will be interesting to see how the Bears offense moves the ball against this Lions defense and how Trubisky plays – can he keep up his play from last week?
Predictions
The Lions need this win to keep any playoff hopes alive. The Bears at this point are looking to scrap out a couple more wins before the season is over. It should be a fun game actually. I think there are going to be a lot of big hits and a lot hard-nosed football – NFC North Football.
Lions 24 – Bears 20
As always,
Bear Down
AB
Tomahawks and Touchdowns: Week #14 Recap
The Chiefs got back on track last weekend with a 26-15 win over the Oakland Raiders at Arrowhead. It was the Chiefs first win since week #8. The Chiefs are 2-6 in their last eight games. The win helped their standing in the playoff race.
The AFC West is one of the tightest division races in the NFL this season. The Kansas City Chiefs and Los Angeles Chargers are tied for the top spot in the division. Both teams have a record of 7-6. The Raiders loss last weekend pushed them to second place. The Denver Broncos remain at the bottom of the division with a record of 4-9. The next three weeks will determine which team wins the division this season.
The playoff race in the AFC is close and the next few weeks will decide if the Chiefs advance. The Chiefs currently hold the fourth seed in the playoffs because of the tiebreaker in the division race. If they lose this weekend they could be on the outside of the playoff picture. Winning the division could be the Chiefs only chance at making the playoffs this season.
Kareem Hunt has struggled recently but he had a good performance in the game last week. Hunt had 116 rushing yards and one touchdown against the Raiders. He has 1,046 rushing yards this season, the second most in the NFL. It will be important for Kareem Hunt to have success in the final weeks of the season.
Chris Jones also played well in the win last week. He had one sack and two tackles for loss. This season Jones has 28 combined tackles and 4.5 sacks. Last season he was drafted by the Chiefs in the second round. In 2016 Jones had 28 combined tackles and two sacks. Chris Jones has progressed well in his first two seasons with the Chiefs.
This weekend the Chiefs will face the Los Angeles Chargers. They will play on Saturday in Kansas City. Both teams are tied for first place in the division and this game could determine the division winner. The teams faced each other during week three. The Chiefs won the game 24-10. The Chargers are one of the hottest teams in the NFL. They have won four straight games and are 7-2 in their last nine games. If the Chiefs can stop the Chargers this weekend they will be in a great position in the AFC playoff race.
Top 10 Thursday; NFL Football
Week 14 of the NFL season is behind us and as many teams attempt to solidify their playoff spots some teams are stilling trying to fight for one. Five of last weeks top ten teams lost and 5 of them won. What does it mean for their rankings this week?
10. Atlanta Falcons (8-5) Previous Rank: 10
​Last game: Defeated the New Orleans Saints 20-17
​Next game: Monday against the Tampa Bay Buccaneers
Vic Beasley Jr was a major role for the Falcons success last season and with others getting involved the sack rate as gone up two percent with the help of veteran Adrian Clayborn who has 9 sacks.
9. Seattle Seahawks (8-5) Previous Rank: 6
Last game: Lost to the Jacksonville Jaguars 30-24
Next game: Sunday against the Los Angeles Rams
The team was able to handle the loss of key defensive players and by doing so have allowed a 39 total QBR without them on the field which is better than the entire season (42).
8. Jacksonville Jaguars (9-4) Previous Rank: 8
​Last game: Defeated the Seattle Seahawks 30-24
​Next game: Sunday against the Houston Texans
Defenses win you games and the Jaguars have the best defense when it comes to points allowed, takeaways, and total QBR. Last year they ranked 25th in points allowed, 30th in takeaways, and 14th in opponent QBR.
7. Carolina Panthers (9-4) Previous Rank: 9
Last game: Defeated the Minnesota Vikings 31-24
Next game: Sunday against the Green Bay Packers
Cam Newton has 67 completions to Christian McCaffrey this season, McCaffrey currently leads the team as well as all rookies with completions.
6. New Orleans Saints (9-4) Previous Rank: 7
​Last game: Lost to the Atlanta Falcons 20-17
​Next game: Sunday against the New York Jets
Alvin Kamara and Mark Ingram both rank in the top 5 for yards per rush and between the two they have 19 touchdowns.
5. Minnesota Vikings (10-3) Previous Rank: 3
Last game: Lost to the Carolina Panthers 31-24
Next game: Sunday against the Cincinnati Bengals
Case Keenum is still third in total QBR and led Minnesota to an 8-3 record during his starts. His record was 9-15 entering this season.
4. Los Angeles Rams (9-4) Previous Rank: 4
​Last game: Lost to the Philadelphia Eagles 43-35
​Next game: Sunday against the Seattle Seahawks
The Rams are averaging 30.5 points per game behind Goff and Gurley leading the offense. Gurley is accountable for 34% of the teams yards which is the highest in the NFL.
3. New England Patriots (10-3) Previous Rank: 1
Last game: Lost to the Miami Dolphins 27-20
Next game: Sunday against the Pittsburgh Steelers
The Patriots defense had a major turnaround after allowing 32 points through the first works and since then they have allowed 13.5 points. The Miami game was the first game in their past 9 that they allowed 20 points.
2. Pittsburgh Steelers (11-2) Previous Rank: 5
Last game: Defeated the Baltimore Ravens 39-38
Next game: Sunday against the New England Patriots
The Steelers defense has vastly improved they have more sacks through 13 games (41) than they did in all of 2016 (38).
1. Philadelphia Eagles (11-2) Previous Rank: 2
Last game: Defeated the Los Angeles Rams 43-35
Next game: Sunday against the New York Giants
The Eagles lost their franchise quarterback when Carson Wentz tore his ACL against the Rams, will they be just as accomplished with Nick Foles at quarterback?