The Call to the Majors, Week Ending June 20
June 14, 2018
| | | | |
| --- | --- | --- | --- |
| Player | Position | From Team | To Team |
| Chris Bassitt | Pitcher | Nashville (AAA) | Oakland (MLB) |
| Carlos Ramirez | Pitcher | Nashville (AAA) | Oakland (MLB) |
| Nick Rumbelow | Pitcher | Tacoma (AAA) | Seattle (MLB) |
| Robert Whalen | Pitcher | Tacoma (AAA) | Seattle (MLB) |
June 15, 2018
| | | | |
| --- | --- | --- | --- |
| Player | Position | From Team | To Team |
| Corban Joseph | Infielder | Norfolk (AAA) | Baltimore (MLB) |
| Tanner Scott | Pitcher | Norfolk (AAA) | Baltimore (MLB) |
| Tyler White | 1st Basemen | Fresno (AAA) | Houston (MLB) |
| Brandon Maurer | Pitcher | Omaha (AAA) | Kansas City (MLB) |
| Kyle Farmer | C/Infielder | Oklahoma (AAA) | Los Angeles (NL) (MLB) |
| Jake Jewell | Pitcher | Salt Lake (AAA) | Los Angeles (AL) (MLB) |
| Felix Pena | Pitcher | Salt Lake (AAA) | Los Angeles (AL) (MLB) |
| Eduardo Paredes | Pitcher | Salt Lake (AAA) | Los Angeles (AL) (MLB) |
| Merandy Gonzalez | Pitcher | Jacksonville (AA) | Miami (MLB) |
| Taylor Motter | INF/OF | Rochester (AAA) | Minnesota (MLB) |
| Jonathan Loaisiga | Pitcher | Trenton (AA) | New York (AL) (MLB) |
| Luke Voit | 1st Basemen | Springfield (AA) | St. Louis (MLB) |
| Jose Trevino | Catcher | Frisco (AA) | Texas (MLB) |
| Brandon Mann | Pitcher | Round Rock (AAA) | Texas (MLB) |
| Yohander Mendez | Pitcher | Round Rock (AAA) | Texas (MLB) |
June 16, 2018
| | | | |
| --- | --- | --- | --- |
| Player | Position | From Team | To Team |
| John Lamb | Pitcher | Salt Lake (AAA) | Los Angeles (AL) (MLB) |
| Franklin Barreto | Infielder | Nashville (AAA) | Oakland (MLB) |
| Yacksel Rios | Pitcher | Lehigh Valley (AAA) | Philadelphia (MLB) |
| Jack Thompson | Pitcher | Lehigh Valley (AAA) | Philadelphia (MLB) |
| Pierce Johnson | Pitcher | Sacramento (AAA) | San Francisco (MLB) |
| Ryan Rua | Outfielder | Round Rock (AAA) | Texas (MLB |
June 17, 2018
| | | | |
| --- | --- | --- | --- |
| Player | Position | From Team | To Team |
| Luke Jackson | Pitcher | Gwinnett (AAA) | Atlanta (MLB) |
| Shane Bieber | Pitcher | Columbus (AAA) | Cleveland (MLB) |
| Evan Marshall | Pitcher | Columbus (AAA) | Cleveland (MLB) |
| Wily Peralta | Pitcher | Omaha (AAA) | Kansas City (MLB) |
| Rosell Herrera | Outfielder | Omaha (AAA) | Kansas City (MLB) |
| Adalberto Mondesi | Infielder | Omaha (AAA) | Kansas City (MLB) |
| Scott Barlow | Pitcher | Omaha (AAA) | Kansas City (MLB) |
| Adrian Houser | Pitcher | Colorado Springs (AAA) | Milwaukee (MLB) |
| Josh Lucas | Pitcher | Nashville (AAA) | Oakland (MLB) |
| Yovani Gallardo | Pitcher | Round Rock (AAA) | Texas (MLB) |
June 18, 2018
| | | | |
| --- | --- | --- | --- |
| Player | Position | From Team | To Team |
| Rob Zastryzny | Pitcher | Iowa (AAA) | Chicago (NL) (MLB) |
| Clint Frazier | Outfielder | Scranton/Wilkes Barre(AAA) | New York (AL) (MLB) |
| Austin Davis | Pitcher | Lehigh Valley (AAA) | Philadelphia (MLB) |
| Jose Osuna | Outfielder | Indianapolis (AAA) | Pittsburg (MLB) |
| Kelby Tomlinson | 2nd Basemen | Sacramento (AAA) | San Francisco (MLB) |
| Ricardo Rodriguez | Pitcher | Round Rock (AAA) | Texas (MLB) |
June 19, 2018
| | | | |
| --- | --- | --- | --- |
| Player | Position | From Team | To Team |
| Caleb Joseph | Catcher | Norfolk (AAA) | Baltimore (MLB) |
| Robby Scott | Pitcher | Pawtucket (AAA) | Boston (MLB) |
| Jackson Stephens | Pitcher | Louisville (AAA) | Cincinnati (MLB) |
| Heath Filmyer | Pitcher | Omaha (AAA) | Kansas City (MLB) |
| Freddy Peralta | Pitcher | Colorado Springs (AAA) | Milwaukee (MLB) |
| Tim Peterson | Pitcher | Las Vegas (AAA) | New York (NL) (MLB) |
| Pierce Johnson | Pitcher | Sacramento (AAA) | San Francisco (MLB) |
| Lourdes Gurriel | 2nd Basemen | Buffalo (AAA) | Toronto (MLB) |
| Jefry Rodriguez | Pitcher | Syracuse (AAA) | Washington (MLB) |
June 20, 2018
| | | | |
| --- | --- | --- | --- |
| Player | Position | From Team | To Team |
| Johnny Barbato | Pitcher | Toldedo (AAA) | Detroit (MLB) |
| Mitchell Walding | Pitcher | Leigh Valley (AAA) | Philadelphia (MLB) |
| Jake Barrett | Pitcher | Reno (AAA) | Arizona (MLB) |
| Adam Frazier | 2nd Basemen | Indianapolis (AAA) | Pittsburg (MLB) |
As you can see by the list, most of the players that were called up to the Major Leagues in the past week have been pitchers. A lot of the time, these are just one or two day call up's because someone in the bullpen was overworked. There were no players called up this week that were in the top 50 prospects to begin the year.
Notable Performances:
Jonathan Loaisiga was called up to the major leagues on June 15th for the New York Yankees. Before he was called up, he pitched in six games in AA and four games in A ball this season. In Single-A Tampa, Loaisiga had a 3-0 record posting a dominate 1.35 ERA. Loaisiga performed just as well in AA for Trenton, posting a 3-1 record with a 4.32 ERA. Loaisiga made is MLB debut on the day he was called up, and he pitched a gem of a game against the Tampa Bay Rays. He pitched 5 shutout innings allowing three hits, four walks, and struck out six. In Loaisiga's second start on June 20 against the Seattle Mariners, he pitched 3.2 innings and he allowed 3 runs, on six hits while striking out four and walking two. His season ERA sits at 3.12, in the two games that he pitched.
Lourdes Gurriel was called up again to the major leagues on June 19th for the Toronto Blue Jays. During his time in the minor leagues this season, both in Triple A Buffalo and Double A New Hampshire, Gurriel played in 39 games with a triple slash line of .307/.333/.490 with an OPS of .824 and six home runs. Playing up in the majors has not fared for the young Gurriel so far. He is posting a triple slash line of .206/.229/.309 in 20 games while also posting a .537 OPS and two home runs. Gurriel has shown that he can compete in the minors, now he is trying to show that he deserves to be up in the majors, and will hopefully be a part of the Toronto Blue Jays for years to come.
A final notable call up for this week is another New York Yankee, and if you follow baseball you've heard his name before, outfielder Clint Frazier. There are rumors surrounding Frazier that he will either be a cornerstone of the Yankees outfield for years to come, or he is only being called up so he can audition for other MLB teams come the trade deadline. In 42 games in the minors this year, most of which at Triple A Scranton/Wilkes Barre, Frazier has played in 42 games posting a triple slash line of .302/.387/.550 with an OPS of .937. Frazier has also added eight home runs to those eye opening numbers. With the call to the Majors, Frazier has played in 5 games this year with a triple slash line of .364/.533/.455 with an OPS of .988. Frazier has been playing well no matter where he goes. This doesn't seem like a permanent move to Frazier, not yet at least, but sooner rather than later he will be off this list, and in the Majors for good.
So that's the Call to the Majors for this week fans. I hope you've enjoyed this segment, and hope you aren't sitting by the phone waiting for your Call to the Majors, it may be a little farther out than some of the players in the Minors.
South Side Sluggers; White Sox vs Pirates
The White Sox traveled to Pittsburgh for a 2-game set against the Pittsburgh Pirates. In their previous 2 meetings in Chicago (May 8th and 9th), the Pirates swept the White Sox.
These were the results for the series in Pittsburgh:
Tuesday: White Sox 0 Pirates 7
Wednesday: White Sox 2 Pirates 3
Let's take a look at the positives and negatives from this series for the White Sox.
Positives: It may be hard to find any positives for the White Sox on Tuesday but I was really impressed with the 7 hits that the Sox had. Jose Abreu went 2-4 at the plate, raising his batting average to .290 for the season. For his first game back from the DL, Yoan Moncada went 1-4. Chris Beck had a very impressive outing from the bullpen as he went 3.2 innings allowing no hits and striking out 3. On Wednesday, Hector Santiago was the starting pitcher (originally scheduled was Carson Fulmer) and was very brilliant. Santiago went 5 innings, allowing 2 runs on 2 hits. Jace Fry pitched one inning, allowing no hits, no runs while striking out 2. The offense improved from Tuesday, however, it wasn't a huge improvement. The Sox were able to score two runs against the Pirates. Leury Garcia and Yolmer Sanchez each hit solo home runs for the two runs. With their home runs, Garcia and Sanchez have a total of two home runs each for the season.
Negatives: On Tuesday, Reynaldo Lopez had a bad outing which is a rarity because he is a consistent pitcher. Lopez went 2 innings, allowing 6 runs on 7 hits. This was Lopez's first start that he was unable to go at least 5 innings. Staying with Tuesday's game, the White Sox's offense was unable to score a run as they were shutout, 7-0. Although the offense was able to get seven hits, they left 17 runners on base. On Wednesday, Joakim Soria allowed one run to give the Pirates a 3-2 lead and eventually the win. It was very disappointing to see the Sox give up the run and not give enough run support for Hector Santiago. Santiago was brilliant for a pitcher that isn't a starter. The offense only scored twice which is was not enough to give Santiago the win. The Sox ended the season series against the Pirates with a 0-4 record. The White Sox are now 10-29 for the year.
The White Sox return to Chicago for a 8-game home stand against the Texas Rangers and Baltimore Orioles. Keep having faith, White Sox fans! Let's hope the South Siders can get it going during this home stand. Go White Sox!
White Sox Avoid Sweep Against Cubs
Okay, I know it's been a while since I wrote about our Chicago White Sox (college had me busy) but let's get it out the way, the White Sox are playing terrible… and that's good!
With that being said, the White Sox have the worst record in baseball with a 10-27 record after losing 2 out of 3 against the crosstown rival, the Chicago Cubs.
Let's get back on track with what we do best and examine the positive and negatives from the crosstown series between for the White Sox!
Positives: Yes, somehow after losing 7 straight, there are some positives to see from the White Sox. The first one is obvious, the White Sox avoided the sweep against the Cubs on Sunday. The bats came to life with Matt Davidson leading the way with a 2-3 performance with 2 RBIs. Matt Davidson hit a solo home run in the 2nd inning, giving him a total of 11 for the year. Davidson later drove in another run in the 6th with a sacrifice fly, giving him a total of 24 for the year. Yolmer Sanchez, Nicky Delmonico, and Leury Garcia also contributed to Sunday's win by driving in a combined 3 runs.
Staying with Davidson, he had quite the series. Davidson went 1-3 with one walk and 3 RBIs on Saturday. Davidson drove in his 3 RBIs with a 3 run home run in the 8th. On Friday, Davidson went 0-2 but had 2 walks. Going 0-2 isn't great but drawing two walks is always impressive.
Other notable players during the series: Jose Abreu went 5-12 with 2 RBIs and 1 walk during the series. Tim Anderson went hitless, going 0-9 with 4 walks.
Lucas Giolito was able to hold off the Cubs to two hits in 5.2 innings of work, despite allowing 7 walks. The 7 walks bring Giolito's total to 32 for the year. Giolito's final stat line: 5.2 IP, 2 hits, 3 ER, 7 Walks and 3 strikeouts. (1 more out and Giolito would've had a quality start) Giolito's ERA for the season is a 6.91.
Jace Fry continues his scoreless streak as he pitched 1.1 innings during the series. Fry has pitched 5 innings without giving up a run. Fry was called up from Triple-A Charlotte on May 4 and has been great for the White Sox. Hopefully, Jace can keep this up throughout the whole season.
Negatives: Of course with the worst team in baseball, there's a lot of negatives that can be seen. One of the negatives for the White Sox during the series (and throughout the season) is the pitching. James Shields and Carson Fulmer struggled in their starts. On Friday, Fulmer was unable to get out of the second inning as he only went 1.2 innings, allowing 5 earned runs, 3 hits, 4 walks with 3 strikeouts. His ERA is now 6.23 for the year. On Saturday, James Shields was able to go 6 innings but allowed 5 earned runs on 7 hits, 3 walks, and 4 strikeouts. Shields's start was better than Fulmer's but it's not saying much. Considering that Shields role as a member of the White Sox is to eat up a lot of innings, it's great to see that he is doing that. Shields has pitched 48 innings this season, the most on the White Sox. (Reynaldo Lopez is 2nd with 44.1 IP)
The bats were silent on Friday and Saturday as well. On Friday, the White Sox were only able to score 2 runs. Daniel Palka and Jose Abreu were responsible for the two runs as Palka had an RBI double and Abreu with an RBI single. Saturday, the South Siders were only able to score 4 runs with efforts from Jose Abreu and Matt Davidson. Abreu had an RBI groundout while Davidson hit a 3-run home run. The Sox left a combine 36 runners during Friday's and Saturday's game. The offense has been struggling all year and it doesn't help that Avisail Garcia and Yoan Moncada are on the DL. It's not clear when Avisail Garcia will return but Yoan Moncada is set to return against the Pirates on Tuesday.
The White Sox travel to Pittsburgh for a two-game series against the Pirates. Reynaldo Lopez and Carson Fulmer are expected to pitch during the two-game series.
Just remember White Sox fans: Relax, watch the prospects grow and hope for the future. The future is bright for the South Side!
White Sox Lose 2 Of 3 vs Mariners
The Chicago White Sox finished a 3-game series vs the Seattle Mariners in which they lost 2 out of 3. Although the South Siders lost 2 out of 3, their play has improved from their last series against the Houston Astros.
Here are the scores from the White Sox vs Mariners
Monday: White Sox 10 – Mariners 4
Tuesday: White Sox 0 – Mariners 1
Wednesday: White Sox 3 – Mariners 4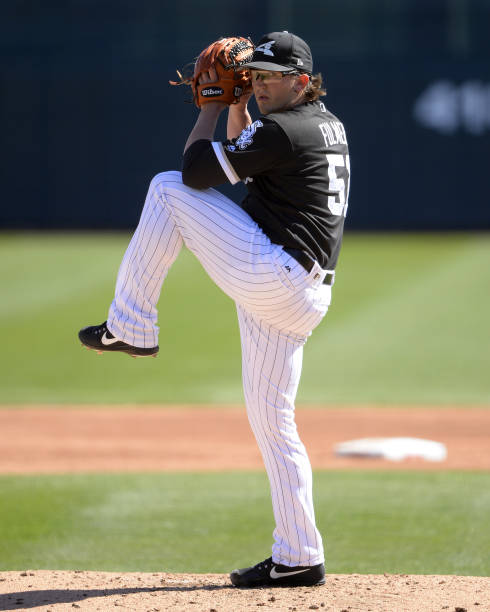 Let's take a look at the positives and negatives for the White Sox's series against the Seattle Mariners.
The positives: After Miguel Gonzalez was placed on the DL with right rotator-cuff inflammation, Carson Fulmer took his start on Monday and did not disappoint. Carson Fulmer had himself a great night, going six innings strong, only giving up two runs on three hits. Carson earned the win while Chris Beck earned a save after going three innings to close the game.
While it was unknown who would start on Tuesday for the Sox, Chris Volstad got the start and was great. Chris Volstad hasn't had many starts with the White Sox (two in 2017) but that didn't stop Volstad to show how great he can be. Volstad went 4.1 IPs while giving up one ER on three hits. Chris still earned a loss despite his great outing as the offense couldn't score runs to back up his performance. With Miguel Gonzalez, it's quite possible to see Chris Volstad have another start for the South Siders until Miguel Gonzalez.
I will also add James Shields to the positive list. James Shields pitched on Wednesday, going 6 IPs and giving up four ER on six hits. I'm putting Shields on this list because I believe that James Shields pitched his best game of the season. Shields was able to keep the Sox in the game but unfortunately, the offense wasn't enough to win the game, losing 4-3.
The bats came to life on Monday with Yoan Moncada and Jose Abreu leading the way. Jose Abreu went 4-5 with 3 RBIs and two home runs, giving him a total of 6 home runs for the season. Yoan Moncada was a single shy of the cycle, going 3-5 with a solo home run.
The rest of the team were able to combine for 11 hits and score a total of 10 runs to beat the Mariners. A great performance to see from the Sox who've been struggling all year to score runs. (The Sox are ranked 6th worst among the MLB in runs scored)
On Wednesday, Moncada led off the game with his first career leadoff home run. (Moncada ended the series 5-12 with 2 HRs) Following his leadoff home run, the Sox score two more times with the help of Tim Anderson's RBI single and a groundout RBI from Daniel Palka. This was Palka's first RBI of his MLB career, who was called up on Tuesday following Avisail Garcia's injury.
The negatives: The offense disappointed on Tuesday. After a spectacular performance on Monday, the Sox were shutout 1-0 on Tuesday. This is very disappointing considering that Chris Volstad had a great performance and was able to keep the Sox in the game but the offense couldn't provide run support for Volstad.
Also, the offense could've taken a better advantage of Felix Hernandez's struggles on Wednesday. Yes, they scored 3 runs off King Felix but they needed to provide more run support for James Shields. Having more run support never hurts in baseball. (Especially when your starting pitcher is James Shields). Nonetheless, the performance wasn't the worse but they could've done better.
There's no negative for pitching as the starters and bullpen were able to keep the Sox in the game for all 3 games. Hopefully this is a sign of good things to come for the pitching!
The White Sox end their 6-game home stand with a record 1-5. The South Siders will start a 7-game road trip in Kansas City as they will take on the Royals for a 5-game series. (They will play a doubleheader on Saturday as they will make up the April 1st game) and then play a 2-game series against the St. Louis Cardinals.
Follow me on Twitter! : @GoGoWhiteSox22
Lopez shines; White Sox Get Swept For 2nd Straight Series.
The White Sox's losing streak continues to grow as the Sox got swept against the Houston Astros during the weekend 3-game series.
Here's what happened during the series:
Friday: Houston Astros 10 – Chicago White Sox 0
Saturday: Houston Astros 10 – Chicago White Sox 1
Sunday: Houston Astros 7 – Chicago White Sox 1
Although the Sox were outscored 27-2 during the 3-game series, we will look at the positives and negatives of the White Sox's performance during the series against the Astros.
The positives: Believe it or not, the Sox had some positive moments during the series.
Let's begin with Reynaldo Lopez. On Sunday, Lopez continued his great season with a strong 5-inning performance against the red-hot Astros. Lopez was able to keep the Astros under one run while striking out two. Lopez did struggle with his command as he walked four during his start. What stood out about Reynaldo's start was how he was able to get out of bad situations. During the first inning, Reynaldo had the bases loaded with two outs and was able to get out of the situation. It's impressive considering that Lopez is a young pitcher with little MLB experience and how he was able to get out of a situation that many young pitchers tend to struggle with. (Lopez only has 18 MLB starts) His win-loss record may not look great on paper (0-2), but, Lopez leads the team in ERA (1.50 ERA), strikeouts (23) and WHIP (1.13). Like many of the young pitchers, Lopez will continue to improve throughout the year. Hopefully, the White Sox's offense will provide some run support for Reynaldo. Otherwise, Lopez could be the next Jose Quintana.
The offense was only able to score twice during the series, but it was really great to see Trayce Thompson back in a White Sox uniform. The White Sox acquired Trayce Thompson from the Oakland Athletics for cash consideration. Trayce Thompson started the game on Saturday in left field and went 1-4. His only hit was a solo home run to give the Sox's only run for the game which gives hope for White Sox fans that Trayce Thompson can provide some depth for the outfield. Perhaps we can see him compete for a starting role with Nicky Delmonico or the struggling Adam Engel.
The negatives: Yes, it's very easy for me to write "Everyone struggled" and end it there. But I won't. I will go in depth of the Sox's struggles versus Houston.
James Shields looked promising in his start but completely fell apart in the 4th inning as he gave up five runs. Shields's final stat line for Friday's start was: 5.1 IP, 8 H, 7 ER, 4 BB and 4 K's.  Shield's ERA for the year is now 6.17. It was nice to see Shields look great for the first 3 innings, but Houston was able to adjust to Shields and were able to get runs off him.
Lucas Giolito had his worst start of the year on Saturday. Giolito gave up 9 runs in only 2 innings. Giolito was clearly frustrated during his start but it was very disappointing to see Wellington Castillo not help. Yes, it's not Castillo's fault for Giolito's performance but it would've been nice to see Castillo visit the mound more often to calm Giolito down a bit. This would be helpful for Lucas because he doesn't have much MLB experience and he needs to learn how to control his emotions during starts where he struggles. Castillo should've been there to calm him down, but this is a problem that catchers have now with the new mound visits limit. Since now there are six mound visits per game, catchers and coaching staff are struggling to figure out when they should go visit the pitcher on the mound. It's a tough change but players and coaches will adjust to this soon.
Finally, the bats. The Sox were outscored 27-2 during the series. This is very disappointing since they came off a great offensive game vs Oakland before the Houston series. Moncada cooled off after a great series in Oakland, only going 1-7 during the series. Moncada was benched during Saturday's game due to his poor effort running to first on a groundball. Rick Renteria stressed that effort is always key to the White Sox's success. This is a learning lesson for Yo-Yo, teaching him that he should 100% effort during the game, regardless of the score.
Other notable bats during the series, Abreu went 3-11, Avisail Garcia went 2-11 and Tim Anderson went 3-11 Yolmer Sanchez was responsible for the run on Sunday, driving in Matt Davidson with an RBI double.
On Monday, the White Sox continue their home-stand against the Seattle Mariners. Miguel Gonzalez was placed on the DL on Monday which resulted in Carson Fulmer to take Miguel Gonzalez's start for Monday. James Shields will start on Wednesday but it's unknown who will start on Tuesday.
Follow me on Twitter! @GoGoWhiteSox22
White Sox Swept in Oakland; Left On A High Note.
After a snowy road trip in Minnesota, the Chicago White Sox traveled to the west coast to play a 3-game series vs. the Oakland Athletics
Although the White Sox ended the Oakland series being swept, there were many positives outcomes to look at from the series. Alongside with the positives, there were negative outcomes as well that we should address
Here's what went down in the White Sox-Athletics series
Monday: White Sox 1 – A's 8
Tuesday: White Sox 2 – A's 10
Wednesday: White Sox 11 – A's 12
The positives: After the White Sox's offense have been inconsistent for weeks, the offense finally exploded on Wednesday as the White Sox were able to score 11 runs on 17 hits. Jose Abreu and Nicky Delmonico led the way with 3 hits apiece. The Sox were able to perform better with RISP as the Sox went 8-20 during Wednesday slugfest. The Sox also continued to improve in the run game as well. Yoan Moncada stole 3 bases in total throughout the series alongside with Leury Garcia, who stole 2 bases during Wednesday's game, and Nicky Delmonico, who stole his first base of the season on Wednesday. Tim Anderson also notched himself another 2 stolen bases, giving him a total of 8 stolen bases for the year. ( Tied for 1st in MLB)
Yoan Moncada had himself a great series as he went 5-14 with two home runs (including a grand slam), 3 stolen bases and two walks. Moncada was able to bring his batting average up from a .184 to .222. Moncada was also able to bring up his OPS from .604 to .758. It's nice to see the Cuban star begin to heat up after a slow start to the season. Fans are hoping that this is the beginning of Moncada's expected performance
Jose Abreu, also, had a great series. Abreu hit a solo home run on Monday and then went 3-6 on Wednesday during the 14- inning marathon. Abreu ended the series, 5-14 which helped him raise his batting average from .250 to .274.
Reynaldo Lopez had a great start on Monday. Lopez went six innings and gave up 2 earned runs on 4 hits, earning him a quality start. Sadly, the White Sox offense struggled to score and couldn't give Lopez run support which resulted in Lopez earning another loss. It's still nice to see how Lopez continues to dominate on the mound in each of his starts, despite the lack of run support.
Speaking of dominating on the mound, Bruce Rondon continues his great start as a member of the White Sox. After a rough outing on Tuesday in which he gave up 2 earned runs in one inning, Bruce bounced back with a great 3 inning outing allowing no runs and one hit.
The negatives: Miguel Gonzalez and Carson Fulmer struggled in their starts again Oakland. Gonzalez gave up 8 earned runs on 8 hits. Gonzalez was only able to get through 3 innings before being pulled. Gonzalez's ERA went from 8.68 to a 12.41 ERA. Carson Fulmer's start wasn't any better as he was pulled in the 2nd inning as he gave up 4 runs on 5 hits. Fulmer's ERA went up from 4.6 to 7.59 ERA.
Staying on the topic of the pitching staff, the bullpen continued to struggle throughout the series. Taking away the runs that the starters gave up throughout the series (Fulmer, Gonzalez, and Lopez gave up 14 runs combined), the bullpen gave up a whopping 16 runs combined! Yes, the starters weren't at their best, however, it would've been nice to see the bullpen pick up the starters and keep the team in the game as much as possible. It didn't help that the bullpen was used so much throughout the series that James Shields had to come in on Wednesday for a relief appearance. (His second relief appearance in his 12-year career) Shields was scheduled to pitch on Friday but we might see his start be pushed back after his relief effort.
Lastly, the offense. Before Wednesday, the White Sox were 5-62 with RISP in the last 8 games. (Only scoring 15 runs). Aside from Abreu's home run on Monday and Moncada's two-run home run, the Sox weren't able to produce as much as they would want to despite a quality start from Lopez on Monday. Rick Renteria addressed this issue by having a change in the lineup on Wednesday. Avisail Garcia was benched for Leury Garcia and we saw Yolmer Sanchez bat 2nd in the lineup. Nicky Delmonico batted 4th while Matt Davidson batted 5th. (The previous lineup had Avisail Garcia bat 2nd, Matt Davidson bat 4th and Nicky bat 5th.)
Avisail Garcia struggled in the series, only 1-8 in the first two games of the series. This resulted in Garcia being benched on Wednesday. The White Sox are hoping that giving him an extra day off will benefit Garcia's performance in the long run.
Although the Sox were swept out of Oakland, they left on a high note. The Sox are hoping to bring that momentum with them back to Chicago for a 6-game homestand as they are set to face off against the, defending World Series champions, Houston Astros, and the Seattle Mariners.
Dear White Sox Fans….Relax
Dear White Sox fans, relax. This is only the beginning:
With the White Sox's 2nd consecutive postponed game in Minnesota, it's time for White Sox fans to relax about the team's recent struggles.
After three weeks into the season, the Chicago White Sox are sitting in 3rd place of the AL Central at 4-8. The Sox started the season 3-2 after their 6-game road trip against the Kansas City Royals and Toronto Blue Jays before falling to 4-7 after their 6- game home stand against the Detroit Tigers and Tampa Bay Rays. On Thursday, the Sox started their 7-game road trip in Minnesota and lost 4-0 before their Friday's and Saturday's game being postponed due to weather.
Many White Sox fans are becoming frustrated with the Sox's overall performance from the offensive perspective to the pitching perspective.
But it is time for the fans to relax and here is why:
First off, let's relax about Yoan Moncada. Moncada is now batting .184 AVG with a .298 OBP and has struck out 24 times in 57 AB. Many fans are beginning to question the Cuban star if he's going to be the superstar that he's supposed to become. Let's remember a couple of things.
He is 22 years old
He is playing in his first full season of MLB games.
He has played little to no games in the cold weather.
It's understandable why Sox fans are concerned about Yoan Moncada but they need to slow down and take a deep breath. Many all-stars such as Anthony Rizzo, Kris Bryant, Jose Altuve and Francisco Lindor struggled when they first came up to the "Big Leagues." Tim Anderson also struggled when he first came up to the MLB in 2016. Jose Abreu has a history of struggling in the early part of the season.
Despite the struggles that Yoan has had, there are some positives in his performance. Yoan is second in the team in walks with 8. (Matt Davidson leads the team in walks with 9) Yoan is also tied for the team lead in doubles with Avisail Garcia and leads the team with the number of pitches he has seen in at-bats with 229. Yoan has become more patient with his at-bats but the problem that Yoan has been having is being able to commit to his swings. Throughout the season, he will be able to learn to become more committed to his swings and become a better hitter throughout the season. (Just like in the 2017 season)
Second, the offense in general. The White Sox started the season with an exploding offense as they scored 14 runs against the Royals in the season opener. In the second game of the season, the Sox were able to pull a comeback against the Royals as they scored 3 runs in the 8th to come back from a 3-1 deficit and defeat the Royals. After their series in Kansas City, fans have seen a trend with our beloved Sox: Inconsistency.
After the first game in the series vs Detroit, the Sox only scored 1 run in the next 2 games vs the Tigers. (Losing 6-1 on Saturday and 1-0 on Sunday). The team has also been inconsistent with bringing in runs with runners in scoring position.
As a team, the Sox are batting .234 AVG (8th in the AL) with a .324 OBP (7th in the AL) but have left many opportunities to score when they have runners in scoring position. Although the Sox may seem to be struggling with the offense, there are many positives that are going on with the team. The Sox are in the top five in HRs and have 94 hits despite the fact that they've only played 12 games. (To compare, the Cleveland Indians have 92 hits while playing 14 games).
There are also many players who are playing great with the bat such as Matt Davidson (Tied for 1st in the AL in Home Runs and leads the Sox in RBIs with 10) and Yolmer Sanchez (batting .289 with 2 Triples and is 2nd in the team RBIs with 9). Tim Anderson has also been a great surprise as he leads the team in stolen bases with 6 and has a batting average of .267 with an OBP of .327.
Lastly, pitching struggles. The team's pitching has raised eyebrows as the team is last in the AL with a 4.92 team ERA, 3rd in the AL with walks,12th in opponent's batting average with .252 and 3rd in blown saves with 3.
Although the pitching hasn't been performing to its standards, there are some positives to it. First off, Reynaldo Lopez has pitched great. In 2 starts, Lopez has only given up 1 earned run while allowing only 4 hits. Despite the 0-1 record, Reynaldo leads the team in ERA with a 0.67 (3rd best in the AL) and in strikeouts with 11. Bruce Rondon was called up to the Sox on April 8 and has looked impressive. In his first performance, Rondon only faced 4 Detroit batters and struck them all out. Since then, Bruce has not looked back and has yet to have given up a hit, run or walk this season. Giolito's stats may not the best on the team but don't let those numbers fool you. Yes, Giolito has an ERA of 5.50 and leads the team in walks but here's something to think about. This is Lucas's first full season! Lucas has also little to none experience with pitching in the cold which has affected his control. Giolito is 23 years old and he is in his first full season, why should we put so much pressure on the kid? We should consider this season as a learning season for Lucas and rest of the young pitching staff. The pitching will come soon, just a matter of playing the waiting game.
The season hasn't been pleasant for White Sox fans with the team struggles but they need to relax. It's only April and this team is in a rebuilding phase. There will be moments where you'll want to rip your hair out and scream from the top of your lungs with the team's performance but that's part of a rebuild. There will be ups and downs in this roller coaster of a season but we must learn how to enjoy the ride. It may not seem like it now but this is only the beginning of something special. R-E-L-A-X.
OTOGH: Lucroy Out, Darvish In
It is being reported by several sources that the Rangers are accepting offers to trade catcher Jonathan Lucroy. His current stats at the plate are .263/.310/.373. He is one of the best catchers in Major League Baseball, and yet the Rangers have played him as the DH a lot more this season. I reported a few weeks ago that Lucroy was going up on the trading block. One of the reasons he did not wanted to be traded last year from the Milwaukee Brewers to the Cleveland Indians was they were going to put him in a DH-first base role, and he felt like this was the wrong role for him. He is a catcher. The Rangers have been placing him in more DH roles and less catching, especially with Yu Darvish. In Darvish's previous seven starts, Lucroy has only caught Darvish twice, and only the last two starts, perhaps to show off his catching abilities.
This is a mistake. Lucroy is going to command a lot of money, and the Rangers are not going to have the money to make an offer and they will lose Darvish. Lucroy is one of the best catchers and really a missing piece in the Rangers arsenal. The main focus should be bullpen help. I think no matter what happens, you will see the Rangers going after bullpen help. They have already picked up former Blue Jay Jason Grilli.
The other glaring mistake is that while Robinson Chirinos has a great bat right now and is a good catcher, he is also extremely injury prone, and he spent a good chunk of last year on the DL. And while many of his injuries were unfortunate and part of the game, the Rangers do not have a capable backup, and if Lucroy leaves, they are in an extremely worse position. Being a catcher is the hardest position in baseball. The Texas heat tires guys out. With Chirinos going from part time to full time, we will see the batting average drop.
The last road trip was a test to see whether the Rangers were going to be buyers or sellers during the trade season. During the Yankee series, we saw some very good baseball. Even in a loss, Darvish pitched one of his best games, with Lucroy behind the plate. During the Indians series, we saw the bullpen struggle, and while starting pitching was a problem with Cole Hamels and Andrew Cashner, I think it is unfair to evaluate a pitcher coming off the DL. While we are running out of time before serious decisions should be made, I think it is unwise to use the Cleveland series to judge a pitcher's performance coming off the DL. The White Sox series proved that the real problem is the bullpen. And in an interview with Jeff Bannister after the game, the phrase "we've got to find a way to close out baseball games" was repeated numerous times. The Rangers brought in Jose Leclerc, who has done a wonderful job in the shaky bullpen, but he got his first blown save during the White Sox series.
Recently, Michael Young was asked about the team, and he said, "This is a playoff team." Why would this be a significant opinion? Michael Young is a player adviser to General Manager Jon Daniels. I think the Rangers are not just going to sell Lucroy to get rid of him. I see them using him to get more bullpen help, possibly a closer. The Rangers are all in, and I think they have what it takes to make it to the playoffs.
They do have some of the pieces to make it to the playoffs, but they have them in the wrong order, and they are keeping things they need to get rid of.
Keep
Jonathan Lucroy: Great bat and great glove. Extremely knowledgeable about the competition.
Carlos Gomez: Owns center field and has a great bat. Great person to have in the dugout and tons of heart.
Andrew Cashner: Has been a good fit and once healthy will only add to the rotation.
Robinson Chirinos: Put him in the DH role, keeping his bat but not wearing out his body behind the plate full time.
Joey Gallo: Move him to first base and accept that he is going to strike out a lot. But the long balls he will hit will be beautiful.
Toss
Mike Napoli: .193 is his current batting average.
Tony Barnette: Lights out last year, but this year he is one of the most unreliable in the bullpen.
Yu Darvish: The amount of money is too high to keep him, and if the Rangers pay it, they run a huge risk of not being able to afford anymore help, i.e. a closer or other bullpen help.
Feelgood Friday; What is Tim Anderson Going To Buy His Mom?
The White Sox are in a re-build. I would not call it a full re-build because they do still Todd Frazier, Melky Cabrera and others. But, they have done a very smart thing and signed a young cornerstone shortstop in Tim Anderson. He was signed this week to a contract for 6 years $25 million that covers the 2017-22 seasons. Team options for the 2023 and 24 seasons with a $1 million buyout if either option is declined.
The contract is the most lucrative deal ever signed for a player with less than one full year of service time. In 2016 he played in only 99 games with a .283 batting average, 9 home runs, 10 stolen bases and a .738 OPS. Anderson finished seventh in the American League Rookie of the Year voting his six triples were tied for fifth in the AL, and his 33 multihit games tied Jose Abreu (2014) for the seventh-highest total by a Sox player over his first 99 career games. Anderson ranked among the AL rookie leaders last season in triples (T1st), runs scored (2nd), doubles (T2nd), stolen bases (T2nd), hits (3rd), total bases (3rd, 177) and extra-base hits (T3rd, 37).
The actual terms of the contract are as follows; the 23-year-old Anderson will receive $850,000 in 2017, $1 million in 2018, $1.4 million in 2019, $4 million in 2020, $7.25 million in 2021 and $9.5 million in 2022. The White Sox hold club options for 2023 at $12.5 million and 2024 at $14 million. If either option is declined, Anderson will receive a $1 million buyout.
Now with all his new found money he was asked what he was going to buy for his mother. He then explained that he and his mother have a running joke that all she wants from her son is a drink. Anderson said he was going to honor his joke between he and his mother and buy her that drink. Except, the fact that it will be in the cup holder of a new car.
Saber-Metrics Sunday: How Good is Jose Quintana?
Underrated….a word used so often in sports about various athletes and/or teams. In baseball, there are a number of players who put up good numbers that deserve more recognition than they get. Reasons for them being underrated vary; they can be very good players on bad teams that don't get a lot of attention or have really good advanced stats but not the flashy traditional stats. Both these things perfectly describe White Sox pitcher, Jose Quintana.
Quintana (27) has pitched for the White Sox since 2012 and has always put up decent to really good numbers. However, he is known to many as the "Hard-Luck Pitcher," meaning he pitches really well but does not get a win because the team around him has not been good and gives him no run support or the bullpen blows it for him. In fact since 2013, Quintana has 49 no decisions with three of the last four seasons having double-digit no decisions.
Of course, we know that W-L record is pretty irrelevant when it comes to evaluating a pitcher's ability, but for Quintana it doesn't make it less frustrating. When one looks at his actual stats it is pretty clear he is a very good pitcher with a lot of value. The White Sox rebuild plan talks about potentially making another blockbuster deal involving him since his value is so high and they want to get as many top-prospects as possible.
How much value does he have….let's find out!
---
2016
3.56 FIP (7th best in AL) /  21.6% K / 6.0% BB / 0.95 HR-9 (8th best in AL) / 1.16 WHIP (8th best in AL) / 3.62 K-BB (11th best in AL) / 2.16 BB-9 (9th best in AL) / 4.8 WAR (5th best in AL)  in 208.0 IP 
---
Career Totals
3.47 FIP / 6.2 BB% / 19.9% K / 0.80 HR-9 / 1.24 WHIP / 3.20 K-BB / 2.31 BB-9 / 19.7 WAR in 951.0 IP 
---
Career Averages
190.1 IP / 3.52 FIP / 6.3% BB / 20% K / 0.81 HR-9 / 1.25 WHIP / 3.18 K-BB / 2.34 BB-9 / 4.0 WAR
---
Looking at all three lines of statistics, it is easy to conclude he has had a very consistent over his five-year career in the major leagues. His career FIP, 2016 FIP and average FIP are all close together, as is his K%, BB% WHIP and HR-9. So those numbers can for the most part be clumped together in analysis because of his consistency.
His FIP, BB%, WHIP are all considered above average based on Fangraphs advanced metrics ratings. His stats tell us he does an above average job at preventing runs and not allowing walks while having the stamina to go 200 innings every year as a full-time starter. His K% rate is pretty much average, but again…strikeouts can be overrated when compared to ability to prevent runs.
If you put together Quintana's 2016 numbers and look at the rankings, it concludes he is a top-10 pitcher in the AL. Considering the AL is more offensively based than the NL (considering the DH rule mainly), being a top-10 pitcher in the AL is a pretty impressive feat. He had a career best WHIP while pitching a career high in innings (only two more than the year before, but still). He FINALLY got the recognition he deserves as an AL all star after being snubbed many other years because he didn't have the fancy W-L and K stats so many people look for. But who needs pitcher wins when he averages a 4.0 season WAR? And mind you he really doesn't add offensive factors because he is an AL pitcher, its all with the arm. If you think about it, his 4.8 2016 WAR pretty much said he was 5th most valuable pitcher in the AL out of 75 plus starting pitcher in the league.
Will the Sox deal him? Pirates, Astros and Yankees have all expressed interest in him…plus they have farms to make a trade. The Sox could get another flock of youngsters if they deal the underrated/very valuable Jose Quintana.