3-2 Count; Detroit Tigers
The dust has long settled from a tumultuous 2017 season for the Detroit Tigers. With the benefit of hindsight, some questions have clear answers. But with the rebuilding road ahead littered with uncertainty, others do not.
Three Questions: In Hindsight
How great of a return did the Tigers receive for the trades they made?
That depends on the trade you're talking about. For their trades with the Cubs and Astros, they did very well. Justin Wilson and Alex Avila turned into the Tigers' third baseman of the future (Jeimer Candelario) and a candidate to man the middle infield in a few years (Isaac Paredes, MLB Pipeline's #9 overall prospect for the club). Justin Verlander, for all of his loyal service to the Tigers, turned into three great Astros prospects, including Baseball America's #54 prospect Juan Perez (MLB Pipeline's #1 overall prospect for the club) and potential future centerfielder Daz Cameron (Tigers' #5 overall prospect), son of former Major Leaguer Mike Cameron. They fared well in these trades, as they've loaded them well for the future at these positions.
The J.D. Martinez trade with the Diamondbacks, however, is a bit more murky. While they received return for a player they were certain to lose in the off-season, it's debatable as to whether or not it was the best return they could have gotten for the slugging Martinez. Out of the trio the Tigers received, only one (IF Dawel Lugo, #15) registers in the club's MLB.com top 30 prospects list. If Lugo or any of the other two prospects receives becomes an everyday player at the Major League level, then the Tigers win the trade. But this will be harder said than done based on the talent ahead of them.
Was firing Brad Ausmus the right decision?
I think so. Say what you will about the players underperforming and injuries hampering what was once an effective lineup, but there's more to it than that.
Look at the 2014 season. A lineup including a healthy Miguel Cabrera, an effective Victor Martinez, a resurgent J.D. Martinez, and a solid Ian Kinsler, among others. A starting rotation including Justin Verlander, David Price, and Max Scherzer, supplemented by a then-effective Anibal Sanchez and Rick Porcello. An offense expected to carry the team through the playoffs, laden by an ineffective bullpen, found itself out in the cold after the first round at the hands of the Baltimore Orioles.
Throughout his tenure in Detroit there were questionable decisions made by Ausmus that cost the team games. Struggling players and pitchers continued to receive reps in hopes that their struggles would just disappear. When the team looked uninspired he never wanted to lay into them, to light a fire underneath them a la Jim Leyland. It never seemed as though he entirely had the team.
Yes, his hands were tied by albatross contracts that made certain ineffective pieces impossible to move. Yes, he wasn't to blame for the players he had at his disposable. But he did not always do the best with what he was given. There was no future with Ausmus at the helm. It didn't seem as though there was ever going to be. The club was right to move on from him.
Would it have been necessary to begin the rebuild in 2017 if injuries were not a factor? Do you agree with the decision to rebuild?
Injuries played a very minimal part in the rebuild. Yes, Miguel Cabrera was playing hurt most of the year. J.D. Martinez missed the first month of the season. But neither of these were enough to spur the rebuild on their own. Also noteworthy, most injuries occurred late in the season, after the decision to rebuild had been made.
The rebuild was more brought about by players like J.D. Martinez, Justin Upton, and Justin Verlander, among others, showing their capabilities, making them marketable to buyers that could afford them. And the Tigers reaped the benefits. Players of their caliber and position were in-demand for borderline and certain contenders and they capitalized on their needs.
But overall I agree with the decision to rebuild. It was inevitable and it was wise to hit the reset button when they did, as return would have been either lower or (in the case of J.D. Martinez) non-existent had they tarried until the offseason.
Two Questions: The Future
How long will the Tigers have to wait until they are back in the division race?
That's hard to predict at this point. Much of the Tigers' young talent is still at the AA level or below. But there is promise. Arms like Alex Faedo, Matt Manning, Beau Burrows, and Juan Perez look like candidates to fill out the Tigers' rotation for years to come. Jeimer Candelario leads a young crop of fielders and bats including Daz Cameron, Jake Rogers, Isaac Paredes, Christin Stewart, and Mike Gerber. Out of this group the only real bets to appear in the Major Leagues in 2018 are Candelario, Stewart, and Gerber. The rest are at least a year away, if not more.
With the contracts of Justin Upton and Justin Verlander off of the books, the Tigers are no longer in a salary bind with more than $90 million off of the books. After a couple of years the club will be able to take inventory of what positions are covered by in-house prospects and players and which still need to be filled, at which point they can explore the free agent market to round out the roster.
Overall, I see it as about five years until they are a competitive team again, if all takes the ideal course.
What players should be traded for more prospects? Which should be kept as building blocks?
Keep: Nick Castellanos, Jeimer Candelario, Mikie Mahtook, Michael Fulmer, Dixon Machado
Castellanos is the future offensive spearhead of this club. It was evident in 2016 and confirmed in 2017. Candelario is more than capable on offense and can anchor the hot corner on defense with some of the best in the big leagues. Mahtook proved to be a sparkplug akin to 2016's Cameron Maybin, but with more sound defense. Machado is a capable middle infielder with ability to start at either second base or shortstop. And Fulmer is a crown jewel for the club. Injuries proved to be bothersome for the 2016 AL Rookie of the Year but he's still the man to head the young rising rotation for the Tigers in the coming years.
Shop: Ian Kinsler, Victor Martinez, Anibal Sanchez, Jordan Zimmermann
Ian Kinsler is the easiest on this list to move. He's a very solid defensive second baseman who can reach base, score runs, and hit for power. Any borderline contender or contending team in need of an upgrade could take advantage of his services. But this is contingent upon Kinsler waiving his no-trade clause, which is easier now given the direction in which the club is headed.
Martinez, Sanchez, and Zimmermann are all hard sells, both for contract size and recent performance. All come with injury and medical issues from 2017 as well. Martinez has a 14-team market, as he's only able to play as a DH. He's largely immobile on the base paths and does not move well enough to play the field. Along with heart issues, that's a hard package to sell. Zimmermann showed flashes of brilliance, only to be far outweighed by outings of constant hard contact and many runs surrendered. Sanchez looked like his old self down the stretch, but was largely battered around in 2017, enough so that he took it upon himself to return to AAA to hone is craft. Sanchez would be easiest to move out of the bunch given his showings of effectiveness.
On the fence: Miguel Cabrera, Jose Iglesias, Shane Greene
Cabrera is hard to move, largely due to the size of his contract. As well, he is more susceptible to injuries, making him a candidate to become a full-time DH in the near future, limiting his market to 14 teams, like Martinez. His injury history is a tough sell as well. Iglesias is still young and is serviceable to the Tigers with sound defense and mostly reliable offensive production. But prospects working through the system could soon be lobbying to take his place. Greene is only 28 and is the best arm out of the Tigers' bullpen. He could be the team's closer as they look to return to relevance, though other teams may come calling if they need a player of his caliber. Only if the offer is one they cannot refuse should the Tigers listen and consider doing a deal.
NLCS: The Defending Champion Cubs Are In Trouble, But So Are The Dodgers; Here's Why
Survive and advance.
That's an obvious goal of every team that makes it to the playoffs in each and every sport.
The Chicago Cubs defined such goal with a 9-8 victory over the Washington Nationals in Game 5 of the National League Division Series last week in the Nation's Capital.
Right now, the Los Angeles Dodgers have a stranglehold over those Cubs in the National League Championship Series with a three games to none lead.
Obviously, the Cubs are in trouble. Having to win four straight against any team in any professional sport is a tall task, especially when dealing with one of the best clubs in the game, one that ran off an impressive 50-game stretch where they went 43-7 during the summer.
Despite hitting a large speed bump that spanned the dates of August 26th-September 11th where the Dodgers went 1-16, they returned to form at the end of the regular season and haven't blinked. Los Angeles made quick work of the Arizona Diamondbacks in the division series with a three-game sweep and are now handling the Cubs.
So, you might ask, what's the problem with the Dodgers' situation?
I'll tell you.
Of course, they do indeed have the Cubs right where they want them. They're a win away from punching their ticket to the World Series, which would be the organization's first trip to the Fall Classic since the 1988 campaign.
The problem arises when you look over at the out-of-town scoreboard and notice that the New York Yankees have tied up the Houston Astros at two games apiece in the American League Championship Series. That series has essentially become a best-of-three.
With that said, the ALCS will at least go a total of six games, if not seven. The NLCS could top out later tonight with a four-game sweep.
The World Series is scheduled to begin next Tuesday night, October 24th.
The team that eventually advances out of the American League will have a maximum of three days off. If the Dodgers sweep the Cubs at Wrigley Field on Wednesday night, they will begin a full five-day stretch of not playing a game of baseball, something that no team in baseball is familiar with.
The most recent team to have a similar stretch of off days? The Dodgers. Los Angeles had four non-game days after sweeping the Diamondbacks and have yet to show rust against the Cubs, a team that opened their path to the championship series just two nights prior to its beginning. That would qualify as a working counter-argument.
When it comes to the World Series, phew, things change and everything (presumably) happens faster than ever.
The previous five teams to sweep their way through the championship series failed to win the final game of the season. Those teams are as follows: 2006 Detroit Tigers, 2007 Colorado Rockies, 2012 Detroit Tigers, 2014 Kansas City Royals and the 2015 New York Mets.
The '06 Tigers faced the St. Louis Cardinals and were defeated in five games. The Cardinals played in seven championship series' games that fall. The Tigers squeaked out 11 runs on 32 hits and committed a brutal, eight errors in the series. Many of those eight were costly.
The '07 Rockies faced the Boston Red Sox and were swept. The Red Sox played in seven games during the championship series that fall. The Rockies plated just 10 runs on 29 hits in the series.
The '12 Tigers faced the San Francisco Giants and were swept. The Giants played in a total of seven games during the championship series that fall. The Tigers scored a measly six runs on 20 hits.
The '14 Royals faced the Giants and fell in the seventh game of the World Series. It took the Giants five games to advance to the Fall Classic. The Royals' bats were rather hot in the series — the one team that almost snuck away — as they scored 27 runs on 57 hits.
The '15 Mets faced off against the Royals and fell in five games. The Royals advanced after playing in six games during the championship series. The Mets plated 19 runs on 34 hits and committed six errors on defense.
In each of those World Series, the winner of the series played more games in the previous round. Four of those five World Series didn't go further than five games.
Baseball is a game of timing, mechanics and like many other sports, repetition. It's hard to recreate its playoff atmosphere and game speed. After a string of unaccustomed off days, the hottest hitters are more likely to cool with October's numbing nighttime air, pitching grips become less consistent and baseballs become less efficient in travel. Yes, both teams deal with the same conditions, but the one that is able to roll from one round to the next without many days off has the advantage.
Sure, to this point, the Dodgers have taken advantage of their most recent string of off days, but with October waning, that fire becomes more likely to be put out.
Their advantage is being able to play in Los Angeles where the air doesn't thicken as much.
With everything said, by no means am I saying that it's okay to throw a game or somehow think about losing. No, you go and win the damn series. You don't take any chances.
Survive and advance.
It's just a tough spot to be in for any team. Having five days off to playing an opposing team that is able to roll in on fire with almost no break.
At the end of the day, it's kind of similar to icing the kicker in football. Their big moment has finally come and they're set to boot a monster field goal to win, but the opposing coach calls a timeout. Now, the kicker has to step aside, wait and potentially freeze.
Dont be that kicker, Dodgers.
Royally Yours: Free Agency Preview
The Royals will have some key players hitting free agency this off-season. Lorenzo Cain, Eric Hosmer, Mike Moustakas and Jason Vargas will be the biggest free agents for the Royals. The team will have the opportunity to make a qualifying offer to the players before they hit the free agency market. It is rare for players to accept the qualifying offer. Therefore, the Royals will need to decide which players are their priority to keep.
Lorenzo Cain has been a valuable player for the Royals since his first season with the team in 2011. Cain spent his first season in the MLB with the Milwaukee Brewers. In December of 2010 he was traded to the Royals with Alcides Escobar, Jeremy Jeffries and Jake Odorizzi for Zach Grenkie and Yuniesky Betancourt. Cain was a key part of the postseason runs in 2014 and 2015. In 2014 he was named the ALCS MVP. He has an overall postseason batting average of .295. Lorenzo Cain has been an important part of the Royals and he could be a player they try to keep this off-season.
Escobar is another valuable player the Royals acquired in the 2010 Grenkie trade. Escobar was the 2015 ALCS MVP and won the 2015 Gold Glove at shortstop in the American League. He has a career fielding percentage of .976. His most memorable play as a Royal was his inside-the-park home run against the New York Mets in game one of the 2015 World Series. Alcides Escobar has been a valuable player for the Royals but they will likely switch to a shortstop that is stronger on offense.
Eric Hosmer has been one of the best first basemen in baseball throughout his career. He was drafted by the Royals with the third overall pick of the 2008 MLB Draft. He made his debut with the team in May of 2011. He won the Gold Glove at first base for three straight years from 2013-2015. In 2016 he was selected to his first All-Star game and was named the MVP of the game. Eric Hosmer will demand a big contract this off-season and the Royals may try and pay to keep him.
Mike Moustakas also made his debut in 2011 and has been another key player for the Royals. Moustakas was the second overall pick in the 2007 MLB Draft. He made his MLB debut in June 2011, one month after Eric Hosmer. Moustakas is a two time All-Star and competed in the 2017 Home Run Derby. Mike Moustakas is another player that will sign a big contract and it may be hard for the Royals to keep him next season.
Jason Vargas had a breakout season in 2017, which will have an impact on his contract this off-season. Vargas joined the Royals in 2014 after spending his first eight professional seasons with four different teams. In 2017, Vargas was tied for the most wins in baseball at 18. Jason Vargas has been a valuable player for the Royals but they will probably move on this off-season.
The Royals will have a lot of decisions to make this off-season about their players hitting free agency. They will not be able to keep everyone and certain players will be given priority. Next season the team will look very different and the Royals will rebuild with their younger players.
Tribe Take: A Season for the Ages
What an unfortunate ending. The team that holds the new record for a win streak at 22 games had their remarkable season come to a close with a Game 5 loss in the ALDS against the New York Yankees. The Indians, that is. The team that, after coming within one win of a title the season before, and a 100 win season this year, gave fans all the hope in the world that "this is our year." But a rough end to a first round series against the Yanks closed out one of the greatest seasons in MLB history.
After coming off of Sunday's loss up in the series 2 game to 1, the Indians had two chances to finish off the struggling Yankees. But Yankees pitcher Luis Severino, after struggling in the AL Wild Card Game, came out and pitched a gem in Game 4. The 23 year old struck out 9 and allowed 3 runs on 4 hits in 7 innings of work. Rookie sensation Aaron Judge picked up his first postseason hit, a 2 run double, and Gary Sanchez added a homer to force the series to a decisive Game 5 in Cleveland.
With win or go home on the line, "Sir Didi" Gregorius, the man asked to fill the shoes of the great Derek Jeter, stepped up. His 2 home runs off of Indians Cy Young Award nominee Corey Kluber helped the Yankees to cruise to a 5-2 ALDS clinching victory, sending the team with the best record in baseball home.
An unfortunate ending, for sure, but still a season that the fans of the Indians and Cleveland sports as a whole should be extremely proud of. Our team took on adversity, after all the "3-1 blown lead" jokes, and came out and put on one of the best seasons we've seen in The Land. Our rookies and seasonal acquisitions and even the core players themselves all blended into beautiful harmony all year long, giving us something to cheer about; a team to love. This 2017 Cleveland Indians baseball team will never be forgotten, and should be glorified for all the bright lights they shined on the city they call home.
SABERmetrics Sunday: Altuve's Prime
Jose Altuve is quietly one of the best players in baseball, and he now has a chance to win a ring with his team in the ALCS. So far, the 27-year old second baseman has had an incredible career that has arguably been overshadowed by the likes of Mike Trout. He is now entering his prime years and is having as good of a year as he has had so far.
Altuve broke in the majors when he was 21 in 2011 and has won three Silver Sluggers, a Gold Glove and five All-Star nods since. His durability has allowed him to average playing in 154 games a season since his first full-year in 2012. He began as an average-hitting "get on base" guy, and has evolved to an even better "get on base" guy with power. Altuve is the entire package, so, how good is he doing this year? Lets compare his stats from 2011-2016 and look at his 2017.
---
2017
( BOLD = career high and italics = tied career high )
.410 OBP / .957 OPS / 24 HR / 160 wRC+ / 8.8% BB / 12.7 % K / 1.2 UBR / -1.9 UZR / 3 DRS / 7.5 WAR
2011-2016
.354 OBP / .790 OPS / 60 HR (average 10 per season) / 113 wRC+ (average per season) / 6% BB / 10% K / -0.6 UBR (average per season) / -4.8 UZR (average per season) / 18.7 WAR (average 3.1 WAR per season)
---
Altuve's 2017 has not only been better in standard get-on-base categories but he is also more productive overall. All those bolded stats are career highs. He is walking a bit more, hitting for more power and running the bases at a better than average rate. He hit 24 home runs for the second straight year while also reaching the .900+ OPS mark for the second straight year. His defense is not spectacular but he at least is holding up decently while his bat has made him the second-highest WAR player in the American League.
He may not beat Aaron Judge in the MVP voting, but Altuve is certainly having an MVP-type year and is still only entering his prime.
The Pinstripe Post Umm.. Them YANKEES Win AGAIN???
Stated by many prognosticators and people that hate the Yankees for a living, the team was picked to pull up very lame in the AL East. The most forgiving being third.
OK, OK…. Yep the Yankees were "rebuilding." Whatever that means. Obviously a trip to the ALCS wasn't included when the team was studied by the powers that be. Not their fault but they weren't doing EKG's and looking into the HEARTS of this team. No psychologist had them on the couch looking at their motivation or how they would click as teammates and become part of something better.
This team has risen like a Phoenix. From the flames of earlier in the season when they couldn't win a series and many doubted. Discounted. Gave up a lead in the east to a team that we dominated. Would that get them down? Nope. They battled back, didn't give up, and earned the wildcard berth.
What team staves off FOUR elimination games and survives? I'd love to see the Vegas odds on that. Their best hitters being essentially quieted but others picking up the slack? Didi who… replacement for you know who … A fan favorite for MVP? Pitchers doing what they needed to do in spite of being unsuccessful previously? A manager who was highly criticized making magical decisions? No. It's all a dream.
I just woke up from it and see that the NEW YORK YANKEES are indeed in the 2017 ALCS. Contrary to what early season "experts" thought. Contrary to what I thought. And to have watched the boys evolve, gel as a team and have their dreams come true is precious. And the best thing is that nothing was expected. It's FUN!!! Baseball has become fun again and it's not just about winning. It's seeing this team evolve and have fun in the process.
It's not over. Magic is coming to the Bronx. Magic. Don't miss it.
District Dugout: GAME 5 IN D.C.- What To Look For In Tonight's Do Or Die.
The Washington Nationals are one game away from their first NLCS appearance in franchise history. After being the first team to clinch their division during the regular season, Washington has forced a game 5 at home against the reigning World Series champion Chicago Cubs. The path to game 5 hasn't been easy, Washington faced elimination during game 4 at Wrigley Field yesterday. However, ace Stephen Strasburg, fighting the flu went out and pitched a gem; going 7 innings allowing only 1 hit and striking out 12 batters, a franchise post season record. Stras was electric in the start but Michael A. Taylor was the deciding factor in the game.
Four runs with one swing in an elimination game?

You can't ask for more: https://t.co/g24EWOCIF7 #PapaSlam pic.twitter.com/K3Gp8hTBxF

— MLB (@MLB) October 11, 2017
//platform.twitter.com/widgets.js
With Washington's offense again sputtering Taylor was able to deliver the door slamming hit that would send both teams back to the Nations capital. An 8th inning grand slam by the young center fielder was easily the biggest swing of his career and arguably of the Nats season, competing with homers from Bryce Harper and Ryan Zimmerman earlier in this series. Washington can break through and advance with a strong showing that results in a win tonight. Lefty Gio Gonzalez takes the mound for the Nats tonight opposed by Cubs starter Kyle Hendricks who helped blank the Nationals in game one. Tonight will be must see baseball in D.C. Here is what to look for tonight at Nats Park.
The offense: Washington is struggling at the plate hitting under .200 for the series, and is having issues manufacturing runs outside of hitting long balls. Manager Dusty Baker has not made any changes to his lineup outside of shuffling the order, which last night again did nothing prior to the 8th inning. Jayson Werth inexcusably will be hitting second for a second day in a row, Werth who has managed to not hit at all since his return from the DL will once again face right handed pitcher Kyle Hendricks, a task he has not been able to handle well. Over the past three years Werth is managing a sorry .211 average against right handed pitchers and somehow he finds himself in the top third of the order. Assuming he again looks lost the remainder of the batting order will need to step up and produce. A one or two hit game will not get it done tonight and the Nats will need key players like Daniel Murphy who for a second straight season finished second in the NL batting title and former MVP Bryce Harper who will command 450 million next off-season to get back into form and provide some quality base hits to get this offense jump-started.
Trea Turner: Turner is in the second Post-Season series of his career and has looked small in the big moment. Turner has been Washingtons lead-off hitter since his call up to the big leagues and gives opponents headaches when he is on base. The problem is he hasn't been on base much this series. Before last night Turner had not reached base once and was an easy out for the Cubs. Turner got his first hit and was able to draw two walks in the game 4 win and will need to do more of the same tonight. Should Turner get on base this evening he will make life for hitters Jayson Werth and Bryce Harper easier, his speed and base stealing ability is key to Washington stringing runs together. A solid game from Turner on the bases could be the difference in what has been a close series and could be the key for the next series should Washington manage to get there.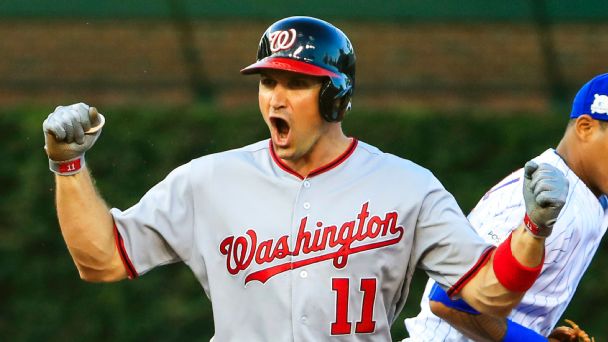 Pitching: A heroic effort from Stephen Strasburg extended his teams season, now its time for his team to pay him back. Lefty Gio Gonzales will start tonights game and will need to have a strong showing. I fully do not expect Gio to take his start past the 6th inning so his fist 5 or so need to be his best of the season. Gio's biggest task will be handling the two headed monster that is Kris Bryant and Anthony Rizzo  early in the lineup. Another duo to look out for is that of Max Scherzer and Tanner Roark, who both will more than likely pitch tonight. Roark who was slated to pitch in game 4 was scratched once Stras made it known he wanted the ball. Roark has come out of the bull pen before and will probably be the first receiver used should Gio struggle early and if he can start sharp he may go multiple innings in an attempt to be the game 5 hero. Max Scherzer who took a no hitter into the 7th during game three has said he's ready to go an inning or two if needed, and based off how these games have gone he will be used in later innings. Max will be a shot in the arm for the Nationals with his high intensity and Cy Young caliber stuff. If there is a small lead for either team Max will be called upon to make sure the Cubs aren't able to run away with it.
Washington has a good chance to extend their season once more and will be supported by a pack house in D.C. tonight. If the bats are able to come alive and the Pitching can shut the Cubs down Washington will be celebrating the biggest Curly W in franchise history. First pitch will be thrown at 8:08 p.m. on TBS.
Top 10 Thursdays: Top 10 MLB Catchers Today
So, with the season coming to an end, it's time to look ahead to the upcoming off-season. To do that, we're going to break down the top 10 players at each position over the next several weeks. I'll start with the position I played my whole life- the catchers. These guys play one of the most critical positions in all of sports. I used a model by CBSSports.com, then came up with my own list. Here are the 10 best catchers in baseball for the 2017 off-season and I will start with number 10 all the way down to the best.
Francisco Cervelli- Pittsburg Pirates
Francisco Cervelli's follow-up to his breakout 2015 seasons didn't go quite that well. Hit .264/.377/.322 (90 OPS+) in 2016 while missing time with a hand injury, and also threw out only 19 percent of attempted base-stealers. 2017 was an injury played season but the pitch-framing numbers still love him though, and with a healthy hand in 2018, the Pirates backstop should return to being a solid catcher who plays with a ton of energy.
Contract Status: Cervelli is signed with the Pirates for 2 more seasons for a total of $22 Million.
Yadier Molina- St. Louis Cardinals
This has personally been my favorite player to watch when I played. I always watch videos to almost copy-cat his catching style. Two years ago it seemed Yadier Molina's days as an elite catcher had ended. The longtime Cardinals backstop authored an 80 OPS+ at the plate in 2015, his worst offensive season in a decade, and he did it during his age 32 season, when many catchers begin to decline. Especially catchers who have been workhorses like Molina.
In 2016, Molina rebounded to hit .307/.360/.427 (110 OPS+) with 38 doubles and eight home runs, which answered any questions about his possible decline. He also remained a top of the line pitch-framer. Interestingly enough, last season was Molina's worst at throwing out base-stealers. He threw out only 21 percent, far below his career 42 percent rate. Runners stole more bases against Yadi in 2016 (67) than they did in 2014 and 2015 combined (60). But Yadi came back down to earth in 2017 hitting .273/.312.
Contract Status: Yadier has made $94, 998,500 all with the Cardinals since 2005. He is signed with the Cardinals for 3 additional years at $30,000,000 per year.
Wellington Castillo- Baltimore Orioles
Castillo had his best season yet since coming into the league in 2010 with the Cubs. Castillo never had a fair shot with the Cubs and was bounced around to the Seattle Mariners, to the Arizona Diamondbacks, and now has found a home in Baltimore. Castillo hit .282/.323/490 for Baltimore and was their most consistent hitter with improved game calling, with better defensive skills. Let's see if Castillo can be consistent in 2018 to cap off a great 2017 season.
Contract Status: He made $6 Million last year with Baltimore and has a $7 Million player option for the 2018 season.
Jonathan Lucroy- Colorado Rockies
Injuries hampered Jonathan Lucroy back in 2015, though he rebounded very well in 2016, hitting .292/.355/.500 (123 OPS+) with a career high 24 home runs. He was good with the Brewers and Rangers (121 OPS+) before being traded to the Rockies at the deadline, where his performance ticked up (128 OPS+) despite being thrust into a postseason race. Like Posey, Lucroy grades out as an excellent pitch-framer and has also thrown out close to 40 percent of attempted base-stealers the last few years. The league average is 28 percent. Lucroy did have a disappointing season and is looking for a new team for next season. I believe he will bounce back with any team that signs him this off-season.
Contract Status: In his 7 year MLB career he has made a total of $15.9 Million. He is a free agent for the upcoming 2018 season.
J.T. Realmuto- Miami Marlins
The Miami Marlins had another disappointing season 2017 but another position player has been developed in J.T. Realmuto. Realmuto is another Johnathan Lucroy kind of catcher with great game calling and defensive skills. From the past couple of seasons, the bat has gotten better and better. Realmuto hit .278/.322/.783 which isn't the greatest but this is a player very much underrated that can be on a different team by the 2018 season. Realmuto will only get better as a player in the next coming years.
Contract Status: Made $562,500 in 2017 with the Miami Marlins. Arbitration Eligible in 2018, free agent in 2019.
Yasmani Grandal- Los Angeles Dodgers
Dodgers' catcher Yasmani Grandal doesn't get enough credit for being one of the game's top catchers, probably because he doesn't hit for a high average. His 27 home runs led all full-time catchers in 2016, however, and he drew enough walks to put up a .228/.339/.477 (121 OPS+) overall batting line. Add in outstanding pitch-framing and a league average arm and you've got yourself a sneaky good backstop.
Contract Status: Made $5.5 Million with the Los Angeles Dodgers in 2017. Arbitration Eligible in 2018, free agent in 2019.
Gary Sanchez- New York Yankees
Normally, ranking a player with only 55 big league games under his belt among the top 10 players at his position is unheard of. Then again, most players don't come up and club 20 home runs in one-third of a season — at a position as demanding as catcher, no less — like Yankees youngster Gary Sanchez did a year ago. Sanchez has long been a top prospect with big power potential. Add in a cannon arm and it's entirely possible Sanchez will still be atop our catcher rankings list in a year or two. The offensive in 2017 was as good as advertised hitting .278 with 33 home runs. The defense was compromised in 2017, but with a few mechanical issues
that will be resolved this off-season, Sanchez is still in the top-5.
Contract Status: Made $557,900 with the New York Yankees in 2017. Arbitration Eligible in the 2020 season not a free agent until 2023
3. Salvador Perez- Kansas City Royals
On paper, Royals catcher Salvador Perez doesn't do much well. He has power, swatting 43 home runs over the last two years, but he's been a below-average hitter overall (89 OPS+ in 2016 and 2017) and the defensive stats say he is just okay behind the plate, if not below-average. And yet, the whole is greater than the sum of the parts. Perez definitely seems like someone who would benefit from a "works with pitchers" stat.
Contract Status: Signed with the Kansas City Royals until 2021 with $48.3 Million left on his current contract
2. Willson Contreras- Chicago Cubs
This was tough because Contreras and Salvador Perez are almost the same kind of catcher but Contreras is the one that has been improving year by year. Two years ago Willson Contreras broke out as a top catching prospect, and when he reached the big leagues in 2016, he put up a .282/.357/.488 (125 OPS+) batting line with 12 home runs in 76 games while also seeing time in the outfield. In 2017, had a .276/.356/.855. But was a major key to Joe Madden's line-up, silicifying the clean-up spot. Both his caught stealing rate (37 percent) and pitch-framing metrics were better than the league averages too. Contreras shared time with David Ross and Miguel Montero behind the plate last summer. He's now poised to take over as the No. 1 catcher for the Cubs for a long period of time.
Contract Status: Made $544,500 in the 2017 season with the Chicago Cubs. Arbitration Eligible in the 2020 season not a free agent until 2023
Buster Posey- San Francisco Giants
Although the 2016 season was Buster Posey's worst offensively, 2017 was a resurgence year for Posey. He was still a force and far better than the league average catcher, hitting .288/.362/.434 (112 OPS+) with 33 doubles, 14 homers, and nearly as many walks (64) as strikeouts (68). On top of the offense, he also grades out as an exceptional pitch-framer, and over the last two seasons he's thrown out nearly 40 percent of all attempted base-stealers. Posey will turn 31 in March and is still very much a dominant two-way presence at the catcher position. He remains the cream of the crop and the Giants owe much of their success in recent years to him.
Contract Status: Signed through 2021 with the San Francisco Giants for $21.4 Million per season
MLB Off-season 3-2 Count; Minnesota Twins
Baseball was a whole lot more fun for Twins fans in 2017 than 2016. A year after being literally baseball's worst team with a whopping 103 losses, the Twins bounced back to reach the postseason, only to fall short in the Wild Card game.
Now we come to the off-season. But for fans, and especially for baseball writers, there is no off-season. As we wait to once again hear the crack of the bat in March, there is so much to do. So much speculation and rumors, so many hiring and firings and so many trades and free agents. Therefore, all the MLB writers from cleatgeeks are going to start the off-season with their favorite teams in a 3-2 count and try to predict and ponder if they strike out in the off-season or get on base.
THE 3 ……..
1) What does making the 2nd Wild Card team do for this franchise? Hopefully it speeds up the timetable of recovery to being a challenger to the Indians in the AL Central. A year ago, this team looked like it could be many years away from relevancy, but they made up ground in a big way.
2) Should Paul Molitor be Manager of the Year? Why? With three teams winning 100 games, plus the Indians making such a run in the last part of the season, it's hard to rank Molitor ahead of all of those skippers. But he no doubt has done a heck of a job in a pretty short time.
3) What disappointed you most about the 2017 Twins season? It gets old seeing the Yankees end the Twins' season, as has happened on occasion before. Even though this wasn't your dad's or even your big brother's Yankees – as they were kind of an upstart themselves after a poor 2016 – it still stings to lose to those guys.
NOW THE 2……..
4) Did this season make you just chomp at the bit for next season? Why or why not? If they could start playing tomorrow I'd be excited. It honestly took a little of the fun of baseball away to see my favorite team be so terrible in 2016. Now it's much more interesting, and maybe a chance to give Joe Mauer one or two more runs at it as his career starts to wind down.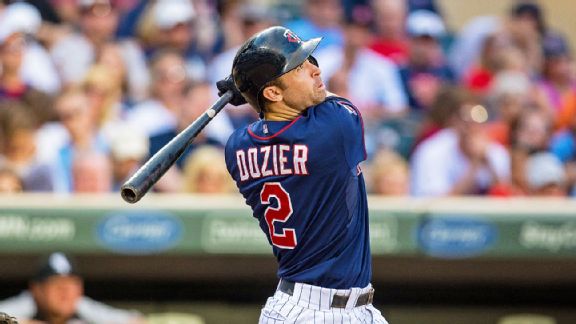 5) Keeping with the 3 and 2 theme; Give me the 3 untouchables this team should build around, and the 2 players you would like to see them either trade or let go if they are free agents? Why? Brian Dozier is just a solid hand to have around, makes things happen and is one of those glue guys. And obviously Mauer has been probably the most identified player with the franchise since Kirby Puckett three decades ago. Pitching is always at a premium on any roster. This team had a number of guys like Ervin Santana and Brandon Kintzler step forward in a big way this year but it's hard to feel like they can all repeat it. So find some money to spend on an arm or two and see if you can keep up with the Indians, a tall order, but it's the challenge that's there. And while you'd hate to see anyone go, there could be some value in moving a Brian Castro or even a Miguel Sano.
What the Red Sox Need to Win Next Year
New year, same story. The Boston Red Sox have been eliminated in the 2017 playoffs. It's like déjà vu all over again. At least this year they took one game at home before being bounced from the first round. The MLB playoffs roll on, and I'll continue to watch, but my heart will no longer be in it. While fans of the seven remaining teams cheer on their ball club, I am forced to join the hoard of baseball enthusiasts whose teams didn't even have the chance to play in October this year. As with many of them, I will turn my attention forward to next year, since my home team evidently won't be the last ones standing.
But before that, I would like to wind the clock back to April 3, 2017, opening day of the season. I watched the first game of the season at Fenway. I spent the game sitting next to a friend of mine who is a Yankees fan and talked his ear off all afternoon about the 2017 Rookie of the Year, Andrew Benintendi. I don't think I had ever heard the name Aaron Judge at that point. Rick Porcello earned the opening day spot by winning the 2016 AL Cy Young. It appeared he wouldn't be headlining the rotation this season, because for the second consecutive year, Dave Dombrowski acquired the best free agent starting pitcher on the market. For 2016, it was David Price, whose debut season in Boston left fans demanding more. For 2017 it was Chris Sale, the lanky lefty whose lowest Cy Young finish since he broke into the White Sox starting rotation in 2012 was sixth, but he hadn't yet managed to take home the trophy. With two pitchers who had previously won the award and one who hadn't yet, but was bound to soon, the Red Sox rotation looked like a 3-headed monster that no offense could slay.
Fast Forward to the 2017 ALDS. If you had told me on April 3rd, that the Red Sox would be playing the ALDS, I would've agreed and further informed you they'd be playing in the ALCS and the World Series, too. If you had gone on to tell me that Chris Sale's ALDS game 1 start would be followed up by Drew Pomeranz, then Doug Fister, I would've asked what tragic accident the rest of the pitching staff died in, and how can we stop it? The starting pitching, however, is not the area in which the Sox need much improvement. Sale was one of the most dominant pitchers in baseball until the last month of the season. Elbow injuries stunted Price's season, but I strongly believe 2018 will be the year he puts it all together in Boston. He had a fire lit under him coming out the bullpen at the end of the year, and if he can keep that cooking like the eternal flame, he will return to the David Price of old. After an abysmal start to the season, Drew Pomeranz turned it all around and ended up tying Sale in wins. Nobody expects Porcello to repeat his 2016 performance, but everyone is praying he doesn't repeat his 2017 disaster. A happy medium would be acceptable. The fifth spot in the rotation is up in the air, as several options suffered from injury over the course of the season, and may not be decided until next year's spring training.
Adding power won't solve all problems for the Red Sox. They had David Ortiz in one of his best seasons in 2016 and still didn't make it past the first round.
The most important problem the Red Sox need to address is adding a power bat to their lineup. It was no secret that losing David Ortiz would have a negative impact on their offense. And while this year's deficit in power can't be completely attributed to Big Papi's retirement, the 2017 lineup didn't look too much different from 2016's apart from losing Shaw and gaining Nunez and calling up Devers. The 2016 team combined for an .810 OPS while the 2017 squad managed just .736. Six members of the 2016 team had an OPS of over .800, with Ortiz headlining the group with an impressive 1.021. This year, only Mookie Betts snuck over that .800 mark with an .803. With a regress in offensive performance from last year's top performers: Mookie, Jackie Bradley Jr, Xander Boagaerts and, Hanley Ramirez, plus an injury plagued season from Dustin Pedroia, someone (or more) is going to need to come, and someone (or more) is going to have to go.
Dombrowski went big the last two years in the off-season to provide what the Red Sox needed. The best power hitting free agent this season is J.D. Martinez. He was an All-Star in Detroit, but turned his production up to the next level once he was traded to Arizona mid-season, crushing 29 home runs in only 62 games. Another free agent option is the Royals' Eric Hosmer, who could potentially replace free agent Mitch Moreland if the Red Sox choose not to re-sign him. The Royals' 3-time gold glove winning first baseman improved his power last year with an .882 OPS. There's one man about whom talks of departure from his team have been circulating the rumor mills. I'm talking about MLB's 2017 home run king, Giancarlo Stanton. The hardest hitting man in baseball could be lured away from the Marlins, but it would come at a great price. Say goodbye to many of your favorite players and probably half our draft picks for the next few seasons, but if the Red Sox don't at least go after him, others will and there are only a handful of teams that can afford to take on his 12 year $325 million contract, of which he's only just finished year 3. One of those few teams is the Yankees, who would be pairing Stanton with Judge in the heart of their order drawing self-evident comparisons to Ruth and Gherig.
Adding power won't solve all problems for the Red Sox. They had David Ortiz in one of his best seasons in 2016 and still didn't make it past the first round. It will be a tremendous step back in the right direction, coupled with a (hopeful) return to form of the offensive production of the Red Sox outfield and middle infield. This Red Sox team didn't live up to some inflated pre-season expectations, but if moves are not made to further improve the team, they'll be destined to a purgatory where they are perennially eliminated in the ALDS, at best.