Jeter Has $9 Million Reasons To Cut Marlins Payroll
The Miami Marlins were recently purchased by an investment group that included Derek Jeter. That group then named Jeter Chief Executive Officer of the Marlins after they were approved by MLB to purchase the club. The Jeter lead Marlins wasted little time cutting payroll. First, they traded Dee Gordon to Seattle for 3 minor leagers and international bonus slot money. In so doing, they were able to dump his 3 year almost $40 million dollar contract which has a 4th year of either a $14 million team option or a $1 million buyout. They then replaced Gordon with Starlin Castro but in the same deal gave up a guy named Giancarlo Stanton. A couple weeks later, the Marlins also traded away Marcell Ozuna to the St. Louis Cardinals for 4 minor leager. Ozuna is in his 2nd year of arbitration. He made $3.5 million last year in his 1st year of arbitration and is more than likely going to get a hefty raise. He becomes a free agent in 2020 and is represented by Scott Boras. With those 3 moves the Miami Marlins now have an expected payroll of well under $100 million dollars.
They finished 2nd in the division last year, and before all the trades, most people thought the Marlins were in a position o add a couple players and compete for a Wild Card spot in the National League. In a division owned by the Washington Nationals, but the division also does not have any other team making significant off-season moves. Therefore, was it really a smart business decision to cut the Marlin's payroll?
We may have the answer for you, and it too involves CEO Derek Jeter. According to Barry Jackson of the Miami Herald Jeter will make $9 million dollars in bonuses over the next 5 years if the Marlins are profitable in each of those 5 seasons. His bonus structure is broken down this way; $2 million in 2018, $1,7 million in 19, $1,1 million in 2020, and $2 million in both 21 and 22. Jeter, who makes an annual salary of $5 million before any of the previously bonuses, already raised some eyebrows with the team not only cutting payroll, but in the process cutting some long time Marlins.
But, I really don't see a problem rewarding your CEO if your company turns a profit. Tons of companies do the same thing every year. Some, even reward their CEO's every quarter rather than just once a year. It is the way business is done. CEO's make their investors money, therefore in return the inventors then reward the CEO of the company. This process promotes sustained financial growth and profit. We as fans want our teams to win, investors believe winning is making money.
20 Facts You Might Not Know About Roy Halladay
Why did we decide to go with the number 20 in our tribute to the life of Roy Halladay? We wanted to give you one fact for every shutout that Halladay pitched in his career.
1)Born in Denver, Colorado, Halladay grew up in the suburb of Arvada; his father was a pilot for a food-processing company, while his mother was a homemaker. Roy Halladay died in a plane crash in the Gulf of Mexico on Novenmber 7th of this year. He was the only person in the plane.
2) After trying almost every position on the baseball field Roy settled at the tender age of 13, that the mound was where he felt the most comfortable. Thus, he began training with Colorado baseball guru Bus Campbell, who has helped almost every promising pitcher from the Denver area, including Goose Gossage and Brad Lidge.
3) Halladay was selected by the Toronto Blue Jays in the amateur draft, in the first round, as the 17th overall pick. He was promoted to the major-league club as a September call-up in 1998.
4) On September 27, 1998, Halladay made his second career start against the Detroit Tigers on the final day of the 1998 season. Why is it significant? Halladay would have had the third no-hitter ever pitched on the final day of a regular season broken up with two outs in the ninth when Bobby Higginson hit a solo home run. It was the only hit Halladay allowed in the game, the Jay's won the game 2-1 which was his first ever career win.
5) During the 2000 season, Halladay sported a 10.64 earned run average (ERA) in 19 games, 13 of which he started, making his 2000 season the worst in history for any pitcher with at least 50 innings pitched. Halladay was optioned to Class A Dunedin Blue Jays to rebuild his delivery.
6) Just two years later in 2002, Halladay had a breakout season, finishing with a 19–7 record, while posting a 2.93 ERA with 168 strikeouts in 239.1 innings. Halladay was named to the American League All-Star team.
7) Halladay continued his success in the 2003 season, posting a 22–7 record with a 3.25 ERA in 266 innings. Where he accomplished many cool stats. First he had 204 strikeouts with only 32 walks. Halladay also pitched the first extra-inning shutout in the major leagues since Jack Morris in Game 7 of the 1991 World Series, leading the Blue Jays to victory over the Tigers on September 6. In the game he pitched 10 innings and had not allowed a hit until Kevin Witt doubled with two outs in the top of the eighth.
8) On July 8, Halladay's leg was broken by a line drive off the bat of Kevin Mench left fielder Kevin Mench.
9) In 2008, three of his nine complete game efforts resulted in losses due to Toronto's underachieving offense early in the season. In fact, those three complete game losses came in three consecutive starts.
10) On June 20 2008 against the Pittsburgh Pirates, Halladay was struck in the temple by a line-drive off the bat of Nyjer Morgan. The ball caromed off Halladay's head and was caught by third baseman Scott Rolen, ending the inning. Halladay was able to walk back to the dugout, but was taken out of the game for safety concerns.
11) In his last start of the season, he fittingly pitched a complete game against the Yankees to win his 20th game of the year. In so doing, he became the first pitcher to win five games against the Yankees in a single season since Luis Tiant in 1974. Halladay also became just the fourth pitcher in major league history to post two seasons of 200 strikeouts and fewer than 40 walks.
12) On April 6, 2009, Halladay made his team-record seventh straight Opening Day start for Toronto, defeating who else, but the Detroit Tigers.
13) On December 15, 2009, the Blue Jays traded Halladay to the Philadelphia Phillies for minor league prospects Travis d'Arnaud, Kyle Drabek, and Michael Taylor.
14) Halladay made his first postseason start in Game One of the National League Division Series, as the Phillies squared off against the Cincinnati Reds. Halladay threw a no-hitter, giving up only one walk (to Jay Bruce in the fifth inning) in a 4–0 victory. Halladay's was only the second postseason no-hitter in Major League Baseball history, and the first since Don Larsen's perfect game in the 1956 World Series. He threw only 104 pitches. Halladay become the first pitcher in Major League history to throw a perfect game and a no-hitter in the same season.
15) In  250 2⁄3 innings pitched, Halladay finished the 2010 regular season with a 21–10 record and a 2.44 ERA, setting a career high with 219 strikeouts while issuing just 30 walks. He led the National league in wins, innings pitched, and complete games (9), including 4 shutouts. He became just the seventh pitcher in the history of Major League baseball to pitch 250 or more innings with 30 or fewer walks, the first pitcher to do so since Grover Cleveland Alexander in 1923 with the Chicago Cubs.
16) On May 29, 2010, Halladay pitched the 20th perfect game in MLB history, against the Florida Marlins in Miami, retiring all 27 batters and striking out 11, allowing no hits, runs, walks, or errors. This was the first time in the modern era that two pitchers (Dallas Braden of the Oakland A's and Halladay) had thrown perfect games in the same month and that multiple perfect games had been achieved in the same season.
17) On December 9, 2013, Halladay signed a ceremonial one-day contract with the Blue Jays and announced his retirement from baseball due to injury.
18) Prior to and during each start, Halladay had a distinct trademark in which he went into a complete "isolation mode", immersing himself in complete concentration and in more or less his own words: To plan every pitch he would pitch while on the mound. During this time, he would not talk to anyone except the manager or the pitching coach. He would not even reply to a "hello" or wave from a teammate or spectator, nor talk to the media until he had been relieved or had completed the game.
19) His nickname, coined by Toronto Blue Jays announcer Tom Cheek, was a reference to Wild West gunslinger "Doc" Holliday.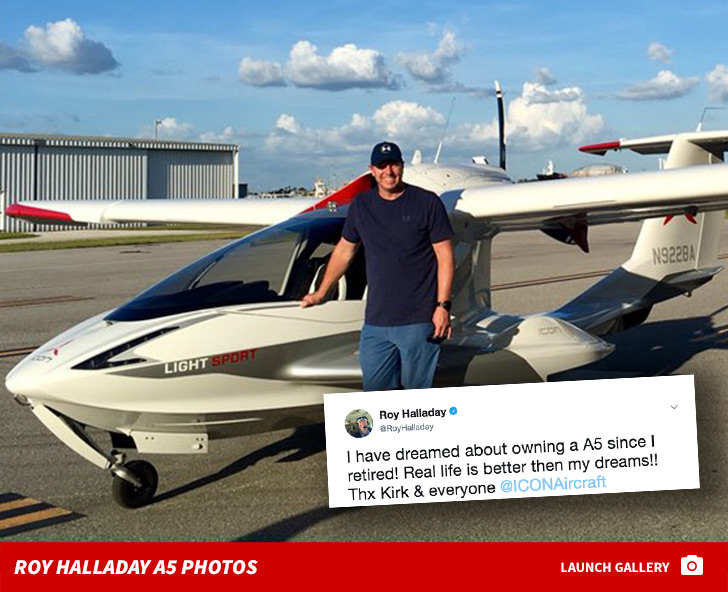 20) On November 7, 2017, Halladay died when the new 2018 model ICON A5 amphibious aircraft in which he was flying crashed into the Gulf of Mexico. Halladay is presumed to have been piloting the plane, given that he is reported to have been the only person onboard at the time of the crash. The crash was reported to have happened about 10 miles (16 km) off the coast of St. Petersburg, Florida in water 6 feet (1.8 m) deep. The Pasco County Sheriff's Office Marine Unit responded to the accident after a call at noon, reporting a sport plane having crashed upside down into shallow water. The plane was reported to be Halladay's, and he had tweeted in the past about his excitement about acquiring the plane, which was reportedly registered in the name of Halladay's father, a retired commercial pilot. He was 40 years old.
BONUS FACT: On August 24, 2010, to commemorate his perfect game, Halladay presented around 60 Swiss-made Baume and Mercier watches he had purchased to everyone in the clubhouse. The watches were presented in brown boxes that bore the inscription: "We did it together. Thanks, Roy Halladay." Additionally, the back of each watch was engraved with the date of the game, the line score, and the individual recipient's name.
Everyone @cleatgeeks sends all of our love and thanks for the great memories that "Doc" left behind. We also want to bow our head and say a prayer for all his family, friends and fans in this difficult time. We will miss you, and with this we celebrate you.
A Baseball Field Turned Into The Worlds Largest Twister Board
I hope Nick Baker gets some sort of bonus for this. Who is Nick Baker? He is the head groundskeeper for the St. Paul Saints. Well, who are the St. Paul Saints? They are a minor league baseball team in the American Association of Independent Professional Baseball. And since you have never heard of either this man, the team he works for, or the Association they all are apart of, they have to do wacky, creative events to get people to come and see their product.
On Tuesday, August 22nd the Saints accomplished just that. CHS Field was turned into the largest Twister board ever as fans had the opportunity to partake in the World's Largest Game of Twister following the evenings contest between the Saints and the Wichita Wingnuts. Following the game on Monday, August 21, Baker, his crew and the Saints staff had a long night creating the board from foul line to foul line on the outfield grass, beginning at the end of the dirt of the infield and going all the way to the warning track. The board was a total of 76,475 square feet, consisting of 70,896 colored squares which were 7 inches in diameter, the exact size they appear on the game board.  In all there were 17,724 of each colored circle. The game on the 22nd was be played on the Twister board and then, following that evening's 7:05 p.m. contest, all fans in attendance, along with Saints players, came down onto the field to partake in the World's Largest Game of Twister. The video below is a really cool timeline on how long it actually took for the field to be transformed, and how it was accomplished.
Take a bow, St. Paul Saints. You might have put together one of the most impressive ballgame promotions ever.
The Saints wound up losing to the Wingnuts, 8-3, after the game the fans, and some players got to come out onto the field and participate in the largest game of Twister, and that is an experience none of them will ever forget. And honestly, the best promotion of fan participation I have ever seen.
Red's Greene to Make Pro Debut as DH?
The highly anticipated professional debut of Reds two-way prospect Hunter Greene happens today. Greene was selected #2 overall in the 2017 June MLB Draft. He was both a pitcher and a shortstop for Notre Dame High School in Sherman Oaks, California. But he will make his pro debut as a Designated Hitter in tonight's game.
He will make his pro debut for the Billings Mustangs of the Pioneer League for Tuesday's game versus the Idaho Falls Chukars, MLB.com's Jonathan Mayo confirmed on Monday. The news was first reported by Scott Breen of Montanasports.com.
In the afore mentioned June MLB Draft Greene, was selected by the Reds No. 2 overall he currently ranks #21 on the Top 100 Prospects list. He made the hearts of Red's fans skip a beat as he signed just hours before the signing deadline. But, when he did so, he received a record $7.23 million signing bonus.
How Do The Reds Plan to Use Greene?
Greene, who turned 18 on Sunday, is one of the most intriguing prospects in recent memory because of his skills both at the plate and on the mound. He has reportedly been clocked on the radar gun over 100 mph with his fastball and was a career .337 hitter throughout four high school seasons. While Greene projects to be a pitcher in the long-term, the Reds plan to have him split time at DH and shortstop until his scheduled pitching debut which the Red's already have planned out for Aug. 27th.
Greene, who turned 18 on Sunday, is one of the most intriguing prospects in recent memory because of his skills both at the plate and on the mound. He has reportedly been clocked on the radar gun over 100 mph with his fastball and was a career .337 hitter throughout four high school seasons.
The 6-foot-4, 210-pound Greene has been taking batting practice with the Mustangs and told Breen he's been ramping up his throwing in bullpen sessions as well.
First pitch for his professional debut on Tuesday is scheduled for 9:05 p.m. ET (7:05 local time) at Dehler Park in Billings, Montana. For those of you who were wondering, his pitching debut is also a home contest set to begin at 6:05 p.m. ET on the 27th.
But what does Greene think about how the Red's are planning on using him? Well, here is a quote from the dual threat star, "Not just being limited to pitching, but also being able to hit and contribute to the team is also pretty cool," Greene told Montanasports.com.
I think it is safe to say everything is thumbs up from Greene's perspective.
Tiger Time: Prospect Pipeline
For the first time in what feels like an eternity, the Detroit Tigers have some pieces to be proud of in their farm system.
With the release of the latest Baseball America's mid-season minor league prospect rankings, it was revealed that three Tigers farmhands made the list, something that also hasn't happened for seemingly an eternity. But even outside of the top 100 there is reason to be excited about some of the young names developing in the wings.
Let's take a look at some of the names you should know.
Top 100 
Alex Faedo, RHP (#53)
MLB Pipeline Ratings
Fastball: 60
Slider: 65
Changeup: 50
Control: 50
Overall: 55
The 18th overall pick in this year's MLB draft, Faedo already looks like the Tigers #2 starter of the future to slot right alongside resident ace Michael Fulmer.
The big righty (6'5″, 225 pounds) was a force for the University of Florida's national championship team this past season, posting an ERA of 2.89 while holding opponents to a .223 clip. For his career at Florida (three seasons) he posted a 26-6 record with a career ERA of 3.09, striking out 298 batters while opponents managed to hit just .229 against him. His control is impeccable, issuing only 67 walks over his three collegiate seasons.
He brings a solid fastball to the table, topping out in the range of 92-95 mph with sinking movement as the season wore on for Florida. His out pitch is his slider, which has been considered one of the best that scouts have seen at the college level in some time, providing a lot of movement with an 87 mph bite. His changeup and control rate on the lower end, leaving him room for improvement on his command. At 21, to already be your organization's top prospect is a lot of hype and pressure. Fans will wait with bated breath to see their new star pitcher emerge within the next season or two.
Matt Manning, RHP (#79)
MLB Pipeline Ratings
Fastball: 65
Curveball: 60
Changeup: 50
Control: 50
Overall: 55
The 19-year old Manning was the Tigers' first round selection in the 2016 draft, going with the 9th overall selection. A lanky, 6'6″, 190 pound righty, Manning is possible the farthest away from the Major Leagues of any of the names on this list. But if his current progress is any indicator that could be changing quickly.
Currently playing short-season A ball for the Connecticut Tigers, Manning is currently nothing short of lights out, posting a 1.65 ERA and striking out 18 batters over 16.1 innings of work in four starts. His fastball is his bread and butter, sitting comfortably in the 96-97 mph range. An above-average curveball also generates swings and misses, while his changeup, by all accounts, could shape up to be a reliable third pitch in his arsenal. And his WHIP of 1.22 isn't awful, either.
There's a lot to be done with Manning. And that's okay, considering he's only 19 years old. With two dominant pitches already established, his future is bright.
Beau Burrows, RHP (#80)
MLB Pipeline Ratings
Fastball: 60
Curveball: 55
Slider: 45
Changeup: 50
Control: 50
Overall: 50
Fresh off of an appearance in the Futures Game in Miami, the 20-year old Burrows is the lowest entry on Baseball America's list for the Motor City Kitties, but that's no slight by any means.
Burrows was lights out to begin the season for High A Lakeland, posting a 1.23 ERA (0.95 WHIP) with 62 strikeouts in 58.2 innings over 11 starts. Obviously ready for more, Burrows jumped up to AA Erie after his hot start, where he has since come back down to earth. Through a relatively small six start sample size, Burrows has posted an ERA of nearly 5.60 (18 ER) with a decreased strikeout rate, along with a 1.69 WHIP. His number of walks issued has also spiked, giving up 16 already.
But Burrows has promise. His 94-95 mph fastball, his highest rated pitch, will be his bread and butter, with breaking pitches (curveball and slider) rated lower, the Tigers bank on these ideally coming along as he receives coaching and continues to put in work. Command will also need work as he continues to move on up.
Others You Should Know
Christin Stewart, OF
MLB Pipeline Ratings
Hit: 50
Power: 55
Run: 40
Arm: 45
Field: 40
Overall: 50
While he made ESPN analyst Keith Law's top ten list of Tigers prospects, Stewart has not garnered the prestige of landing on Baseball America's list. Which is no slight to him, mind you.
Described by Law as "an everyday left fielder" and an above average power hitter, Stewart has put up very solid numbers for the AA Erie SeaWolves. In 85 games he's posted a .268/.346/.533 slash line, with 19 home runs and 62 RBI while drawing 36 walks. Other extra base power has been shown, with 17 doubles and three triples. Conversely, we've seen the inexperienced side of Stewart as well, as he's struck out 93 times in 302 at-bats.
Looking at these numbers alone it's easy to see some of Justin Upton in the 23-year old prospect. And it's likely that we see him taking Upton's spot within the next couple of years as the team looks to get younger.
Mike Gerber, OF
MLB Pipeline Ratings
Hit: 50
Power: 45
Run: 50
Arm: 50
Field: 50
Overall: 45
At 25, Gerber is older than most on this list. But even by next year it's possible that he's on the Major League roster.
Patrolling right field in Erie opposite Christin Stewart in left, Gerber has been solidly productive for the SeaWolves, hitting at a .292 clip while reaching base at an even higher .366 rate, aided by the 31 walks he's drawn in 73 games. His 69 strikeouts are relatively low, putting him at less than a strikeout per game. He's not your typical power hitter (7 home runs) but he has some pop in his bat, evidenced by the 19 doubles and one triple he's registered thus far. He has some speed, swiping eight bases while being caught six times. Given his attributes, his overall scouting grade is misleading.
While he's not going to be J.D. Martinez in right field for Detroit, Gerber is certainly a viable and likely in-house option to take the spot as the rebuild begins and beyond.
Kyle Funkhouser, RHP
MLB Pipeline Ratings
Fastball: 60
Slider: 50
Curveball: 45
Changeup: 45
Control: 50
Overall: 45
Aside from being possible the greatest actual name on this list (if you told anyone that you'd never wear a jersey that reads "Funkhouser" on the back, you're lying to both them and yourself), the big (6'2″, 220 pounds) 23-year old righty is a candidate to serve on what will likely be one the best young rotations in baseball in a few years.
Initial scouting reports showed that Funkhouser was inconsistent, with inability to maintain his top 93-94 mph fastball velocity through his starts. Thought it's possible that his 2017 showing so far has assailed any doubts. After posting a respectable ERA just above 3.00 at A West Michigan, Funkhouser has dominated in five starts since jumping to High A Lakeland, posting an ERA of 1.72 to go with a WHIP of 0.93, while striking out 34 batters in 31.1 innings of work. He currently sits on the 7-day DL The potential is there for him to be a key rotation piece.
His fastball rates higher than any given pitch, though his breaking pitches are in need of some work. But at 23, there's time to make sure those develop properly. It's up to him and those who coach him to help maintain this level of effectiveness as he climbs the ladder.
Which prospects are you most excited to see arrive in Detroit? Any other prospects that aren't listed here that you think were snubbed? Let me know in the comments below!
Find me on Twitter @milz_chris and follow @cleatgeeks for more baseball and sports news.
Someone Madbumed Madbum!
Remember opening day? The baseball world was buzzing when Madison Bumgarner homered twice off the Arizona Diamondbacks. Well, what goes around comes around!
Madison Bumgarner is trying to return from the dirt bike accident he suffered on April 20th in Colorado. Problem is, it is not going as smoothly as the Giants had hoped. This past Wednesday the Giant's ace made his second rehab start since suffering a Grade 2 sprain of his throwing shoulder, appearing for the Giants Class A affiliate in San Jose. It did not go well at all, as Bumgarner was roughed  up for nine runs on nine hits over four innings.
Of the nine hits, four of them were home runs. Three of those four home runs came during the seemingly never ending forth inning as the single A Dodgers affiliate Rancho Cucamonga Quakes hit Madbum from foul pole to foul pole. In fact, two of those forth-inning home runs came off the same bat. The bat of D.J. Peters. He started the scoring with a solo shot then he capped it off with a two-run home run later in the same inning. That's right he Madbummed Madbum!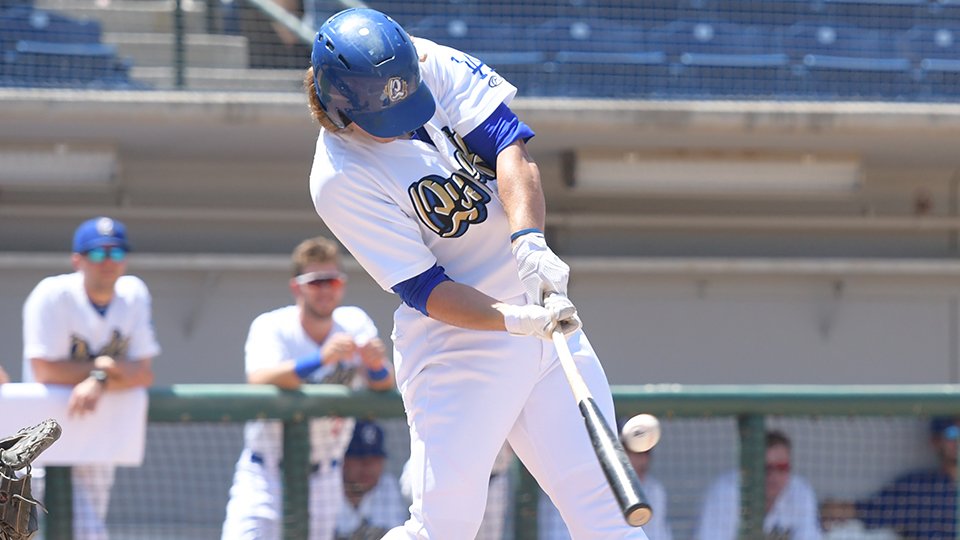 Peters was a fourth round pick of the Los Angeles Dodgers in the 2016 draft and has quickly become a well-regarded prospect in the organization. He's a good hitter with some clear power potential. As proven by the two homers which were his 17th and 18th of the season. But it's pretty stunning to see any player do this type of damage against Bumgarner.
Bumgarner's final line against this Class A lineup was actually worse than any start he's had at the major league level. He allowed 9 ER and 4 HR in a rehab start tonight; his career highs in 221 MLB appearances are 8 ER and 3 HR. It was mentioned earlier, this was his second start, but his first one did not go very well either. He allowed four runs in 3 2/3 innings in a loss against a red hot Fresno team. But the lack of effectiveness was anticipated there with Bumgarner making his first start in over two months. It was at least hoped he'd look a little sharper on Wednesday, but that clearly wasn't the case.
The Giants are not panicking though. The main focus for them at this stage in Bumgarner's rehab is that he's feeling good physically. In that regard, he actually cleared a big hurdle.
"It would have been nice to get up and down one more time but we got the pitch count up and that's ultimately all we're looking for,"
Bumgarner said courtesy of CSN Bay Area.
"I felt good with the way my body felt. The command felt good. Obviously that's kind of a lopsided outing but my body feels pretty good."
Bumgarner threw 76 pitches on Wednesday, and acknowledged that he wasn't dipping into his full repertoire in an effort to dominate. He is expected to throw 90 pitches in his next scheduled rehab outing with San Jose, which Bumgarner also hopes will be the last.
Bumgarner says he plans to feature his
"bread and butter"
pitches a little more in that outing. Assuming the shoulder continues feeling good and he's not knocked around the park to the extent of Wednesday's game again in that outing, he should be back in the Giants rotation the weekend after the All-Star break.
MLB Dynasty Rankings of Rookies/Minor leaguers
DYNASTY ROOKIE/MINOR LEAGUE RANKS
Those of you in dynasty leagues, or who want to be prepared for future years, this list is for YOU.  This is the list of top dynasty players based on their careers for FANTASY BASEBALL purposes ONLY. At the end of each player's write up, I'll give their projected 2017 Rank which will only be the ranking of those who made the top 10 dynasty players. Those players in the top 10 who won't be up this year, I ranked in order of who will be up the soonest. Also, prospects from the 2017 draft will NOT be part of these lists. Let's get to it!
1. Yoan Moncada – I may be going on a limb putting Moncada ahead of Judge, but I really do expect some regression from judge and some major steps from Moncada. If there was a spot that I was the most unsure about it would probably be Moncada as he hasn't been playing for all that long and Judge is already hitting Major League pitching. Judge hasn't been exposed yet, but I just have to believe it's coming. Moncada will struggle early in his career I believe, but once he clicks, he has all the tools to be a 1st or 2nd round fantasy talent annually. (6)
2. Aaron Judge – Judge has been so good, I spent half of the #1 dynasty player's bio just talking about him. But I just don't believe yet that it's going to be what we're seeing this year. A lot of times players get exposed after the all star break of their rookie year, so that's going to be big for scouting him. If he does have holes, very few pitchers have found them…yet. (1)
3. Shohei Otani – Here's a sleeper you won't find on the waiver. Shohei is the best Japanese player. He's even being called Babe Ruthian. Not just for his great power, but because he is a fantastic pitcher. That's actually been his primary calling card, but he's hit so well, it's hard to take away at bats from him. He could easily end up as the #1 dynasty player on this list, but he hasn't committed to coming to America and there have been some fantastic international players who have really struggled in America. Shohei is a different beast, but because of those minor question marks, he's #3. (9)
4. Brendan Rodgers – Brendan Rodgers is someone I've liked since he was first drafted. I've always thought he had a higher ceiling than Swanson (who was drafted ahead of him) but Rodgers got a pretty sweet deal getting drafted by the Rockies who have a fantastic hitters park. He's been crushing it in the minors, albeit a small sample size, and I think he's going to be a star. He has Trevor Story blocking his path though, so he may end up coming up as a 2nd baseman. If he gets traded, that could lower him on this list, but I still like him. Keep and eye on Rodgers. He's one of the guys I'm most confident will be good so long as he stays with the
Rockies. (8)
5. Alex Reyes – If Reyes could stay healthy and in the lineup, he'd be ahead of Rodgers, but he's struggled to stay on the field. Reyes is a very talented player, and with a staff who's known to do great things with developing pitchers. There's been some young players who haven't been everything expected, but very few of their top pitching prospects have failed to be productive if not well above average. Reyes has one of the highest floors for players who have such a limited time in the majors. (7)
6. Kevin Maitan – Similar to Shohei, Maitan is an international player, who hasn't even begun time in the majors. But he hasn't even been a star in Venezuela, where he's from yet. So Maitan is a bit of time away. But I've liked everything I've heard and seen. He's already being compared to Miguel Cabrera and Chipper Jones by several scouts, and he seems to rise to his challenges whenever expectations are at their highest. (10)
7. Mitch Haniger – Mitch Hanigar has been a revelation, particularly for obp leagues. Easily over .400 in obp, he's showing that he belongs and can provide some power and stolen bases. We'll see if pitchers figure him out, but I like him to be someone who can make adjustments and be a valuable piece on many teams. (3)
8. Jose Berrios – Berrios is climbing my boards and could make his way all the way up to 3 or 4 on this list. His stuff is nasty. He's had walk issues in the past, and I have some concerns about durability, but he can have elite stuff when he puts everything together. (2)
9. Jacob Farria – I had to put this guy on this list because, what I've seen I've been very impressed by. I wanted to put him on my "MLB Rookie Expectations 2017" article, but concerns about other rookies taking that pitching spot (Brent Honeywell) kept me from doing so. I still have some concerns but he's been really good, and I think he's a battler. I think he's going to surprise a few people in the future even more than he has so far. (4)
10. Cody Bellinger – I was the most reluctant to put Bellinger on this list. I'm not a big Bellinger fan. He just keeps hitting though. I correct myself actually. I like Bellinger, I just don't think he's this good, and he will get exposed. I believe he's an anual 24-34 hr guy who bats around .240 – .250. Not bad but just not that special for a 1st baseman. I'm sure many hope I eat my words, but as strong as he is, I just think there's too many holes in Bellinger's swing for him to be this good. (5)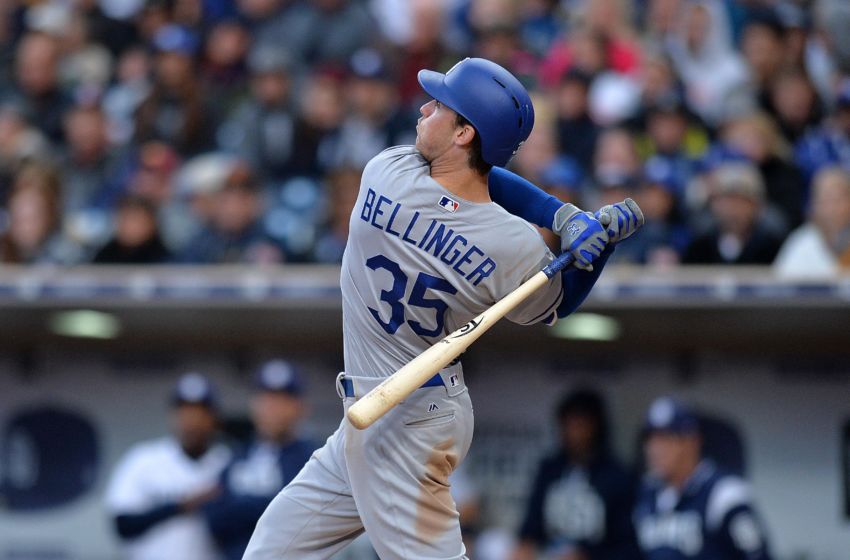 Players on deck – Michael Kopech, Triston McKenzie, Tyler Glasnow, Sean Newcomb, Brent Honeywell, Jose De Leon, Dinelson Lamet, Vladimer Guerrero Jr, Andersen Espinoza, Rhys Hoskins.
Hope you enjoyed! Catch you on the next one.
Tribe Take: Strong Week
Looking to stay ahead in the AL Central coming off a solid week beforehand, the Tribe took to the field to take on two hot teams in the Dodgers and the Twins.
Monday started off with the day off for the Tribe, as they had a nice practice day to prep for the Dodgers the next day.
Clayton Kershaw took to the mound to take on the powerful Tribe offense in game 1 of the 3 game stint on Tuesday, and he was nothing short of dominant. He only gave up 2 runs and although the Tribe attempted a late comeback, it was too late as the Dodgers offense helped steal the first game at Progressive Field with a final of 7-5.
Wednesday was more of the same from the Dodgers all around team, as the offense was clicking once again and the pitching was solid as they stole another game, this one with a final of 6-4.
In the final game of the series on Thursday, it was the Tribe's turn to take over. Their offense exploded for 12 runs in a complete game all around to head out to Minnesota on a high note.
After the strong finish against the Dodgers, the Tribe took off to Minnesota to play a 4 game series with the second place Twins.
All 4 games, including the double header on Saturday, were all domination by the Tribe. The Indians didn't give up more than 3 runs in any game, and their offense came to life finally, as Edwin Encarnacion led the way and hit 2 homers to get his power back on Sunday.
STORY OF THE WEEK: After the Tribe were able to complete the 4 game sweep of the Twins, they propelled themselves into 1st place and sole control of the AL Central Division. With this division struggling, the future looks bright for the World Series runner up's.
The Greatest Memories, Are Made at the Ballpark
Spring Training is in full swing (no pun intended). With that it symbolizes the beginning of the end of my diet of health foods for soon my diet will consist of hotdogs, ice cream and other awesome eats at the stadium. Spring Training also symbolizes the beginning of a new (clean) slate for all teams. It doesn't matter the Indians blew a 3-1 lead in the World Series (I had to go there), or the fact the Rangers steamed rolled through the season only to get smoked by the Blue Jays with an ironic ending. It does not matter anymore because it's a new season. All teams start at 1st place, at 0-0.
Baseball is unique in that it starts very close to the beginning of the new year. January ushered in the new year, and in February, a few weeks after we take weather advice from a Groundhog, pitchers and catchers report. This is really neat because most of us are tired of the winter weather and want to get back to being outside.
With the teams coming together we see a lot old faces and some new, it allows us to continue to follow that one player who is "your guy." It allows us fans to scout the players to see who we are really hoping has a breakout season. It brings us fans back together, seeing our baseball family members. Its when we get back together we share stories of the moment we met that player, or we got an autograph from him, or the time we got a simple high-five from a player or even the ridiculous play we saw. And with those stories the true spirit of baseball emerges, because we can feel that excitement that person had when they had that memory made or witness what they saw.
These stories, remind us why we love the sport and why we put up with the traffic sometimes to get to the stadium. Such is a story I wanted to share.
It was the summertime months of 1992, I was playing for my little league team the A's. As per the normal tradition of little league teams, we went to an Astros game. My dad had off from work, so he volunteered to chaperone the trip because a lot of us were going so, it only made sense to have more adults to watch us. So, one afternoon we (us kids) got into our little league uniforms and headed to Astrodome.
That trip was fun, because the Astrodome is huge and very intimating by the standards of that time. Anyone in Houston knows that if you're on the 610 loop, as you cross 288 the top part of dome suddenly appears dominating everything by it. We are all excited, because we know who plays inside the dome, it's the Astros and we are going to watch a MLB game.
I had been to the dome many times before with my dad to watch the Astros play, but we always sat in the "Nosebleeds," this time we were sitting in left field. We pull into a spot, and fall out of the van, super excited, gloves and baseballs in hand. Mind you, we are dressed in our uniforms with our cleats on too. We look as if we're going to play an actual game. The opponents that night, were the St. Louis Cardinals.
We begin walk towards the dome entrance and again, as a kid, this place is massive. Now say we walked in like disciplined solders would be a lie, we were excited so we were running laps around the slow moving adults. We got inside the concrete structure and from the concourse, you can't see the field. Its solid concrete, its only when you pass a walk way to the seats, can you see a little glimmer of the field. Soon, we find our section and walk down the concrete tunnel, our cleats echoing on the floor and after a few feet, your inside the dome. It quickly opens up to this huge field of green AstroTurf with players scattered about on it, warming up.
We are in awe of this and our seats are right on the edge of the left field wall, so we quickly all run to edge and look over, pointing all over the stadium. We are scanning and see Craig Biggio and Bagwell signing over in the distance, for fans over by the dugout. A few Astros players go running underneath us, and we screamed at them to sign our baseballs we had. They kept on running, warming up. Other players would come around and we would keep repeating the screaming, to get one of them over, because we wanted to get an autograph.
Batting practice was wrapping up and the Cardinals had long since vanished back to the locker room. A few Astros remained warming up, a few hung out by the dugout signing some things. Were seeing that and rather disappointed that we weren't able to get any autographs. I look up and see a Cardinals player standing outside of the Visitors dugout, and looking in our direction. We all sit down, and that same unknown player standing there, starts walking in our direction. Its long walk (so it seems when you're a kid) from the dugout to the outfield. So a lot things can happen that would detour a player from coming out there.
But this player kept on walking to us. As he got to the wall, we all stood up and looked over at him. He had this huge smile on his face as he looked at us and he said "I know I am not on the Astros, but I will sign your baseballs, if you want?" We complied with joy, we didn't care who it was, it was an Major Leaguer. This guy plays baseball professionally. After we told him, "YES!", still with a smile he said "ok well throw your ball down one at a time so I can get all of you guys." He walked to the first kid and the kid dropped his baseball. He signed it and tossed it back up. The next kid followed and so on. Now it's about to be my turn. I am nervous. I am about to in-a-sense play toss with MLB player. In my mind, this is like a job interview. He could see the form you have and want you on the team, plus it's a MLB player.
So, he shifts over underneath me and again with a smile says "alright young man, your turn". I drop my Official Little League baseball down to him and with a smile he signed and said "here you go, catch!" and tossed it up. The world stops at that moment because you're about to catch a baseball from a MLB player. Never mind you dropped a baseball to him and got his autograph. I remember catching it, looking at it and saying thank you and he smiled and said you're welcome.
We didn't know who he was. We saw Smith on the back of his jersey, and we all got more excited that it was Ozzie Smith! The Oz! One of the kids asked him "are you Ozzie Smith and with smile, laughed and said "no, I am Lee Smith." We were like who the heck is Lee Smith? Lee had finished signing and we thanked him and that smile of his face said you're welcome. Before he left he said he had one last gift for us, and by then the ballboy had joined Lee and handed him some baseballs. Lee tossed up a lot of the Official Major League Baseballs and they had clearly seen some action because they were all battle scared with impact marks from bats.
I couldn't forget that smile he had. We thought, that was really nice of that player, Lee Smith, to come out and sign the baseballs for us. We didn't know who he was, it was still really nice of him. The next day, my dad came home from work and came to me and my brother and he told us that while he was at work he was talking to one of his coworkers who was a huge baseball fan. He said, that he mentioned to the coworker, that he was at the game with my team and that me and brother got an autograph. The coworker asked who it was, and my dad responded some guy named Lee Smith. My dad told us, the coworker had stopped working and told my dad Lee Smith wasn't just some guy, he was an extremely great pitcher.
So, suddenly after hearing that, the autograph and moment became more awesome for me. But because my brother and I both had identical baseballs signed by Lee Smith my mom put our initials on the other side each of the baseballs, so that we wouldn't get our baseballs mixed up. A moment that would make a collector really upset to hear but it has been humorous to this day to bring up in family stories.
That year in 1992, I was watching the All-Star Game and they were introducing the pitchers and my dad said I think that is your guy out there. Sure enough, Lee Smith was announced and with his trademark smile and he stepped forward and raised his cap. I remember running to my room and grabbing that baseball and holding onto it during the game.
Years would pass and the baseball, in its cube would find its way around my room, eventually under my bed, and finally in a small box under my bed were it would sit for years. I would loose interest in baseball and gradually the baseball would be kind of nuisance item, always on my mind to get rid of.
I would slip into a dark depression after my dad passed, only to find that baseball in 2014, and having it bring light back into my life. While digging around, I found the Lee Smith baseball. The autograph faded badly but when I looked at it, the memory of such wonderful event came back. My first autograph was Lee Smith.
In February of this year, I heard Lee Smith was coming into town to do a signing at a TriStar show. I remembered how when I was a kid, Lee was my hero. So I jumped at the opportunity to meet him. In the months leading up to the event, every chance I got I told people I was going to meet my child hood hero, Lee Smith. Clearly the little kid inside of me never left and it was 1992 all over again for me.
Lee comes to town, and I show up 2 hours before his scheduled appearance time. I ate a hotdog while I waited and had coke. Then I had a lot of winter green flavored gum to freshen my breath. I straighten my collared shirt and worked my way to the ticket booth. There I bought one ticket for a photo op and two autographs. I wanted to get a baseball signed and my photo with him signed too. After all this is my hero. This guy was so gracious to walk the distance to sign a baseball for me when I was kid.
I waited by the photo section and it was finally time, he walked out with his wife and my childhood returned. He still had that smile, as life is good, always. It turned out I was the only person who was getting a photo with him. So, I nervously walked up shook his hand, said hello. He still smiling said "how you doing!?" We turned for the photo and they snapped it. Afterwards, I turned to him and told him straight up, "I wanted to thank you, many years ago when I was a kid, you became my hero." He still smiling said "thank you for saying that, it's great hearing that."
He was quickly escorted to the autograph table. I waited for my photo to develop. And waited. And Waited. They are calling people with autograph vouchers for Lee Smith to head over to the table to get their autographs. I am still waiting for my photo and I am getting upset because I wanted to have that memory signed by my hero. Finally I told the staff member doing the photos to see if my photo was coming, because I was going to miss Lee Smith signing. He said he would check on it, and to head to the table, he would bring it to me there.
I arrived at the table and there really isn't anyone waiting for him. I walk right up and he smiled when he saw me and was talking about how to me he was my hero. He signed my baseball and I told him, I wanted to get the photo of us signed. He and his wife said "we will wait." After about 4 minutes that felt like hours, no photo had shown up. By their suggestion, I ran back to the photo area to find out there had been an issue with the printer and the ribbon had to be changed out, but photos were printing. After 10 minutes, and two batches, my photo came out. As soon as I got it, I ran back. I was half way there when a TriStar stopped me and said "Lee sent me to find you to make sure everything was ok." I told him I had my photo and he said "Great, lets get back over there, they're still waiting for you!"
I arrived back and Lee and his wife were both sitting at the table smiling at me. She said "alright! You got it!" Lee said "Let's do this thing!" He signed it and I shook his hand again and thanked him again.
This guy went all out again for his fan. He never got voted into the Hall of Fame. He had killer stats, but its hard for a relief pitcher or closer to get in.
To me, in order to be a great player, you do not need great stats. You just need to have a great heart. Heart is everything, it provides power for the players hustle but it also makes the player take a moment for their fans. When a player takes that time, it can mean the world a difference for many. 10 seconds can create a lifetime memory.
My friends joke with me a lot when I get an autograph. They point out how nervous I am and its true. I am still a kid at heart when it comes to that. I think that makes it way more enjoyable to be at baseball games, because others who get an autograph would just go "whatever." But by getting excited about it, your stoking that fire inside, that fuels the passion.
That gratitude should not be forgotten and is what makes baseball so great. The high fives or fist bumps players give fans as they run by, tossing a baseball to a kid or that moment when your hero runs up to you and signs something for you. It draws us fans, more into the game. Its stories that come out of the experiences, that are shared over and over for a lifetime, and they are told as if they happened last night. I was never a Cardinals fan, but I am always a Lee Smith fan.
Since that time, when I first met Lee Smith, I have fallen out of baseball, only to come back in 2014. When I  returned, I have made so many wonderful memories at the ballpark. Catching my first BP baseball (go ahead and laugh but to me, I was playing the right field position and it was the World Series). I have gone to countless Hot Stove shows, met various players, ate lunch with some players at minor league lunch-ins. Now when I say ate lunch with, Astros farmhands sat right next to me!
This Spring and regular season, have fun, bring your family and friends and make some new memories to share. Who knows, one day you or someone you brought could be sitting around and telling a story about the time they met so-and-so.
I want to leave you with a thought or question as the season gets started; Can you remember your first autograph and how it made you feel?
Lee Smith's Stats :478 Saves, Strikeouts 1,251, W-L 71-92, Hero to one fan and maybe more.
Saber-Metrics Sunday: Eaton it Up
The free agent market may have been thin this year, but the hot stove was kept at a boil when White Sox GM Rick Hahn went to work at the winter meetings. As mentioned in the Chris Sale article, the White Sox are in a rebuilding process by selling of valuable veterans for young assets. After getting baseball's number one prospect, Yoan Moncada from the Red Sox, Hahn made a surprising blockbuster smash just a day later.
The White Sox traded OF Adam Eaton to the Washington Nationals and in return got top-pitching prospect Lucas Giolito as well as Reynaldo Lopez and Dane Dunning. This move shocked the baseball world seeing the White Sox taking away these prospects for just Adam Eaton. People suspected this kind of deal would happen, but the Sox would have included closer David Robertson in the deal. The Nationals seem desperate to get a title within the next year or so before Bryce Harper becomes Trump-like rich when he gets a new deal wherever it is.
So who did each side get in this deal? Lets break down the statistics:
Nationals
Adam Eaton
2016 – .362 OBP/.790 OPS/8.9% BB/16.3% K/20 DRS (22 DRS in RF and -2 in CF)/ 18.0 DEF / 6.0 WAR
Eaton (28) had some eye-popping stats defensively this year. After spending most of his White Sox career in center field, he moved to mostly right field and was an advanced metrics defensive dream. His overall OF DRS of 22 improves from his 2015 -14 DRS…that's a drastic change like no other. His defensive rating went from -8.8 in 2015 to his 2016 18.0. So it seems the Nats will play him in right field because his numbers in each position are so far off. Batting wise. Not going to slug much or hit bombs, but he is good at getting on base and can come up with a big hit.
White Sox
Lucas Giolito (#3 prospect in baseball)
Throws: Right – Age: 22
2016
AA – 3.30 FIP / 0.25 HR-9 / 9.13 K-9 / 23.0%K / 10.9%BB / 1.42 WHIP in 71.0 IP
AAA – 2.96 FIP / 0.72 HR-9 / 9.64 K-9 / 26.9%K / 6.7%BB / 1.10 WHIP in 37.1 IP
Nationals – 8.21 FIP / 2.95 HR-9 / 4.64 K-9 / 10.9%K / 11.9%BB / 1.78 WHIP in 21.1 IP
Giolito spent a little time in the bigs last year and struggled…but it's no reason to panic. He's 22 years old and has more developing to do. His minor league numbers show more why he is a top prospect. His AAA numbers are a smaller sample size but he did not walk a lot of guys and had a good FIP overall. Scouting reports have mentioned Giolito is still working on his pitches and getting more movement on his fastball which has been called "too straight". If he can work things out and grow, he has a lot of promise. I think most Sox fans know by now that it's key to let players develop and not to rush them. Let him get consistent starts to begin 2017 and work from there.
Reynaldo Lopez 
Throws: Right – Age: 22
2016
AA – 3.03 FIP / 0.83 HR-9 / 11.79 K-9 / 30.4%K / 7.6%BB / 1.23 WHIP in 76.1 IP
AAA – 4.96 FIP / 1.64 HR-9 / 7.09 K-9 / 20.2%K / 7.8%BB / 0.94 WHIP in 33.0 IP
Nationals – 3.92 FIP / 0.82 HR-9 / 8.59 K-9 / 20.9%K / 11.09%BB / 1.57 WHIP in 44.0 IP
Most innings in 2016 was in AA but spent some time in AAA and the majors. He is #4 prospect now in the Sox farm system and his time in the majors last year wasn't too bad for a 22-year old. His FIP in AAA is inflated because his home run rate was higher than his AA and MLB time. This is a guy I can see pitching in 2017 for the Sox. Could be a June callup or see what happens in spring.
Dane Dunning 
Throws: Right – Age: 21 (29th overall pick)
2016
Low A – 2.57 FIP / 0.27 HR-9 / 7.75 K-9 / 22.0%K / 5.3%BB / 0.98 WHIP in 33.2 IP
This kid has a lot of upside. Now #10 in the Sox farm, Dunning was a first round pick by the Nats last year and this may be a small low A ball sample size, but the numbers are good. The FIP is good and has a very low BB% with a sub-one WHIP. Scouts talk about his fastball that is not super-fast but has great movement. Will he play at Guaranteed Rate Field in 2017? 99.9% chance is no. Still has a long way to go before he gets to the majors. Probably going to be a few years before he reaches the majors.