Can The 2017 Angels Can Be Like The 2002 Angels?
The current shoals being navigated by Angels GM Billy Eppler are treacherous ones.
On the one hand, you've got one of the weakest farm systems in the game and a major-league club that finished 14 games below .500 in 2016. On the other hand, you've got the best player in baseball — Mike Trout — who's in his prime and gives the Halos the strongest one-man foundation in the game.
The defensible decision that Eppler and ownership has made is to try to contend around Trout. This brings us to the next layer of complications.
Those barren minor-league rungs mean the Angels can't pull off blockbuster trades to improve the current roster. As well, the dubious past investments of Arte Moreno mean there's not room in the operating budget to chase frontline free agents. Eppler, then, must make improvements at the margins. That's precisely what he's done this past off-season. What can Eppler do now to get the Angels into the playoffs?
Obviously, Trout has established himself as something close to a 10-win player, and that, as mentioned, is the best possible starting point for a roster. Elsewhere in the lineup, Eppler managed to eke out a couple of significant potential upgrades.
Last season, The Los Angeles Angels of Anaheim left fielders combined to hit just .204/.271/.313. It goes without saying that that's miserable production from a bat-first position. The winter addition of Cameron Maybin directly addresses that deficit. Even if Maybin doesn't produce as he did in 94 games for Detroit last season (120 OPS+), he'll still provide the Angels with a substantial upgrade at the plate, on the bases, and in the field.
Speaking of in the field, Danny Espinosa is the Angels' one big failure so far.
Martin Maldonado profiles as the new primary catcher. Last year, Angel catchers didn't hit, and Maldonado improved upon their bestowals. Mostly, though, Maldonado is a much better defender than the Angels' two primary catchers from a season ago — Carlos Perez and Jett Bandy — especially in terms of framing.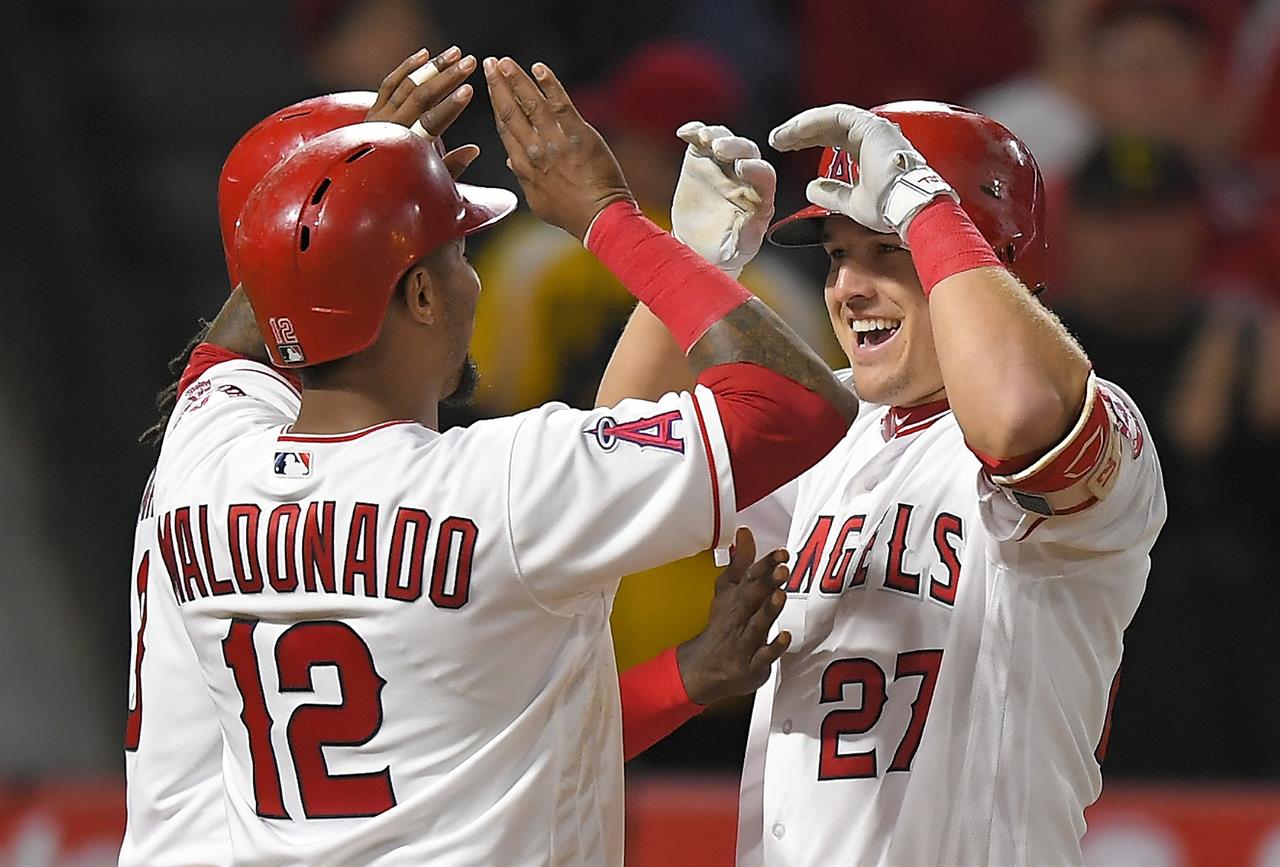 The Angels also figure to have improved their depth in 2017, mostly because of the additions of Ben Revere and Luis Valbuena. Valbuena's power has useful since Albert Pujols' numbers are down. Revere, meantime, has provided a good hedge against injury to Maybin.
All of this isn't to say that the Angels are not the greatest team in 2017 or even a serious contender to get to the ALCS. However, thanks to that second wild-card berth in each league and the general environment of increased parity, the bar for contention has never been lower. It's why the Angels, as of now, have that second wild card spot here in August.
The Angels, you can argue, were better than their record in 2016, and Eppler has done a fine job of improving the roster on the cheap this past winter. This hasn't been be as good as the 2014 team that won 98 games, but Angels fans are again enjoying some meaningful baseball this late in the summer. You could say the same thing about the '02 Angels and look what happened there. This current team reminds me a whole lot of the Angels back in '02. Back in '02, the Angels were The wild card team with less superstars and talent, but were The hottest team going in. All signs are pointing to it this season. This team has no ace, has two proven stars, a bunch of old-school baseball grinding players. This is when Mike Scioscia makes his money. The Angels have the 2nd toughest schedule in baseball moving forward. Let's see if the Angels can get into this second wild card spot and make a run.
Wrigley Weekly Wrap-up
An MRI revealed Willson Contreras has a moderate right hamstring strain, and he was expected to be sidelined a minimum of four weeks, the Cubs announced on Friday. Contreras was placed on the 10-day disabled list and catcher Victor Caratini was recalled from Triple-A Iowa. Contreras injured his leg running to first base in San Francisco last week. "Even if it's three to five weeks or four to six weeks, I'll stay positive and I'm going to take it slow and make sure when I get back, I get back 100 percent and can still give 100 percent on the field," Contreras said. "I don't want to rush anything. I'm going to take my time." The first step is for Contreras to be pain free, which will likely take about two weeks. The Cubs will then step up his rehab process, and the team will have a better idea of the timeline then. "Hamstrings are so unpredictable," Joe Maddon said. "Let's just play it out. Obviously, it's difficult to not have his name in the lineup tonight, all the wonderful things he's done all year, especially since the All-Star break, what he means to us, even his energy. The reality is he's not here right now." The loss of Contreras creates a huge hole in the Cubs' lineup. Since the break, he has led the team, batting .311 with 10 home runs and 29 RBIs. Contreras has been such a key piece that Maddon inserted him in left field last Saturday and at first base last Wednesday to keep his bat in the lineup. "It feels bad because now I can't be on the field, helping the team," Contreras said. "But I'm still here and I'll be with the team, supporting them." Contreras ranked fourth in the National League among cleanup batters with a .305 average. In 31 games there, he had 13 home runs and 35 RBIs. Maddon said he wasn't exactly sure how he'd split the catching duties between Alex Avila acquired from the Tigers at the Trade Deadline, and Caratini. This is Caratini's second stint with the Cubs. In 11 games from June 28th-August 1st, he went 5-for-26 (.192), including a home run on July 30th. Kyle Schwarber is ready if needed. "I went into Joe's office and said, 'I've got my catcher's gear here just in case,' so if it does happen, it happens," Schwarber said. Contreras sprained his left hamstring during the Arizona Fall League in 2015 but said that injury felt different and more intense than this one to his right leg. "I just hope my teammates keep doing their job to [keep] the team in first place," Contreras said. "I feel like we're going to make the playoffs and I'll be here supporting them."
Welcome to American Legion week for the Cubs. Manager Joe Maddon started the week-long event when he was with the Rays, and it goes back to the days when players were kids and would just show up at the ballpark and play. It's also a way to counter the dog days of August. The Cubs will treat an American Legion post in the Chicago area to beer and sausages. "The whole point is you don't have to be there all day to play Major League Baseball games successfully, especially this time of year when guys are a little bit tired," Maddon said Sunday. "They're coming off a West Coast trip — it's a perfect time." The Cubs opened a seven-game homestand Monday with the start of a four-game series against the Reds followed by a three-game Interleague series against the Blue Jays. "I'll sleep a little later," Kris Bryant said. "It's good to get rest, it's good to relax and not think about baseball. You can spend a couple more hours at home, and I think that's good for us." Heyward said players can take the same mindset at home that they do on the road. "I might go work out or something like that, and then chill and take a nap or whatever," Heyward said. "At this time of year, you're used to doing whatever you need to do. You can do as little as you need."
Addison Russell, who is eligible to come off the disabled list on Sunday, is not close to returning, general manager Jed Hoyer said Monday. "He's coming along slowly," Hoyer said of Russell, who has been sidelined since August 3rd with a right foot strain. "As cliche as it is, we'll take it day by day. He's feeling better. A return is not imminent. Hopefully, he just keeps getting better and better and gets on the field." Russell, who was batting .241 when injured, will likely have to go on a Minor League rehab assignment.
Tribe Take: Clutch Baseball
This week, the Tribe had two key series against the hot hitting Rockies and streaky Rays. At the beginning of the week, the club was hanging on to a slight lead for first place, but a 4-2 record helped move them 4.5 games in front of the Twins. The Tribe is hot, and are playing well as we start to come down on the final stretch of the season.
Monday was an off day to start the week for the Tribe, as they recuperated from their weekend series against the Yankees.
On Tuesday, the Indians welcomed in the Colorado Rockies for a quick 2 game series before heading off on a 4 city road trip. The Tribe's offense came to life, as it has been struggling recently, and they knocked in 4 runs to coast to a 4-1 victory to open up the week.
Wednesday wasn't as easy though, as the Rockies stole a game with a 3-2 victory on a great game from 3B Nolan Arenado.
So after the split with the Rockies, the Tribe took off to Tampa to explore city #1 on the 4 city road trip. The Tribe and Rays embarked on a 4 game weekend series that would close out the week.
Thursday's Game 1 was a steal for the Rays, as Corey Dickerson blasted a 3 run homer off of Nick Goody in the 8th to seal the deal.
But after the late comeback, that was all the Rays would get. The entire weekend was full of Tribe domination and wins. On Friday night, Carlos Carrasco dominated the Rays as he went on to pitch a shutout, with a final of 5-0. Saturday night was all about Mike Clevinger, as he pitched another gem to add to the shutout total with a final of 3-0. And the finale on Sunday was won by a clutch solo shot in the 8th by veteran Austin Jackson, helping to give the Tribe a 4-3 victory and a 4-2 record on the week.
STORY OF THE WEEK: With Michael Brantley on the DL, the Indians sought out some outfield help when they acquired OF Jay Bruce from the New York Mets, in exchange for pitching prospect Ryder Ryan. Bruce brings some extra power to the Indians lineup, and also adds a great presence in the outfield, which will hopefully help the Tribe's chances even more in the postseason.
Royally Yours: Week in Review
The Royals ended the week on a high note after having a disappointing start to the week. The first half of the week was a four game series with the St. Louis Cardinals. The Royals lost all four games of the series. The weekend series was against the White Sox in Chicago. The Royals lost the first game but won the last two. The Royals struggles this week caused them to move back in the division and wild card standings.
The American League Central is still one of the closest divisions in baseball. The Cleveland Indians lead the division with a record of 63-52, five games ahead of the Royals. The Minnesota Twins are second in the division with a record of 59-56, one half game ahead of the Royals. The American League wild card race is also close this season. The Royals are currently in the hunt for the second wild card spot. The Minnesota Twins and Los Angeles Angels are currently tied for the second spot, one half game ahead of the Royals. The Royals fell behind in the division and wild card races this week but they are still in contention.
Mike Moustakas added to his historic home run total this week. He has 34 home runs so far this season, which is the most in his career. Steve Balboni holds the Royals home run record at 36. Moustakas will likely hit the Royals home run record before the end of the season. 2017 is the last year on his contract with the Royals and his historic season will likely have an impact on his contract this off-season.
Melky Cabrera had a great performance against the White Sox this week. He hit the game winning home run on Saturday against his former team. The eighth inning, two-run home run was the difference in the 5-4 victory. The Royals acquired Cabrera at the trade deadline to add more power to the offense.
The Royals will face two American League opponents this week. The Royals will start the week on the road against the Oakland Athletics. The A's are fifth in the American League West 20.5 games behind the division leading Houston Astros. The weekend series will be against the Cleveland Indians in Kansas City. The Indians lead the American League Central. The series will give the Royals an opportunity to pick up some games against a division rival and move up in the division standings.
District Dugout: The Nationals Dodge A Bullet With Harper Injury.
A sigh of relief was let out in Washington DC, as Bryce Harper's MRI reviled no structural damage. Harper left Saturday night's show down with the San Francisco Giants after sustaining a gruesome leg injury. Panic swept across the DMV area and twitter erupted with videos of the gut wrenching sight that was Harper's season ending, or so we thought. After a 3-hour rain delay the game started around 10, and it wasn't long before what everyone was worried about when playing on a wet diamond happened. Harper hit a ground ball to the first basemen who made an incredible diving stop, fielded it and had harper out by a good 3 feet, then while still sprinting on the could've been single, Harpers left leg hits the wet bag, bends the opposite way and snaps back propelling the outfielder into the air. As Harper laid there grabbing his knee and yelling in pain everyone at once feared the worst, Harper had just been taken from a Nats team that has a serious chance to make a post season run. With help from trainers Harper was taken into the clubhouse unable to put weight on his leg and just like that the focus was no longer on win or lose, it was on did the season just end in Mid-August? After the game, Skipper Dusty Baker said they knew it was a hyper extension to Harper's knee, but any further damage won't be known until an MRI on Sunday. Asking for prayers for Harper in the hopes it wasn't as bad as it had seemed, prayers answered.
Dusty Baker said the #Nationals won't know the severity of Bryce Harper's injury until his MRI tomorrow ⤵️ pic.twitter.com/Y41waHmVda

— SF Giants on NBCS (@NBCSGiants) August 13, 2017
//platform.twitter.com/widgets.js
Harper proved he's as close as it comes to super human when it was announced that no season ending damage has been sustained, although, a deep bone bruise that will cause Bryce to miss time is all that was left of an awkward slide on a wet base. Harpers toughness has shown no bounds and undoubtedly will be shown again as Mr. All-Star laces them back up for the Nats before years' end after such a scary instant, giving fans and teammates hope as well as relief that the young star hadn't had the game ripped away from him for an extended period. With Harper sidelined center fielder Michael A. Taylor has been taken off the DL and inserted back into the lineup having outfielder Brian Goodwin to slide into right to cover Harper's place on defense, but the third spot in the lineup is where the impact of Bryce's absence will show the most; so far Dusty Baker has had third baseman Anthony Rendon and second baseman Daniel Murphy fill in for the power bat, with a line of a .500 avg. and two homers in two games for the second and third best hitters on the team. While Dusty has two very solid bats to put into that spot, not having the threat of Bryce Harper will hurt the lineup, just how much has yet to be determined.
Harper has been placed on the 10-day DL but no real timetable for his return has been given, a huge division lead allows for the Nationals to baby Harper to allow him to fully heal. Manager Dusty Baker gave a hint at a possible 'realistic' time line of about "10 days to two weeks" when talking to the media after the MRI had taken place however, he wouldn't commit to that timeline being set in stone, nor should he knowing the Nationals, who are known for going over the date set for returning players, see Jayson Werth. GM Mike Rizzo also addressed the media saying that the Nats had "dodged a bullet," and that the club "expects him back before the end of the year," let's hope Rizzo is right because without Harper, getting through Chicago and the Dodgers seems to be almost undoable, but with him this team has just as good of a chance as anyone to become the new Kings of October.
Here's Rizzo giving the diagnosis on Harper: pic.twitter.com/ARYjylj8So

— Jamal Collier (@JamalCollier) August 13, 2017
District Dugout: Bryce Harper Goes Down With Injury
Nationals All-Star outfielder Bryce Harper went down in the first inning of Saturday's match against the San Francisco Giants, a game that was delayed 3 hours due to rain all night leading up to first pitch. Harper who's knee bent awkwardly after slipping on the wet first base bag went airborne and landed grabbing his knee yelling in pain, trainers rushed out to tend to Harper who was helped off the field not able to put weight on his leg. Heartbreaking for the young All-Star who's on his way to a second MVP in 3 years and a team who's hopes end with a World Series championship. While nothing is confirmed yet, the feeling is Bryce may be lost for the season. Tonight is bigger than baseball and the hope is Harper can return to action soon. More updates as they come.
Bryce Harper injures his knee while slipping on first base after grounding out and is forced to leave the game!!! #Nats pic.twitter.com/U42xOdw1KK

— TheRenderMLB (@TheRenderMLB_) August 13, 2017
//platform.twitter.com/widgets.js
BREAKING NEWS: According to Nationals GM Mike Rizzo, Harper has a "significant bone bruise" but there is no no ligament damage.
SABERmetrics Sunday: An Update on BABIP
Back in the opening months of the season, we discussed which players were leading the majors in BABIP (Batting Average of Balls in Play). In the early parts of the season, the top BABIPs were well over .400 for a number of players. It was determined based on previous data that having batted balls put in play at a .400+ average over an entire season is not sustainable, and eventually those BABIP numbers will go down by season's end. Note this was discussed for everyday players that play over 100 games, the .370-.390 range is typically where the qualified BABIP leader ends their season based on data taken from the past decade.
This article will explore the latest leaders in BABIP and compare them to the leaders back early in the season. As of the morning of August 18th, here are the top-five BABIP leaders.
Chris Taylor: .399 BABIP / .373 OBP / .917 OPS / 9.3 BB%
Tim Beckham: .389 BABIP / .337 OBP / .802 OPS / 6.4 BB%
Jose Altuve: .389 BABIP / .422 OBP / .991 OPS / 8.3 BB%
Ben Gamel: .385 BABIP / .345 OBP / .769 OPS / 6.8 BB%
Miguel Sano: .385 BABIP / .356 OBP / .866 OPS / 11.0 BB%
BABIP Leaders end of April:
Lot of differences here. None of the BABIP leaders in late April are the same here in early August. Plus the current leaders are currently all under .400, unlike early on when they were all well above it with a much smaller season sample size. Now that a long season has progressed over four months, those previous leaders saw their batted balls not fall in at the outrageous rate as they did early on which is what was due to happen. Also notice the differences in on-base percentage. These are all still great hitters, but your on-base percentage will obviously go down when BABIPs go down.
Continuing the sustainability conversation, lets now look at the current BABIPS of the previous leaders.
Zach Cozart: .348 BABIP / .405 OBP / .989 OPS in 81 games
Avisail Garcia: .367 BABIP / .353 OBP / .841 OPS in 91 games
Ryan Zimmerman: .331 BABIP / .355 OBP / .935 OPS in 103 games
Steven Souza: .333 BABIP / .365 OBP / .868 OPS in 109 games
Bryce Harper: .360 BABIP / .420 OBP / 1.036 OPS in 105 games
Hey @Cleatgeeks fans, have you been think of buying tickets to a MLB, NFL or College Football game? Maybe there is a concert you have been eyeing? This weekend (Friday-Sunday) we have teamed up with Stadium Quest to bring you a special! Simply visit this link, and use the code
CHAPS

 to receive $20.00 off your total purchase!

There are some major drops here, yet still very good numbers for most of these guys. Harper and Zimmerman are still two of the best hitters in baseball and everyone still has an OPS above average. But, as predicted their ridiculous fortune of batted balls finding grass nearly half the time was not going to hold up. Adjustments are made in the field and the chances just do not hold at that percentage. The game of baseball is a game of trends especially during a long season.
Could Mike Trout Still Win MVP?
If you didn't think it was possible for Mike Trout to be any better than he already was, I've got some scary news for you.
He is.
After missing nearly seven weeks of the season due to a thumb injury, Trout is mashing, and (again) celebrated his birthday in a big way on Monday night, hitting a major milestone: 1,000 career hits. Trout obviously likes playing on his birthday, having already hit dingers on his 21st, 22nd and 24th. He celebrated 26 on Monday by becoming the youngest player in MLB history to hit that many home runs on his birthday. And the statistics he's piling up at his age continue to boggle the mind. He followed that up later in the game with this monster blast off the left field foul pole.
But after missing more than a month and a half of game action, is it still possible for him to win the AL MVP?
He has led the American League in WAR each of the last five seasons, and has quickly narrowed the gap between himself and his competitors since returning, now just 1.0 fWAR away from catching Aaron Judge.
Despite having played 38 fewer games than Judge and 39 fewer than Jose Altuve, Trout's WAR totals put him within striking distance of both players.
Of course, MVP voters look at more than just WAR when determining who to name the Most Valuable Player, but it's remarkable that Trout has been able to gain ground so quickly. And at the moment, Trout is at career highs in batting average, on-base percentage percentage, slugging percentage, weighted on base average (wOBA) and weighted runs created (wRC+). I don't want the excuse that Trout can't win the MVP because the Angels won't make the playoffs. Trout proved last year by winning the MVP while the Angels missed the playoffs.
Since returning from his injury, Trout is hitting an astounding .363/.469/.663 with 7 home runs and 3 doubles in 96 plate appearances. Meanwhile, Judge has slumped a bit since the All-Star break, batting .182/.333/.377 with just 5 dingers and 12 RBIs in 22 games.
Altuve is a different story. Perhaps the best pure hitter in the game, the Houston Astros' incredible second baseman has been just as productive as Trout since the All-Star Game.
Altuve and Trout have virtually the same fWAR since the second half of the season began. It's likely Altuve is the leading contender for AL MVP at the moment in my opinion, but could Trout catch him in WAR and make things interesting for voters?
It will take a herculean effort from Trout over the final two months of the season to do so, but remember, this is Mike Trout we're talking about.
Into the Cardinals Nest: Are the Cardinals Back??
A few games can make a world of difference in a tight division race. The St, Louis Cardinals started out several games behind the 1st place Chicago Cubs and the Milwaukee Brewers. The Cardinals stood pat at the trade deadline leaving many to wonder if 2017 was not their year. However, the Cardinals have found a way to win 5 straight games and now sit 1.5 games back of the Cubs in an NL Central race few gave them a chance to win.
A big part of their success is their explosive offense. In their last 5 wins, they have scored an incredible 46 runs in that 5 game span. Yadier Molina played a big part in this on Wednesday when he hit a grand slam to help the Cardinals get their 5th win. Jose Martinez has also been a big help to the offense. He got a grand slam of his own against the Reds on the 6th and had a little help from a couple of Luke Voit runs. This increased run production is something the Cardinals need to work hard to keep up if they want to win the division.

Hey

 @Cleatgeeks 

fans, have you been think of buying tickets to a MLB, NFL or College Football game? Maybe there is a concert you have been eyeing? This weekend (Friday-Sunday) we have teamed up with 

Stadium Quest 

to bring you a special! Simply visit this

 link, 

and use the code

CHAPS

 

to receive $20.00 off your total purchase!

But, it does not matter how many runs a team produces if they can't keep a lead. The Cardinals turned this around for the better by allowing less than 5 runs a game in 4 out of 5 games despite some early hiccups. Mike Leake's start against the Royals on Wednesday is the only exception as they allowed 5 runs. The Cardinals still won that because their bullpen has improved in a big way. Seung Hwan Oh and Trevor Rosenthal have teamed up to give the Cardinals plenty of stress free innings after the offense gives them a lead to protect. The defense on the field still needs some small improvement but the Cardinals are on the right track.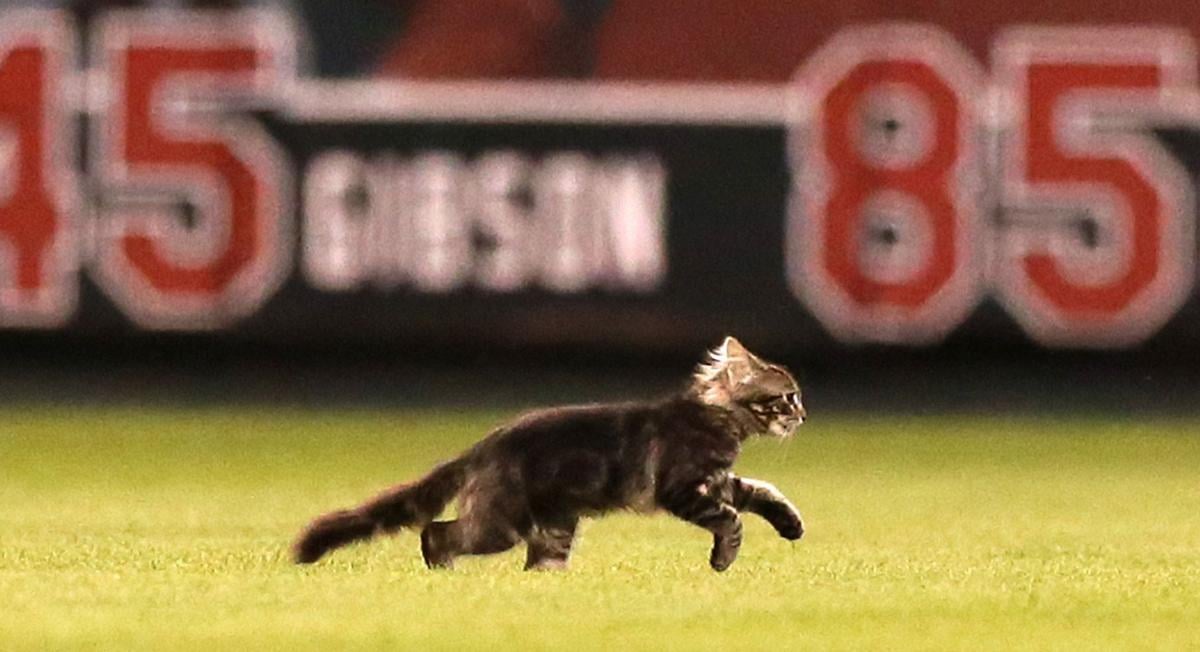 The Cardinals have gotten lots of flack for staying pat at the trade deadline from those that thought the team needed a big name at the deadline. While they still could have used help from that, this 2017 team is on a roll. Whether that credit goes to the players, the GM or the cat that ran on the field before the Cards took the I-70 Series from the Royals on Wednesday, the point is that the Cardinals are winning again and it could not have come at a better time.
District Dugout: Second Half In Full Swing.
The second half of the MLB season is in full swing, and what once was the crippling weakness for the Nats has become lights out. The Washington bullpen was the worst in baseball prior to the trade deadline and was most likely the thing that would end the teams run early in the postseason. Problem solved, GM Mike Rizzo once again worked the phones and acquired relievers: Ryan Madson, Sean Doolittle, and all-star closer Brandon Kintzler by the July 31st deadline. Since joining the team the trio have a sub 2 ERA are 6-for-6 with save chances to go along with 21 strikeouts in only 20 innings of work, these three are LEGIT and this bullpen that caused fans to hold their breath once given the ball in the 7th are now shoving on opposing batters and it is fun to watch. Doolittle is a save machine in the closer role for manager Dusty Baker, and has converted 6 save attempts since joining the team; he and his set up man Ryan Madson have a combined 19 strikeouts and have really solidified the back-end of the rotation.
Since the break the Nats are 14-8 with strong showings from Tanner Roark and Gio Gonzalez who was an inning away from a no hitter in his last start in Miami, and with scares from aces Max Scherzer and Stephen Strasburg. Roark returning to form is huge for the Nationals, he has struggled on the mound this year posting a 4.82 ERA with 127 hits in 125 innings, which hasn't translated into the help needed as the third starter in a rotation, luckily, Gio Ganzalez has stepped up and is having a great year with a 2.66 ERA which ranks 5th best in baseball among starting pitchers. Gio was left out of the All-Star game in Miami assumedly because of a 9-5 record which shouldn't be taken at face value, run support has been almost nonexistent in most of Gio's starts. Stephen Strasburg left his last start after 2 innings with forearm tightness, which has been since downplayed to discomfort due to lack of being able to successfully warm up which he linked to the ASG break getting him off schedule with his pitching, doctors said no MRI was needed for the right hander who each year finds himself on the DL with some sort of injury, he since has thrown bullpen sessions but no further info has been given from the team, other than saying he is progressing well, and with a 14 game lead over the Miami Marlins no rush to get him back in the lineup is expected. Max Scherzer left his start in Miami after one inning and his first career homerun with what was diagnosed as neck spasms from sleeping on it awkwardly a few nights prior to his start, he made his last start against Miami on the 7th and ended up with 2 earned runs, and 9 strikeouts over 7 strong innings.
Eric Fedde also made his first two major league starts with Strasburg hurt, starting against the Rockies at home then at Wrigley Field against the Cubs. Fedde struggled in his first start against the Rockies giving up 7 runs off ten hits in the losing effort, however, he found himself ahead in counts numerous times and just couldn't slam the door finishing with only 3 strikeouts over 4 innings pitched. In his second start, he faced a hot Cubs team and again struggled with 4 earned runs off 8 hits with three homers and 4 walks, he showed promise striking out 7 in his 5.1 innings pitched, and against a good Cubs lineup that is something to hold on too for a rookie in his second start. Fedde pitching against two of the top teams in the NL for his first two big league starts is a tough hand to be dealt and went as well as expected, but there is stuff to like from the young right hander and looks to have a bright future ahead of him on the bump here in Washington.
Washington is on its way to a second division title in as many years and can almost put it on cruise control for the rest of the way. As the team continues to roll injuries for the Nats have piled up with Turner, Werth, Strasburg, Michael A. Taylor and add to that list lefty reliever Enny Romero, who went on the 10 day DL with a forearm tightness. Washington looks to get many of their injured players back in time for the postseason but won't rush anyone with such a big lead there is no need to push someone to go before they are ready. Winning ways are in the air for Washington and barring any big-time injuries from anymore star players the final couple months could be huge for the Nats.