Into The Cardinals Nest: How Will The Marcel Ozuna Deal Impact The Cardinals?
It took a while but the St. Louis Cardinals have made their biggest off-season move yet on Tuesday when they acquired Marcell Ozuna from the Miami Marlins. This is a welcome development for many Cardinal fans that hope the team will improve dramatically in 2018. Time will tell if he is the big bat the Cardinals need but it is a promising sign of good things to come.
Marcell Ozuna had a banner year in 2017 with the Marlins. He had 124 RBIs and a .312 batting average. He also had 37 home runs that year so he has some punch to his bat that the Cardinals need. The Cardinals got Ozuna in a trade for pitcher, Sandy Alcantara, right fielder Magneuris Sierra, and a few other pitching prospects in Zach Gallan and Daniel Castano. Sierra made a small impact when he made his major league début for the Cardinals in 2017. He had two stolen bases in 2017 with 10 runs and 5 RBI's. Sierra's departure is a tough one but also  a necessary one for a deal as big as Ozuna's.
The Cards received Ozuna at very little cost to them. With some time and resources remaining before the season starts, they have time to make even bigger moves than the Ozuna deal if they like. The Cardinals would be best served reducing their outfielder surplus and strengthening their shaky bullpen. They could even try for another big bat like Manny Machado or Josh Donaldson. Donaldson will be tough to get because the Blue Jays really want to keep him. Still, the possibilities are endless when it comes to improving the Cardinals even further.
The Ozuna deal is good for the Cardinals. He is a great hitter that had a pretty good run with the Marlins last year He is not the answer to the Cardinals' problems on his own However, with  a few more impact players and some small changes to their bullpen, they have potential to become division favorites again. Cardinal fans have good reason for optimism heading into next year.
Breaking Down The 2018 Angels' Bullpen
So the question is how the 2018 LA Angels bullpen will shape up. Some pitchers are no longer on the Angel roster so some new people will need to step up in new roles. Let's breakdown the potential pitchers that will fill the Angels bullpen. The pitchers that played key roles in the Angels' bullpen in 2017 were Blake Parker, Cam Bedrosian, Jose Alvarez, Eduardo Paredes, Noe Ramirez, and Keynan Middleton. Will this be enough to form a successful bullpen in 2018?
The biggest question for 2018 is who will be the closer when the season starts in April. The most likely candidates in-house at least would be Cam Bedrosian or Keynan Middleton. A longshot would be Blake Parker. All three relievers closed games in 2017, but my money would be on Cam Bedrosian getting the first shot, but it will probably be a battle royale come Spring Training.
The other option is the Angels could attempt to get a closer through free agency. Potential candidates include guys like Addison Reed, Steve Cishek, Luke Gregerson, Greg Holland, Wade Davis, and Glen Perkins all of which have been closers. Some lower cost guys who could be closers Koji Uehara, Jason Motte, and Brandon Morrow could also be potential targets for the Angels to shore up the back end of the bullpen. The Angels could also choose to re-sign Bud Norris who did a great job last season for the most part and move J.C. Ramirez back to the bullpen.
The only lefty specialist the Angels have is Jose Alvarez and his effectiveness has been sporadic over the past two seasons. So the Angels could pursue a guy like Tony Watson as well. So let's say the Angels use Cam Bedrosian as their closer with Blake Parker being the set-up man with Keynan Middleton pitching the 7th inning. Noe Ramirez and Eduardo Paredes should also be in the bullpen mix with Jose Alvarez as the lefty specialist.
Lastly, the Angels did sign a reliever in Jim Johnson. Jim Johnson is an experienced right-handed reliever both in the setup and closer roles. If you are an Angels fan, do you like this signing? This signing proves that former closer Huston Street is officially not going to be with the Angels as their closer. Johnson has always pitched in hitters ballparks with that devastating 93-95 MPH sinker, with an above average overhand curveball. The angels have nothing to lose if Johnson is the closer, just like the Angels did with the acquisition of catcher Martin Maldonado ( who won the gold glove in 2017 for all catchers). Jim Johnson can be the closer that can lead the team and the AL in saves if he stays healthy enough to pitch. I believe Johnson has enough resume and stuff to not lose the closer's job. The only IF is can this underrated closer can stay healthy.
Will the Angels stand pat with their bullpen or make some moves to bolster it? That will be a question Billy Eppler will have to answer.  I hope the Angels do make some moves to bolster the bullpen. Let's see what happens.
Roar Stripes: Two of Detroit's Newest Cats
After adding Leonys Martin to a Major League contract on Tuesday, the Tigers have reportedly signed free agent pitcher Mike Fiers, according to Anthony Fenech of the Detroit Free Press. The deal is for one-year, $6 million.
Fiers, 32, will be bringing bling to the Motor City as he's coming off a World Series championship with the Houston Astros. Detroit's new rotational piece went 8-10 with a 5.22 ERA and a WHIP of 1.428 in 2017. Fiers fanned 146 batters and walked 62 over 153.1 innings pitched in 29 games (28 starts). He did surrender a career-high 32 round trippers.
Fiers' arsenal consists of a four-seam fastball that sits at 90 MPH, cutter at 87 MPH, sinker at 89 MPH, changeup at 82 MPH, slider at 82 MPH and a curveball at 74 MPH. In 2017, Fiers used his fastball 30% of the time, then relied on his sinker and curveball 38% of the time.
Martin, 29, is coming off a 2017 campaign where he played a combined 49 games between the Seattle Mariners and Chicago Cubs. Martin batted .172 with seven stolen bases and a WAR of -0.1 in 2017. Martin's career WAR stands at 10.2 and is connected with a batting average of .247, an on-base percentage of .300, slugging percentage of .360, 176 runs driven in, 254 runs scored, 38 home runs and 115 stolen bases.
The Tigers' new left-handed bat signed for one-year, $1.75 million.
Both players have been added to help pass the time of the rebuild taking place on Woodward Avenue.
Fiers will more than likely fill out the rotation with the likes of Michael Fulmer, Daniel Norris, Matthew Boyd and Jordan Zimmermann.
Martin will likely battle alongside JaCoby Jones for the centerfield job.
With both Martin and Fiers signing on for just one season at rather low prices, if both are productive, the Tigers could flip one or even both at the deadline for more puzzle pieces.
It's a low-risk, high-reward scenario for Detroit.
What Are The Giants Waiting For?
The Giants missed out on Ohtani and Stanton. Last year they allowed the Padres to finish ahead of them in the division as they were last in line in the National League West. The Dodgers won the division, the Diamondbacks finished second, the Rockies third and the Padres forth. Three of those four teams made the play-offs, and the Giants stood and watched the rest of the teams in that division pass them by. So far, in the off-season the Giants are still standing at the looking glass watching…….but why? What are the Giants waiting for?
How Bad Were The 2017 Giants?
The Giants have been in San Francisco for 60 years, 2017 was their 2nd worst season in those 60 years. They have a great fan base, expensive tickets, and high expectations. They have been largely successful for a long time, is this the cost of that prolonged success?
They have a great catcher in Buster Posey who this season collected his 4th Silver Slugger Award. He hit .320 and had an OPS of .861 both were his highest since his MVP season of 2012 but he hit only 12 home runs and compounding his power drought was the fact that he only hit 2 after the All-Star break. I believe in order to keep his offensive production high, he needs to be moved to 1st base. However, there is a problem with that. A problem making $17.2 Million per season for the next 4 seasons who hit a career tying high 18 home runs and saw his batting average plummet 34 points to .241 in the process named Brandon Belt.
That is not their only problem, let's take a look at left field. In 2017 the position of left field hit 11 home runs, drove in 70 runs and had a combined .666 OPS, all of which ranking 14th out of the 15 National League clubs. Center field was so bad Executive Vice President Brian Sabean was quoted as saying, "Center field needs to be upgraded." Denard Span was their center fielder last season and according to what metrics you look at, one could make the case that he was the worst center fielder in baseball. The Giants do have center field prospects, but they are a year or 2 away, and the Giants need help now. Then there is right field where Hunter Pence calls home, sometimes. I say sometimes, because in 2015 and 2016 he missed a combined 166 games. So, he played the majority of 2017 yet his OPS sank to a career low .701 and he turns 35 in April, the final year of his contract.
Speaking of OPS drop, shortstop Brandon Crawford saw his OPS drop a monumental 63 points. Despite the large drop in OPS he still lead the team with 77 RBI's. Which says alot about both Crawford and the Giants as a whole. Lastly and most offensively ugly lets take a look at third base. Third base for the Giants produced the majors (not the league) lowest batting average at .216, the fewest home runs with 9, the fewest RBI's with 51 and the lowest OPS at .568.
But, Wasn't Just The Offense
The pitching was disappointing as well. Jeff Samardzija led the Nation League with 207 2/3 innings and that was the lone bright spot for the entire pitching staff for the 2017 season. Focusing on the starters their total ERA went from 3.71 in 2016 to 4.58 in 2017. Don't blame these numbers on the absence of Madison Bumgarner he had the 2nd highest ERA of his career and in 17 starts won only 4 games. Now he was the best as far as ERA with 3.32 and all the rest had at least 4.40 The only person who will not be returning this coming season is the retired Matt Cain who won 1 less game than Bumgarner at 3. But the Giants, because of the Bumgar injury had 6 starters, so five underachieving overpaid starters will return. None of the starters won double digit games, Samardzija, Cueto and Cain all started over 30 games each, while the previously mentioned 3 plus Ty Blach lost double digit games. But the results need to be better to compete.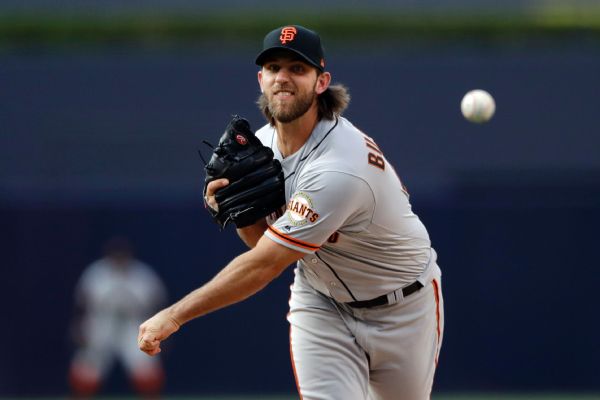 Then there was the bullpen. They thought they addressed the issue last season with the signing of Marl Melancon to a 4 year $62 Million dollar contract. He had forearm surgery in September after his ERA increased from 3.65 to 4.34. Will Smith will also return this upcoming season from Tommy John surgery. But like the rest of this team both the starters and the bullpen are a mess.
So What IS The Plan?
The reality is they have been signing and trading for the now, and not really worring about the future. So now they have two huge problems with the team overall. They really don't have any high level attractive prospects, and they have $161 Million in salary commitments for the upcoming 2018 season. So, they are roughly $30 million away from the luxry tax threshold and very little pieces from which to make a trade. This turnaround is not a simple one, it will take multiple moves and deals for them to be able to realistic compete in 2018. All of this leads me to my original question; what are the Giants waiting for?
Royally Yours: Winter Meetings Preview
The MLB Winter Meetings will take place this week in Orlando, Florida. The meetings give teams the opportunity to meet and discuss league matters. It will be interesting to see if the Royals make any trades or pick any players in the Rule 5 draft during the 2017 Winter Meetings.
If the Royals do no re-sign any of their free agents they could be in a rebuilding mode. If the Royals are rebuilding in 2018 they could use the Winter Meetings to negotiate trades to build their minor league system. The Royals have one of the worst farm systems in baseball and it may be in their best interest to look for what is best in the long run. The trade decisions the Royals make at the Winter Meetings will say a lot about their potential next season.
The Rule 5 draft will take place on the last day of the Winter Meetings. The draft gives teams the chance to draft players that have spent too much time in the minor leagues. If a team drafts a player in the Rule 5 draft they must play in the majors. Royals Relief pitcher Joakim Soria was drafted by the team in the 2007 Rule 5 draft out of the San Diego Padres organization. The Royals have a lot of holes on the roster that could be filled in the Rule 5 draft. The Rule 5 draft can be risky because the team needs to be certain that the player will be able to make an immediate impact in the major leagues.
Last season the Royals made the Wade Davis trade during the Winter Meetings. The Royals traded closer Wade Davis to the Cubs for outfielder Jorge Soler. The trade did not immediately benefit the Royals. Last season Soler only played in 25 games and had a .144 average. Soler should see more action with the team because of the departures of Melky Cabrera and Lorenzo Cain. It will be interesting to see if the Royals participate in any other high-profile trades during the Winter Meetings this season.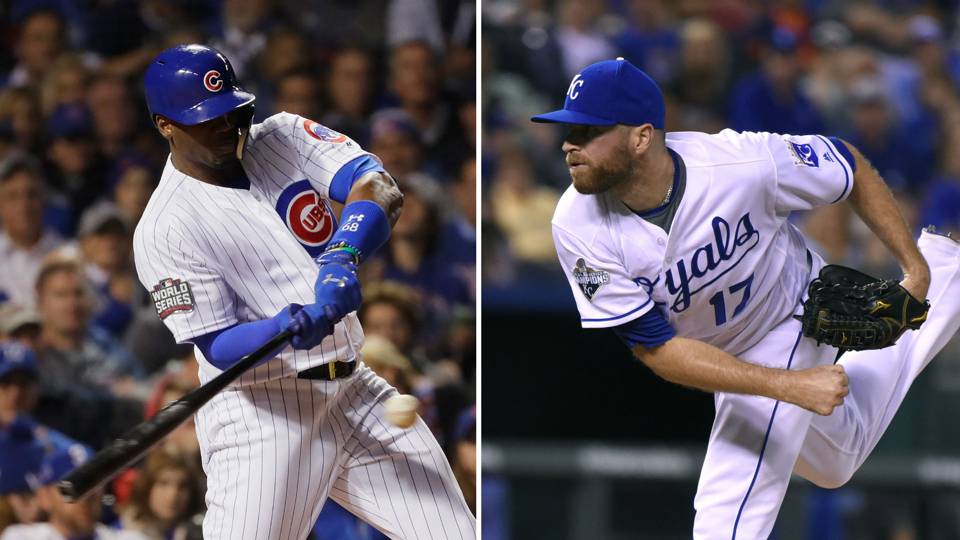 The Winter Meetings will set the stage for the Royals 2018 season. The decisions the team makes will determine if they are in a win now or rebuilding mode. The Winter Meetings will help determine what the Royals will need to do in free agency to complete their roster.
SABERmetrics Sunday: Judge and Stanton, a DEADLY combo
So the New York Yankees have added another slugger. In a trade with the Miami Marlins, the Bronx Bombers have acquired reigning NL MVP Giancarlo Stanton. It has been reported that New York intends to eat most of Stanton's massive salary, which is what the Marlins had hoped for. This means that last year's young and exciting Yankees team just got even more exciting. For opponents trying to take down the Yankees, this is scary.
Aaron Judge and Giancarlo Stanton in New York pinstripes. This will be a heck of a duo.
Baseball fans both casual and die-hard do not need to do extensive research to know how good these two are. Both are able to crush the ball at will and be among the most productive hitters in baseball. But stats are fun right? And these are stat-based articles after all! So lets take a look at all sorts of numbers between Stanton and Judge and what they can bring together in years to come on the Yankees.
---
Giancarlo Stanton (28)
.376 OBP / .631 SLG / 1.007 OPS / 59 home runs (led majors) / 12.3% BB / 23.6% K / 81.5% zone contact / 156 wRC+ / 47.8 Fangraphs Offensive Rating / 6.9 fWAR
93.0 average exit velocity (7th best in majors) / Hardest hit ball in majors last year (122.2 mph)
Aaron Judge (25) 
.422 OBP / .627 SLG / 1.049 OPS / 52 home runs (rookie record) / 18.7% BB / 30.7% K / 80.6% zone contact / 45.5% hard contact / 173 wRC+ / 60.8 Fangraphs Offensive Rating / 8.2 fWAR
95.3 average exit velocity (best in the majors) / Second-hardest hit ball in the majors last year (121.1 mph)
NOTE: The top-seven hardest hit balls in all of baseball last year were hit by either Stanton or Judge.
---
These two right now might be the very best power hitters in baseball. While Judge strikes out a lot more, he is still young and can improve his K rate while improving his production. Isn't that a scary thought for a pitcher!? They will both get on base at a very good to excellent rate and their overall WAR value is top notch.
Combined 111 home runs in the regular season last year, just imagine if Judge keeps it up and Stanton is able to use his power at Yankee Stadium. It is very possible that Stanton will hit or pass the 60 home run mark next year. Heck, even Judge can do the same. With two guys that can easily have a .900+ OPS, 50+ home run power, wRC+ over 150 and a 6.0+ WAR, this will make pitchers facing the Yankees quite nervous, and the Yankees themselves are in for a treat.
Logical Landing Spots For Stanton
As rumors fly fast and furious about a deal pending physicals between Stanton and the Yankees, I thought fans may want to see logical places that make sense for both parties before each of the two parties held each other for ransom.
When you are looking for logical landing spots for a player that everyone knows is on the market like Giancarlo Stanton, the first thing you need to do is look at what the team dangling the player out to the other 29 teams is in need of. In this case the Miami Marlins. What I believe the Marlins need and want in return is first of all a package of young controllable players, that is first and foremost. They know this is not a 1 or 2 year rebuild, this is a stripping of the cupboard and a stocking of the pantry. Secondly, they want starting pitching, a short stop/ second baseman so they can trade Dee Gordon and young outfield depth because not only are they looking to trade Stanton, but Scott Borus is the agent for another one of their talented outfielders in Ozuna and they have to know they are probably going to loose him as well. Plus,they should also be looking into a young controllable catcher, they have a catcher in J.T. Realmuto that should fetch them a good future return for an above average player at a thin overall position in MLB currently. Lastly, and what I think some people in the organization value the most is the quickest way to shed as much payroll as possible, using the model the Astros recently used to a World Series Championship. Using this information as our structure we can now use a formula of sorts to construct 6 logical destinations that make sense for the Marlins.
What are you getting in Giancarlo Stanton? This past season he was 1st in home runs with 59, 3rd in runs with 123, 1st in RBI's with 132 and 1st in slugging percentage with .631.
Most people have the Cardinals higher on their lists of possible destinations. I originally was not even going to include as I designed this article to be the top 5 and not the top 6. Why? From everything I hear, Stanton does not want to go to the Cardinals. You must remember he has a complete no trade clause, and if he says no, the deal stops right there.
Who Gets Traded
– St. Louis does have pieces that would surely interest the Marlins. But, any deal made has to involve SP Alex Reyes. As stated above the Cardinals could also deal from a position of strength and send an outfielder to the Marlins probably Stephen Piscotty and you complete the trade by adding a shortstop/ second baseman in Kolten Wong.
Summary
– I think the Marlins would love this deal and would jump at it so much that they would be willing to eat some of Stanton's contract. But if Stanton says no then it is no. Chance of this deal happening 15%
Stop laughing, read the next few paragraphs and let me use the formula above and logic please. Most people think the Diamondbacks will be heavily involved in the J.D. Martinez sweepstakes. But, for a right fielder wanting a rumored 7 year $200 Million plus contract with really only recent success, why not get a long term answer and a proven slugger for a
few million more? But, realistically before the Diamondbacks can do this they will probably need to shed some payroll. But, what if they could do both in the same deal?
Who Gets Traded
– Therefore, what if the Marlins agree to pay the contract of Latin right fielder and current Diamondback Yasmany Tomas? He is owed roughly $46 Million over the next 3 years. Let's say the Diamondbacks were willing to include Chris Owings who in 97 games last season had 97 hits including 25 doubles and 12 stolen bases while batting .268. And young promising pitching prospect Braden Shipley.
Summary
– I actually think money wise the deal could get done, I think the Marlins would be happy with Shipley and Owings who is not a free agent until 2020 and has made a total of less than $4 Million in his 4 year career. Which would allow them to trade Dee Gordon who is due to make almost $40 Million over the next 4 years. Lastly, Stanton would surely agree to go to a team where could hit behind Paul Goldschmidt watch Zack Greinkie pitch and who's stock is increasing as they made the play-offs this season? Chance of this deal happening 30%
The Rangers are looking to re-tool not re-build. Plus. the Rangers have players that the Marlins should covet, I don't understand why more people in baseball do not consider the Rangers a viable option for Stanton to land.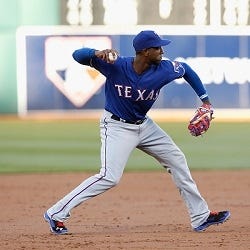 Who Gets Traded
– The Marlins could have their SS/2nd baseman of the future and he would be controllable in young Jurickson Profar. Plus the Marlins could also get a speedy outfielder in 2nd generation player who is again young afforadable and controllable in Delion DeShields. Now, the Rangers need pitching and don't really have a good young starter to include and kind of be the icing on the peverbiable cake for this deal. But, they could certainly include a couple good young controllable bullpen arms in Alex Claudio who had an ERA of only.250 in 70 games while only surrendering 5 home runs. Then there is Keone Kela who in a smaller sample size of 39 games was 4-1 with a 51/17 strikeout to walk ratio.
Summary
– This deal nets the Marlins 4 players that are all slightly more than prospects. All 4 of these players have been in the show. They may not be household names, but the rest of the Marlins for the next few years will not be either. These are 4 players that the Marlins can concertrate on and build around. Chance of this deal happening 30%
The Giants want to make a big splash this off-season. Stanton would qualify, and they might be willing to overpay in order to make that big splash. Problem is, they do not have any
stand out prospects, therefore the wanting is big on the Giants part, but a match is hard to make.
Who Gets Traded
– There is yet another problem, because just as important to the Marlins as the prospects they get in return, is the financial relief from Stanton's looming contract. But before any additions are made to the 2018 Giants, they already have $161 Million committed in salaries. That does not sound like any wiggle room. The blue chip prospect in their entire organization is Chris Shaw who I saw this year in the Arizona Fall League. First he is an imposing figure at 6'4" and 235. He was taken in round 1 of the 215 MLB Draft this past season between AA and AAA he hit 24 home runs and hit left handed swing produced a .292 average. The Marlins will get him in any trade for Stanton. Then, they will want one of the following 2 starting pitchers either Ty Blach who made it to the big club, or Tyler Beede who is on the cusp. Blach like most young players has some good and bad. He has a decent K/W ratio at 73/43 and a complete game under his belt. But he has given up more hits than innings pitched in his short career and an ERA last year of almost 5.00. Beede is a right handed pitcher with a great curve ball and he holds his velocity into the late innings of a game. Beede will be given a chance at the starting rotation if he stays with the Giants. Third baseman Christian Arroyo would more than likely need to be included in the deal as well. He made it to the big league club, but broke his hand after just 125 at bats. Problem was in those 125 he had only 24 hits and 9 runs which equates to a .192 batting average.
Summary
– There may have to be a marginal 4th prospect added, and if I were negotiating this deal for the Giants I would also try to get Martin Prado as they need help at 3rd base, and the Marlins should be willing to part with him. Chance of this deal happening 50%
Stanton in Colorado sounds like a match made in home run heaven. The Rockies don't have perfect prospects, but they could get creative and go a number of different directions. Plus with several of their big hitters contracts expiring in the next 2 seasons, they suddenly have a closing window on winning. Who Gets Traded
– The Rockies have 2 interesting relievers who both have a K/per9 at over 10. One from the left in Mike Dunn and one from the right in Adam Ottavino, problem is neither one is really considered a prospect as one is 31 and the other 32 years of age. To make sense for the Marlins, they must have 1 or both of the following infield prospects the Rockies have in Pat Valaika or Brendan Rodgers. Valaika can play pretty much any infield position and made it to the show this year. He played in 110 games this season with 182 at bats. In those productive at bats he had 47 hits, 11 stolen bases 13 home runs with a .258 average. But, he has 2 qualities that set him apart, he is great defensively and in those 182 at bats hit into only 1 double play. His primary position is third, and if it was not for being blocked there by one household name, he would be one as well. Rodgers is ranked as the 7th best prospect in all of baseball by Baseball America and the Rockies are seemingly bound and determined to hold onto him. In fact in a recent piece for the Denver Post manager Bud Black had this to say to the paper; "I've only seen a couple at-bats. But he's one of our best prospects," Colorado manager Bud Black said. "I've been around long enough to know there are very few untouchables in this game. Very few, when you think about it. The Nationals have one. The Angels have one. And we have one. That's the really hard part of a general manager's job, assessing a player's value, both your own and others." The Rockies also have a nice looking left handed outfielder in David Dahl who may be needed to complete the trade as I think the Rockies want an outfielder in any trade they make.
Summary
– How many home runs could Stanton hit in Colorado? Where would they land? Why is this possibility not being talked about more? The Rockies have tons of prospects ready to be on the big club or in AAA which is what the Marlins should want to trade for. I think this is a logical landing place for Stanton, but logic does not always make sense in baseball so chance of this deal happening 15%.
The Red Sox, much like the Giants need to make a big splash. The Giants were terrible but the Sox have won their division the last 2 years, why do they need to make a big splash? They fired their manager, set the bar extremely high, and they now in doing so will have to pay, literally for that. Plus, Stanton could be a sort of "Big Papi" like figure in Boston. But, how this deal gets done is different than the other 5 above.
Who Gets Traded
– The first thing that gets traded is MONEY, as I said above the Red Sox want to win, and are willing to pay for it. The Marlins are more than willing to accept it. In most of the above deals, although I don't say it, it is just a given that the Marlins will have to pay for about 1/3rd of the contract or $100 Million. In a deal with Boston, the Marlins financial commitment would be much less as I hear the Red Sox might be willing to take on the entire contract. But, that means the Sox would only trade a couple prospects in return. The first would be SP Eduardo Rodriguez who I know had a record of 6-7 but he had the second best WHIP on the team at 1.282 behind only Sale on the Sox and he owns a 3 to 1 K/BB ratio with exactly 50/150. He is also the youngest starter for them at 24. But with Sale, Porcello, Pomeranz and Price Rodriguez is expendable. The second player the Sox would trade is controllable catcher in 26 year old Christian Vazquez. He had the 8th most hits on the Sox but had only 5 home runs and 32 RBI's.
But this trade takes an unusual turn as the Marlins would agree to not only trade Stanton, but also starting catcher J.T. Realmuto who had as many doubles (30) as Vasques had in RBI's (32. He also brings 17 home runs and even 8 stolen bases to the Red Sox. If you dive into the Boston problem, it is the number of hits the team had last season. Before you say I am wrong, let me prove it to you. If Boston would get Stanton and Realmuto with 170 and 148 hits respectively they would slot into the number 1 and 4 positions on the Red Sox in hits.
Oh but wait, there's more. What if the Red Sox also agree to take on the financial commitment of Wei-Yin Chen as well? The 5 year $80 Million commitment of an injured yet very career effective pitcher. For his career he has a 9.7 WAR, a 53 and 38 win loss record and a 3.90 ERA. After 5 starts in the 2017 season he was placed on the DL with a partial UCL tear. Believe it or not, according to spotrac.com the projected Miami Marlin team payroll for 2018 is about $97 Million. Not to mention the long term financial commitment as mentioned above, but if you subtracted the Marlins 1st and 4th highest player salaries from the 2018 payroll it would bring them down to $59.4 Million for the 2018 season a reduction of 38.41%.
Summary
– In one fail swoop the Red Sox would be World Series favorites and the Marlins would have a greatly reduced payroll, and two young controllable players to build around. If Boston is truly committed to there seemingly win at all cost philosophy, these two teams could do a deal that makes sense for both clubs in the long and short term. Chance of this deal happening 60%.
The Pinstripe Post; The New Yankees Skipper
The biggest move of the off-season for the New York Yankees would be to name the new skipper. Who would guide this team past the seventh game of the ALCS?
SOOOOO MUCH speculation. SOOOOO many rumors. It was all fun and games until there was an announcement by the management of the team that reached Game Seven of the ALCS in a "rebuilding" year. Who would take them to the next level?

Much has been made about his background. Three generations in major league baseball in one capacity or another. That's great! How does that compute to it being bottom of the ninth with runners on base, your closer struggling and you have to make a decision? How about every day line-ups? Who is the DH? Who makes a difference?
I'm not disrespectful of Aaron Boone or the decision Brian Cashman made. Obviously Boone distinguished himself from the rest of the field so much so that his lack of experience made no difference. "Aaron Boone's impeccable interview, working through difficult on the field and clubhouse scenarios and his exposure to baseball through family and his own career is what made his lack of managerial experience a non-issue to the organization." Brian Cashman said in the press conference held on Monday. The lack of experience?
The press conference yesterday showed a breath of fresh air. Boone was answering every question, laughing, joking. Very articulate. However how would you be if you just landed the biggest job in major league baseball?
You won't be so happy being in the Bronx answering to the NY media. Especially if you're losing. Get ready.
However if you are a puppet, firmly controlled by management and the fact that you are new to the game, it might not be so bad. Your puppet strings are controlled from far above you with the excuse for failure that has been provided if it happens. You sink or swim. Could we be looking at a control issue which why Boone was chosen?
The press conference stirred some great feelings. "It's not what you want" wasn't a consideration. Boone was awesome looking into the future. However, this team is already destined for great things. Are those great things going to be a reality because AARON BOONE guided them, or the strings that control him from much higher above?
MLB Drug Test Results for 2017 Season
For those of you who think that baseball is not going head to head with cheating in the game, baseball now has proof. Major League Baseball boosted its drug test total 25 percent in the 2017 season ending with the World Series.The sport's new Independent Public Administrator said there were 10,237 tests of players on 40-man major league rosters, including 8,235 urine samples for performance-enhancing substances, stimulants and the drug DHEA and 2,002 blood samples for human growth hormone.
Which is up from 8,281 tests over the 2016 season, which included 6,634 urine samples and 1,647 blood samples. The only negative I can see with these numbers, and the only question that I would have is why were the numbers given in number of tests and not number of players tested? This leads me to wonder if multiple players were tested multiple times with other players seemingly slipping through the cracks. Let me be clear here, I am not saying that is what is happening, I am simply saying the way the numbers were presented in the report that came out on Friday it leaves that question unanswered.
Two major leaguers had positive tests for banned stimulants, one each for Adderall and D-Amphetamine. The players were not identified because of the penalty for first offenses for stimulants and the drug DHEA is six additional urine tests over the next year rather than a suspension.
Alright MLB, So You are Testing More, But Are You Catching Anyone?
The number of failed drug tests in Major League Baseball dropped over 50% last season.There were five positive tests for performance-enhancing drugs that resulted in 80-game suspensions: Pittsburgh outfielder Starling Marte (Nandrolone), Philadelphia pitcher Elniery Garcia and Houston pitcher David Paulino (both Boldenone), Cleveland pitcher Joseph Colon (SARM LGD-4022) and San Francisco pitcher Joan Gregorio (Stanozolol).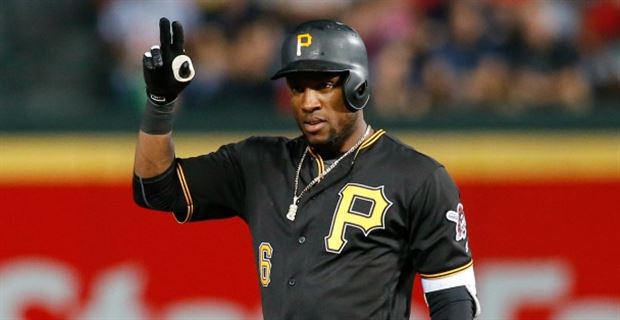 There were also 106 Therapeutic Use Exemptions for otherwise banned drugs: 103 for Attention Deficit Hyperactivity Disorder and one each for hypertension, idiopathic hypersomnia (a sleep disorder) and azoospermia (a condition in which semen contains no sperm). That was down from 107 TUEs last year, which included 105 for ADHD and one each for hypertension and hypercalciuria (calcium in urine). That's roughly 8% of major leaguers (based on 40-man rosters subject to the MLB testing program).
The report was verified by program administrator Jeffrey M. Anderson, M.D., who served in this role since 2012 until his unexpected passing in September 2017. MLB appointed Thomas M. Martin, Ph.D to succeed Anderson. Martin is a retired U.S. Army colonel who is a former director of the Defense Department's drug testing and program policy office,
Do you believe that PED use in decreasing in the game of baseball? We would love to hear from you, tell us your opinion in the comments below.
Royally Yours: Contract Updates
The Royals made some important contract decisions last week. Friday was the deadline to submit contracts to players that are arbitration eligible. None of the decisions this week were a surprise but they are still a big part of the Royals 2018 roster formation.
The team declined to tender Terrance Gore but signed him to a minor league contract. Gore is an important part of the Royals depth. His speed played a big role in the Royals playoff runs of 2014 and 2015. In the 2014 postseason Gore had three stolen bases. In 2015 he also had success on the base paths with one stolen base in the postseason. Gore is valuable as a base runner but has struggled in the majors as a hitter. He has only had 11 plate appearances and has failed to get a hit in each appearance. The decision to sign Gore to a minor league contract will give the team an option to use him in the future without taking up a spot on the 40-man roster.
Mike Moran was signed to a one-year contract on Friday. Moran was claimed off waivers from the Los Angeles Angels last September. Moran is originally from the Kansas City metro. Last season Moran made six appearances with the Royals. He had a 7.94 ERA in 5.2 innings pitched. The Royals signed Mike Moran to add depth at relief pitcher.
Kelvin Herrera, Nathan Karns and Brandon Maurer were signed to contracts by the Friday deadline to avoid arbitration. Herrera is the Royals best option at closer next season. In 2017 he started as the closer but lost the job at the end of the season. Karns could be in the starting rotation next season if the Royals do not sign another starting pitcher. Last season Karns made eight starts. The Royals acquired Maurer last season in a trade with the San Diego Padres. He had a 2.25 ERA in 26 appearances out of the bullpen with the Royals. All three pitchers should see a lot of playing time next season.
The Royals roster is starting to come together and is almost set for the 2018 season. The contracts this week will keep most of the roster in place. The Royals still need to fill some spots in free agency but the depth of the Royals 40 and 25 man rosters are set.