Are Good Pre-Season Tours A Sign Of A Good Premiership Season?
The well worn and often used phrase "it's not over till the fat lady sings" fits a myriad of situations in life. Whether its own roots lie in misogyny, sexism or people (ladies) who have weight problems, seems irrelevant in its overall usage.
Where football is concerned the fat lady breaking into song might be used as a metaphor for the fast approaching season, the 'endgame' of this summer's transfer market and the start of real football. On Friday 11th August Arsenal play Leicester City in the opening match of the new Premiership 2017-18 season.
The fat lady I presume will at least be clearing her throat by then. Her voice will be a little louder and clearer for Manchester United supporters on Sunday afternoon when West Ham United visit Old Trafford.
However, her voice will not be in full bloom, at its loudest, so to speak, until the end of August when the transfer window finally closes at least until January. While the window remains open it is still possible that United will add to their numbers, Jose Mourinho is still chasing another one or two. Who they might be is the stuff of tabloid newspapers with the exception of Gareth Bale, where the Welshman is concerned the fat lady has already sung on his behalf. The chase to sign Bale is over for at least another year.
The opening of the Premiership season comes after a pre-season tour of many highs and a few lows. Has this Manchester United tour of 2017 been the best? A look back at recent history suggests maybe not, which raises the question of how much relevance should the supporters put on them.
It is arguable that Manchester United have never had a better pre-season tour than in the early days of Louis Van Gaal's management, season 2014-15.
Then, as now, the preliminary premiership tour took place in the United States. When it was over it left most Manchester United fans with a feeling of great optimism for the approaching premiership season.
LA Galaxy, Roma, Internazionale, Real Madrid, Liverpool and Valencia were all defeated. United scored 18 goals (5 more if you count a penalty shoot-out), and conceded 5 ( 3 more if you count the penalty shoot-out).
Everything looked good for the start of the Premiership season and the home match with Swansea City on the 16th August 2014 seemed a heaven sent opener. However, Swansea's 2-1 win, their first league win at Manchester United's Old Trafford ground, vanquished the embryonic hopes of the previous summer.
The reality, as they say, set in quickly and the Louis van Gaal era with its baffling philosophy and sideways, backwards football had arrived not to everyone's liking. Mr Van Gaal's tenure was going to last for two seasons before the Dutchman was ousted from the job, arguably on the day of his greatest triumph, winning the FA Cup against Crystal Palace at Wembley.
Fast forward to present day July – August 2017, and the latest tour of the USA and Europe under Jose Mourinho has also gone very well, very well indeed.
Wins against LA Galaxy, Red Salt Lake, Manchester City, Real Madrid, Valerenga and Sampdoria with a solitary defeat against Barcelona has one presumed, given the team confidence.
Although a 2-1 defeat against Real Madrid in the UEFA Super Cup on Tuesday evening showed a certain lack of communication across United's untried backline and sharpness up front, United under Jose Mourinho is improving and look a stronger unit than last season.
As in the days of  Louis Van Gaal, with the Premiership season only a few days away, all the omens look good. Of the new signings Victor Lindelof has not settled in as well as United fans would have hoped but it is early days and Lindelof must be given time to get used to the club, his teammates and the premier league.
Romelu Lukaku is scoring goals, and missing chances, but he is also getting behind defenders and widening up the pitch for others to exploit. Whilst Nemanja Matic silenced some of the doubters in his first 45 minutes debut against Sampdoria in Dublin.
Matic who also had an excellent game against Real Madrid seems to have hit the ground running in his Manchester United career. Perhaps not such a coincidence having already played under Jose Mourinho at Chelsea. Matic is a player Mourinho called a Mourinho player if that makes sense. Affirmation if it were needed of the value Mourinho sees in the signing of Matic.
Of the younger element in the squad, the stand out player was Andreas Pereira who has surely convinced Mourinho that he is good enough to be part of the main squad thus ruling out another loan move.
After the 2014 tour Louis van Gaal looked forward to what he hoped would be a three-year contract at the greatest club in the world. Alas the fat lady sang in his second year and his time at United was over, all too soon van Gaal would say, but that is football at the top table.
Jose Mourinho now enters his second year in the hot seat but the omens are far more favourable for him. The fat lady's appointment book should not have her visiting Old Trafford any time soon, except, hopefully, for celebrations in the near future.
Mourinho, apart from being sacked in his second year of his second term at Chelsea, has a habit of winning the league in his second season at a club.
After winning three trophies in his first season the chances of keeping up with that record are good if Mourinho has the players he required to do the job.
Perhaps the fat lady should leave 13th May 2018 open for a guest performance, United's final game in the Premiership at home against Watford and a possible premiership trophy.
Will United's good pre-season tour be a foretaste of the season ahead? Or, as with van Gaal's tour of 2014 will it remain a pleasant passing memory in the next few months? The wait is over and United supporters will soon have answers to those questions.
Can The 2017 Angels Can Be Like The 2002 Angels?
The current shoals being navigated by Angels GM Billy Eppler are treacherous ones.
On the one hand, you've got one of the weakest farm systems in the game and a major-league club that finished 14 games below .500 in 2016. On the other hand, you've got the best player in baseball — Mike Trout — who's in his prime and gives the Halos the strongest one-man foundation in the game.
The defensible decision that Eppler and ownership has made is to try to contend around Trout. This brings us to the next layer of complications.
Those barren minor-league rungs mean the Angels can't pull off blockbuster trades to improve the current roster. As well, the dubious past investments of Arte Moreno mean there's not room in the operating budget to chase frontline free agents. Eppler, then, must make improvements at the margins. That's precisely what he's done this past off-season. What can Eppler do now to get the Angels into the playoffs?
Obviously, Trout has established himself as something close to a 10-win player, and that, as mentioned, is the best possible starting point for a roster. Elsewhere in the lineup, Eppler managed to eke out a couple of significant potential upgrades.
Last season, The Los Angeles Angels of Anaheim left fielders combined to hit just .204/.271/.313. It goes without saying that that's miserable production from a bat-first position. The winter addition of Cameron Maybin directly addresses that deficit. Even if Maybin doesn't produce as he did in 94 games for Detroit last season (120 OPS+), he'll still provide the Angels with a substantial upgrade at the plate, on the bases, and in the field.
Speaking of in the field, Danny Espinosa is the Angels' one big failure so far.
Martin Maldonado profiles as the new primary catcher. Last year, Angel catchers didn't hit, and Maldonado improved upon their bestowals. Mostly, though, Maldonado is a much better defender than the Angels' two primary catchers from a season ago — Carlos Perez and Jett Bandy — especially in terms of framing.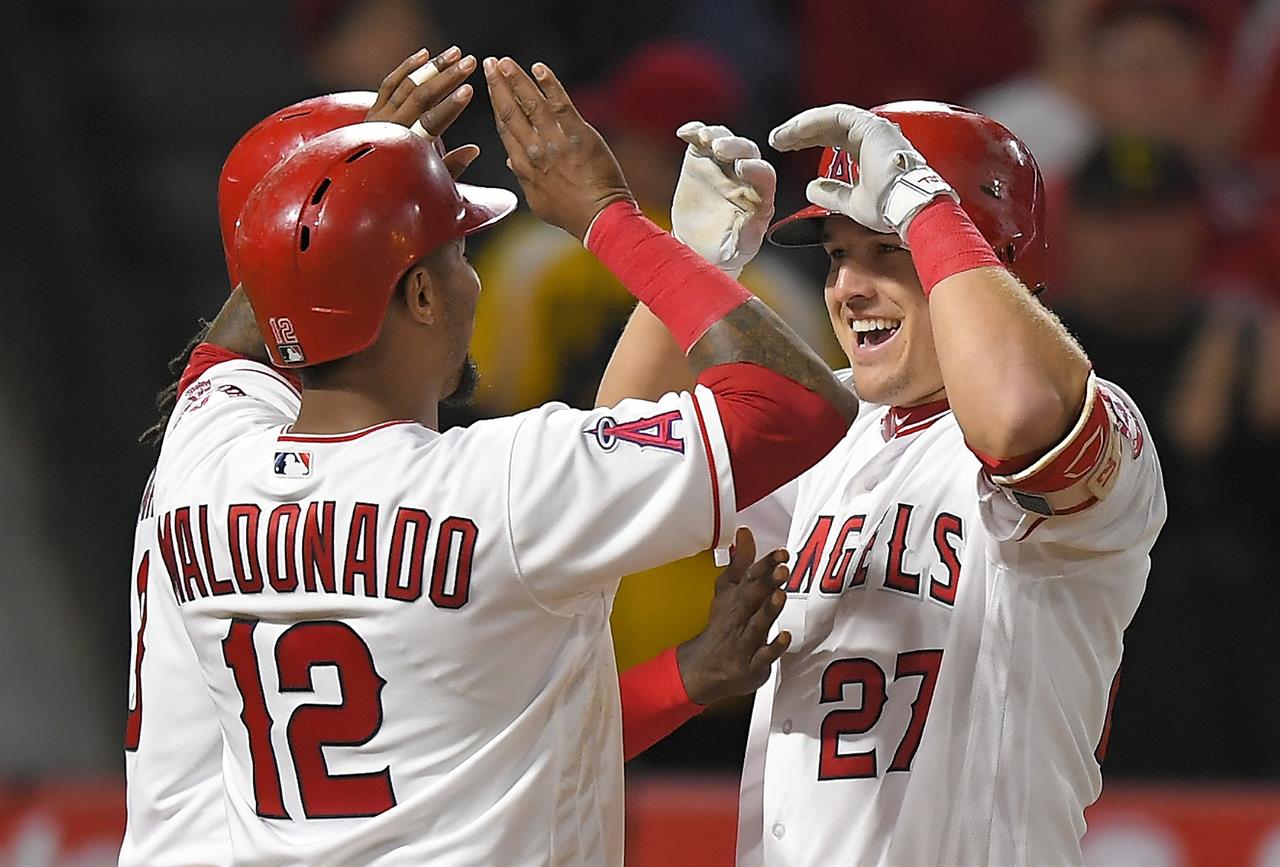 The Angels also figure to have improved their depth in 2017, mostly because of the additions of Ben Revere and Luis Valbuena. Valbuena's power has useful since Albert Pujols' numbers are down. Revere, meantime, has provided a good hedge against injury to Maybin.
All of this isn't to say that the Angels are not the greatest team in 2017 or even a serious contender to get to the ALCS. However, thanks to that second wild-card berth in each league and the general environment of increased parity, the bar for contention has never been lower. It's why the Angels, as of now, have that second wild card spot here in August.
The Angels, you can argue, were better than their record in 2016, and Eppler has done a fine job of improving the roster on the cheap this past winter. This hasn't been be as good as the 2014 team that won 98 games, but Angels fans are again enjoying some meaningful baseball this late in the summer. You could say the same thing about the '02 Angels and look what happened there. This current team reminds me a whole lot of the Angels back in '02. Back in '02, the Angels were The wild card team with less superstars and talent, but were The hottest team going in. All signs are pointing to it this season. This team has no ace, has two proven stars, a bunch of old-school baseball grinding players. This is when Mike Scioscia makes his money. The Angels have the 2nd toughest schedule in baseball moving forward. Let's see if the Angels can get into this second wild card spot and make a run.
Wrigley Weekly Wrap-up
An MRI revealed Willson Contreras has a moderate right hamstring strain, and he was expected to be sidelined a minimum of four weeks, the Cubs announced on Friday. Contreras was placed on the 10-day disabled list and catcher Victor Caratini was recalled from Triple-A Iowa. Contreras injured his leg running to first base in San Francisco last week. "Even if it's three to five weeks or four to six weeks, I'll stay positive and I'm going to take it slow and make sure when I get back, I get back 100 percent and can still give 100 percent on the field," Contreras said. "I don't want to rush anything. I'm going to take my time." The first step is for Contreras to be pain free, which will likely take about two weeks. The Cubs will then step up his rehab process, and the team will have a better idea of the timeline then. "Hamstrings are so unpredictable," Joe Maddon said. "Let's just play it out. Obviously, it's difficult to not have his name in the lineup tonight, all the wonderful things he's done all year, especially since the All-Star break, what he means to us, even his energy. The reality is he's not here right now." The loss of Contreras creates a huge hole in the Cubs' lineup. Since the break, he has led the team, batting .311 with 10 home runs and 29 RBIs. Contreras has been such a key piece that Maddon inserted him in left field last Saturday and at first base last Wednesday to keep his bat in the lineup. "It feels bad because now I can't be on the field, helping the team," Contreras said. "But I'm still here and I'll be with the team, supporting them." Contreras ranked fourth in the National League among cleanup batters with a .305 average. In 31 games there, he had 13 home runs and 35 RBIs. Maddon said he wasn't exactly sure how he'd split the catching duties between Alex Avila acquired from the Tigers at the Trade Deadline, and Caratini. This is Caratini's second stint with the Cubs. In 11 games from June 28th-August 1st, he went 5-for-26 (.192), including a home run on July 30th. Kyle Schwarber is ready if needed. "I went into Joe's office and said, 'I've got my catcher's gear here just in case,' so if it does happen, it happens," Schwarber said. Contreras sprained his left hamstring during the Arizona Fall League in 2015 but said that injury felt different and more intense than this one to his right leg. "I just hope my teammates keep doing their job to [keep] the team in first place," Contreras said. "I feel like we're going to make the playoffs and I'll be here supporting them."
Welcome to American Legion week for the Cubs. Manager Joe Maddon started the week-long event when he was with the Rays, and it goes back to the days when players were kids and would just show up at the ballpark and play. It's also a way to counter the dog days of August. The Cubs will treat an American Legion post in the Chicago area to beer and sausages. "The whole point is you don't have to be there all day to play Major League Baseball games successfully, especially this time of year when guys are a little bit tired," Maddon said Sunday. "They're coming off a West Coast trip — it's a perfect time." The Cubs opened a seven-game homestand Monday with the start of a four-game series against the Reds followed by a three-game Interleague series against the Blue Jays. "I'll sleep a little later," Kris Bryant said. "It's good to get rest, it's good to relax and not think about baseball. You can spend a couple more hours at home, and I think that's good for us." Heyward said players can take the same mindset at home that they do on the road. "I might go work out or something like that, and then chill and take a nap or whatever," Heyward said. "At this time of year, you're used to doing whatever you need to do. You can do as little as you need."
Addison Russell, who is eligible to come off the disabled list on Sunday, is not close to returning, general manager Jed Hoyer said Monday. "He's coming along slowly," Hoyer said of Russell, who has been sidelined since August 3rd with a right foot strain. "As cliche as it is, we'll take it day by day. He's feeling better. A return is not imminent. Hopefully, he just keeps getting better and better and gets on the field." Russell, who was batting .241 when injured, will likely have to go on a Minor League rehab assignment.
Tribe Take: Clutch Baseball
This week, the Tribe had two key series against the hot hitting Rockies and streaky Rays. At the beginning of the week, the club was hanging on to a slight lead for first place, but a 4-2 record helped move them 4.5 games in front of the Twins. The Tribe is hot, and are playing well as we start to come down on the final stretch of the season.
Monday was an off day to start the week for the Tribe, as they recuperated from their weekend series against the Yankees.
On Tuesday, the Indians welcomed in the Colorado Rockies for a quick 2 game series before heading off on a 4 city road trip. The Tribe's offense came to life, as it has been struggling recently, and they knocked in 4 runs to coast to a 4-1 victory to open up the week.
Wednesday wasn't as easy though, as the Rockies stole a game with a 3-2 victory on a great game from 3B Nolan Arenado.
So after the split with the Rockies, the Tribe took off to Tampa to explore city #1 on the 4 city road trip. The Tribe and Rays embarked on a 4 game weekend series that would close out the week.
Thursday's Game 1 was a steal for the Rays, as Corey Dickerson blasted a 3 run homer off of Nick Goody in the 8th to seal the deal.
But after the late comeback, that was all the Rays would get. The entire weekend was full of Tribe domination and wins. On Friday night, Carlos Carrasco dominated the Rays as he went on to pitch a shutout, with a final of 5-0. Saturday night was all about Mike Clevinger, as he pitched another gem to add to the shutout total with a final of 3-0. And the finale on Sunday was won by a clutch solo shot in the 8th by veteran Austin Jackson, helping to give the Tribe a 4-3 victory and a 4-2 record on the week.
STORY OF THE WEEK: With Michael Brantley on the DL, the Indians sought out some outfield help when they acquired OF Jay Bruce from the New York Mets, in exchange for pitching prospect Ryder Ryan. Bruce brings some extra power to the Indians lineup, and also adds a great presence in the outfield, which will hopefully help the Tribe's chances even more in the postseason.
Royally Yours: Week in Review
The Royals ended the week on a high note after having a disappointing start to the week. The first half of the week was a four game series with the St. Louis Cardinals. The Royals lost all four games of the series. The weekend series was against the White Sox in Chicago. The Royals lost the first game but won the last two. The Royals struggles this week caused them to move back in the division and wild card standings.
The American League Central is still one of the closest divisions in baseball. The Cleveland Indians lead the division with a record of 63-52, five games ahead of the Royals. The Minnesota Twins are second in the division with a record of 59-56, one half game ahead of the Royals. The American League wild card race is also close this season. The Royals are currently in the hunt for the second wild card spot. The Minnesota Twins and Los Angeles Angels are currently tied for the second spot, one half game ahead of the Royals. The Royals fell behind in the division and wild card races this week but they are still in contention.
Mike Moustakas added to his historic home run total this week. He has 34 home runs so far this season, which is the most in his career. Steve Balboni holds the Royals home run record at 36. Moustakas will likely hit the Royals home run record before the end of the season. 2017 is the last year on his contract with the Royals and his historic season will likely have an impact on his contract this off-season.
Melky Cabrera had a great performance against the White Sox this week. He hit the game winning home run on Saturday against his former team. The eighth inning, two-run home run was the difference in the 5-4 victory. The Royals acquired Cabrera at the trade deadline to add more power to the offense.
The Royals will face two American League opponents this week. The Royals will start the week on the road against the Oakland Athletics. The A's are fifth in the American League West 20.5 games behind the division leading Houston Astros. The weekend series will be against the Cleveland Indians in Kansas City. The Indians lead the American League Central. The series will give the Royals an opportunity to pick up some games against a division rival and move up in the division standings.
District Dugout: The Nationals Dodge A Bullet With Harper Injury.
A sigh of relief was let out in Washington DC, as Bryce Harper's MRI reviled no structural damage. Harper left Saturday night's show down with the San Francisco Giants after sustaining a gruesome leg injury. Panic swept across the DMV area and twitter erupted with videos of the gut wrenching sight that was Harper's season ending, or so we thought. After a 3-hour rain delay the game started around 10, and it wasn't long before what everyone was worried about when playing on a wet diamond happened. Harper hit a ground ball to the first basemen who made an incredible diving stop, fielded it and had harper out by a good 3 feet, then while still sprinting on the could've been single, Harpers left leg hits the wet bag, bends the opposite way and snaps back propelling the outfielder into the air. As Harper laid there grabbing his knee and yelling in pain everyone at once feared the worst, Harper had just been taken from a Nats team that has a serious chance to make a post season run. With help from trainers Harper was taken into the clubhouse unable to put weight on his leg and just like that the focus was no longer on win or lose, it was on did the season just end in Mid-August? After the game, Skipper Dusty Baker said they knew it was a hyper extension to Harper's knee, but any further damage won't be known until an MRI on Sunday. Asking for prayers for Harper in the hopes it wasn't as bad as it had seemed, prayers answered.
Dusty Baker said the #Nationals won't know the severity of Bryce Harper's injury until his MRI tomorrow ⤵️ pic.twitter.com/Y41waHmVda

— SF Giants on NBCS (@NBCSGiants) August 13, 2017
//platform.twitter.com/widgets.js
Harper proved he's as close as it comes to super human when it was announced that no season ending damage has been sustained, although, a deep bone bruise that will cause Bryce to miss time is all that was left of an awkward slide on a wet base. Harpers toughness has shown no bounds and undoubtedly will be shown again as Mr. All-Star laces them back up for the Nats before years' end after such a scary instant, giving fans and teammates hope as well as relief that the young star hadn't had the game ripped away from him for an extended period. With Harper sidelined center fielder Michael A. Taylor has been taken off the DL and inserted back into the lineup having outfielder Brian Goodwin to slide into right to cover Harper's place on defense, but the third spot in the lineup is where the impact of Bryce's absence will show the most; so far Dusty Baker has had third baseman Anthony Rendon and second baseman Daniel Murphy fill in for the power bat, with a line of a .500 avg. and two homers in two games for the second and third best hitters on the team. While Dusty has two very solid bats to put into that spot, not having the threat of Bryce Harper will hurt the lineup, just how much has yet to be determined.
Harper has been placed on the 10-day DL but no real timetable for his return has been given, a huge division lead allows for the Nationals to baby Harper to allow him to fully heal. Manager Dusty Baker gave a hint at a possible 'realistic' time line of about "10 days to two weeks" when talking to the media after the MRI had taken place however, he wouldn't commit to that timeline being set in stone, nor should he knowing the Nationals, who are known for going over the date set for returning players, see Jayson Werth. GM Mike Rizzo also addressed the media saying that the Nats had "dodged a bullet," and that the club "expects him back before the end of the year," let's hope Rizzo is right because without Harper, getting through Chicago and the Dodgers seems to be almost undoable, but with him this team has just as good of a chance as anyone to become the new Kings of October.
Here's Rizzo giving the diagnosis on Harper: pic.twitter.com/ARYjylj8So

— Jamal Collier (@JamalCollier) August 13, 2017
The 19th Hole: JT Races to First Major
Charlotte is NASCAR country, but for a week it became the center of the golf world, hosting the PGA Championship.
But the storyline went a lot like a race, with drama, passes and wrecks along the way as Quail Hollow Country Club wreaked havoc but also was the scene for many clutch shots. In the end, young star Justin Thomas made more of those big shots, including two huge back-nine birdies, avoiding the carnage at the top of the leaderboard and claiming his first major championship.
The most dramatic moment came at the 13th hole, when Thomas chipped in from about 70 feet for an unlikely birdie, the first of two on the back nine's par threes, helping him overcome a talented leaderboard featuring the likes of Hideki Matsuyama, Kevin Kisner and Patrick Reed.
"That chip-in on 13 was probably the most berserk I've ever gone on the golf course," Thomas said right after the round. "I'm kind of interested to see how I looked for that."
No doubt it looked pretty good to Thomas, as it did to his family and friends, both those at the course and beyond. The 24-year-old was particularly excited about being able to share the victory with his grandfather, one of his great influences in the game. Thomas got to speak to him shortly after the win.
He just said, "You're something else, and this is the first of many." Thomas said.
"I love my grandparents, I love my grandpa so much. I've just spent so many times with him on the golf course. He's watched me play and win so many junior golf tournaments. It would have been great if he could have been here. I mean, I understand he couldn't. But I'm just glad that he could watch it and we can share this together. I know we'll have some fun, you know, when I see him again, hopefully soon."
Kisner and Chris Stroud began the final round leading the way, with Matsuyama right in the hunt as well. Several others made a run on Sunday, including Reed and Rickie Fowler, who might have won the whole thing were it not for an awful finish in Saturday's third round.
But as others were struggling around him, Thomas was slicing through the difficult back nine like a boss. Three birdies propelled him to a great position and by the time he came to the tough 18th, Thomas had a three-stroke lead and was able to make a safe bogey and still maintain his edge.
Reed, Francesco Molinari and Louis Oosthuizen ultimately tied for 2nd, while Fowler and Matsuyama were another shot back in a tie for 5th. Kisner, who had the lead a good bit of the week, tied for 7th with Canadian Graeme DeLaet while Stroud slid into a tie for 9th, a week after winning in Reno to qualify for the event.
Thomas has some of that race car driver swag, too. His girlfriend had a 7 p.m. flight out of Charlotte planned on Sunday, but he told her before the final round to push the time back, because he was "going to win."
He celebrated afterward with fellow pros and longtime friends like Rickie Fowler, Bud Cauley and Jordan Spieth, who won The Open last month.
"It's a cool little friendship we have. I know Rickie was a couple groups in front and Jordan was probably through nine or something when I finished. I just didn't believe Bud Cauley stayed around. He's one of my best friends. We live together in Florida. I was about ten minutes from going to tee off and he was walking off to go sign his scorecard. So he hung around for an entire 18 holes just to stick around, and not knowing what could happen."
What happened was another breakthrough for a young star. Now a four-time winner on the PGA Tour this season, Thomas is right in the hunt for player of the year honors and will be a major factor in the FedExCup playoffs.
This Week
The Wyndham Championship is the final event before the playoffs. The top 125 on the money list after this event advance to the tour's postseason, while the next 75 will have to fight to keep their cards via the Web.com Tour playoffs. The rest will be looking for other ways to continue their careers next season.
PGA Picks
Our winless 2017 continues.
Matt Kuchar – The back door was open for a top 10 finish and more cash for Kuch. 1-under, tied for 9th
J.B. Holmes – A strong third round made Holmes some money, but he couldn't catch Thomas and the lead pack. 2-over, tied for 28th
Charley Hoffman – A strong summer for Hoffman continues with another made cut. He's 11th in the points standings. 5-over, tied for 48th
Sergio Garcia – The Masters champ never got it going. 8-over, missed the cut
Wyndham Picks
Bill Haas – A former winner in this event and a former FedEx Cup champion, Haas has good memories of playing good golf this time of year.
Ryan Moore – He's battled some injury issues this year, but a solid top 15 finish at the PGA has Moore trending in a good direction.
Jason Dufner – The former PGA champion was in the hunt in this event each of the last two years. His solid iron play is always a benefit.
Longshot – Scott Brown – Brown tied for 13th at the PGA and has some urgency, as he needs a good week to boost his standing.
Achilles Injury Ruptures Hyder's Season
Every team in the league shares one common goal heading into the preseason and that is to stay healthy. There is nothing worse than losing an impact player, especially in a preseason game.
Well, the Lions took a blow during the first quarter of their first preseason game on Sunday.
Defensive end Kerry Hyder was caught up in a one-on-one battle as he was storming the pocket and eventually crashed down. The play ended and Hyder made an attempt to get up, but couldn't do so. Hyder had to be carted off as he couldn't put any pressure on his left leg.
After the game, head coach Jim Caldwell said, "He has a significant Achilles injury. The doctors will take a look at it further. It doesn't look good."
Right around 12:30pm, NFL Insider Ian Rapoport tweeted out an update on Hyder:
"#Lions DE Kerry Hyder, one of their breakout players from 2016 with 8 sacks, is out for 2017. Source said he tore his Achilles. Brutal."
Hyder is expected to have surgery this week and be on pace to return for the 2018 season.
For now, Hyder's presence on the defensive front will be missed. He broke out in 2016 and was Detroit's sacks leader.
The Lions are already banged up on the defensive front. Ziggy Ansah hasn't been healthy in a year and remains on the PUP list. Armonty Bryant is suspended for the first four games of the season. Cornelius Washington hasn't participated a whole lot in the past week for Detroit as he's dealing with an injury.
What an ugly picture.
The Lions will more than likely give Anthony Zettel — who has been steadily improving — more reps as he's entering his second year in the league. Zettel racked up 13 tackles and a sack last season.
After the game, Zettel said, "I know I have a bigger role now, and I just want to play for these guys, and play for Kerry."
Keep an eye out for Alex Barrett, Jeremiah Valoaga and Pat O'Connor. Barrett stands at 6'5″, 255 pounds and is an undrafted rookie out of San Diego State. Valoaga stands at 6'6″, 275 pounds and is an undrafted rookie out of the University of Nevada, Las Vegas.
Barrett and Valoaga have done well in camp and each recorded 6 tackles in their first preseason game.
O'Connor stands at 6'5″, 277 pounds and was drafted in the seventh-round of the 2017 draft out of Eastern Michigan.
Don't rule out any trades, either.
Thursday September 7th will be here before you know it and CleatGeeks has partnered up with Pony Keg Sports to help you #OWN YOUR DRAFT Keep coming back to us for tons of NFL and college football articles and always listen to our friends at Pony Keg Sports to make you the smartest fan possible. Click here to listen to all the big training camp happenings on the Pony Keg Sports Podcast!
The Lions have three weeks or so to figure out what they're going to do and who they can count on the most on that defensive front.
During that time frame, they'll have to find the quickest, most painless route to the regular season.
Dawg Pound Scoop: We're on the Rise!
The Browns will not go 0-4 this preseason! What a sigh of relief. The 2017 Cleveland Browns took to the field on Thursday night in their first preseason match-up with the New Orleans Saints. The Browns were projected to win, mostly because Drew Brees and Adrian Peterson would not play, but they played a great game nonetheless.
The Saints got on the board first with a chip shot field goal to finish off a nice drive led by QB Chase Daniel. But the Browns would come right back and march most of field as Brock Osweiler led the 1st team offense into the red zone, and rookie running back Matthew Dayes punched it in from 1 yard out to put them up 7-3.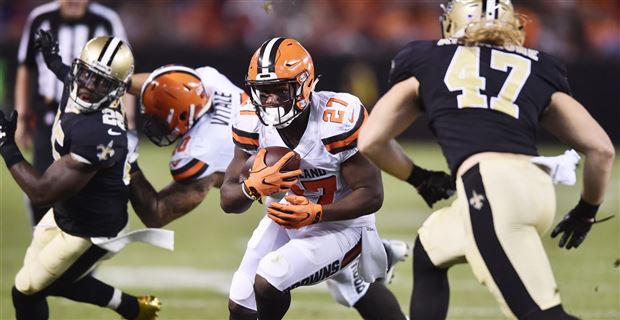 The Browns defense held up well the whole night, not allowing many points or long drives. New Orleans, however, found a way to sneak in another field goal as a short drive led by QB Garrett Grayson closed out the first half.
As more 3rd and 4th teamers were put in during the second half, the intensity rose, as all of these guys are fighting for a job with one of these teams. This opportunity gave players like Browns CB Briean Boddy-Calhoun a chance to step up, especially when he put an end to a goal line stand on 4th down.
Thursday September 7th will be here before you know it and CleatGeeks has partnered up with Pony Keg Sports to help you #OWN YOUR DRAFT Keep coming back to us for tons of NFL and college football articles and always listen to our friends at Pony Keg Sports to make you the smartest fan possible. Click here to listen to all the big training camp happenings on the Pony Keg Sports Podcast!
Despite losing the battle near the end zone, the Saints came back and punched in a TD with a pass from Ryan Nassib to Tommylee Lewis, which knotted the score at 13-7.
Then the show everyone came to see was on display. Browns rookie QB DeShone Kizer was finally given the nod to go in, and he took full advantage.  He scanned the defense all over the field, and put passes in only places his wideouts could catch them. Kizer's two big highlights were when he threw a 52 yard bomb to WR Richard Mullaney that set up a Terrence Magee 1 yard TD run, and then winning the game with another 50 yard slinger to Jordan Payton to put the Browns up 20-14. DeShone showed great maturity for a rookie QB and he proved he has great potential as he puts up the first win for the Browns.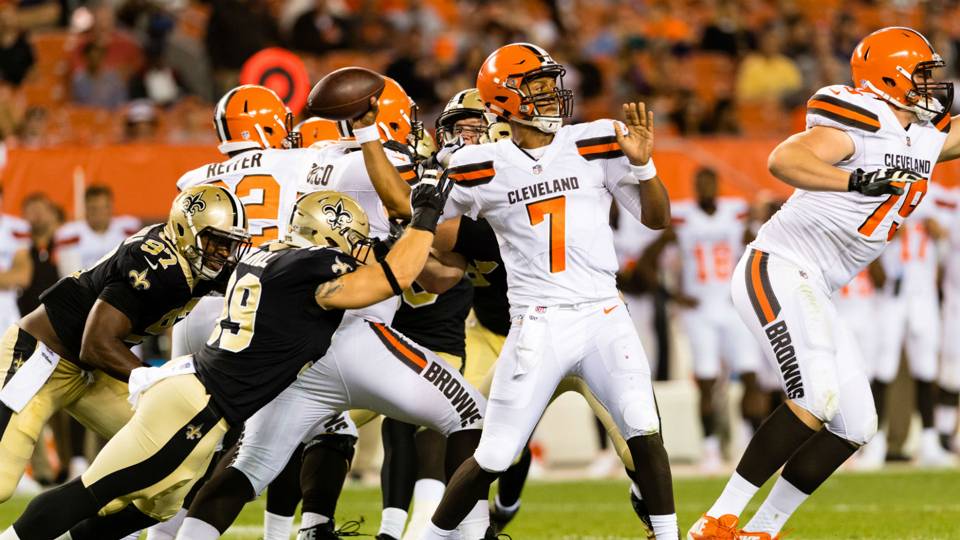 With Kizer's great day acknowledged, there were other parts that stuck out for the Browns in Game 1.  #1 overall pick Myles Garrett proved to be a force to be reckoned with, as he was getting to the QB's with ease and drawing multiple double teams. CB Joe Haden also had a solid first start of the year, as he came up with some big hits and played tight coverage for his limited time on the field. And finally, one of the new fan favorites, running back Matthew Dayes has shown exceptional ability and potential as he has developed into a great player in such a short time.
Overall, the Browns made significant progress from last year, and things look to be on the rise with Coach Jackson at the helm. The team looks to have a solid season in the near futures, with the pieces of the puzzle finally starting to come together.
District Dugout: Bryce Harper Goes Down With Injury
Nationals All-Star outfielder Bryce Harper went down in the first inning of Saturday's match against the San Francisco Giants, a game that was delayed 3 hours due to rain all night leading up to first pitch. Harper who's knee bent awkwardly after slipping on the wet first base bag went airborne and landed grabbing his knee yelling in pain, trainers rushed out to tend to Harper who was helped off the field not able to put weight on his leg. Heartbreaking for the young All-Star who's on his way to a second MVP in 3 years and a team who's hopes end with a World Series championship. While nothing is confirmed yet, the feeling is Bryce may be lost for the season. Tonight is bigger than baseball and the hope is Harper can return to action soon. More updates as they come.
Bryce Harper injures his knee while slipping on first base after grounding out and is forced to leave the game!!! #Nats pic.twitter.com/U42xOdw1KK

— TheRenderMLB (@TheRenderMLB_) August 13, 2017
//platform.twitter.com/widgets.js
BREAKING NEWS: According to Nationals GM Mike Rizzo, Harper has a "significant bone bruise" but there is no no ligament damage.