The IDP Geek Huddle: 2018 Safety Investments 0.2
I mentioned last spring that I believed the safety position in the 2017 draft class may end up producing the most relevant amount of players by position overall for 2017 out of the rookie class. Reviewing that statement I don't think that it's an arguable statement that it was not true. Altogether there were approximately a dozen rookie safeties from the class that their teams inserted into the lineups throughout the season as key contributors. That is a large portion of positions coming into the league in 2017, and guessing way above the average. Without actually checking I'm going to say that it was double the average amount of any other single position drafted last spring. Here are the most notable nine safeties out of the class that most of us may recognize. This list of players will be entering 2018 as "known" players that should again start for their teams.
N.Y.J. FS Marcus Maye Rd2
N.Y.J. SS Jamal Adams Rd1
T.B. FS Justin Evans Rd2
ARI. SS Budda Baker Rd2
N.O. FS Marcus Williams Rd2
CHI. FS Eddie Jackson Rd4
L.A.R. SS John Johnson Rd3
CLE. FS Jabrill Peppers RD1
IND. FS Malik Hooker (I.R.)Rd1
Now we will use the rest of this article to cover a couple more rookie safeties from 2017 and one third-year guy that should have the opportunity for an expanded starting role in 2018. For whatever the reason they were late bloomers, players of chance situations, or will benefit from the opportunity. But either way, they did manage to not only to become relevant in 2017 but also hold investment "upside" going forward for our IDP purposes.
49ers Strike Gold In The 7th round
San Francisco selected Adrian Colbert in the seventh round out of Miami with no one taking real notice that they had. Slated by most for a special teams role and a depth player at best by the "guru's", it took some time for things to play out and for Colbert to make an impact on the field. But when it all came to be he impressed showing off his skill set and has set himself up to actually enter 2018 as a starter. To get his opportunity the Niners had to suffer thru multiple injuries at the safety position. So many that to cover them all would double the size of this "take" to explain what happened. So we will proceed straight to where Colbert came into play. That would be when he landed the starting gig in week ten at free safety. Granted he had started getting time with the first unit before week ten, but week ten was when his official first start with the defensive unit came into play.
He was a free safety in college and basically tagged as one when drafted. But according to the chart above from pro-football-reference.com, he ran a lot of snaps at the strong safety position. I will note I can not find any information anywhere to support that. But this would be a very intriguing fact if he played at strong safety all those snaps. At his size of 6' 2" and 205 pounds, this is notable tangibles to play the position which is normally the more tackle relevant safety position on average. Add another 10 pounds of muscle to that frame and he'll look like a small linebacker on the field. Something that any dedicated player at his young age of 24 could simply do in a single offseason if asked to do so by the team. Have I mentioned his 40 times? Well to do so we have to look at his pro-day numbers because he wasn't invited to the combine. A sign that 49ers general manager Lynch did his homework. Ok, ready for this? Colbert ran a pair, yes two, 4.40 – second 40-yard dashes. One at a flat 4.40 and another at 4.49. That would have ranked him in the top three at the combine. That is flat out fast, and to hit that range two times and under pressure at his pro-day is even more impressive. I won't bore you with the rest of his pro-day numbers, but I'll add most results would have been comparable to the top 10 range at the combine.
Now to the reason we should have Colbert on our investment list. The coaching staff loves him first of all. I can tell you that I've been keeping tabs on him from about week six of last season. They've done nothing but rave about him and what he did for the team with his range on the field and his skillset. And while Eric Reid is a free agent, with all signs pointing to him walking away from San Francisco due to what he'll demand on the open market, that only leaves Jaquiski Tartt and Jimmie Ward for Colbert to contend with as of now. Of course, this "take" is before the draft and pre-free agency, so keep this in mind.
Ward has pretty well been a debatable pick by the former general manager with injury concerns each season and now heading into what is a 5th-year option the new general GM Lynch has to deal with at a whopping $8,526,000 cap hit. Does he really want to bother? That number is huge for a player that's managed only one full season in four years. Unless there is some sort of negotiation on that cap hit I don't think we see Mr. Ward return. As for Tartt, he graded out well and shouldn't be sitting on the bench to start the season in 2018. With the odds that Reid is gone, Wards not worth the money or all that good, and the love that Colbert has garnered for what he did for the defense, we have to think that odds are Colbert and Tartt enter next season as the starters at either safety positions. What the Niners do in free agency and the draft will tell us more of course. But we have to think that they have a lot of other issues to deal with other than focusing on the safeties. Let's crunch the numbers even if they are a bit shaky across the board with so many different combinations used at safety as injuries took their toll. In green, we have the famous PFF grades for 2017.
I have to note a couple things on the P.A.P.S scores and PFF grades. One thing for my own amusement, I'm pleased to see my formula reflects comparably well versus the PFF grades. It is the first time I have done a side by side comparison. But mainly want to add that because of the rotation of players on the Niners defense at all positions and the fact that Colbert played thru a broken hand I don't feel his score/grade actually shows as well as it could have. But it is comparable to most good free safeties by my formula. I'm also not convinced Reid's score was earned as much as it a was a production by default situation. His P.A.P.S score is about average for a player if he was a strong safety all the time. The rotation of players on the field at one point had him playing as a linebacker and also in the slot as well. Wards score/grade seems dead on, he isn't all that good. As for Tartt, I'd say that he is about right, he had a solid season.
The Niners were messed up in 2017 on the defense due to injuries and finding the right combination of players on the field. I recently stopped using PFF grades because I don't always understand how they grade players. And don't always agree. Hence the playmaking ability formula I've come up with to use snaps versus production. In this case, I'm extending the case for Colbert and showing the PFF grades. Along with the following quote from 49ers.com below.
Quote: DB Adrian Colbert
"Colbert was a major factor in the 49ers secondary. As the team's final selection in the 2017 NFL draft, he emerged late in the season following injuries to Jaquiski Tartt And Jimmie Ward. Colbert ended the season as PFF's sixth-ranked rookie safety in 2017 despite being the 23rd safety to be selected in the draft. With an overall grade of 77.6, the safety out of the University of Miami ranked as the 46th-best safety in the NFL. Colbert notched 32 total tackles, two forced fumbles, one fumble recovery and five passes defended in his six starts as a rookie."
49ers.com quote source: Colbert
That's impressive for a seventh-round pick who played half the season with a broken hand. There are basically 64 starting safeties, two for each team. So to end up at 46th should have use wondering what a full workload could have resulted in. Add in the two forced fumbles, one recovery, and the five passes defended in such a short sample of six games as "playmaking" abilities and we have to consider making an investment to get him on our rosters. The odds are he is lingering on waiver wires in most standard size leagues or on the tail end of someone's roster so that the investment should be at a minimal cost. Making him a perfect candidate to have the "other guy" add him in onto the end of a trade to balance the books.
A Pair Of Sixth-Shooters For The Cowboys
A Cowboy reference.
*six-shoot·er
(sĭks′sho͞o′tər)
A six-chambered revolver; a six-gun.
No other way to state this, so we will cut right to it. Dallas needs to replace Jeff Heath as a starting safety and the conversion of Byron Jones from cornerback to safety was a disappointment overall, period. Heath just doesn't have what it takes at the pro level to be a consistent factor. In 2018 he was basically one of those players we call "productive by default", and yet he wasn't even very good while being that. And as talented as athlete Byron Jones may be, converting him to a free safety didn't do him or Dallas any favors. Rumors have already surfaced that they are considering reverting him back to his nature cornerback position this early off-season. With the team also needing help at the corner positions it's more than likely not just a rumor. Jone's instincts in coverage would likely serve the team better as a corner covering a wide receiver one on one over being a free safety patrolling the deep center field. He wasn't terrible at free safety, but he wasn't terrific either.
Dallas was almost handling the situation in the secondary like I mentioned with the 49ers in Colbert's "take." The difference would be they started rotating the players we are about to cover in with Jones and Heath because they had to, not because of injuries.
Dallas selected free safety Xavier Woods in the sixth "shooter" round in last years draft. He was known mainly as a "playmaker" in college coming out of Louisiana Tech and likely fell to Dallas in the sixth round due to a couple concerns that pro scouts may have had. Louisiana Tech isn't actually what we would call a "powerhouse" in college football, nor are they in one of the big conferences. So while he excelled there it was questionable how he would play at the pro level. However, his combine numbers actually were solid and had him ranked in the top ten in all categories. Woods simply was tagged more as a player who could be in the right spot at the right time to make interceptions and other key plays against what the scouts would refer to as less talented players around him. It also didn't help that he was tagged as a "hitter" over being a tackler as he seemed to always try to make a big play on the ball over tackling to end it. Either way, it was rumored that Dallas liked this young man before the draft and as it played out they managed to get their guy.
In 2016 the Cowboys selected Kavon Frazier who also came out of a smaller school Central Michigan and also was the sixth "shooter" round selection that draft. What is ironic is his reputation was just the opposite of Woods for the most part. He was known as an "in the box" hard-hitting tackler over a safety who would be trying to make the big play on the ball. Frazier was limited at the combine with a foot injury that kept him out of all the drills except the bench press (18 reps – third most among safeties). But his performance at his pro day most certainly helped him. He was clocked 4.48 to 4.55 in the 40-yard-dash, had a 40.5-inch vertical and a 10-foot-8 broad jump and 6.96 second 3-cone. Those numbers would have also ranked him well in the top ten. It is kind of comical when we look back but probably assumed by many of the "gurus" at the statement headlining Frazier's combine page on NFL.com after Dallas selected him in the draft.
DRAFT ANALYSIS:
"Frazier is a big-time hitter and box safety. His overall skill set doesn't suit today's NFL so he'll need to earn his stripes on special teams. –Mark Dulgerian"
Mr. Dulgerian is listed as a scout and research "guru" for the NFL network. Even more comical is the fact that included on his combine page they compare him to Dallas's former stud strong safety Barry Church. We got to love the draft period, it's so informative. So again with being ironic about this, Frazier spent 2016 behind Barry Church in his last season with Dallas while seeing little to no time on the field on game days. And apparently learning something well enough to put some solid film out in 2017 when Dallas worked him in with the starting defense. We have to wonder if Mr. Dulgerian would agree.
Flashing forward to the 2017 season let's analyze what happened with the four players mentioned as the season played out. After letting Church and J.J. Wilcox walk in free agency and not signing or drafting a high profile safety Jones and Heath entered the season as the starting tandem. Woods found himself receiving time on the field in the slot and as the third safety at times on passing downs. Frazier came in here and there in relief. It was pretty cut and dry until Dallas kept getting burnt in the secondary and it was apparent that Jones and Heath weren't getting the job done. At one point Dallas even switched Heath to free safety at times and let Jones play closer to the line at strong safety. This still didn't have a positive result. And as many of us may know the situation for them to succeed was there with Dallas's defensive line playing at a much higher level in 2017. The connection between the two is the fact that the DLs were getting the pressure which in turn forced quarterbacks to get rid of the ball faster. The faster the ball comes out of the QBs hands the less time the receivers or running backs out of the backfield have to make their moves. Which should leave the secondary at an advantage over their counterparts. It just didn't translate that way. So Dallas had to eventually try something, and that something was to start supplementing Woods and Frazier into the lineup more. That really started about week seven of the season with Woods and around week 12 with Frazier as they tried to make the playoffs. This is notable in the snap counts.
As we mentioned Woods mainly played in the slot overall as Jones, Heath, and Frazier split up the safety work towards the latter part of the season. Let's examine this. First off your trusting a natural free safety in Woods to play in slot that normally a cornerback would play. A sure sign of two things. Not only did they trust Woods who is a natural free safety over their depth of cornerbacks in coverage, but you're stating that you have no choice but do so because you don't have good corners. In most cases in the real world corners are converted as Jones was to a safety due to their lack of one on one coverage skills. Not the other way around. And I can say on film that Woods did an outstanding job in the slot and out of his comfort zone
As for Frazier, they started inserting him in place of Jones but up at the line at strong safety while moving Heath into the deep field at free safety. They needed Fraziers run stopping ability on the field. And he did not disappoint either. He actually laid out some hits that were as notable as any strong safety I've ever seen on film. He also didn't embarrass himself in coverage. It was apparent that the time with the second defensive unit had paid off for Frazier in 2016. But in the end, Dallas has a problem. That problem is that they just can't quite on Heath for one reason or another. Let's take a look at the P.A.P.S. score as a result of that fact.
So again we know that Woods played a lot in the slot. So his score is understandable. By knowing this let's focus on how well he did at the limited position. Slot corners are not on the field every down for one, and when they are they don't get the opportunities as they are focusing on just one of the likely three to four receivers on passing downs. So in combinations of what can happen that makes the odds he'll only be around the ball in just one out of four plays. And that's modest odds if we consider the fact that's not really counting the running back or an extra receiver or tight end that's inserted at times. We should also note the six playmaking "stats" that Woods made. With 361 less amount of snaps, he managed almost as many as Jones did. Exactly what will Woods do with a full workload of snaps? When they move Jones's first-round talent into the right position at cornerback and find depth at corner for the slot, there's no reason to think that the free safety job isn't Woods in 2017. He can cover well, he has playmaking ability, and apparently with 42 tackles he can tackle after all. Don't let the P.A.P.S score being highlighted in red on the chart fool us. It's only that way because I've only listed the four players. That's comparable to any free safety, but he did it from the slot. He warrants the investment at a mid-level move and actually could also be like Colbert and be sitting on the waiver wire in many leagues. He is for sure worth a spot at the tail end of our roster as potential depth. Dallas can't afford to squander his talents in 2018, again.
Frazier could possibly be even a better "upside" for production in 2018 out of all four of these players. If Dallas does the right thing and inserts him as the run-stopping "in the box" safety like they used Barry Church back in the day, the sky's the limit for our fantasy purposes. He is exactly from the same mold as Church and if Frazier can improve his coverage skills as well as he did in his acclimation to the pro level run game we'll wish we had made this investment now before next season starts. With his limited snaps, his P.A.P.S score is actually comparable to any linebacker I've scored. And at the top end of any strong safeties. They just need to quite Jeff Heath and reduce his role to possibly the third safety. Heath's score is not as impressive considering his snap count and ranges about average knowing that it is more of production by default rather than being that good. Don't let his playmaking stats number fool you either. Trust me, all offseason reports from multiple sources around the team are calling for Dallas to "quite" Heath. Until this plays out Frazier needs to be at the least kept in mind. He has the best "upside" investment situation and odds are he also is on the waiver wires or can possibly be had for "beans" in a trade. Whatever the cost, he is well worth the gamble. Don't let the other "rumor" of Dallas having interest in the Saints Kenny Vaccaro affect our thinking, more and more teams are inserting three safety sets to stop the offenses. Frazier will have a role in that. And if they didn't pay Church to stay for 2017, odds are they won't pay Vaccaro or any other high profile safety for 2018.
The Packers Are Packing The Hot Pepperjack Cheese In 2018
Out of all my "takes", this may be one of the most obvious. The next player surely has to be on IDP owners radars and I'm just not seeing enough about him right now. I'm just going to make sure no one is sleeping here. He should have been squarely on owners target lists last season. And this guy shouldn't be a cheap investment unless your really lucky. I have a phrase I like to say, "We get what we pay for!" And this player will be worth his price. This just may be my easiest "take" of the season.
In 2017 the Packers selected high profile safety Josh Jones in the second round with two top-notch safeties already on the roster in Morgan Burnett and Ha Ha Clinton-Dix. A slightly confusing move to some considering the other needs they could have addressed in the second round. But simple enough to explain. Green Bay has some type of thing about player management, they do not pay players like normal franchises. They are publicly owned and have shareholders. A fact supported by looking HERE. And other than three defensive players named Clay Mathews, Nick Perry, and Mike Danials they don't make it a habit of overpaying defensive players at all, which can be seen HERE.  They never have and probably won't ever change.
And the fact of the matter means they will not pay Morgan Burnett what he will demand on the open market when they used a second-round pick on Josh Jones last year in the draft. The calculations have Burnett's market value around the $9,000,000 mark per season. Odds aren't great he'll receive that large of an amount, but some team needing a safety at Burnett's level will pay him enough to price him out of Green Bays range. It's just not in Green Bays management DNA, while adding in the fact that Clinton-Dix's fifth-year option is worth $5,500,000 this year also. And he is around five years younger than Burnett. Especially when Jones performed at a high level and was used so much as a rookie as he was. They'll simply draft or sign a safety for depth if they haven't already got plans with a player on their current roster. And even if they would change and do a 360, for our IDP purposes Jones P.A.P.S score along with his "hint" of snap counts warrant the investment.
I was toting Cardinals Budda Baker at one time last season as my main "suggested" safety to pick up, that has changed. He is still a solid pick up even with the coaching change that came in Arizona. But with recent developments for the Cards, I can not suggest Budda over Jones. They both have the same "upside" at this point. Both have the same situations with a new defensive coordinator and a team in transition on defense. I'll let the snap counts and P.A.P.S speak for themselves on Jones below. Keep in mind that Ha Ha and Burnett have been top-notch safeties for some time now. While also keeping in mind that Jones at one point was even inserted as a linebacker with huge success. Too bad he got hurt the next week, which seemed to alter that decision to keep him there. Personally, I'm putting an investment rate on Jones at the highest level and right under a top tier type linebacker. He'll be in the top ten for safeties in overall production next season, bank on that as an IDP investment!
Be sure to compare the P.A.P.S scores on each chart to get the range overall on all players mentioned here in the article. Ha Ha and Burnett did have somewhat of a down year, but still can be considered a good base on the scores overall.
Thanks again for reading, cya next time and feel free to follow me on twitter @ HBogart27.
The IDP Geek Huddle: Kansas City
Before we start with this article I'd like to mention that originally I had no intentions of writing about the Kansas City situation so soon. But with some rumored reports servicing I believe now may be as good as time as any to "take" on the situation.
For those of you that may have followed me last season and kept up on my IDP notes on the happenings in the NFL each week, you'll find this a familiar subject. But one with a lot more detail on how things could play out in Kansas City with their inside linebackers for 2018. I was going to follow this situation up into the free agency period and see exactly if what I had been repeatedly stating was going to play out. To my surprise, I've recently seen indications that the ideas on my "takes" as I see them have hit mainstream already. So to help us out early on here in the off-season I'll lay out what I know and try to help decide how to proceed.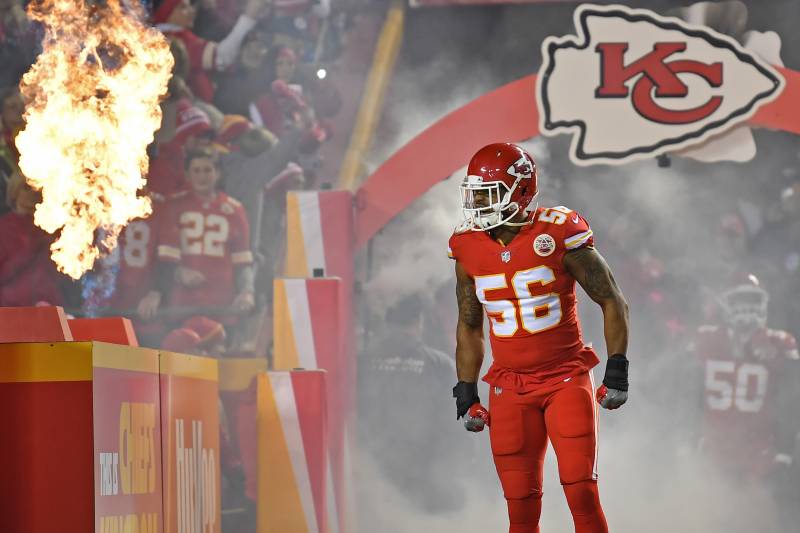 There have been multiple reports lately stating that Kansas City Chiefs are likely to move on from inside linebacker Derrick Johnson and his $8 million cap soon. Again, anyone who followed my IDP notes won't find this shocking as I stated the same thing to the point I actually got tired of talking about it. Well, now that it's finally hitting mainstream there are a couple of in-house linebackers I need to fully cover again and why we need to track the progress of the situation. I'll try to approach this like it's all brand new to me. Forgive me if I stray from that course. It's been a long six months of monitoring things.
First Transaction:
In late July last summer Kansas City's GM made a head-scratching move by trading their pro-bowl special teams player and backup linebacker D.J. Alexander for Kevin Pierre-Louis from Seattle. It seemed to be an off the wall move by the Chiefs as Pierre-Louis didn't actually hold any significant value as more than a depth player in Seattle. The trade was made and forgotten as camp started with little to no fanfare about the transaction.
Second Transaction:
Around a month later in late August, it was announced that the Chiefs made a trade with Buffalo for 2016 draft star linebacker Reggie Ragland. The new Buffalo coaching staff had plans to change to a 4-3 defense and didn't see Ragland having the range to cover the field in that defensive scheme. So the Chiefs swooped in and obtained the former 2016 second round pick for a mere fourth-round pick in 2019. And that isn't a typo, it was a fourth in 2019.
Little did we know that in the end that both transactions would be very telling trades on the intentions of the team about the direction they'd want to head in for 2018. General Manager Brett Veach had only been in his new office since the beginning of last July and was willing to acquire these two linebackers that if we add the value up with both transactions seem meaningless then. It has now become the assumption he did these with a purpose in mind.
Changing Of The Guard
The Chiefs started the season with veteran Derrick Johnson manning the middle of the defense as we all expected. But it didn't take long for Johnson to show his age and it was apparent that he wasn't up to the task to be the run stopping and the coverage guy he had once been. Johnson has been a beast for a long time but has endured injuries in recent years that just simply took its toll on his aging body. So as the weeks wore on they started inserting Ragland and Pierre-Louis to supplement DJ's inadequacies more and more. With Ragland gaining the most momentum as the "run stopper" and DJ and Pierre-Louis supporting the coverage duties. None of this did anything for fantasy owners on a level that meant much. But overall on the field, it helped the Chiefs defense. As we talk about this we need to keep in mind that Ragland and Pierre-Louis only joined the team last summer and it does take some time for young players to acclimate themselves to a team's defensive scheme. Also just how exactly do they take a long time veteran like DJ that has the respect of everyone involved and reduce his role?
As aggravating it was to watch unfold week in and week out from an IDP point of view while praying they just pull the trigger, the Chiefs handled this perfectly. They managed to get Ragland on the field allowing him to gain some confidence back after his lost rookie season due to injury and the demotion in Buffalo. While also playing to Pierre-Louis's strength of coverage skills and open field tackling to familiarize himself with the speed of the game. Something he was lacking coming out of Seattle due to their linebacker depth. And at the least allowing DJ some breathing time during the contests while not stripping him of his pride. The Chiefs pulled it off with no hard feelings and managed to make a playoff run in the process. DJ even managed to finish out on top in the wildcard game they lost by being a human highlight reel.
But now it's time for general manager Veach has to prepare for the future with a roster in "cap hell" with a few "aged" players that are no longer starting caliber players. Changes have to be made, and the Ragland and Pierre-Louis trades mean more to the Chiefs now than it ever did then. Let's take a look at what "cap hell" looks like, we'll add a direct link below to a cap tracking site below in case a deeper look is warranted.
By count, these are the nine defensive players in the top fifteen of Kansas City's total cap at the moment. These are key players on the defense as well, and a defense that's old. They allowed the fifth most yards allowed per game and it can be said it is the reason they didn't have a better year in 2017. Granted they made the playoffs, but it wasn't because the defense was dominating. They clearly are in transition on the offensive side of the ball and used some of the radar transactions last year to start the process on the defensive side. This is also not listing 28-year-old DT Bennie Logan who is straight out a 2018 UFA who made a total of $8,000,000 in 2017. A player they may or may not need to decide on. Altogether we could see the Chiefs release or move on from up to or about six aging or ineffective players from the defensive side of the ball if Veach truly wants to bring on the youth movement.
The Case for Ragland and Pierre-Louise by the numbers
When we have a look at the overall snap counts in the regular season of the Chiefs inside linebackers the final percentages are not as telling as looking at the game by game.
The final year-end tallies:
Derrick Johnson: 76.75%
Reggie Ragland: 29.25%
Kevin Pierre-Louis: 22.80%
Ramik Wilson: 11.35%
Game by Game:
From week nine on is where it really looks interesting. It's at the point that DJ isn't receiving what we should consider an every-down linebackers amount of snap counts. An every-down linebacker should be receiving no less than 80% on average. Another notable fact would be that in game sixteen that the Chiefs choose to sit all three players preparing for their playoff run. This is normally not only a move that a team can make knowing that the game is meaningless in whether they make the playoffs, but we can assume it's a thing that teams do with players they value.
Now we will look at how the snap count went in the wildcard game that the Chiefs lost. In the end, DJ and Ragland dominated with 71% of the snaps apiece, while Pierre-Louis ended with 30%. I'm sure many of us who watched this contest saw DJ play like he was still in his prime the second half at the expense of Pierre-Louis. But I'd like to point out an observation here about that. To start the game it was DJ and Ragland that received the start, but Pierre-Louis actually received 90% of his 30% share of the snaps over DJ in the first half. Pierre-Louis was actually having a very solid game at that point. But as the second half started they again trotted out DJ over Pierre-Louis who simply did what all great veterans do in that situation and stepped up and started playing like a man possessed. In turn, it left Pierre-Louis on the bench. I've done the research and nowhere can I locate anything about Pierre-Louis messing up or suffering an injury that warranted him not to continue to receive the snaps percentage he had going in the first half. One can assume it simply came down to not taking your veteran linebacker off the field in a game that meant so much while he is playing at the level that DJ was playing at the time. All hail DJ for his effort in that game. At his age and knowing that he had been supplemented for the last part of the season by youth, he went all out to try and get his team to the next round of the playoffs. And yes DJ did now he was being fazed out, he commented at the time about the fact the team came first in the media.
Now for a quick look at what each linebacker did with their share of the snaps in the regular season.
Let me say one thing before we go on. I've done this formula for playmaking abilities on a lot of players. And I never dreamed that Pierre-Louis and Ragland would score a P.A.P.S like this. I had to triple check my math. Those are both comparable to LB1 scores. And not just comparable, but higher end. DJ actually falls into a low-end LB2. Any of you out there who owned DJ for IDP during the regular season felt that fact this past season, I'm sure. I'll note here that when doing my formula for playmaking ability it doesn't include the special teams snaps now like when I first started it. The reason does I let that affect the final score or not. In the end, I decided it was splitting hairs and not in favor of the actual outcome. So let it be known that Ragland and DJ didn't play special teams and that Pierre-Louis played an additional 249 on special teams. Odds are to have his speed on the field showing flexibility. But either way, just how often does a special team player make a tackle. I'll tell you the percentage is way lower on average than one would think. And if Pierre-Louis did make a few of his tackles on special teams then it also shows the ability to make plays regardless. We have to consider the results as accurate enough to make the call.
The Assumption
So after it is all laid out with the "cap hell" the general manager is facing with older players and the stats are crunched we have to make a "take" on what can possibly play out in 2018. Let's assume that DJ is released along with a few other notable names on the defensive side of the ball for cap relief. Not only will they need to replace DJ in the middle of the defense, but they will likely need to focus on replacing the other "named" key players. Where does GM Veach focus his attention? We should consider that it won't be on the linebackers based on the 2017 season transactions and the end results of how things have played out. Not to mention the rest of the team's needs across the board. The team is sitting solidly at running back or is it with the news breaking that Kareem Hunt was recently accused of shoving a woman during a party. Or the fact that the new starting quarterback Pat Mahomes actually only has two viable receiving threats in Travis Kelce and Tyreek Hill.
It should be safe to say that Reggie Ragland will be counted on to be the run stopping linebacker and receiving a full workload in 2018. While most mainstream "takes" actually are naming him the replacement for DJ if or when DJ is released. I disagree. Pierre-Louis was actually the player relieving DJ on the field as the cover linebacker, not Ragland. Ragland's role pretty well remained the same as the season went on. The main combinations didn't have DJ and Pierre-Louis on the field much at all if any. It was Ragland and one of DJ or Pierre-Louis. We have to consider that Veach broke in his starting linebackers for 2018 while planning ahead. And as free agency looms why would he release players to reduce cap this season to only sign a high profile free agent linebacker and tank the cap again. We have to think the same with the rookie draft. He may draft a linebacker, but does he draft one of the higher rounds locking the rookie into a starting linebacker role? Especially with what he may need to replace elsewhere in the lineup or add to upgrade.
While Ragland is clearly going to be a starter there is one thing that happened that Pierre- Louis has put himself in a questionable situation as a Chief. He was cited for misdemeanor possession of marijuana, THC and drug paraphernalia, driving without a valid license and failure to display a valid license plate or current registration after being pulled over at a traffic stop by Kansas Highway Patrol.
This wasn't too smart on his part and normally would have me suggesting that we might avoid him. But it is his first infraction, and knowing this and the fact of what the Chiefs gave up to obtain him I believe they do go ahead and resign him. His timing couldn't have been at a worse time for him on a personal level. But for the team, it really depends on what general manager Veach and coach Andy Reed thought of his production and his presence in the locker room. Is he really a bad apple or a young man who made a mistake. I have been relentless in keeping up with the situation before and after his arrest. The reports and assumptions were positive before this mishap and still remain on the positive side afterward. Of course, this is not with any direct statement from the Chief's front office. But if you were them and sent your pro-bowl special teams player with a couple years left on his contract in exchange for Pierre-Louis knowing what the future plans in mind are, would you not take advantage of the young man's mistake and simple sign him for less money and a possible prove it deal?
For our fantasy IDP purposes, all that's happened is that it'll clearly go to be cheaper to acquire Pierre-Louis and his "upside" over Ragland. The first sign to act on this if you haven't will be soon as the Chiefs decide what to do in "cap hell"
I wouldn't normally do this. But I'm confident that the value of obtaining Pierre-Louis over what it would cost to get Ragland and receiving about the same fantasy production in 2018, that I'd like to reinforce the idea with a few recent articles from the mainstream media. All are after his arrest.
The Veach-ization of Chiefs
Anyone out there that has followed as I covered the situation unfolding last season knows I had the same takeaway before these articles. I'll gamble my reputation by adding them versus what I've stated all along if it gets the point across and helps anyone who will take action when the timing is right. If he gets a couple games suspension I'm personally willing to wait it out.
As always thanks for reading and be sure to follow up with me on twitter @HBogart27 for anything IDP.
Resources:
NFL.com
Pro-football-reference.com
spotrac.com
Value From The Slot
As the fires are slowly going out in downtown Philadelphia, it's time for me to look ahead to 2018. Thankfully, I'm a Dynasty player at heart and as you all know, there is no off-season. However, even for the redraft leagues I'm involved in, the hard work starts now. I was in three redraft leagues last year; with varying results (thanks Amari and most of Tennessee), but where I noticed I had the most success was in my work league.
Why? I had inadvertently gained excellent value in the latter rounds at WR. I can't claim this to be completely deliberate, but it was a consequence of my initial tactic, go RB early and often. Whilst I'm not claiming to be starting the "Zero WR" revolution, there are certainly viable ways to win your league by getting 'value' picks in the later rounds of your draft with the less desirable names.
Let me throw out some 2017 stats: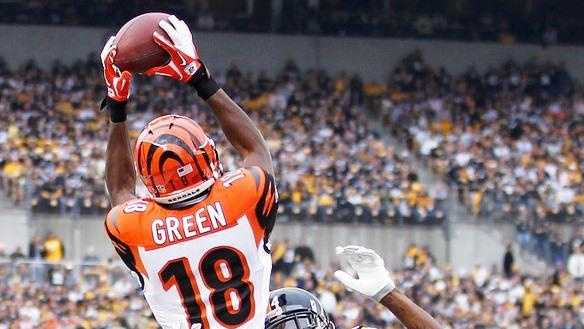 Player A – 66 targets, 44 catches, 615 yards, 3 TD
Player B – 76 targets, 38 catches, 516 yards, 5 TD
These are stats for weeks 8-16. Player B is AJ Green, who was ejected early in week 9. Player B, is Jamison Crowder, who was out hurt in week 9.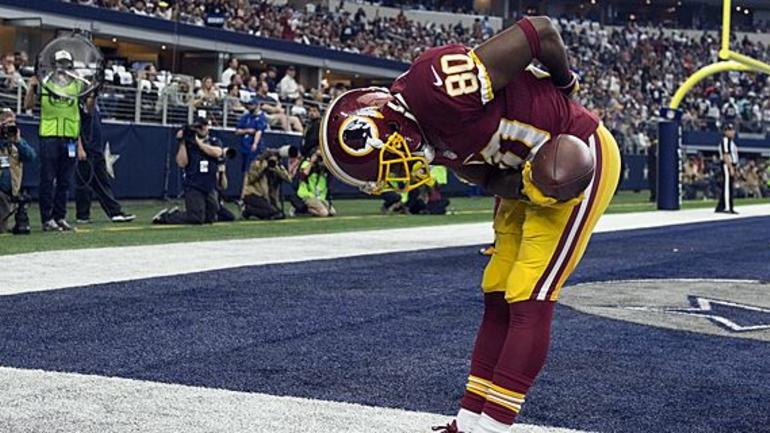 Now, I'm not suggesting that you should all go out and avoid AJ Green. But, if you can pick up a Melvin Gordon at a similar spot to AJ Green, and then pick up Crowder where you'd possibly be looking at a Wayne Gallman…you can see where the better overall value is (sorry, Gallman truthers!).
Slot receivers are underpaid in relation to their touchline-hugging counterparts, and they are also under-appreciated a lot of the time in Fantasy Football.
Here are 5 of the slot receivers I'll be looking to target in the mid to late rounds of my redraft leagues in 2018, with a small reason why:
Jamison Crowder (WAS) – I'm looking forward to seeing the benefits Alex Smith will bring to Crowder in 2018. As you see above, he was extremely effective down the stretch in 2017 and unless Washington make significant improvement to their offensive line, you could well see Alex Smith doing what he does best; a quick slant-route pass to the slot.
Larry Fitzgerald (ARI) – assuming he returns, and there's no reason to think he won't at this stage, Fitzgerald is a guy I still want to be targeting. Some are doubting his impact for 2018 with a new Quarterback and Head Coach. I relish it. Somebody is going to have to step up and carry the offence. David Johnson can't do it all on his own. Larry Fitzgerald is going to get targets. Lots of targets. He won't fall too far, but he'll be great value in the 5th round of your draft.
Sterling Shepard (NYG) – But OBJ will be back! Let's hope so, the NFL is a much better place with OBJ in it. Shepard carried a lot of responsibility this year in his absence, and in a Giants side that looked frankly terrible for most, if not all of the 2017 season. Enter Pat Shurmur. I don't know how much you saw of Adam Thielen this year, but he was good. Very good. Stefon Diggs was also very good. There is no reason to believe that the Shepard can't be the Adam Thielen of 2018. I'm not expecting the same numbers, not unless the Giants seriously work on that offensive line. But use the return of Beckham to your advantage and pick up his third-year colleague later in the draft.
Julian Edelman (NEP) – A player in his thirties coming off a nasty knee injury? Not the ideal phrase to use in a sales pitch. But Tom Brady is going to be reeling from losing a Superbowl in which he threw a record 505 yards for 3 touchdowns and zero picks. Edelman had to sit and watch it happen. They have a combined age of 642. The window is closing for both of these greats and I fully expect fireworks. I'm going bold here, I think Edelman gets 100 catches (his record is 105 in 2013), 1200 yards (1106 is his record, from 2016) and 6 touchdowns. In PPR that is a tasty 256 points. For reference, that would sit him between Larry Fitzgerald and Julio Jones this year. He could still be available in the 10th round – unless you have a Pats fan in your league, in which case, pull the trigger in the 7th or 8th if he's still there.
Trent Taylor (SF) – My favourite 'buy-low' target in dynasty leagues; jump on board the San Fran hype train! I actually see a lot of similarities between Taylor and Edelman. Maybe it's the fact Garoppolo is throwing to him? Who knows. What I do know is that Taylor will likely go undrafted in a lot of leagues, which is criminal. The 49ers could go nuts in free agency, spending big money in the process, but I can't look beyond Trent in the slot. He's small. He's quick. Slight red flag appears with a relatively high number of dropped passes (4, or 8.5% if you're a stats guy, per PFF) in his rookie year…but no need to be alarmed – in college this figure was just above 3% and I expect good things from him in 2018 as he takes his first year of NFL experience onto the field.
So, you now know why I love slot receivers. I have similar feeling towards certain pass-catching running backs (maybe my next article!?) – you just get great value from them.
That's my view from across the pond.
Preseason Preview; Green Bay Packers
Week 3 of the preseason is now behind us for all teams, and let's face it, week four is nothing more than a formality. We here at CleatGeeks are proud to bring you the fans great football coverage all season long on your favorite teams. This starts with our preseason previews and continues through out the season with weekly articles. As the editor of CleatGeeks I gave each of our talented football writers the same five questions to answer about the team they cover. These answers give us the Preseason Preview for the Green Bay Packers by Tim Ross.
What players are you most excited to watch this season? Why?
This answer is quite simple Aaron Rodgers. Rodgers carried the Packers to the playoffs and ultimately into the NFC championship game last season with a run of quarterback performance that few in the NFL can equal. He said the Packers would run the table when they were 4-6 and coming off several blow-outs in November of last season. Rodgers not only talked big but also performed big to end last season. He ended the season with 40 touchdowns to only 7 interceptions. Later I will reveal a fair expectation for the Packers this season. Rodgers will play a large role in that expectation becoming a reality. Rodgers remains in the prime of his career and fans of the green and gold can bank on another greater season from him.
Who were the teams biggest departures and additions?
The Packers biggest free agency departure is TJ Lang. Lang had issues with a hip injury that gave him trouble all season last year but at 29 Lang was still a key member of the Packers offensive line. Adding a little more sting to Lang's departure is the fact that Lang ended up with the divisional rival Lions. The Packers biggest addition of the off season is Martellus Bennett. Bennett basically traded Hall of Fame quarterbacks in going from Tom Brady to Aaron Rodgers in free agency. Benett should provide the Packers offense with yet another weapon for Rodgers to work with. Benett had 701 yard and 7 touchdowns last season with New England.
What fantasy players from the Green Bay Packers team will be on my actual fantasy team?
Hard to pick just one here as the Packers figure to have one of the most high powered offenses in the league. I know a common fantasy strategy is for people to draft a quarterback and pair him with a receiver or two from the same team. This strategy is used as it is a way of getting "double points" for a long pass or touchdown. As Rodgers for example can hit touchdowns to Jordy Nelson or Davante Adams. If a player owns Rodgers and Nelson or Adams they can get double points for a touchdown pass and reception. Along this line of thinking, Rodgers, Adams, Nelson and Benett are all solid Packers to look to draft. Randall Cobb is due for a bounce back season following last year when he only had 610 yards and four touchdowns. Also Mason Crosby has shown that in the bad weather in Green Bay that is possible in November and December that he can be an excellent and productive fantasy kicker. The bottom line is the Packers have a deep and powerful offense on paper. There is only one ball on the field and Rodgers has shown he will go to whoever is open, but there are plenty of Packers to consider having on your fantasy roster.
Which games on the schedule are most important to your team?
Week 1 Seattle, Week 2 @ Atlanta, Week 5 @ Dallas, Week 15 @ Carolina. Assuming the Packers are the best team in the north division, this 4 game cluster will be against the other teams that I figure to be the other contending teams in the NFC. How the Packers perform in these four games figure to factor greatly in what their playoff seed will be. The thing that is a little concerning about these games is all figure to be important and three of these four are on the road.
What is your realistic expectation for your team this season?
The Packers ranked second worst in the NFL in pass defense last season. They also had a ton of injuries. If the pass defense is significantly better, the Packers  offensive line is able to cover the loss of Lang while on the whole keeping this roster reasonably healthy the Packers have again assembled a roster that has the talent to be the NFC's representative in the Supper Bowl in Houston in February.
Draft Smarter, Not Harder
As the 2017 Fantasy Football season approaches, nearly every potential team owner is studying one way or another. Everyone is trying to develop a strategy that they think will put them above the rest of the other players during the draft. The most famous buzzword in all of sports, "sleeper," is thrown around in casual conversations with friends as they make bold predictions about players they are targeting, but no one pays enough attention to the already well established (and consistently healthy) players enough. As you get ready for your draft, remember, no one will win a league based on the upside of their draft. Winning a league comes from health and consistency, and of course, a little luck. Here is a quick rundown, by position, of healthy and consistent players that you should not pass up for potential breakouts.
Quarterback
We all know it is a passing league these days, and the fact that there were 13 QB's that threw for over 4,000 yards in 2016 will prove that. Reaching for a QB early in a draft never really made much sense to me unless you absolutely nail your first 2-3 picks. Players like Aaron Rodgers and Drew Brees are elite talents, but you don't need them to win. The difference between the 4th highest scoring QB last year and the 10th was right around 30 points for the season. That means that when you reached for that QB in the 4th or 5th round, you still only got less than 2 points per week more than someone you could have drafted a few rounds later. That is not enough of a difference to warrant a mid-round pick, in my opinion. That is why I will be targeting players like Matthew Stafford in my leagues. He is in a pass-heavy offense and proved that he can still put up very solid numbers even without Megatron. He is a lock for 4,000 yards passing every year and you can bank on him throwing 23-26 TD's. He will be readily available for you in the much later rounds, and even if there is for some reason a QB run you should feel confident knowing he will be there after you fill out the rest of your starting lineup. Another player I don't mind waiting for is Russel Wilson. His overall numbers were down, mostly due to injuries that lead to his lack of mobility, but he comes into 2017 healthy and ready to bounce back. He will most certainly fly off the draft board before Matthew Stafford, but he will still probably be there in the later rounds when you begin to draft players who will be spending most of the season on your bench.
Hey @Cleatgeeks fans, have you been think of buying tickets to a MLB, NFL or College Football game? Maybe there is a concert you have been eyeing? This weekend (Friday-Sunday) we have teamed up with Stadium Quest to bring you a special! Simply visit this link, and use the codeCHAPS to receive $20.00 off your total purchase!
Running Backs
Outside of the top 3 (Johnson, Bell, Zeke), it will be hard to predict who is the next best back because nearly every team has a third down back. There are very few 3-down backs in the league, so you need to look for someone who has the ability to catch the ball out of the backfield. Many people will look to Jay Ajayi, but Ajayi has a very rusty and out of shape Jay Cutler as his QB and will likely face defenses that are focused solely on stopping him instead of the Miami passing game. Melvin Gordon is another option here, especially with the departure of Danny Woodhead, but he is coming off knee and hip surgery and is too risky for me at his current first round price. Running backs after the big 3 that I like are Devonta Freeman and LeSean McCoy. Freeman does lose touches to Tevin Coleman, but that didn't stop him from surpassing 1,500 total yards for the second season in a row. Even though he lost some time to Coleman, Freeman was still one of the better pass catchers out of the backfield, hauling in 54 catches for 462 yards and 2 TDs. LeSean McCoy on the other hand is a three-down back with potential for 300 touches in 2017. Even though he missed one game, McCoy still caught 50 passes in 2016 and scored 14 total TDs. For whatever reason people I talk to seem to forget his age (he is only 28) and say he is over the hill. In my opinion, I think he is one of the safer bets at the RB position.
Wide Receivers
TY Hilton was a big surprise to everyone last year and was an absolute gift to the people who drafted him. Setting a career high with 91 catches and led the NFL with 1,448 yards, Hilton took a huge step forward and showed everyone that he is the real deal. Playing in every game over the past two seasons, TY has averaged over 130 targets over the past three years, and his volume and ability to stay on the field make him a bankable fantasy option. He is a great late second round pick and seems to be falling there right into some lucky owners lap. Two other players I see at the WR position having another strong year are Doug Baldwin and Demaryius Thomas. Neither has missed a game in the last three years and are very low-risk players. These two might be available in the third round, and if they are, you better not pass them up unless you already have two wide outs on your roster. Honorable mention here goes to Julian Edelman who will get grossly overlooked this year because of the addition of Brandon Cooks. It would not surprise me if he outplays Cooks or at the very least is on par with him even though Cooks is going 2-3 rounds earlier.
Thursday September 7th will be here before you know it and CleatGeeks has partnered up with Pony Keg Sports to help you #OWN YOUR DRAFT Keep coming back to us for tons of NFL and college football articles and always listen to our friends at Pony Keg Sports to make you the smartest fan possible. Click here to listen to all the big training camp happenings on the Pony Keg Sports Podcast!
Tight End
Tight end is another position where if you don't get an elite talent you should not waste a mid-round pick on. The top three names that usually come off the board are Gronk, Travis Kelce, and Jordan Reed, and each of them comes with a lot of risk. A full 16 games from these players can lead to something special, but I find it hard to reach for players like that early in a draft. I would much rather wait on Jimmy Graham or Greg Olsen if I am planning on filling that spot a little earlier than usual, but two players I like this year are Kyle Rudolph and Martellus Bennett. Bennett is a brand new tool for superstar Aaron Rodgers and has the ability to put up very good numbers. He can be kind of an upside pick, but he is a very safe one at the least. Green Bay will be throwing the ball constantly once again, especially with Ty Montgomery and his inexperience in the backfield. Kyle Rudolph, on the other hand, is no superstar, but he hasn't missed a game in two years and amassed a whopping 132 targets last season, more than any tight end in the league. He is another forgotten name because of the possibility of greatness at the top and could end up being a great value pick later in your draft. Like Bennett, he is a high floor pick.
In closing, no matter who you draft, no matter how much upside and talent they have, they still need to stay on the field. This list of players can be used as fallback guys if you like. Miss out on Amari Cooper? Look for Baldwin and Thomas. Have a late first round pick? Nab Freeman or McCoy. Forget about drafting a tight end? Hope for Rudolph, wait for Bennett, and remember, you would rather have 4 starting WR/RB players on your roster than 3 and a QB in the 4th.
Top Ten Fantasy Receivers
One of the deepest positions in fantasy football is wide receiver. There are so many guys who can produce in this group, it makes sense to wait on drafting them. However, some guys are worth investing in early. The type of guys you can depend on every week to get you double digit points. Here are my top ten receivers to have in the 2017 season.
10) Brandin Cooks
Tom Brady has a new toy to play with this year and his name is Brandin Cooks. His break away speed and his elusiveness will make for many big plays in the Patriots offense. Look for him to be targeted often in New England, racking up lots of receptions which will mean lots of points in PPR league.
9) Amari Cooper
The Raiders returned to the playoffs last year thanks in large part to Oakland's passing attack. Cooper, the most explosive target on the Raiders, should help them repeat that success in 2017. His size and explosiveness make him an up and coming star, in his way to being one of the best in the game. Look for big touchdown numbers from Derek Carr's favorite target this year.
8) Dez Bryant
The Cowboys are a run first team, but that shouldn't take away from Bryant's fantasy value. In fact, it should add to it. Opposing defenses will be stacking the box, thus leaving on an island to make plays. With as physical and talented as Dez is, he's going to rank up a lot of points and a lot of touchdowns this year.
7) Jordy Nelson
Nelson is consistently overlooked as one of the elite receivers in the game. His ability to take the top off the defense and excellent hands make him a big play threat every week. He's starting to get a little older, in terms of football years, so he may start to slow down some. Even if he does begin to slow down, he'll still be one of the best in the game.
6) T.Y. Hilton
Hilton can really do it all. He's going to get you a lot of receptions and is a big play threat down the field. His situation is also really good for fantasy owners, playing with a great quarterback who will be forced to throw the ball a lot this year. Hilton is a very low risk pick and will be great this year.
5) AJ Green
Green is an absolute stud. His speed, size and hands are some of the best in the league. There's no doubt he'll have a great year, especially with the addition of John Ross to take pressure off him. The only thing that could hold him back even a little is the play of his quarterback.
4) Mike Evans
Evans is a big physical receiver who makes his money in the red zone. Expect him to still get his fair share of touchdowns this season, but I think there's a chance his numbers dip just a little this year. The Bucs brought in several new weapons in the off-season, so his targets will likely dip. Evans will still get his, but I can't put him any higher than this.
3) Odell Beckham
Beckham might be the most talented receiver in the NFL. He's explosive and can really go up and get the ball. So why isn't this super star of the top of my list? Part of it is questions about an aging Eli Manning. Part of it is a number of bigger targets who could potentially steal a lot of touchdowns from him. Regardless, Beckham will still put up big numbers this year.
Is this article just making you hungry for more FOOTBALL? @cleatgeeks has partnered with Pony Keg Sports to bring our fans a great podcast that you can listen to anytime! Go get your #FridayFootballFix with the Pony Keg Sports Podcast as they have a little bit of fun talking Late Round Sleepers!
2) Julio Jones
Jones is the best in the game as far as I'm concerned. He's everything you could really hope for in a wide receiver; talk, fast, skilled, you name it. He's going to be towards the top of the leader boards in every receiving category. I'm a little nervous about how the Falcons will adjust to a new offensive coordinator, but this kind of talent transcends scheme and coaching.
1) Antonio Brown
Brown is in a perfect position in terms of fantasy receivers. He's got talent around him, but not too much that it's going to cut into his production. He'll get loads of receptions and he has a knack for finding the end zone. I'm a little concerned that Big Ben might start to slow down this year, but I don't anticipate that slowing Brown down at all.
Fantasy Football Focus: Top Ten Quarterbacks for the 2017 Season
July is upon us, which means our fantasy football drafts will be right around the corner. Conventional wisdom would tell you to wait on drafting a quarterback because the position is so deep and full of production. That's as true this year as it ever has been. There are some excellent QBs in the league right now, so even in deep 16 team leagues everyone should find a quality starter. However, there are a few guys who stand out above the rest. Here are my top ten fantasy QBs for the 2017 season.
10) Cam Newton
This time last year Newton was coming off a Super Bowl appearance and an incredible MVP season. Despite dropping back down to his career norms last season, he still offers a lot in fantasy. His ability to run combined with what he offers as a passer will give you a lot of ways to score, specifically touchdowns. Then consider that the Panthers added a pair of pass catching RB to help him out of the backfield and it feels clear that Newton will be one of the top fantasy options in 2017.
9) Andrew Luck
Luck is a fantastic quarterback who has already proven he can elevate his teammates despite not having great talent around him. Last year he ranked eighth in passing yards and fifth in passing touchdowns. You can probably expect similar numbers in the upcoming season as most of his supporting cast is the same. Assuming his offensive line can protect him, he's basically a top ten fantasy lock.
8) Derek Carr
Fresh off his massive pay day, Carr should be in the conversation for MVP again this season. He ranked 8th in passing touchdowns and was less than 70 yards away from cracking the 4,000 passing yard mark for the first time in his career. The most impressive part of Carr's game is his low number of interceptions. He threw just six last year, so if you're in a league the penalized hard for turnovers that's something to consider. Now with Latavius Murray taking his talents to the Vikings, more of the offense will revolve around Carr throwing the ball than ever before.
7) Drew Brees
Undoubtably, Brees is one of the best to ever play the game. Even at 37 years old he threw for another 5,000+ yards (most passing yards in the NFL) and 37 touchdowns (third most passing TD's in the NFL). So why is he only my seventh rated fantasy QB going into 2017? Two reasons. One is that he is 37 years old and it's only a matter of time until he starts slowing down. The second and more important reason is the loss of Brandin Cooks. His 1,100+ yards of production and his excellent explosiveness are just gone with no replacement and that's going to hurt Brees as a result. Even so, he should still have a very good year.
6) Marcus Mariota
It's in their third year that most young quarterbacks elevate their game from good to great. That should be fun to watch for Titans fans as he already ranked tenth in passing touchdowns last season. Now with the addition of fifth overall pick Corey Davis, as the number one wide receiver, and Eric Decker, one of the best slot receivers in the game, Mariota's numbers should be on the rise. Look for him to be one of the top passers in 2017.
5) Ben Roethlisberger
Big Ben is one of the best in the game and has elite playmakers around him. He ranked sixth in touchdown passes last year while missing two games. Now fully healthy going into the season, with Le'Veon Bell expected to play a full season this year, Big Ben should prove to still be one of the elite QB's in the game. The only thing fantasy owners have to worry about is if he'll stay healthy the entire year (which he rarely seems to do). So draft Big Ben early, but also consider drafting a backup earlier than normal just in case.
4) Jameis Winston 
Winston is another third year quarterback who is expected to make a big jump this season. After becoming the first QB in NFL history to throw for 4,000+ yards in his first two seasons, the Bucs actually got him some real playmakers to throw to. With the addition of DeSean Jackson in free agency and OJ Howard and Chris Godwin in the draft, Winston's passing yards (12th in the NFL last year) and passing touchdowns (7th in the NFL last year) to improve dramatically. Don't be shocked to see him in MVP conversations in 2017.
3) Matt Ryan
Last year Ryan put together a career season on his way to an MVP award and a Super Bowl appearance. While I don't expect him to be quiet as good this year, I still expect him to be excellent. The Falcons have the best group of skill position players in the NFL, highlighted by the best receiver in the game in Julio Jones. It's hard to say exactly how the offense will respond to a new coordinator calling the plays, but I can't overlook Matty Ice and the talent he has to work with.
2) Aaron Rodgers
Rodgers was a fantasy stud last year.  He was fourth in the NFL in passing yards and first in passing touchdowns. Will all of his weapons returning, plus a few more coming in via the draft and free agency, I see no reason Rodgers can repeat or even improve upon last year's numbers.
1) Tom Brady
Brady didn't put up the eye popping numbers that many of the guys on this list did last year. That was because he was suspended for the first four games of the year. Even so, he still threw 28 touchdowns and helped lead the Patriots to an epic Super Bowl win. Now he's not only back for a full season, but he's got one of the best receivers in the game to throw to this year. Brandin Cooks was traded to the Patriots in the offseason, which means the 1,100+ yards that Drew Brees lost is now at Brady's disposal.
Did this article just make you hungry for more FOOTBALL? @cleatgeeks has partnered with Pony Keg Sports to bring our fans a great podcast that you can listen to anytime! Go get your #FridayFootballFix with the Pony Keg Sports Podcast as they do a complete mock fantasy draft!
Hype/Gripe: Week 14
If you're reading this article in preparation for your matchup this week, congrats on making the fantasy playoffs! Every week is sudden death from here on out, so it's win or go home! Obviously you're here to gain some insight for this week, but also ask me questions on Twitter if you have any! I'm here to help you win a championship, unless you're in my league.
In this article, I will be hyping up some players this week, but also will share some gripes on a few others. There is one thing I need to stress: this is not a start/sit article. You can use it as a tool to decide who to start/sit, but not every "hype" means "start," and vice versa. All "hype" means is I think that player will out-perform their current value and projections. This means I think a player who is a "gripe" will under-perform based on their current value and projections. If you would like to see how I think everyone stacks up this week, I highly suggest you take a look at my rankings!
Hyped Quarterback for Week 14
Russell Wilson, vs GB: Wilson has not been good this season, but he is coming around lately. He is definitely passing better, and his knee is looking healthier since he has been scrambling again (42.6 rushing YPG over the past three games). It is not a secret that the banged-up Packers have struggled to defend the pass, and now linebacker Nick Perry will be out too, which diminishes their pass rush. I'm not worried about the weather, start Russ in this fantastic matchup.
Other "Hyped" QBs:
Cam Newton, vs SD
Carson Palmer, vs MIA
If You're Desperate: Worried about Colin Kaepernick after last week? I don't blame you. I do think this was a fluke though, and he will get the privilege of passing against the Jets. Kaepernick has expressed interest in leaving this offseason, so he should be extra motivated to prove he deserves to be paid.
Quarterbacks Who Get Gripes for Week 14
Marcus Mariota, vs DEN
Blake Bortles, vs MIN
Hyped Running Back for Week 14
Jeremy Hill, vs CLE: Hill has had a couple tough matchups in a row, which caused him to really struggle running the ball. He should bounce back this week against a terrible Browns defense that gives up the second-most rushing yards per game at 140.6 and 4.5 YPC. Expect the Bengals to come out and establish the run to take pressure off of Dalton. In his game against them earlier this season, Hill had a modest 168 yards on nine carries! Yeah, I'm hyping this guy up this week.
Other "Hyped" RBs:
Matt Forte, vs SF
Jordan Howard, vs DET
If You're Desperate: Rex Burkhead has taken over Giovani Bernard's role after his injury, and he obviously has the same things going for him that Hill does. He was given twelve touches last week, and I expect somewhere in that range again. That might be all he needs against this defense to hold flex value.
Running Backs Who Get Gripes for Week 14
Jay Ajayi, vs ARI
Rashad Jennings, vs DAL
Hyped Wide Receiver for Week 14
Doug Baldwin, vs GB: Baldwin is clearly Wilson's favorite target, and they  have one of the best matchups this week. Out of the slot, Baldwin will be matched up with Micah Hyde in this one. While Hyde is a very talented player, he tends to struggle in man coverage and while surely struggle to stay on Baldwin through four quarters.
Other "Hyped" WRs:
Kenny Britt, vs ATL
Pierre Garcon, vs PHI
If You're Desperate: Robby Anderson has consistently been getting snaps for the Jets, but now his value is experiencing a big boost. After Bryce Petty came in at quarterback, Anderson saw 10-of-25 of Petty's targets. Look for him to see a lot of targets again this week as he faces the 49ers.
Wide Receivers Who Get Gripes for Week 14
Rishard Matthews, vs DEN
Allen Robinson, vs MIN
Hyped Tight End for Week 14
Zach Ertz, vs WAS: Ertz has received 32 targets over the past three weeks from Carson Wentz, and I like his matchup this week! The Redskins have struggled with tight ends lately, just look at the five catches for 52 yards they gave up to Jermaine Gresham last week! That equals the most yards Gresham has had this season, so this points to great things from Ertz. Look for him to receive around ten targets yet again.
Other "Hyped" TEs:
Tyler Eifert, vs CLE
Jason Witten, vs NYG
If You're Desperate: Vance McDonald is not one of the big names people talk about, but he is quietly performing well. Excluding last game, he is averaging just above 48 yards per game with Kaepernick throwing to him. In a good matchup with the Jets, McDonald is a clear sleeper this week.
Tight Ends Who Get Gripes for Week 14
Jordan Reed, vs PHI
Dwayne Allen, vs HOU
Like this week Hype/Gripe? Let me know! Also, please share any questions, concerns, compliments/criticisms on the article or whatever! This helps me know how to write the best article for YOU!
Hype/Gripe: Week 13
Do not panic, but we are quickly approaching the end of the NFL season! Sad, I know. We are in week 13, which is a huge week for fantasy football. You may be starting your playoffs, fighting for the playoffs, or trying to knock somebody out of the playoffs! 
In this article, I will be hyping up some players this week, but also will share some gripes on a few others. There is one thing I need to stress: this is not a start/sit article. You can use it as a tool to decide who to start/sit, but not every "hype" means "start," and vice versa. All "hype" means is I think that player will out-perform their current value and projections. This means I think a player who is a "gripe" will under-perform based on their current value and projections. If you would like to see how I think everyone stacks up this week, I highly suggest you take a look at my rankings!
Quarterbacks Who Are Hyped for Week 13
Andrew Luck, vs NYJ: Luck returns from his week off all rested up from being hit every other throw to play the Jets. Could there be anything better? Don't think too hard about this one, play Andrew Luck. I know his offensive line is unable to protect him, but remember, the Jets are also unable to cover anyone. The Jets also only have 19 sacks on the year. This is not saying their pass rush is tied for second-worst in the league, it's because opposing quarterbacks only need one second for their receiving options to get open.
Other "Hyped" QBs:
Colin Kaepernick, vs CHI
Philip Rivers, vs TB
Matthew Stafford, vs NO
If You're Desperate: Alex Smith has a great matchup with the Falcons. Atlanta was giving up the most fantasy points to quarterbacks as it is, but it was announced that star cornerback Trufant is done of the season. The Falcons shouldn't struggle too much putting up points, so Smith may be forced to pass a bit more often. It also appears Maclin will be back this week, so that improves Smith's receiving corps quite a bit.
Quarterbacks Who Get Gripes for Week 13
Blake Bortles, vs DEN
Andy Dalton, vs PHI
Running Backs Who Are Hyped for Week 13
Jordan Howard, vs SF: Howard will wear a pair of custom cleats this Sunday to honor his late father. If the matchup against the 49ers didn't make you drool before, this bit of extra motivation and inspiration should put Howard over the top and lead to a big game from the rookie.
Other "Hyped" RBs:
Theo Riddick, vs NO
Doug Martin, vs SD
Matt Forte, vs IND
If You're Desperate: Kenneth Dixon received a career-high 17 touches last week, which resulted in 80 yards. I expect the Ravens to keep feeding the rookie, and there's a chance he is not even owned!
Running Backs Who Get Gripes for Week 13
Jay Ajayi, vs BAL
Jonathan Stewart, vs SEA
Wide Receivers Who Are Hyped for Week 13
Marvin Jones vs NO: Remember Marvin Jones? He's the guy everyone was bragging about that they "knew he's be amazing this year," but then he seemingly fell off the face of the earth. Well, look for him to return to relevancy with this juicy matchup against the Saints! It's pretty obvious that the Lions will pass a ton in this game and Jones should be matched up with Delvin Breaux quite often, and he can take full advantage of this. He has not found the end zone since week six, and I am on record right here and now when I say this pitiful streak ends on Sunday. I will either be looking smart or like an ass after this game, so stay tuned in to celebrate or harass me on Twitter.
Other "Hyped" WRs:
Jordy Nelson, vs HOU
Doug Baldwin, vs CAR
Willie Snead, vs DET
If You're Desperate: Taylor Gabriel from the Falcons is owned in less than one-third of leagues, which is crazy. The guy is averaging 80.5 total yards and a touchdown over the past four games! He gets a good matchup with the Chiefs here, so take a look and see if Gabriel is still out there on waivers.
Wide Receivers Who Get Gripes for Week 13
Davante Adams, vs HOU
Marqise Lee, vs DEN
Tight Ends Who Are Hyped for Week 13
Travis Kelce vs ATL: This is a combination of Atlanta struggling against tight ends and Kelce performing really well. He has 100+ yards in the last 3-of-5 games, including back-to-back games. This has partially been due to Maclin missing time, but Maclin's return should just open things up for Kelce even more in this game! As I said above, Smith may have to stay aggressive in this one. Well, as aggressive as an Alex Smith-led offense gets. When the Chiefs have success on offense, you know Kelce is involved.
Other "Hyped" TEs:
Eric Ebron, vs NO
C.J. Fiedorowicz, vs GB
Zach Ertz, vs CIN
If You're Desperate: Vance McDonald is not just a receiving option in Chip Kelly's offense, he is a go-to guy for Kaepernick. He has received 6+ targets in the past six games, and is a solid option at tight end even if you're not desperate! He is quietly performing well, so he may not have been on the radar of your league opponents.
Tight Ends Who Get Gripes for Week 13
Reed/Davis, vs ARI
Tyler Eifert, vs PHI
Like this week Hype/Gripe? Let me know! Also, please share any questions, concerns, compliments/criticisms on the article or whatever! This helps me know how to write the best article for YOU!
Hype/Gripe: Thanksgiving Edition
Happy Thanksgiving, ladies and geeks! There's not much better than a day full of food and football! I asked on Twitter earlier in the week if you all wanted a normal "Hype/Gripe" or a Thanksgiving edition, and an overwhelming majority demanded for me to get festive and break out a holiday edition of this article! We have three games to choose from today: MIN vs DET, WAS vs DAL, and PIT vs IND. Since there are significantly less players to choose from, this edition will obviously be a bit shorter than we all are used to. If you have any more questions about the games today or the rest of the week, you can ask me on Twitter or refer to my rankings.
In this article, I will be hyping up some players this week, but also will share some gripes on a few others. There is one thing I need to stress: this is not a start/sit article. You can use it as a tool to decide who to start/sit, but not every "hype" means "start," and vice versa. All "hype" means is I think that player will out-perform their current value and projections. This means I think a player who is a "gripe" will under-perform based on their current value and projections.
Hyped QB on Thanksgiving
Dak Prescott vs WAS: The rookie has impressed throughout his entire first season, and now it is time for him to continue the Cowboys' tradition of playing on Thanksgiving. I like Prescott's matchup against the Redskins here. I feel he is in the best position since he is going up against a beatable defense, but the opposing offense is also good enough to keep pressure on his own team to stay aggressive. If one of these games turn into a shoot-out, it'll be this one.
If You're Desperate: Scott Tolzien will be the guy under center for the Colts against the Steelers. Tolzien is in his fourth season out of Wisconsin and was previously on the Packers. While in Green Bay, he only had one game where he started and finished it. The game was against the Giants in 2013, and he passed for 339 with three interceptions. He faces a Pittsburgh defense that you can pass on, but it is obviously a risk starting Tolzien. His stats in that Packer game are not great, but there is one thing to be encouraged about: the Packers did not change much, if anything, with him as their starter in that game. They trusted he could run the offense, so it makes me optimistic that he can do the same with the Colts. Do not expect him to be the #1 quarterback, but if you're desperate enough or need a cheap DFS option, Tolzien is your man!
Griped QB on Thanksgiving
Sam Bradford vs DET: As of writing this article, it seems like Bradford will be without receiver Stefon Diggs. That is obviously a big blow to Bradford's value and the entire offense. Even if Diggs does play, there is a lot of quarterback talent playing on turkey day, so it is tough to feel good about Bradford.
Hyped RB on Thanksgiving
Frank Gore vs PIT: The Steelers have been surprisingly bad against running backs this season. Gore has proved he can still do damage on the ground and in the receiving game this season, and they will be calling on him often in this game. We are very aware about the talent of the offensive line, and the Steelers will be bringing heavy pressure against Tolzien, so expect swing passes and drop-offs to Gore here. Again, this is not a start/sit article exactly. Am I saying to start him over Bell or Elliott? Of course not. Those two are top-three running backs every single week, but I think Gore outperforms his value here.
If You're Desperate: Jerick McKinnon is definitely on my radar in this week and beyond. He is a highly-skilled, versatile back that the Vikings desperately need to use for their offense to improve. They recently cut Ronnie Hillman, so now he is basically only competing with Matt Asiata for carries. McKinnon received over half of the snaps last week for the first time since week five, and I expect his snap count to be around 60-65% here.
Griped RB on Thanksgiving
Rob Kelley vs DAL: The Cowboys have not allowed a 100-yard rusher yet this season. They actually have only given up 80+ rushing yards only once this season, and that was to Darren Sproles. They do, however, give up receiving yards to running backs. This is not Kelley's thing. You can cross your fingers and hope for a touchdown, but I do not think you'll get a bunch of yards from him this week.
Hyped WR on Thanksgiving
Dez Bryant vs WAS: Dez had an incredible game last week as he played for the memory of his dad. I expect him to carry that emotion over into this game. He had a pretty disappointing game last Thanksgiving when he played against Josh Norman. While it has been said that the Redskins do not plan to use shadow coverage on Dez, I am sure we will be seeing that match-up plenty. Dez is an emotional player and I can't wait for him to get his revenge.
If You're Desperate: Cordarrelle Patterson is finally being used as a receiver on offense instead of just jet sweeps. He has played in over 60% of the offensive snaps for quite a games now, and that is expected to go up this week whether Diggs is out or just banged up. Patterson is an explosive guy that makes plays and explosive performances happen in games like these.
Griped WR on Thanksgiving
T.Y. Hilton vs PIT: We have already discussed Tolzien, and he is not going to be taking the same shots downfield that Andrew Luck would. Part of the reason is because of the type of player he is, but also because of the pressure the Steelers will apply. If you have Hilton, you're probably starting him. I am just saying to limit your expectations a little bit.
Hyped TE on Thanksgiving
Eric Ebron vs MIN: While the Lions' offense has been a bit inconsistent, Ebron has been one of the guys you can rely on. He has been getting consistent catches and yards, but he has struggled to find the end zone. He had seven catches for 92 yards against the Vikings just a couple weeks ago, and I expect something similar again here. The Vikings have actually given up double-digit fantasy points to tight ends for the past four weeks, and Ebron should make it five in a row with this game.
If You're Desperate: Jack Doyle is one of the players to potentially receive a boost with Tolzien under center. Usually inexperienced quarterbacks like to make easy throws to big-bodied targets (makes sense right?), and that's what I am expecting here.
Griped TE on Thanksgiving
Steelers TEs against the Colts: Just stay away. There are so many other options at tight end, why would you play one of these guys? Yes, the Steelers have desperately been trying to get Ladarius Green a touchdown the past two weeks, but what has happened? Three catches for 30 yards. You have five other teams to choose from on Thanksgiving, so just take a look elsewhere.
Like this week's Hype/Gripe? Share it all over the place! Show your grandma! Read it five more times! Do whatever makes you happy, but please let me know if you liked it or what you want to see. It can be something I should improve, something new you'd like to see added to my fantasy world, or anything like that! You know you can tell me on Twitter @FantasyFlurry, and while you're at it, follow my new account @DFSFlurry if you want me to help you make some money playing daily fantasy sports! Happy Thanksgiving!