Alabama's PG Collin Sexton Likely Top 10 Pick In 2018 NBA Draft
In one season, Sexton became a Basketball legend in Tuscaloosa
The NBA has now concluded, now the first objective for each team in the offseason to accomplish is to fill their biggest position need in the 2018 NBA Draft on June 21st. Among some of the top prospects in this NBA Draft is former Alabama Crimson Tide Point Guard Collin Sexton. The 2017-2018 SEC Freshman player of the year is looking to take his explosive and dynamic skills as an all-around player and shooter into the NBA.
In his one year at Alabama this past College Basketball season, Sexton has accounted for 19.2 points per game on a .447% field goal percentage, 3.8 rebounds per game, 3.6 assists per game, and .85 steals per game. Sexton has been a highly reliable and an explosive scorer for the Crimson Tide as he helped lead Alabama to their first NCAA Tournament appearance since 2012. He also helped the Crimson Tide get their first win in the tournament since 2006 when they took down the Virginia Tech Hokies in the 1st round with an 86-83 score. The Tide would go on to lose in the 2nd round of the Tournament to the eventual NCAA National Champions in the Villanova Wildcats with an 81-58 score.
One of Sexton's best games as a member of the Crimson Tide was against the 14th ranked team in the nation (at the time) the Minnesota Golden Gophers. Sexton accounted for 40 points on a 12-for-22 field goal percentage, shooting 4-for-7 from the 3-point line, 6 rebounds, 5 assists, and a steal. It is not common for the Alabama Crimson Tide to have a great basketball team. It is even more uncommon that the Tide would do surprisingly well in the tournament. This started after the 5-star Point Guard and 5th overall best player in the 2017 high school recruiting class choose Alabama over other top basketball schools in the nation. Sexton knew the second he chose Alabama, he would one of the best players to ever come from Crimson Tide program. He is currently ranked 11th in Sports Illustrated's big board of prospects in the 2018 NBA Draft.
Attributes that Sexton brings into the NBA
Sexton doesn't just bring in his tremendous shooting ability, he also brings in his explosiveness and mentality to excel in every phase of the game whether it's defense, play-calling or going for the rebounds. Sexton is one of the shortest players in the 2018 NBA Draft at 6'1 but with him accounting for almost 4 rebounds per game shows the drive he possesses to win. What is even more impressive on top of his physical toughness is his mental toughness. There were many moments where Sexton would either be seen only in the classroom or in the weight room at Alabama. Sexton was determined to outmatch opposing teams physically and mentality. His fire mentality and intensity is a huge plus for a very talented offensively player, especially for one who has a high-continuous motor.
His smaller size at 6'1 matched with a surprisingly large wingspan and tremendous athleticism/explosiveness makes him a player likely to be selected in the top 10 of the 2018 NBA Draft. Sexton has been compared to many players in the NBA but one player that comes to mind due to his playmaking abilities is 2016-2017 season NBA MVP in Oklahoma City Thunder PG Russell Westbrook. Just like Westbrook, Sexton is an explosive and dynamic player who shines the brightest in the biggest games. In the 2nd round of the SEC Conference Tournament this year, Sexton and the Crimson Tide lead a huge 81-63 upset victory over the #19 Auburn Tigers (1st seed of the SEC). In the game, Sexton accounted for 31 points on a 10-for-16 field goal percentage (.625%), shooting 6-for-8 (75%) from the 3-point arc, and 7 rebounds. Sexton is a film junkie and loves to outmatch and expose his opposing team.
Collin will need to address many areas of his game as he transitions into the NBA. One of the biggest attributes for him to address is his 3.8 rebounds/3.6 assists ratio. He is a very good rebounder when he is not shooting the ball but the problem with him being the main of offensive input at Alabama was that he was consistently taking the shots and not getting the chance to rebound. Another big indication of Sexton being the main source of points for the Crimson Tide is that he does not account for a high number of assists. Sexton is not selfish with the ball but at the same time, he was cognitively aware of the main talent production with the Alabama Crimson Tide. When the games mattered, he took the ball into his own hands. In the NBA, there could be a learning curve for Sexton to become more of a passing Point Guard and be the playbook leader by setting up the plays and passing the ball to other worthy players. Technically, scouts will give a negative mark for not having clear game footage of his Point Guard playing ability (non-shooting) as compared to the NBA. This is a flawed comparison to judge on, considering that Golden State Warriors PG Steph Curry was judged the same way while at Davidson. Sexton is more capable of adjusting to playing scenarios in the NBA (on both sides of the court) than other top Point Guard prospects in this 2018 NBA Draft.
Teams of interest in Collin Sexton for the 2018 NBA Draft
There are many teams looking to draft Sexton in the 1st round with some coming into the top 10. Among some of the teams interested are the Orlando Magic (6th overall pick), the Chicago Bulls (7th overall pick), the Cleveland Cavaliers (8th overall pick), the New York Knicks (9th overall pick), and the Los Angeles Clippers (12th and 13th overall pick).
The Orlando Magic are certainly looking into every aspect of improving their team that has problems keeping the young talent they select in the Draft. PF Aaron Gordon is a bright spot for their team but they will need support from the smaller positions considering they finished the 2017-2018 NBA season ranked 24th in the league in points per game (103.4). PG Elfrid Payton was traded to the Phoenix Suns before the NBA trade deadline and right now, D.J. Augustin is projected to start at Point Guard. The Magic have brought in multiple Points Guards including Oklahoma's Trae Young to workout with them. The Chicago Bulls are looking for their new face of the franchise still after the surprising trade of SG Jimmy Butler to the Minnesota Timberwolves. There are reports circulating that the Bulls are looking into every position on their team. There are even rumors that the Bulls are not impressed with the progression and Summer workouts of their starting PG in Kris Dunn despite accounting for 43 starts (in 52 games), 13.4 points per game, 4.3 rebounds per game, 6 assists per game, and 2 steals per game.
The New York Knicks have a variety of weapons at Point Guard but they are limited to their own skill settings. Emmanuel Mudiay is a great defender but has only accounted for an average of 8.8 points per game and 3.9 assists per game in the 22 games played for the Knicks (acquired through trade during the season). Trey Burke has accounted for 12.8 points per game and 4.7 assists per game in the 36 games played for New York this season while being called up from the G-League in mid-January. Sexton would be a great all-around player for the Knicks as well as complement PF Kristaps Porzingis on the court. If Sexton were to slip to 12 or 13, it will be highly doubtful that the Los Angeles Clippers will pass on him due to their need for an offensive playmaker at Point Guard with 2016-2017 NBA defensive player of the year in PG Patrick Beverley coming off a knee injury. Clippers need a great scorer Point Guard to possibly start or provide help for 6th man of the year candidate SG Lou Williams. Sexton would a great teammate with SF LeBron James with the Cleveland Cavaliers as he could bring in his intensity and his ability to make smart plays. Cleveland needs a Guard that is both mobile and capable of self-creating scoring situations. All of this though is dependent on whether LeBron James stays or leaves Cleveland again due to free agency. Sexton did have a workout with the Cavs on Saturday, the day after they were swept in the 2018 NBA Finals by the Golden State Warriors.
2018 Women's College Basketball Tournament Final Four Preview
With the month of March coming to a close, so will the men's and women's College Basketball Tournaments. The most exciting event for this weekend are the Final Four match-ups. For the Women's Tournaments, there have been some upsets but the top-seeded teams remain as they now face each other this Friday. The first match-up will compose of the #1 seeded Louisville Cardinals (36-2) vs. the #1 seeded Mississippi State Bulldogs (36-1). The other Final Four match-up will be a familiar match-up between the #1 seeded UConn Women Huskies (36-0) vs. the #1 seeded Notre Dame Fighting Irish (33-3).
Last season in the Final Four, the Mississippi State Bulldogs shocked the world by defeating the #1 seeded UConn Women Huskies with a 66-64 score in overtime. The Huskies, led by Head Coach Geno Auriemma, looked to be unbeatable with their tenacious scoring at a consistent non-stop pace. The loss from Mississippi State ended a 111-game win streak as the Bulldogs advanced to the National Championship. They would end up losing to the South Carolina Gamecocks in the National Championship game with a 67-55 score.
In this Tournament, UConn has been dominating once again by winning with an average point difference of 38.75 points in the 4 games played. In the first round of the Tournament, UConn decimated #16 seed St. Francois with a 140-52 score. The UConn Women Huskies knocked off the defending National Champions in the #2 seeded South Carolina Gamecocks in the Elite 8 with a 94-65 score. UConn is ranked 1st in the nation in points per game (89.4) because of their aggressive scoring tempo. They are also 4th in the nation in points allowed per game (52.3).
The Notre Dame Fighting Irish are looking for revenge in the Final Four round against UConn as they have lost to the Huskies in the 2014 and the 2015 National Championship games. Notre Dame comes into this matchup against UConn with the 3rd ranked team in the nation (85.6). They are also ranked 26th in the nation in rebounds per game (42.06). UConn can easily win this game with their aggressive scoring setting but they must play smart. Notre Dame, on the other hand, must beat the Women Huskies at their own game of fast and efficient scoring.
The Louisville Cardinals are a team that plays a more steady pace of shooting and setting up offensively. The Cardinals are ranked 30th in points per game (77.1) as well as 14th in 3-point shooting percentage (37.7%). This is the Mississippi State Bulldogs' 2nd ever appearance in the Final Four and they are most consistent than the year before. The Bulldogs are 10th in points per game (82), 15th in points allowed per game (56.1), and 6th in 3-point shooting percentage (39.5). Despite the fact that the Bulldogs are not dominate in the rebounding game, they do have a weapon in Teaira McCowan. The 6'7 Bulldog is 2nd in the nation overall in rebounds per game with 13.6 rebounds. She is a big part of the Bulldogs' dominance in defending in the paint. Louisville might need to try their luck from behind-the-arc in order to get an early lead on the Bulldogs. If Notre Dame cannot beat UConn in the Final Four, Mississippi State has the best shot to beat UConn in the National Championship game the following Sunday night.
2018 NCAA Women's College Basketball Tournament Selection Preview
With only a few days left until the selection show for the 2018 Women's College Basketball Tournament on March 12th, many are expecting the same level of energy and drama that was presented in last year's tournament. There are many teams to look forward to in the Tournament as the Conference Championship Tournaments are now over.
The #1 UConn Women Huskies (32-0; 16-0 in conference play) are coming off another dominating regular season and another conference tournament championship. Last Tuesday night, star senior Forward Gabby Williams accounted for 19 points on a field goal ratio of 9-to-11, 7 rebounds, 6 assists, 5 steals and 1 block as the Huskies beat the #19 South Florida 70-54 in the conference championship game. This gives UConn their 5th straight ACC conference title and a clinch into their 30th NCAA women's basketball tournament as Head Coach Geno Auriemma continues to build his legacy in the sport of College Basketball. The Huskies are going to the be the #1 seed in the women's tournament once again and will be looking for their 5th NCAA Tournament Championship title in 6 years.
Last year, the seemingly unstoppable Huskies team lost in the Final Four of the 2017 NCAA women's Tournament to the Mississippi State Bulldogs with a 66-64 in overtime. The South Carolina Gamecocks would go to beat the Mississippi State Bulldogs in the National Championship game with a 67-55 score as Forward A'ja Wilson was voted Most Outstanding Player.
This season, Wilson continues to be one of the best players in the country as she is ranked 8th in the nation in points per game (22.6). The #8 South Carolina Gamecocks (26-6; 12-4 in conference play) defeated the 2018 SEC regular season champs in the #2 Mississippi State Bulldogs (32-1; 16-0 in conference play) with a 62-51 score. South Carolina displayed a dominant defensive performance over the Bulldogs by holding Mississippi State to a 34.5% field goal percentage and a 15.8% 3-point percentage. This earned the Gamecocks their 4th straight SEC Conference Tournament Championship.
The Gamecocks are looking to earn their 2nd NCAA Tournament title as either a #1 or a #2 seed in the 2018 NCAA Women's Basketball Tournament. Other top teams to watch out for are the #2 Baylor Lady Bears (31-1; 18-0 in conference play) as they won the Big 12 conference tournament over the #8 Texas Longhorns with a 74-69 score. The #4 Louisville Cardinals (32-2; 15-1 in conference play) came out with an ACC conference tournament title with a close 74-72 win over the #5 Notre Dame Fighting Irish (29-3; 15-1 in conference play). The Fighting Irish are looking to make a name for themselves and their women's college basketball program as they are looking for their first national title since 2001. They have lost in the National Title game 4 times in the last 7 years (2011, 2012, 2014, and 2015).
The UConn Women Huskies are now currently ranked #1 with all the 1st place votes while the Baylor Lady Bears are now #2. The Louisville Cardinals are #3, the Mississippi State Bulldogs slip to #4, and the Notre Dame Fighting Irish are #5. The Oregon Ducks at #6, the South Carolina Gamecocks at #7, the Texas Longhorns at #8, the UCLA Bruins at #9, and the Ohio State Buckeyes finish out the top ten at the #10 ranked spot.
Outside of the 11 National Championship titles that the UConn women Huskies have, the next program with the highest amount of National Titles are the Tennessee Lady Volunteers with 8 titles (all under Head Coach Pat Summit). The last title was from the 2007-2008 college basketball season. The last team to win the NCAA women's basketball tournament that wasn't South Carolina last year or UConn for 4 years straight were the Baylor Lady Bears in 2012 with their 2nd title. Look for these top teams to make a statement in the 2018 NCAA women's tournament as they are all almost equal in talent. The 1st round of the tournament will start on March 16th and 17th while the National Title game will be on April 1st.
March Madness; 10 Teams on the Bubble
March Madness is right around the corner, and there are still plenty of teams that are on the bubble. These teams are using their conference tournaments to build their resume, attempting to convince the committee members that they deserve a spot in the NCAA Tournament more than the other bubble teams.
In this article, I will feature 10 teams that are currently on the bubble looking to lock themselves into a tournament spot. Before we get down to it, I want to outline a few terms that I utilize. RPI, or Rating Percentage Index, ranks teams based on their wins, losses, and strength of schedule. I also use the term Quadrant 1, 2, 3, and 4. Sports Illustrated breaks this down in a simplistic way:
"The quadrant system is broken down into four sections, with the top two quadrants having the most importance.

Quadrant one wins are those home games vs. teams RPI ranked 1-30, neutral games vs. 1-50, and away games vs. 1-75. For example, a home win against a top 30 team would qualify as a quadrant one victory.

A Quadrant 2 win are those at Home against the RPI 31-75, neutral 51-100, and away victories over the RPI 76-135."
The quadrant system is utilized to add more depth to RPI, which committee members, and fans more specifically, are tending to shy away from. Quadrant 3 and 4 are not mentioned in the explanation, but they are games that are should be won. A team is generally expected to be undefeated in those games, while there is more lead-way in the first two quadrants.
It's time to get down to business! Let's take a look at 10 teams that are firmly sitting on the bubble before their conference tournaments.
Saint Mary's
Saint Mary's is a team that essentially controls their own fate at this point. They feature a 28-4 overall record, ranking 36th in the NCAA in RPI. The main problem with their team is that they featured a fairly easy non-conference schedule to go along with a 1-1 Quadrant 1 record. They have been ranked for the majority of the season, and the committee will most likely look passed their level of competition in favor of their potential.
As of this writing, Saint Mary's has defeated Pepperdine in the West Coast Tournament. It was not a dominant win, but it was a win nonetheless. The current speculation is that Saint Mary's will receive an at-large bid if they are able to defeat BYU tonight and advance to the finals against either Gonzaga or San Francisco. Obviously, winning that game would give them an automatic bid into the NCAA Tournament. Still, they have played well enough this season to lose the finals, but still receive an at-large bid from the committee.
NOTE: Saint Mary's lost to BYU in the semi-finals, further complicating their status on the bubble. I am slightly leaning towards them making the NCAA Tournament, but it is less than a lock at this point.
Utah
Utah is in an odd position entering the Pac-12 Conference Tournament. They won six of their last seven games, but lost to USC in a game that could have locked them into an at-large bid. They rank 47th in the NCAA in RPI, and they do feature three Q1 road wins. They also feature three Quadrant 2 wins, although each of these wins was at home. The main problem with Utah's schedule was a four game losing skid against Arizona, Arizona State, UCLA, and USC. If they were to win any of these four games, they likely could have bolstered their resume enough to receive a bid.
Utah is far from in the clear at this point, but their late season heroics have put them in a good position moving forward. They ended the season with an 11-7 conference record, giving them the No. 3 seed in the Pac-12 Conference Tournament. They will play the winner of Oregon and Washington State on Thursday. If they are able to win that game, they will likely play USC once again for their chance to earn an at-large bid. This scenario assumes USC wins as the favorite. Keep in mind, Utah can likely earn an at-large bid with two wins in the Pac-12 Tournament. They do not necessarily need to win the tournament to make March Madness.
Alabama
Alabama has had one of the most peculiar seasons in the NCAA in 2017-18. At one point, they were seen as a lock for the NCAA Tournament, totaling five Q1 wins and six Q2 wins. They have hit a terrible skip at the end of the season, though, losing each of their last five games. They have been blown out in a couple of these games, as well, as they have lost by an average of 15.0 points per game. The most concerning part about Alabama is that they only rank 59th in the NCAA in RPI, which is less than impressive for a bubble team.
Alabama is put in somewhat of a difficult spot in the SEC Tournament, as well. They will need to record at least one win if they want consideration from the committee. Bama currently holds the nine seed after finishing with an 8-10 conference record. They will play the eight seed, Texas A&M, in the first round of the tournament. They lost to Texas A&M by two points in their last game, and they will need to avenge this loss if they want any shot at making the big dance. If they are able to win this game, they will move on to play number one seed, Auburn. If Alabama can upset Auburn, they will become a lock for March Madness. If they cannot, they will need a small amount of help from the committee.
Baylor
Baylor has been given ample opportunities to make an impact this season, but they have fell short more often than not. On the season, they are 2-9 against top-25 competition. They do have impressive wins over Kansas and Texas Tech, although both were at home. Unfortunately, Baylor has their RPI working against them, as they currently rank 61st in the NCAA. They have also lost three of their last four games, but the one win was a 23-point victory over Oklahoma, who is also on the bubble.
Baylor ended the season with an uninspiring 8-10 conference record, landing them the six seed in the Big 12 Conference Tournament. Unfortunately, they get a matchup against West Virginia, who has two fairly close wins over Baylor this season. There is a chance Baylor sneaks into the NCAA Tournament even if they lose, but they will likely need to upset West Virginia to secure an at-large bid this season.
Kansas State 
Kansas State has had plenty of ups and downs this season, featuring a 2-6 record against top-25 teams. Their two top-25 wins came against Oklahoma and TCU, who both ended the season unranked. Kansas State has three wins against Q1 teams, while also featuring six wins against Q2 teams. Unfortunately, they rank only 62nd in RPI this season. Kansas State essentially needed a win against Baylor to end the season, and they were able to find victory on their home court.
Their final win against Baylor eases their path to the NCAA Tournament, but they will still need to make waves in the Big 12 Conference Tournament. Kansas State totaled a 10-8 conference record, locking up the fourth seed in the tournament. Their first matchup will be against TCU, who they have split wins against this season. At this point, they will need to beat TCU for a chance for an at-large bid. They may also need to beat the winner of the West Virginia/Baylor game to solidify that bid. Essentially, if Kansas State makes the finals, they will receive an at-large bid, while anything else could result in them staying on the bubble until Selection Sunday.
Louisville  
Louisville has enjoyed a fairly successful season, but their struggles in conference play have them on the bubble. They are 3-7 in their last 10 games, including a heartbreaking loss to Virginia that would have locked them into an at-large bid. They have struggled against elite competition, recording a 3-8 record against Q1 teams. They have also struggled a bit with a 2-2 record against Q2 opponents. They do rank 46th in the NCAA in RPI, which certainly is not elite, but is also far from a hindrance.
Louisville went .500 in conference play, recording a 9-9 record in 18 games. They earned the nine seed and a matchup against Florida State, who owns the eight seed. Louisville does not necessarily need to win to receive an at-large bid, as they could potentially earn the bid based solely on their resume. With that being said, a win over Florida State, who is also currently on the bubble, will only help their chances. If they are able to beat Florida State, they will likely be locked into the NCAA Tournament.
Notre Dame
Notre Dame is arguably the most interesting team on the bubble. Bonzie Colson missed a large chunk of the season due to injury, but he has since returned. In games with Colson, Notre Dame is 12-4, while they are 6-9 without him. They only rank 66th in the NCAA in RPI, but they have a win over Wichita State with Colson in the lineup. Notre Dame was able to keep their final regular season game against Virginia close, losing by only five points. They would have a much stronger case if they had won this game, but it shows their upside as a team with Colson in the lineup.
Notre Dame finished the regular season with an 8-10 conference record, resulting in receiving the No. 10 seed. They will need to make a splash in the ACC Conference Tournament if they want to receive an at-large bid. They are in a position to make a run, though, as they will see Pittsburgh in their first game, followed by a matchup against Virginia Tech if they win. Assuming they win each of these games, they will face off against Duke in a game that could lock in their at-large bid. This essentially comes down to whether the committee wants to look at what Notre Dame did this season or what they believe Notre Dame could have done with a healthy Bonzie Colson.
Oklahoma
Oklahoma is in a great spot because of the impressive resume they have built throughout the season. They have six Q1 victories to go along with three Q2 wins. Overall, they feature four victories against top-10 teams. They also rank 37th in the NCAA in RPI, which helps their chances with the committee. The problem with Oklahoma is that they have lost seven of their last nine games to finish with an 8-10 conference record.
Oklahoma enters the Big 12 Conference Tournament as the nine seed, receiving a matchup against Oklahoma State in the first round. There is speculation that Oklahoma State was able to lock their bid with their last win against Kansas. Oklahoma is not as lucky, though, as they may need to win this game to get an at-large bid. They likely will not need to do much more than win in the first round to receive the bid, but if they lose, they could be on the outside looking in come Selection Sunday.
Syracuse
Syracuse has quite a bit working against them, but they were able to beat Clemson in a must win game to end the season. Overall, Syracuse has a 3-7 record against Q1 teams and a 3-3 record against Q2 teams. The most troubling part of their season is their two losses against Quadrant 3/4 teams. While they certainly have work to do in the ACC Conference Tournament, they rank 40th in the NCAA in RPI, which is certainly respectable.
Syracuse ended the season with an 8-10 conference record, locking themselves into the 11 seed. They are in a must win game against the 14 seed, Wake Forest, in their first matchup. Unfortunately, Syracuse will be forced to play North Carolina in the second round, as UNC struggled in conference play, but is not the sixth worst team in the ACC. Their season will likely come down to this game. If they are able to get a signature win against a top team, they should receive an at-large bid. If they are not, they will likely be eliminated. It's a tough situation, but Syracuse does have a small chance of making the big dance.
Texas
Texas has had one of the craziest seasons in the NCAA. They have a 5-6 record against top-25 teams this season, losing three of those games in overtime. They currently rank 48th in the NCAA in RPI, featuring five Q1 win and three Q2 wins. They lost five of their last eight games, but closed the regular season out on a high note with an overtime win against a tough West Virginia team. This win made their road to the NCAA Tournament significantly easier.
Texas only has an 8-10 conference record, earning the no. 7 seed in the Big 12 Conference Tournament. They get an elite matchup against Iowa State in the first round of the tournament, but will likely need more than that to secure an at-large bid. If they are able to beat Iowa State in the first round and upset Texas Tech in the second round, they will likely lock up an at-large bid. Outside of that, they will be firmly on the bubble, and likely on the outside looking in.
Full Court Press: Conference Play, Sleeper Teams
With conference play just around the corner, teams across the country are beginning to prepare for a crucial part of their season. Of course, playing anyone in the top 25 is a tall task, but we're about to highlight some power conference ball clubs that could give in-conference opponents a run for their money. Lets kick it off with an SEC team:
Auburn:
The Tigers lone blemish on their record so far is a loss to Temple, a team with a very high RPI. Granted the Tigers have played a relatively soft schedule compared to other SEC opponents, but they still possess some solid wins, such as over Middle Tennessee and at Dayton. Led by guards Bryce Brown and Mustapha Heron, this Auburn team has been top 25 in the nation in both scoring and rebounding. If Auburn can maintain their balanced offence and defense against their competitive SEC opponents, then they will be able to compete night in and night out.
Kansas State:
The Wildcats were not a team that received much hype coming out of the gates this season. Kansas State early on has passed almost every test given to them. Their only two losses have been a rough one against Tulsa and a heart breaker against Arizona State, who may be the best team in the nation. Kansas State led by Juniors Barry Brown, Kamau Stokes, and Dean Wade seem poised to get back to the big dance again after making a trip last year. Stokes leads the Wildcats, getting 14.6 (PPG) and 4.5 (APG) and is helped by Barry Brown who gets 13.6 (PPG) and Dean Wade who gets 13.5 (PPG) along with 6 rebounds. This team is led by upperclassmen and is ready to get into Big 12 play and prove people wrong.
Washington:
Washington is a forgotten team in the Pac 12, and this group is ready to put themselves back on the map. This team has 3 losses, but they have all came against tournament teams. The losses against Gonzaga, Providence, and Virginia Tech will undoubtedly make them better for Pac 12 play. The Huskies are led by Jalen Nowell (17.3 PPG), Noah Dickerson (16 PPG), and David Crisp (13 PPG). Dickerson is also grabbing 8 rebounds a game, and looks like he's ready to bring this team to the top half of the Pac 12. This team has a real shot to get a lot of wins in a weak Pac 12 this year, and that enough is a good reason to pick them as a sleeper in this league. They also have a ton of talent and has shown they can beat anybody on any given night. Keep in mind this team went to Allen Fieldhouse and beat Kansas.
Nebraska:
Despite the five early losses, Nebraska is certainly no team to be messed with. The Cornhuskers have beaten a decent Minnesota team, and took Kansas down to the wire in Kansas. When Isaac Copeland and Glynn Watson Jr. (who is 3rd in the Big Ten in steals) get hot, this team can really compete. By no means is Nebraska a "buy" game for anyone in the Big Ten, just ask Minnesota. If this team can continue to click and get more contributions from the bench, they are sure to get some wins in the Big Ten this year.
Clemson:
The Tigers have been a team that no one has seemed to talk about all year. They are currently 10-1 and have wins against Florida and Ohio State. The Tigers have mostly upperclassmen and they seem destined for the NCAA tournament. Marcquise Reed and Donte Grantham are the main source of offense for Clemson. Reed gets 15.5 points per game, and Grantham 14.5 points per game. They are helped by Shelton Mitchell, Gabe DeVoe, and Elijah Thomas. These 5 players are the pretty much all of the offense, and that is more than enough. This team defends well and they can shoot from three, which makes them a very tough team to beat. They are also pretty much all juniors and seniors, and that experience is very valuable in the Atlantic Coast Conference.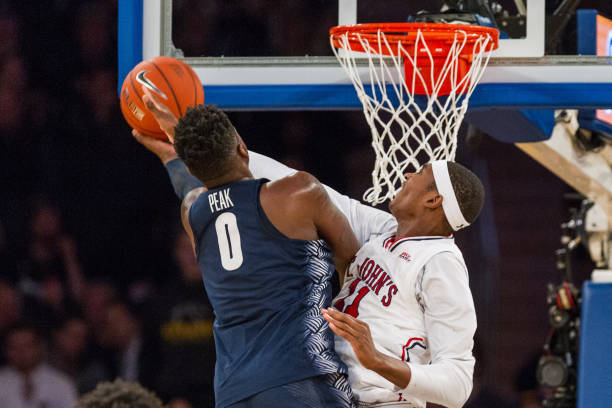 St. John's:
Make know mistake, the Big East is going to be one of the most competitive conferences this year, and one of those competitors will be St. John's. The Red Storm's two losses come at the hands of two RPI top 10 teams, and they possess the Big East leader in blocks, Tariq Owens. In addition to Owens, Shamorie Ponds and Justin Simon are both leading the Big East in steals. The Red Storm's defense is going to help them immensely against the high scoring Big East offence, and once second leading scorer Marcus Lovett returns from injury, their offensive game will be amped up a notch. Look out for the Johnny's this winter.
Full Court Press: Mid Major Sleepers
With the power six conferences getting most of the attention, most of the media tends to miss out on the various Division 1 mid-major standouts across the country. The following five are talented mid-major squads that could wreak some havok in their conferences this year, and potentially make the NCAA Tournament:
1) Albany
Albany recently came close to beating Louisville in Louisville, and are 11-3. Joe Cremo leads this team getting 17.8 points per game and has the Great Danes looking like an early favorite in the American East to compete with Vermont.
2) Loyola-Chicago
The Ramblers have a top 5 win. They went on the road and won against Florida in Gainsville. The Ramblers seem like the early team to beat in the MVC, and have a loaded roster to go with the lofty expectations. Aundre Jackson, Clayton Custer, Donte Ingram, and Marques Townes are the core for Loyola-Chicago. They are ready to led this group to the dance in March, and have a chance to even win a few games in the NCAA tournament. Upperclassmen in March get it done, and this team is built of them.
3) Central Michigan
The Chippewas are currently 9-2, with one of their losses being an impressive showing at cross state rival Michigan earlier this year. Three players are averaging over 13 points per game in Shawn Roundtree, Cecil Williams, and David DiLeo. This team has some good balance from it's bench, and has proved that they can win close games. As of now, they look like the favorite to win the Ohio Valley Conference, and this is a mid major that no power conference team can sleep on once the NCAA
tournament comes around.
4) Stephen F. Austin
The Lumberjacks are back in the fold as a top tier mid major team. Kevon Harris and TJ Holyfield lead the way for them and they have already beaten some very good teams including LSU on the road. They are a program who has been there before, and it would be foolish to think a team with this much talent couldn't do it again.
5) UNLV
UNLV's two losses come at the hands of Arizona by three points, and Northern Iowa in Iowa. Aside from those losses, the Rebel's have been pretty consistent, with decent wins over Utah and Illinois. This team will be right up there at the top of the Mountain West standings with Boise State and Nevada. Oh yeah, and those cross state rivalry games with Nevada this year will be some of the most entertaining of the season.
Full Court Press: Quiet Surprises – College Basketball
December in college basketball has been full of unpredictable outcomes. Teams are trying to get as many good wins on their resume before the highly anticipated dog fights of conference play get going. With so much talent this year, many teams are quietly flying under the radar, poising themselves to be real sleepers come conference play. Here are a few more of college basketball's surprise teams so far:
Seton Hall:
The Seton Hall Pirates are showing that they never should have dropped from the rankings in the first place. After a two game stretch where Seton Hall played then No. 22 Texas Tech before traveling to No. 17 Louisville, the Pirates have come out a very impressive 2-0. Sophomore Myles Powell has really stepped up his game lately for the Pirates, scoring 19 against Texas Tech. If the Pirates can continue to come out each game with a balanced scoring attack, they can certainly compete with any team in the country. If it weren't for that one point loss to Rhode Island at the Barclays Center, the Pirates would be undefeated, and a top 10 team in the nation. Watch out for them come conference play.
Houston:
The Cougars have been playing perfect ball since an early season slip up with Drexel. Since that loss they have won 6 straight and look like they are primed to make a run in a very much improved American Athletic Conference. Led by seniors Rob Gray, who is averaging 21.5 points per game, and Devin Davis, who's been getting 12.9 points per game along with 7.7 rebounds per game, the Cougars seem ready to finally get back to the NCAA tournament for the first time since 2010. The Cougars just recently beat a very good Arkansas team 91-65, proving to the nation that this team is ready for the big time. Houston has some great opportunities ahead to get some more big resume wins thanks to a very tough schedule and contests against Providence and LSU before league play begins.
Syracuse:
After the Uconn game Tuesday night, there was a lot of talk about both teams not being exactly what they used to be. However, Syracuse Basketball is far from dead this year. The Syracuse Orange's only loss this season comes at the hands of the No. 2 Kansas Jayhawks, which was expected. The Orange do have some solid wins against Maryland and Uconn, and they are currently 8th in the country in rebounding. Tyus Battle has been amazing so far, scoring an impressive team high 20.3 points per game. With winnable games against Colgate and Georgetown up ahead, look for the Orange to build upon their win total before they open up conference play against Virginia Tech.
Boise State:
Once March rolls around, the Broncos have a chance to find themselves at the top of the Mountain West standings along with Nevada. Boise State is led by Justinian Jessup and Chandler Hutchison, and have an outstanding 8-1 record. Not to mention they are just coming off of their most impressive win at Oregon on a Lexus Williams game winning shot as time expired. The Broncos resume also includes a blowout win over an impressive Loyola-Chicago bunch. This team is ready to get back in the NCAA tourney and seems like they might just have what it takes to get there.
Georgia:
Georgia is quietly playing some great basketball this year. With wins over Saint Mary's and Marquette, the Bulldogs are building up a pretty good resume. The SEC features a lot of good teams this year so they will have many opportunities to get resume building wins. Georgia is led by senior Yante Maten and his insane numbers of 18.5 points per game and 9.4 rebounds per game. Maten is helped by William Jackson who is currently averaging 12.5 points per game. The Bulldogs are looking very impressive early on, with only one loss to a good San Diego State team on their record. A big game against Temple later on December will be a huge test for Georiga right before SEC play opens up.
St. John's:
Friday night will be a very telling day for the Red Storm, as they go out to California to face the No. 16 Arizona State Sun Devils. Up until now, the Red Storm have been 8-1, holding opponents to 60 points per game. So far the Red Storm has overcome foes such as UCF, Grand Canyon, and Nebraska (noteworthy now after their win over No. 14 Minnesota Tuesday night). Despite the solid record, the St. John's is yet to receive any national attention, particularly because of their lack of signature wins, which brings us back to Friday's game against Arizona State. A win against the Sun Devils could gain the Red Storm top 25 votes, but a loss could send them back into a state of mediocrity. The thin St. John's roster is going to have to defend without fouling against the high scoring Arizona State offence, but if they succeed, you will be hearing about the Red Storm a lot more in the upcoming weeks.
Full Court Press; The Best Games Of The Week
December is officially upon us, and with that we are inching closer to the New Year, which will be full of tight, in-conference match-ups night in and night out. However, this college basketball season has been particularly special because of the amount of high quality games in November and December, giving teams the opportunity to gain resume-building wins right away. Lets take a look at some of the best games on the schedule for the first week of December:
No. 11 Cincinnati at No. 21 Xavier
When: 12:00pm Saturday, FS1
It will be exciting to kick off this weekend with one of the greatest out of conference rivals in college basketball. Coming off of a momentum-building win against a talented Baylor team, the Musketeers have an opportunity to add another resume building win as they host Cincinnati. This Cincinnati team is top 6 in the nation in rebounds per game and least amount of points allowed, so seniors J.P. Macura and Trevon Bluiett will have to score efficiently against the strong Cincinnati defense. The Xavier big men will also have to be aggressive on the glass to have a shot at winning. This is arguably Cincinnati's first real test. Whoever wins this game will be making a huge statement.
No. 8 Wichita State at No. 16 Baylor
When: 2:00pm Saturday, ESPNU
Both teams are 5-1 coming into this game. The Shockers are missing junior Markis Mcduffie, who averaged 11.5 points per game and 5.7 rebounds a season ago, while the Bears will be missing senior Terry Matson who has been averaging 11.7 points per game and 7.7 rebounds per game. Manu Lecomte (17.7ppg) and Jo Lual-Acuil Jr. (13ppg,10rebounds) lead the Bears at home against Landry Shamet (14.2 ppgg), Shaq Morris (13.7 ppg) and the Shockers. Wichita State is one of the best offensive teams in the nation, and is currently 2nd in the country in rebounding. Look for Baylor to be putting forth its best defensive effort of the season thus far. This game is going to be a ton of fun and is a great early test for both clubs. Both teams losses have came against ranked foes within in the past week, and both teams look like they can be playing in the second weekend off the NCAA tournament. Buckle up.
Providence at Rhode Island
When: 5:00pm Saturday, CBSSN
This is another interesting match-up, with a Rhode Island team that has faced some tough losses against great teams, and a Providence team that has found themselves in a few close games down the stretch. Look for the hosting Rams to get the crowd involved with this cross-town rivalry, as the talent level for this game will be pretty dead even.
Seton Hall at No. 17 Louisville
When: 4:00pm Sunday, ESPN2
After a tough loss at Purdue earlier this week, Louisville will be looking to bounce back this weekend against the formerly ranked Seton Hall Pirates. If Seton Hall wants to win this game, they need to bring their defensive A-game and rebound. It will also be interesting to see how Seton Hall deals with the shot blocking presence of Anas Mahmoud and Ray Spalding, who have been combining for over 5 blocks a game. The Pirate should look to carry on that defensive momentum from their impressive win over No. 22 Texas Tech Thursday night. Will we see Seton Hall return to the top 25 next week?
Rutgers at No. 12 Minnesota
When: 6:00pm Sunday, BTN
These are two teams coming off of hard fought, 5 point home losses against power five opponents. Though Minnesota certainly has the talent to win this game, it won't come easy. This is a Rutgers team that beat St John's in an exhibition this year, and only lost to a talented Florida State team by 5. Deshawn Freeman's ability to rebound and cause problems in the paint allows for Rutgers to hang around in games. Don't sleep on the Scarlet Knights, because if you do, you will find yourself in a tight game as the clock winds down.
Florida State at No. 6 Florida
The battle for the Sunshine State. Florida is looking as good as anyone. If it was not for a late collapse against Duke Sunday night we may be talking about the Gators as the new No. 1 team in the nation. Mike White has his squad looking like a major title contender. The Gators are led by guards KeVaughn Allen and Chris Chiozza, but the real game changer for Florida this season seems to be Virginia Tech transfer Jalen Hudson, who has been averaging 21.8 points per game thus far (He averaged 8.4 at VA Tech). With this ball club leading the nation in scoring at 99.5 points per game, Florida seems poised to beat the 'Noles for the first time since 2013.
No. 4 Villanova V.S No. 15 Gonzaga
When: 7:00pm Tuesday, ESPN
What a surprise! Villanova is back towards the top of the college basketball world. Oh what's that? So is Gonzaga? Wow! I am not shocked at all. Well anyway these two programs will meet up at Madison Square Garden on Tuesday night and will put on a show. Gonzaga coming off a loss in what is probably the game of the year so far against Florida in the PK80 tournament. Make no mistake; the Bulldogs are hungry for a marquee win. This will be Villanova's biggest test of the year and they will have a large backing because of the short trip from Philadelphia to New York. Both teams have offensive talent, but which defense will prevail?
Full Court Press; November Surprise Teams
Since the start of the season on November 10th, college basketball has been full of tough match-ups and unprecedented outcomes. This frenzied first month has left us with less than 21 undefeated teams remaining in the country (out of 351). With this first month of college hoops in the books, we have a much better idea of what many of these teams are all about. Of course we know teams like Duke, Michigan State, and Kansas have been playing well as expected, but we're about to highlight a few teams that have surprised many this November, and could become forces to be reckoned with come March. Lets kick it off with the Pac 12:
Arizona State:
With an undefeated record, and wins over quality teams such as Kansas State, San Diego State, and most importantly a 102-86 win over a ranked Xavier team that reached the elite 8 a season ago, No. 20 Arizona State has made a name for themselves. This team can straight up put the ball in the basket, averaging 96 points a game so far, led by senior guard Tra Holder's 23 points per game. JUCO transfer De'Quon Lake has been an absolute steal for the Sun Devils, making nearly 81% of his shots from the field (2nd in the nation). With the questionable depth of UCLA along with the current demise of Arizona, who just dropped out of the rankings after going 0-3 in the battle for Atlantas, Arizona State is looking like a legitimate favorite to win the PAC 12.
Washington State:
The Pac 12 just saw an Ernie Kent Coached Washington State team, projected to finish in the basement of the Pac 12, go on to win the Wooden Legacy tournament, leaving Titan Gymnasium with impressive wins over Saint Mary's and San Diego State. With their undefeated record, the Washington State Cougars find themselves receiving top 25 votes in the AP Poll for the first time in years. With their next four games being very winnable, the Cougars have a chance to gain even more momentum before they host Kansas State and begin conference play. With other schools in the Pac 12 relatively down, this might just be the year Washington State really competes. We'll have to wait and see.
Florida State:
This is an undefeated Florida State team that no one seems to be talking about just yet. They love to get after it on the defensive end reminiscent of Leonard Hamilton's teams circa 2009-2012. This team's schedule has not been grueling by any means, but they have yet to lose and are coming off an impressive road win against a Rutgers team that is much improved and has a chance to be a middle of the pack Big Ten team. Phil Cofer is finally healthy and is balling out. Terrance Mann has stepped up as a key role player and a leader. C.J Walker had 22 second half points for the Seminoles against Rutgers and if he can continue to provide that kind of consistent output, watch out for this team. Guard wise this team is very deep and they'll play aggressive all game. The 'Noles are going to be fun to watch progress, as they are very young. A big test against #6 Florida is coming up this Monday.
Virginia:
At the start of this season, experts weren't so sure that Virginia would be as good as they were a year ago. And while this team can certainly struggle to put the ball in the basket some nights, their superb defense has kept them undefeated so far this season, with impressive wins over VCU, Vanderbilt, Rhode Island, and Wisconsin. Virginia definitely has some solid players, with guards Kyle Guy and Devon Hall shooting well from three. In addition to that, sophomore forward Mamadi Diakite has become increasingly more dependable. If the Cavaliers can figure out how to score more efficiently, watch out ACC, Virginia's 1st in the nation with the least amount of points allowed.
Miami:
Another undefeated team out of the ACC, folks knew about how dangerous the Miami Hurricanes could be during the preseason, especially at the guard position with senior Ja'Quan Newton leading the pack amongst the highly talented Bruce Brown Jr. and five star freshman Lonnie Walker IV. However, coming off of a convincing victory at No. 12 Minnesota, it is clear that a key difference maker for this team is sophomore forward Dewan Huell and his thunderous dunks. He has gone from averaging 6 points a game as a freshman to leading the team in scoring with 15 points a game. He is a big reason why the Hurricanes are a dangerous top 10 team going into December.
Nevada:
If your team draws the Nevada Wolfpack in March, good luck to you! This team is a surely a force to be reckoned with. Caleb and Cody Martin transferred in from N.C State and they are rolling. Caleb is getting 19.3 points per game along with 5 rebounds, while Cody is getting 15 points per game with 6.5 rebounds. In addition to that deadly scoring duo, Jordan Caroline is back after a great season last year and is picking up right where he left off, averaging close to a double double (17 and 9). Iowa State transfer Hallice Cooke will get going soon enough and this team will be scary. Lindsey Drew is also a great point guard and controls this team very well. This team set the tone early on by beating a great Rhode Island team and haven't looked back since. After a match-up with the Anteaters of UC Irvine Saturday night, they will go on to play two ranked Big 12 schools, traveling to #22 Texas Tech before returning home to host #23 TCU. After this week we will all know about the Wolf Pack. If they can take down the Big 12 schools, they should enter Mountain West play undefeated.
Arkansas:
This is a dangerous Arkansas team led by 3 senior guards: Jaylen Barford, Daryl Macon, and Anton Beard, who have been averaging 20, 16, and 12 points per game respectively. In addition to that, they have a talented freshman in Daniel Gafford who's been getting 12.8 points per game along with 5.7 rebounds. The Razorbacks play a very up-tempo style, making them must watch T.V. in the world of college hoops. This ball club had a huge showing in the PK80 tournament, where they beat Oklahoma, lost a heartbreaker to UNC, then bounced back with a blow out win over Connecticut. If you like to watch fun basketball then you must tune into the Razorbacks, as they are sure to compete night in and night out in the SEC. They are senior led, and seniors in college basketball are always doing something special.
December is normally more of a dead month in college basketball, but with many teams scheduling tough opponents this year, it should be quite exciting. Stay tuned.
Final National Championship Analysis: UNC vs Gonzaga
The #1 seed (South division) North Carolina Tarheels are your 2017 NCAA Men's College Basketball National Champions by beating the #1 (West division) Gonzaga Bulldogs with a 71-65 score. It was not a pretty game for either the Tarheels or the Bulldogs as they played very inefficient on both sides of the court. Both teams had problems getting the ball consistently into the basket. Outside the questionable refereeing, there were fouls that could have been avoided from both teams.
The Tarheels were 1st in the nation in rebounding as they accounted an average of 43.7 rebounds per game before the game of the season against Gonzaga. They were also 12th in points per game (84.8 points) and 4th in assists per game (18.1 assists). They would need to rely on the rebounding ability of F Kennedy Meeks and F Isaiah Hicks to avoid any potential 2nd chance buckets. They would also be crucial in the paint offensively like they have been all season for the Tarheels. F Justin Jackson also needed be a big part of the offense for the North Carolina considering the nagging injury to Joel Berry II and both of his sprained ankles before the start of the Tournament. Instead of driving more to the basket, Jackson settled for 3-point shots but was 0-9 from behind the arc.
Luckily for North Carolina, Joel Berry II was not as limited as many people thought and turned up big for the Tarheels at the right time. Berry accounted for 22 points (7 for 19 field goal attempts), 3 rebounds, 6 assists, 2 steals and 1 block. He was on fire in the 2nd half when Gonzaga slacked off on pressure to focus on conserving their big men like C Przemek Karnowski and F Zach Collins who were in foul trouble.

In the 1st half, the Gonzaga Bulldogs held the Tarheels to a 31% field goal percentage thanks to them crashing in on driving lanes and smothering the players in the paint. It seemed smart at first because of the fact that the Tarheels are not a good 3-point shooting team but the more the foul count started to go up on the defenders in the paint, the more the Bulldogs eased off.
Outside of G Nigel Williams-Goss and G Josh Perkins, the Bulldogs could not find consistency with their players especially from Karnowski. When he was given many chances to score one-on-one in the 1st half, he was hesitate and often times passed the ball back to the players in the perimeter. Karnowski did not get a field goal until the 2nd half but in the end he finished with an inefficient performance including 9 points (1-8 on field goals), 7-9 on free throws, 9 rebounds, 1 block, 4 turnovers and 4 fouls. Collins did well for the short amount of time he was in the game with 9 points (4-6 on field goals), 7 rebounds and 3 blocks but fouled out late in the critical point of the game.
Overall the Bulldogs accounted for a inefficient 33.9% field goal percentage, a 42.1% from the 3-point perimeter and a 65.4% from the free throw line. The Bulldogs also turned the ball over 14 times and allowed 8 blocks from the Tarheel's defense. While the Tarheels weren't any better on offense with a 35.6% field goal percentage, 14.8% from the 3-point arc and 57.5% from the free throw line, they did have more players who played better than Gonzaga. Jackson accounted for 16 points (when he did drive to the basket), 4 rebounds, 1 steal and 2 blocks. Kennedy and Meeks were big in the paint as Hicks accounted for 13 points (5-9 on field goals), 9 rebounds and 2 blocks while Meeks accounted for 7 points (3-5 on field goals), 10 rebounds, 2 steals and 2 blocks.
It was in the 2nd half where Gonzaga found more luck in the 3-point game but also found themselves in more trouble when the Tarheels were focusing in on a more spread out zone defense. Nigel Williams-Goss tried to do it all for the Bulldogs when the game started to come down to the wire. Williams-Goss accounted for 15 points on 5 field goals out of 17 attempts, additionally he had 9 rebounds and 6 assists. Head coach Mark Few tried to exert Williams-Goss more but was a prime target of coverage so he had to settle for an inside game that was deteriorating.
Despite the game going back and forth for the majority of the time, the game was sluggish and stopped due to multiple timeouts, challenges and fouls. There were a total of 44 fouls in the game with 52 free throw shot attempts. There was also a lot of transitioning going on in the game which gave the Tarheels a lot of time to get their big men down the opposite side of the court. With the combination of the game slowing down and the transitioning time, Tarheels head coach Roy Williams easily took advantage of the lacking fast tempo to slow down the game and take time off the clock. Gonzaga is a team that thrived off of a fast-pace offense, without it, the Bulldogs could not find consistency on the board.
Roy Williams and the North Carolina Tarheels have won their 6th National title as a program and their first since 2009. They turned a nightmare last year from the the loss to the Villanova Wildcats on a Kris Jenkins buzzer beat to a redemption story as they hoist that trophy one more time. They now turn their attention to the next season where they will rebuild on graduating seniors like Isaiah Hicks and possible early departures for the 2017 NBA Draft in Justin Jackson and the 2017 Final Four Most Outstanding Player in Joel Berry II. Only time will tell on Berry and Jackson but the Tarheels will be loaded with upcoming talent regardless. For Gonzaga, their first National Championship appearance did not end well but they started a program building step in which they hope to be at the National Championship game to redeem a loss like the Tarheels last year.