23 Things You May Not Know About Dick Enberg
As a tradition here at Cleatgeeks, we choose to celebrate the lives of sports figures who pass on. We like to do so by looking at their careers as a whole and pointing out their rewards and accomplishments as a sign of what they meant and how they effected us with their talents.
1) Enberg's paternal grandparents were Finnish immigrants, whose original name was Katajavuori, which means juniper mountain. Before they lived in America they changed their name to the Swedish sounding word of Enberg.
2) Following high school in nearby Armada, Enberg attended Central Michigan University, where he played college baseball and earned a bachelor's degree in 1957.  Enberg then went on to graduate school at Indiana University, where he earned master's and doctorate degrees in health sciences.
3) While at Indiana, Enberg voiced the first radio broadcast of the Little 500, the bicycle racing event popularized in the film Breaking Away. He was also the play-by-play announcer for Indiana Hoosiers football and basketball games, and in 1961 called his first NCAA basketball tournament event, the championship game between Cincinnati and Ohio State.
4) From 1961 to 1965 he was an assistant professor and baseball coach at Cal State Northridge, then known as San Fernando Valley State College.
5) In the late 1960s, Enberg began a full-time sportscasting career in Los Angeles, working for KTLA television (anchoring a nightly sports report and calling UCLA Bruins basketball) and KMPC radio (calling Los Angeles Rams football and California Angels baseball).
6) After every Angels victory, he would wrap up his broadcast with, "And the halo shines tonight," in reference to the "Big A" scoreboard at Anaheim Stadium and the halo at the top, which would light up for everyone in the area to see, particularly from the
adjacent freeway. Enberg was named California Sportscaster of the Year four times during this period.
7) In 1968, Enberg was recommended by UCLA athletic director J. D. Morgan to be the national broadcaster for the syndicated TVS Television Network to cover the "Game of the Century" between the Houston Cougars, led by Elvin Hayes and the UCLA Bruins, led by Lew Alcindor (later Kareem Abdul-Jabbar). The "Prime Time" nationally televised game demonstrated that college basketball had a national "Prime Time" audience and stands as a seminal contest in the evolution of nationally televised evening college basketball broadcasts.
8) In the 1970 opening conference game in Pauley Pavilion, Oregon went into a stall against the UCLA Bruins. Enberg had run out of statistics and began to fill his radio broadcast with small talk. The movie Butch Cassidy and the Sundance Kid had just been released, and Enberg was humming the tune to "Raindrops Keep Fallin' on My Head," but did not know the words. Two nights later, in a home game against Oregon State, many UCLA students brought the lyrics to the song. Enberg promised that he would sing the song if UCLA won the conference championship. He sang the song following the final game of the season.
9) In 1975, Enberg joined NBC Sports. For the next 25 years, he broadcast a plethora of sports and events for NBC, including the National Football League, Major League Baseball, the National Basketball Association, the U.S. Open golf championship, college football, college basketball, the Wimbledon and French Open tennis tournaments, heavyweight boxing, Breeders' Cup and other horse racing events, and the Olympic Games.Enberg replaced Curt Gowdy as lead play-by-play announcer for the NFL on NBC in 1979, and would pick up the network's telecast of the Rose Bowl Game in 1980. He would be in the booth in Pasadena every year until ABC took over the broadcast in 1989.
10) While on The NFL on NBC, Enberg called eight Super Bowls alongside such former NFL players as of Merlin Olsen, Bob Trumpy, Phil Simms, and Paul Maguire.
11) According to his autobiography, Oh My!, Enberg was informed by NBC that he would become the lead play-by-play voice of Major League Baseball Game of the Week beginning with the 1982 World Series (for which he served as pregame host and shared play-by-play duties with Joe Garagiola alongside analyst Tony Kubek) and through subsequent regular seasons.
12) Then he met with NBC executives in September 1982, and they informed him that Vin Scully was in negotiations to be their lead baseball play-by-play man (teaming with Garagiola while Kubek would team with Bob Costas) and would begin with the network in the spring of 1983.
13) According to the book, Enberg wasn't pleased about the decision (since he loved being the California Angels' radio and television voice in the 1970s and was eager to return to baseball) but the fact that NBC was bringing in Scully, arguably baseball's best announcer, was understandable. Enberg added that NBC also gave him a significant pay increase as a pseudo-apology for not coming through on the promise to make him the lead baseball play-by-play man. Enberg would go on to call some cable TV broadcasts for the Angels in 1985, citing a desire to reconnect with the sport, which he has described as having been "in my DNA since I was in diapers."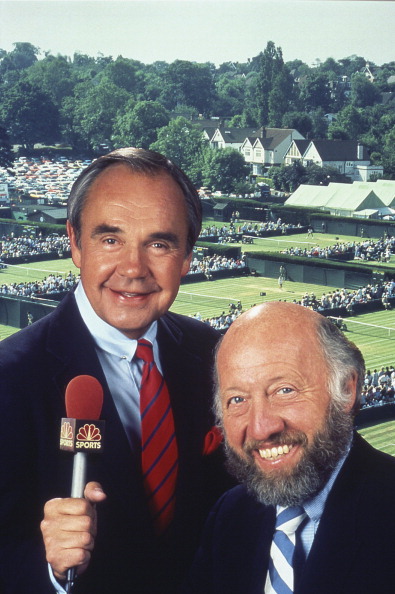 14) Enberg was hired by CBS Sports in 2000, serving as a play-by-play announcer for the network's NFL, college basketball, and US Open Tennis coverage. For several years he also contributed to CBS's coverage of The Masters and PGA Championship golf as an interviewer and essayist.
15) As NBC's voice of the Wimbledon tennis championships, the last tournament for him being in 1999 (alongside Bud Collins and, later, John McEnroe), Enberg regularly concluded the network's coverage of the two-week event with thematically appropriate observations accompanied by a montage of video clips.
16) On September 14, 2009, Juan Martín del Potro defeated Roger Federer to win the Men's US Open Championship. Enberg hosted the post-match ceremony during which del Potro requested to address his fans in Spanish. Enberg declined the request saying that he was running out of time but went on to list the corporate sponsored prizes del Potro won. A couple of minutes later, Del Potro made the same request again and only then Enberg relented saying "Very quickly, in Spanish, he wants to say hello to his friends here and in Argentina." An emotional del Potro finally spoke a few sentences in Spanish to a cheering crowd. Many viewers expressed disappointment with Enberg and CBS over the interview. A CBS executive later defended Enberg, noting that the contract with the United States Tennis Association required that certain sponsors receive time during the ceremony.
17) Beginning in 2004, Enberg served as a play-by-play announcer for ESPN2's coverage of the Wimbledon and French Open tennis tournaments, adding the Australian Open the following year. Enberg came to ESPN on lease from CBS, where he already called the US Open, the one Grand Slam tournament not covered by ESPN until 2009. At the 2004 French Open, Enberg called a match per day and also provided his "Enberg Moments". At Wimbledon in 2004, he participated in a new one-hour morning show called Breakfast at Wimbledon. ESPN asked CBS for permission to use Enberg during the summer of 2004 at both the French Open and Wimbledon. Enberg then surprised his new bosses by volunteering for the 2005 Australian Open in January 2005. "I've never been to Australia," he said. "At my age then [69], to be able to work a full Grand Slam is something I'd like to have at the back of my book."
18) In December 2009, Enberg was hired as a television play-by-play announcer by the San Diego Padres, signing a multi-year deal to call 110–120 games a season for channel 4SD. Enberg primarily teamed with Mark Grant on the Padres' telecasts.In his debut season as a Padres broadcaster, Enberg took some criticism from fans over a perceived lack of enthusiasm for the home team. Told that he was regarded by some viewers as getting "too excited" over plays by opposing players, Enberg responded, "I find that a real compliment." He did move to placate the critics, however, by limiting the use of his signature home run call of "Touch 'em all!" to Padres home runs.
19) For his very first job in radio in 1957, he was employed at WSAM in Saginaw, Michigan, then a Detroit Tigers radio affiliate. During his final year of MLB broadcasts on May 21, 2016, Enberg served as a special guest play-by-play broadcaster for the Detroit Tigers in their home game with the Tampa Bay Rays, calling the game on Fox Sports Detroit alongside analyst Kirk Gibson. The Tigers were Enberg's boyhood team, as he lived in the Detroit area.
20) Enberg's last game with the Padres was October 2, 2016. In his last week on air, he made a guest appearance with Los Angeles Dodgers announcer Vin Scully, who also was retiring at the end of the baseball season, after a 67-year career.
21) In addition to his career in sports broadcasting, Enberg hosted three game shows besides the aforementioned Sports Challenge: The Perfect Match in 1967, Baffle on NBC from 1973 through 1974, and Three for the Money on NBC in 1975.
22) He also lent his voice to the animated CBS cartoon series Where's Huddles? (1970), the film Rollerball (1975), and the American-dubbed version of the animated UK Christmas special Robbie the Reindeer: Hooves of Fire (2002); made appearances in the films Two-Minute Warning (1976), Gus (1976), Heaven Can Wait (1978), The Longshot (1986), The Naked Gun (1988), and Mr. 3000 (2004); and appeared as himself in episodes of such television programs as The King of Queens and CSI: NY.
23) Enberg garnered many awards and honors over the years, including 13 Sports Emmy Awards (as well as a Lifetime Achievement Emmy), nine National Sportscaster of the Year awards from the National Sportscasters and Sportswriters Association (and induction into that organization's Hall of Fame), five Sportscaster of the Year awards from the American Sportscasters Association (which also ranked Enberg tenth in its 2009 listing of the Top 50 Sportscasters of All Time), the Pete Rozelle Award from the Pro Football Hall of Fame, the Curt Gowdy Award from the Basketball Hall of Fame, the Ford Frick Award from the National Baseball Hall of Fame, and a star on the Hollywood Walk of Fame. Enberg is the only sportscaster thus far to win Emmys in three categories (broadcasting, writing, and producing), and in 1973 became the first U.S. sportscaster to visit the People's Republic of China.
The Backcourt Fadeaway; #8 North Carolina @ #18 Duke
The first Duke-North Carolina match-up of the 2016-2017 College Basketball season will be meeting this Thursday at 7 pm. The #8 North Carolina Tarheels (21-4; 9-2) and their 5th ranked offense in points per game will take on the #18 Duke Blue Devils (18-5; 6-4) and their aggressive defense. Coach Krzyzewski will be coaching in his 2nd game after recovering from back surgery earlier in the season. Both the Tarheels and the Blue Devils are two of the best teams in College Basketball who have some of the most role players.

Duke has a set of potent Guards in Luke Kennard and Grayson Allen. Kennard leads the Blue Devils in minutes per game (34.7), points per game (19.8), Free throw percentage (.850%) and 3 point shooting (.458). Allen is an aggressive and playmaking Point Guard on both sides of the court. He leads the team in assists per game (4.0) and scores 15.8 points per game. F Amile Jefferson is a big man for Duke who is 3rd on the team and 1st as a starter in field goal percentage (.602%) and 1st in rebounds per game (9.2).
North Carolina is a team that is well in-depth from the starting five to the bench. The Tarheels have one of the strongest bench in the nation. Head coach Roy Williams has 9 players for North Carolina who average more than 20 minutes per game (a 10th player averages exactly 20 minutes). Duke on the other hand only has 6 players who average more than 20 minutes per game because they stay in the game longer. Tarheels SF Justin Jackson is one of the best wing players in the ACC as he leads the Tarheels in points per game (18.6). The Tarheels have more key role players to spread the ball throughout the court and adjust easily to a specific gameplan the other team is utilizing.

For Duke's offense, they must not be one dimensional, they can't allow Grayson Allen to always drive into the paint. Even though Allen can drive to the basket and get points off fouls and free throws, the Blue Devils need to consistent get points by getting quick shots off. This is going to be a game where Luke Kennard can have a big performance by creating great shot opportunities and making deep 3 point daggers.
Defensively, Duke is 68th in the nation in points allowed per game by only allowing 67.9 points per game. North Carolina will imply a number of different offensive fronts and plays. The Blue Devils need to switch quickly from a zone base to man-to-man during shifts to efficient cover the high number of role players the Tarheels have.
Like most teams playing against Duke, they want to get technical fouls and even a flagrant from Duke G Grayson Allen. Unlike most opponents, this game has a huge rivalry factor so don't be surprised if you see North Carolina trying to push Allen over the limit to throw his positive involvement off. The Tarheels are 1st in the nation in rebounds per game with an average of 44.7 rebounds. So the Tarheels can generate success easily by crashing the board, both offensively and defensively. Surprisingly the Tarheels have 4 players that average at least 1 steal a game while Duke only has 2 players.
Justin Jackson and the Tarheels will need to have consistent shooting because Duke will have a hard presence on defense in the paint. Jackson and PG Joel Berry can score an enormous amount of 3 point shots if the defense is so focused on protecting lanes. Second chance rebounds will be important for both teams but the Tarheels do have the edge. Both teams will have aggressive defenses but Duke has the edge in man-to-man blocking and zone coverages. Either way, this is going to be one very hard fought and exciting rivalry matchup this Thursday.
CCC: The Difference Between Hobby & Retail Boxes
For seasoned collectors such as myself the difference is rather huge, but for collectors who just started or only have a Wal-Mart/Target etc. around them the difference is unknown. Here's the difference between Hobby and Retail.
Hobby
Hobby is a term to card collectors that describes a bigger chance at getting "hits" (autographs or memorabilia). Hobby Shops are places that sell sealed boxes (occasion single cards) that are usually guaranteed hits. Hobby also has a higher percentage for one of the most valuable cards anyone could own, which is the 1 of 1. The 1 of 1 is one of the most sought after card for any player because basically only one version of the certain card is made.
Superfractors are just one type of 1 of 1 you could pull. Most Chrome products produce Superfractor 1 of 1's instead of nasty patch autos or a different color. Some products such as Bowman Sterling (Shown in above picture) include insane looking patches in the card, others just are an autograph. 1 of 1's come in all different types of cards, different colors, different patches. Some 1 of 1's are just parallels, which are different colors of the normal base cards. Hobby is geared towards older collectors because of the price point. Hobby Boxes can range from $19.95 (2013 Rookies and Stars Longevity Football) to $1,074.95 (2015 Flawless Football) which is the most pricey product in the hobby.
Retail
Retail is the "little brother" to Hobby, Retail is one of the best things for young collectors to start out with. The "hits" are few and far between but the parallels and some boxes that guarantee a hit are some of the reasons people chose retail. The main reason people chose retail is the price point, some blasters can contain hits which could be similar to  the product that comes out of hobby but might not be serial numbered (numbered by how many cards they made) to where most hobby hits are serial numbered. Retail has a few different ways of selling cards, you could get individual packs with usually 5-10 cards in them depending on product (Chance of getting a "hit"=10%) you could also get something called Rack-Packs that could have anywhere from 30-40 cards also depending on product (Chance of getting a "hit"=25%). The grand thing to buy at retail is called a blaster box, which mimics hobby. Blaster boxes could have anywhere from 20-100 cards which sometimes boxes guarantee hits but when they don't the hits are few and far in between. (Chance of getting a "hit"=40%). 
In my opinion, if you are just starting to collect then you should go to your local Wal-Mart/Target and pick up a blaster box. But if you have been trying your luck at retail then the step to hobby boxes is the next best thing for you. IF you don't have a hobby shop near you don't fear. The Loot Locker has you covered (thelootlocker.com or @thelootlocker on Twitter) The Loot Locker delivers hobby packs to your front door along with supplies to keep your cards safe. You are not guaranteed a hit but personally, I think its better to spend $20 on a Loot Locker then to spend $20 on a blaster box and not get anything rather than possibly getting something.
Card Collectors Clubhouse: Grading
Grading
Welcome to Card Collector's Clubhouse! This week we will be covering the process of grading. Grading can significantly increase the value of sports cards. The service however can be a little pricey so it is very important to choose only the best and most valuable cards for grading.
There are many different companies that offer grading services. The biggest and most well known is Beckett. Beckett has been around for many years and is a good tool for collectors. Along with grading, Beckett offers price guides for collectors to look up prices for cards. Every year, Beckett comes out with a new pricing guide so it is important to stay up to date on the values of sports cards.
Grading can be a very tricky thing to do. First off, you need to make sure that your card is valuable enough to be graded. If the card is not worth at least $20-$30, it would not be wise to have it graded. Rookie cards are the most common cards that get graded. Base rookie cards are not recommended unless they are  big name stars.
The easiest card to get graded would be an autograph card. These cards are usually 35 PT and carry the most value because of the autograph. Most collectors prefer on card autographs because they are more likely to get a good grade.
When having an autographed card graded, there are several things to consider. First, the quality of the card itself. Beckett breaks down grades into four different categories: centering, corners, edges, surface. Each one of these categories gets a separate grade out of 10. The scale goes on half point grades, for example: 9, 9.5. After the grades for the four categories are decided, the overall grade for the card can be calculated. Once the card grade is determined, the next step is to look at the autograph. Beckett usually gives a 10 for the auto unless it is badly smudged.
After all the grades for the card are measured, Beckett encases the card and puts a label on it. If the card graded is below a 9.5, it will get a sliver label. If it is a 9.5 or 10 it will get a gold label. If the card receives all 10's on the four subgrades then it will receive a black label.  Of course all collectors dream of having their cards graded a perfect 10 but most of the time it doesn't happen.
If this type of grading is to pricey for you, Beckett offers different levels of grading. Each one is priced different and varies with how in depth the grading is.
For a full list of grading services and prices, visit www.Beckett.com and go to the grading tab. There you can select the best grading service that fits your need.
Thicker cards are the hardest to grade because of the thickness. The thicker the card, the more likely it is to get damaged.
It is very important that before you submit a card for grading, that you double and triple check to make sure it is perfect or near perfect. This step will save you a lot of money in the long run.
Along with Beckett, PSA offers grading services. Their grading services are cheaper but they do not have subgrades and the grading scale is by whole points: 8, 9, 10.
There is nothing like the feeling of ripping to mail from Beckett knowing that your graded card has came back. By using the grading service, you can jack up the value of the cards that you hold most dear.
The Collector's Clubhouse – Episode 3
In episode one of the Collector's Clubhouse wee talked about the enjoyment of collecting and the nostalgia and fun that collecting brings to following sports. Episode two focused on the financial side of collecting, the opportunities for collecting as an investment. Last week I promised to delve into this second concept in more depth. So, that's exactly what we are going to do.
I said last week that collectibles can be thought of like the stock market. There is one really big difference between the stock market and collectibles however. When you buy stock you know exactly what stock you are buying. The price changes depending on a number of factors but if you go buy 100 shares of Apple stock you will receive 100 shares of Apple stock. You can buy collectibles this way (buying single cards after market, purchasing autographed balls, jerseys, etc.) but for the most part this is not the way collectibles are packaged by the manufacturer. Ever since the first wax packs were produced decades ago (gum included!) sports cards have been sold in "packs", groups of cards in various numbers (usually around 10-12) that are sealed in a wrapper. You won't know what you bought until after the fact.
In my opinion, this is one of the real true joys of collecting. You never now when you're going to open a pack of Upper Deck basketball and pull a Michael Jordan autographed patch card serial numbered /5. In the business this kind of hit is called a BOOM!!!!! (typically with the all caps and exclamation points included, collectors are excitable people). Pulling something big from a pack is the quickest way to end up profitable in collecting. You don't have to hit a monster like the Jordan to end up with more value than the cost of the pack/box you purchased. Sometimes, it may take a few years for that value to be realized (think about the 2011 Topps Update example from episode 2).
Of course you won't always end up with a successful break and there will be times where you'll open a product and end up with less than you paid. However, if you can keep your losses small when they happen (I'll talk about that in the coming weeks) when you hit big it'll put you on the plus side. Even if the number of times you "lose" outweigh the number of times you "win". I hope that all makes sense. If not I'll be getting more into the specifics soon.
This doesn't only exist with cards anymore as now manufacturers are selling a number of other items (autographed and/or game used balls, gloves,
jerseys, etc.) in sealed packaging. So if you don't like the idea of paying $300 for a Mike Trout autographed baseball you can pick up a 2015 Tristar Hidden Treasures box instead. Maybe you end up with a Mike Trout and your $75 investment turns into $300. Or maybe you end up with a ball only worth $50. But, again, if you keep those losses small eventually when you do hit it'll be a big profit.
Which brings us to the idea of "group breaks". Group breaks are a really fun and economical idea. Instead of one person having to float the cost of an entire box of cards or case (cases are how manufacturers package boxes, so a case may have 5, 10, or even 20 boxes) of cards, a group of collectors can share that cost. A few common ways to spit up a group break include by teams, divisions, or hits (example, if there are 10 hits, autographs or game used cards, then those would be split up among the breakers in the group). This allows each group member to lower their overhead costs and allows them to have a chance at bigger profit for less cost. Again, you won't always "hit" but it's a lot of fun and the costs are much lower. Plus, it's a great way to get a chance to interact with other collectors.
Those are the basics of breaking and next week we will talk more in depth about the other side of collecting, singles and how to buy and sell them for investment. Another reminder about our Cleat Geek only group break with free stuff! We've pulled a box of 2015 Leaf Ultimate Draft out of our store and are offering spots to Cleat Geeks readers only. That's 5 cards, all autographed, one card per slot. AND each slot will get a bonus grab bag courtesy of Cleat Geeks. We will continue to do these kinds of special Cleat Geeks reader only opportunities as a thank you for being a part of the Cleat Geeks readership. Stay tuned as we have some fun stuff planned to commemorate the start of the MLB playoffs and the upcoming NHL season. If you want in on the 2015 Leaf Ultimate Draft break you must email us at majesticcardbreaks@gmail.com and tell us you read about it on Cleat Geeks.
Last but not least we've got our collecting picks for tonight's Thursday Night Football match up between the Baltimore Ravens and the Pittsburgh Steelers. Let's start with the Ravens who have seen a lot of turnover on offense around Joe Flacco recently. While Justin Forsett had his coming out party last season I'm not convinced that his value holds moving forward. I'm not seeing the overall success or the media hype that is required for collecting values to rise for the, to this point, journeyman running back. A young, potential star in the making I do have my eye on is Breshad Perriman. More than likely this will be Steve Smith Sr.'s last NFL season and there is a dearth of  pass catching talent behind him on the Ravens' depth chart. Perriman is the one receiver who appears to have the skills required to be a #1 in the NFL. Don't let his injury woes deter you as they only drive his current price down. Once he gets healthy and starts to see the field, production will follow. Perriman is a buy.
The Pittsburgh Steelers are an interesting team that is full of older players or young players whose star has already brightened. Big Ben is a national star as is now the case for Antonio Brown and Le'Veon Bell too. In general offensive players are always more hyped (and therefore more pricey) than defensive players. Throughout the years though there have been defensive starts that have transcended the typical defensive player valuations. I think Ryan Shazier (if he can say healthy) could be one of those players. In a market like Pittsburgh with a rich defensive legacy Shazier could become a star. He doesn't have the Polamalu hair but he could be a Ray Lewis type who becomes a household name at the inside linebacker position. I would recommend Shazier as a buy but keep your exposure small.
That's all I've got for today. Thanks for reading and happy collecting!
The Collector's Clubhouse – Episode One
The first pack of baseball cards I can remember opening I was four. I distinctly remember it being a retail hanger pack my parents got me for Christmas. I have no idea what year or brand and I'm pretty sure there wasn't anything of note in it. It didn't matter, I was hooked. I remember a few years later pulling a Ken Griffey Jr. rookie out of an old pack of 1987 Fleer. I was probably eight or so. It was the first card I knew I needed to take care of. Of course, "take care of" means something completely different at that age. I still have that card. I'm actually pretty proud of its current condition all things considered.
My love of sports naturaly led me toward a love for sports collectibles. The one thing I always wanted growing up was to catch a foul ball or a home run ball at a Texas Rangers game. When I was twelve, Mark Teixeira tossed one to me coming off the field, I was elated. To own something that has literally been a part of the game I love so much is special.
That's the thing about sports that keeps us tuned in game after game, month after month, year after year. That's why a diehard sports fan's calendar revolves around the sports calendar. That's why a loss by your NFL team on Sunday can ruin your Monday. That's why a big win on Monday Night Football helps you soar through Tuesday. Whether you're a collector or not if you're a sports fan (and I can't imagine why you'd be reading this if you weren't) you know what I'm talking about.
Sports is emotional, so much of our emotional stability lives and dies with the fortunes of our teams. You can argue whether this is healthy (it's probably not, let's be honest) but it's still the truth. It's one of the main reasons that I collect. I love sports, I love my teams even more. When I crack open a box of Topps Gypsy Queen (one of my favorite products because of how it blends the new and the old) it's exciting to pull an Ernie Banks (I remember some of my first baseball stories from my dad were about watching Banks at Wrigley while he was growing up) and read over the profile on the back. Nostalgia, it's a powerful emotion. It's fun to crack a box of Leaf Trinity hoping beyond hope to pull a Johnny Football autographed card (yes, I'm an aggie. Don't start with the jokes, I've heard them all).
Some of you are probably reading this and don't collect. Maybe it isn't something you grew up with. Or maybe you did once but lost interest for one reason or another. I'm convinced though that inside all sports fans is a collector. That's why I am excited about the opportunity to join Cleat Geeks. I'm excited to share my passion with fellow sports fans. I hope that through my writing I help you see the collector inside you. I hope for that because I think it makes sports even more enjoyable.
It's why I do what I do. It's why I began Majestic Breaks. If you aren't a collector (or even if you are) you may not know what exactly a "break" is. To be honest, we have gotten confusion from some individuals after they have purchased a slot. It's a relatively new concept but one that is a real boon for collectors. A quick summary of the concept is that a collector, instead of having to pony up a large amount of cash for a high end box or case of cards, will purchase a "slot" which gives them the rights to certain cards in a break. There are many different types of breaks. Some are broken up by team, some by division, some by "hit" (in some higher end product there are a limited number of cards but they are all either autographed or memorabilia). It's basically the equivalent of heading down to the card shop as a kid and splitting a box of something with your friend. Except now you have friends all over the country. Also, someone (hopefully me if you partner in a break with us) takes care of all the other stuff. We break, organize, protect, ship, etc. so you don't have to.
We take that term I used earlier very seriously. We don't see anyone who breaks with us as a "customer" or "client". We see them as partners. In the end the only reason we do what we do is for the collectors out there. So we want collectors to partner with us. We want collectors to tell us what they want to break, what they get excited about. That's why I am here writing this. Because I want to be able to interact with and discuss with collectors from across the country (even across the world). I want to help spread the joy of collecting with those who may not realize just how great it is. I want to make wives/girlfriends across the country angry because of all the new collectibles there husband/boyfriend has taking up space (just kidding, or am I…). I want to spread the joy of collecting to new collectors and energize and excite current collectors.
In order to do this I need your help. I need everyone who reads this to respond in the comments section below. Let me know why you collect and what your best sports moment is, collecting related or not. If you don't currently collect let us know why you don't collect and if there is something that would get you into collecting. In honor of our partnership with Cleat Geeks we've decided that one of the comments on this article I mentioned above will be our giveaway winner! So send those comments, pull out those old boxes of cards you have in a closet. Go through them, feel the nostalgia of all the memories and I guarantee you it'll help your day. To be registered for the giveaway you must also follow both @cleatgeeks and @majesticbreaks on Twitter.
Thanks for reading, next time we will explore some of the other reasons to collect (here's a hint, $$$$$$). Until next time.
Rules of Sports Cards/Memorabilia on Ebay
Ebay is a site that can present incredible deals on memorabilia and cards, but also present deception and fraud. More often than not, if the price of an item is "too good to be true," it usually is too good to be true. Thousands of individuals annually obtain fraudulent items via Ebay. Often the biggest names in sports like Aaron Rodgers, Mike Trout, Lebron James, and many more are imitated by individuals looking to make a pretty large

payday

. How to ensure authenticity? The following tips can help you ensure the item is real:

1.

Certificate

of Authenticity

This is any paperwork that comes with the item. Make sure the certificate seems legitimate. If it is just a sheet that says "SoAndSo authenticates SuchAndSuch item," avoid item. Typically legitimate authentication such as JSA (James Spence Authentication),

Steiner

, and a few others which I will speak upon in a later article. In the event that an item comes with a authentication sticker, make sure the authentication number on the sticker matches the certificate of authenticity, or if the item is registered online, make sure it matches up there.

2. Authentication Stickers

Some items, typically out of main view of the main focal point of the memorabilia item, have a sticker with a serial number on it. As I said about the certificate of authenticity, make the the item and the sticker match. There are many frauds out there. Don't buy fake autographs!

3. Make sure

Sports Cards

come in the original manufacture seal

When purchasing a retail box or hobby box of cards, make sure the box has the original

plastic seal

around it, and no rips and tears on it. Always look at the photos and images the seller has listed. If it is a stock

photo

of a product, don't hesitate to ask for a picture of the actual item you will be receiving.

4. Don't be afraid to report a seller who doesn't sell the item you intended to pay for and receive

It happens fairly often. The seller says you will be getting the exact product in the image and description, and upon arrival, you receive something that doesn't match the quality of the item promised by the seller. Do not hesitate to report the seller to notify Ebay of their wrongdoing. Also, don't hesitate to open a case with a seller who sold you an item that didn't match the photo or description. This is one of the best ways to get your full refund, and also get Ebay's attention of a questionable seller.

5. Seller's Reputation

If the seller has many

positive

reviews, you should feel comfortable purchasing items from that seller. If the seller has multiple negative reviews, you may want to avoid the seller. A personal rule of mine is "anything below 99% positive reviews is not worth my time."

To be an effective Ebay buyer, use common sense. If an item is trending at around $200, and the seller has it "On Sale" for $40, don't take the risk. Odds are it is fake. Double check certificate of authentication prior to purchasing an item. If the item comes with paperwork that seems illegitimate, don't take the risk. Make sure all authentication stickers match the item you are purchasing. If they don't match up, the item should be left alone. Make sure the

sports cards

boxes come in original seal from manufacturer. This is huge. It ensures the product truly has not been opened and is straight from the manufacturer. Always double check the seller's reputation, and if need be, don't be afraid to report the seller to Ebay or open a case against a bad seller. Keep these tips in mind while purchasing your sports cards/sports memorabilia on Ebay!