Why Kemba Can Be Elite
Last season Kemba Walker was an All-Star for the first time since he was drafted by the then Charlotte Bobcats in 2011 from Connecticut. He had a breakout season last year in several categories. Walker averaged a career high of 23 points a game, up from 20 the previous year, shot nearly 40% from downtown and averaged over 5 assists a game. Long time NBA small forward Caron Butler explained why Walker is an All-Star when he wrote in the Player's Tribune in 2016. One of the descriptions that stood out to me and couldn't have been explained any better was when Butler said, "He possesses a basketball combustion engine that you just can't teach."
Walker tends to get overlooked because he plays in a small market and college basketball is considerably more popular in the Carolina's. I argue that he has some of the best handles of any NBA player today. The key to this is to have good footwork and that is what makes him a lethal scoring threat when he can step back and drain a long shot. Defenders have no option but to respect the ability to drive to the hoop and give him space. When a defender is on his heels and is going backwards, he gets you and when he plants, defenders are in a no win situation.
Butler compares Walker's game to that of Chris Paul and the ability to execute the pick and roll. Walker is more of a scorer while Paul is a facilitator, but what makes Walker stand out is his killer instinct, the ability to take a tough shot in a close game especially in a hostile road environment. An area of improvement for Walker for next season is his defense. Last year, he averaged 1.1 steals a game, which is down from his career high of 2 per game. If he can improve on his down year on defense, that alone will make him even more valuable to his team.
Besides being an upcoming star, he has shown incredible maturity on and off the court. In June, he won the 2017 NBA Sportsmanship award.
"My peers voted for this award. That means a lot, to be respected among those guys." –@KembaWalker on the NBA Sportsmanship Award #NBAAwards pic.twitter.com/ckjIcY2Oms

— NBA on TNT (@NBAonTNT) June 26, 2017
I've written about other NBA players and their ability to think on their feet as the game is going on and that is his best quality, a quality that I wish more NBA players had. His head coach Steve Clifford confirmed this when he said back in January. "Some guys get determined to score anyway. He's never been like that. As long as he's willing to make the right play, which is one of his strengths, then we're good to go." The NBA has become a super-star, super-team league, but he has proven to be a legit point guard while somewhat defying the trends of the league. He is not about himself, rather he is about the team and only if he had a better supporting cast around him would he garner more nationwide attention. His instincts are among the best of any NBA player and what is even better, he is still in his prime. He is a must see not just watching from a TV at one's home, but when you see what he has to offer, you would be impressed. If I were an aspiring basketball player, I would look up to Kemba Walker. The season he had last year was no fluke and he is only getting better.
Carmelo Trade Rumors
It has been nearly two weeks since a deal to send Carmelo Anthony to the Houston Rockets was "at the two-yard line," but as August approaches, no deal has been made as of yet. There have been reports that the Oklahoma City Thunder are interested in Anthony, but Houston remains the favorite to land him.
Meanwhile, CJ McCollum of the Portland Trail Blazers has done everything in his power to convince Anthony to waive his no-trade clause and McCollum thinks Anthony is interested.
It looks like blazers will be part of Knicks 3team trade of Carmelo. No they won't get Carmelo. Stay tuned

— Mike Rice (@mikerice6) July 25, 2017
If Anthony gets traded to either the Thunder or Rockets, would he fit well? If he goes to the Rockets, would that improve the Rockets chances of de-throning the Golden State Warriors? If he went to the Thunder, could that cement their chances of over taking the Warriors and if he went to the Blazers, would he help make rip city a true playoff contender?
Damian Lilard took that question a step further when he said last week, "I can only imagine what it would be like having [Anthony] iso'ing on one side, and C.J. [McCollum] in a corner, and me on the opposite wing and Nurk [Jusuf Nurkic]." McCollum said if the Blazers got Melo, the Blazers would easily be in the top-three in the west.
While Anthony is a solid one-on-one scorer, his defense was almost non-existent last season as he ranked 65th out of 69th in qualifying small forwards in plus-minus last season. According to Basketball reference, his defensive box plus-minus has never been above 0.0 in his 14-year NBA career and even with the hype of a Rockets combo of James Harden, Chris Paul and Melo, don't expect those numbers to improve when he plays more games against the Warriors.
On the other hand, if Anthony becomes a Rocket, he would be in a place he has never been in and that is having a chance to win. He has never had a supporting cast that is as good as Paul-Harden-Clint Capella and Eric Gordon. One of the biggest questions is whether combinations like these increase efficiency as the Warriors combinations do.
Anthony is not in his prime years as he is he is 33 and in the 2016 Olympics, he wasn't as dominant for Team USA as he shot only 40% from the floor, his worst mark for Team USA since 2004. Furthermore, last year wasn't his best year in some stats. Anthony averaged 22 points per game for the Knicks, but in 2012-2013 he averaged 28 points a game. His assist numbers took a dip last season compared to the previous one as his assist numbers dropped from 4.2 to 2.9.
Nearly two weeks ago, Mychal Thompson, the father of Warriors shooting guard Klay Thompson said that Carmelo on the Rockets would be a serious threat to the Warriors. When people talk about the Rockets, much is talked about Paul and Harden, understandably so. However, the Rockets have some role players that I'm not sure if I would give up to get another superstar such as Eric Gordon, who was part of the Rockets record three-point shooting team last year. One of the possible players that could be traded also include Ryan Anderson and he shot nearly 42% from downtown last season. Are the Rockets willing to give up a role player such as Anderson to get a superstar who would add 20 points per game, but are the Rockets willing to give up some of these role players to go all in to defeat the Warriors? Such a move seems like a slam dunk, but the biggest reason why Anthony isn't a Rocket is because of the key role players that helped contribute to the success of the Rockets last season. Yes superstars help, but sometimes players who don't have the name recognition add value to a team and that is extremely important in today's NBA. The Rockets are being smart by not rushing to get Carmelo and no trade may end up being the best move for the Rockets.
WNBA All-Star Game
Led by Mya Moore, the All star game's MVP for the second consecutive year, the Western All-Stars defeat the Eastern All-Stars 130-121. Moore led all scorers with 23 and the reigning reigning league MVP Nneka Ogwumike added 22.
The Western All-Stars had the experience advantage, as their roster combined for 55 total all star selections. Moore hit 5 three pointers and Sue Bird had a game record 11 assists.
The youthful East team was led by Jonquel Jones with a game-high 24 points, . There were eight first-time selections on the East roster.
The East got good production off their bench, as Layshia Clarendon, Candic Dupree and Allie Quigley each had 14 points.
Sue Bird was the center of attention, having the All-Star game played in her hometown of Seattle. She received the loudest ovation when her name was announced. Bird also tied a record for the most All-Star appearances with 10.
Bird controlled the game, as she played the role as the distributor. She set up West teammates Candice Parker, Mya Moore, and  Nneka Ogwumike.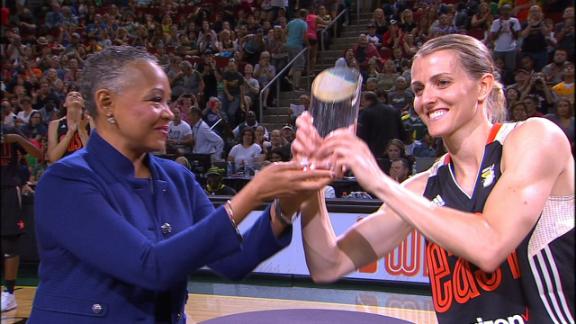 For the first time in eight years the three point competition was at halftime of the All-Star game. Bird was the favorite, but only finished with seven points after the first round. Sugar Rodgers made her first eight three's and her first nine out of ten.
Unfortunately for Rodgers, she met her match in the final round against Quigley, who currently is second in the WNBA in three pointers. She was nearly flawless in the finals making 19 of her 25 shots outlasting Rodgers, who scored 19 points.
A $10,000 dollar donation will be made by the league to the Patrick Quigley Memorial Scholarship in honor of her dad.
Roger Federer Wins 8th Winbledon Title
Roger Federer for the eight time in his career is the Wimbledon champion, defeating Marvin Cilic 6-3,6-1,6-4 in Sunday's final. The win moves Federer past both William Renshaw and Pete Sampras for the most Wimbledon titles.
Federer spoke to ESPN about his historical title win. "I always believed that I could maybe come back and do it again. And if you believe, you can go really, really far in your life, and I did that," Federer said. "And I'm happy I kept on believing and dreaming, and here I am today for the eighth. It's fantastic."
According to ESPN Stats & Information Federer joins Bjorn Borg, as the only men's player to win Wimbledon without losing a set.
Cilic's game plan going into the final was to go after Federer's back hand. All of Cilic's points were off of Federer's mistakes off his back hand.
Cilic said after the match that he had really bad blisters and it was bothering him.
"Obviously was very tough emotionally because I know how much I went through [the] last few months in preparation with everything," Cilic said. "It was also tough because of my own team. They did so much for me. I just felt it was really bad luck."
It was a remarkable turn around for Federer, considering the fact that last year at Winbledon, he had a disappointing semi-finals loss. The worst part was that he was having durability issues with his body. Questions were popping up in the mainstream media questioning if he could still perform at a high level.
Last year at Winbledon was motivation enough to give Federer the motivation to come back this year and win his record eight Winbledon title.
Federer, 35, became the oldest champion and won his second Grand Slam of the year, by not dropping a set throughout the two week run. According to ESPN Stats & Information Federer joins Bjorn Borg, as the only mens player to win Wimbledon without losing a set.
The Thunder Strike Back
A year after Kevin Durant left Oklahoma City to take his talents to the Warriors, the Thunder got Paul George in a trade from the Indiana Pacers. Rumors were that George was going to the Cleveland Cavaliers after he expressed his disinterest in playing for the Pacers, but again the NBA world was taken for a ride as it was when Chris Paul got traded to the Houston Rockets. This move was announced hours before free agency officially began on July 1. George and Russell Westbrook both have one year left on their contract and Thunder GM Sam Presti took an all out gamble hoping this pays off.
People are now asking, what are the Thunder getting with Paul George? He is a multi-faceted player who can score and lock down the best outside player, while playing on or off the ball. Last season, George averaged nearly 24 points per game, 6.6 rebounds, 3.3 assists per game while shooting over 45 percent from the field and nearly 40% from downtown. George grew up in the Los Angeles area and said that playing in L.A. would have been "a dream come true"  but said that winning was more important. "It's too early for L.A., (Lakers), It would have to be a situation where the ball gets rolling and guys are hopping on," he said.
First look at PG in a Thunder uniform. 👀

(via @okcthunder) pic.twitter.com/iFhhLpxKHu

— Bleacher Report (@BleacherReport) July 12, 2017
One of the biggest questions surrounding George is whether he will stay with the Thunder when his contract is up. The Thunder are positing themselves for home-court advantage in the playoffs, the Thunder share with Westbrook the challenge of convincing George to stay beyond next season, given George's earlier statements saying that he wants to sign with his hometown Lakers in 2018. The Thunder could indeed be renting George for one season and could be reduced to seeing another star take his talents elsewhere. What should give Thunder fans reason to be cautiously optimistic is that sources close to George are pushing back against this narrative. More specifically, a source close to George with direct knowledge into his mindset said, "Everything is on the table with Paul, and anything is possible."
What led to George being traded to the Thunder was not a case of trade demand, instead it was to be on a team with a direction and he did not see himself being on a winning team if he stayed with the Pacers. If he is serious about winning not just this season, but afterwards, how does a Lakers team that won just 26 games last season, meet the criteria of 'winning'? If his hometown Lakers are considered legit western conference contenders, they will need more than Julius Randle, Lonzo Ball and Jordan Clarkson. The Thunder are fully aware of the outside noise, that are the Lakers and the year-long campaign to keep George with the Thunder is well underway. The Thunder are citing their strong fan base that could make a star like the king of the city. After his welcome from the airport Tuesday, the official introduction will be less of a news conference and more of an event with live music.
One of the biggest challenges facing last year's MVP is to build a strong on-court bond with George if he is to stay with the Thunder long-term. Westbrook is eligible for a five-year extension and the deal is still on the table but he not acted yet. Westbrook has until the last day before the start of the 2017-18 season to act and signing sooner than later would send a message that Westbrook is interested in playing with George for the long-term.
George will not decide whether to stay with the Thunder until next summer despite all the efforts from the Thunder to keep him. What will determine whether he stays with the Thunder or not will depend on how well the Thunder play not just in the regular season, but the playoffs. If the Thunder win 60 or more games and get eliminated in the first or second round, George may be more likely to sign with the Lakers. On the other hand, if the Thunder get past the second round and he thinks the Thunder are a year away, there is a better chance he would resign with the Thunder. The Thunder front office know that George will not commit one way or the other until next summer and while they would rather avoid that, they know that everyone on the team will need to do their part to make #13 feel welcome and a slip-up or the appearance of one could jeopardize his chances of staying in Oklahoma City.
Goin' To Work: Off-season Report
Following a disappointing 2016-17 season, the Detroit Pistons have gone to work in the off-season. While there have been no big waves (at least for incoming players) there have been a few moves made.
Here's what you need to know about the off-season so far.
The Draft
The Pistons made only one selection in the 2017 NBA Draft, earning the 12th pick in the lottery. With the pick they selected Luke Kennard, a 6'6″ shooting guard out of Duke University.
Initially received with criticism, there are aspects of Kennard's game that can help the team. He averaged 19.5 ppg last season, an impressive feat for any team, let alone on a Duke Blue Devils team where Grayson Allen is considered "the guy." He also averaged about 5 rebounds a contest. But, above all, Kennard is a shooter, something the Pistons direly need. He averaged 49% from the field, including nearly 44% from beyond the arc. He will wear the number 23 on his jersey.
Free Agency
There wasn't going to be a lot done in free agency. Everybody knew that going in. Aside from the re-signing of restricted free agent Kentavious Caldwell-Pope, there weren't going to be any major waves in the Motor City.
That was, until July 7th.
That day, the Pistons pulled a surprise trade (more on that later), leading to the team renouncing their exclusive rights to the young guard, thus granting him unrestricted free agency. Once expected to earn a maximum deal from the Pistons or another suitor like the Brooklyn Nets or Philadelphia 76ers, Caldwell-Pope sits without a clear home or future.
To this point only two moves have been made by the Pistons on the free agent market, with the club signing Langston Galloway and Eric Moreland.
Galloway, a shooting guard, signed to a three-year, $21 million contract, bringing him to his fourth team in as many seasons. He saw plentiful time with the New York Knicks from 2014 to 2016, appearing in all 82 games during the 2015-16 season. He's become largely a backup player known more for his defense, which will be needed in the absence of Caldwell-Pope. As well, his defense will allow for Stan Van Gundy to create a tandem of Galloway and Luke Kennard, balancing the latter's offensive prowess with the former's defensive abilities. But that's not to say that Galloway is useless on the offensive end, as he averaged 7.9 points per game as a backup in 74 contests, albeit on an unimpressive 38% from the field. The contract, in today's NBA, is team friendly and adds more depth, also necessary with the departure of Darrun Hilliard via trade.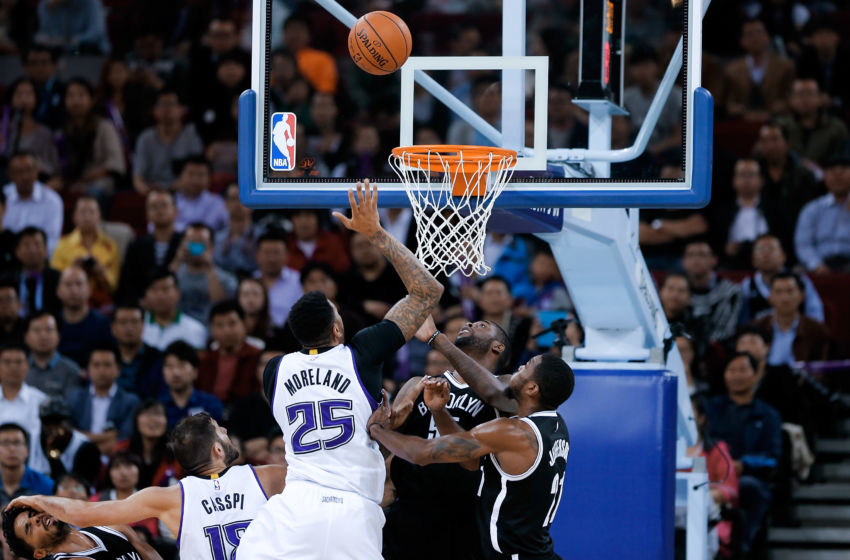 Moreland, a 25-year old undrafted center, has seen only 11 games at the NBA level over two seasons with the Sacramento Kings. He spent most of last year with the Canton Charge of the NBA D-League. While there, Moreland's play impressed, earning him All D-League Third Team and Defensive First Team honors. He averaged 12.8 points per game on 56% shooting and 12.2 rebounds to go with 2.7 blocks per contest in 44 games. His defensive style of play fits the historical narrative of lockdown post defenders in Detroit. However, his free throw shooting could use quite a bit of work, as his numbers at the charity stripe echo those of Andre Drummond. At 25, this is a low-risk deal for Detroit. It adds depth with the departure of Aron Baynes in free agency. He will likely compete with resident giant Boban Marjanovic for the backup center position.
Besides Caldwell-Pope, other free agents include Aron Baynes, who exercised his opt-out clause, Reggie Bullock, and Beno Udrih. It's unlikely that Baynes returns, given the presence of Marjanovic and now Moreland, the fates of Bullock and Udrih remain unclear.
Trades
Two trades have happened to this point.
First, the team sent former second round pick Darrun Hilliard to the Houston Rockets in exchange for cash considerations. Hilliard saw little time on the floor in Detroit and it's likely that wasn't going to change. Moves have been made to compensate for his departure and the Pistons are no worse off due to this deal.
Second, and most notably, the Pistons landed Avery Bradley from the Boston Celtics in exchange for Marcus Morris and a 2018 second round draft pick. While I loved Marcus Morris, I like this deal a lot more. Morris wasn't likely to stay in Detroit. He brought grit and solid two-way ability at the small forward, but the spot he leaves is now filled by Tobias Harris, quietly one of the most reliable pieces on last year's team. In Bradley, the Pistons gain a player who is able to shoot from the outside with consistency, as well as create off the dribble. On the other end of the court he brings some of the better perimeter defense in the NBA. On and off the court, Bradley will serve as a mentor to the young Luke Kennard, helping to hone his offensive game as well as helping develop his defense (which, from reports, was looking better than expected in summer workouts). Bradley is a free agent after this season and it's unclear what will happen then, but the focus now lies on the upcoming season.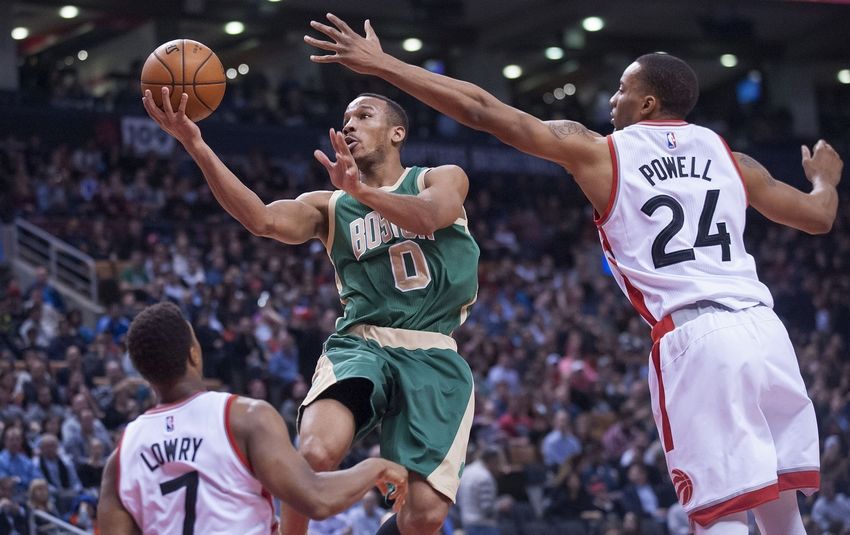 Rumors abounded on draft night regarding potential deals involving Andre Drummond, including heavy speculation that the Sacramento Kings were prime players, but nothing ever came to fruition. Reggie Jackson's name was also thrown around early in the summer, though there's nothing to indicate that he will be on the move. Van Gundy has reiterated that no player on his team is "untradeable", so it's possible that we've not seen the end of the Pistons' presence on the trade market this off-season.
What do you think of the Pistons' off-season moves so far? What other moves would you like to see happen? Let me know in the comments below and stay tuned for more updates out of the Pistons' camp!
Find me on Twitter @milz_chris and follow @cleatgeeks for more basketball and sports news.
James Harden Signs Richest Deal In NBA History
Houston Rockets superstar James Harden signed a 4 year extension worth $228 million dollars, making him the richest player in NBA history.
Since James Harden had two seasons left before signing the extension, it will not interfere with the Rockets plans to bring in free agents to compete with the Warriors. Leslie Alexander issued a statement about the Harden contract.
"Since he arrived in Houston, James has exhibited the incredible work ethic, desire to win, and passion to be the best that has made him one of the most unique and talented superstars in the history of the game,"
Rockets owner Leslie Alexander said in a statement issued by the team.
"Additionally, the commitment he has shown to our organization, the city of Houston, and Rockets fans all over the world makes him a perfect leader in our pursuit of another championship."
Harden is coming off his best season as a pro. Last season Mike D'Antoni moved Harden to point guard and it turned out to be a great move. Harden averaged 29.1 points, an NBA leading 11.2 assists and 8.1 rebounds. He also finished second in the MVP race to Oklahoma City's Russell Westbrook.
Harden's MVP caliber season helped the Rockets bounce back from a disappointing  2015-2016 season, where their was major chemistry issues between Center Dwight Howard and James Harden. Howard leaving was a huge reason that the Rockets were successful last season. Houston was able to focus their offense around just Harden.
Houston went 55-27 and defeated Russell Westbrook and the Oklahoma City Thunder in the first round of the playoffs. Harden spoke to the media after receiving his extension.
"Houston is home for me,"
Harden said.
"Mr. Alexander has shown he is fully committed to winning and my teammates and I are going to keep putting in the work to get better and compete for the title."
The Rockets have strong interest in acquiring Carmelo Anthony from the New York Knicks. If they can acquire Anthony they will become a serious threat to dethroning the Golden State Warriors.
NBA Free Agency Week 1 Recap
As free agency opened its doors at 12:01 on July 1st, all 30 NBA teams scrambled to schedule meetings and make offers to their top targets. However, the most impactful move of the summer came minutes before the metaphorical starting gates opened: The Pacers traded 4 time All-Star Paul George to the Oklahoma City Thunder in exchange for Victor Oladipo and Domantas Sabonis. After reports came out earlier in the year that George had no intention of staying in Indiana after his contract expires at the end of next season, the Pacers had been shopping him around. The Thunder seemingly committed grand Larson by landing the superstar George for Oladipo, your average two-way NBA shooting guard, and Sabonis, a late lottery draft pick in his second year. The Thunder have entered the super-team arms race around the league by pairing George with reigning MVP Russell Westbrook. This move was one of many that shook up the association in the opening week of free agency. Here is every move of Week 1:
2015 All-Star Jeff Teague – Timberwolves (3yrs/57mil). After trading Ricky Rubio to Utah, Minnesota upgrades at point guard and readies for a playoff run.
5-time All-Star Blake Griffin – Clippers (5yrs/173mil). Blake re-signed with Los Angeles despite rumors of a move to Boston or Miami. After losing Chris Paul, the Clippers will look to Griffin as their centerpiece.
Shaun Livingston – Warriors (3yrs/24mil). Livingston has succeeded in his role backing up Steph Curry in Golden State, and took a discount to continue doing so.
Tony Snell – Bucks (4yrs/46mil). Snell will continue to provide multi-dimensional offense for the young Bucks team.
Patty Mills – Spurs (4yrs/50mil). With Tony Parker nearing the end of his legendary career, the Spurs will rely on Mills to help continue their dynasty.
2-time NBA MVP Steph Curry – Warriors (5yrs/201mil). That is not a typo. After years of being severely underpaid, Curry now has the richest contract in NBA history… and is somehow still underpaid.
Nene – Rockets (3/11). The 38 year old will provide the new-look Rockets with size in the frontcourt.
Christiano Felicio – Bulls (4/32). The Brazilian played in 66 games for the Bulls last year, averaging just under 5 points and 5 rebounds in his 15 minutes per game.
2013 All-Star Jrue Holiday – Pelicans (5/126). After being banged up for portions of the last 4 years, Holiday cashes in BIG this summer.
Zhou Qi – Rockets (multi-year). The 7'2" Center is the reigning Defensive Player of the Year in the Chinese Basketball Association.
2-time All-Star David West – Warriors (1/1.5). Last summer, the 36 year old left some 11 million on the table to chase a ring with Golden State. In what is likely the final year of his career, West will hope to repeat.
JJ Redick – 76ers (1/23). Redick will bring his stellar shooting ability to a stellar young core in Philly.
Langston Galloway – Pistons (3/21). This will be the 25-year-old's 4th team in three years.
Ron Baker – Knicks (2 yrs/Cap room exception). The second year player from Wichita State is bringing his All-Star head of hair back to the New York.
Daniel Theis – Celtics (2yrs/league minimum). The 4-time German League All-Star will be making his NBA debut this season.
Amir Johnson – 76ers (1/11). Johnson will provide a good veteran presence in the young Philadelphia locker room.
2014 Rookie of the Year Michael Carter-Williams – Hornets (1/2.7). After a promising start to his career, MCW has been trying to find a good fit recently.
Jose Calderon – Cavs (1/2.3). The 35-year-old Spaniard holds the single season free throw percentage record at 98%.
Wayne Selden – Grizzlies (2yrs). The Kansas alum did enough in his 11 games last year for Memphis to secure a multi year commitment.
Joe Ingles – Jazz (4/52). The Australian shooting guard will return to the Jazz to try to soften the blow done to them by the departure of Gordon Hayward.
2015 Finals MVP Andre Iguodala – Warriors (3/48). Iggy took a discount to continue the process of turning the Warriors into a dynasty.
PJ Tucker – Rockets (4/32). After missing out on Iguodala, the Rockets sign a player with similar defensive capabilities.
3-time All Defensive First Team Serge Ibaka – Raptors (3/65). The 27-year-old returns to Toronto to help Kyle Lowry and DeMar DeRozan take down the Cavaliers in the Eastern Conference.
Taj Gibson – Timberwolves (2/28). Gibson reunites with old coach Tom Thibodeau to round out the starting lineup for the new-look Tmberwolves.
Jodie Meeks – Wizards (2/7). This is the shooting guard's 6th team in 8 years.
2015 All-Star Kyle Korver – Cavaliers (3/22). After being traded to the Cavs mid-season, the sharpshooter will try to help Cleveland get redemption this season.
3-time All-Star Kyle Lowry – Raptors (3/100). Lowry, one of the NBA's premier point guards, will look to knock of the Cavs atop the Eastern Conference.
Justin Holiday – Bulls (2/9). The brother of Jrue, Justin is an NBA champion from 2015 with the Warriors.
Ben McLemore – Grizzlies (2/11). The Grizzlies go thrift shopping with the addition of McLemore, the number 7 overall pick back in 2013.
4-time All-Star Paul Millsap – Nuggets (3/90). With the addition of Millsap, Denver is a team to watch out for in the Western Conference next season.
2014 MVP Kevin Durant – Warriors (2/53). After leaving the Thunder last summer to chase the only accolade that has eluded him: NBA Champion, 8-time All-Star Kevin Durant takes a HUGE pay cut to help the Warriors re-sign the key players that helped lead the team to a Championship last season.
Darren Collison – Pacers (2/20). After losing Jeff Teague, the Pacers sought out Collison to fill the hole at Point Guard.
George Hill – Kings (3/57). In somewhat of a surprising move, the Kings sign a better-than-average NBA point guard despite drafting De'Aaron Fox with the 5th pick in this year's draft. Hill's role is unclear, but starting at the shooting guard position is a likely possibility.
2-time All-Star Zach Randolph – Kings (2/24). The Kings will add some veteran presence to a young frontcourt. The Grizzlies announced that they will retire Randolph's #50 jersey next season.
Omri Casspi – Warriors (1/vet min). The 29-year-old joined the NBA in 2009 after a brief career in his home country, Israel.
2017 All-Star Gordon Hayward – Celtics (4/128). After 7 seasons in Utah, Hayward decided to join his college coach Brad Stevens in Boston. With the addition of Hayward, Boston is primed to utilize their new 'super team' to make a run at the Cavaliers in the Eastern Conference Finals.
Patrick Patterson – Thunder (3/16). A career 8 point per game scorer, Patterson will bolster Oklahoma City's second unit.
In a 3-team deal, Danilo Gallinari was traded to the Clippers, where he signed a 3yr/65mil deal.
In the same deal, the Hawks received 3-time 6th Man of the Year Jamal Crawford, then granted him his wish of a buyout, resulting in Crawford becoming an unrestricted free agent. The Hawks also received second year Center Diamond Stone and a 2018 First Round pick from the Clippers.
Denver received a 2019 second round pick from Atlanta.
Nick Young – Warriors (1/5). Nicknamed "Swaggy P," Young will provide an offensive spark off the bench for the defending Champions.
Dion Waiters – Heat (4/52). Waiters had a career year replacing Dwyane Wade in Miami last year, and will reap the rewards.
Andre Roberson – Thunder (3/30). Roberson has provided excellent perimeter defense for the Thunder over the past 4 years, and will look to continue doing so.
2010 EuroLeague MVP Milos Teodosic – Clippers (2/12). The 30-year-old European sensation will finally be gracing the NBA with his traditional point guard skills. Teodosic will fight with former teammate in Greece, Patrick Beverly for starting point guard duties.
Kelly Olynyk – Heat (4/50). The 7-foot Canadian cashes in on a successful Playoff campaign.
Rudy Gay – Spurs (2/17). The career 18 point scorer took a discount to chase a ring with the San Antonio Spurs.
8-time All-Star Vince Carter – Kings (1/8). The 40-year-old refuses to let father time take him down. He will be a great mentor to King's swingmen Buddy Hield and fellow Tar Heel, Justin Jackson.
James Johnson – Heat (4/60). After a career year, the Heat will re-sign Johnson.
2007 MVP Dirk Nowitzki – Mavericks (2/10). The 7-foot German will most likely retire at the conclusion of this contract. A 13-time All-Star, Dirk will try to overtake Wilt Chamberlain for 5th place on the All-time scoring list.
For the sole purpose of making financial room for Gordon Hayward, the Celtics traded elite defender Avery Bradley and a 2019 second round pick to the Pistons for power forward Marcus Morris.
Mike Muscala – Hawks (2/10). Muscala averaged a career high 6 points per game last season.
2010 Rookie of the Year Tyreke Evans – Grizzlies (1/3). Evans has had a slow, but steady decline since his rookie of the year campaign in 2010. He will return to Memphis, where he played collegiately.
Bojan Bogdanovic – Pacers (2/21). Not to be confused with his brother Bogdan, Bojan averaged upwards of 12 points per game last year in his short stint with Washington.
Mike Scott – Wizards (1/vet min). Scott's 2017 season was filled with injury.
Raymond Felton – Thunder (1/vet min). The journeyman will provide his services backing up the reigning MVP Russell Westbrook next year.
Zaza Pachulia – Warriors (1/3.5). Zaza will return to Golden State where he will likely remain the team's starting center.
In Week 2 of Free Agency, look for Otto Porter and Tim Hardaway Jr. to make some noise. Both are restricted free agents that have agreed to offer sheets with other NBA teams. Their respective teams will have the opportunity to match the offer.
Can The Wolf Pack Be A Winning Pack?
The Minnesota Timberwolves are members of the Northwest Division in the Western Conference of the National Basketball Association. Fellow members of the Northwest division include the Utah Jazz, Oklahoma City Thunder, Portland Trailblazers, and the Denver Nuggets. Minnesota has been a member of the league since 1989 and play their home games out of the Target Center in Minneapolis. The Timberwolves have been rebuilding for nearly a decade after not being able to make the playoffs since 2004. With the moves made on draft night and through free agency, the Timberwolves may finally be moving in the right direction.

The Timberwolves were able to make a blockbuster trade with the Chicago Bulls. The trade included sending All-Star Jimmy Butler to Minnesota and drafting Patton with the 26th pick acquired through the trade. While Kris Dunn, Zach LaVine and the 7th pick were sent to Chicago. Jimmy Butler will be able to show young players such as Andrew Wiggins and Karl Anthony-Towns what it takes to win. Butler's ability to shoot and defend will help lead the team into the postseason.
Patton was drafted 16th overall out of Creighton. Patton may develop into a nice defensive player and could bring versatility to the offense. With a 7 ft 3 wingspan he will be able to block shots and go over opponents. With the acquisition of Jimmy Butler the team will be looking to contend almost immediately. Minnesota will be looking to add defense and 3-point shooters during free agency.
Minnesota kicked off free agency by signing veteran point guard Jeff Teague to a 3 year $57 Million contract. In the 2016-2017 season Teague averaged 15.3 PPG and 7.8 APG. Teague will be an upgrade shooting 55% from three-feet or closer after previous point guard Ricky Rubio had trouble finishing at the rim. Teague will pair well offensively with multi-dimensional Towns and Wiggin's athletic skill set. The Timberwolves also added power forward Taj Gibson on a 2 year $28 million contract. Gibson averaged 10.8 PPG and 6.2 RPG during the 2016-2017 season. Gibson brings a much need toughness and defensive know-how that Minnesota needs after being ranked 24th defensively last season.
I predict the starting lineup will be Teague, Butler, Wiggins, Gibson and Towns for the 2017-2018 season. I also strongly believe that after acquiring Jimmy Butler, Jeff Teague, and Taj Gibson the team will be able to make the playoffs for the first time since 2004. Minnesota will be a top 10 defensive team behind Butler and Gibson. Wiggins and Towns will be star players if they continue to improve under coach Tom Thibodeau's system.
The Timberwolves are on the rise in the Western Conference if things continue to improve on both sides of the ball. The free agent acquisitions will fill a big hole offensively while the young players continue to learn and grow. Minnesota will be a group core team next season if key playesr stay healthy and the team continues to learn defensively.
Boston Looking To Clear Cap Space For Gordon Hayward
The Boston Celtics are urgently trying to create enough salary cap room to give Gordon Hayward the four-year, $128 million max contract by discussing trades involving Marcus Smart, Jae Crowder and Avery Bradley. The Jazz and Celtics discussed Wednesday a possible sign and trade involving Crowder in a sign and trade agreement involving Hayward according to ESPN sources.
Ultimately the decision will fall on Hayward, who would have to agree to the sign and trade. Jae Crowder, would likely love the idea of playing for the Jazz. Crowder publicly criticized the Celtics pursuit of Hayward during the 2016-2017 season. ESPN sources say the Celtics have discussed trades with at least a half a dozen teams.
 The process of clearing contracts started Tuesday for the Celtics, when they renounced Kelly Olynyk. Unfortunately for the Celtics even if they cut Jonas Jerebko, James Young and Gerald Green Boston would still be 300,000 dollars short of signing Hayward to the full max of 30 million a year.
If the Celtics bring back Bradley,Smart, and Isaiah Thomas their payroll could soar to $150 million next summer and they could have a luxury tax bill of more than $70 million dollars.