36 Things You May Not Know About Jim Neidhart
As most of you know, we here at cleatgeeks do morn the passing of our sports heroes, but we choose to do it in a celebratory way. We like to look back and see all the memories that our heroes have provided for us. Hopefully, these memories will bring a smile to the faces of the fans and will even shine a light on some things that even a lifelong fan may not know about Jim "The Anvil" Neidhart. Therefore, here are 36 things you may not know about one half of the Hart Foundation.
Neidhart held the California high school record in shot put from 1973 until 1985.
2) After graduating from high school, Neidhart pursued a career in the National Football League, where he played for the Oakland Raiders and Dallas Cowboys in practices and preseason games, but never made it on a 53 man NFL roster.
3) Following his release from the Dallas Cowboys, Neidhart traveled to Calgary to train with Stu Hart and pursue a career in professional wrestling. He worked for Hart's Stampede Wrestling from 1978 to 1983, and again in 1985, during which time he married Ellie Hart, one of Stu's daughters.
4) Stu Hart, seeking publicity for Neidhart, promised him $500 if he would not just enter, but also win an anvil toss at the Calgary Stampede. He did, throwing it 11 feet, 2 inches. This earned him the nickname "The Anvil", replacing his prior nickname of "The Animal"
5) Neidhart actually teamed twice with King Kong Bundy for Georgia Championship Wrestling in 1983.
6) When Stu Hart sold Stampede Wrestling to Vince McMahon, owner of the World Wrestling Federation, Neidhart and Bret Hart were included in the deal.
7) Initially a singles wrestler, managed by Mr. Fuji, Neidhart debuted on January 21, 1985, in Madison Square Garden, defeating Tony Garea.
8) Initially a heel team managed by Jimmy Hart, The Hart Foundation made their pay-per-view debut at WrestleMania 2, where they were the last two eliminated from a 20-man battle royal, featuring wrestlers and NFL players, the two were eliminated by André the Giant.
9) The Hart Foundation won their first WWF World Tag Team Championship on the February 7, 1987 episode of WWF Superstars (taped January 26), from fellow Stampede alumni, The British Bulldogs (Davey Boy Smith and The Dynamite Kid), with the help of heel referee Danny Davis, who was continually "distracted" by checking on Dynamite (laid out of the match early by a megaphone shot from Jimmy), allowing the challengers to double-team Smith (in reality, Smith was forced to wrestle alone due to Dynamite being so debilitated with a back injury that he was virtually carried to the ring by his partner). Davis was subsequently fired as referee, and began wrestling, aligned with The Hart Foundation.
10) They lost the belts on the November 7 episode of Prime Time Wrestling (taped October 27), to Strike Force (Rick Martel and Tito Santana) when Neidhart submitted to Martel's Boston crab.
11) The Hart Foundation unsuccessfully challenged Demolition (Ax and Smash) for the tag title at the 1988 SummerSlam, where Ax hit Hart with Jimmy Hart's megaphone for the pin.
12) The Hart Foundation continued feuding with Jimmy Hart's wrestlers for the next year, teaming with Jim Duggan to defeat Dino Bravo and The Rougeaus in a 2/3 falls match at the 1989 Royal Rumble, then defeating The Honky Tonk Man and Greg Valentine at WrestleMania V.
13) After Neidhart had a long singles series against Valentine, Honky Tonk Man and The Genius to start 1990. The Hart Foundation reformed full-time on March 24 in Las Vegas.
14) At WrestleMania VI in Toronto, they defeated The Bolsheviks (Nikolai Volkoff and Boris Zhukov) in 19 seconds.
15) They started a second feud with champions Demolition, who at this point added Crush, to reduce the load on Bill Eadie (Ax) after a health scare. From April 21, the teams wrestled each other exclusively at house shows, to either double count-outs or disqualifications. This culminated at SummerSlam 90 on August 27, where The Hart Foundation won the title for a second time in a 2/3 falls match.
16) On October 30, 1990, The Rockers (Shawn Michaels and Marty Jannetty) did actually defeat The Hart Foundation in a two out of three falls match in Fort Wayne, Indiana, to seemingly win the title, though the WWF has never officially recognized The Rockers' champion status. During the match the top rope broke by accident making the match a disjointed affair that would require serious clean up before it could be shown on TV. The Rockers defended the WWF Tag Team title against Power and Glory (Paul Roma and Hercules) on November 3, 1990. Shortly after November 3 it was decided to not air the title change and that the title would revert to the Hart Foundation. In his book, Shawn Michaels claims that the Hart Foundation had politicked to keep the title. However Michaels claim is contradicted by other claims that the WWF had actually fired Neidhart forcing the title change, but after the match the two sides came to an agreement and Neidhart was re-signed.
17) Jimmy Hart once again cost The Hart Foundation the belts at WrestleMania VII, in a match with his new team, The Nasty Boys (Brian Knobs and Jerry Sags), when he distracted the referee, allowing Sags to knock out Neidhart with his motorcycle helmet.
18) Jim Neidhart actually commentated for Wrestling Challenge alongside both Gorilla Monsoon and Bobby Heenan from March until August 1991.
19) He returned on the December 1 edition of Wrestling Challenge, teaming with Owen Hart (Bret's younger brother) as The New Foundation, defeating Barry Horowitz and Duane Gill.
20) Jim was fired from WWF on February 16, 1992 after a house show in Augusta, Georgia, for unprofessional conduct.
21) Neidhart debuted for World Championship Wrestling (WCW) on the May 15 episode of WCW Worldwide Neidhart even teamed with The Junkyard Dog as they beat, Paul Orndorff and Dick Slater by disqualification on the June 5th edition of WCW Saturday Night. A short time later on October 7, Neidhart left WCW.
22) Then, on November 13, 1993, Neidhart wrestled The Sandman to a no contest at November to Remember in the ECW Arena. Yes, "The Anvil" dropped the hammer in WWF, WCW and ECW.
23) Neidhart returned to the WWF at King of the Ring in 1994, as Bret Hart's cornerman for his WWF World Heavyweight Championship match defense against Intercontinental Champion Diesel. After Diesel hit Hart with his Jackknife finisher, Neidhart interfered to prevent the pin, and disqualifying Hart but allowing him to retain the title. After the match, Diesel and Shawn Michaels beat down Hart, and Neidhart didn't intervene. Later that night, Neidhart reappeared at ringside again during Owen Hart's King of the Ring tournament final against Razor Ramon. He attacked Razor outside the ring, behind the referee's back, then Neidhart threw Razor back for Hart to elbow drop and pin to become "The King of Harts", turning heel for the first time since 1988.
24) Owen had been feuding with Bret since the Royal Rumble. Neidhart, believing Bret had held Owen back from his potential, sided with Owen. Neidhart claimed he'd only helped Bret keep the WWF World Heavyweight Championship at King of the Ring so Owen could take it from him.
25) This opportunity came in a steel cage match at SummerSlam. Neidhart sat in the third row during the match, behind other Hart family members. After Bret won the match, Neidhart entered the cage, locked it and helped Owen beat him down, while the Hart family members tried to climb over it and save him.
26) In a storyline, Diesel and Michaels were WWF Tag Team Champions when they split, therefore the titles was vacated and a tournament held. Neidhart and Hart lost to The New Headshrinkers (Fatu and Sionne) in the first round on the December 31 edition of Superstars, by disqualification. By the time it aired, Neidhart had left the WWF. Bret Hart wrote in his autobiography that the original plan was for Owen and Neidhart to win the tournament and the WWF Tag Team Championship, but Neidhart was officially fired due to no-showing events. Owen wound up winning the WWF Tag Team Championship at WrestleMania XI with new partner Yokozuna and a year later with fellow brother-in-law The British Bulldog.
27) On the July 6, 1996 edition of Superstars, he returned as the masked heel Who, a gimmick designed for commentators Vince McMahon and Jerry Lawler to make "Who's on First?"-style jokes during his matches (most of which he lost). Who last appeared on TV in the "Bikini Beach Blast-Off" party on the SummerSlam pre-show. His last match was a win over Alex Porteau in Miami on September 12.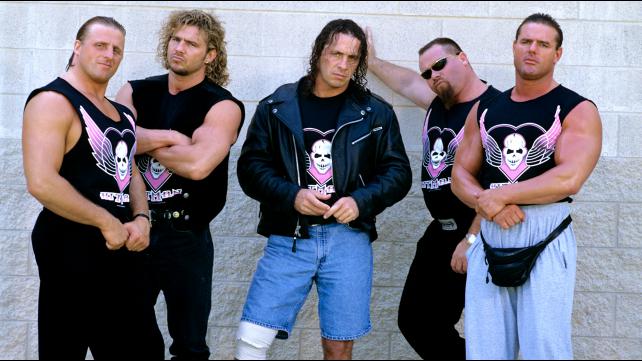 28) Neidhart returned to the WWF on the April 28, 1997 episode of Raw is War, and attacking Stone Cold Steve Austin and reuniting with Bret and Owen Hart as part of the new Hart Foundation, a stable of Canadian sympathizers, also including Davey Boy Smith and Brian Pillman.
29) On July 6 at In Your House 16: Canadian Stampede in Bret's hometown of Calgary, The Hart Foundation defeated the American team of Stone Cold Steve Austin, Ken Shamrock, Goldust and The Legion of Doom.
30) Neidhart was also part of Team Canada at Survivor Series in Montreal, teaming with The British Bulldog, Doug Furnas and Philip Lafon defeated Team USA Vader, Goldust, "Marvelous" Marc Mero and the debut of "The Lethal Weapon" Steve Blackman (Bulldog was the sole survivor, Neidhart was pinned by Vader).
31) After Bret and Davey Boy Smith left the WWF on bad terms because of the Montreal Screwjob at Survivor Series. D-Generation X leader and WWF Champion Shawn Michaels offered Neidhart a spot in the group on the November 24 episode of Raw Is War. Neidhart accepted, only for it to be revealed as a setup as the group assaulted Neidhart at the end of the show, turning face for the first time since 1994. The following week on the December 1 episode of Raw is War, DX member Triple H defeated Neidhart. After the match, DX beat up Neidhart once again and spraypainted "WCW" on his back, signifying him following Bret Hart to World Championship Wrestling.
32) In January 1998, Neidhart returned to WCW, where he formed a short-lived tag team with The British Bulldog. His final match for WCW was on the September 26 episode of WCW Saturday Night, where he and The British Bulldog lost to Stevie Ray and Vincent.
33) Neidhart appeared in TNA on the November 12, 2009, edition of Impact! winning against Jay Lethal in his initial open challenge thrown out to the legends of professional wrestling.
34) Jim has made brief appearances on the reality show Total Divas produced by WWE and E! that his daughter Natalie is featured on as main cast.
35) Neidhart and wife Ellie have three daughters – Jennifer, a gourmet chef and caterer, Natalie, and Kristen ("Muffy"), who was married in early June 2007.
36) Neidhart was arrested on September 6, 2010 and charged with two counts of possession of controlled substances with intent to distribute, two counts of trafficking illegal drugs, one count of burglary of an unoccupied dwelling, and one count of third degree grand theft for property stolen between $300 and $5,000. He was arrested after becoming aggressive with police after ingesting multiple pills outside a gas station. In March 2012, he was sentenced to five months and 29 days in jail. During his sentencing, he was arrested and held in contempt of court. Neidhart then completed two stints in rehabilitation paid for by WWE.
On August 13, 2018, Neidhart died at the age of 63. According to the Pasco County Sheriff's Office, he fell at home and hit his head. All of the staff and writers at cleatgeeks ask that you take a moment and say a prayer for his family in memory of Jim "The Anvil" Neidhart.