Royally Yours: Week in Review
The Kansas City Royals played poorly last week losing five of their seven games. They started the week at home against the Detroit Tigers. The Royals won one of the three games in the series. The weekend series was on the road in New York facing the Yankees. The Royals won one game in the four game series. They are 32-73 this season, the second worst record in baseball.
The Royals traded third baseman Mike Moustakas to the Milwaukee Brewers for outfielder Brett Philips and RHP Jorge Lopez. Moustakas will join former teammates Lorenzo Cain and Joakim Soria in Milwaukee. The Brewers currently hold the top Wild Card spot in the National League. Moustakas was one of the biggest trade targets at the deadline. The Royals did not get a large return for Moustakas but they did get players who should be able to contribute immediately. Phillips was placed on the Royals roster and Lopez is in AAA Omaha. The trade deadline was Tuesday and the Royals did not make any more high profile trades.
Salvador Perez is having a strong start to the second half of the season. He has five home runs since the All Star Break. Perez struggled to start the season. He has a .237 batting average this season. Perez had a poor start to the season but has improved since the All Star Break.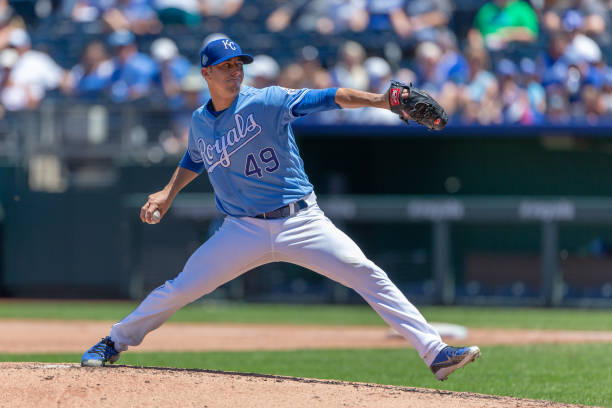 Heath Fillmyer has had a great start to his MLB career. He has started in three games and has seven appearances with the Royals this season. His overall ERA is 3.29 and has a record of 0-1. Fillmyer was acquired in a trade with the Oakland Athletics last off-season. He made his major league debut in June. Fillmyer appears to be one of the Royals top young pitchers.
The Royals will start the week on the road against the Chicago White Sox. The Royals are 3-7 against the White Sox this season. James Shields will be a player to watch in the series. The former Royal has started two games against Kansas City this season. He has a 4.26 ERA in 12.2 innings. The weekend series will be in Minnesota against the Twins. The Royals are 6-3 against the Twins this season. Lucas Duda will be a player to watch. He has a .350 batting average against the Twins this season in 20 at bats. The Royals will have two important matchups against division opponents this week.