The IR, The O-line & Fitz
While the Cardinals play-off chances shrunk from 0.02 to 0.01% after their 12-7 win vs. Tennessee, the end of the 2017 season couldn't come fast enough for the teams offensive line. The Cardinals playoff chances will die this weekend if: They lose. Seahawks win. Both Atlanta and Carolina win.
With the loss of left tackle Jared Veldheer, coach Arians said he "cracked his ankle" against the Titans, the Cards will start their fourth left tackle of the year. Due to season-ending injuries, Arizona has now lost 60% of the five lineman who opened the 2017 season as starters. Center A.Q. Shipley and RG Evan Boehm are the two left standing. Boehm was benched in the middle of the season, but will start this week due to injuries. After giving up eight sacks during last Sunday's game, the Cardinals are now forced to start rookie fifth-round pick, Will Holden, at left tackle. While this will be Holden's third start of the season, it's going to be his first at LT. Holden has played almost all of his 106 snaps this season at left guard, but none at left tackle. The rookie offensive lineman did have 15 career starts while he was at Vanderbilt University though. According to Pro Football Focus, in those 15 collegiate starts, Will ranked 75th of 97 draft-eligible tackles with at least 150 pass-blocking snaps. The Cardinals have given up the second-most sacks in the NFL, 44, three less than all of 2016.
Flying under the radar the last two months, the loss of Veldheer is going to be a big one. Through the first five games of the season – the first five in his career at right tackle – Veldheer allowed 27 quarterback pressures. Those 27 pressures were fourth-most from the tackle position in the league. In the eight games following (five at RT, last three at LT), Jared registered a PFF Pass-Blocking Grade of 96.8. In those eight games, the fourth-year Cardinal managed to allow only 12 QB pressures, the fifth-least from the tackle position over that span.
Jared Veldheer took a practice day-off during training camp this off-season to contemplate the possibility of retirement. Whether the main reason for the 24-hour hiatus was due to a "demotion" to right tackle, or whether he was just one of many players who now consider stepping away from the game at a younger age (30), Jared was a great Cardinal and a big reason why the Cardinals were one of two 2015 NFC Championship Game representative's in 2015. If Sunday his the last as an on-field member of the BirdGang, thank you Hulk.
Veldheer wasn't the only Cardinal to land on Injured Reserve this week, as running back Adrian Peterson (neck) joined the ever-growing IR list. Peterson will finish the season, possibly career, with 99 career touchdowns. Those 99 TD's have Adrian tied with Barry Sanders for ninth place in NFL history.
There are now 13 Cardinals currently on IR. Even though more than a handful have served the minimum eight games on the list and are now eligible to return, only long snapper Aaron Brewer has come of the list this season (two are eligible per team). Brewer was activated this week and will see his first game action since early October.
Four more Cardinals have been ruled out for the game against Washington, RG Earl Watford, LB Gabe Martin (hamstring), WR John Brown (Toe) and TE Jermaine Gresham (illness). Considering Gresham played 75% of the snaps last week, expect Rookie Ricky Seals-Jones (played <29% in each of his four games) to get his opportunities to continue his end-of-the-year breakout campaign.
Two Keim-Time free-agent signings came up large in Sundays victory over Tennessee, CB Tramon Williams and LB Josh Bynes. Both defensive players, who are set to become free agents after the season, came up with interceptions in the win.
After having the worst season of his career in 2016 in Cleveland, Williams is currently having the second-best year of his career (by PFF metrics) with a season-long grade of 87.0, eleventh best CB grade in the league. The 34-year-old cornerback signed a 1 year/$2M contract near the end of training camp. Through the first five game of the season, the eleven-year-pro tallied only six total snaps. In game six against Tampa Bay, Tramon had a late-game interception to preserve the victory. Williams has started all seven games since. In those seven starts, the veteran CB has been targeted on deep balls (20+ yards) 10 times. Those ten passes have resulted in a 24.2 passer rating, the fourth-best mark by a CB this season. In addition to his interception, Tramon gave up 3 catches for 23 yards last Sunday and was graded out as the 4th-highest defensive player in the NFL for Week-14, with a PFF grade of 91.7.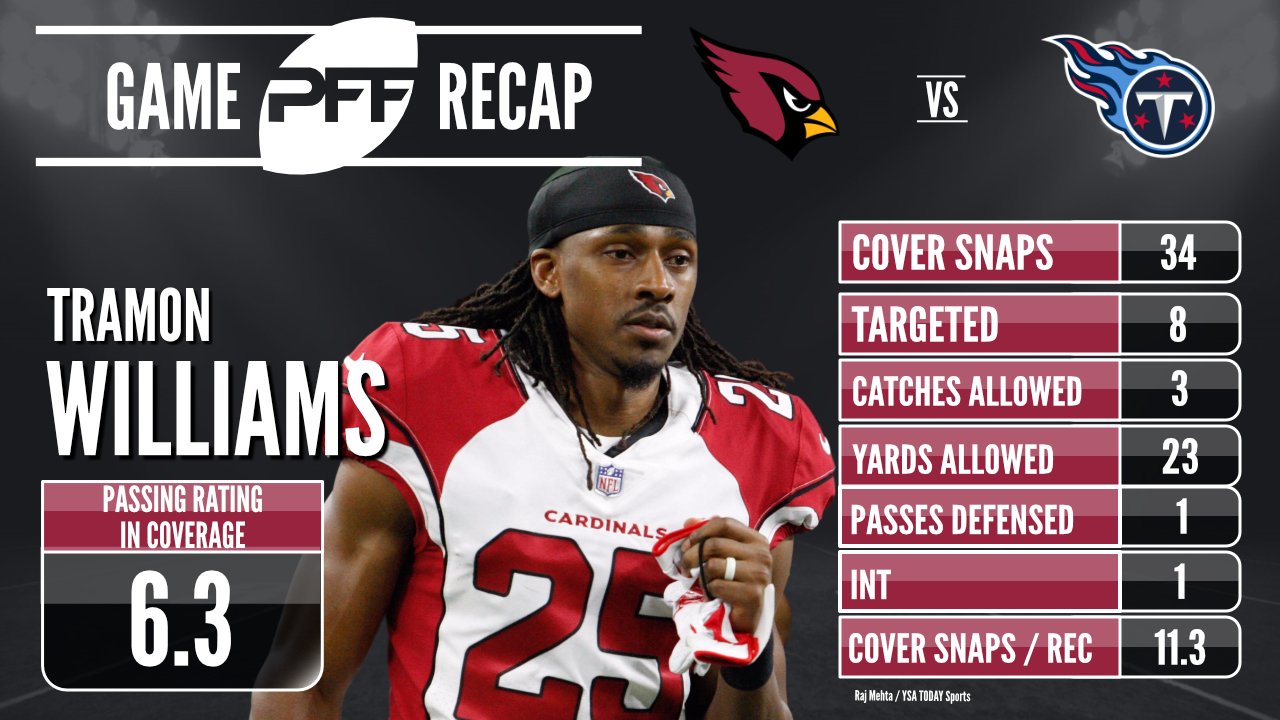 Both Washington and Arizona have 31 quarterback sacks on the season. Of Arizona's 31, Chandler Jones has 45% of those. Jones' 14 sacks are now only 2.5 behind franchise single-season leader, Simeon Rice. Chandler leads the NFL with his 14 sacks and 24 tackles for loss.
Congratulations to Cardinals wide receiver Larry Fitzgerald on passing Randy Moss for third all-time in NFL history in reception yards. This season alone, Larry has passed Moss, Marvin Harrison, Steve Smith Jr., Tim Brown, Tony Gonzalez and Isaac Bruce in career receiving yards. Larry needs three more catches to achieve the 90-catch mark for the eighth time in his career. According to the Arizona Cardinals twitter page, no wide receiver in the history of the game has ever had more than six seasons with 90+ catches. Your Gold jacket awaits you #11 whenever you decide to exit stage left.
I'll leave you with this little gem of a video about Fitzy in high school: