Winged Wheel Watch: 2017-18 Season Preview
With the preseason in the rearview mirror, the Red Wings, along with their 30 fellow NHL counterparts, set their sights on the regular season. Following a victory in their opener of the new season after early offseason in 2017 here's what can be expected from the 2017-18 edition of Detroit Red Wings hockey.
New Digs
For the first time in 38 years the Red Wings will play their home games in a new arena.
The new, state-of-the-art Little Caesars Arena will serve as the shared home of the Red Wings and the NBA's Detroit Pistons.
With seating enough to house 21,000 fans the stadium's design was borrowed from various opposing venues viewed as the "most intimidating" in the eyes of players and organizational officials, most notably Montreal's Bell Centre. Other unique features include the world's largest center-hung scoreboard, suspended gondola seating, and much more.
The Red Wings won their first official game at their new home with a 4-2 result over the Minnesota Wild. Anthony Mantha will go down as the first player to officially score a goal at the arena. Other Red Wings goals came from Dylan Larkin, Henrik Zetterberg, and Martin Frk.
A more in-depth look at the new facility will come during a later article.
Transactions
There were very few waves made in Detroit in the way of off-season acquisitions. While it's easy to focus on the glaring things that have not been done (that's another story for another time), there are a few moves to be noted.
IN ARE: C Michael Rasmussen (1st round, 9th overall pick), D Trevor Daley (3 years, $9.5 million ($3,166,667 AAV), D Luke Witkowski (2 years, $1.5 million, $750K AAV).
OUT ARE: LW Drew Miller (contract expiration), RW Mitch Callahan (2 years, $1.4 million with Edmonton)
Also notable are the extensions of LW Tomas Tatar (4 years, $21.2 million) D-men Robbie Russo (2 years, $1.3 million) and Xavier Ouellet (2 years, $2.5 million).
The Roster
Both head coach Jeff Blashill and general manager Ken Holland are returning for the 2017-18 season. Notably, though, the season will be the first full campaign without Mike Ilitch at the helm of the organization. The club's long-time owner passed away this past February at the age of 87. His son, Christopher Ilitch, has taken the reigns of both of his father's teams (the other being the Detroit Tigers) as well as Olympia Entertainment, the operating force behind many events in downtown Detroit.
Per MLive.com's Ansar Khan, the Red Wings will begin the season with 22 players on their roster.
Projected lines are as follows (letters "A" and "C" in parentheses denote captain and alternate captains):
Tomas Tatar/Henrik Zetterberg (C)/Gustav Nyquist
Anthony Mantha/Dylan Larkin/Martin Frk
Justin Abdelkader (A)/Frans Nielsen/Darren Helm
David Booth/Riley Sheahan/Luke Glendening
Here's an ideal picture of what each of these combos could offer, respectively.
Zetterberg on the same line as Tatar could be very scary for opponents. The soon-to-be 37-year old Swede is coming off of one of his best seasons in recent memory, recording 51 assists and 17 goals for a team-high 68 points. Tatar led the team with 25 goals scored. Pair him with a setup man like Zetterberg and it's possible that you see Tatar go from a streaky scorer to the consistent offensive leader this team needs. His first 30-goal season may not be out of the question. It's also not out of the question that Nyquist finds his stride again with Tatar and Zetterberg flanking him. After disappointing year, goal-scoring wise, it's possible that Zetterberg's ability to distribute allows for him to return to his 2014-15 form (27 goals, 27 assists). As well, Nyquist has ability to distribute the puck well himself, creating opportunities for his linemates.
This second brings a lot of young talent and a lot of scoring ability. The 23-year old Mantha, before falling victim to a season-ending finger injury, proved to be the player he was touted to be as he ascended through the Red Wings system, registering 17 goals and 19 assists in 60 games. Larkin, after a breakout rookie campaign, struggled in his second go-around with the Wings, regressing to just 17 goals and 15 assists while posting a -28 plus/minus rating. As well, he began the transition to being a full-time center towards the end of last season. As he learns the new position he can be expected to get more comfortable. The 23-year old Frk, a of the last round of cuts in 2016, has earned his opportunity and rounds out this group. He showed ability to score goals in Grand Rapids and exhibited his strong, albeit not always accurate, slapshot in the preseason. He's not Andreas Athanasiou. But if he performs to his capabilities he may be able to make fans miss Athanasiou a little bit less.
On the third line it's an interesting scenario. Within lie three players with a combined cap hit of $13.35 million. Nielsen is good at what he does. The Red Wings knew this when they signed him. But it's debatable as to whether or not he followed through on his end. Sure, he earned all-star honors. But that was to the tune of 17 points and 24 assists, with not much to offer at the defensive end of the ice. This is hardly the caliber at which a player who registers a $5.25 million cap hit is expected to perform. Also here is Abdelkader, the injury-prone alternate captain. While injuries shortened his season in 2016-17, he will need to show up more than he has in previous healthy seasons to prove he's worth what he's being given, including that "A" that adorns his sweater. Helm was off to a good start last season (4 goals, 3 assists) before the injury bug decided to bite him after 17 games. He has a lot of speed and can score you some goals. If this line performs to the best of its abilities a bounceback from each player on this line isn't out of the realm of possibility.
The fourth appears as one of players seeking redemption. Booth was signed to a professional tryout contract by the Wings, eventually earning a one year, two-way contract with the club. He will begin the season in the NHL due to injuries. Every team passed on him last season, leading him to play in the Russian KHL. Booth looks to prove that he still has what it takes to play at the NHL level. Glendening, after getting a new contract, posted only 14 points in 12:55 average time on ice. Even by fourth line standards that production is low. He will look to show that he's worth his spot as the likes of Evgeny Svechnikov and Tyler Bertuzzi wait on IR, ready to take a spot on the team. Sheahan, for obvious reasons, is seeking redemption after posting only two goals last season, both of which came in the final game of the season. He comes into this season with a chip on his shoulder that makes any other player's burden from last season pale in comparison. He knows, as do all who have seen him play in the past, that he has the ability to score upwards of. He knows he can be productive. And at only 25 he's looking to re-assert himself as a piece of value to the club. But until he proves this there will be a shadow hanging over him.
Starting the season on injured reserve are Evgeny Svechnikov, Tyler Bertuzzi, and Eric Tangradi.
Defensive pairings are as follows:
Danny DeKeyser/Trevor Daley
Jonathan Ericsson/Mike Green
Xavier Ouellet/Nick Jensen
Luke Witkowski will serve as an extra player on the bench.
Per Khan, Niklas Kronwall (A) is questionable for the home opener due to a groin injury.
Daley brings another veteran presence to a team replete with minor league defensive prospects. But he's among the better of the veterans on the blue line. He was a +7 plus/minus rating overall last season, with 60 goals scored against his pairings. DeKeyser, conversely, was a -22, with 106 total goals scored against his pairings while on the ice. The hope is that Daley will help DeKeyser, though only in-game action will tell.
Ericsson is a controversial figure to fans. His large build (6'4″ without skates makes him a physically imposing defenseman, but he routinely does not play to his size and does not move well. His -2 in 51 games last year isn't horrible but it's far from ideal. Injuries certainly didn't help his cause. But he'll need to step up and in more a leadership role as one of the more seasoned veterans on this defense. Green's future in Detroit remains in limbo, as his contract expires after this season. It's thought by many fans that he and his hefty contract will be moved during the season. But for now he sits in the second defensive pairing. He was serviceable as an offensive player, registering 14 goals, including his first career hat trick early in the season, and 22 assists. But his -20 plus/minus is unacceptable for a defenseman earning $6 million a season. His offense is valuable but he will need to improve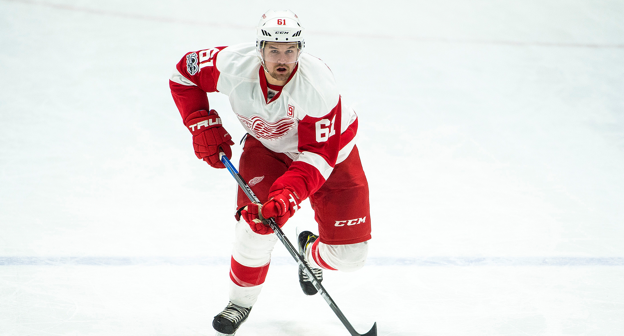 on the blue line.
Ouellet and Jensen make for perhaps the most promising pair out of the three. The 24-year old Ouellet was a +2 in 66 games, though he added little offensively. But he was one of the more defensively sound out of last year's crop. Jensen, however, will seek to improve on the blue line, registering a -7 rating. With the right coaching and right pairing they may be able to salvage his defensively play yet. Though, at age 27, time is a bit more of the essence.
Kronwall, who will turn 37 this season, is playing on knees that are failing him. His leadership in the locker room is invaluable. But the man once known for his thunderous hits, with those league-wide receiving these hits calling it "being Kronwall'd", is no longer the force he once was. The idea of placing him on long-term injured reserve, should these knee issues persist, is something that the Red Wings would do well to consider.
Goaltenders:
Jimmy Howard
Petr Mrazek
Howard was in the midst of something of a comeback year last season until the injury bug, yet again, reared its head. He's listed at the top of Ansar Khan's depth chart. He looked sharp during the preseason and will be counted upon to pick up where he left off earlier in 2017. And so far he has done that, recording 37 saves on 39 shots. He has the potential to be a solid foundation for the team's defense if he can stay healthy, as groin issues have persisted over the last few years and have cut into his time, and if the pairings in front of him can do their jobs.
Mrazek, after being exposed to the expansion draft, has his work cut out for him. Once the goalie of the future a regression of his performance in the net left questions about his future with the team and his work ethic. Instagram posts indicated that Mrazek continued to put in work this off-season, but he was outperformed by Howard in the preseason. With restricted free agency looming and with Jared Coreau proving dependable in his appearances for Detroit last year Mrazek's spot in the Red Wings' future plans is no longer certain. If he wants to be "the man" going forward he needs to step up and earn the title.
Another overall weak point for the 2016-17 Red Wings was the power play. They were 27th in the league with a 15.1% power play success rate, while ranking 24th in the penalty kill with an 80.85% mark. They capitalized twice on the power play in their opener while keeping the Wild at bay in seven opportunities. Whether this will translate to the remainder of the season will be revealed as the season progresses.
Key Games
After Thursday's opener the Red Wings will hit the road until returning home to host the Tampa Bay Lightning on October 16th.
Other key games and match-ups are dispersed throughout the season. The Red Wings will make their first and only visit to Las Vegas on October 13th for their first tangle with the newly christened Golden Knights. The Knights will make their first appearance in Detroit on March 8th. Connor McDavid and the Edmonton Oilers will make their lone appearance at Little Caesars Arena on November 22nd. The longtime Original Six rival Chicago Blackhawks will make their only trip to Detroit on January 25th, with the Red Wings visiting the United Center eleven days earlier on January 14th. The New York Rangers will visit on December 29th while the Red Wings will play twice in New York: November 24th and February 25th.
Reigning Stanley Cup champions and rival Pittsburgh Penguins will appear on New Year's Eve as the tradition of December 31st hockey in Detroit continues. Stanley Cup runners-up, the Nashville Predators, will pay their lone visit to Detroit on February 20th.
Within the conference the remaining Original Six teams will all visit Little Caesars Arena on more than one occasion. The Boston Bruins will visit December 13th and February 6th, with the Montreal Canadiens coming in on November 30th and April 5th, and the Maple Leafs, led by longtime Red Wings coach Mike Babcock, on December 15th and February 18th.
Tickets to most home games are available through Ticketmaster.com, the Little Caesars Arena box offices, and through second market ticket sites such as StubHub and SeatGeek. Various fan giveaway are to take place throughout the season, including bobblehead nights for Dylan Larkin, Tomas Tatar, and others. A list of these games can be found on the Red Wings website.
Storylines to Watch
The Andreas Athanasiou contract saga continues as the regular season begins. Reports are that Athanasiou turned down the club's 2 year/$1.9 million AAV deal, saying he wanted $2.5 million. Talks are ongoing but a deal is not close. With Riley Sheahan receiving first line minutes in the preseason it was thought that he was being dangled as a trade piece to make room for Athanasiou's demands, though nothing has come to pass. Until any progress is made this will be a primary storyline for the Red Wings, for better or for worse.
Coach Blashill and GM Holland have drawn the ire of fans, with many calling for their replacement. Blashill's contract runs beyond this season, though on-ice results will paint a clearer picture of whether or not his future is secure. Holland's contract expires at the conclusion of this season, which makes his storyline compelling. More compelling still is the concurrent expiration of Tampa Bay Lightning GM Steve Yzerman's deal. Near the end of last season owner Chris Ilitch reiterated that his full confidence was in Holland. But if results don't improve this season it needs to be asked: will the Ilitch family show Holland the door, allowing for the franchise's prodigal son to make his triumphant return? The situation in Tampa will be closely monitored by fans, as the idea of the club's former longtime captain returning to bring his team back to glory is a storybook plot that many wish to see fulfilled.
Also to be watched is the infusion of younger players into the NHL squad. As mentioned above Mantha, Larkin, and Frk bring a line to the ice with an average age of 23.333. Evgeny Svechnikov and Tyler Bertuzzi are on the brink of cracking the rotation. Michael Rasmussen, once panned for being the #9 overall selection, is shaping up to be a gem of a pick after a very strong showing in the preseason. Filip Hronek, Joe Hicketts, and Vili Saarijarvi provide promise on the blue line for the future, with Hicketts just missing out on an NHL roster spot. Svechnikov, Bertuzzi, and Hicketts are the closest to the NHL and it wouldn't be a surprise to see all three in action at some point this season.
Projection
One day the Red Wings will begin their next playoff streak.
But don't expect that day to come any time this season.
This team has talent. This was evident during their opening night performance. But none of the moves made in the off-season make the team significantly better. Much of the same squad returns, in hopes that those who underperformed last season will return to their peak form and contribute at their highest possible level on a nightly basis. Could this season mark a return to the playoffs? It can't be ruled out, but it's not expected.
But the horizon holds glimmers of light. Young defensive prospects give way to optimism to a long-starved blue line. The organization's first top ten pick in over two decades is developing at a higher rate that expected. Young forwards wait in the wings (no pun intended) for their chances at NHL reps. The second line at the NHL level is comprised of three incredibly promising young talents, with more to come from the minors.
It'll likely be a rough go in Hockeytown this winter. But the night is always darkest before the dawn.
What do you expect out of the Red Wings this season? Let me know in the comments!
Find me on Twitter @milz_chris and follow @cleatgeeks for more NHL and sports news.