Cards Look to Finish Strong in Philly
It hasn't been aesthetically pleasing but the Arizona Cardinals stand 2-2 as they head into a big inter-conference squabble against the Philadelphia Eagles in Week 5. The Cardinals have been tied or had the lead in the 4th quarter in all four of their games this season. With a handful of plays that could've gone either way, the Cardinals could be 4-0. Considering Arizona's two wins were overtime wins, they could just as easily be 0-4.
Let's get the negatives out of the way first. Elite pass-rusher Markus Golden will miss the rest of the season due to a torn ACL that he suffered last week against San Fran. After a 12.5 sack 2016 season, Golden's disappointing season will come to an end with a stat-line of 11 tackles and zero sacks, one reason the team is tied for 21st with only nine sacks on the season.
While Kareem Martin will initially replace Golden in the starting lineup, first round pick Haason Reddick will be asked to be more of a disruptive force in the opposing teams backfield. Reddick's last two seasons at Temple University, he averaged nearly nine sacks and 23.5 tackles for loss for the Owls.
A dislocated wrist to David Johnson and a hodgepodge of offensive lineman have produced a running game that currently is dead last in the NFL in rushing, with 57.0 yds/gm. The N.Y. Giants are 2nd to last with 59.3 yds/gm. The Cardinals average 2.7 yds/attempt and haven't been able to muster a single rush of over 14 yards this season.
Giving up the most sacks in the league and producing the worst running game in the NFL just shows exactly how this offensive line is cannibalising it's own offense, week in and week out. Hell, David Johnson could only gain 23 yards on 11 carries behind these stumps before leaving the first game of the year with his wrist injury.
The Cardinals offensive line gave up another six sacks Sunday to a team that entered Week 4 with three total sacks. Arizona is now tied with Houston in sacks allowed entering Week 5, with 17. Through the quarter mark of the season, not a single offensive lineman has an overall season grade higher than Center A.Q. Shipley's Pro Football Focus' grade of 50.3. It's never good when you can compare anything in life to Arizona State University's Defense and people think it's spot on. At this point, I don't know if we should laugh or cry about this position group so you choose and I'll oblige.
Right Tackle Jared Veldheer has been a punching bag for fans and media through the first three week of the season. Week 4 was different. In 57 pass-blocking snaps, Veldheer allowed only two pressures, zero sacks and walked away with a Game 4 pass-blocking grade of 81.3. The Eagles are not the 49ers though.
Eagles defensive tackle Fletcher Cox (2 sacks in 2017) will miss today's game. Although, it's 2016 NFL QB pressures leader Brandon Graham who will still be the center of attention for the Cardinals offensive line. Graham's the Eagles sack leader and has the fifth most pressures in the league among 4-3 defensive ends, with 2.5 & 13 respectively. He'll be lined up over Veldheer more times than not.
Alright, lets wipe the tears and touch on some of the positives that are happening with our Cardinals.
Listening to local radio and scouring through Cardinals articles, I don't believe I've heard his name mentioned more than once all season but Safety Tyvon Branch deserves some love for his play so far this season. Not only is Branch the Cardinals leader in tackles so far, he is also the only Cardinal listed on either side of the ball in Pro Football Focus' 1st Quarter All-Pro Team, he is the highest graded out Safety in all the NFL through the first four games.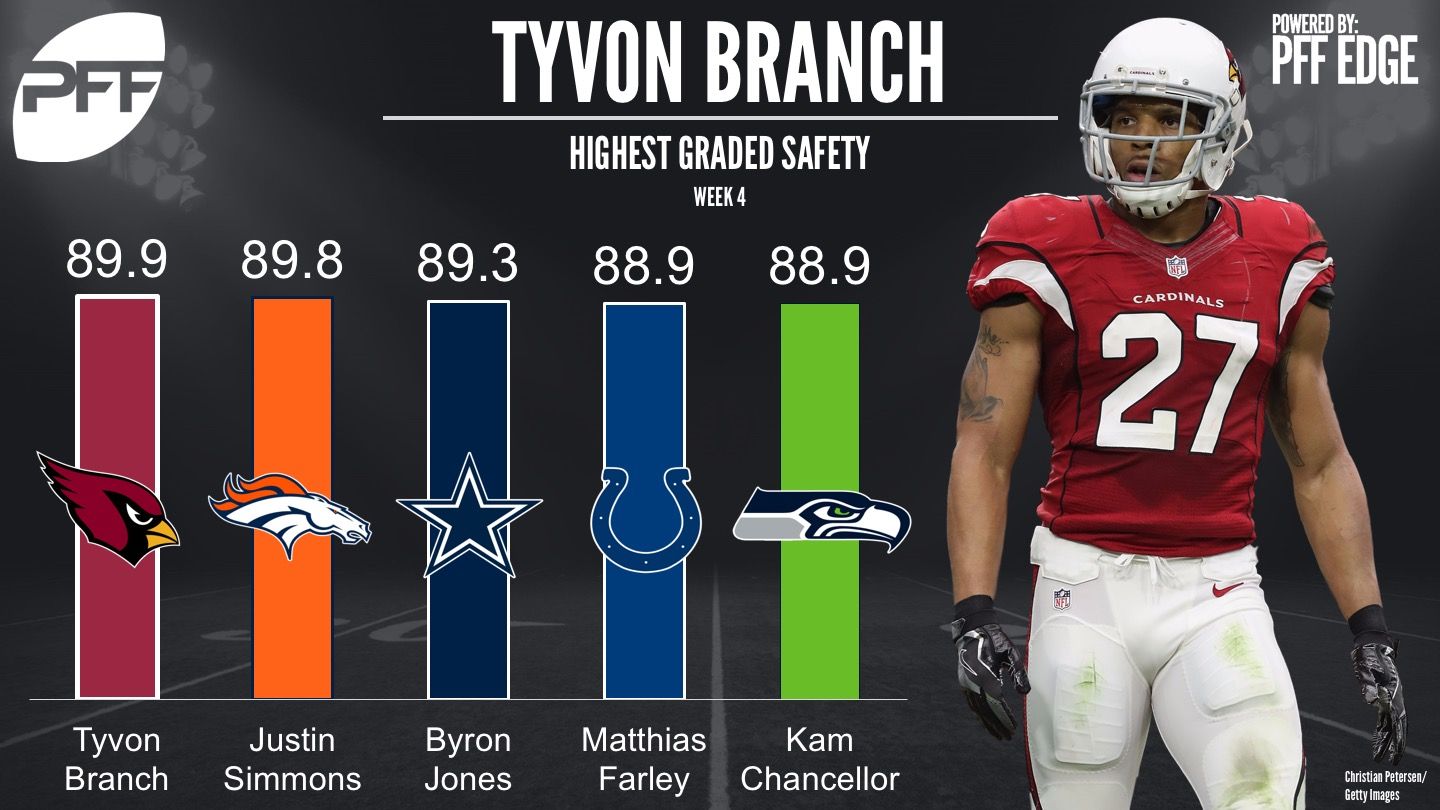 Patrick Peterson has been the most difficult cornerback in the NFL for opposing teams to throw on through four weeks, as his one catch per 31.2 routes run against him would attest.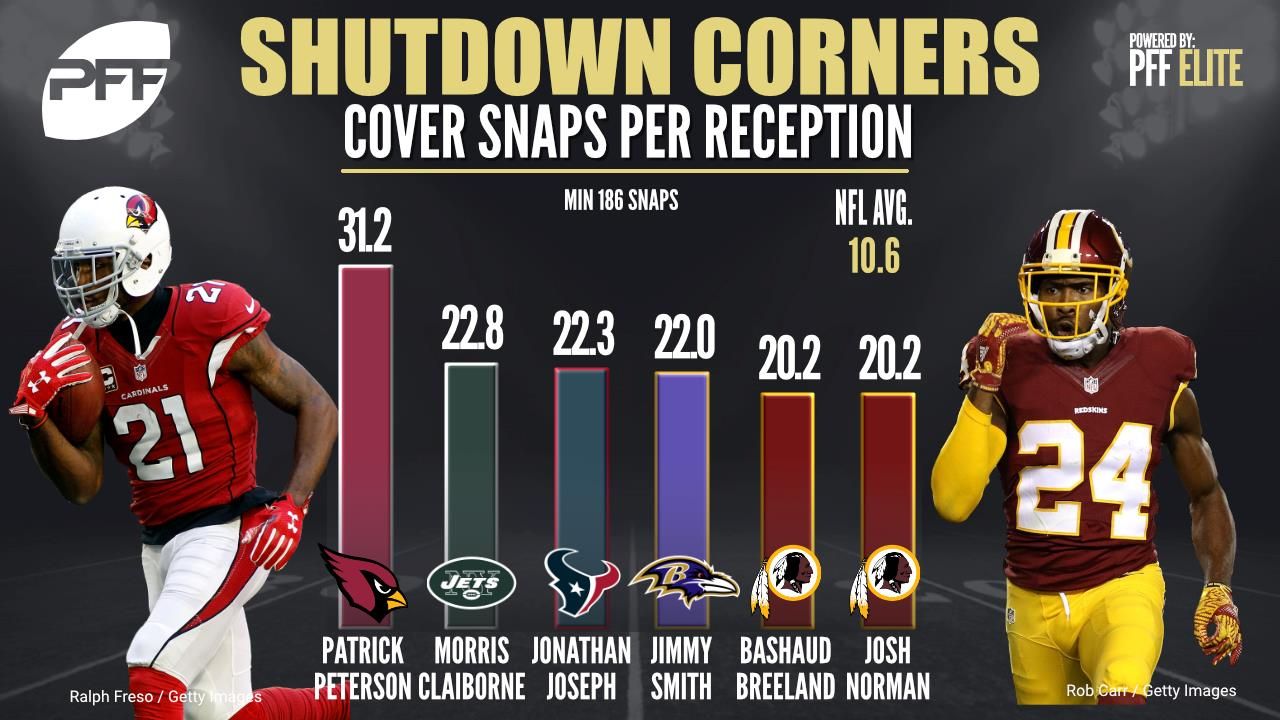 It's somewhat shocking a defense that has two of the games premiere players in the secondary to go along with a 59.3% opposing QB completion percentage (6th in NFL) and a rush defense that is allowing 3.2 yds/attempt (5th) and 88 yds/gm (10th), has only been able to garner 9 sacks all year (tied for 21st).
Without being in those meeting rooms, it makes one wonder what kind of blitz packages is defensive coordinator James Bettcher coming up. So far, they're not working as expected. That's going to need to change today in Philadelphia. Facing a young quarterback in his second season, it's going to be vital that the D can get in his face and rattle him into a few sacks and turnovers. Otherwise Eagles QB Carson Wentz, whose 97 rushing yards this season would lead the Cardinals (Chris Johnson has 93), can dissect a defense with both his arms and legs.
That leads us to our Quarterback, Carson Palmer. Whether you love him or hate him, you are a cold son of a gun if you don't have respect for the man. In both of the victories this season, Palmer has thrown critical late touchdown strikes, even though he was sacked a combined 10 times in those games. Sure it isn't always sexy, as his 5:5 TD:INT ratio proves, but considering the Cardinals have nearly abandon the run (21.5 rush attempts/gm; 5th lowest in NFL) it's not a total shock that "our" Carson has accumulated the second most passing yards (only behind New England) in the NFL this season. The Cardinals enter Week 5 attempting 45.75 passes per game, 2nd most in the NFL behind the Patriots.
In our two victories this season the common occurrence has been a wide receiver, not named Larry Fitzgerald, topping the century mark in yards. In Game two vs Indy it was J.J. Nelson who had five catches for 120 yards and helped lead the Cardinals past the Colts. Last week, Jaron Brown finished with eight catchers for 108 yards.
A John Brown sighting in Week 5 would be nice or maybe it could be a running back who pops off this week. Considering we haven't had one rusher go for at least 50 yards in one game this season, I won't hold my breath.
We know weekly what we're going to get from both our offensive line and Larry Fitzgerald – 3rd in catches in NFL history; tied for 4th in 2017 with Eagles Tight End Zach Ertz with 26 catches – so naturally it's going to come down to the supporting cast if the Cardinals plan on the leaving the City of Brotherly Love above .500 for the first time this season.