21 Things Your "Brain" May Not Know About Bobby Heenan
If you are a loyal fan of our website you have probably seen other articles like this in the past. First of all thank you for either being a loyal fan or a first time reader. Before founding and running this website, I was a pastor of a church for almost 10 years. When someone passes away there will ultimately be tears shed, but the funeral services are obviously not for the dead, they are for the living. It is a time for us who were involved in the person's life to celebrate their accomplishments. This takes a different sort of turn with a professional sports figure. There are memories that you may have watched on television, or was in attendance at your favorite arena and felt apart of the life we are celebrating. I have fond memories of Bobby "The Brain" Heenan, I am sure you do as well. Here are 10 facts, a couple of which are new to you I hope, as we celebrate the life of one of the best managers, commentators and characters of the WWE.
1)Raymond Louis Heenan was born in Chicago on November 1, 1944, he started in the wrestling profession early on, carrying bags and jackets for the wrestlers, and selling refreshments at the events.
2) Bobby was forced to drop out of school in the eighth grade to support his mother and grandmother with his first break in the wrestling business was as a heel manager and wrestler in 1965 when he was known as "Pretty Boy" Bobby Heenan.
3) In 1967, Heenan became a regular in the Indianapolis-based WWA promotion both as wrestler and manager. He initially managed Angelo Poffo and Chris Markoff.  But, in 1974, he left the WWA attributing his departure from the WWA to a dispute with the owner whom you may also know if you have been watching wrestling as long as I have, Dick the Bruiser over his pay for his participation in the first-ever wrestling event held at Market Square Arena.
4) This turn of events led Heenan to the American Wrestling Association it was here that Heenan announced he was to now be known as "The Brain." He took up managing the team of Nick Bockwinkel and Ray "The Crippler" Stevens. While Bockwinkel and Stevens feuded with The Crusher and another famous wrestler, that man famously called Bobby a "Weasel" and the name stuck through out his entire career, the wrestler who gave him that famous nickname, was the one who he left another promotion because of. Yes, it was Dick the Bruiser.
5) The AWA was the starting point for his first Heenan Family, which consisted of Bockwinkel, Stevens, Bobby Duncum Sr., and the man who would eventually induct Heenan into the WWE Hall of Fame, Blackjack Lanza.
6) In 1975, with Heenan in his corner, Bockwinkel captured his first of several AWA World Heavyweight Champions, ending the seven-year reign of perennial champion Verne Gagne. While Bockwinkel was AWA Champion in 1976, Lanza and Duncum captured the AWA World Tag Team Championship, making Heenan the first manager in history to simultaneously manage both a major promotion's singles and tag team champions.
7) In early 1979, Heenan left the AWA to work in Georgia Championship Wrestling, a tenure he later said he did not enjoy due to his dislike of then booker, a name you might recognize, Ole Anderson. But, he returned in late 1979 and resumed managing Nick Bockwinkel to renewed championship success, including against a young Hulk Hogan in 1983.
8) In 1984,a man by the name of Vince McMahon was luring wrestlers away from AWA. But not only was a luring them away, they were doing so without proper notice (the AWA required departing talent to work a six-week notice for booking and syndication-based reasons, with most talent claiming that McMahon paid them extra not to work out their notices with the AWA), only Heenan worked out his notice in good faith to the Gagne family. Once Heenan was away from the AWA he managed Jesse "The Body" Ventura for WWF.
9) Heenan managed two challengers to Hogan's title at consecutive WrestleManias, King Kong Bundy in 1986, and André the Giant in 1987. Neither Bundy nor André won the title at those times.
10) After being made fun of by announcers for his first five years in the WWF (mostly by Gorilla Monsoon) for never managing a champion, along came WrestleMania V Heenan finally managed his first champion in the WWF when "Ravishing" Rick Rude upset The Ultimate Warrior for the WWF Intercontinental Championship, a match Heenan insured Rude would win by holding Warrior's leg down so he could not break the pin.
11) Heenan also had a parody talk show known as The Bobby Heenan Show, which was broadcast in four segments during the second half of WWF's regular weekly program Prime Time Wrestling. It was co-hosted by Jamison Winger and featured several overweight women known as The Oinkettes.
12) Heenan retired from managing in 1991 to become a full-time "broadcast journalist."In 1986, WWF owner Vince McMahon took full advantage of his microphone and comedic skills and Heenan became a color commentator in addition to his managing duties. He replaced the first person he ever managed in WWF, Jesse Ventura. Bobby was teamed up with Gorilla Monsoon. Heenan often referred to the fans of the face wrestlers as the humanoids, and babyface wrestlers, especially jobbers, as "ham-and-eggers."
13) Heenan, still suffering from the broken neck he received ten years earlier and unable to cope with the long working hours, decided to leave the WWF at the end of 1993. Heenan's original plan was to retire, spend time with his family, and relax, but he was contacted by WCW soon after he left the WWF. He was unsure at first, but accepted their offer once he found out that WCW provided lighter work schedules and health insurance. Heenan also cited the short driving distance between WCW's home base of Atlanta and his daughter's school in Alabama.
14) On January 27, 1994, Heenan made his debut in World Championship Wrestling (WCW). He replaced, you guessed it, Jesse Ventura. When WCW Monday Nitro premiered in September 1995, Heenan worked on the new show full-time and joining former Chicago
Bears defensive lineman Steve "Mongo" McMichael as an analyst alongside play-by-play man Eric Bischoff.
15) Heenan said he was uninspired in WCW due to the negative work environment, which he later described as night and day compared to the WWF, and due to conflicts with Bischoff and Tony Schiavone.
16) Starting in late January 2000, WCW replaced Heenan on Monday Nitro and pay-per-view events with Mark Madden. Heenan continued to commentate on Thunder, another WCW show that aired Thursday Nights and was equivalent to Smackdown Live today in WWE, along with Mike Tenay until April 2000. Hennan was eventually replaced on Thunder by Stevie Ray (the real life brother of current WWE commentator Booker T and Booker's tag team partner with Harlem Heat). Heenan was then released by WCW in November of 2000.
17) He was one of the speakers on "Mr McMahon appreciation night" in his last WWE appearance in 2007. His last appearance in a wrestling role was on the September 7, 2006 episode of Impact!, Heenan appeared making a bid to manage a then "free agent" who is now one of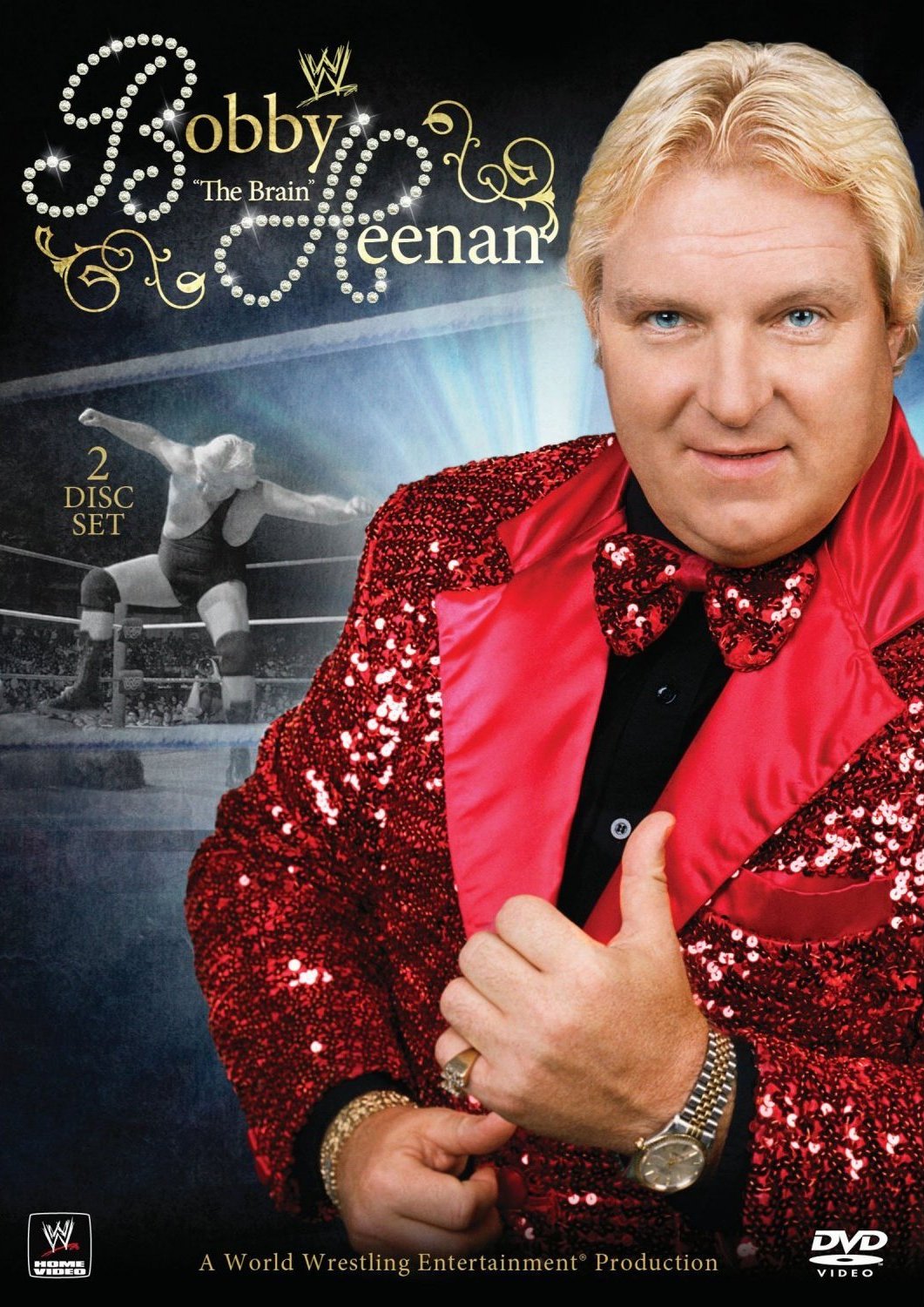 the newest superstars on WWE's Smackdown Live, the "Glorious" Bobby Roode.
18) Heenan was honored by the Pro Wrestling Report at the annual Blizzard Brawl event on December 5, 2009 in Milwaukee, Wisconsin as he was given their Lifetime Achievement Award. In addition to this, The mayor of Milwaukee,Tom Barrett, declared December 5, 2009 to be "Bobby Heenan Day."
19) Heenan was married to the former Cynthia Jean Perrett (known as Cindy) from June 21, 1978 until his death. Together they had a daughter, Jessica Ida Heenan (married name Solt, born 1978). He also had two grandchildren.
20) During his lengthy wrestling career Hennan manged 32 singles competitors. Just for fun and to completely connect the dots, one of the superstars he managed does commentary for WWE today. He is NXT commentator Nigel McGuinness. Bobby also managed 7 different tag teams.
21) In January 2002, Heenan announced that he had throat cancer. On September 17, 2017, Heenan died at the age of 72 while surrounded by family at his home in Largo, Florida. His cause of death was organ failure due to complications from the throat cancer which had been in remission since 2004.
Everyone associated with Cleatgeeks prays for his family and friends in their time of morning. We are proud to use this article to celebrate his accomplishments and implore the WWE to find more managers for their current product. If you don't think managers do wonders for heel wrestlers, look no further than Paul Heyman.