Dawg Pound Scoop: We're on the Rise!
The Browns will not go 0-4 this preseason! What a sigh of relief. The 2017 Cleveland Browns took to the field on Thursday night in their first preseason match-up with the New Orleans Saints. The Browns were projected to win, mostly because Drew Brees and Adrian Peterson would not play, but they played a great game nonetheless.
The Saints got on the board first with a chip shot field goal to finish off a nice drive led by QB Chase Daniel. But the Browns would come right back and march most of field as Brock Osweiler led the 1st team offense into the red zone, and rookie running back Matthew Dayes punched it in from 1 yard out to put them up 7-3.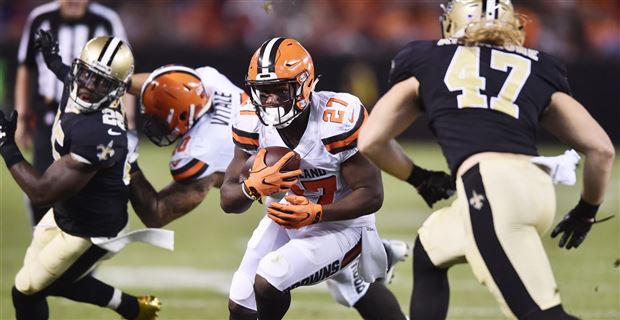 The Browns defense held up well the whole night, not allowing many points or long drives. New Orleans, however, found a way to sneak in another field goal as a short drive led by QB Garrett Grayson closed out the first half.
As more 3rd and 4th teamers were put in during the second half, the intensity rose, as all of these guys are fighting for a job with one of these teams. This opportunity gave players like Browns CB Briean Boddy-Calhoun a chance to step up, especially when he put an end to a goal line stand on 4th down.
Thursday September 7th will be here before you know it and CleatGeeks has partnered up with Pony Keg Sports to help you #OWN YOUR DRAFT Keep coming back to us for tons of NFL and college football articles and always listen to our friends at Pony Keg Sports to make you the smartest fan possible. Click here to listen to all the big training camp happenings on the Pony Keg Sports Podcast!
Despite losing the battle near the end zone, the Saints came back and punched in a TD with a pass from Ryan Nassib to Tommylee Lewis, which knotted the score at 13-7.
Then the show everyone came to see was on display. Browns rookie QB DeShone Kizer was finally given the nod to go in, and he took full advantage.  He scanned the defense all over the field, and put passes in only places his wideouts could catch them. Kizer's two big highlights were when he threw a 52 yard bomb to WR Richard Mullaney that set up a Terrence Magee 1 yard TD run, and then winning the game with another 50 yard slinger to Jordan Payton to put the Browns up 20-14. DeShone showed great maturity for a rookie QB and he proved he has great potential as he puts up the first win for the Browns.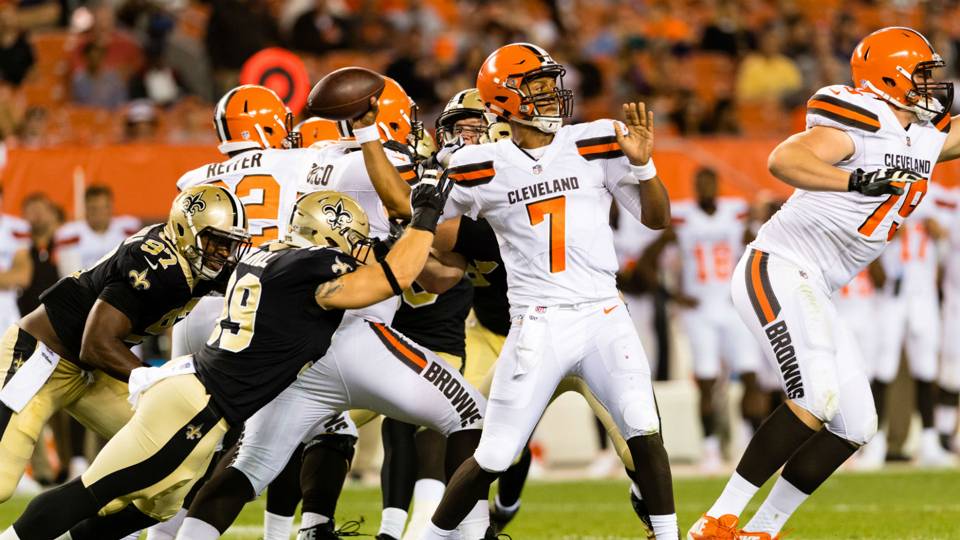 With Kizer's great day acknowledged, there were other parts that stuck out for the Browns in Game 1.  #1 overall pick Myles Garrett proved to be a force to be reckoned with, as he was getting to the QB's with ease and drawing multiple double teams. CB Joe Haden also had a solid first start of the year, as he came up with some big hits and played tight coverage for his limited time on the field. And finally, one of the new fan favorites, running back Matthew Dayes has shown exceptional ability and potential as he has developed into a great player in such a short time.
Overall, the Browns made significant progress from last year, and things look to be on the rise with Coach Jackson at the helm. The team looks to have a solid season in the near futures, with the pieces of the puzzle finally starting to come together.