College Football: Countdown to Kickoff
The Top 25 Coaches Poll has been released, College Gameday has released where they will be hosting from Week 1, all meaning we are less than one month away from kickoff. With a short time to go until before our Saturday's are once again filled with football, it's time to take a look at what the experts think the Top 25 should look like.
The Familiar Faces: 
The Coaches Poll released their Top 25 and there are a few surprises on the list, and then there are the normal names we see in there year after year. Teams like Alabama (1), Michigan (13), Florida (14) and Texas (20) are just a few of the familiar faces that made the list. Texas has not had good season the past few years, but made it in on their history and optimistic recruiting class from last season. Looking at the list teams such as Michigan, LSU and Stanford, they will have to take advantage of the early season Non-Conference games before they head into tough conference play. With other power-houses in their respective conferences ahead of them they will have work to do.
Hey @Cleatgeeks
fans, have you been think of buying tickets to a MLB, NFL or College Football game? Maybe there is a concert you have been eyeing? This weekend (Friday-Sunday) we have teamed up with

Stadium Quest

to bring you a special! Simply visit this

link,

and use the code

CHAPS

to receive $20.00 off your total purchase!

The New Comers: 

Along with the familiar faces, there are a few surprises in the Pre-Season Top 25 to take note of. South Florida comes in at 21, and Charlie Strong looks to make the most of this ranking. Not a traditional Football Power-House, the team has one of the best Dual-Threat QB's in the nation, Quinton Flowers. If they can make it through a fairly easy non-conference schedule, winning 10-12 games is in the picture for them.
The other team not normally seen in the Top 25, Kansas State coming in at 19. A team that is normally middle of the road is looking to be one of the best under Bill Snyder. With a deep offensive unit, they could make a push to the top of the BIG-12 this year with teams such as Baylor and TCU falling off only Oklahoma and Oklahoma St. become their big competition.
The Overrated's: 
USC comes in at an astonishing 4 in the Pre-Season Poll. The hype of Sam Darnold is lighting up the College Football world, and the USC team. They are a Top 25 team, and even at Top 10, but putting them at 4 over a team like Clemson who won the National Title last season is a little questionable. They should be good, and they will probably prove me wrong as overrating them, but they have yet to make the Playoffs under the new format.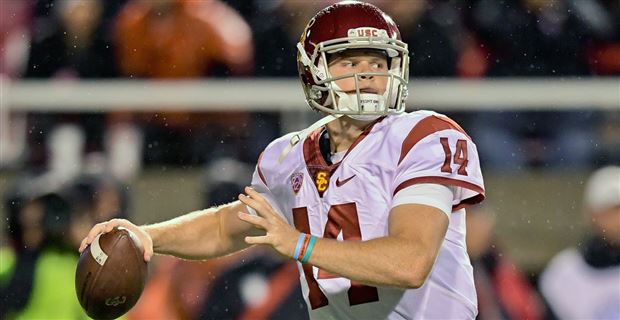 Auburn comes in at 11 after having middle of the road seasons the last few years, and a huge question mark at QB. Coming in with a pack of SEC teams, they will be given the benefit of the doubt season after season over a solid Group of 5 team. They have a solid run game and defense to lean on this season, but it just is not a wow factor to put them at 11.
Thursday September 7th will be here before you know it and CleatGeeks has partnered up with Pony Keg Sports to help you #OWN YOUR DRAFT Keep coming back to us for tons of NFL and college football articles and always listen to our friends at Pony Keg Sports to make you the smartest fan possible. Click here to listen to all the big training camp happenings on the Pony Keg Sports Podcast!
Overall Thoughts: 
The Top 25 Coaches Poll released has a ton of traditional teams making the cut before the season, but it will be interesting to see how it pans out over the first few weeks. Teams can make a quick run out of the gate, or drop like a rock due to a few bad loses. If your team made the list it's great, but if they didn't it's not the end of the world right now.