Big 12 Ready For Expansion
After numerous rumors, much speculation, several meetings, and various presentations, it looks like the Big 12 is finally going to expand. Last week the league's board of directors (the university presidents) officially gave Big 12 commissioner Bob Bowlsby permission to begin looking for expansion candidates.
Oklahoma president David Boren told reporters the conference could add anywhere from two to four teams. Meaning the Big 12 will either regain their 12-team league status or look to move to a 14-team league. The conference has had only 10 teams since 2012, after Nebraska, Colorado, Texas A&M and Missouri left during the last major wave of realignment and TCU and West Virginia joined.
"The direction from the board to the commissioner," said Boren, "was to re-contact schools that expressed interest in us and to find out exactly the nature of the interest, [and] evaluate what proposals they might make in accordance with their interests."
"We've been contacted by a number of institutions, and I would imagine after this news breaks we'll be contacted again," Bowlsby said.
There are currently 63 FBS schools outside of the Power 5 conferences, and I'm guessing Bowlsby has heard from every single one of them by now, with BYU, Houston, and Cincinnati leading the charge.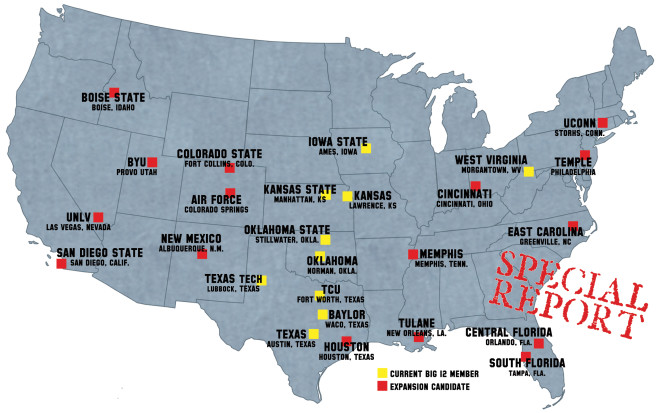 According to Dennis Dodd of CBS, the Big 12 would prefer to wrap up the expansion process before the start of the 2016 season. A final decision on timing hasn't been confirmed, but sources say the Big 12 doesn't want the expansion to overshadow the upcoming football season with a drawn-out process that would extend into the season.
If the expansion teams are announced before the season starts, it would give the new schools an opportunity to start playing in the conference as early as the 2017 season. For now, the conference will bring back a championship game starting in 2017. Bowlsby has said the most likely scenario will be two five-team divisions, with the division winners meeting for the league title.
Big 12 leaders have acknowledged that none of the available schools are a natural fit. None are guaranteed to deliver both highly competitive teams — especially football teams — as well as large new markets to increase the value of future media deals.
"We are looking for members that will grow over time as we grow," Bowlsby said. "That bring stability. That have a high top end."
The most frequently mentioned schools as possible candidates include BYU, Houston, Cincinnati, Memphis, UConn, UCF, Colorado State, South Florida, and Boise State.
So who gets in?
My obvious first choice is Houston. There's room for one more Texas team if you're going to construct a seven-team division of Texas and Oklahoma teams. Plus they've been playing some excellent football, including beating Florida State in a New Year's Six bowl last season.
At first glance, UConn and BYU seemed to be in the next best position to join the conference because of their large athletic budgets, faithful followings, and ability to compete in most sports across the board. However, adding BYU would stretch the Big 12 across three time zones, making games against West Virginia just over a 1,900 mile journey! Currently, no Big 12 campus is further apart than 850 miles. Traveling back and forth that far a distance, would be feasible for football, but not for any non-revenue sport.
Adding UConn would bring about similar distance challenges for Texas and Texas Tech, putting their travels around 1,900 miles as well. Although UConn has a solid academic profile and excellent basketball program, it brings little in football tradition.
Similarly, it would be unlikely for both BYU and UConn to be included in the expansion. There's 2,300 miles and two time zones separating the campuses. Adding both schools would extend the Big 12 to unforeseen and irrational limits.
Conversely, Cincinnati's geography is a huge bonus for them. The Bearcats give West Virginia an Eastern counterpart and possible rival. Under Brian Kelly, Butch Jones and now Tommy Tuberville, the Bearcats have been playing solid football. They've won 70% of their games over the last nine years and made two BCS bowl appearances. Cincinnati also recently renovated their facilities.
Another school whose geographical location is ideal is Memphis. Adding the Tigers would allow the Big 12 to extend their reach into a sizable city and into Tennessee all without creating a travel nightmare for West Virginia or the rest of the conference. Also, Memphis and Cincinnati have been rivals in more than one conference, bringing them into the Big 12 together would make for instant attraction game – if not for football, definitely basketball.
If it were up to me, I'd go with Houston, Memphis, Cincinnati, and BYU – even with it's travel issues. And the coaches of the Big 12 agree. In an anonymous poll conducted by ESPN, each was given two votes to pick their favorite team to join the conference. Houston and BYU tied for first, each receiving five votes, while Cincinnati and Memphis tied for third with four votes each (Colorado State and Central Florida both received one vote). Commissioner Bob Bowlsby definitely has his work cut out for him.